Ready in 20 minutes and made with just a handful of convenient ingredients, pigs in a blanket with cheese are a favorite on any party table! They are the perfect appetizer for an easy get-together.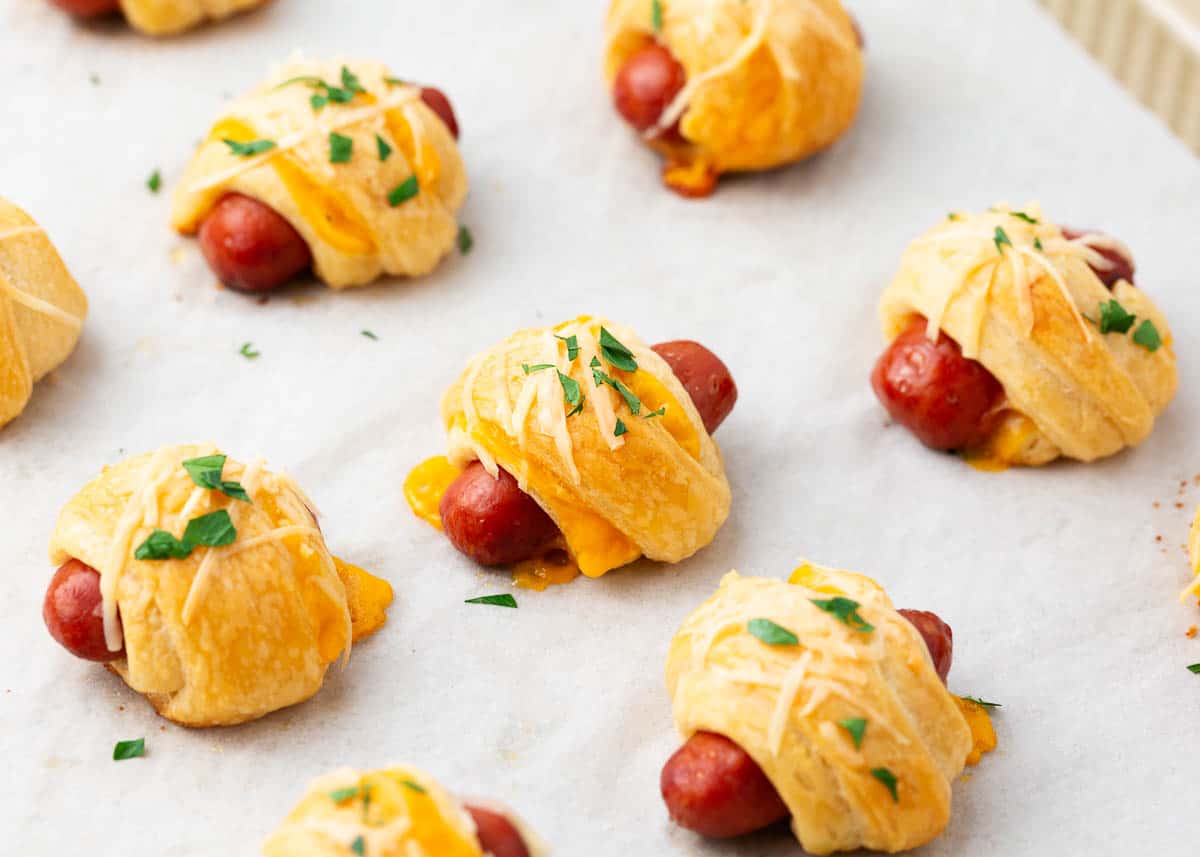 Kid-Friendly and Popular with Adults Too
Let's talk for a minute about mini appetizers. They often turn a good party into something amazing! Not only do I love eating them as a party guest, but I'm always on the hunt for easy to prepare appetizer recipes to serve to my family and friends. Based on my original pigs in a blanket recipe, I was looking for a way to add a little something extra to them – enter pigs in a blanket with cheese!
These cuties start with precooked Little Smokies sausage links and cheddar cheese slices. The sausages and cheese are wrapped up in slices of premade crescent roll dough and then brushed lightly with garlic butter and parmesan cheese. They are little bites of bliss!
You can prepare them ahead, (get the kids to help!), and keep them in the fridge until you're ready to bake them which makes them ideal party food. Plus, they're easy to hold in one hand and eat standing up, so your guest won't have to struggle!
We eat these plain or most often with ketchup or this honey mustard sauce. I also share some other dips ideas below and they'd also taste amazing served alongside some homemade chili or baked beans.
Why This Recipe Works
Minimal time and effort. Only a handful of ingredients and ready in just 20 minutes. This easy appetizer will become your new favorite go-to!
Cheesy. This appetizer takes a classic recipe and turns it into a deliciously cheesy variation. Anything baked with melty cheese is always perfection!
Bite-sized. Perfect for both kids and adults, mini finger foods are so convenient and easy to grab. They are always the first ones to go at parties!
Recipe Ingredients
Only 6 simple ingredients needed to prepare these cheesy pigs in a blanket. This is one of the easiest appetizer recipes you'll ever make!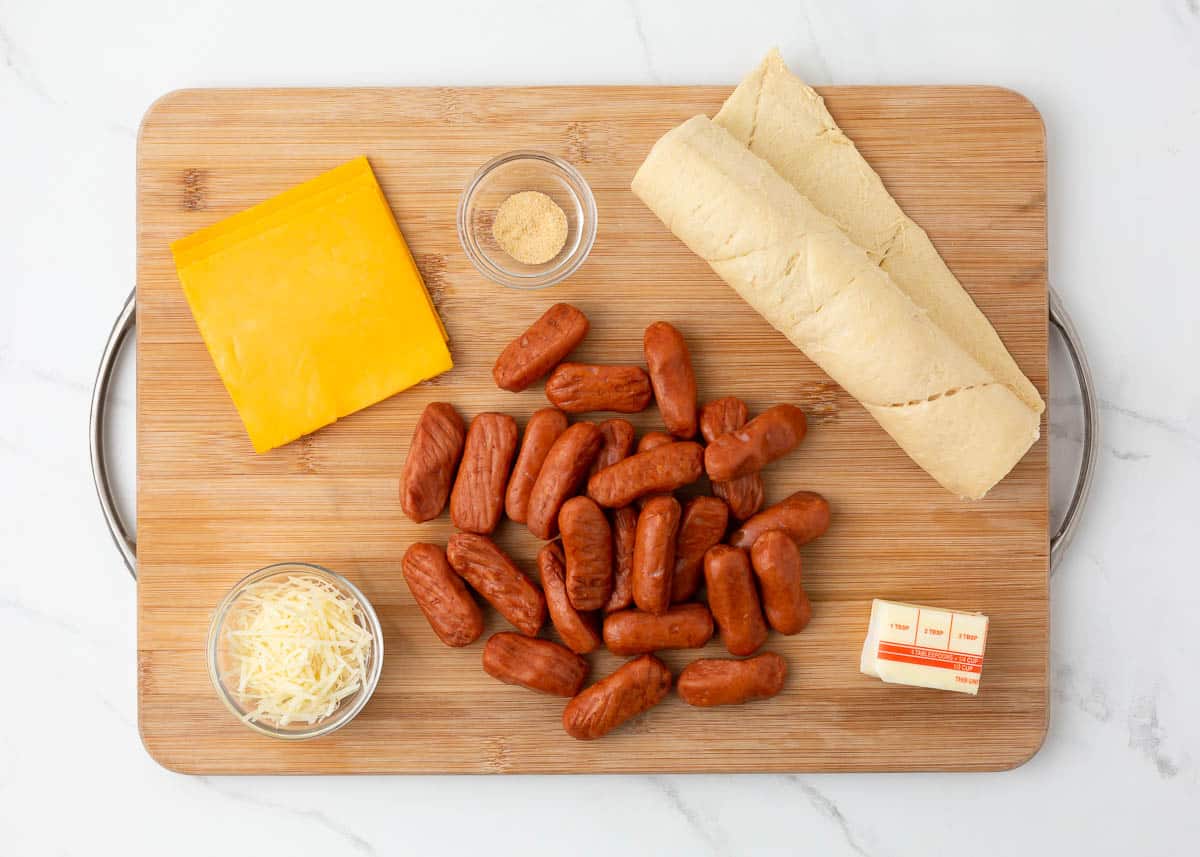 Find the full printable recipe with specific measurements below.
Sausage: I like to use Hillshire Farms Little Smokies sausages. They are already bite-sized and fully cooked, so they just need to be reheated.
Cheese: I keep it classic with cheddar cheese but feel free to switch it up.
Refrigerated crescent rolls: These come in a tube, and you can usually find them near the dairy aisle in your local grocery store. Pillsbury is probably the easiest to find.
Topping: For a little added flavor, rather than a typical egg wash, I coat the tops with garlic butter and parmesan.
Variations
Once you've got the classic recipe down, you can switch it up to make it your own! These changes won't affect the overall baking time. Here are a few suggestions to get you started:
Add a crunchy topping: Whisk 1 egg white and brush it onto the tops of the rolled cheesy sausages. Sprinkle over some sesame seeds or poppy seeds for added crunch before baking.
Swap the meat: Go for hot dogs or cooked breakfast sausages cut into thirds or try Vienna sausages instead.
Change the cheese: Swap the cheddar slices for pepper jack, provolone, or Velveeta. You can also leave the cheese out altogether.
Make it spicy: Sprinkle some finely chopped jalapenos over the cheese before wrapping up the Lit'l Smokies.
How to Make Pigs in a Blanket
Just a few minutes of prep is all that's needed to make this fun finger food! Simply follow the easy steps below to get started.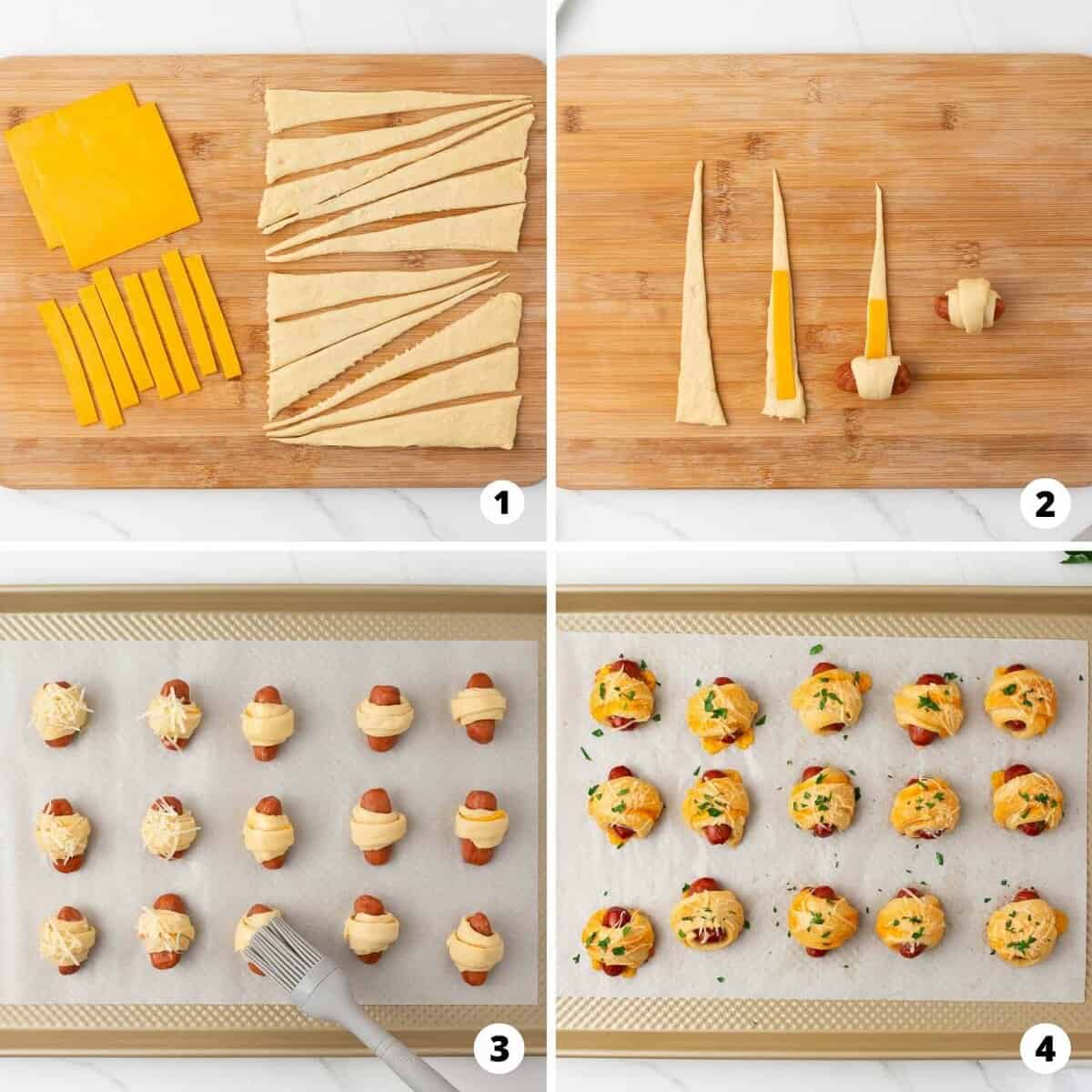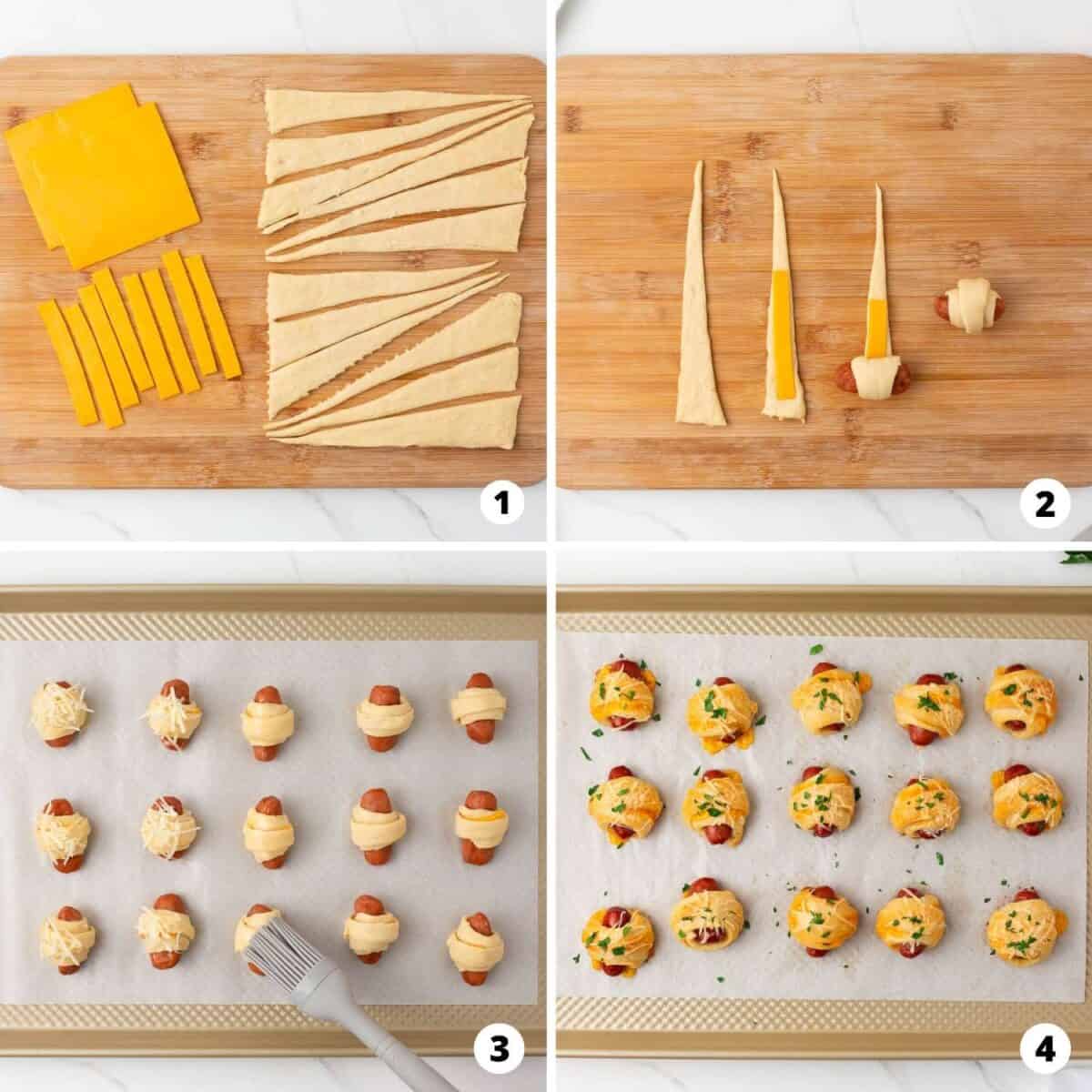 Slice dough and cheese. Unroll the crescent roll dough and use a pizza cutter or sharp knife to cut along the perforated lines. Carefully cut each triangle into 3 smaller strips. Slice each piece of cheese into 8 equal-sized strips of cheese.
Roll the sausages. Roll the dough around the cheese and sausage and place it on a baking sheet with the seam side down. Feel free to pinch it closed just to make sure.
Brush with garlic butter. Brush the tops with melted butter mixed with garlic and sprinkle over some Parmesan cheese.
Bake. 10 – 14 minutes is all it takes until the dough turns golden brown. Let them cool before digging in!
Recipe Tips
Line the baking sheet with parchment paper. It helps prevent them from sticking and it makes cleaning up a breeze!
Making large batches. If you're making these mini appetizers for a crowd, work with 1 tube of crescent roll dough at a time, leaving the rest in the fridge until you need them. The dough can get very soft and sticky if it sits at room temperature for too long. Keeping it cool makes it easier to roll around the sausage.
Dipping Suggestions
Let's be honest, one of the best parts about making these mini cocktail weenies in a blanket is getting to dunk them into our favorite dips! Around here, a popular dip of choice is this easy honey mustard dipping sauce. It's so easy to whip up!
Honey Mustard Dipping Sauce
In a small bowl, whisk together 3 tablespoons of mayonnaise, 3 tablespoons of Dijon mustard and 2 tablespoons of honey and there you have it! So simple and delicious.
Here are some other dipping suggestions: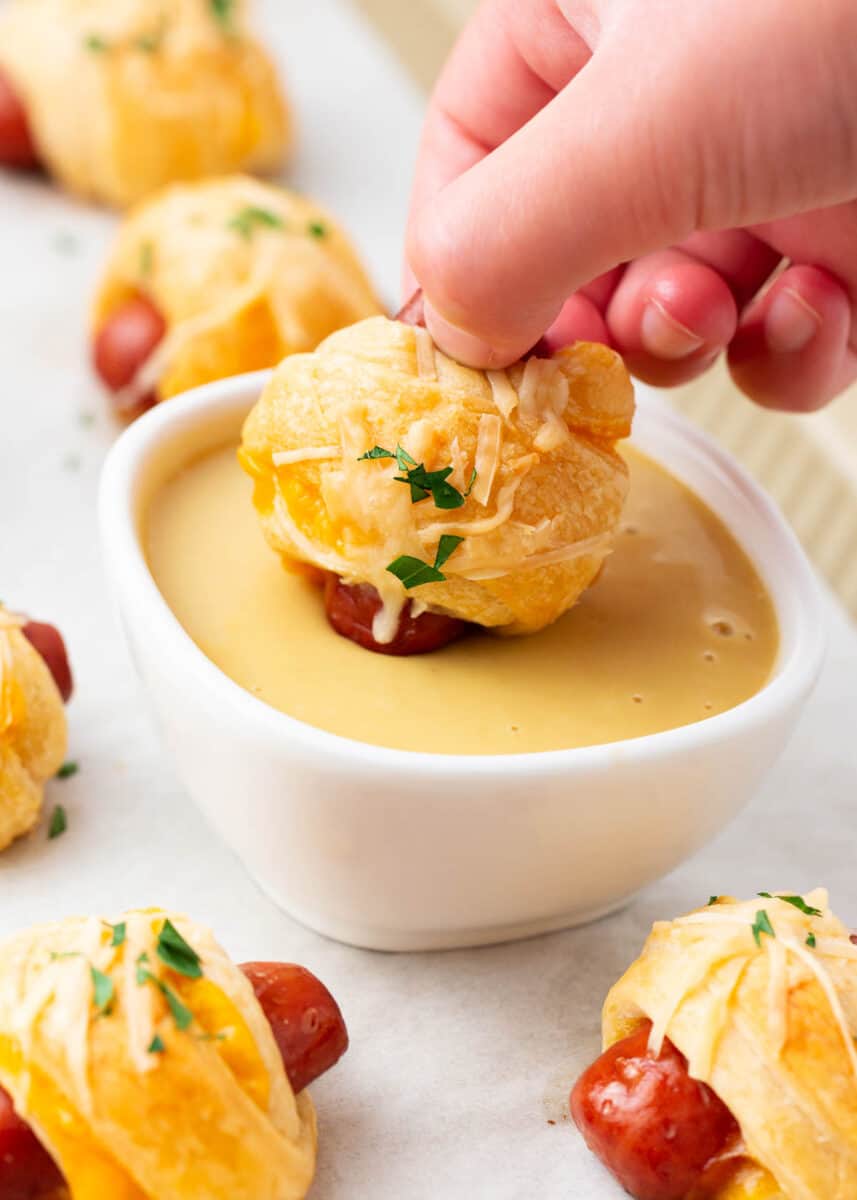 Recipe FAQs
Can you make this recipe ahead of time?
Yes, you can! Prepare the rolls in advance up to the point of baking. Place them on a plate or tray and cover with plastic wrap to store in the fridge for up to 2 hours. When you're ready to bake them, preheat your oven and transfer the mini pigs to a baking sheet and bake as usual.

You could also bake and freeze them to serve later. See below for my freezing instructions.
How can I keep my mini pigs in a blanket warm?
If you're serving these appetizers at a party, hold them in a warm oven (200°F) on a baking sheet until you're ready to transfer them to a serving plate.
Storing and Reheating
We always enjoy ours the most when they are freshly made. If you do happen to have some leftovers, you can easily store them to reheat again later.
Fridge instructions: Store in an airtight container for up to 3 days.
Freezer instructions: Bake and let them cool completely. Store in a zip-top freezer bag for up to 2 weeks.
Reheating instructions: The best way to reheat them is in the oven. If frozen, thaw them in the refrigerator first. Then place them on a parchment-lined baking sheet and bake at 325°F for about 15 minutes or until they are heated through. You can also tent the baking sheet with foil if it looks like the crescent rolls are getting too brown.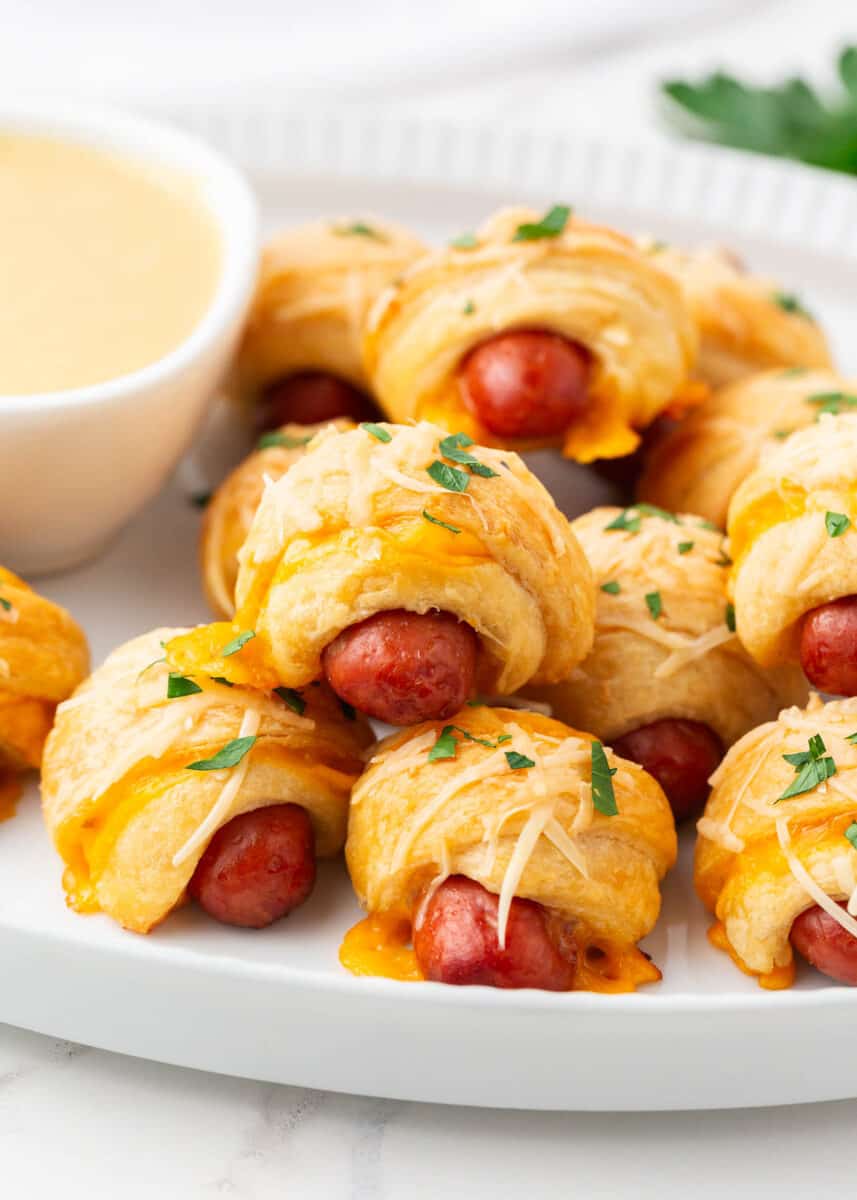 HUNGRY FOR MORE? Subscribe to my newsletter and follow on Facebook, Pinterest and Instagram for all the newest recipes!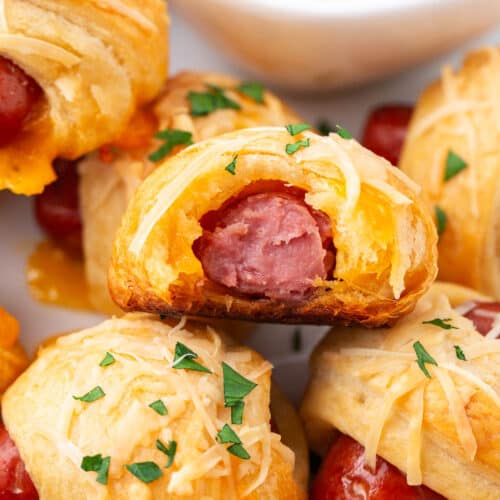 Pigs in a Blanket with Cheese
Ready in 20 minutes and made with just a handful of convenient ingredients, pigs in a blanket with cheese are a favorite on any party table! They are the perfect appetizer for an easy get-together.
Ingredients
1/2 teaspoon garlic powder
3 Tablespoons unsalted butter , melted
1 (14-ounce) package Hillshire Farms Lit'l Smokies sausages
1 (8-ounce) package refrigerated crescent rolls
3 slices cheddar cheese (4×4" squares)
2 Tablespoons parmesan cheese , shredded or grated
Instructions
Preheat the oven to 375°F. Line a baking sheet with parchment paper and set aside.

In a small bowl, mix together garlic powder, and melted butter and set aside. Place sausages on a paper towel-lined plate.

Unroll crescent dough. Using a pizza cutter or sharp knife, cut along perforated lines. Cut each triangle into 3 smaller triangles.

Slice each cheese slice into 8 pieces.

Starting on the longer edge of the crescent triangle, place a slice of cheese with a sausage on top. Roll the dough up around the cheese and sausage and place on the baking sheet, seam side down. Repeat with remaining dough, cheese, and sausages.

Brush garlic butter over the tops and sprinkle with parmesan cheese. Bake 10 to 14 minutes, or until golden brown. Remove from the oven and let cool a few minutes before serving.
---
Notes
Honey mustard dipping sauce: Whisk together 3 Tablespoons mayo, 3 Tablespoon Dijon mustard and 2 Tablespoons honey.
Variations:
Whisk 1 egg white and brush on the tops. Sprinkle with sesame seeds or poppy seeds before baking.
Use a hot dog and cut into thirds if you prefer.
Nutrition
Calories: 106kcal | Carbohydrates: 4g | Protein: 3g | Fat: 9g | Saturated Fat: 4g | Polyunsaturated Fat: 1g | Monounsaturated Fat: 3g | Trans Fat: 0.1g | Cholesterol: 17mg | Sodium: 264mg | Potassium: 32mg | Fiber: 0.01g | Sugar: 1g | Vitamin A: 68IU | Vitamin C: 0.001mg | Calcium: 22mg | Iron: 0.3mg
Nutrition provided is an estimate. It will vary based on specific ingredients used.
Did you make this recipe? Don't forget to give it a star rating below!