Jump to Recipe⌄
Healthy chocolate muffins (95 calories)
So I've been trying this thing called "eating healthy" over the past week and have been on the hunt for healthy CHOCOLATE recipes. I just can't give up my sweet tooth. I blame my grandpa. I found a recipe for healthy chocolate muffins that I think you will adore. Especially for less than 100 calories. They are great for that sweet craving!
I made them with my kids the other day (lets not talk about the chocolate dumped all over the floor) and they LOVED them. They gobbled these bad boys right up. They really are deceptively delicious. My husband even said they were really good. Now they don't quite compare to a chocolate cupcake with buttercream …but come on… we're talking HEALTHY people. Try them. You will thank me. Your family will too. ;)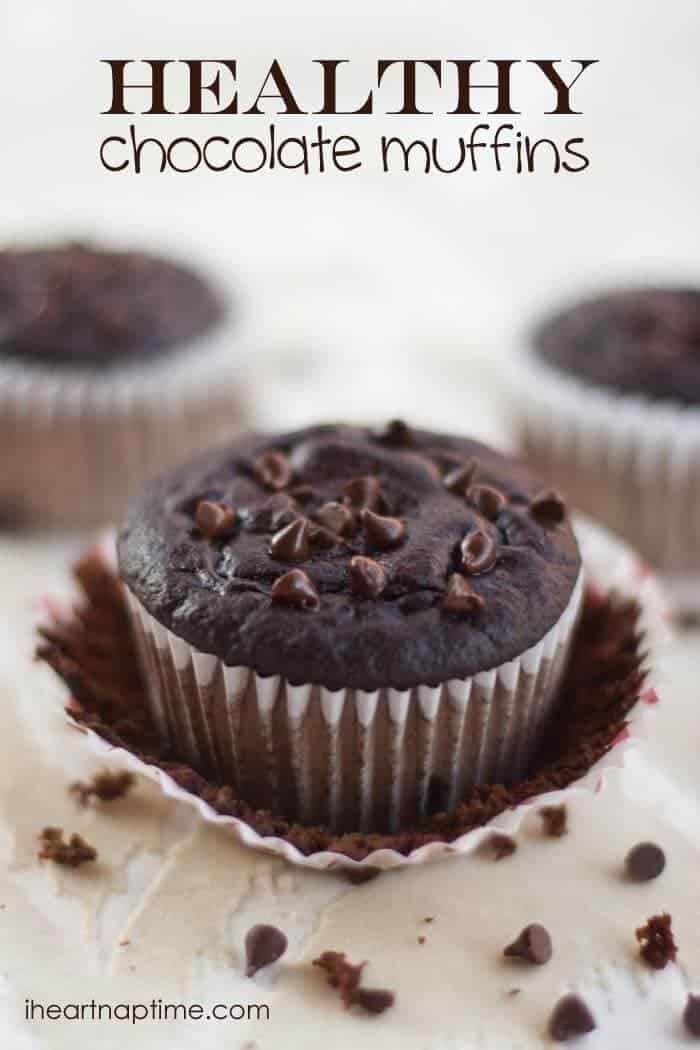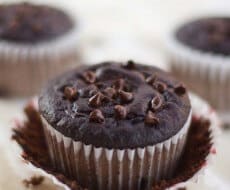 Healthy chocolate muffins (95 calories)
Ingredients:
1 3/4 cup of old fashioned oats
3 egg whites
3/4 cup unsweetened cocoa
1/2 cup unsweetened applesauce
1 tsp. vanilla extract
1/2 cup plain Greek yogurt (or regular plain low fat yogurt)
1/2 tsp cream of tartar
1/4 tsp. salt
1 cup hot water
1-1/2 tsp. baking powder
1-1/2 tsp. baking soda
1/2 cup truvia baking blend (or baking stevia)
1/2 cup semi-sweet chocolate chips (I used the mini chips)
Directions:
1. Line a muffin pan with foil cupcake liners, or you can also spray a muffin tin with non-stick cooking spray.
2. Heat oven to 350 degrees.
3. Mix all of the ingredients together in a blender (except for the chocolate chips) on LOW. Blend until mixture is smooth. Do not over blend.
4. Place mixture in cupcake liners. I filled mine about 3/4 the way full. Once the batter was in the liners, I placed the chocolate chips on top.
5. Bake for 15 minutes. Remove from oven and allow to cool.
*Tip: At 12 minutes, take muffins out and place a few more chocolate chips on top to get the "muffin top."
Enjoy your healthy chocolate muffins …your hubby and kids will never know they are "healthy." ;)
 You'll love these too: