Jump to Recipe⌄
Maple Glazed Snickerdoodle Muffins
Snickerdoodle muffins drizzled with a maple glaze. The sour cream in these muffins makes them super soft and fluffy! The cinnamon chips also add the perfect touch. My kids lit up when they saw these!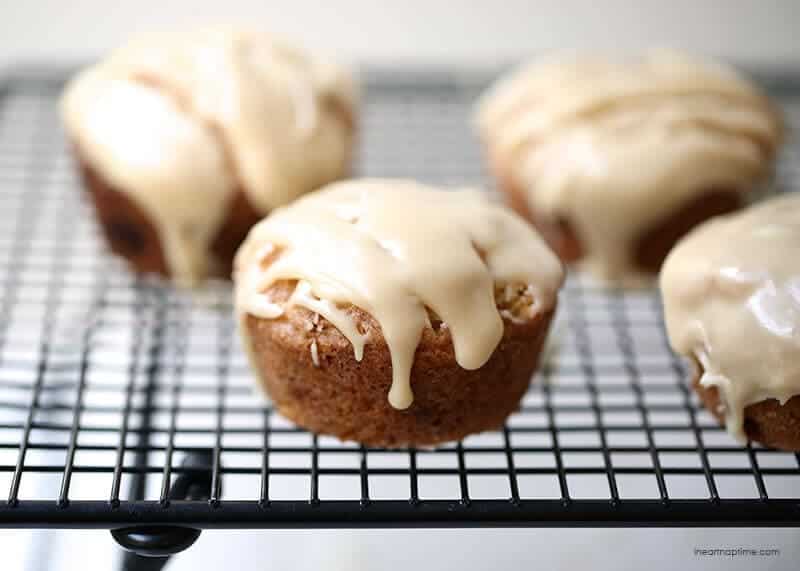 I love sending the kids off in the morning with full bellies, and freshly made muffins are always a huge hit! These are full of flavor with tons of cinnamon and a hit of sweet. The maple glaze send them over the top!
You can make them them the night before, or in the morning. My kids are always more easy to wake up when they know they'll have something delicious to start off the day. :)
Looking for a yummy snack/treat to make for your kids on the first day of school? They will love these anytime of the day!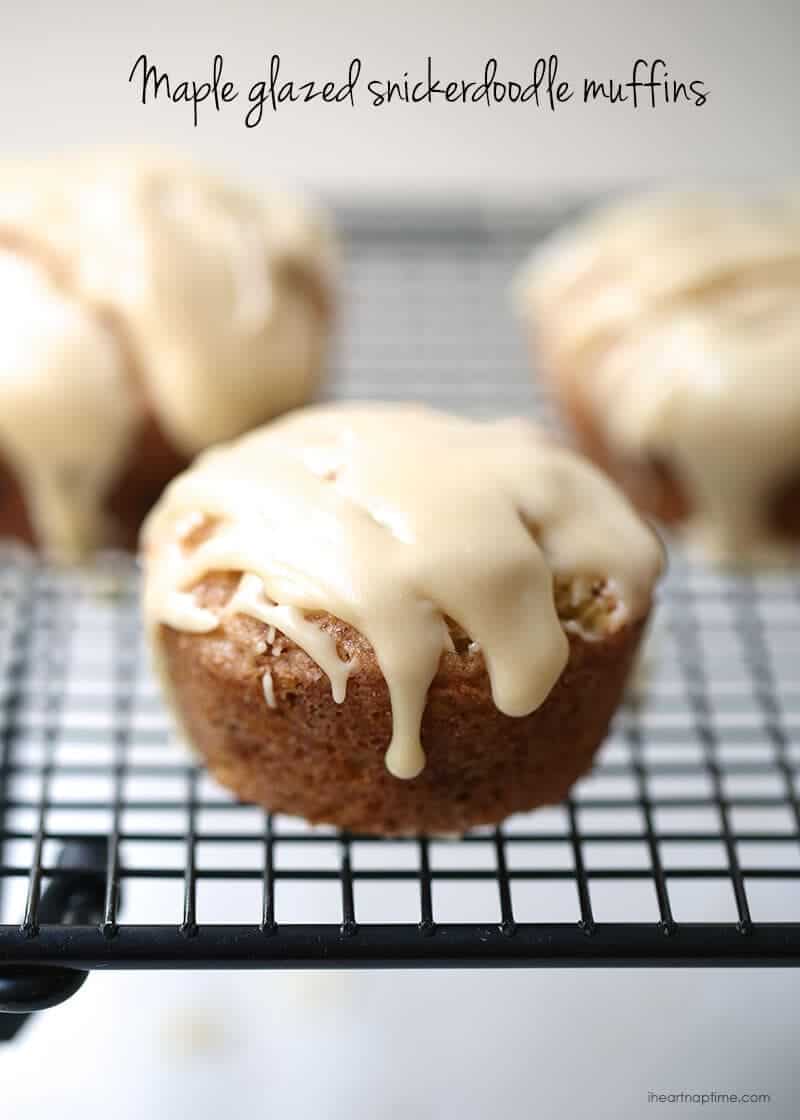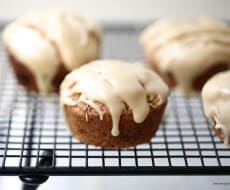 Maple Glazed Snickerdoodle Muffins
Snickerdoodle Muffins drizzled with a maple glaze
Ingredients:
1 cup (2 sticks) salted butter, softened
1 cup granulated sugar
1/2 cup brown sugar
2 tsp vanilla extract
3 eggs
2-1/2 cups all-purpose flour
1 tsp baking soda
1 tsp baking powder
1/2 tsp cream of tarter
1/2 tsp freshly grated nutmeg
3/4 cup sour cream
1 cup granulated sugar
1-1/2 TB cinnamon
1 cup cinnamon chips
Maple Glaze
3 TB salted butter
3/4 cup powdered sugar
1 tsp vanilla
1-1/2 TB 100% pure maple syrup
1-2 TB water, if needed
Directions:
In a small bowl, mix 1/2 cup sugar and 1-1/2 TB cinnamon and set aside.
Preheat oven to 350 degrees F. Grease 2 muffin pans or line with paper baking cups.
In the bowl of a stand mixer, cream butter, 1 cup of sugar, brown sugar and vanilla. Cream for 3-5 minutes or until fluffy. Add the eggs one at a time, mixing after each one. Mix in sour cream and stir just until combined.
Add one tablespoon from the cinnamon sugar mixture.
In a separate bowl, whisk together flour, baking soda, baking powder, cream of tartar, and nutmeg.
Slowly add the flour mixture to the wet ingredients. Scrape down the bowl as needed. Fold in the cinnamon chips.
Place batter in the fridge for about 10-15 minutes.
Using an ice cream scoop, scoop the batter into the cinnamon-sugar mixture and roll around to coat completely, making sure not to press your fingers into the batter while you roll. Place the coated muffins into the prepared tins.
Bake for 17-20 minutes (17 with no liners, 20 with liners), or until golden brown and a toothpick inserted in the center comes out clean. Remove from the oven and let cool in the pans for 5 minutes before removing them to a wire rack to cool completely.
For the glaze:
Melt butter in a saucepan. Stir in maple syrup. Add powdered sugar and vanilla – it will be thick and sticky. Add water until desired consistency is reached.
Drizzle the glaze over the warm muffins with a spoon or a fork.
Enjoy!
All images and text ©
The dough is a little thicker than your normal muffin batter and is somewhat like cookie dough. Definitely just as yummy. ;)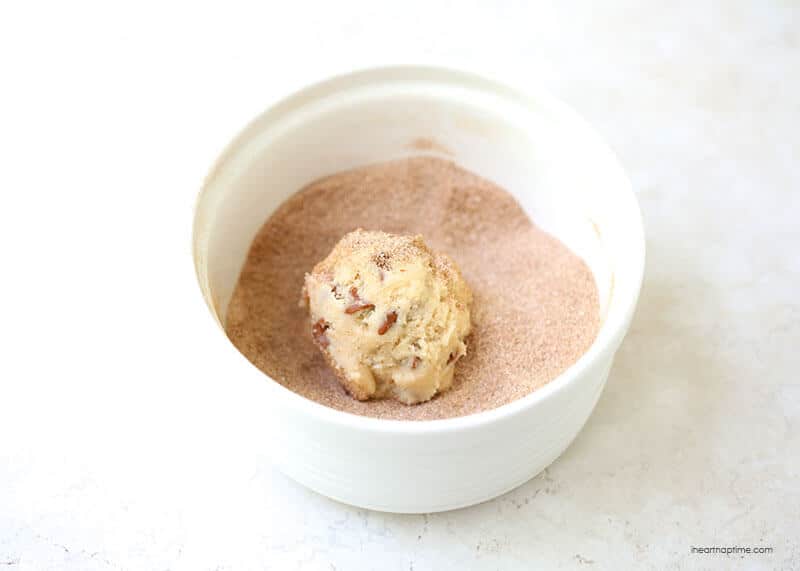 After they are baked, you can add the maple glaze or enjoy them plain! We love them both ways!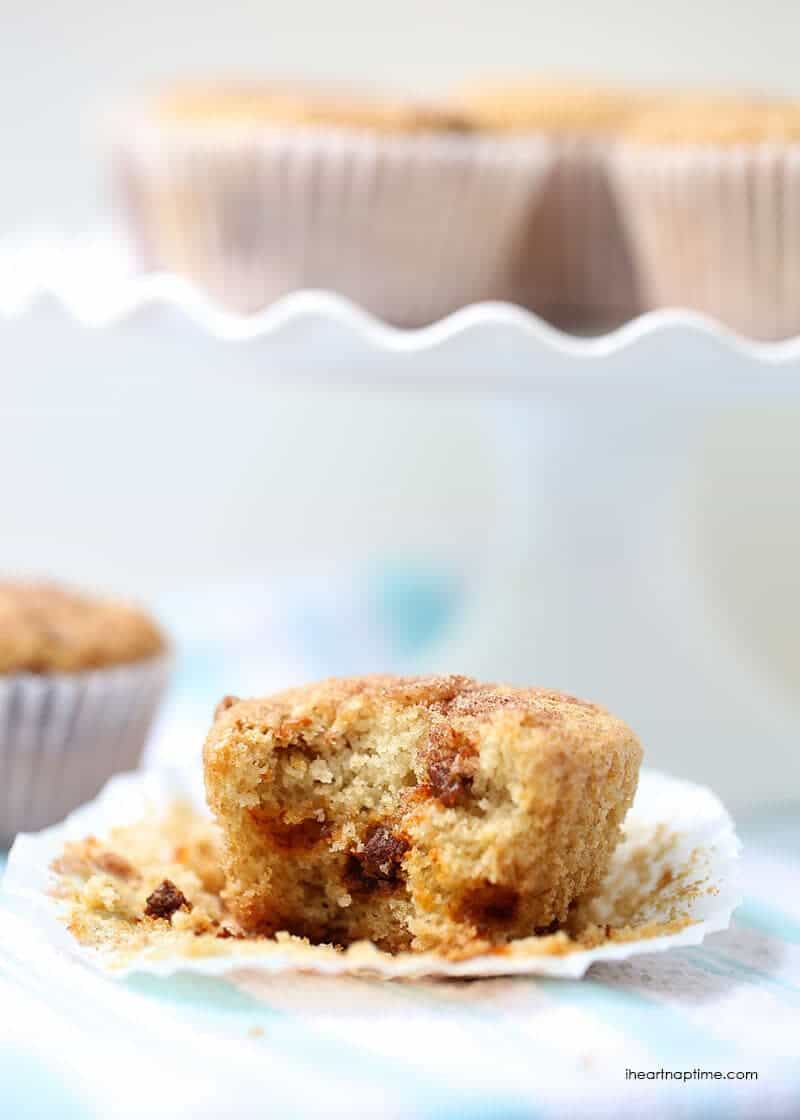 Looking for more easy, delicious muffin recipes? You'll love these, too: