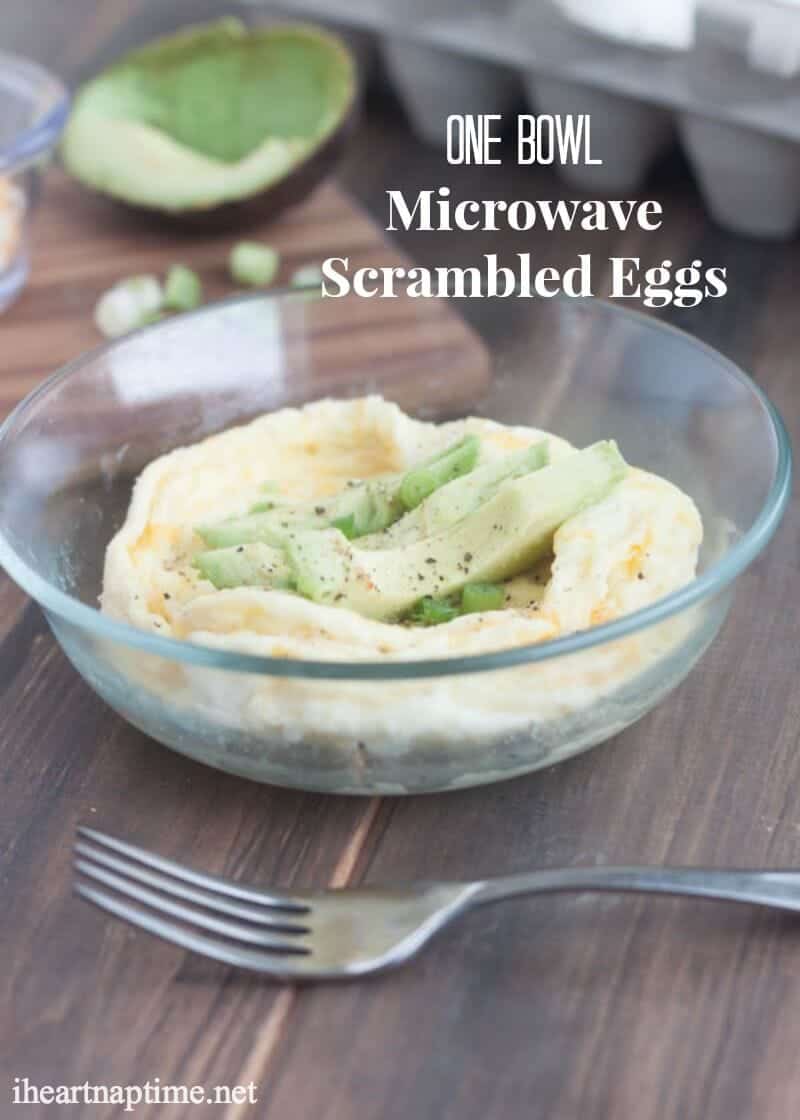 Hi Nap Time friends! It's Kristy from Sweet Treats & More and I've got a quick and healthy breakfast for you! With a new year upon us we have new resolutions and new goals– one of which is always eating "healthier." Eating healthy means something different to each of us, but whatever your new health goals are for the year, I hope it includes eating a healthy breakfast every day! You know, aside from the occasional donut:)
My husband and I love eating eggs for breakfast. We have egg white scrambles or egg white omelets loaded with veggies and cheese several days a week (sometimes even for dinner!)  They are high in protein, low in fat and calorie (unless you add a pound of cheese! Guilty!)  But my husband is the better egg scrambler/omelet maker, his always turn out better than mine. And quite frankly, sometimes I just don't have time to make eggs in the morning. Or I don't want to deal with clean up.
My solution? Scrambling eggs in the microwave…in one bowl….in less than two minutes!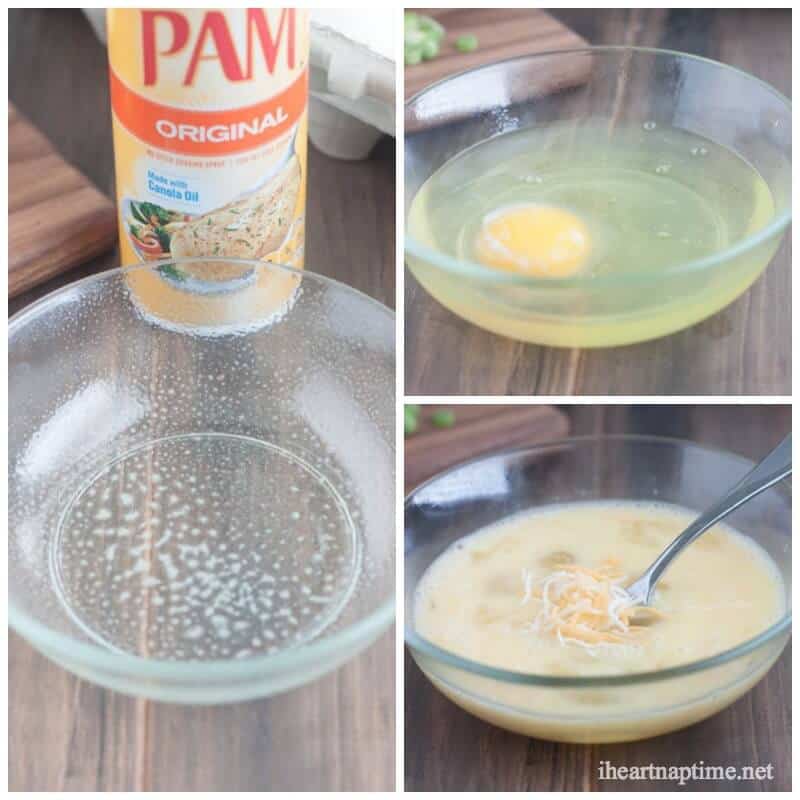 You can use whole eggs, egg whites, half and half. For this scramble I used three egg whites and one egg. But you do what you want! Generously spray a microwave safe bowl with cooking spray and whisk your eggs/egg whites into the bowl. Season with salt and pepper and stir in a little cheese. Then just pop it in the microwave for one to two minutes and you're done! I like to top mine with slices of avocado, some green onion or even salsa.
Then, just toss the bowl in the dishwasher. Easiest clean up ever and a super easy, super healthy breakfast!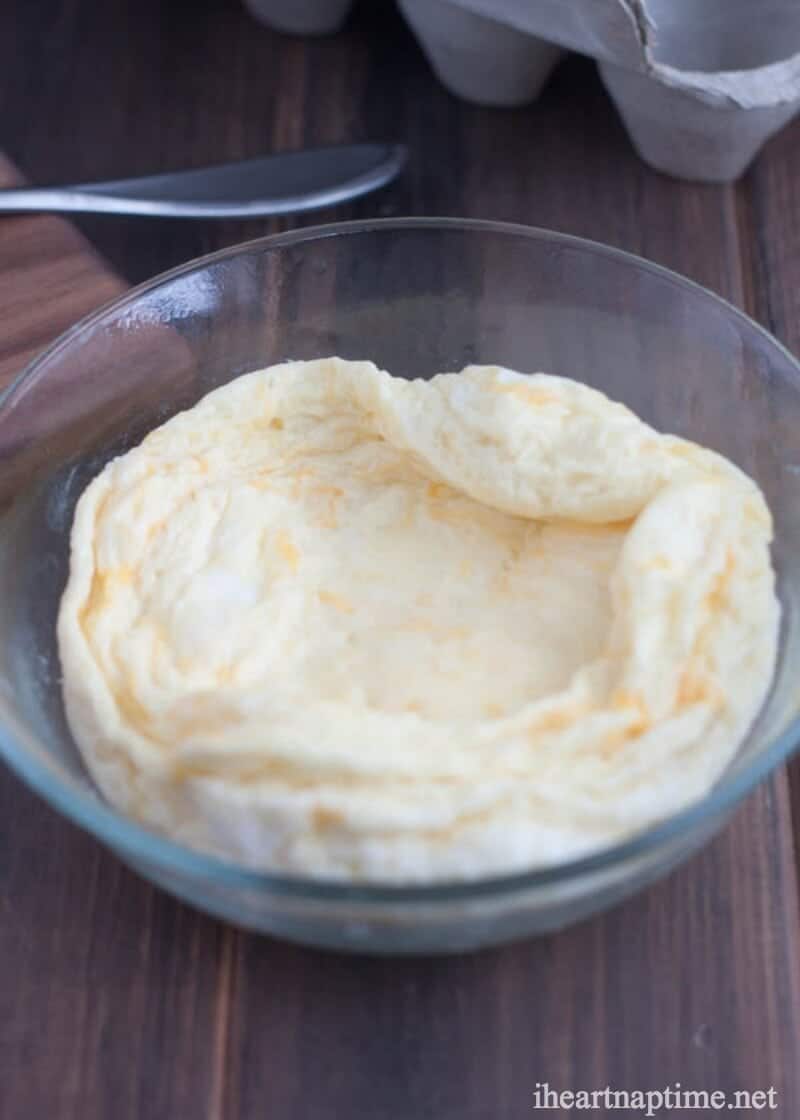 Happy New Year Friends!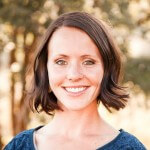 Hi there! I'm Kristy, a wife, mom to two little boys, a runner, and just a girl that loves good food. I love cooking and baking for family and friends and love the memories that accompany good food. I kind of have
a thing for sweets,especially chocolate and peanut butter. I like to keep things simple in the kitchen- simple meals and desserts using simple ingredients. I'd love for you to stop by, say hello, and find something yummy!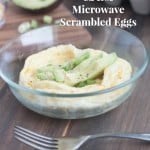 One Bowl Microwave Scrambled Eggs
Scrambling eggs in the microwave...in one bowl....in less than two minutes!
Ingredients
3

egg whites

1

egg

1

tbsp

shredded cheese

salt and pepper

Optional toppings: sliced avocado

green onions, salsa
Instructions
Spray a microwave safe bowl generously with cooking spray. Crack egg whites and egg into the bowl. Whisk for one minutes. Stir in shredded cheese and a dash of salt and pepper. Place the bowl in the microwave and microwave on high for 1 to 1 1/2 minutes, Watch closely so eggs don't puff up over the edges of the bowl or explode. Carefully remove bowl, top with any toppings and enjoy.
Nutrition
Calories:
154
kcal
|
Carbohydrates:
1
g
|
Protein:
18
g
|
Fat:
7
g
|
Saturated Fat:
3
g
|
Cholesterol:
175
mg
|
Sodium:
304
mg
|
Potassium:
207
mg
|
Vitamin A:
6.8
%
|
Calcium:
9.9
%
|
Iron:
4.3
%
PIN THIS RECIPE