Make this burger in a bowl as light or as loaded as you'd like! It's a healthy gluten-free, low-carb, whole 30 alternative to a traditional hamburger. It's perfect for lunch on the go or a light dinner at home!
This is one of the easiest healthy dinner ideas and will curb those burger cravings without the guilt!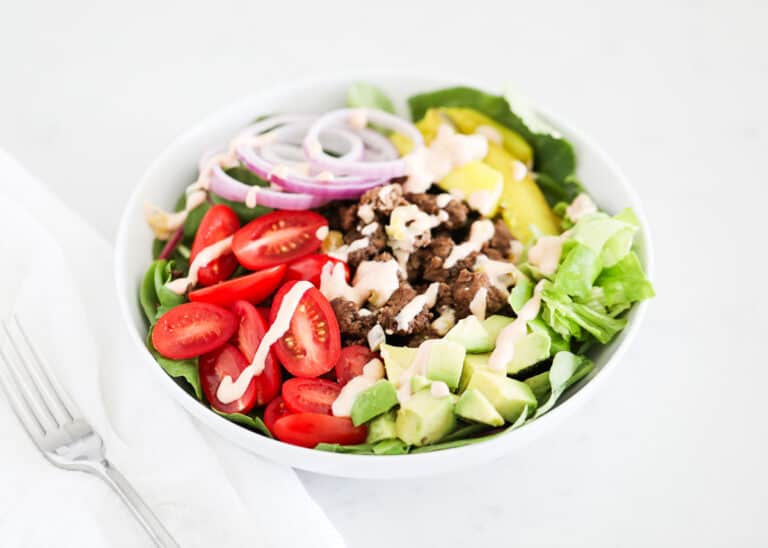 Loaded burger bowls
These burger bowls are the perfect low-carb meal for a quick lunch or easy dinner. It has the same flavor as a classic burger but without the hamburger bun. It's light enough that it won't weigh you down, but it's super filling and very delicious. It's the perfect way to use leftover meat whether it's from a grilled hamburger, baked hamburger, or fried on a skillet. Switch to a turkey burger for an even lighter option.
It comes together so easily, it will become a go-to meal throughout the summer. It's a great way to enjoy a salad with an extra source of protein. Serve on busy weeknights, weekend dinners when the last thing you want to do is heat up your oven, or a quick lunch to pack for work. Customize to your liking with your favorite toppings like ranch dressing, which is my favorite, or this delicious homemade burger sauce.
Grab a bowl, load it up with your favorite toppings and get ready to eat your burger with a fork!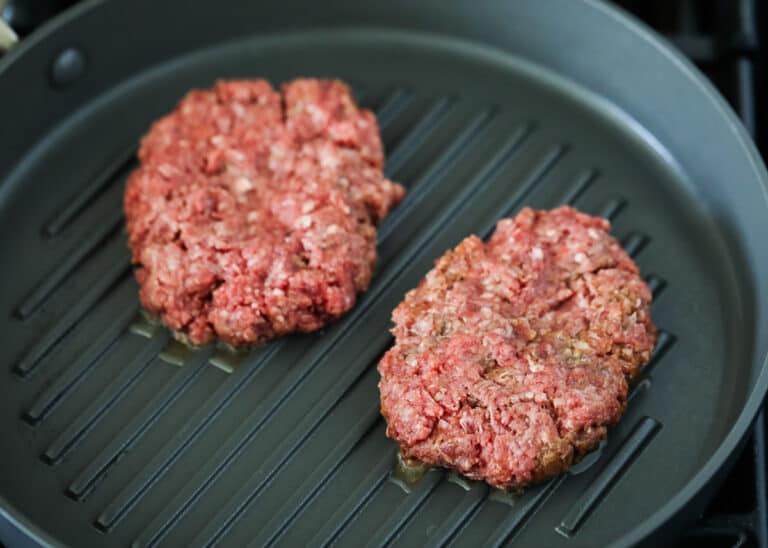 Tips for the best burger bowls
Keep the patty whole or crumble it up, the choice is yours.
Cook meat to an internal temperature of 155ºF – but don't overcook it. You still want it juicy and full of flavor.
Drain excess grease before adding to salad. You don't want to taste that extra fat in there.
Cut similar sizes. I like to chop up my lettuce in bite-size pieces as well as cut the tomatoes in half. Then any additional toppings to match so that it's not an overwhelming bite.
For a little added seasoning sprinkle in some hamburger seasoning to the meat before cooking. You can even make your favorite burger variation, like an Italian burger or Greek chicken burger.
Thinking about a different kind of meat? Turkey or chicken burgers work too!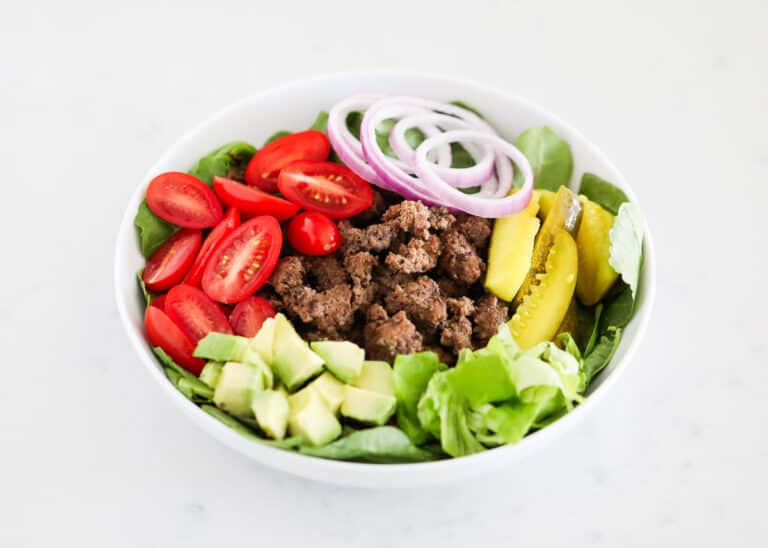 Extra toppings
So, is it a burger or a salad? It's basically both! Ok, that's not true, it's definitely not a traditional burger, but if you build the burger salad bowl exactly as you would your favorite burger, then I promise you, you won't miss the bun!
Melt cheese on top of the burger while it cooks
Shredded cheese
Pickles
Cherry tomatoes
Sliced red onions
A fried egg
Crispy fried onions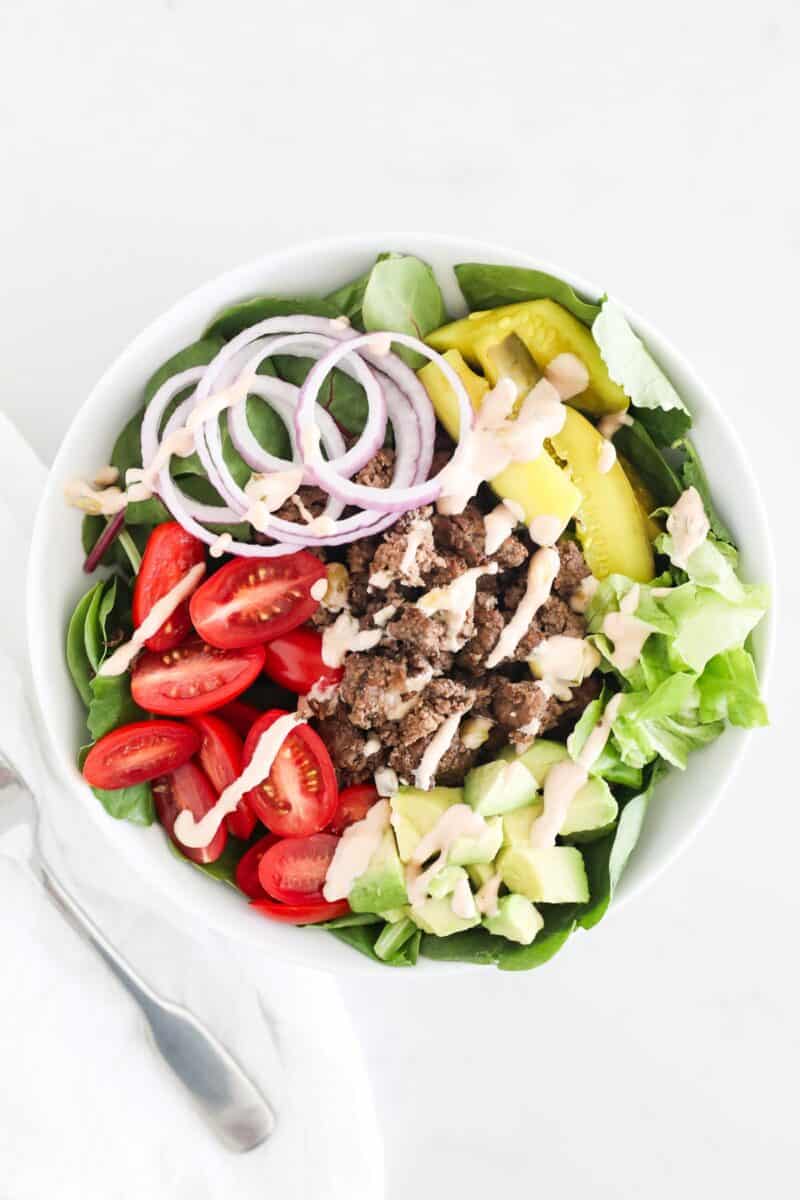 More easy low carb recipes: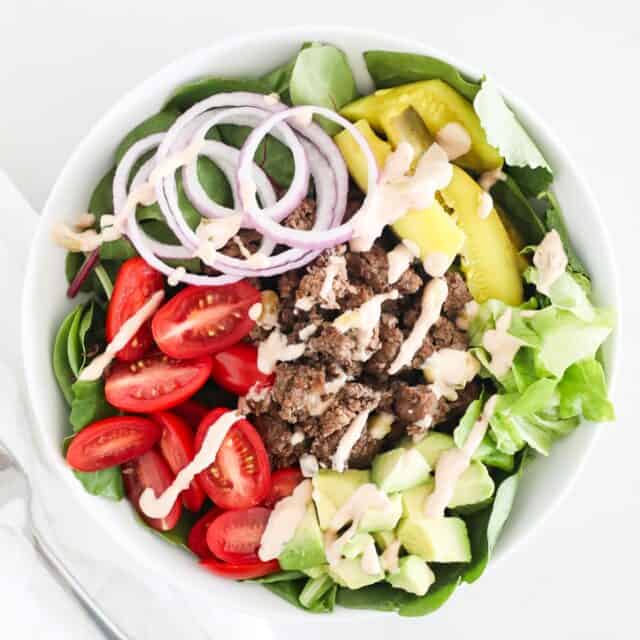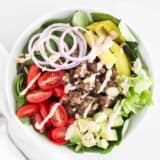 Burger in a Bowl
Make this burger in a bowl as light or as loaded as you'd like! It's a healthy gluten-free, low-carb, whole 30 alternative to a traditional hamburger. It's perfect for lunch on the go or a light dinner at home!
Ingredients
Burger
1 pound ground beef , could sub for ground turkey
3/4 teaspoon Kosher salt
1/2 teaspoon garlic powder
1/4 teaspoon ground black pepper
Bowl
8 cups spinach , I used a mix of spinach and romaine
1 1/2 cups cherry tomatoes , cut in half
1/2 cup ranch dressing
Optional toppings: shredded cheese, pickles, avocado, onions, crumbled bacon, croutons
Instructions
Combine the hamburger, salt, garlic powder and pepper in a small bowl. Then form 4 patties and press a thumbprint into the center. Cook in a skillet over medium-high heat for 3 to 5 minutes per side or until the internal temperature reaches 155ºF. Remove to a plate lined with paper towel to catch any extra grease.

While the hamburgers are cooling, prepare your lettuce and desired toppings. I like to chop the spinach and lettuce into smaller bite sized pieces.

Divide the lettuce into the base of four bowls. Then add desired toppings. Once the hamburgers have slightly cooled, add to the center of the bowl. You can leave it whole or chop into bite sized pieces.

Drizzle 2 Tablespoons of dressing over the top. Enjoy soon after. This salad is best served the first day.
---
Notes
To bake in the oven:
Preheat the oven to 425°F. Line a rimmed baking sheet with foil. Then place a cooling rack on top of the foil wrapped pan.

Place burgers on rack and cook for 15 minutes, or until juices run clear and the internal temperature reaches 155°F.
Variation: For a delicious twist add in pickled onions, caramelized onions or fajita veggies.
Dressing: I used this homemade ranch dressing. You can use any dressing you'd prefer. If you want it to taste like a traditional burger, try this burger sauce.
Nutrition Value does not include toppings.
Calories: 370kcal | Carbohydrates: 7g | Protein: 25g | Fat: 27g | Saturated Fat: 7g | Trans Fat: 1g | Cholesterol: 84mg | Sodium: 893mg | Potassium: 845mg | Fiber: 2g | Sugar: 2g | Vitamin A: 5912IU | Vitamin C: 31mg | Calcium: 90mg | Iron: 5mg
Nutrition provided is an estimate. It will vary based on specific ingredients used.
Did you make this recipe? Don't forget to give it a star rating below!