The absolute BEST turkey burgers that are moist, juicy and loaded with flavor. Only 5 ingredients and 20 minutes to prepare!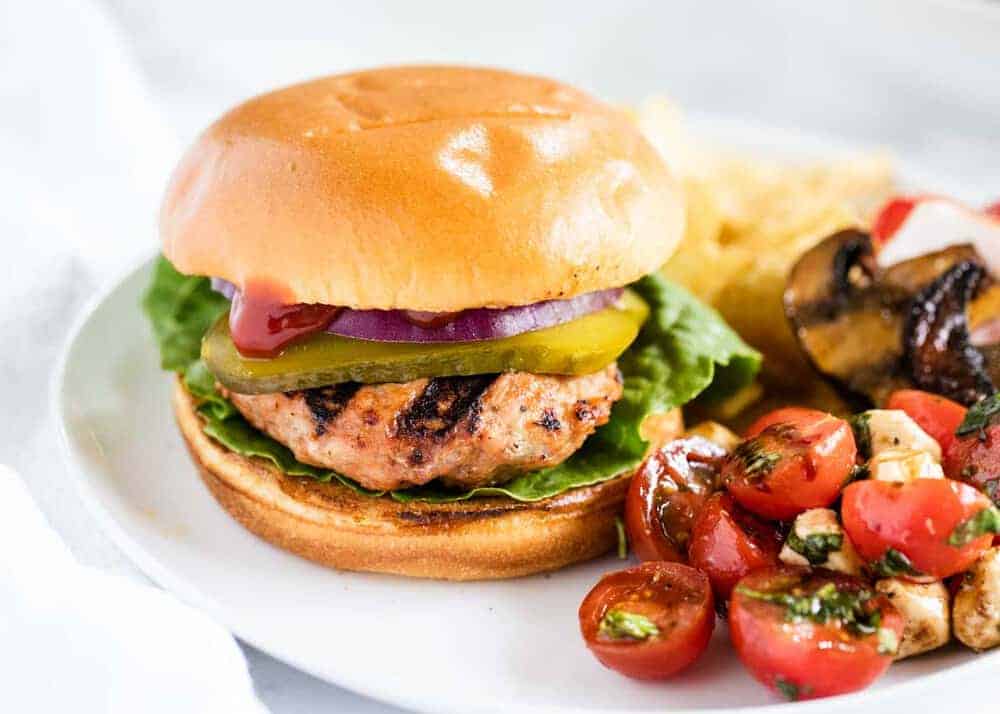 Summer Time Burgers
We absolutely love to grill out during the summer time. Cooking on the grill adds the best flavor and is perfect for fresh meats and veggies. While I love a big, juicy hamburger every now and again, I'm often in the mood for a lighter and healthier option like this healthy turkey chili. Queue these delicious and easy turkey burgers!
I adapted these from my favorite hamburger recipe and the end result was just fabulous. The burgers were moist, juicy and full of flavor. Plus they're a bit more healthy and great for when you aren't in the mood for red meat. They taste amazing on a fresh hamburger bun with all your favorite toppings and a side of grilled vegetables or my favorite caprese salad. Or keep it low carb and make a lettuce wrap burger instead. Both ways taste delicious!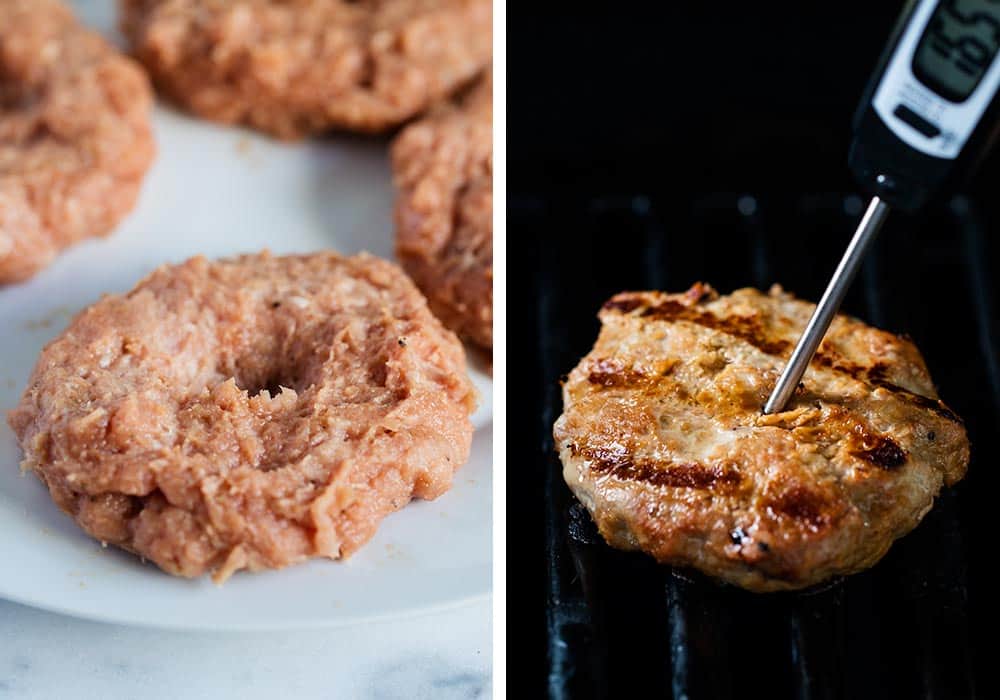 Type of Ground Turkey
The type of ground turkey you use can make or break your burgers. There are some brands that are more wet than others, making it harder for the patties to keep their shape because of the excess moisture. The meat shouldn't be soggy to touch. After testing out a few brands, you'll get the feel for which ones have the best texture.
I like to use 80% lean, 20% fat ground turkey. It doesn't dry out like the 99% lean ground turkey does and the little bit of fat also helps to bind the burgers together. That way they're still more lean than regular hamburgers, but are equally moist and juicy.
Seasoning
If you're wondering how to season your burgers, it's super easy! I keep it simple and use BBQ sauce (or steak sauce or teriyaki sauce), salt, pepper and garlic powder. The spices add just the right amount of flavor and the sauce binds the meat together and keeps them moist and juicy. You can also season them with this easy homemade hamburger seasoning. I always love to have a batch in my pantry!
Instead of BBQ sauce, some people prefer to use 1 egg with 1/4 cup breadcrumbs to bind their patties together. You can easily make this swap, however I find that BBQ sauce works just as well and adds a little more flavor.
Tips for the Best Turkey Burgers
Don't overmix. Be careful not to over mix or else the meat won't be as tender. Mix everything together just until combined.
Thumbprint in center. Make a thumbprint in the middle of your patties to prevent the burgers from bulging.
Sticking to grill. To avoid sticking, make sure to clean and oil your grill plates.
Flipping. Don't move the burgers until 4 to 5 minutes have passed. You want them to solidify and get a good char on the bottom prior to flipping.
Meat thermometer. Use a meat thermometer to easily know when they are done. They are ready when the interior has reached 180°F and the juices run clear.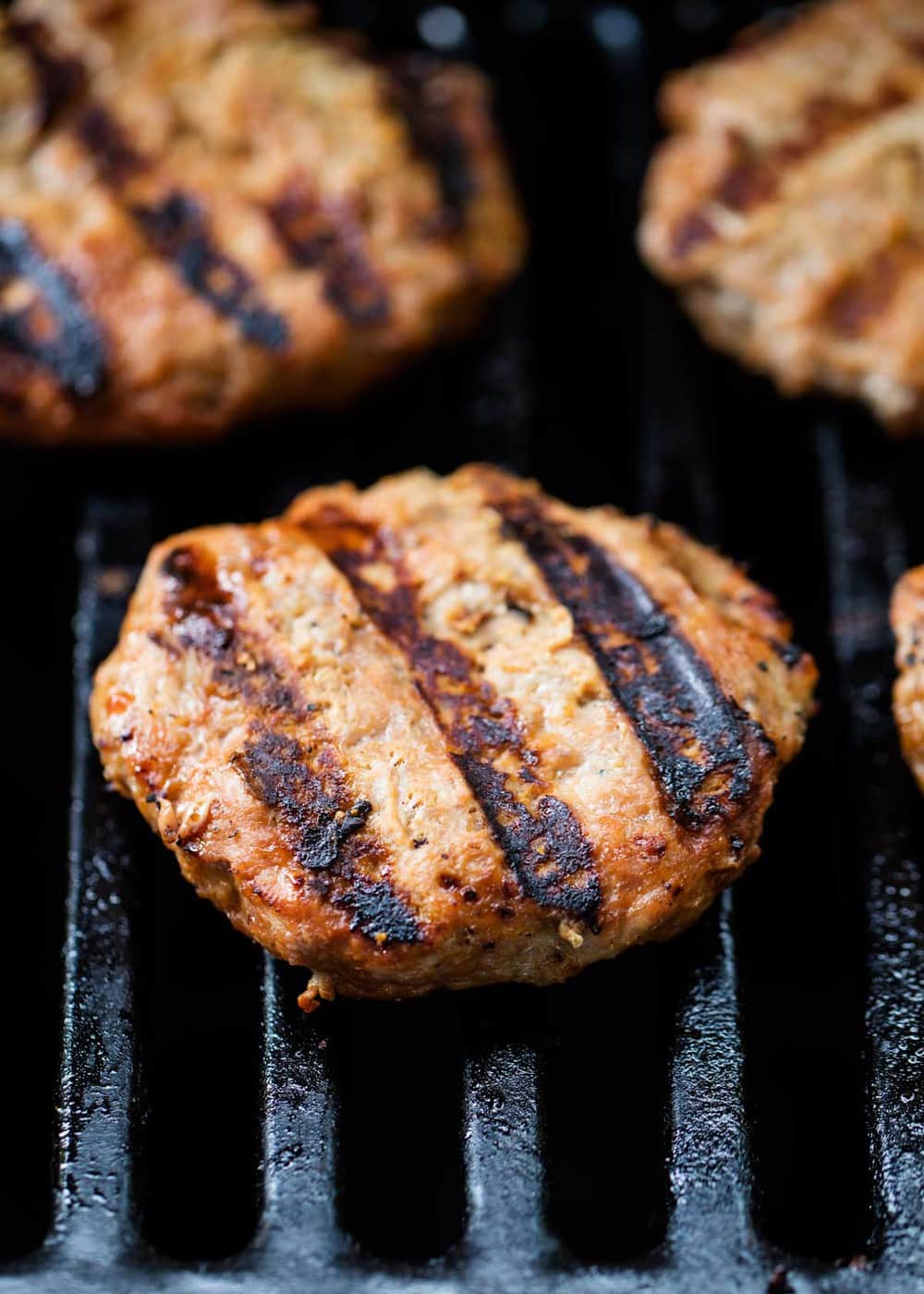 Making Patties Ahead of Time
You can easily prepare the patties in advance to save yourself the extra work at dinner time. Form them as directed, then place on a plate or in a pan and cover with plastic wrap. Then store in the fridge until ready to grill. If you have multiple layers of patties, I'd recommend using parchment paper in between each layer so that they don't stick together.
Favorite Toppings
Make the burger your own by adding on all of your favorite toppings. Keep it classic with lettuce, tomato, pickles and melted cheese. Or make it gourmet by adding a fried egg, bacon and some caramelized onions.
Lettuce
Tomato
Onion
Cheese
Pickles
Ketchup
Mayo
Mustard
What to Serve with Turkey Burgers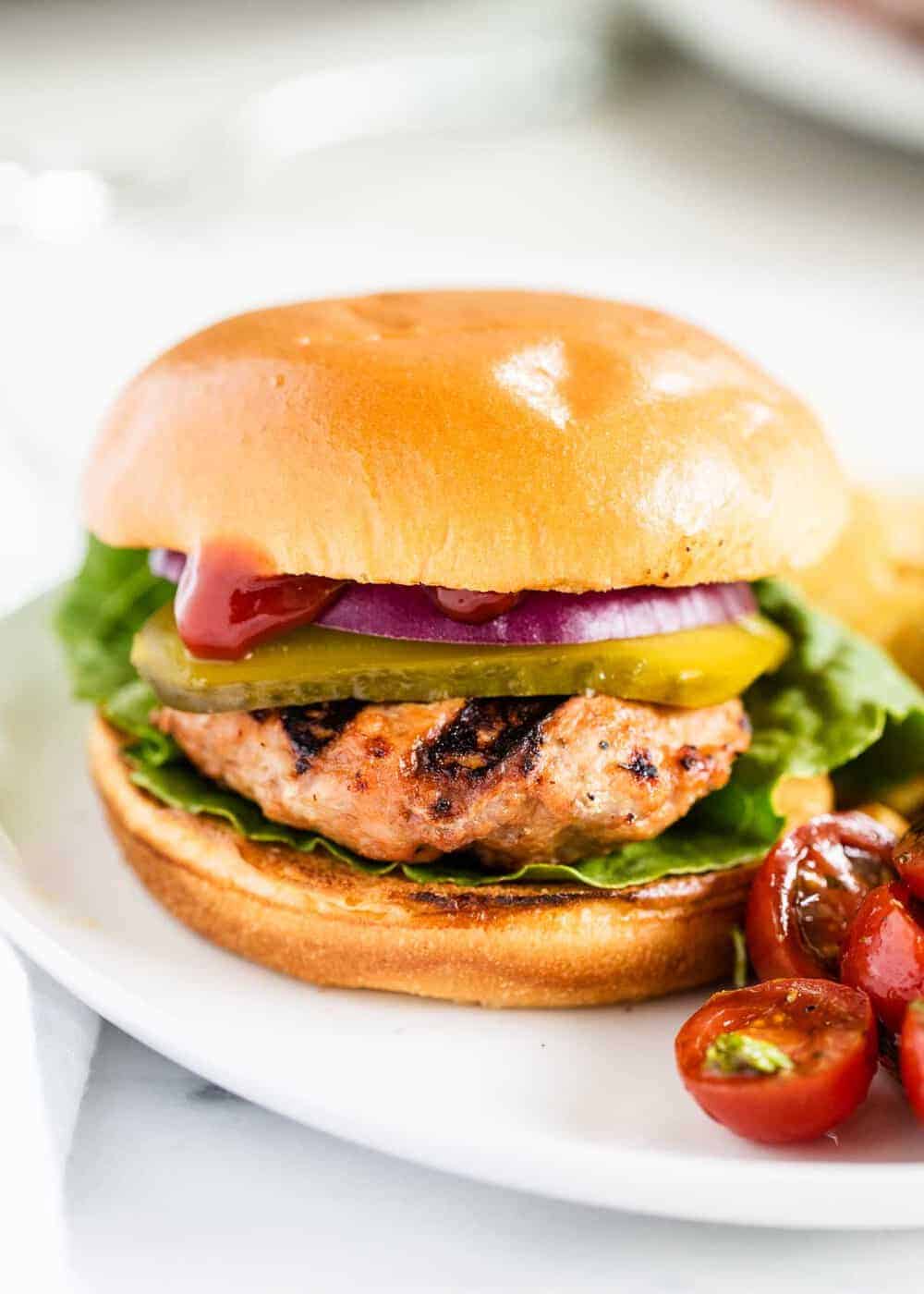 More Grilled Favorites
HUNGRY FOR MORE? Subscribe to my newsletter and follow on Facebook, Pinterest and Instagram for all the newest recipes!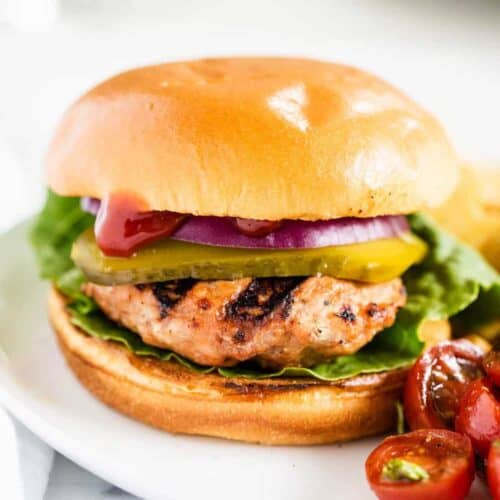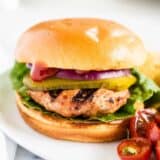 Turkey Burgers
The absolute BEST turkey burgers that are moist, juicy and loaded with flavor. Only 5 ingredients and 20 minutes to prepare!
Ingredients
1 ½ pounds ground turkey , 80% lean and 20% fat
2 Tablespoons BBQ sauce , or steak sauce
1 teaspoon Kosher salt
½ teaspoon pepper
½ teaspoon garlic powder
Optional toppings: ketchup, mayo, mustard, thousand island, cheese, bacon, lettuce leaves, tomato slices, sliced onion, pickles
For serving: hamburger buns or lettuce wraps
Instructions
Preheat the grill to medium-high.

Combine the ground turkey, BBQ sauce, salt, garlic powder and pepper in a medium-sized bowl. Mix just until combined with your hands and shape into 4 patties about 3/4-inch thick. Make a well in your patties with your thumb to prevent from bulging.

Place patties on the grill and cook 4 to 5 minutes. Flip and then cook an additional 4-5 minutes, or until juices run clear and burgers have reached 180°F. Top with cheese slices, if desired. Grill until cheese has melted and turn off the heat.

Serve on buns or lettuce wraps with your favorite toppings.
---
Notes
Seasoning: If you like spice, add a dash of cayenne or some red pepper flakes. I also love to use this easy hamburger seasoning and top my burger with my favorite burger sauce.
Make-ahead tip: Form the patties in advance and place in fridge until ready to grill.
Nutrition
Calories: 207kcal | Carbohydrates: 4g | Protein: 40g | Fat: 3g | Saturated Fat: 1g | Cholesterol: 94mg | Sodium: 758mg | Potassium: 522mg | Fiber: 1g | Sugar: 3g | Vitamin A: 60IU | Calcium: 8mg | Iron: 1.4mg
Nutrition provided is an estimate. It will vary based on specific ingredients used.
Did you make this recipe? Don't forget to give it a star rating below!