Check out the ultimate cookie bar recipe: brookies! They are the perfect combination of fudgy brownies and chocolate chip cookies all in one and are guaranteed to be a hit!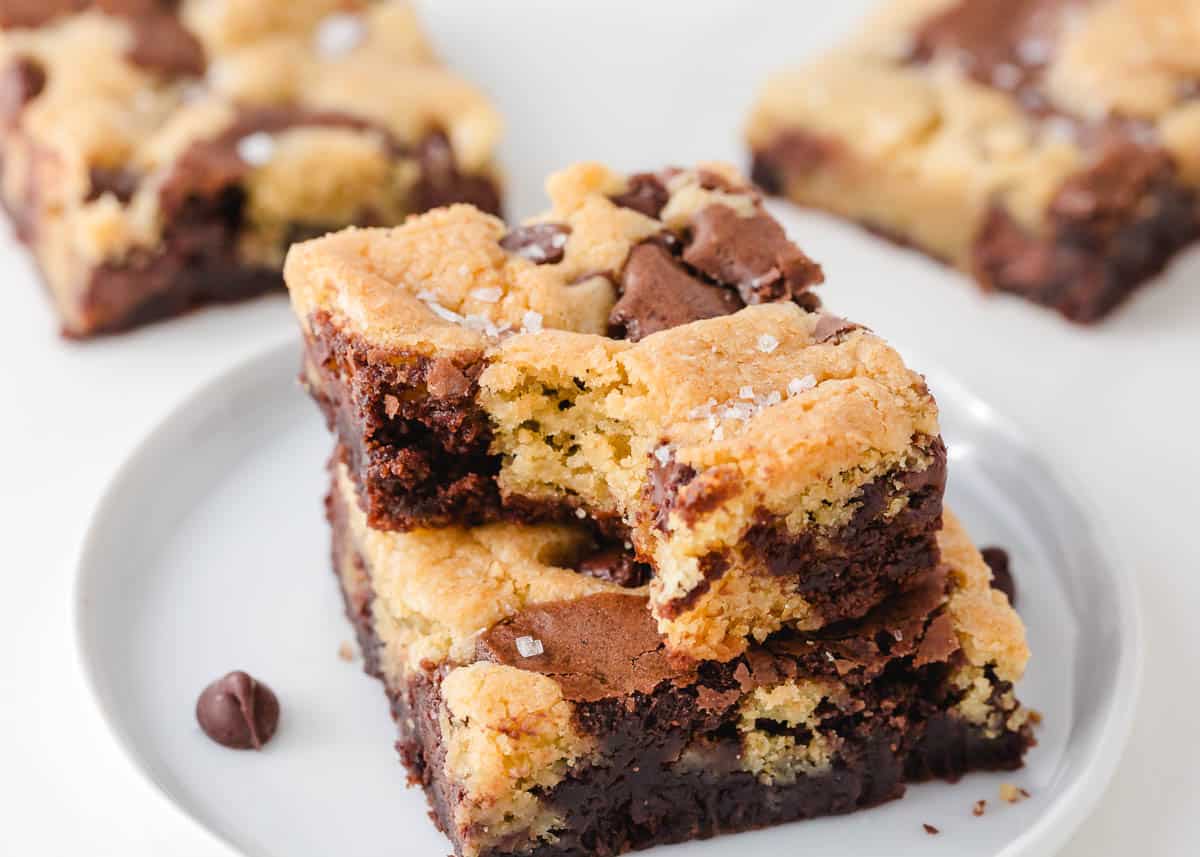 Brownie and Chocolate Chip Cookie Bars
Cookie bars are so easy to whip up and there are so many options to choose from! Today we're talking about brookies which balance the rich, chocolate flavor of brownies and the comforting familiarity of chocolate chip cookies.
Brookies start with a layer of brownies at the bottom and a chocolate chip cookie layer on top, then it's all baked in a single pan. If you love brownie cookies, just wait until you taste a brookie!
Why This Recipe Works
Simplicity. Making these brookie bars is a breeze, thanks to a clever combination of a brownie mix and a straightforward chocolate chip cookie dough.
Convenience. Using a store-bought mix saves you time in the kitchen just like with my recipe for brownie mix cookies! To save more time you could also use store bought Nestle cookie dough.
Endless versatility. You can customize theses cookie brownies with various add-ins and toppings to suit your taste.
Recipe Ingredients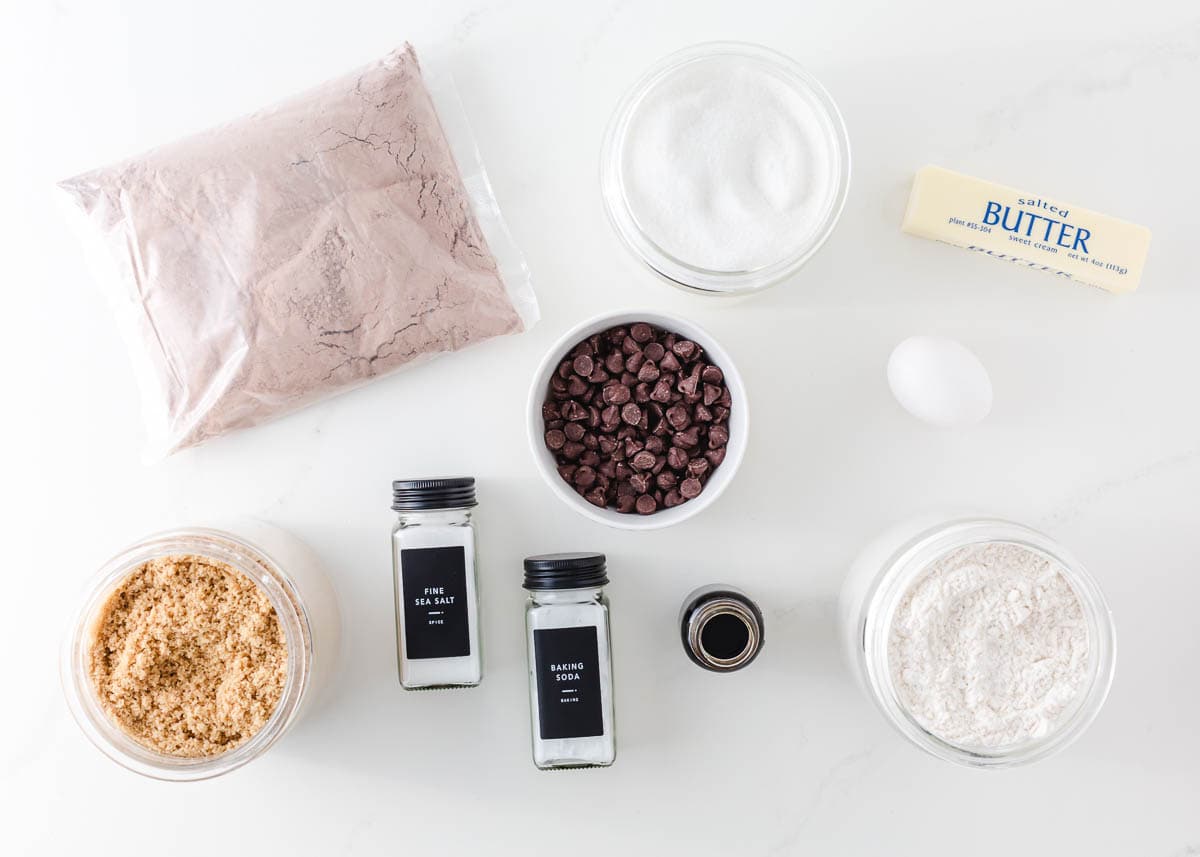 Find the full printable recipe with specific measurements below.
Salted butter: If you prefer using unsalted butter, feel free to do so and add a pinch of salt to the dough to achieve the same effect.
Baking staples: Sugar, baking powder, salt, eggs and vanilla extract.
Semi-sweet chocolate chips: Reserve some for sprinkling on top to make your brookies look as good as they taste.
Brownie mix: Plus the ingredients on the brownie box. Feel free to experiment with different brownie mix varieties to customize your brookies or use homemade brownies.
Substitutions and Variations
Put your own unique spin on brookies with these fun ideas:
Triple chocolate: Incorporate white chocolate chips, milk chocolate chips, and dark chocolate chips into the brookies cookie dough for a triple chocolate delight.
Nuts: Add chopped nuts such as walnuts, almonds, or pecans to either the brownie or cookie dough for a satisfying crunch.
Sprinkles: For the kid in all of us, you could stir in some sprinkles or even mini marshmallows or m&m's.
How to Make Brookies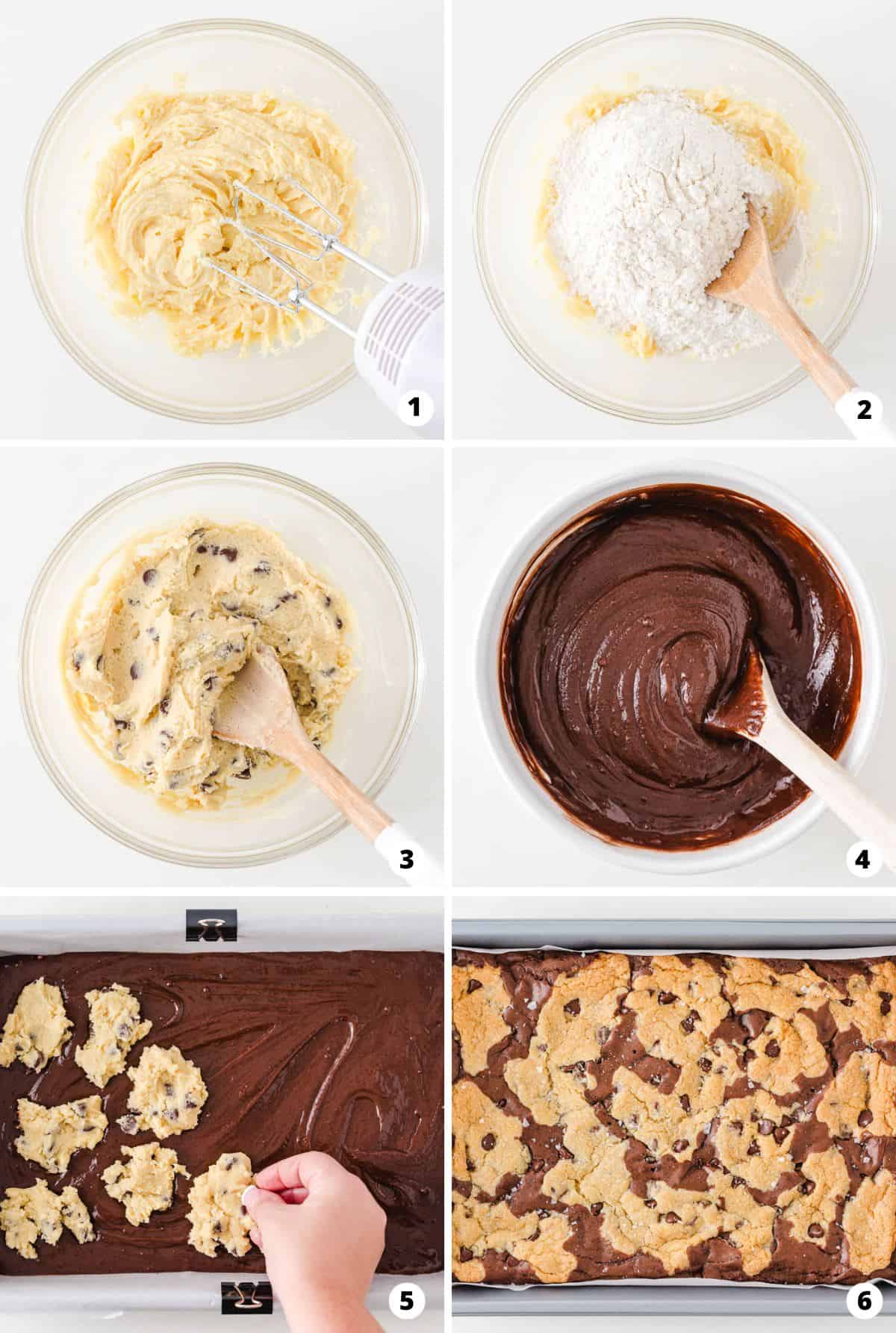 Make cookie dough. Use an electric hand mixer to mix the butter and sugars in a medium bowl until fluffy. Add the eggs and vanilla.
Dry Ingredients. Add flour, baking soda, and salt to the butter mixture and stir everything together with a wooden spoon until combined.
Add chocolate chips. Stir in the chocolate chips, cover the dough and refrigerate.
Make brownie batter. In a separate bowl, follow the instructions on the brownie mix box.
Assemble. With a spatula, spread the brownie batter into the prepared baking pan. Drop spoonfuls of the chilled cookie dough across the top of the brownie layer. Sprinkle chocolate chips on top.
Bake. Bake the brookies for 25-28 minutes until a toothpick inserted in the middle comes out clean. Sprinkle with flakey sea salt to serve. A scoop of vanilla ice cream on top might just be the perfect finish!
Expert Tips
Brownie mix varieties: Experiment with different brownie mixes for unique flavor profiles. You can choose from classic fudge brownie mixes, dark chocolate, bittersweet chocolate, or even salted caramel for an exciting twist.
Don't overmix: When combining the flour mixture with the wet ingredients for the cookie dough, stir just until everything is incorporated. Overmixing can lead to tough cookies, and we want these to be soft and chewy.
Customize the toppings: Get creative with toppings! Add chopped nuts, toasted coconut, white chocolate chips, or swirl in caramel sauce before baking.
Pan choice: Using a light-colored metal baking pan helps prevent over-browning on the bottom of your brookies.
Cutting your brookies bars: To get neat clean squares of brookies, let them cool completely before slicing then use a plastic knife (trust me) or a sharp knife with a straight edge.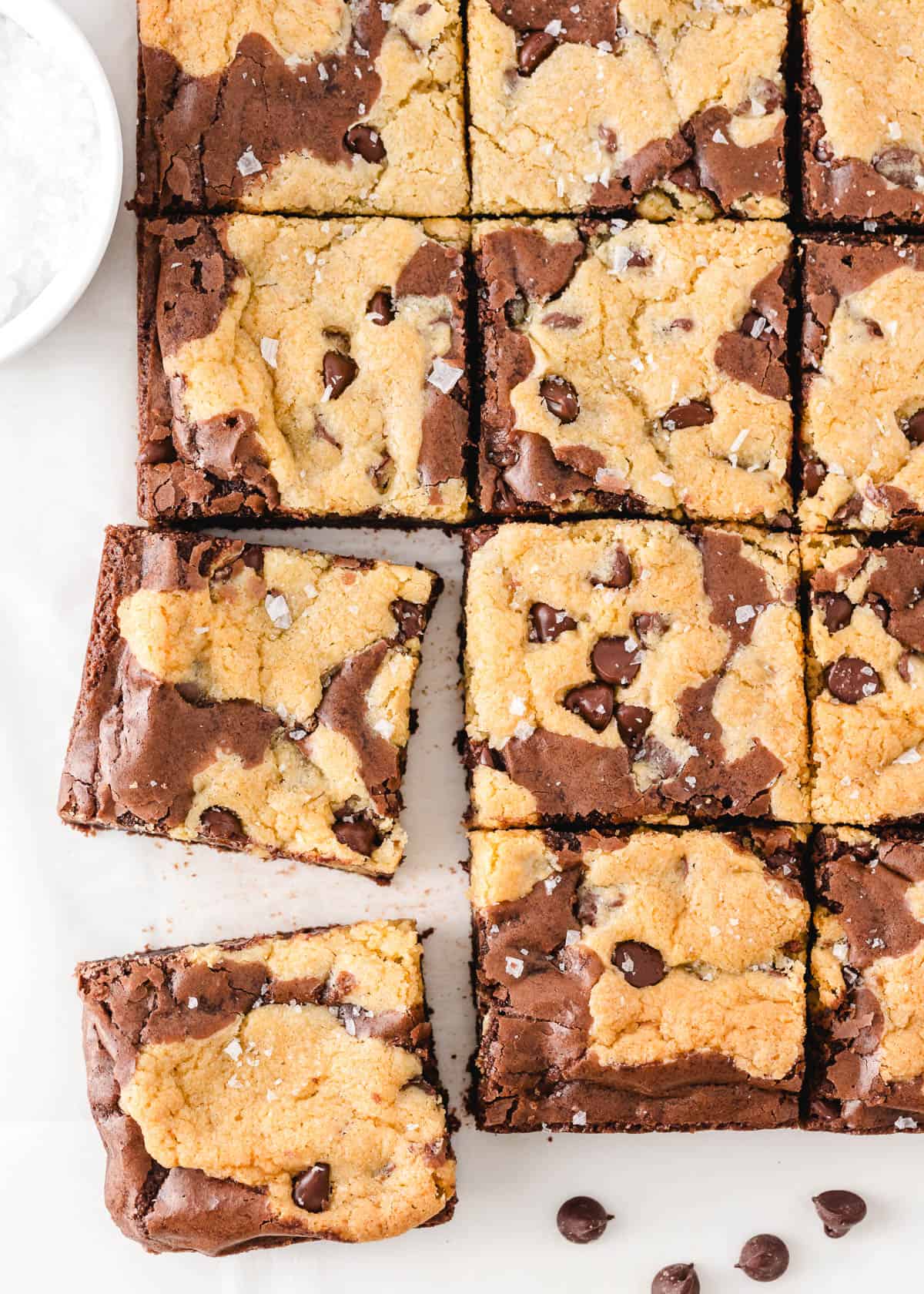 Recipe FAQs
What is a brookie?
Brookies, my friends, are the perfect fusion of two beloved classics: brownies and chocolate chip cookies. Think of them as the ultimate dessert collaboration, where the dense, fudgy goodness of brownies meets the chewy, cookie perfection of chocolate chip cookies.
Can I use a homemade brownie batter instead of a mix?
Absolutely! You can use your favorite homemade brownie batter recipe. However, the convenience of minimal prep time the mix provides is hard to beat when you're craving a quick and delicious dessert.
Can I make brookies with other mix-ins, like nuts or dried fruit?
Of course! Feel free to experiment with your favorite mix-ins. Chopped nuts, dried fruits, or even crushed candy bars can add a delightful twist to your brookies.
How can I tell when my brookies are done?
For perfectly baked bars, trust the toothpick test. Insert a toothpick in the center to check – when it comes out with a few moist crumbs, they're done. The center can be slightly soft, but it will firm up as it cools.
How to store leftover brookies?
Store your brookies in an airtight container at room temperature for up to 3-4 days. If you want to keep them for a longer duration, you can freeze them.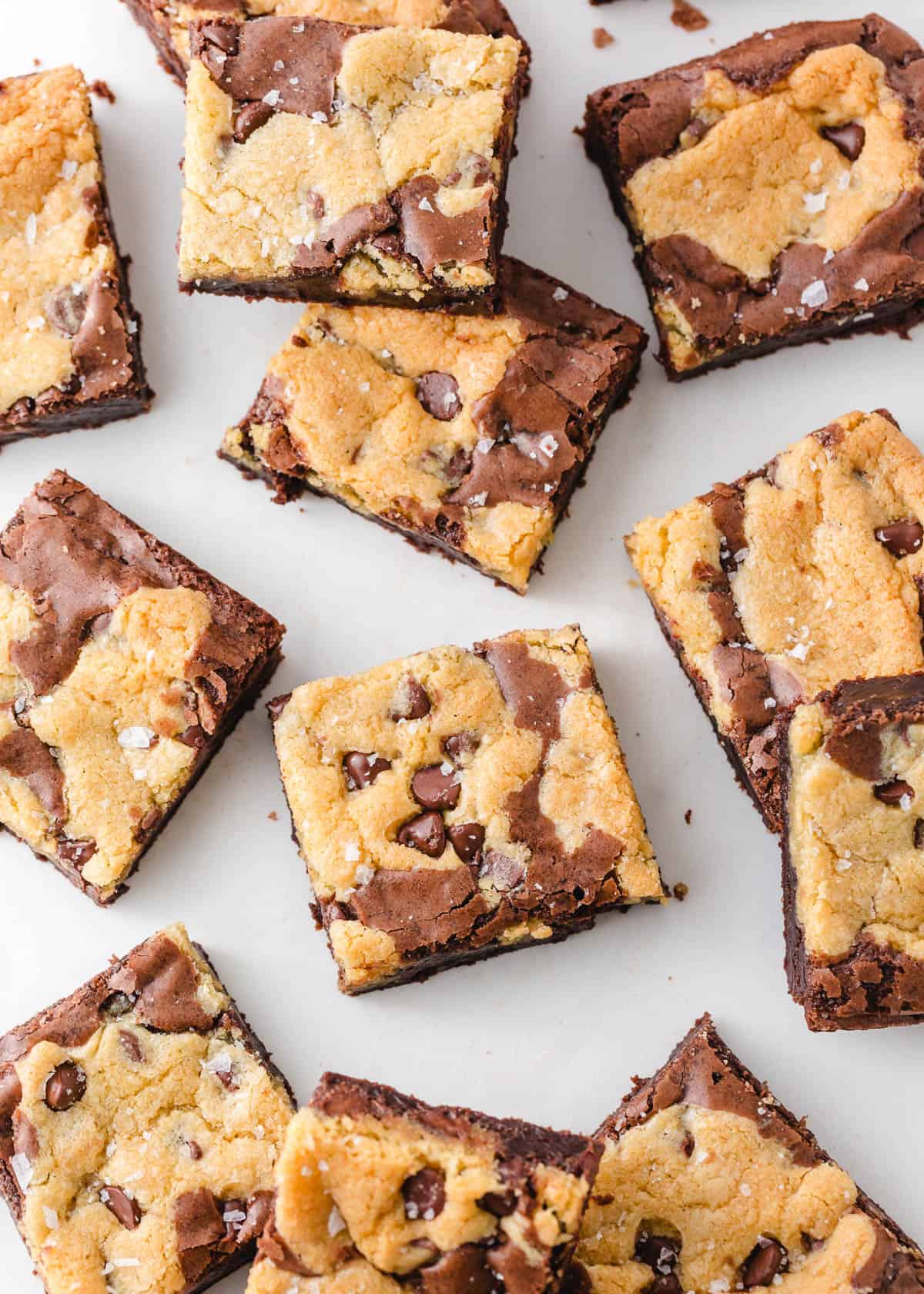 More Cookie Bar Recipes
HUNGRY FOR MORE? Subscribe to my newsletter and follow on Facebook, Pinterest and Instagram for all the newest recipes!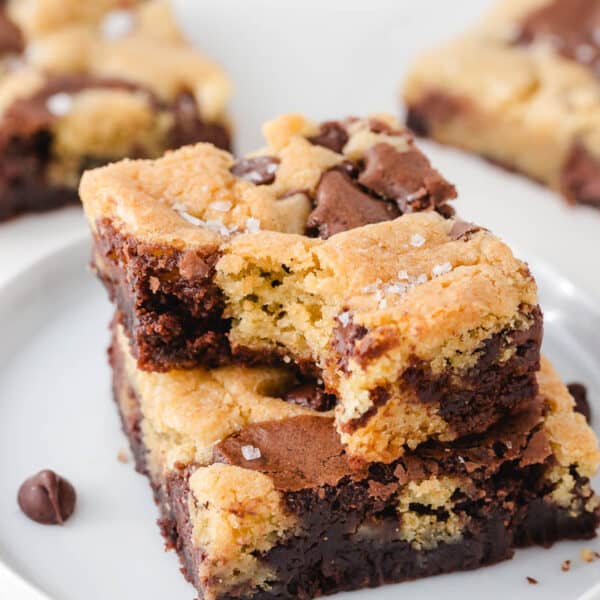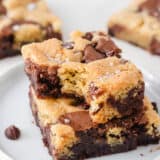 Brookie Recipe
Brookies are the perfect combination of fudgy brownies and chocolate chip cookies for an all in one ultimate cookie bar.
Ingredients
7 tablespoons salted butter softened
⅔ cup granulated sugar
2 tablespoons light brown sugar , packed
1 large egg , at room temperature
1 teaspoon vanilla extract
1 cup + 2 tablespoons all-purpose flour
¼ teaspoon baking soda
⅛ teaspoon fine sea salt
¾ cup semi-sweet chocolate chips , divided
1 (16-ounce) box brownie mix , prepared according to package
Flakey sea salt , optional
Instructions
Preheat oven to 350℉. Line a 9×13-inch, light-colored metal baking pan with parchment paper and lightly spray the bottom with cooking spray.

In a medium bowl, beat together the butter, granulated sugar, and brown sugar with a handheld mixer until fluffy. Mix in the egg and vanilla extract until combined.

In a small bowl, whisk together the flour, baking soda, and salt.

Using a wooden spoon, stir together the flour mixture to the wet ingredients just until combined. Stir in 1/2 cup chocolate chips. Cover and refrigerate the cookie dough while preparing the brownie batter.

Prepare the brownie batter according to the instructions up until baking.

Spread the brownie batter into the pan. Using your hands, drop the chilled cookie dough by spoonfuls across the top of the brownie layer. It is okay to see the brownie layer, as it will create a marbled look. Very lightly press the dollops of cookie dough (just enough to settle it into the brownie layer). Sprinkle remaining 1/4 cup chocolate chips on top.

Bake 25 to 28 minutes. If the cookie layer is browning too quickly you can loosely cover the pan with aluminum foil. Test an area in the middle of the pan where brownie is seen for a toothpick to come out clean.

Sprinkle with flakey sea salt, if using, and cool fully before cutting in. Serve bars alone or with a scoop of ice cream!
---
Nutrition
Calories: 209kcal | Carbohydrates: 29g | Protein: 3g | Fat: 9g | Saturated Fat: 5g | Polyunsaturated Fat: 0.4g | Monounsaturated Fat: 3g | Trans Fat: 0.2g | Cholesterol: 25mg | Sodium: 86mg | Potassium: 78mg | Fiber: 1g | Sugar: 14g | Vitamin A: 184IU | Calcium: 13mg | Iron: 1mg
Nutrition provided is an estimate. It will vary based on specific ingredients used.
Did you make this recipe? Don't forget to give it a star rating below!