These pumpkin pie bars taste like pumpkin pie but are easier to make! A creamy warm-spiced pumpkin filling sits atop a buttery shortbread crust for the perfect dessert bar to bring to any fall gathering!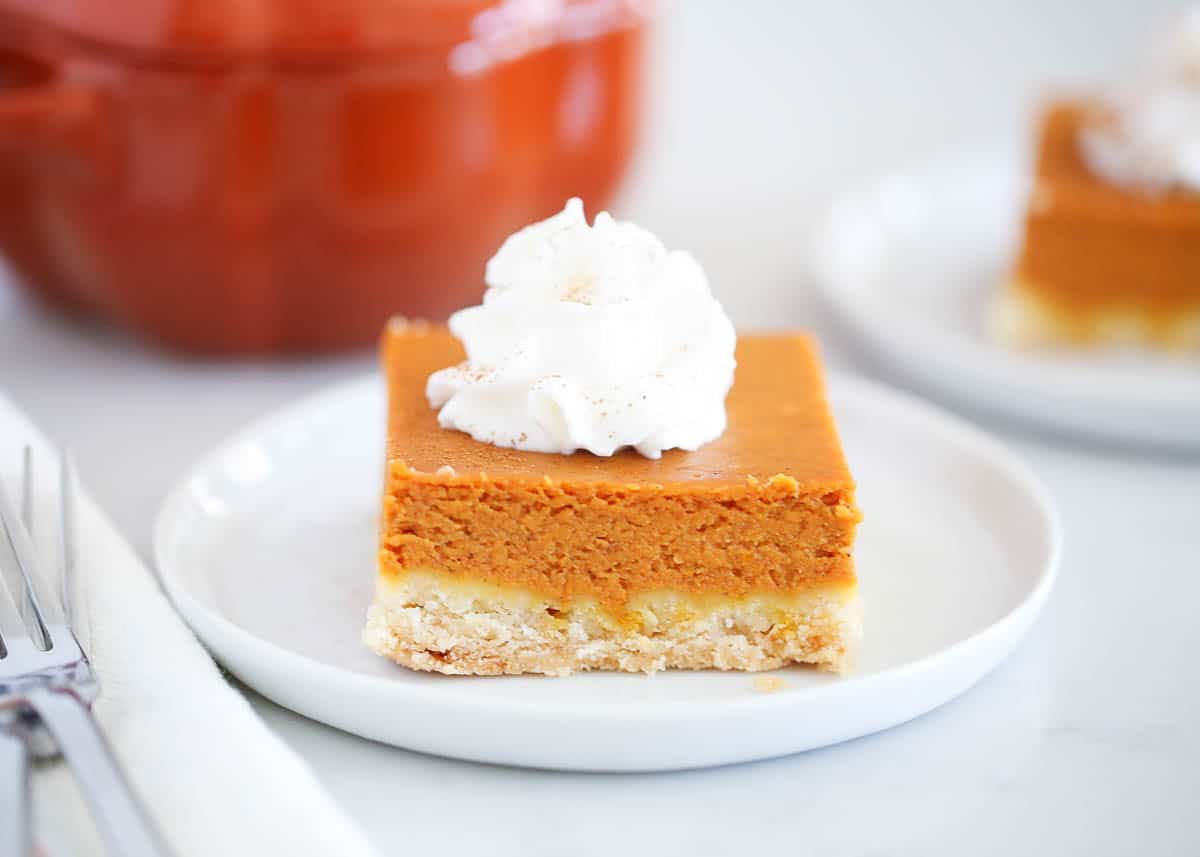 Pumpkin Shortbread Bars
This easy pumpkin pie bars recipe was created out of a desire to eat a slice of homemade pumpkin pie without the effort of making a traditional pie crust. Because I, like many of you, get cravings for it outside of Thanksgiving or Christmas!
It worked with the apple pie bars that were inspired by the classic apple pie, so I knew pumpkin pie bars with shortbread crust would be just as amazing.
The pie filling made with real pumpkin is creamy, perfectly spiced, and sits on a shortbread crust. It's so easy to make and if you're a lover of shortbread cookies, then you'll know exactly how buttery and melt-in-your-mouth each bite is.
This ranks as one of the best pumpkin recipes and that's not an easy feat what with all the incredible pumpkin recipes there are on the blog!
Why This Recipe Works
Tastes just like the real deal! Right down to the homemade whipped cream on top, there's nothing that these pumpkin pie bars don't deliver.
Not just for the holidays. The perfect dessert for Thanksgiving and Christmas, but because it's so easy to do, it's a delicious dessert any day of the week!
Easier than pie. It comes together with a simple no-bake crust made with 3 ingredients, a filling made from scratch, and then baked, cooled, and sliced. Couldn't be any easier!
Portable. Taking these bars on the go is great for easy entertaining just like my mini pumpkin pies! There's just something fun about being able to eat a dessert without a fork!
Pumpkin Pie Bar Recipe Ingredients
These pumpkin pie bars with a shortbread crust are the perfect fuss-free, low-key Thanksgiving dessert and only require a few simple ingredients!
Find the full printable recipe with specific measurements below.
Butter: No need to bring it to room temperature ahead of time, you want your butter cold when you cut it into cubes. It's what helps the crust become buttery, and crispy while staying nice and light.
Flour: It's super important to know how to measure flour correctly. There are only 3 ingredients in the crust, and to make a delicious shortbread requires accuracy. Otherwise, your crust will taste too floury.
Pumpkin puree: I like to use Libby's 100% pure canned pumpkin because it's thicker and holds its shape better than pumpkin puree from scratch which tends to have a bit more water. However, if you have your own puree you want to try, you can.
Pumpkin spice: I like to keep this homemade pumpkin pie spice recipe I make and use for all my pumpkin recipes throughout the season. It's a combination of cinnamon, nutmeg, ginger, and ground cloves, which you may already have. Otherwise, store-bought works!
Evaporated milk: This is what helps the mix to thicken and set. Be sure you're not using sweetened condensed milk, or your dessert will be too sweet!
How to Make Pumpkin Pie Bars
You'll love how quickly these come together. The hardest part is waiting for them to cool!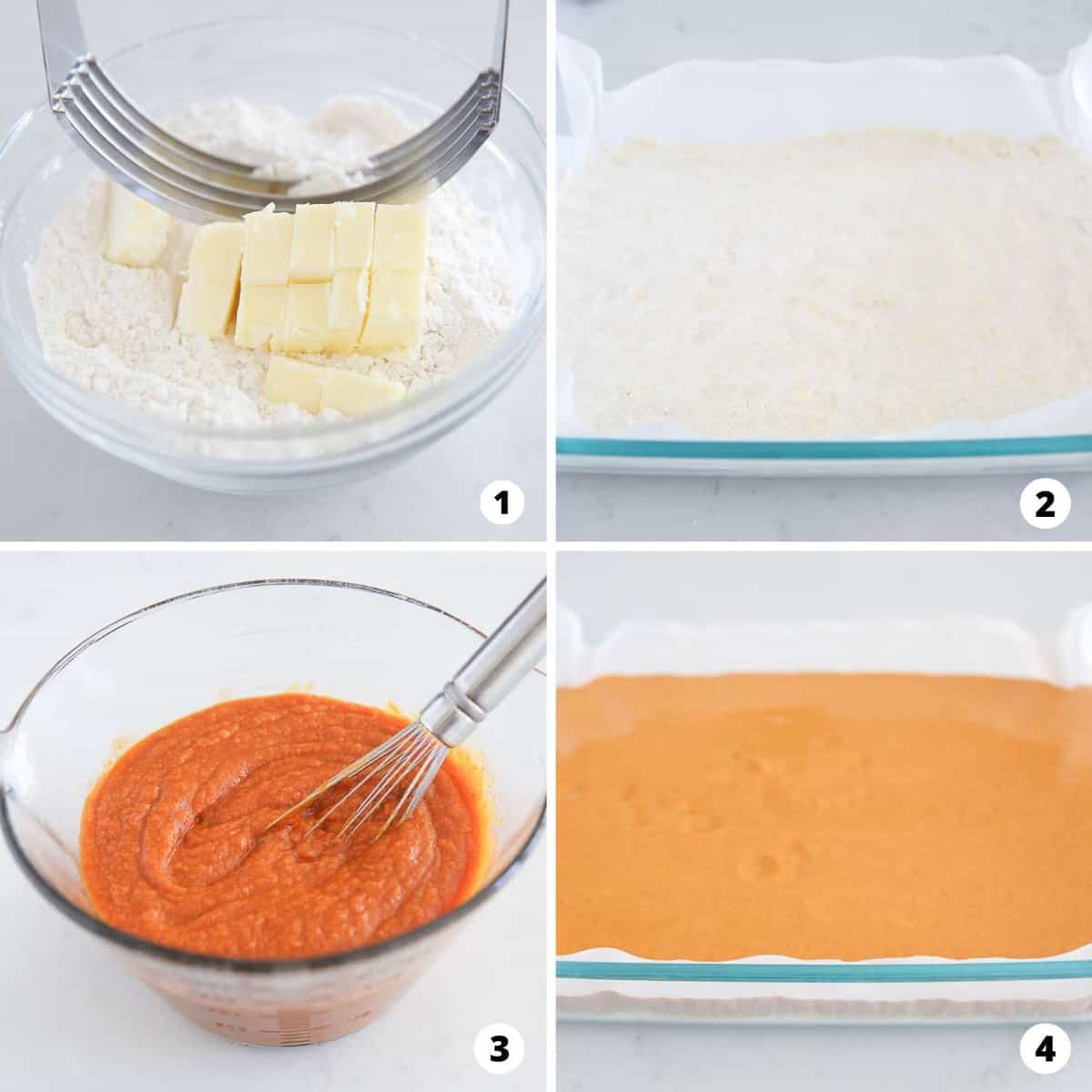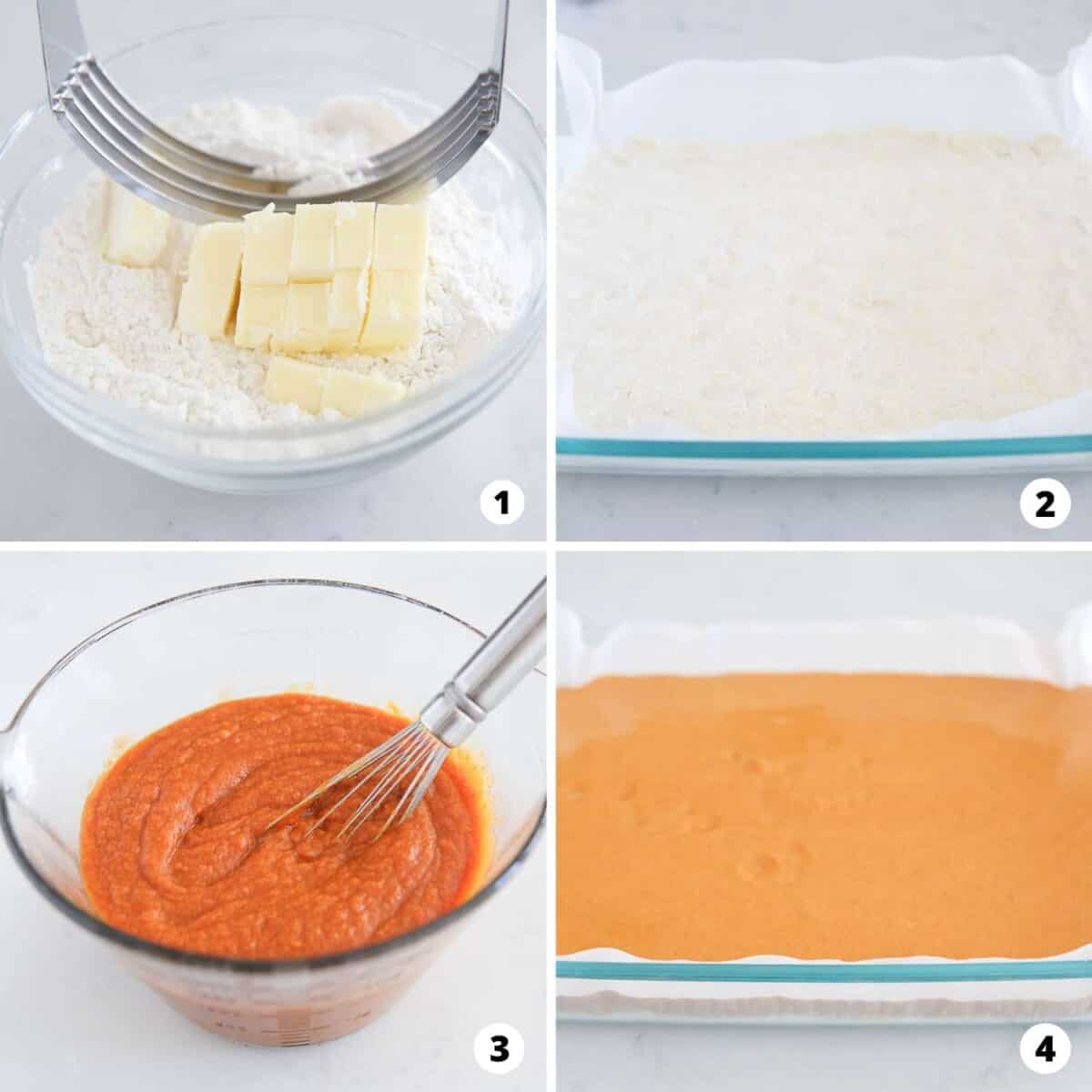 Combine crust ingredients. First, mix the flour and sugar, and then add the cubes of butter. Cut the butter with a pastry cutter until coarse crumbs appear. It shouldn't be dough-like. If it is, it's a bit overworked. You can also use your hands, a food processor, or a mixer to do this.
Form the crust. Transfer the mixture into a prepared 9×13 baking dish and use your fingers to press it into the bottom. Set it aside.
Make the pie filling. In a separate large bowl, beat the eggs. Add vanilla, sugar, pumpkin pie spice, cinnamon, and salt and stir to combine. Stir in the puree, then gradually add the evaporated milk and mix until smooth.
Assemble and bake. Pour the filling on top of the shortbread and bake for 40 minutes in a preheated 425°F oven. Reduce the temperature to 350°F and continue baking for another 20-30 minutes. Let it cool completely, for about 2 hours, then slice and serve with whipped cream on top!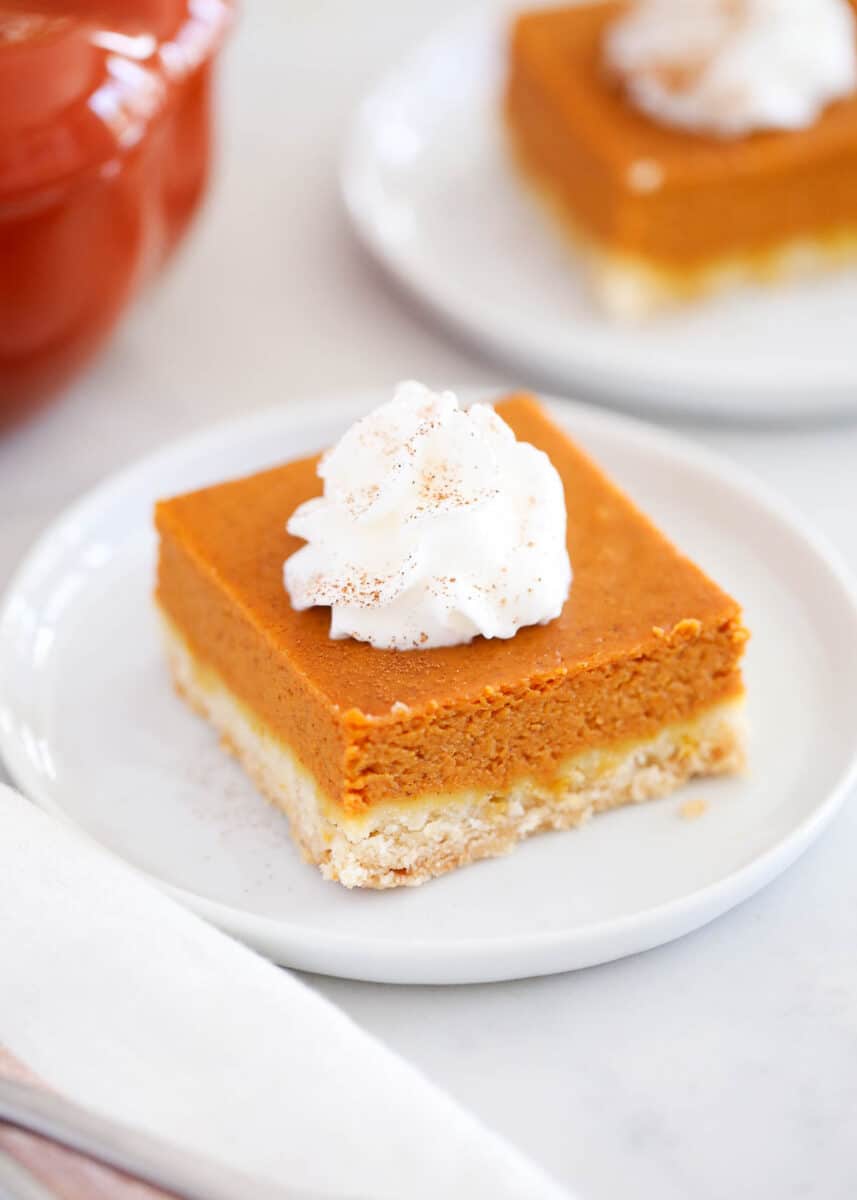 Expert Tips
Prevent a soggy crust. Some people find that blind baking the crust first on its own, before adding the filling, helps to solidify it first.
Start with a higher temperature. Baking with the oven at 425°F will allow for the crust to bake quickly without giving it a chance to get soggy. Reducing it later helps to avoid a burnt filling.
If your bars are turning brown too quickly, cover them with foil.
To know when it's ready, test it by inserting a toothpick into the center of the pie. If it comes out clean it should be ready. It will continue to set as it cools. The top should also no longer be jiggly.
Speed up the cooling process. Put it into the fridge after the first hour. No sooner than that or the heat will condense and create too much sweat, making the bars overly moist.
Recipe FAQs
What to serve with each bar?
We like to keep ours plain and simple with a dollop of whipped cream or homemade cool whip. It's a timeless look that is elegant when served on a plate. Chopped candied pecans for garnish can be great when serving a crowd for the holidays.

Most often, we're having this dessert as a treat and leftovers go straight into my kids' lunch boxes for school, so I don't put anything on them.

As part of a dessert table, you can be sure I'll include pumpkin whoopie pies and mini pumpkin cheesecake. Needless to say, I stock up on canned puree this time of year!
Can I use a canned filling?
No. I mean, yes technically, if you're in a pinch (or you've mistakenly picked up the wrong can), however, it doesn't come with the same thickening agent that evaporated milk provides, so you need to account for that. It also has its own version of flavors, sweeteners, and spices.
Can I cut the recipe in half?
If you are serving a smaller crowd feel free to cut the pumpkin pie bar recipe ingredients in half. You could use a 8×8 pan or 9×9 square pan. Your baking time will remain about the same, although if you use an 8×8 pan the crust and filling will be thicker and it may take longer.
How long do these last in the fridge?
Keep it covered in an airtight container in the fridge for up to 5 days. They're great when eaten and chilled straight out of the fridge. So easy to grab an extra piece when no one is looking!
HUNGRY FOR MORE? Subscribe to my newsletter and follow on Facebook, Pinterest and Instagram for all the newest recipes!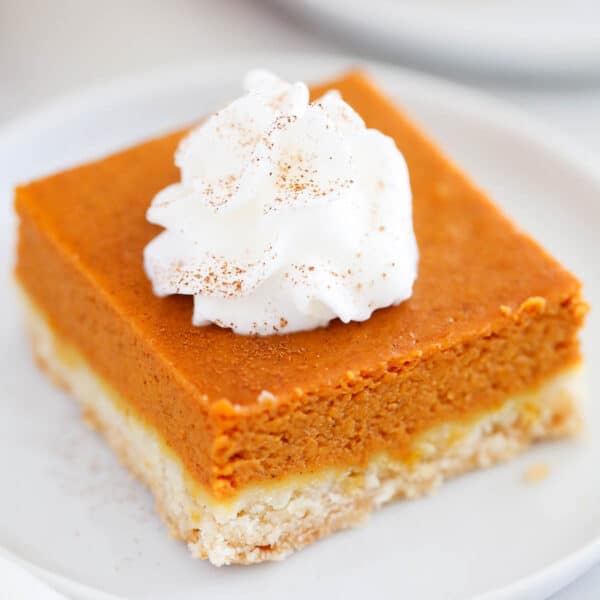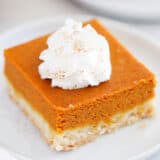 Pumpkin Pie Bars
A buttery shortbread crust topped with a creamy filling made with real pumpkin and classic pie spices. These pumpkin pie bars are the shortcut to pumpkin pie you've been waiting for!
Ingredients
Shortbread Crust
1 ½ cups (195 grams) all-purpose flour
½ cup (100 grams) granulated sugar
¾ cup (170 grams) salted butter , chilled and cubed (1 1/2 sticks)
Pumpkin Pie
4 large eggs
2 teaspoons vanilla extract
1 ½ cups (300 grams) granulated sugar
2 teaspoons pumpkin pie spice
1 teaspoon ground cinnamon
1 teaspoon fine sea salt
2 (15-ounce) cans pure pumpkin (I use Libby's 100% pure pumpkin)
2 ½ cups evaporated milk
For serving
Instructions
Preheat the oven to 425°F. Butter a 9×13-inch baking dish or line with parchment paper.
Shortbread Crust
In a large bowl, stir together the flour and sugar. Cut the butter in with a pastry cutter (you could also do this in a mixer or food processor) until crumbly but not become a dough. Press into the baking dish.
Pumpkin Pie
In a large bowl, beat eggs. Stir in the vanilla, sugar, pumpkin pie spice, cinnamon, and salt until combined. Stir in pumpkin. Gradually add evaporated milk and mix until smooth. Pour filling on top of the shortbread crust.

Bake 40 minutes. Cover with foil if starting to get too brown on top. Reduce the temperature to 350°F and cook an additional 20 to 30 minutes, or until a toothpick inserted in the center comes out clean.

Let cool completely, about 2 hours. You can place in the refrigerator after about 1 hour to cool them faster. Slice and serve with whipped cream on top.
---
Notes
Storage: Store in a covered container up to 5 days in the refrigerator.
Variation: If you prefer a sturdier crust (this shortbread is a softer crust), you could use a graham cracker crust. I would just double this graham cracker crust recipe.
Nutrition
Calories: 367kcal | Carbohydrates: 55g | Protein: 7g | Fat: 14g | Saturated Fat: 8g | Polyunsaturated Fat: 1g | Monounsaturated Fat: 4g | Trans Fat: 0.4g | Cholesterol: 82mg | Sodium: 280mg | Potassium: 278mg | Fiber: 2g | Sugar: 35g | Vitamin A: 8714IU | Vitamin C: 3mg | Calcium: 135mg | Iron: 2mg
Nutrition provided is an estimate. It will vary based on specific ingredients used.
Did you make this recipe? Don't forget to give it a star rating below!