These pumpkin muffins with a cake mix make the perfect fall treat. This recipe is made with only 3 ingredients and is so easy to make!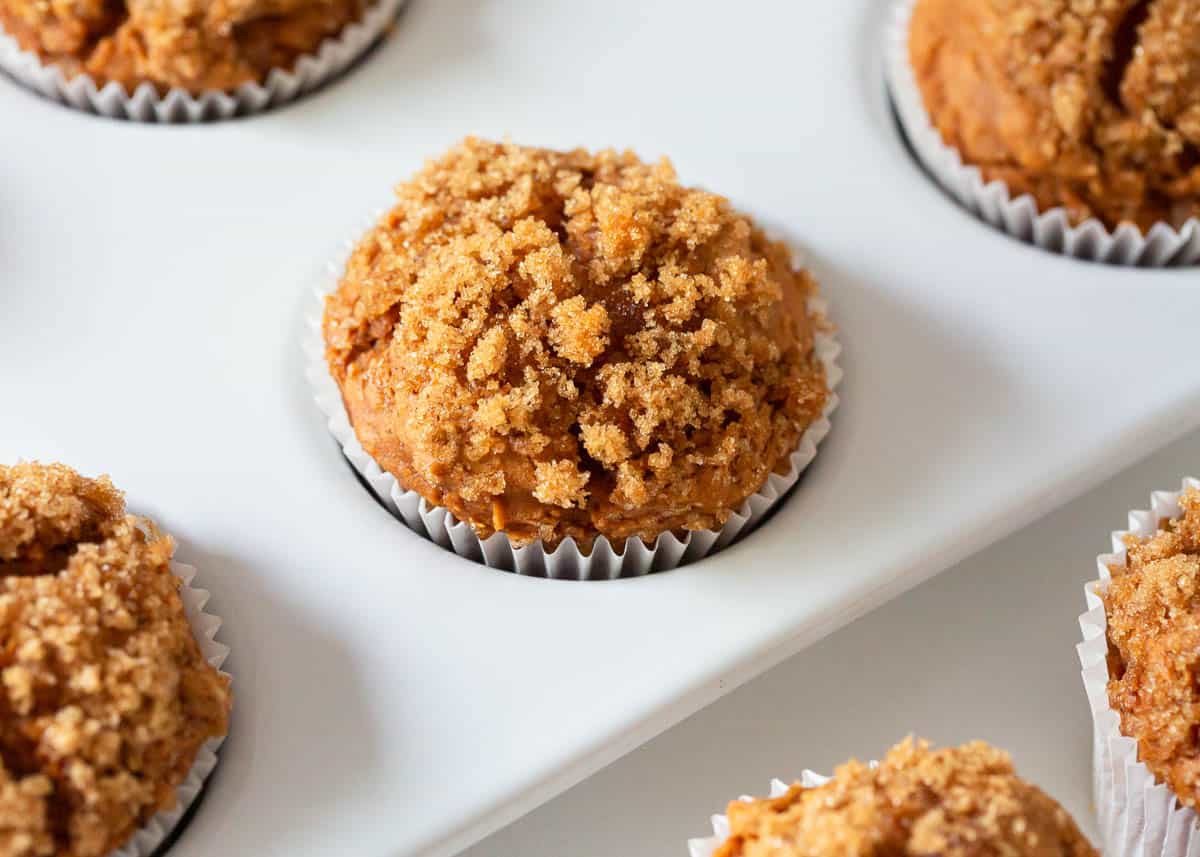 Cake Mix Pumpkin Muffins
Since fall has arrived, I thought it was only fair to share a pumpkin recipe with you. I love all things pumpkin. I can't seem to get enough of it! These easy pumpkin cake mix muffins are so good and super simple to make. They're just as delicious as my homemade pumpkin muffins but made with fewer ingredients and a little less work.
One of my favorite things to do when baking is to doctor up a cake mix. You guys know I'm all about saving time in the kitchen. I used a spice cake mix (my favorite!) and then substituted a can of pumpkin for the oil and eggs. I also added some pumpkin spice and cinnamon to bring out all the yummy pumpkin flavor.
These are so easy to whip up and are perfect for making in bulk and storing in the freezer for when you need a quick snack. We also love making pumpkin chocolate chip cookies, pumpkin crumb muffins, pumpkin chocolate chip muffins, and pumpkin cupcakes.
Why You Need These Pumpkin Muffins with Cake Mix
Making pumpkin snickerdoodle muffins is a way to embrace the flavors of the season and enjoy a homemade treat that is both delicious and comforting. Whether you make them for yourself or to share with others, they are the perfect addition to any fall menu.
Fall Flavor: These pumpkin muffins are perfect for the fall season when pumpkins are all around us. They capture the warm, comforting flavors associated with fall, making them a seasonal favorite!
Texture: The combination of pumpkin puree in the muffin batter provides moisture and a slightly dense texture, while the snickerdoodle topping adds a crisp, sugary crunch. This balance of textures creates the perfect combination!
Warm Spices: Pumpkin is often paired with spices like cinnamon, nutmeg, and cloves, which give the pumpkin muffins a comforting, spiced flavor that friends and family love during the fall months.
Shareable Treat: Pumpkin snickerdoodle muffins are great for sharing with family and friends. They are perfect as a homemade gift or an addition to a potluck or holiday gathering. Everyone will be raving about these pumpkin muffins!
Only 3 Ingredients Needed
Cake mix muffins with pumpkin are as simple as they sound! All you need is a box of cake mix, pumpkin puree and cinnamon. Check out my notes for each ingredient below for the best results.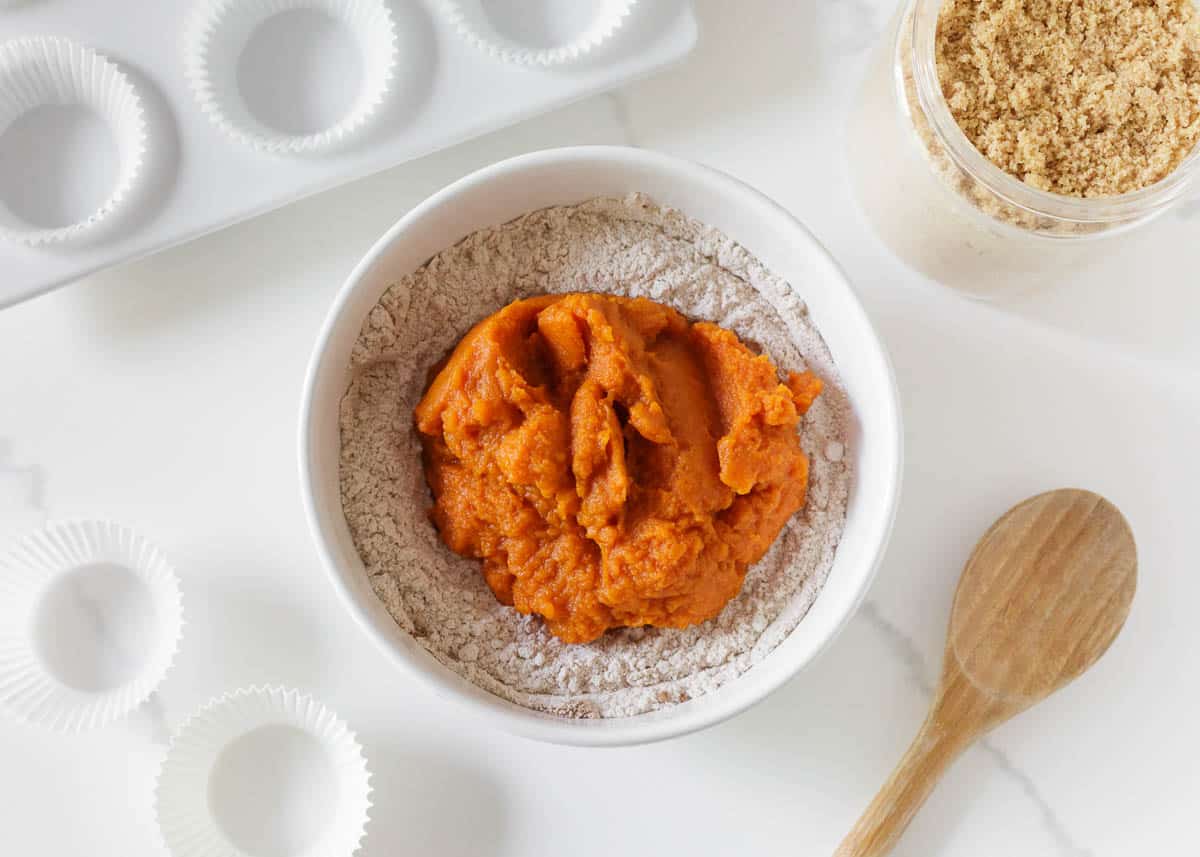 Find the full printable recipe with specific measurements below.
Cake Mix: You can use a yellow cake mix and add cinnamon or a box of spice cake mix. The spice mix will have more spice flavor if you prefer that. Use your favorite cake mix!
Cinnamon: If you're using a cake mix make sure to add in the cinnamon. You can even add in a 1/2 teaspoon of pumpkin spice to boost the flavor.
Pumpkin: You won't need the eggs and oil, just the pumpkin puree. Make a homemade version or use a canned pumpkin mixture. The can of pumpkin puree will give the pumpkin muffins a soft and sweet texture and flavor. It does all the magic! You do not want to use pumpkin pie filling.
Brown sugar (optional): To keep this recipe quick and simple you can sprinkle brown sugar on top, however, if you want to take them over the top make a crumble topping with the brown sugar and add a little bit of pumpkin spice in. You could even add in some pecans or walnuts.
How to Make Pumpkin Muffins With Cake Mix
Making easy pumpkin muffins from cake mix couldn't be easier. They are prepped in just 10 minutes and the rest is just baking and cooling time. Making pumpkin muffins with a cake mix is a quick and easy way to enjoy these delicious treats. Perfect for the beginner baker!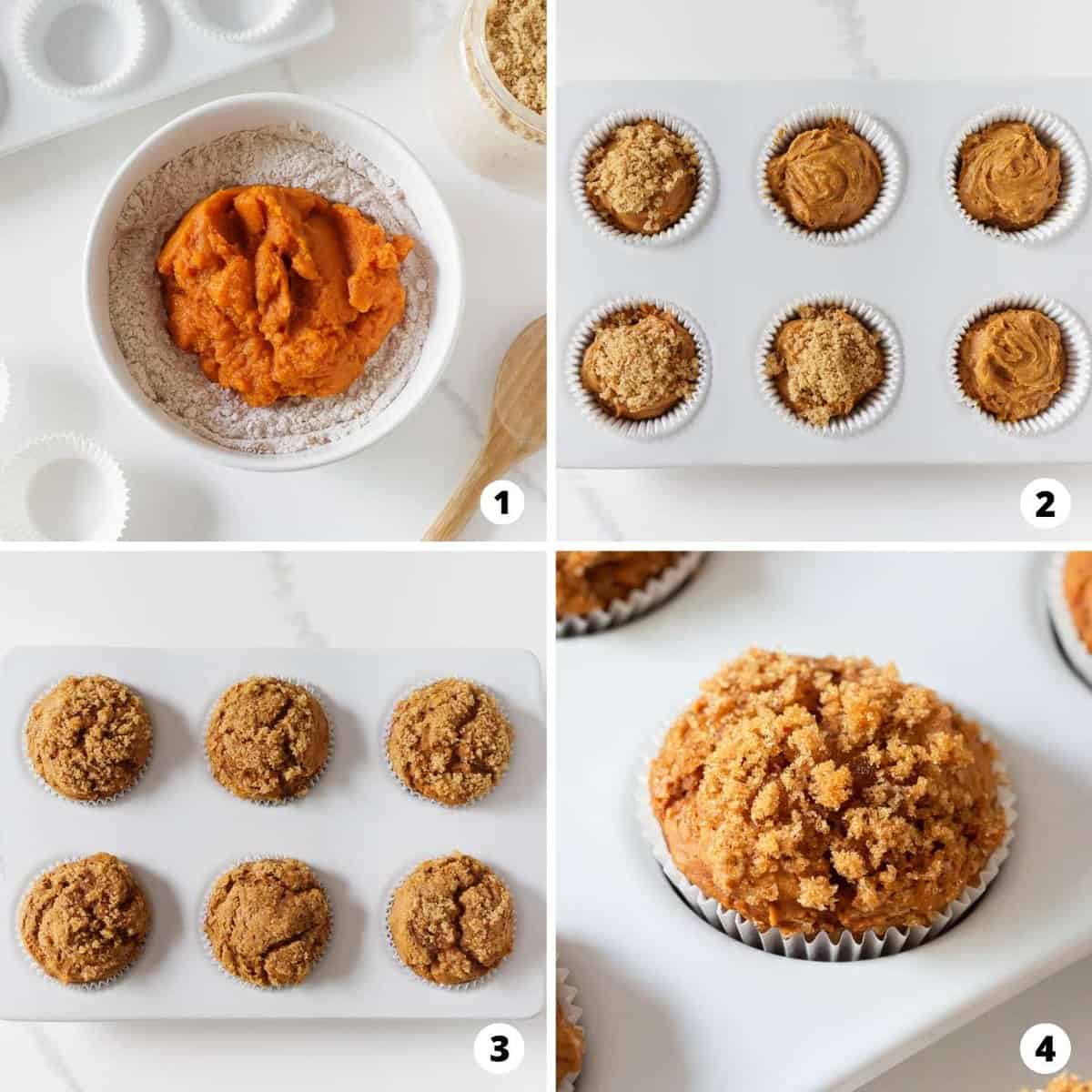 Mix. Whisk cake mix and pumpkin spice in a large mixing bowl. Then stir in the wet ingredients with the dry ingredients together. Add the pumpkin puree until combined.
Fill the muffin pan with batter. Fill 12 muffin liners with batter about 3/4 full. Sprinkle 1 to 2 teaspoons of brown sugar on top and press down lightly with the back of a spoon.
Bake and then cool. Bake the muffin tin in the preheated oven until a toothpick comes clean. Remove from oven and allow to cool in pan for 2 minutes, then transfer to a cooling wire rack.
This easy pumpkin muffin recipe tastes warm with a little butter on top. If you would rather top the pumpkin muffins with frosting, that would work too!
I would recommend a maple frosting, cream cheese frosting, or maple glaze. Both would taste delicious!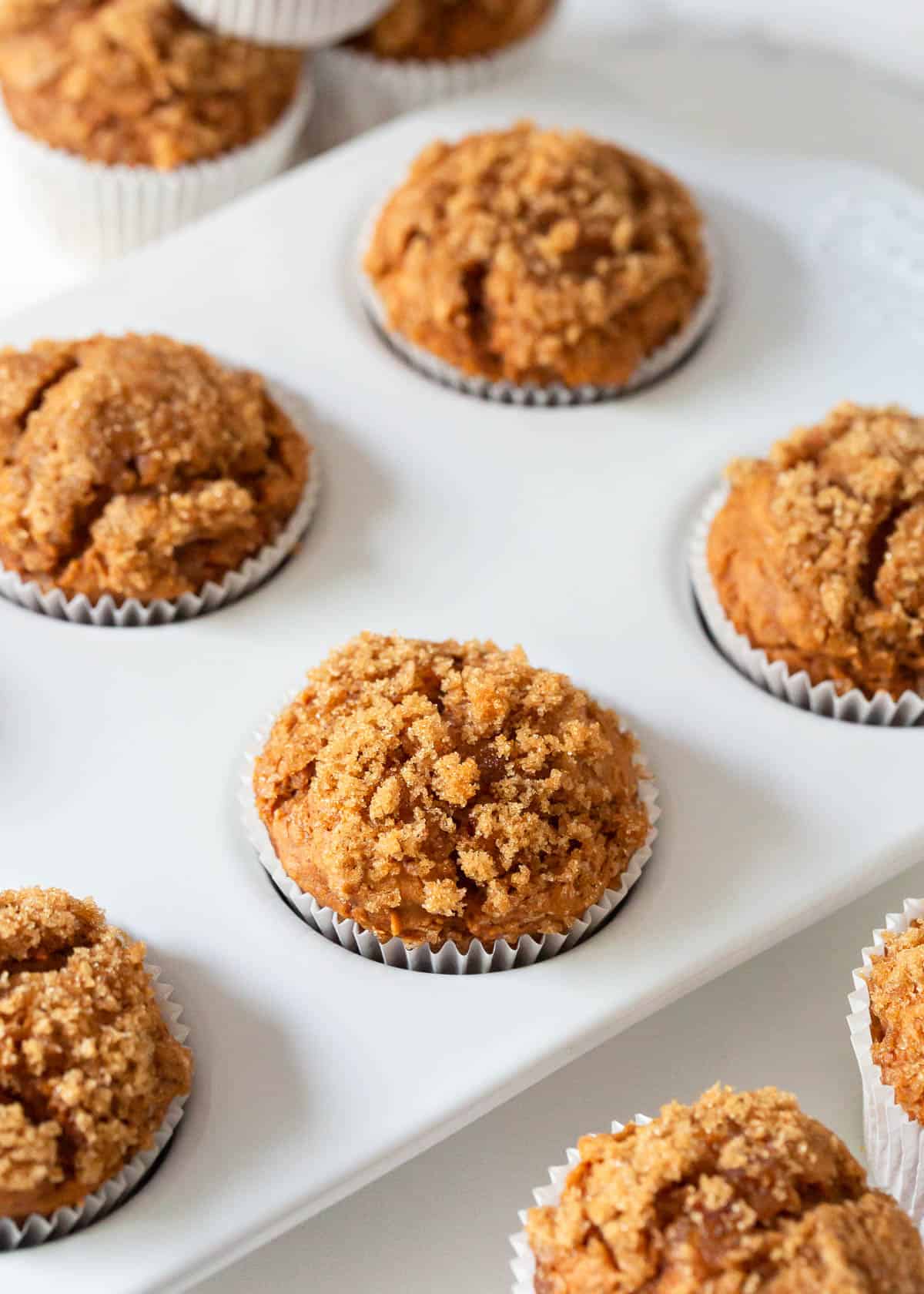 Tips for Making Pumpkin Muffins
By following these tips, you can make delicious pumpkin snickerdoodle muffins using a cake mix that will be a hit! Making pumpkin muffins with a cake mix is the best way to enjoy a tasty treat with little effort. Here are some tips to ensure your pumpkin muffins turn out perfect every time!
Choose the Right Cake Mix. Use a yellow cake mix or a spice cake mix for the best results. These flavors complement the pumpkin and spices well. You can also use a white cake mix and add extra spices to enhance the flavor! I have tried this with Betty Crocker or Duncan Hines.
Enhance the Flavor. While cake mixes are quick and easy, you can enhance the flavor by adding extra spices. Consider adding ground cinnamon, nutmeg, cloves, or ginger to the mix. These spices will complement the pumpkin flavor and make your muffins taste even better.
Pumpkin Puree. Make sure to use pure canned pumpkin puree and not pumpkin pie filling. Pumpkin pie filling contains added sugars and spices, which can alter the texture and flavor of your muffins.
Add-Ins. Feel free to customize your muffins with add-ins like chocolate chips, chopped nuts, or raisins for added texture and flavor.
Proper Mixing. Mix the ingredients until just combined. Overmixing can lead to dense muffins. It is best to stop mixing as soon as everything is evenly distributed.
Even Filling. Use a cookie scoop or measuring cup to ensure that each muffin cup is filled with the same amount of batter. This will help your muffins bake evenly!
Recipe FAQs
What is the secret to moist muffins?
When baking, milk is a key to moistening any batter and adds flavor with a soft texture when baked. For this pumpkin muffin with a cake mix recipe, we used canned pumpkin to help add more moisture and flavor. Brown sugar also helps with sweetness as well as a soft and moist texture.
How long do you cook mini pumpkin muffins?
You can easily make this recipe into mini pumpkin muffins as well! Just follow the same instructions, however, fill 24 mini cupcake liners with batter. Bake at 350°F for about 15 to 20 minutes.
Can I substitute pumpkin for oil in the cake mix?
Yes, the pumpkin will replace the oil and eggs in this recipe. It is a great substitute and much healthier than oil.
Can you make these muffins gluten-free?
Yes, simply swap with your favorite gluten-free cake mix.
What if you don't have muffin liners?
You can use cooking spray around the inside of the muffin tins before adding in the pumpkin muffin batter. Once baked, use a butter knife to cut the edges around the pumpkin muffins to release them from the muffin tin.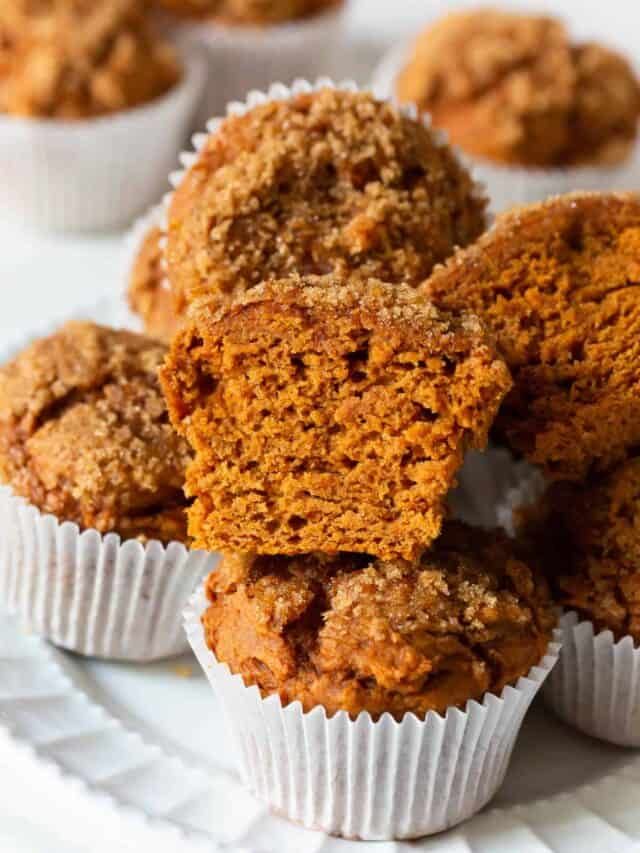 5 star review
"Made these this morning. Yummy. My husband doesn't like like anything pumpkin, he ate two muffins. Definitely a muffin that will be enjoyed year round in this house. Did a pecan brown sugar and cinnamon crumble on top, yum. 5 stars."

-Joannn
Storing the Best Pumpkin Muffins With Cake Mix
To store, you'll need an airtight container or zip-top bag. I like to line the container or bag with a paper towel, and then put the muffins over top. Repeat this for each layer. You can store it at room temperature for 1 to 2 days or in the refrigerator for 3 to 4 days.
Freeze for up to 3 months. Simply remove from the freezer and let thaw for 1 hour. You can warm up in the microwave as well.
More Fall Desserts
HUNGRY FOR MORE? Subscribe to my newsletter and follow on Facebook, Pinterest and Instagram for all the newest recipes!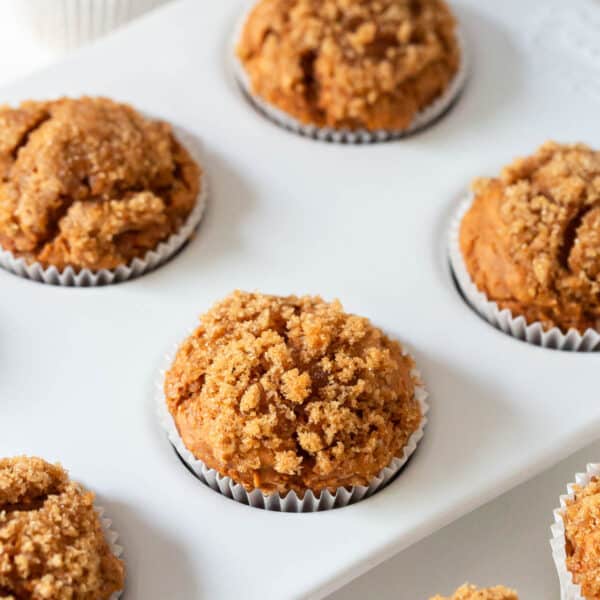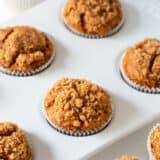 Pumpkin Muffins with a Cake Mix
These pumpkin muffins with a cake mix make the perfect fall treat. This recipe is made with only 3 ingredients and so easy to make!
Ingredients
Optional add-in's: Chocolate chips, Ground cinnamon
Instructions
Preheat the oven to 350°F. Line a muffin pan with cupcake liners.

In a large bowl, whisk cake mix and pumpkin spice. Stir in pumpkin until combined.

Scoop the batter 3/4 of the way full in the cupcake liners. I like to use an ice cream scoop or a large cookie scoop since the batter is thick. Sprinkle 1 to 2 teaspoons of brown sugar on top. Press it down into the batter lightly with the back of a spoon.

Bake 20 to 25 minutes, or until a toothpick inserted into the center comes out clean. Be careful not to overbake.

Remove from oven and let cool in pan for 2 minutes before transferring to a cooling rack to cool completely.
---
Notes
Variations:
Cake mix: Do not add any other ingredients to the box listed. You can also use a yellow cake mix for this recipe. Simply add an extra teaspoon of pumpkin pie spice and cinnamon. Chocolate cake mix makes a yummy muffin as well (almost like a mug cake).
Crumb topping: If you'd like to add a crumb topping, follow this crumble topping recipe.
Chocolate chips: Sometimes we like to add 1/2 to 1 cup semi-sweet chocolate chips.
Toppings: You could also sprinkle a little extra pumpkin pie spice or cinnamon in with the brown sugar if you would like.
Storage: Store in a covered container for up to 3 days or freeze for up to 3 months.
Nutrition
Calories: 204kcal | Carbohydrates: 36g | Protein: 2g | Fat: 6g | Saturated Fat: 2g | Polyunsaturated Fat: 1g | Monounsaturated Fat: 3g | Sodium: 289mg | Potassium: 223mg | Fiber: 2g | Sugar: 22g | Vitamin A: 5517IU | Vitamin C: 2mg | Calcium: 51mg | Iron: 3mg
Nutrition provided is an estimate. It will vary based on specific ingredients used.
Did you make this recipe? Don't forget to give it a star rating below!