Jump to Recipe⌄
Pumpkin Waffles
These Pumpkin Waffles are a delicious fall breakfast and are so quick and easy to make. No waffle iron needed. Plus, it is the perfect way to fill up on veggies.
Waffles have always been one of my favourite breakfast foods. As a child, my sister and I would beg my mom to take us for waffles whenever we were at the beach.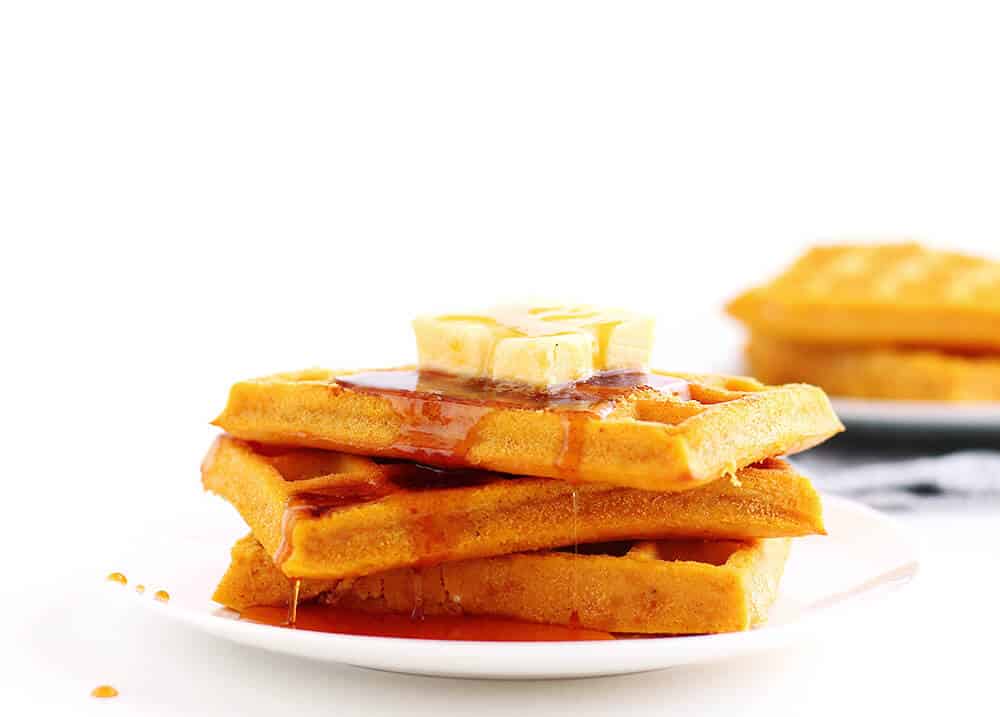 There was a nice little waffle restaurant right on the beach. So on rainy days we would sit there, staring at the waves crashing down onto the beach while sipping on hot chocolate and devouring as many waffles as we possibly could fit into our tiny stomachs.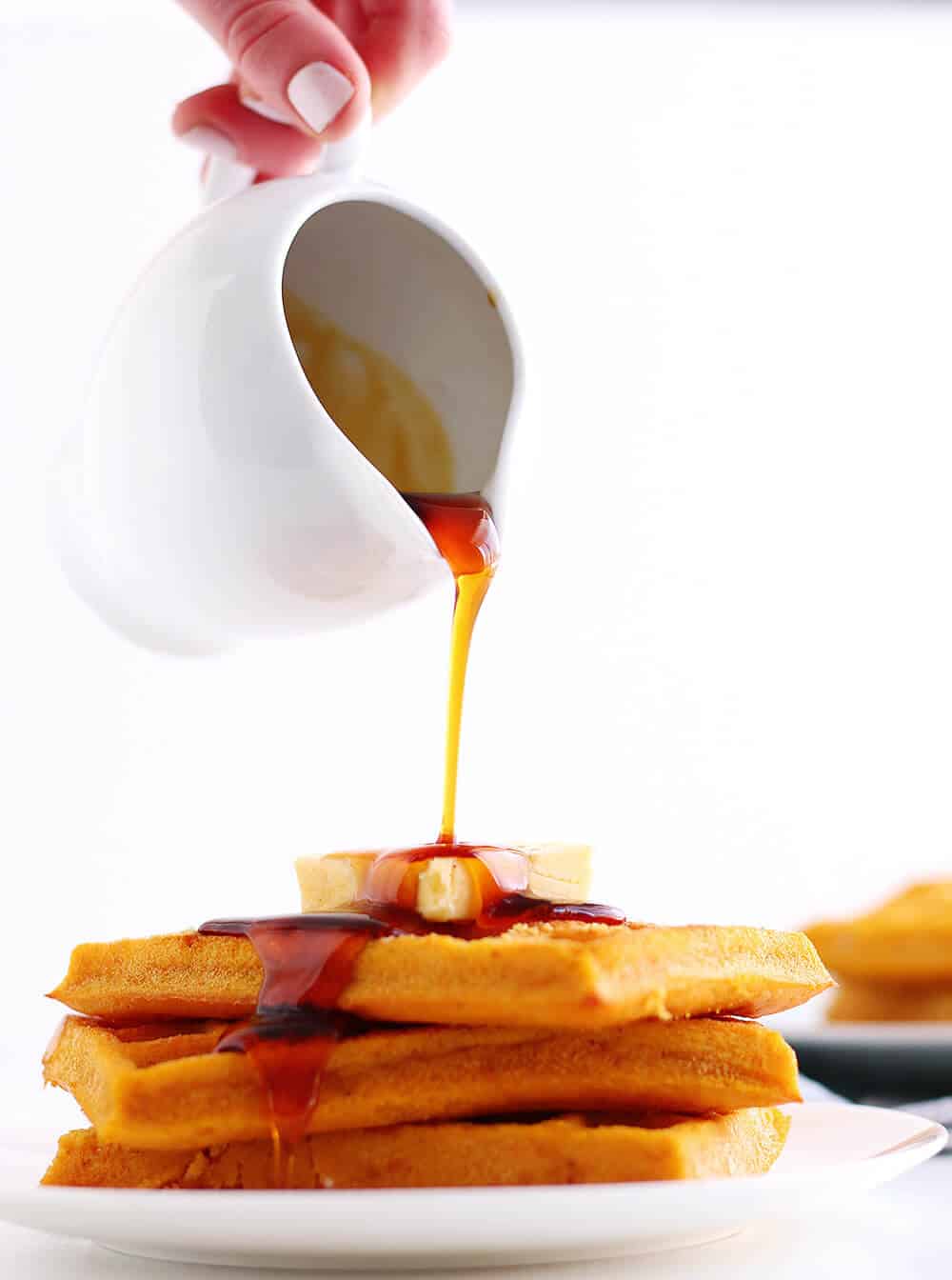 Till this day, whenever it rains I crave waffles. There's something really comforting about them.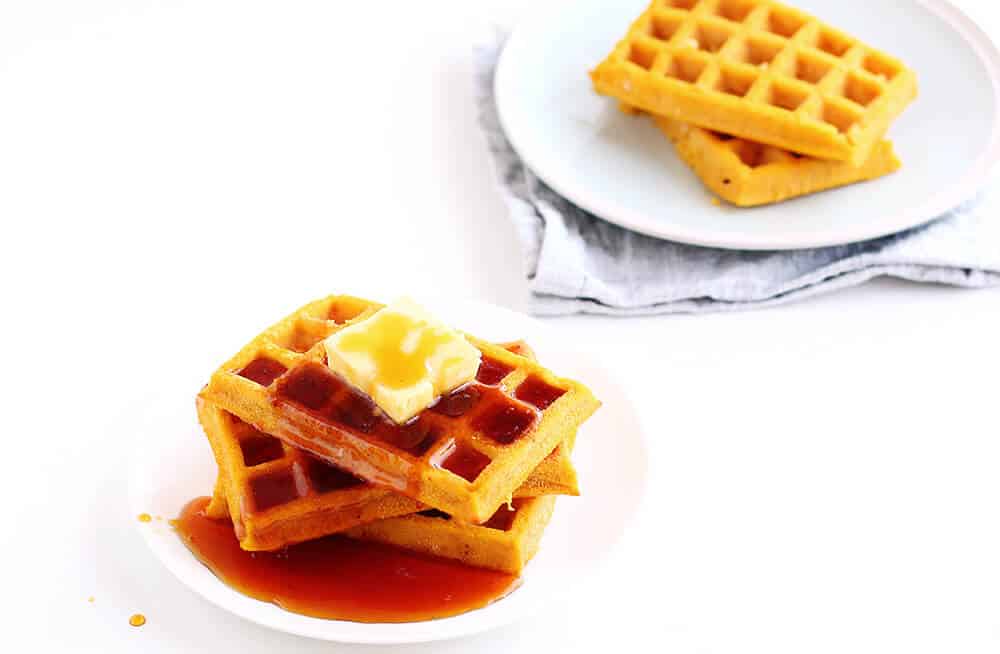 Since I don't own a waffle iron, I simply use a little waffle mold and bake them in the oven. It is fantastic. You can pretty much use any batter, pour it into the silicone waffle mold (which is also pretty cheap), bake it for about 10 minutes. And there you have it. Waffles in literally no time at all.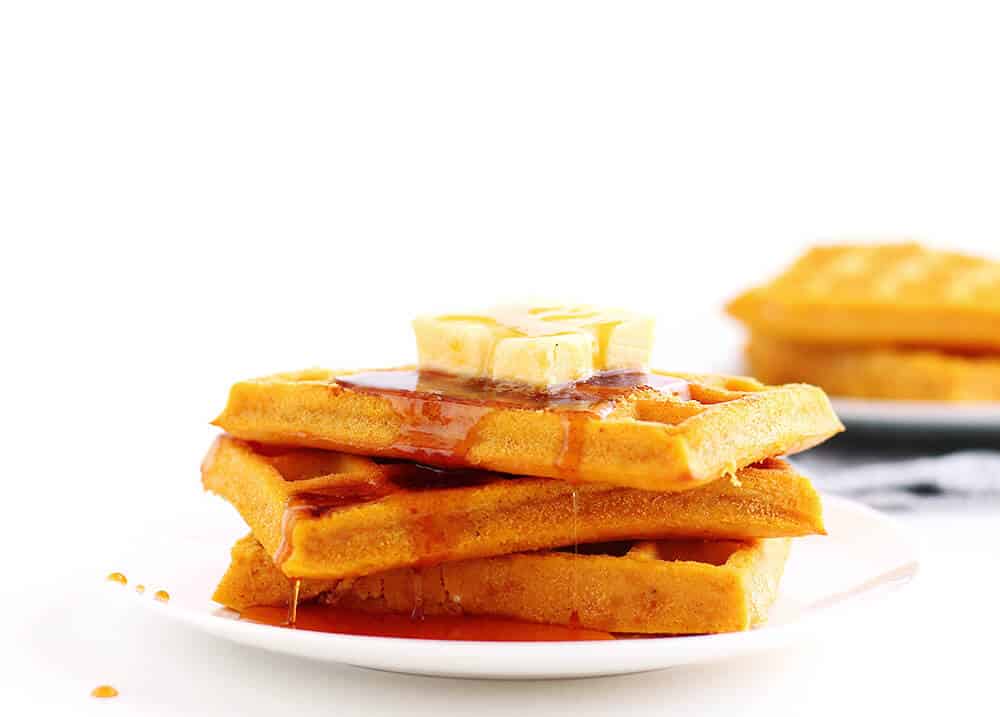 Today, I made these absolutely amazing Pumpkin Waffles. They are super soft and moist and what better way to get your veggies in right? I love the warm flavors of pumpkin and cinnamon. Mmm… these pumpkin waffles, listening to the rain fall against the window, and a good book in hand. Now that sounds like a perfect Saturday morning to me. Am I right?
These pumpkin waffles are incredibly easy to make. You pretty much just mix all the ingredients together, pour the batter into the mold and bake them. You can use store bought pumpkin puree, but it is also so easy to make your own Homemade Pumpkin Puree. Either way, it will be so yummy!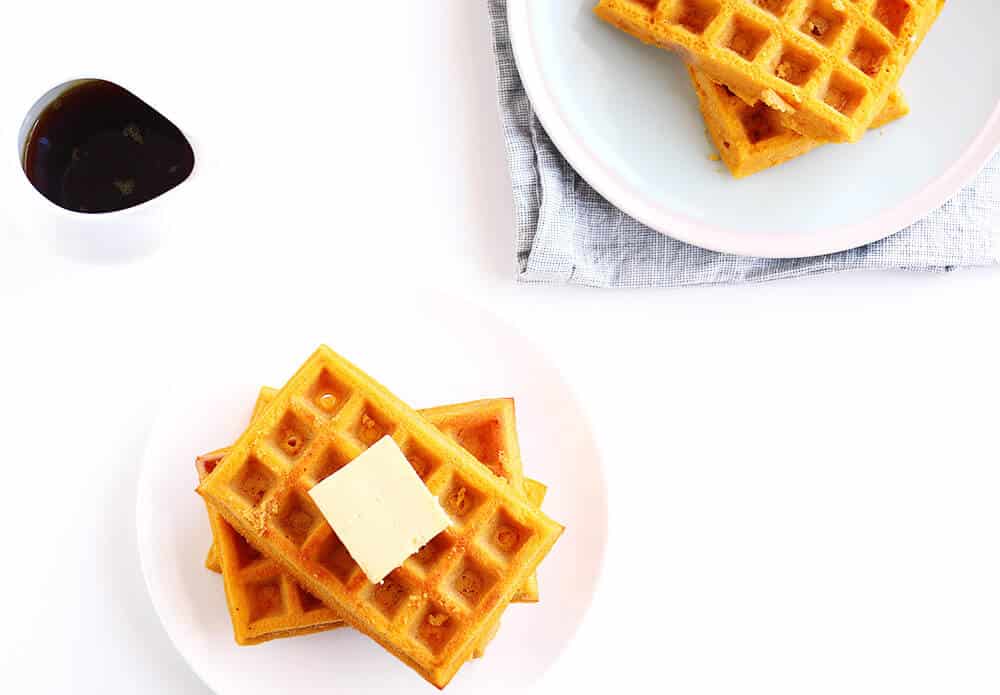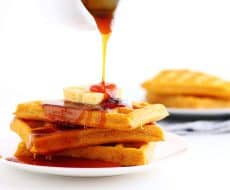 Pumpkin Waffles
Ingredients:
1 Cup Pumpkin Puree
1/4 Cup Coconut Oil
1/4 Cup Brown Sugar (or coconut sugar)
2 Eggs
1 1/4 Cups Flour
1 1/2 tsp Baking Powder
2 tsp Cinnamon
1/4 tsp Nutmeg
1 Cup Buttermilk
Directions:
Preheat oven to 350ºF/180ºC and spray silicone waffle mould with non-stick spray.
Combine the flour, baking powder, cinnamon, and nutmeg.
Meanwhile, whisk together the pumpkin puree, buttermilk, sugar, eggs and coconut oil.
Add the dry ingredients to the pumpkin mixture and whisk until just combined.
Fill the waffle mould with the batter.
Bake the waffles for 8-10 min (or about 3min in a waffle iron).
Top with butter and syrup.
All images and text ©

Thanks, Jane!
If you love this healthy and delicious breakfast, you'll enjoy these too!