Easy pumpkin waffles that are light, crisp, tender and full of pumpkin spice flavor. The perfect sweet breakfast idea to indulge in this fall!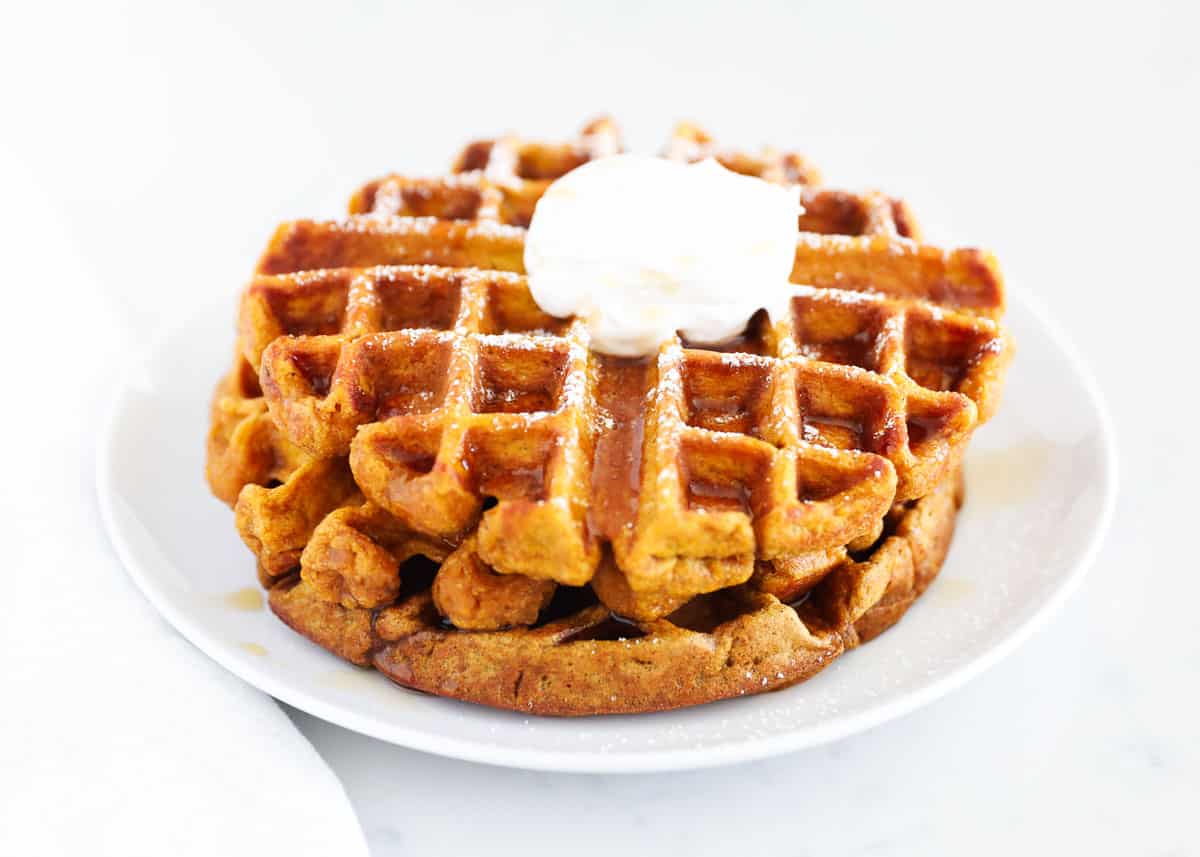 Favorite Fall Breakfast
These easy pumpkin waffles are a delicious seasonal treat and a variation of my favorite Belgian waffles. Made by adding pumpkin puree and warming spices into the waffle batter, they are perfect to enjoy during the fall season when you start craving ALL of the delicious pumpkin recipes.
This pumpkin waffle recipe has the perfect texture…light, airy, soft, fluffy, moist and crispy all at the same time. They're loaded with fresh pumpkin flavor and warm spices like cinnamon and pumpkin pie spice. Each bite is amazing!
Cozy and flavorful they only get better as an autumn breakfast treat when topped with butter, maple syrup and a dusting of powdered sugar and whipped cream! Trust me, these are the best pumpkin spice waffles you've ever had!
Why This Recipe Works
Ready in 15 minutes. All it takes is just 15 quick minutes to mix the batter and then cook in your waffle maker. No one would guess a breakfast this delicious was ready in under 20 minutes!
Freezer friendly. These pumpkin waffles freeze beautifully! Double the recipe and freeze half for an easy breakfast with no work required.
Warm fall flavors. This is the perfect fall breakfast to help curb those pumpkin cravings, along with my pumpkin pancakes, pumpkin spice scones and my favorite pumpkin cinnamon rolls recipe.
Waffle Ingredients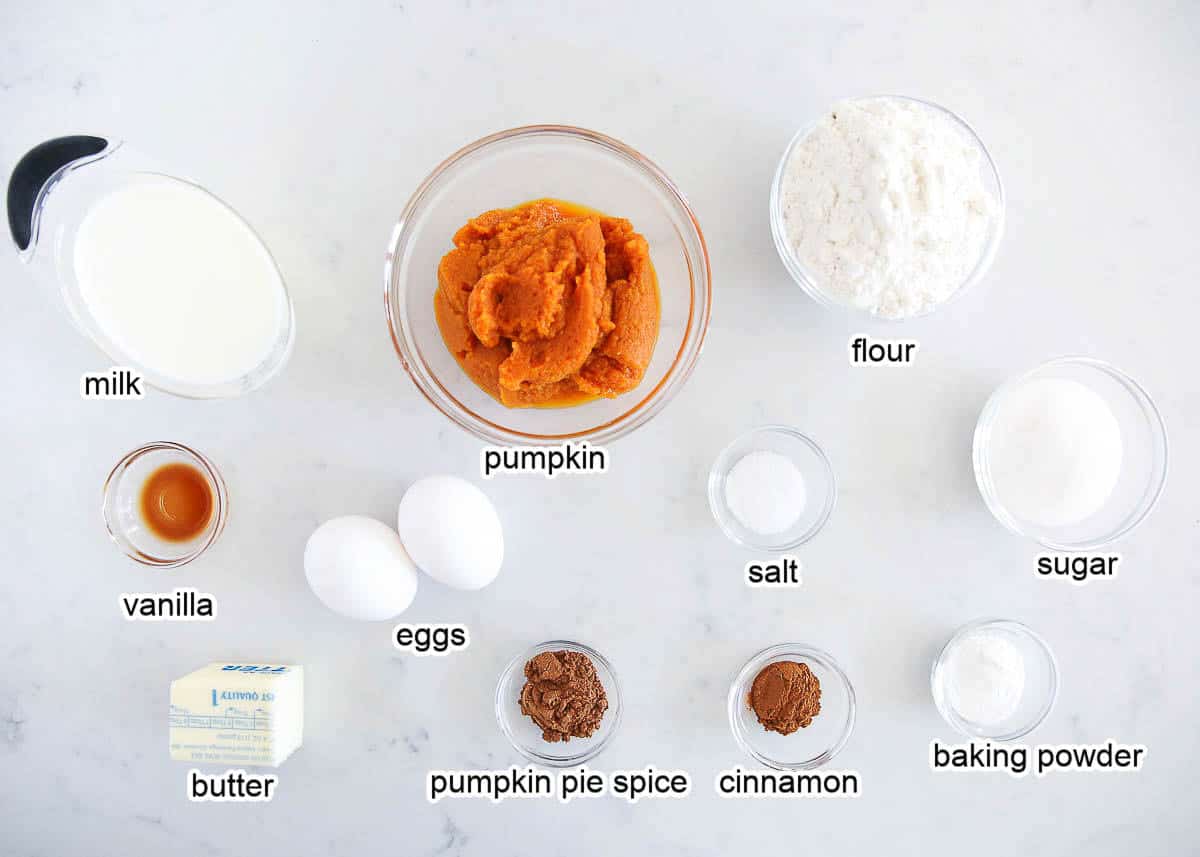 See full printable recipe below.
Pumpkin: Make sure to use 100% pure pumpkin puree (such as Libby's) and not pumpkin pie filling. The puree doesn't have any added spices or sugar, which is great for this recipe since we're adding those in separately.
Milk: I prefer whole milk. Buttermilk also works great and will make the waffles even more tender and soft.
Sugar: Added for sweetness. I typically use granulated sugar, but feel free to swap with brown sugar for a richer taste.
Eggs: Fresh eggs will give you the best result.
Butter: Make sure it's melted first. Feel free to swap with coconut oil or vegetable oil if preferred.
Vanilla: A high quality pure vanilla extract adds the perfect boost of vanilla flavor.
Flour: A regular all-purpose flour works great in this recipe.
Spices: Cinnamon, pumpkin pie spice and salt help give these pumpkin waffles their great flavor. Add more or less to taste, depending on how much you like spice.
Fresh Pumpkin Flavor
Instead of buying them premade, learn how to make pumpkin puree and pumpkin pie spice from scratch. This will enhance the pumpkin flavor even more, resulting in the most delicious pumpkin waffles of all time!
Optional Add-in's
For a fun twist, try mixing any of the below add-in's into batter. My kids especially love chocolate chips!
Chocolate chips: Semi-sweet or milk chocolate chips make these waffles even sweeter. Cinnamon chips are also equally as delicious!
Nuts: For an added crunch, mix in some chopped pecans or walnuts.
Spice: For a bolder fall flavor, add an extra 1/2 teaspoon of pumpkin pie spice or even a dash of nutmeg or ginger.
How to Make Pumpkin Waffles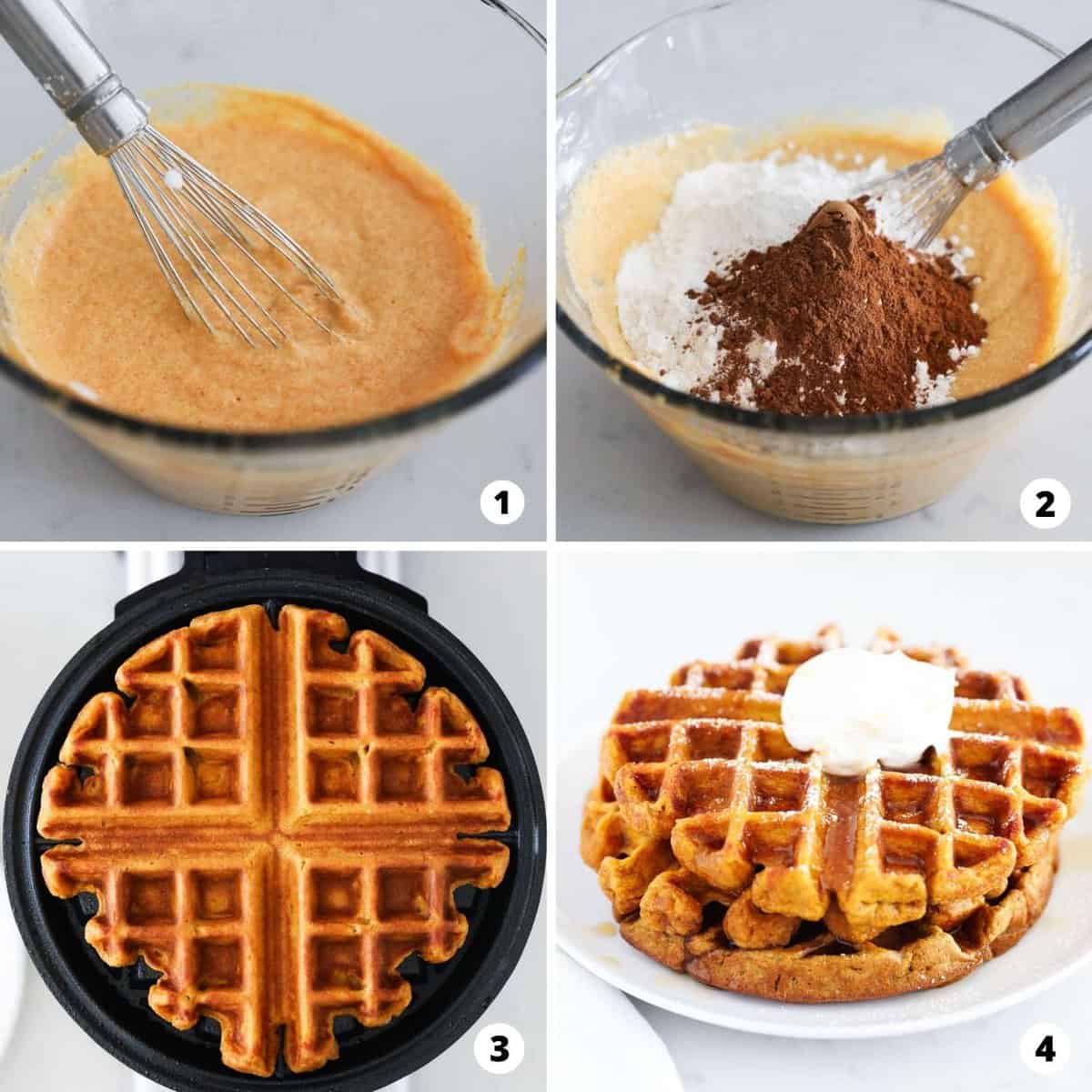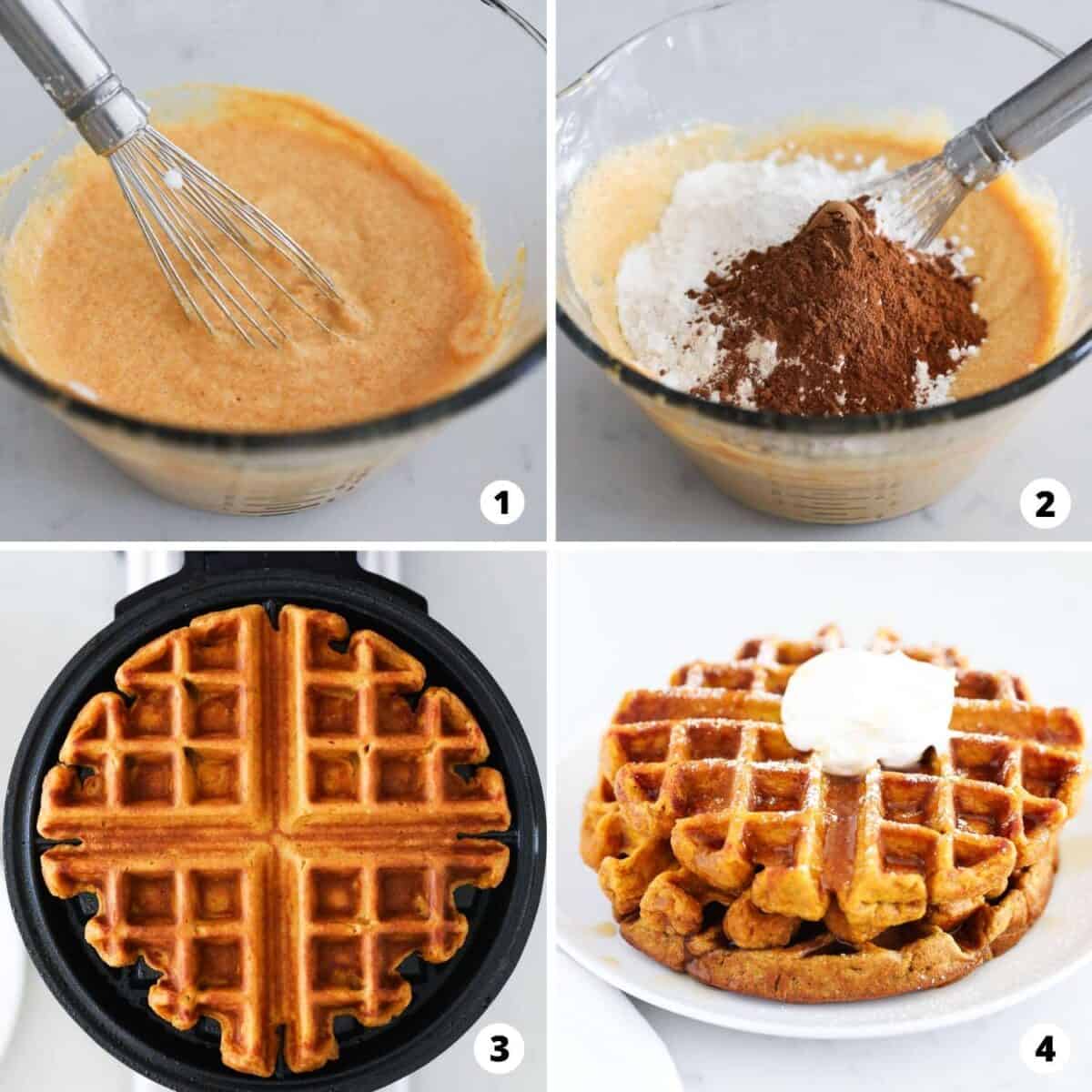 Wet ingredients. Whisk together the pumpkin puree, milk, sugar, eggs, melted butter and vanilla.
Dry ingredients. Add the remaining dry ingredients, being careful not to over mix the batter. Add any additional mix-in's if desired (chocolate chips, nuts, etc.)
Cook. Pour 1/2 cup batter in the waffle mold and cook in a preheated waffle iron until it beeps, usually about 2 to 3 minutes.
Serve. Serve the waffles immediately while warm with all your favorite toppings!
Tips for the Best Pumpkin Waffles
Use a waffle iron. To achieve a thick texture with deep pockets, I highly recommend using a double waffle iron. The deeper pockets are perfect for holding your favorite toppings like butter and maple syrup.
Buttermilk. The added acidity in buttermilk makes the waffles even more soft and moist. Learn how to make buttermilk by simply mixing distilled vinegar into your milk.
Don't overmix. The last thing you want to do is overmix the batter, or else your waffles won't be as soft and delicious. Mix just until the batter is combined. It's okay if there's still a few small lumps.
5 star review
Love the crispy texture of these waffles! These have become our favorite weekend breakfast during pumpkin season.

– Gina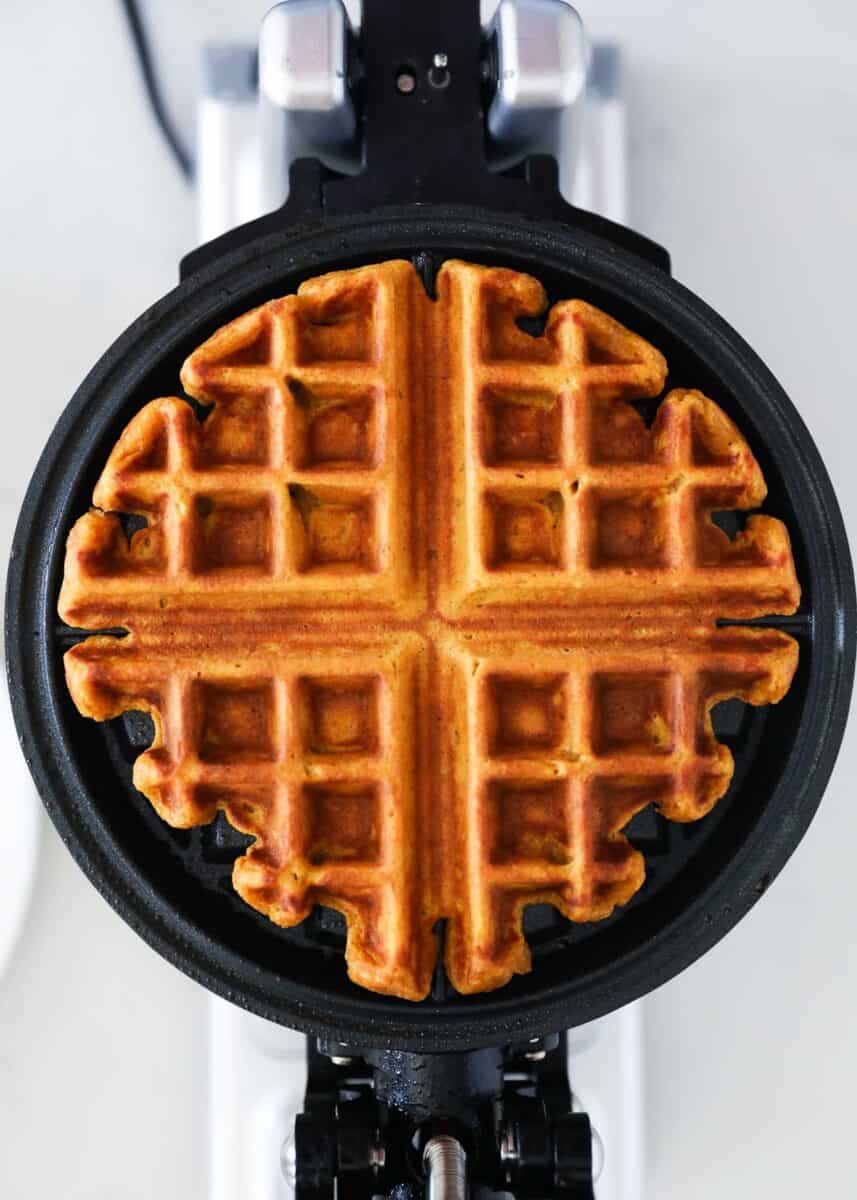 Favorite Toppings
Take your waffles to the next level by loading them up with your favorite toppings. Keep it simple with butter and syrup or go more gourmet with fresh whipped cream, chopped nuts and a drizzle of caramel!
Serving a Crowd?
A waffle bar is a fun idea when hosting a fall breakfast or brunch. Set out bowls with all of your favorite toppings (ideas above) and let guests dress up their own waffles.
You can even prepare the waffles in advance and then place them on a baking sheet in the oven at 175°F to keep warm. This way everything is ready to go at the same time!
Recipe FAQs
How much pumpkin do you put in waffles?
This recipe calls for 1 cup of pumpkin puree. I've found that this is the perfect amount to keep them moist while also providing the perfect amount of fresh and delicious pumpkin flavor.
Can this recipe be made gluten-free?
Although I haven't tried myself, you could replace the all purpose flour with a gluten-free 1-to-1 baking flour for similar results.
What can I put on my waffles instead of syrup?
There are plenty of options! Spread some apple butter on top for sweetness, or try creamy peanut butter for a more savory taste. These pumpkin waffles would also taste delicious topped with freshly sliced bananas and a drizzle of honey.
Freezing + Reheating
These pumpkin waffles are great for freezing! Sometimes I'll double the batch so that I have extras to stick in the freezer for a quick and easy make-ahead breakfast.
Prepare as directed, let cool and then place in a freezer bag. Store in the freezer for up to 3 months. Reheat in the microwave or toaster oven for about 30 seconds until warm. Or place in the oven at 250°F for 5-10 minutes.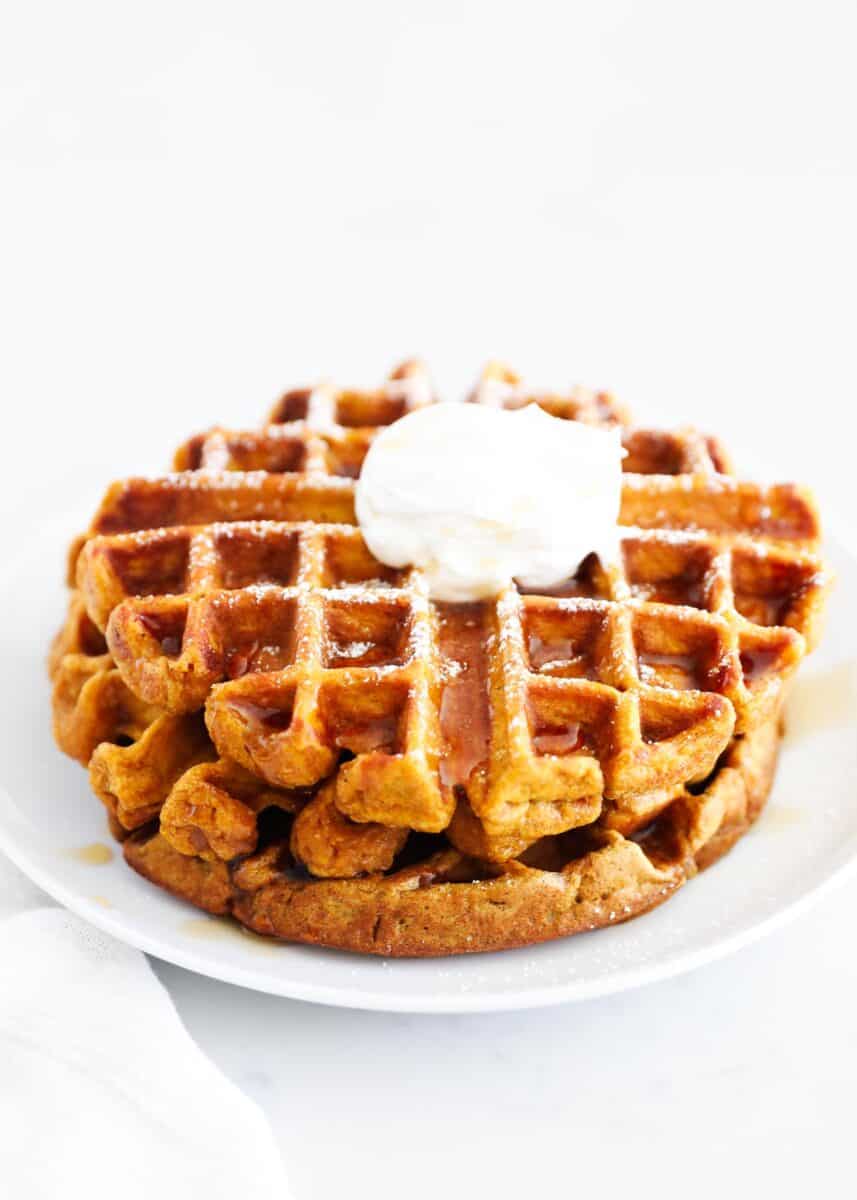 HUNGRY FOR MORE? Subscribe to my newsletter and follow on Facebook, Pinterest and Instagram for all the newest recipes!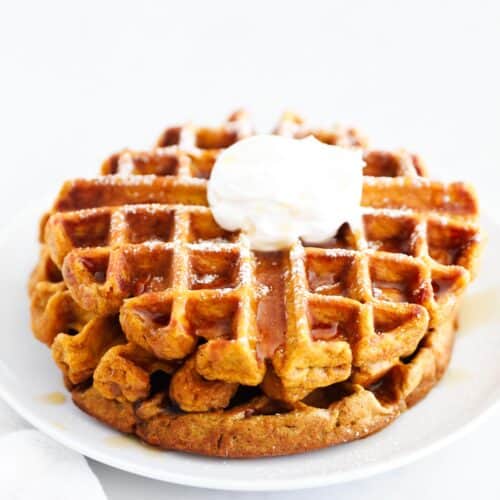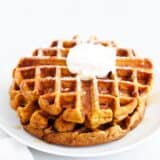 Pumpkin Waffles
Easy pumpkin waffles that are light, crisp, tender and full of pumpkin spice flavor. The perfect sweet breakfast idea to indulge in this fall!
Ingredients
1 cup (240 grams) pumpkin puree
1 cup milk , or buttermilk
3 Tablespoons (45 grams) granulated sugar , can also use brown sugar
2 eggs
¼ cup (57 grams) butter , melted (can also use coconut or vegetable oil)
1 teaspoon vanilla extract
1 ¼ cups (165 grams) all-purpose flour
2 teaspoons baking powder
1 ½ teaspoons ground cinnamon
1 ½ teaspoons pumpkin pie spice (extra 1/2 teaspoon if you like spice)
1 teaspoon Kosher salt , or 3/4 teaspoon fine sea salt
½ cup chocolate chips , or more, optional
For serving: Butter, Maple syrup, Whipped cream
Instructions
Preheat your waffle iron to medium heat (level 3 to 4). Preheat the oven to 175°F, if not serving right away.

In a large bowl, whisk together the pumpkin puree, milk, sugar, eggs, melted butter, and vanilla. Add the flour, baking powder, cinnamon, and pumpkin pie spice. Stir in chocolate chips, if desired. Be careful not to overmix.

In the waffle mold, pour about 1/2 cup batter. Cook about 2 minutes, or until the waffle iron beeps. Place in warm oven if not serving right away.

Serve warm with butter, syrup, and whipped cream.
---
Notes
To keep warm: Place on a baking sheet in the oven at 175°F to keep warm.
Beating egg whites: I updated the recipe to remove this step. If you want to make your waffles a little lighter and softer (not as crispy), separate the eggs and beat the egg whites 1 to 2 minutes, or until stiff. Then add in with egg yolks.
Storage: Store leftovers in a zip-top bag or covered container in fridge for 2 to 3 days.
Freezing: Let cool, then place in a freezer bag. Store in freezer for up to 3 months.
To reheat: Reheat in the microwave or toaster oven for 30 seconds, or until warm throughout. You can also place in the oven at 250°F for 5 to 10 minutes, or until warm and crispy.
Nutrition
Calories: 411kcal | Carbohydrates: 62g | Protein: 10g | Fat: 14g | Saturated Fat: 8g | Polyunsaturated Fat: 1g | Monounsaturated Fat: 3g | Trans Fat: 0.4g | Cholesterol: 80mg | Sodium: 502mg | Potassium: 360mg | Fiber: 3g | Sugar: 20g | Vitamin A: 6576IU | Vitamin C: 2mg | Calcium: 162mg | Iron: 4mg
Nutrition provided is an estimate. It will vary based on specific ingredients used.
Did you make this recipe? Don't forget to give it a star rating below!