Soft and chewy (not cakey) pumpkin snickerdoodles loaded with pumpkin flavor and rolled in cinnamon sugar. All of the best fall flavors in one deliciously baked cookie! You will love this spin on a classic.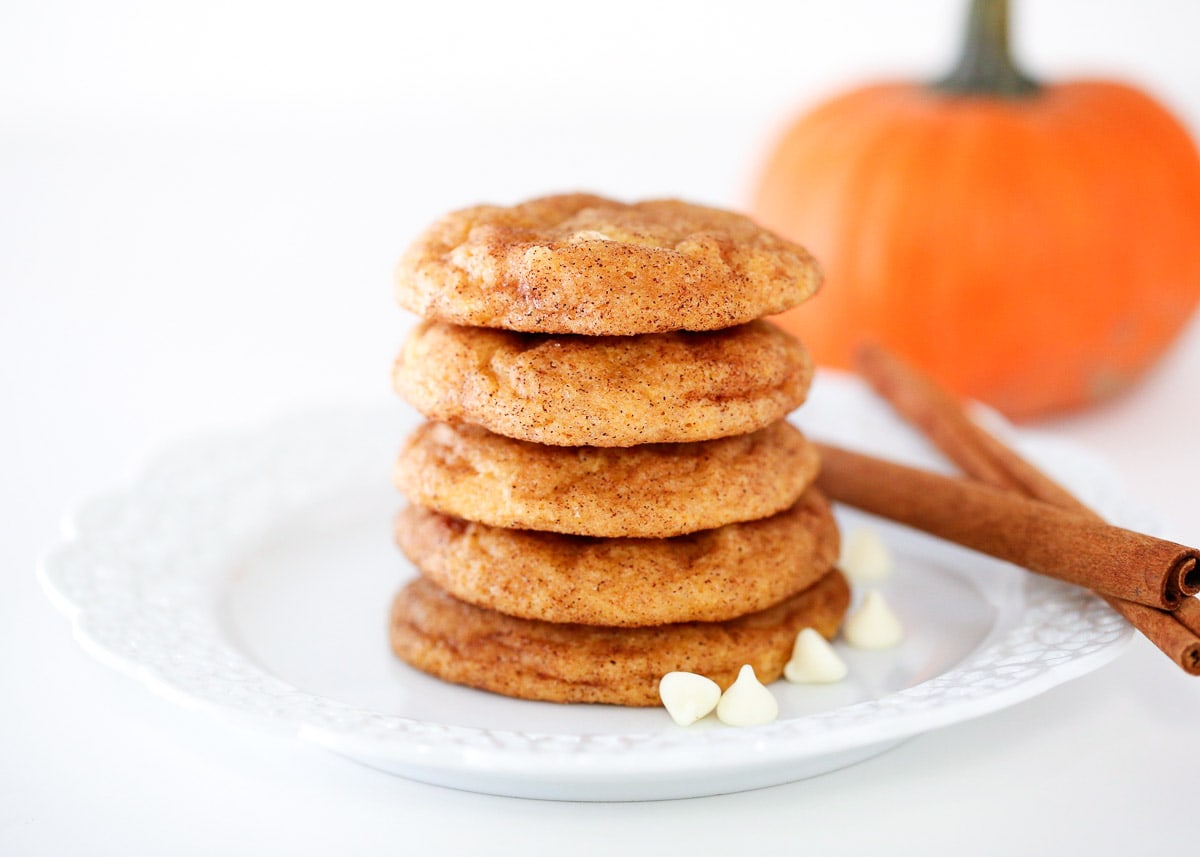 My New Favorite Fall Cookie
As soon as fall arrives, give me all the pumpkin recipes! These pumpkin snickerdoodles may be my favorite ones yet. I made 3 dozen cookies on Saturday and between friends and family – they were gone by Sunday!
If you are a pumpkin lover and also love classic snickerdoodles cookies, you have GOT to make these (along with my pumpkin chocolate chip cookies) this fall. The fall flavors make them all the more yummy and the white chocolate chips make each bite perfection.
Snickerdoodles are usually a popular Christmas cookie, but you can also enjoy them in the fall by adding simple ingredients like pumpkin puree and pumpkin pie spice. You're going to love these pumpkin snickerdoodles!
Why This Recipe Works
Easy to make: Pumpkin snickerdoodle cookies are chewy cookies that are easy to make and come together quickly with only a 15 minute chill time.
Soft and pillowy. Thanks to the cream of tartar, these pumpkin snickerdoodles have that famous pillow top that everyone knows and loves.
Bold fall flavor. Not only is the dough mixed with warm fall spices, but the outsides are rolled in them too. So that means double the delicious fall flavor!
A white chocolate twist. Although it's optional, adding white chocolate chips to the batter takes these pumpkin snickerdoodles to the next level!
Key Ingredients
Making pumpkin snickerdoodles is so easy! Made with a few key baking staples plus a can of pumpkin and some warm fall spices.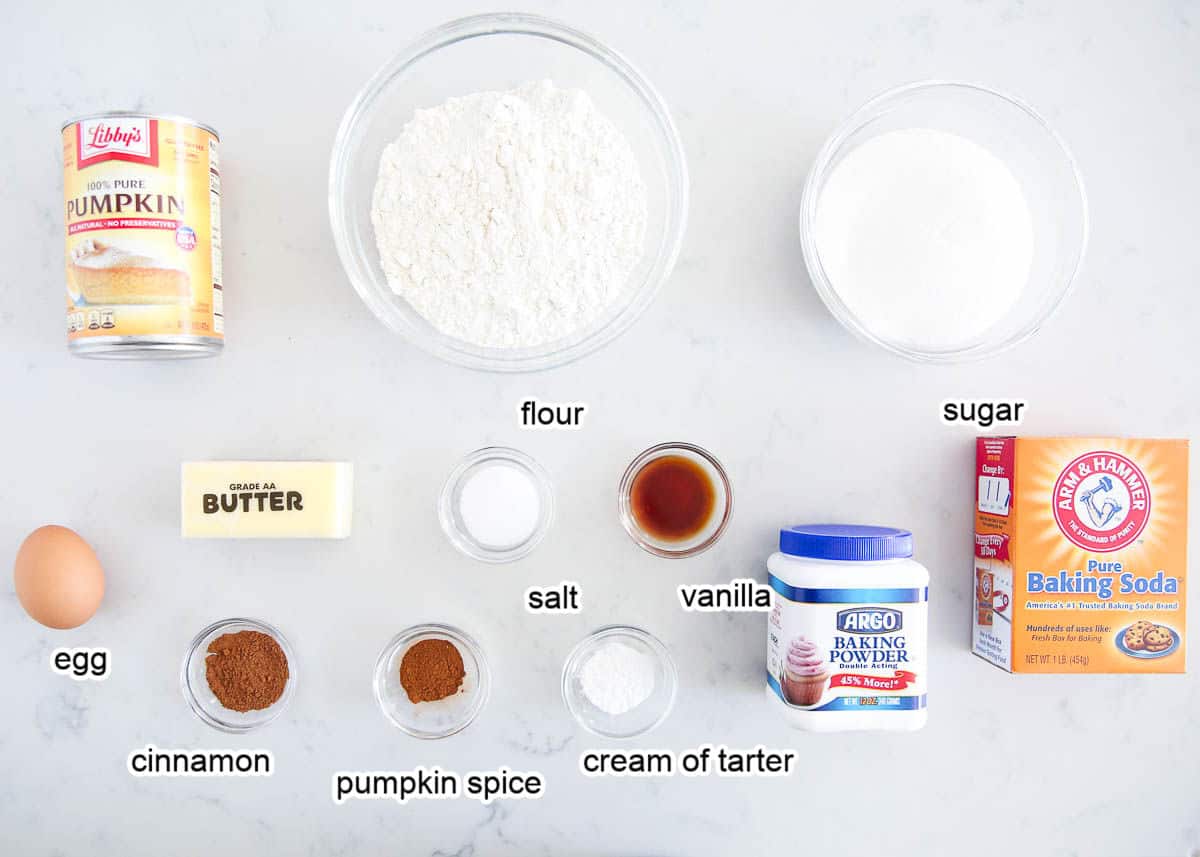 Find the full printable recipe with specific measurements below.
Pumpkin: The pumpkin helps the cookies stay super soft (just like my favorite pumpkin cookies), and the cinnamon sugar gives them that classic snickerdoodle flavor. I also love mixing in white chocolate chips for the perfect touch of sweetness.
Sugar: Since the pumpkin can be rather bland on its own, sugar is essential. I also love to roll the dough balls in it before baking.
Flour: Although it seems simple, there actually is a wrong and right way to measure flour. Learn how to measure flour accurately with this easy spoon and knife method.
Cream of tartar: Similar to the classic recipe, cream of tartar is added to give the cookies that perfect, pillowy top. This is an ingredient you definitely don't want to skip!
Pumpkin spice: This adds the perfect pumpkin flavor and you can even make homemade pumpkin pie spice to have on hand throughout the fall season.
How to Make Pumpkin Snickerdoodles
Ready in under an hour, these pumpkin snickerdoodles will become your new favorite fall cookie to bake all season long. They are so soft and sweet!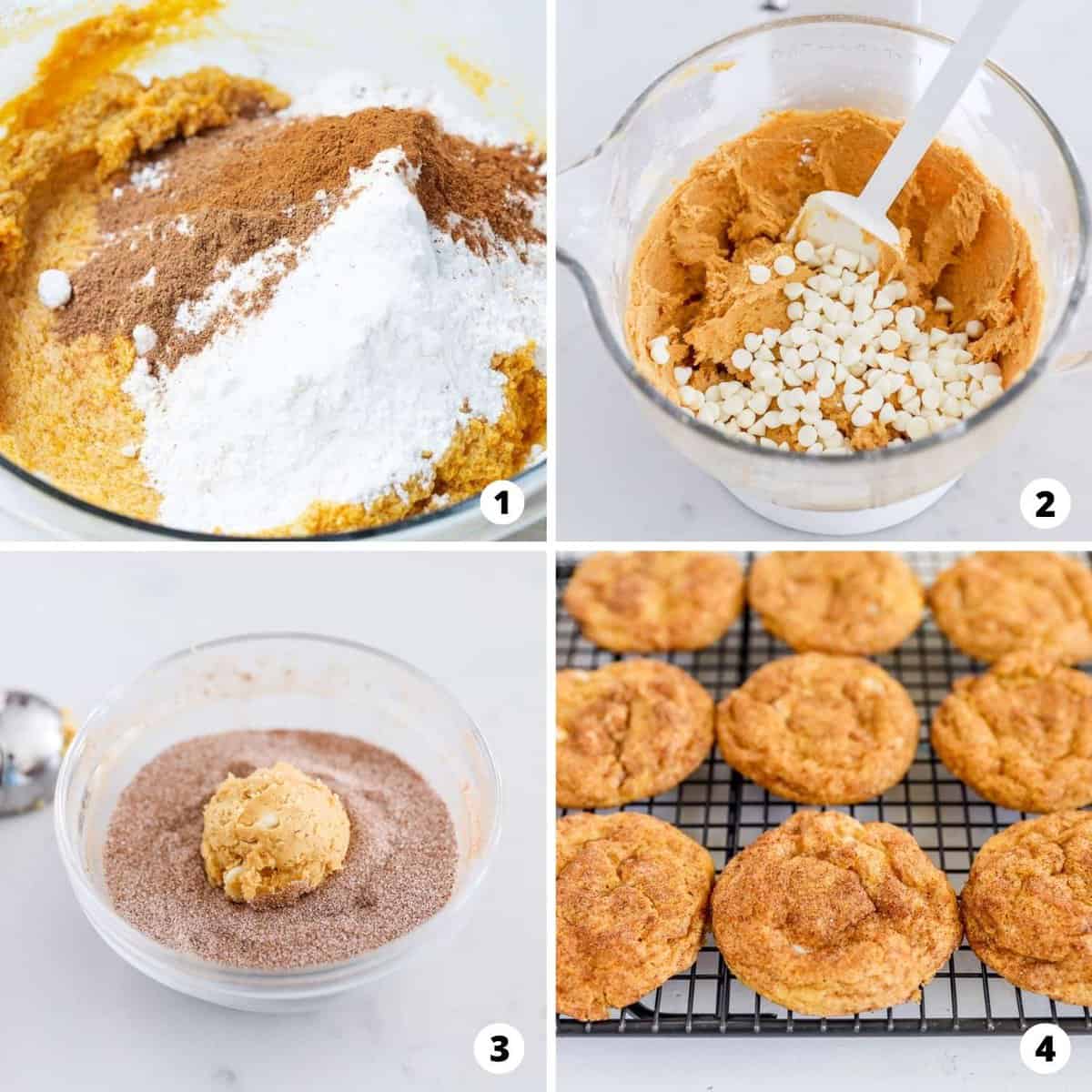 Mix the dough. Whisk the dry ingredients together in a medium bowl. In a separate large mixing bowl, cream together the softened butter and sugar using an electric hand mixer or stand mixer. Once smooth and fluffy, add in the vanilla and egg. Then stir in the pumpkin. Mix the dry ingredients in with the wet ingredients until combined.
Fold and chill. Gently fold the white chocolate chips into the dough. They are optional, but I love adding them for extra sweetness. Cover the bowl with saran wrap and chill the dough in the fridge for at least 15 minutes to harden the consistency so that it's easier to roll.
Roll in sugar. Mix the remaining sugar, cinnamon, and pumpkin spice in a small bowl. Then use a cookie scoop and roll the cookie dough into 1-inch balls and then roll into the cinnamon sugar mixture until coated. Place on a prepared baking sheet.
Bake. Place the cookie sheet in the oven and bake for about 12 to 13 minutes. The edges should be lightly golden and the center should be set. Remove and let cool on the baking sheet for a few minutes. Then transfer to a wire rack.
Expert Tips
These tips will help you have chewy, fluffy, pumpkin snickerdoodles every time!
Remove moisture from the pumpkin. It's important to remove the extra water from the pumpkin or else it will be too sticky when you try to roll out the dough. All you need to do is place the pumpkin between two paper towels and push down lightly until the excess moisture is removed.
Chill the dough. Let the dough chill in the fridge for at least 15 minutes so you're cookies stay thick and delicious, without spreading too much.
Extra chocolate on top. Before going into the oven, press a few extra white chocolate chips on the tops of the cookie dough balls. Not only does this make them look pretty, but it adds the perfect amount of chocolate to each bite!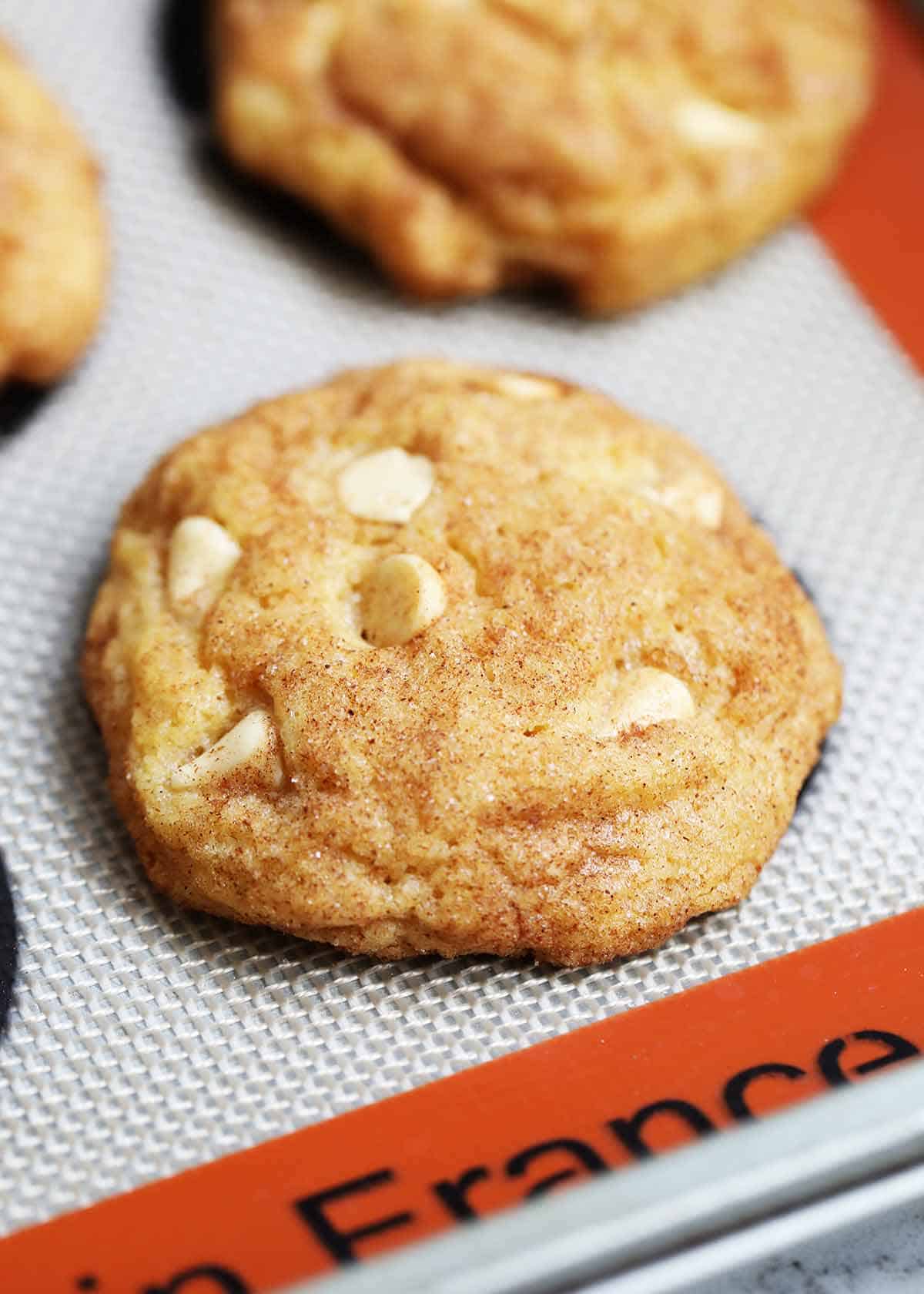 Recipe FAQs
Why is there cream of tartar in snickerdoodles?
This is a key ingredient when making any classic snickerdoodle recipe. It gives the cookies that famous pillowy top that everyone knows and loves. You won't get the same results if you make this recipe without it!
Should you flatten snickerdoodles before baking?
You do not need to flatten the cookie dough balls on the baking sheet prior to going into the oven. The cookies will spread as they bake, while still remaining thick and chewy on the insides.
Can I use pumpkin pie filling?
No, it's important to use 100% pure pumpkin puree when making this pumpkin snickerdoodle recipe. The can of pie filling has extra sugar and spices included, which would alter the taste and make the pumpkin snickerdoodles entirely too sweet!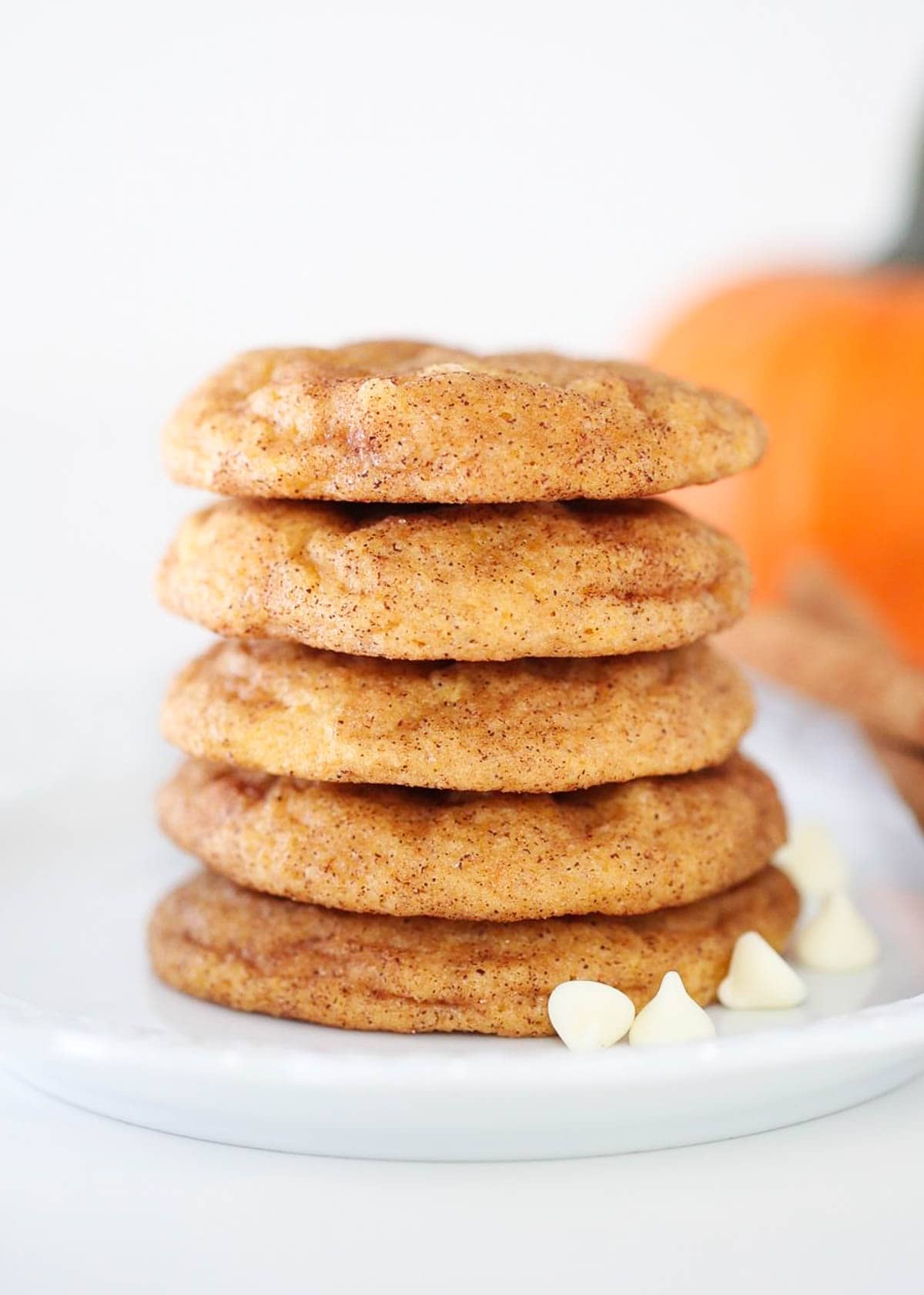 5 star review
"I have made these pumpkin snickerdoodles 3 times so far and will be making them for a cookie exchange this weekend. I am known as the cookie baker amongst my friends and coworkers and these cookies were labelled as THE BEST EVER by everyone. They are absolutely fantastic!"

-Steph
Storing + Freezing Pumpkin Snickerdoodles
These pumpkin snickerdoodles are so easy to bake and store. The cookies have a chewy texture with the best flavor even after they have been stored. Use these helpful tips on how to make the best pumpkin snickerdoodles!
Baked cookies: Once the cookies have cooled, place them in an airtight container or bag and store them at room temperature for up to 3 days. The cookies will also be kept in the freezer for up to 3 months if stored in a zip-top bag (make sure to seal as much air out as possible).
Dough: Roll the cookie dough balls in cinnamon sugar, then place them on a baking sheet and flash freeze for about 30 minutes (or until hard). Then place it in a zip-top bag in the freezer.
Bake. When ready to bake, let thaw on a baking sheet for about 30 minutes before going into the oven. Bake as directed, although you may need to add an extra 2 minutes to the total time so the edges get golden.
HUNGRY FOR MORE? Subscribe to my newsletter and follow on Facebook, Pinterest and Instagram for all the newest recipes!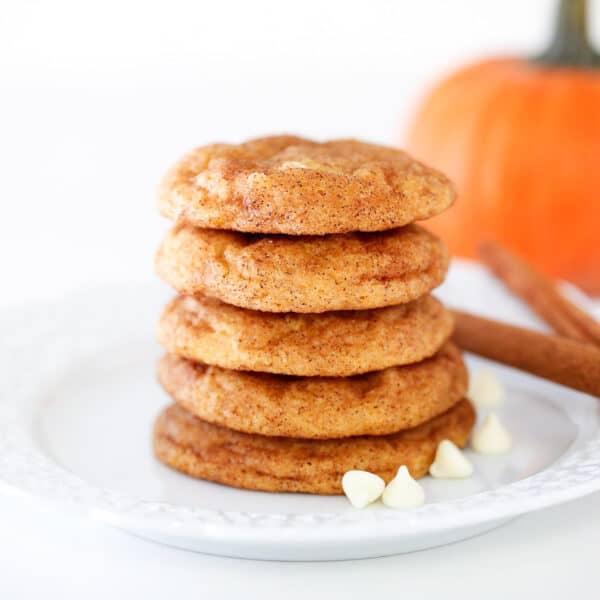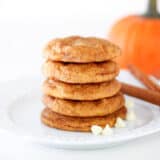 Pumpkin Snickerdoodles
Soft and chewy pumpkin snickerdoodles loaded with white chocolate chips and cinnamon sugar. All of the best fall flavors in one deliciously baked cookie!
Ingredients
Cookie dough
2 ¾ cups (360 grams) all-purpose flour
1 teaspoon baking soda
1 teaspoon baking powder
½ teaspoon Kosher salt
1 ½ teaspoons cream of tartar
½ teaspoon ground cinnamon
½ teaspoon pumpkin pie spice
¼ teaspoon ground nutmeg
1 cup salted butter , softened
1 ½ cups granulated sugar
1 large egg
¾ cup pumpkin puree , extra moisture removed with paper towel (see notes)
1 teaspoon vanilla extract
1 cup white chocolate chips , optional
Instructions
Cookie dough
Preheat oven to 350°F. Line 2 baking sheets with parchment paper.

In a medium bowl, combine flour, baking soda, baking powder, salt, cream of tartar, cinnamon, pumpkin pie spice, and nutmeg.

In a large bowl, cream butter and sugar with an electric mixer for about 1 minute. Add in vanilla and egg and mix until just combined. Stir in the pumpkin until combined.

Mixt in flour mixture until just combined. Fold in the white chocolate chips, if using, and cover the bowl with plastic wrap. Place in the refrigerator for at least 15 minutes to help it be less sticky when rolling.
Sugar mixture
In a small bowl, mix together the remaining sugar, cinnamon, and pumpkin pie spice. Roll the dough into 1-inch balls and then roll into the sugar mixture. Place the cookies about 2 inches apart on the baking sheets.

Bake for 12 to 13 minutes, or until the edges are lightly golden. Remove from the oven. Let cool for 1 to 2 minutes before transferring to a cooling rack to cool completely.
---
Notes
Pumpkin: I prefer to use Libby's canned pumpkin puree. I measure it out and then dump it on a paper towel and pat it to remove the moisture. If you don't remove the moisture they will be more cakey. Storage and freezer instructions: Let cool and then store in a covered container up to 3 days. For freezing place in a zip-top bag (remove as much air as you can) and freeze up to 3 months. Freezing dough: You can also freeze the dough balls dipped in sugar. Place on a baking sheet and freeze 30 minutes. Transfer to a zip-top bag once they are hard. When ready to bake, place on baking sheet to thaw 30 minutes prior to baking. An additional 2 minutes may need to be added for cooking.
Nutrition
Calories: 186kcal | Carbohydrates: 29g | Protein: 2g | Fat: 7g | Saturated Fat: 4g | Polyunsaturated Fat: 0.3g | Monounsaturated Fat: 2g | Trans Fat: 0.2g | Cholesterol: 20mg | Sodium: 118mg | Potassium: 95mg | Fiber: 1g | Sugar: 14g | Vitamin A: 962IU | Vitamin C: 0.3mg | Calcium: 24mg | Iron: 1mg
Nutrition provided is an estimate. It will vary based on specific ingredients used.
Did you make this recipe? Don't forget to give it a star rating below!