Pumpkin snickerdoodles with white chocolate chips
Today I have another yummy pumpkin recipe for you. These pumpkin snickerdoodles may be my favorite pumpkin recipe yet! I made 3 dozen cookies on Saturday and between friends and family they were gone by Sunday! Adding the white chocolate chips to these pumpkin snickerdoodles seriously makes them SO good!!
For this recipe I took one of my favorite snickerdoodle recipes from the Martha Stewart's cookbook and added in all my favorite things for fall (pumpkin, nutmeg, cinnamon, pumpkin pie spice). Then after seeing my friend Kristyn at Lil Luna put white chocolate chips in her snickerdoodles, I tossed some of those in too. Seriously the perfect addition! That girls brilliant, I tell ya!
These are seriously, hands down my favorite snickerdoodle recipe! The pumpkin makes these cookies super soft. You have GOT to make them this fall if you are a pumpkin lover like me. You will not be disappointed!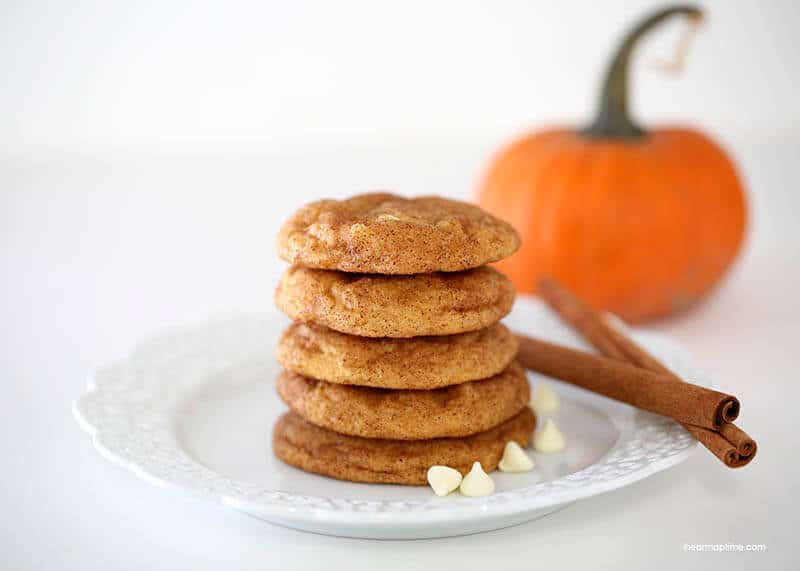 MY OTHER RECIPES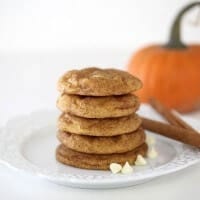 Pumpkin snickerdoodles
Ingredients:
1 cup butter, softened (I used salted butter)
1 1/2 cup white sugar
1 egg
3/4 cup pumpkin puree (remove extra moisture with paper towel)
1 tsp vanilla
2 3/4 cup all purpose flour
1 tsp baking powder
1 tsp baking soda
1/2 tsp salt
1 1/2 tsp cream of tarter
1/2 tsp cinnamon
1/4 tsp pumpkin spice
1/4 tsp nutmeg
1/8 tsp ginger
1 cup white chocolate chips
*Sugar mix for rolling dough in:*
1/2 cup sugar
5 tsp cinnamon
1 tsp pumpkin spice
Directions:
1. In a medium bowl combine all the dry ingredients: flour, baking soda, baking powder, salt, cream of tarter, cinnamon, pumpkin spice, nutmeg, and ginger. Set aside.
2. In a large bowl cream butter and sugar with a mixer. Add in vanilla and egg and mix until combined.
3. Place pumpkin on several paper towels and let water drain from pumpkin. Then place pumpkin in the bowl with the sugar and stir until combined. Add flour mixture to pumpkin mixture and mix together. Fold in white chocolate chips and then cover bowl with seran wrap. Place in refrigerator for one hour to chill.
4. Pre-heat oven to 350°.
5. Prepare cookie sheets with non-stick spray or parchment paper. Roll dough into one inch balls and then roll into the sugar mixture. Place cookies on your pan one inch apart.
6. Bake for 12-13 minutes. Allow cookies to cool 1-2 minutes on the pan and then place them on a cooling rack.
Enjoy!
For this recipe I think it's important to remove the extra water from the pumpkin or else it will be too sticky when you try to roll out the dough. All you need to do is place the pumpkin between the paper towels and push down lightly until the excess moisture is removed.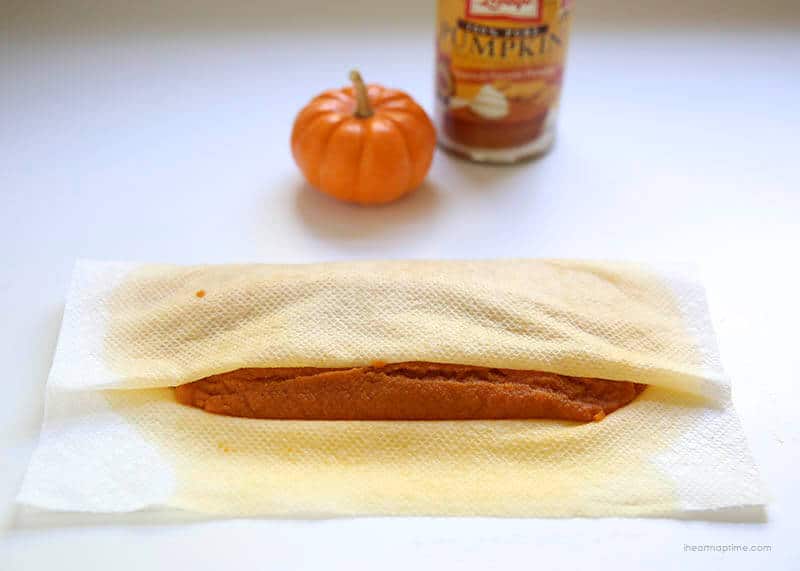 These pumpkin snickerdoodles were seriously divine! I cannot wait to make them again and again!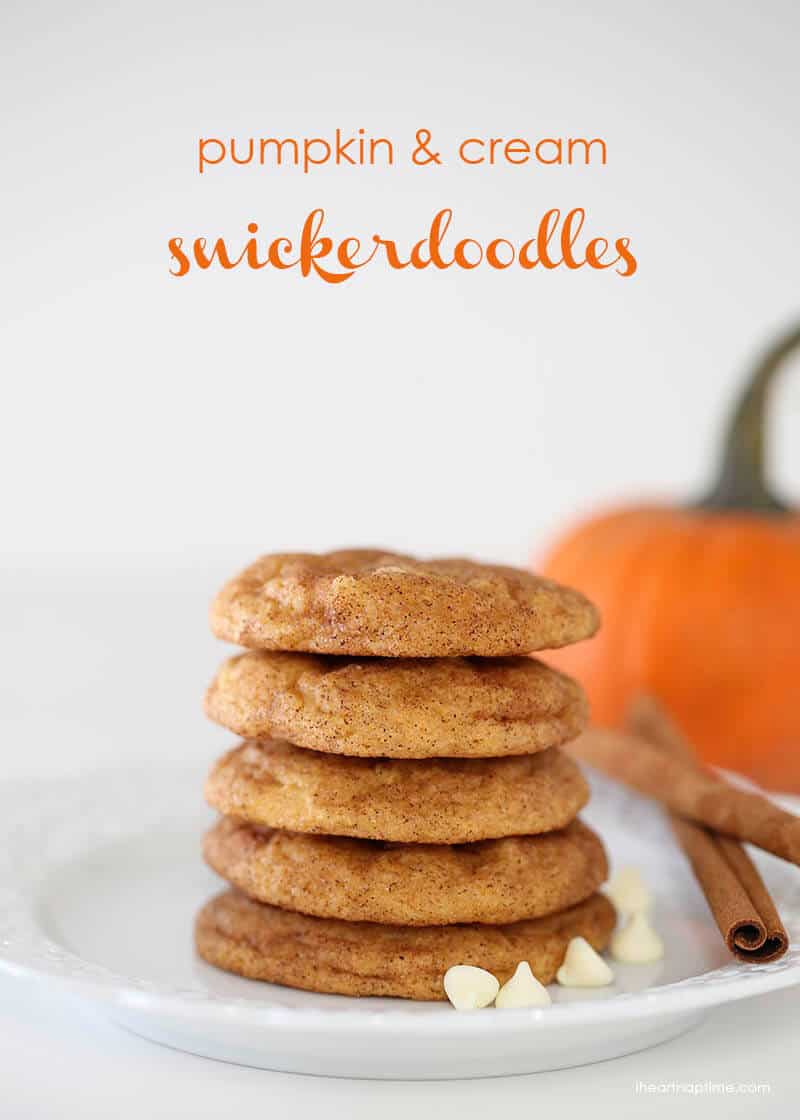 Looking for more pumpkin recipes? You'll love these too: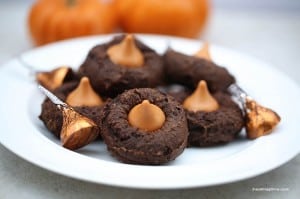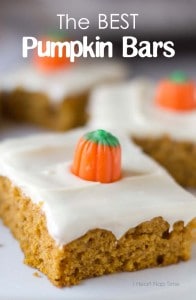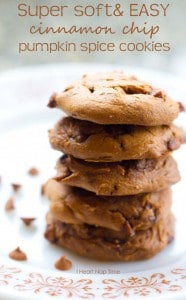 For even more recipes, make sure to check out my here. Enjoy!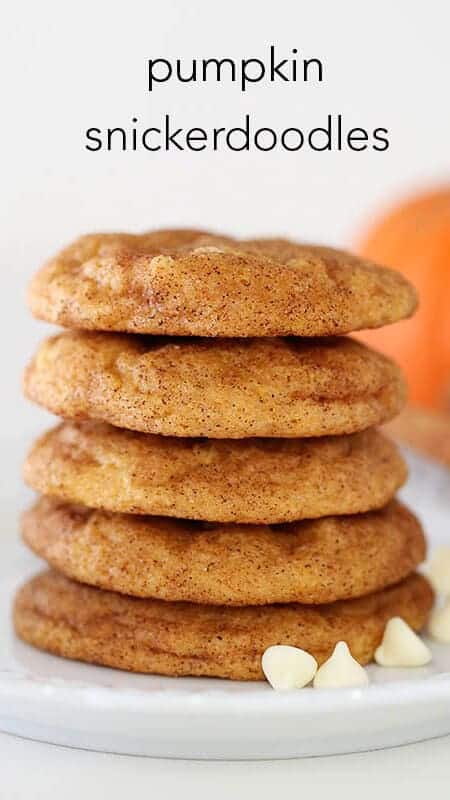 Happy baking! xo- jamielyn
Join in! Leave a comment!
Comments