Slow Cooker Ribs
Slow Cooker Ribs – easy baby back ribs smothered with a homemade rub and barbecue sauce, cooked in the slow cooker.
Hello there!  This is Katie from The Casual Craftlete blog.  Today, I am sharing one of my favorite Slow Cooker Ribs recipes.  These baby back ribs are made with a homemade rub and a sweet and tangy barbecue sauce.
If you don't have the time or an outdoor smoker, this rib recipe is perfect.  Ribs are definitely a summer main staple meal.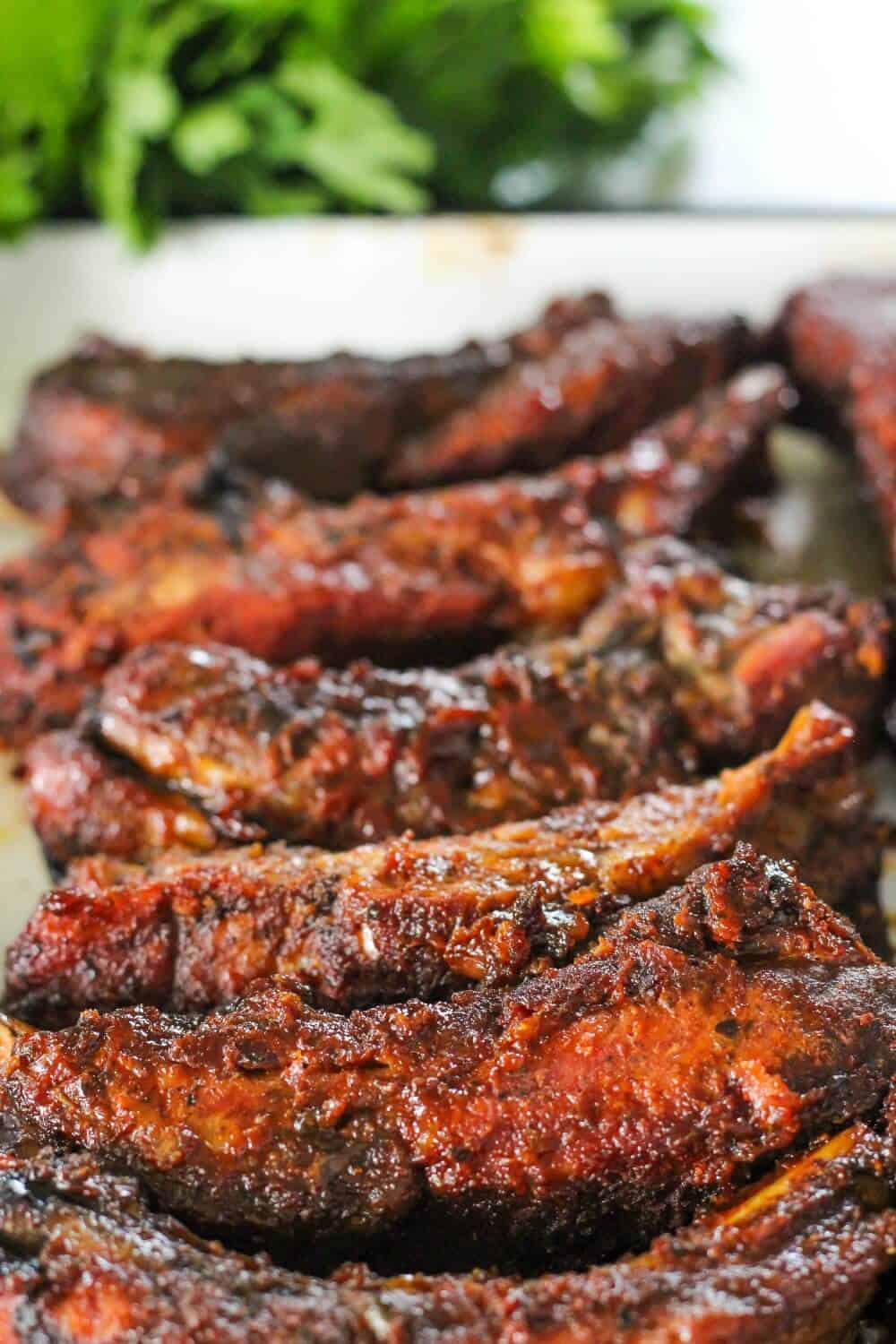 MY OTHER RECIPES
My home town is the barbecue capital of Illinois.  You can get lots of amazing smoked meats and ribs are my favorite.  There is just something about eating a hearty piece of meat with your hands that is comforting and satisfying.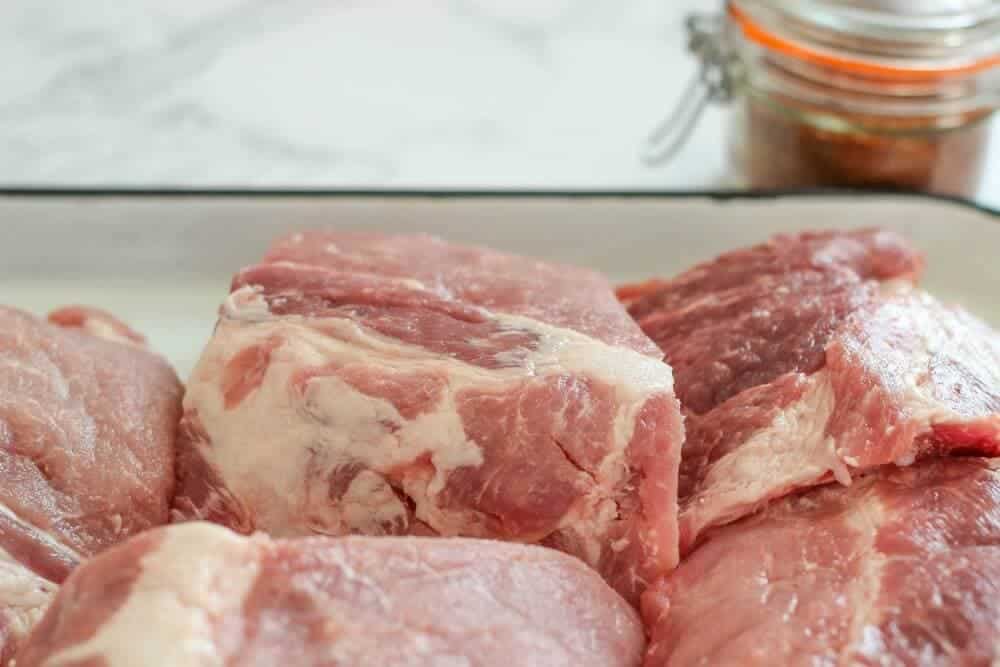 Slow Cooker Ribs are incredibly easy to make!
I am using four pounds of pork baby back ribs.  This cut of meat is marbled with fat to give the ribs a nice flavor and can hold up to the low and slow cooking process in the slow cooker.  I use a sharp butcher knife to section the ribs into six pieces.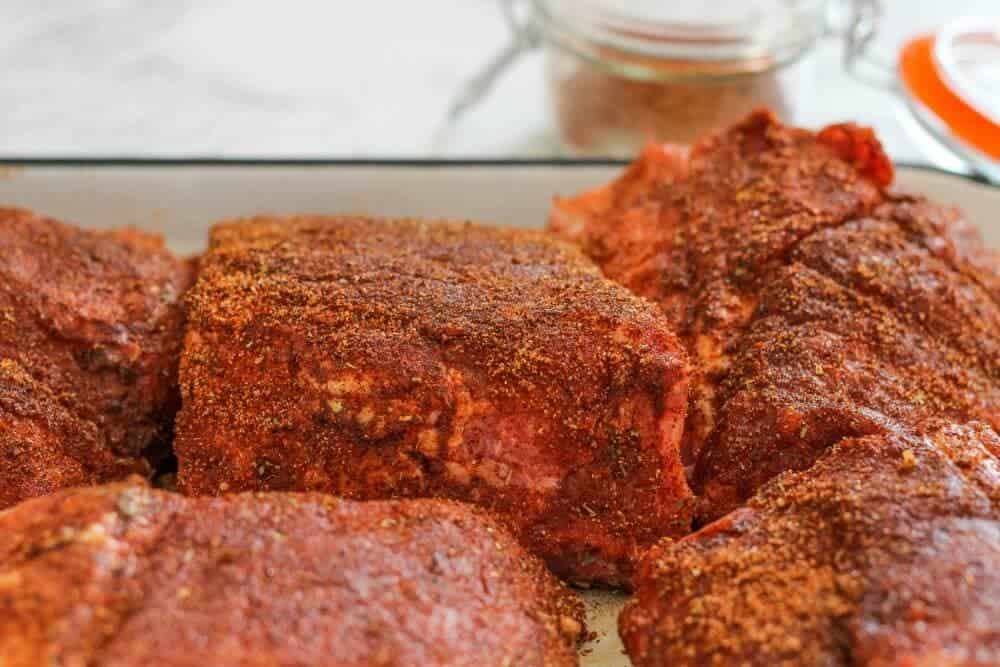 I made a homemade rub recipe with spices, herbs, and sugar.  Rub the ribs covering both sides.  Then bake in the oven at 4oo degrees for 30 minutes, flipping the ribs half way through.  This just seals in the flavors and gets a nice crust on the ribs.
While the ribs are baking in the oven, you can make the homemade barbecue sauce on the stove top.  This is a sweet and tangy barbecue sauce mixture of ketchup, molasses, brown sugar, and apple cider vinegar.  Reserve some of the sauce for dipping after the ribs are fully cooked.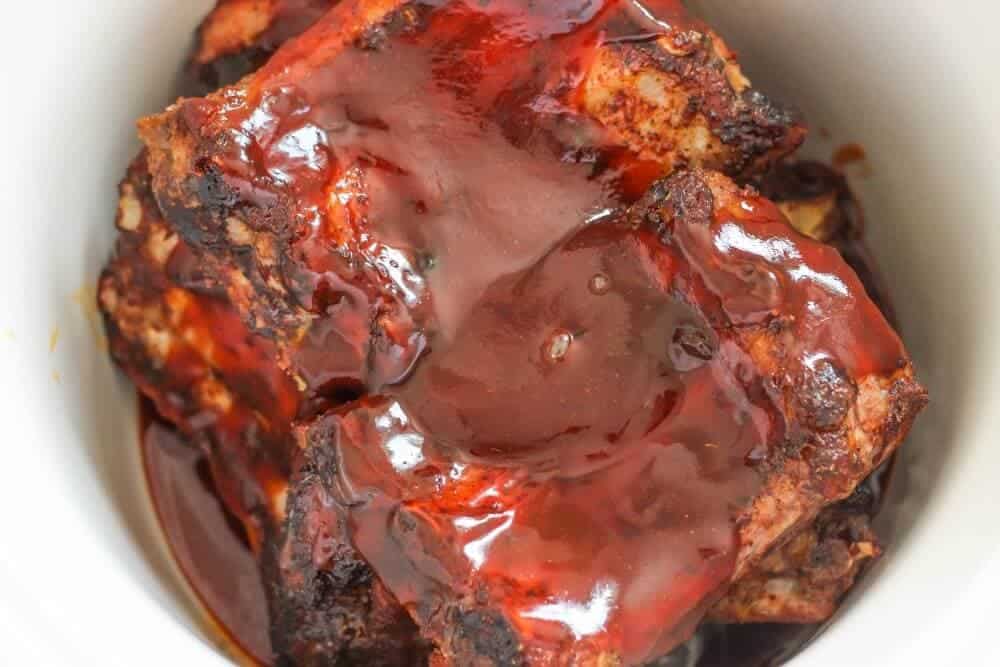 Layer the barbecue sauce and ribs in a large slow cooker.  Cook on low for 7 – 8 hours or on high for 4- 5 hours until the ribs are fall off the bone tender.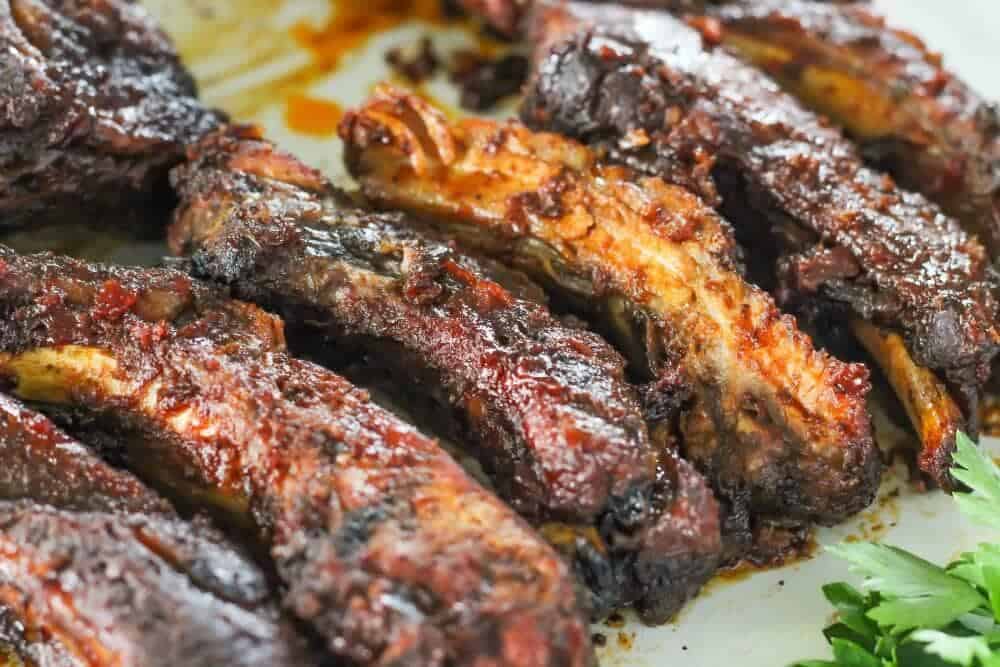 These ribs are lip smacking good!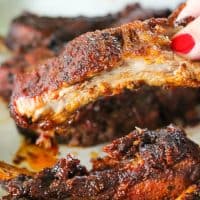 Slow Cooker RIbs
Easy baby back ribs smothered with homemade rub and barbecue sauce recipes cooked in the slow cooker.
Yield: 6 to 8
Prep Time: 15 minutes
Cook Time: 5 hours
Total Time: 5 hours 15 minutes
Ingredients:
4 pounds pork baby back ribs
Spice Rub:
1 1/2 Tablespoons paprika
1 1/2 Tablespoons packed brown sugar
2 teaspoons salt
2 teaspoons chili powder
2 teaspoons garlic powder
1 teaspoon black pepper
1 teaspoons onion powder
1/2 teaspoon dried Italian seasoning
1/4 teaspoon cayenne pepper (optional for more heat)
Barbecue Sauce:
2 cups ketchup
1/2 cup molasses
1/2 cup brown sugar, packed
1/3 cup apple cider vinegar
1 tablespoons reserved Spice Rub (from above)
Directions:
Preheat oven to 400 degrees F line a baking sheet with sides with parchment paper. Set aside.
Rinse and dry ribs then cut into 6 pieces.
In a medium bowl, whisk together spice rub ingredients. Remove 1 tablespoon Spice Rub to use in the barbecue sauce. Rub both sides of the ribs with the spice rub then place ribs on prepared baking sheet. Bake ribs for 30 minutes, flipping half way through to sear meat.
While the ribs are baking in the oven, add the barbecue sauce ingredients to a medium saucepan and gently simmer for 15 minutes, stirring occasionally. Remove 1 1/2 cups barbecue sauce and refrigerate to use after ribs are cooked.
Spray slow cooker with nonstick cooking.  Add a thin layer of barbecue sauce to the bottom of the slow cooker, followed by ribs. Layer sauce and ribs until ribs are evenly coated.
Cover and cook on HIGH for 4-5 hours or on LOW for 7-9 hours OR cook until ribs are fall off the bone tender. Rotate ribs once during cooking so they cook evenly.  Remove ribs from slow cooker and brush with reserved barbecue sauce or use sauce for dipping.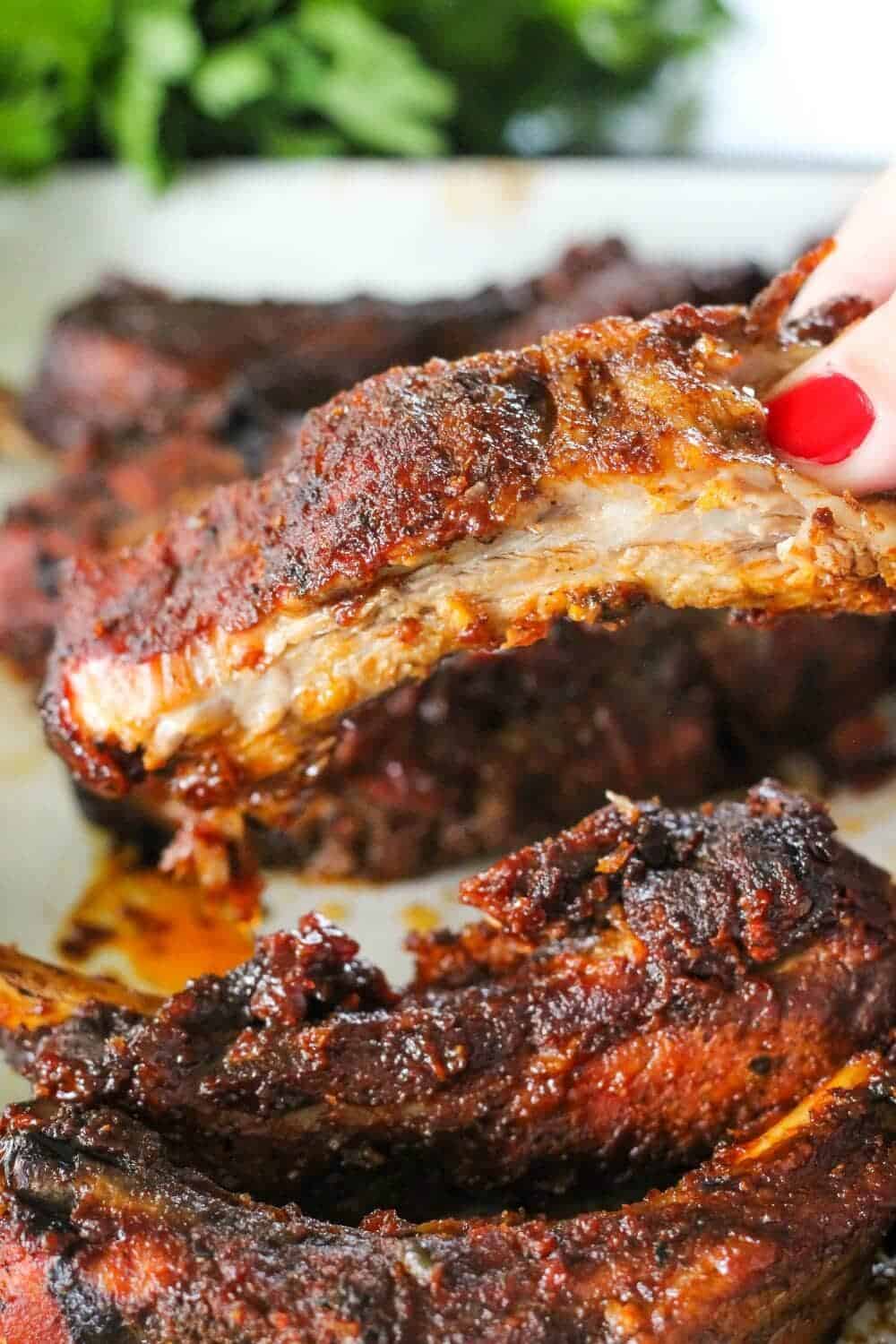 Enjoy!
Thanks, Katie!

If you enjoy this slow cooker recipe, you'll enjoy these too!
Join in! Leave a comment!
Comments