Easy baby back ribs smothered with a homemade dry rub and sweet and tangy barbecue sauce. Cooked to perfection in the crockpot and fall-off the bone delicious. These are the best slow cooker ribs!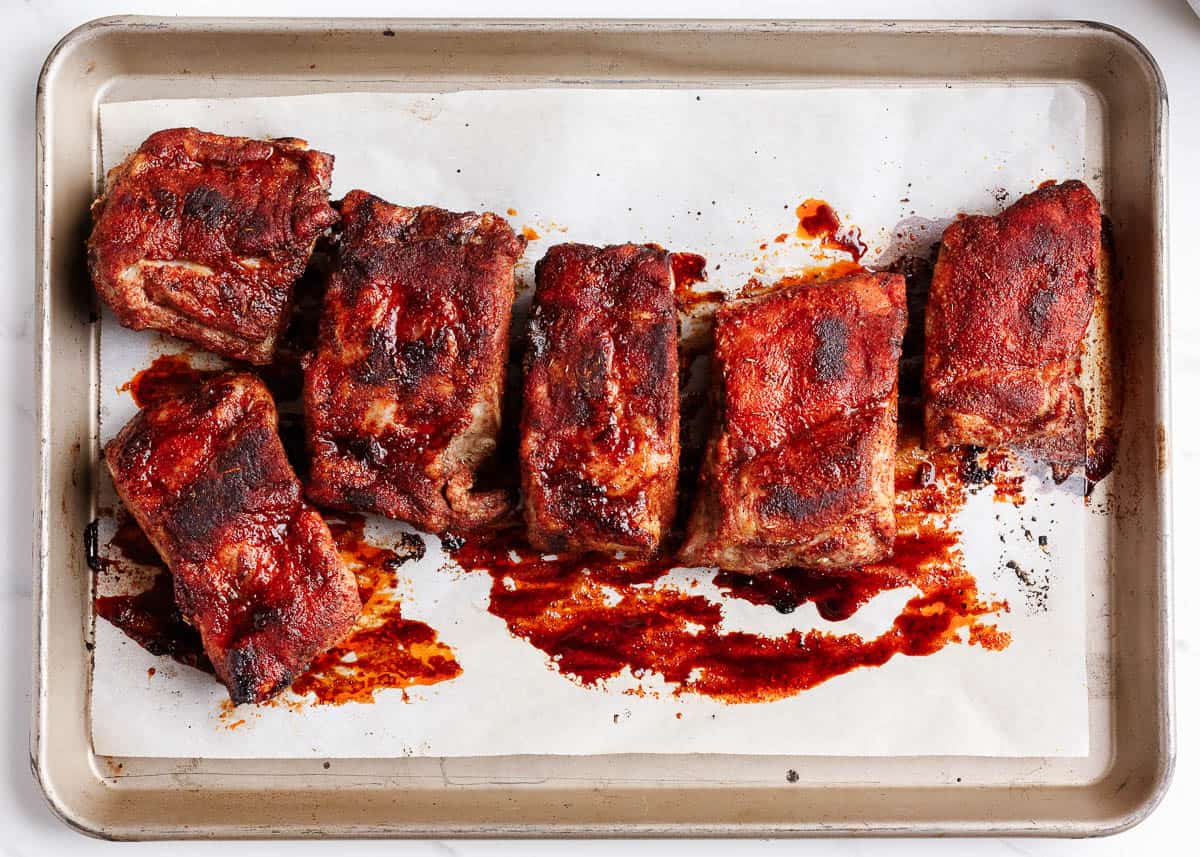 Easy BBQ Ribs in Slow Cooker
Today I'm sharing one of my favorite crockpot recipes. These baby back ribs are made with a delicious homemade rib dry rub and a sweet and tangy barbecue sauce. If you don't have the time or an outdoor smoker or grill, this slow cooker ribs recipe is perfect. It's simple and still has tons of flavor. They are lip smacking good!
I love that you can throw all of the ingredients in the crockpot and forget about it! These ribs taste amazing and will leave people thinking you slaved away in front of the smoker all day. The homemade rub gives them that delicious smoky flavor and the tangy barbecue sauce is absolutely to die for.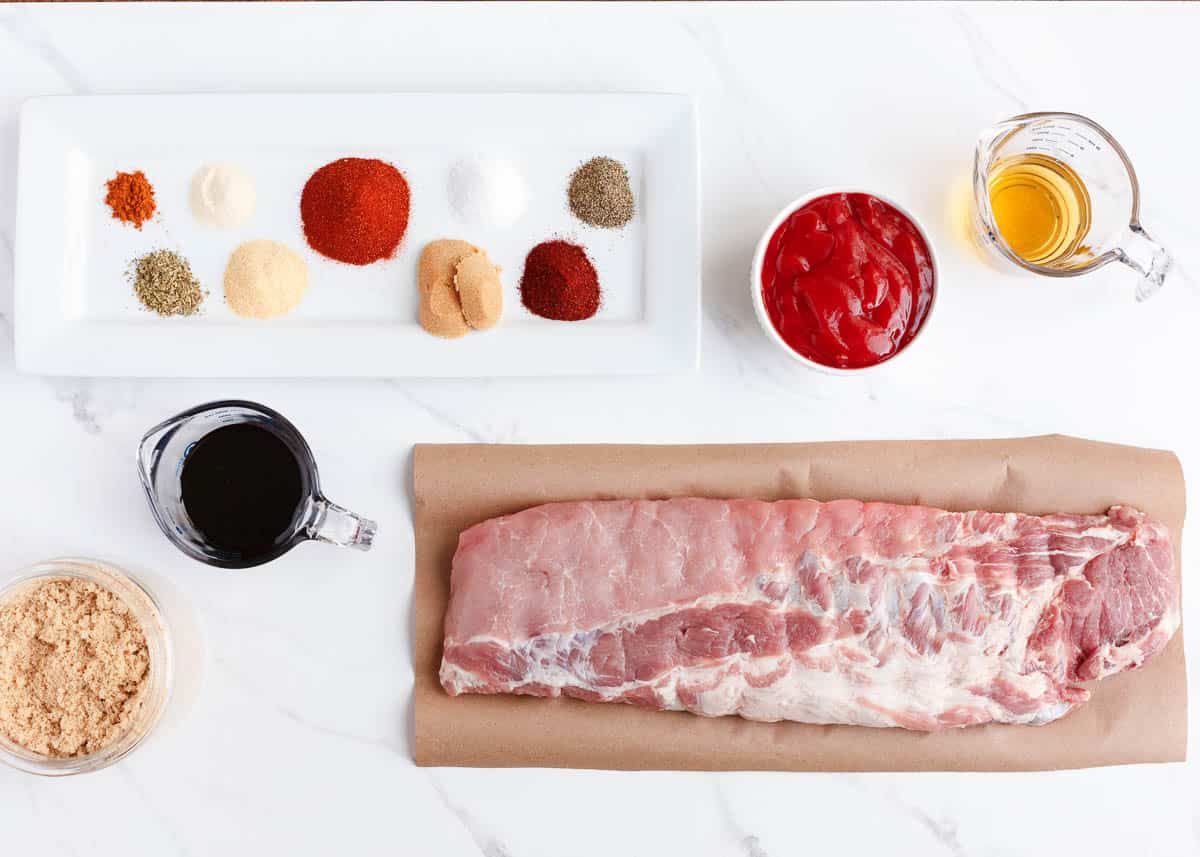 Slow Cooker Ribs Dry Rub
The dry rub for ribs is what helps make this recipe so delicious. It's gives them a delicious smoky flavor and pairs perfectly with the tang from the BBQ sauce. I prefer a little spice so I add cayenne to mine, but you could easily leave it out (like I did in my favorite steak rub) for a more mild flavor.
Paprika
Brown sugar
Salt
Chili powder
Garlic powder
Black pepper
Onion powder
Italian seasoning
Cayenne
Are Beef or Pork Ribs Better?
I personally prefer pork baby back ribs. This cut of meat is marbled with fat to give them a nice flavor and can hold up to the low and slow cooking process in the crockpot. I bought about 4 pounds and used a sharp butcher knife to section the rack of ribs into six pieces.
Homemade BBQ Sauce
I prefer making my own homemade BBQ sauce, but you can easily use store bought if preferred. This homemade version is a sweet and tangy mixture of ketchup, molasses, brown sugar and apple cider vinegar. To make your own delicious sauce, you'll need the following ingredients:
2 cups ketchup
1/2 cup molasses
1/2 cup brown sugar (packed)
1/3 cup apple cider vinegar
1 Tablespoon reserved dry rub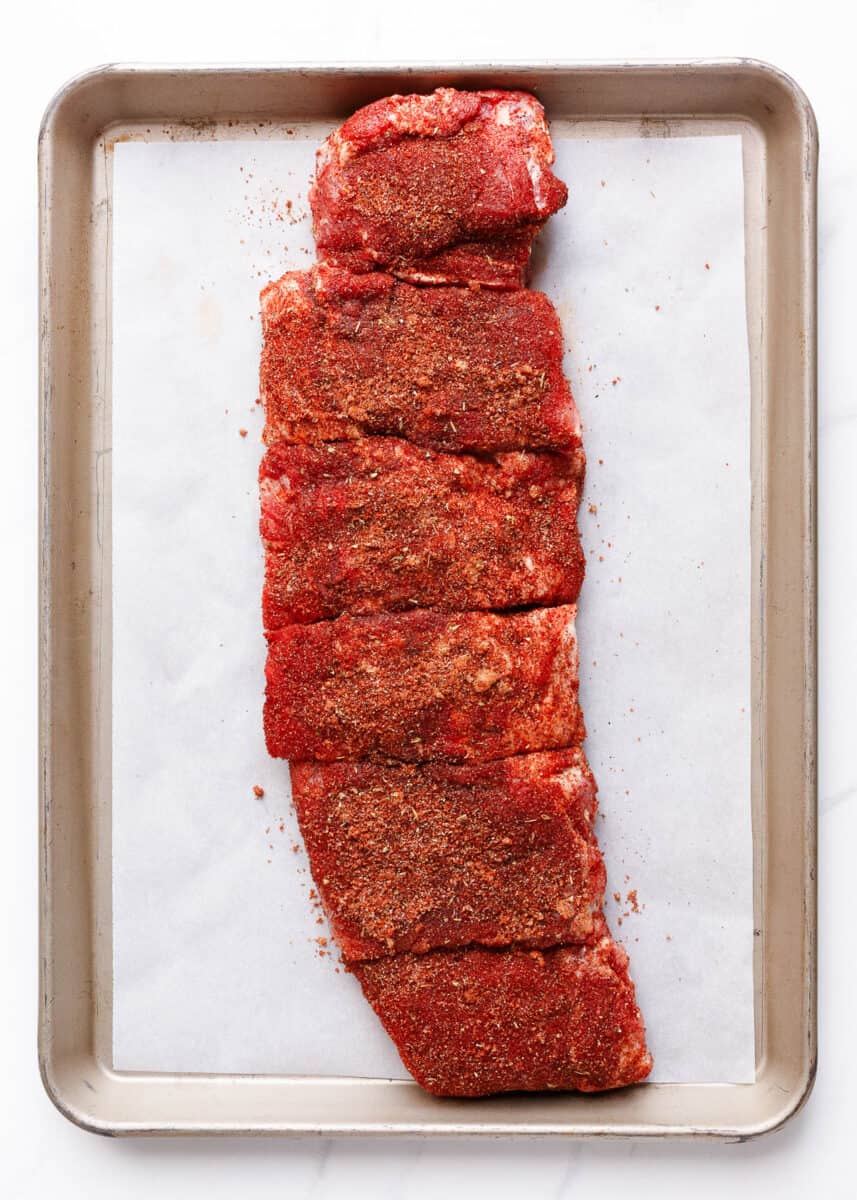 How to Make Ribs in Crock Pot
Add dry rub. Rub the meat with the homemade dry rub, generously covering both sides.
Bake in oven. Then bake in the oven at 400°F for 30 minutes, flipping half way through. This helps seal in the flavors and gets a nice crust on the outside.
Make the BBQ sauce. While they are baking in the oven, you can make the homemade barbecue sauce on the stove top. Simply add all of the ingredients in a saucepan and let simmer for about 15 minutes. Reserve some of the sauce for dipping after the ribs are fully cooked.
Cook in slow cooker. Layer the sauce and meat in a large crockpot. Cook on low for 7-8 hours or on high for 4-5 hours until they are fall off the bone tender.
What Temperature Do They Fall Off the Bone?
Ribs are considered cooked through when they reach an internal temperature of 145°F, however I like my internal temp to be a bit higher. I've found that when mine reach an internal temp of about 190°F to 200°F, they are more tender, juicy and fall off the bone.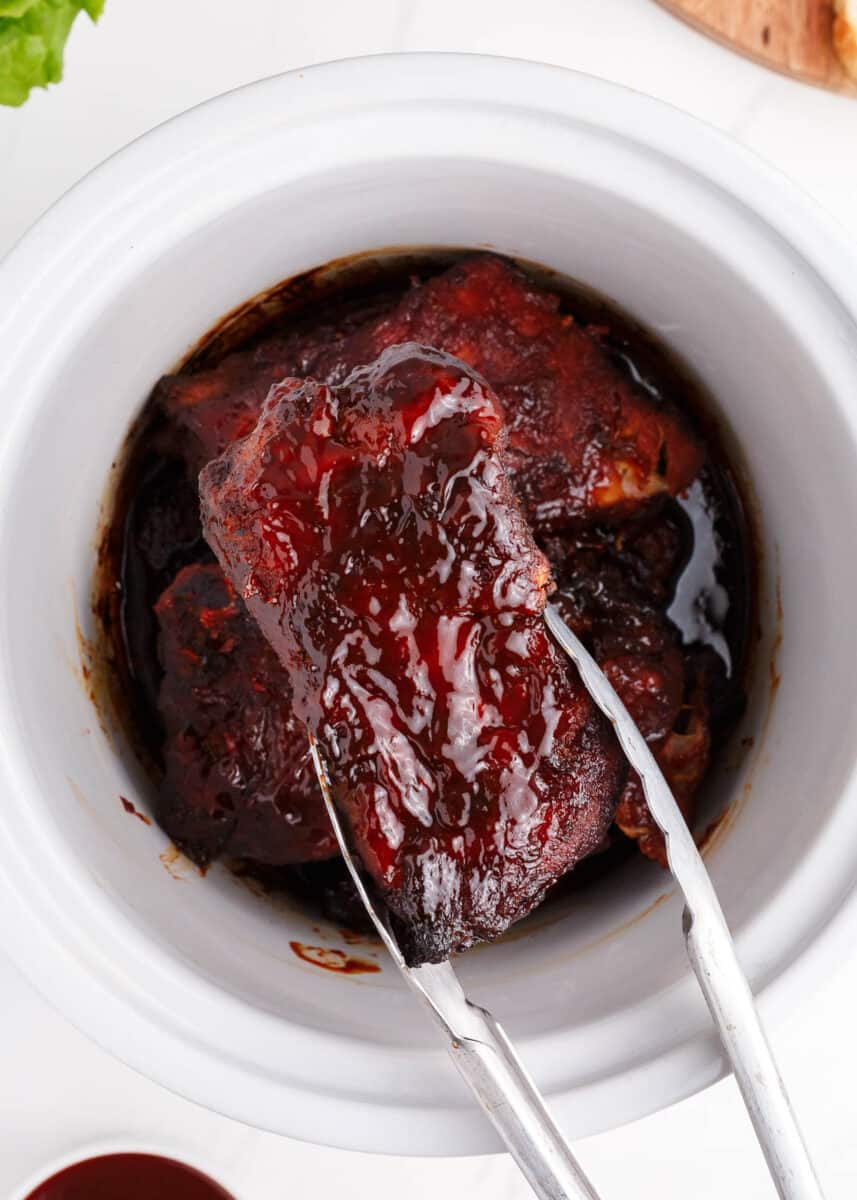 Tips for the Best Slow Cooker Ribs
Sear the meat first. Although it's an extra step, searing the meat in the oven for about 30 minutes before adding to the slow cooker is a must! It caramelizes the exterior of the ribs, adding a flavorful brown crust that you can't get just from slow cooking on it's own.
Rotate in slow cooker. Once the ribs begin slow cooking, there's not much left to do. Just remember to rotate the meat every few hours while cooking so that it cooks evenly on all sides.
Brush with extra sauce. After the ribs are done cooking, give them an extra brush with sauce right before serving. Your guests will thank you for the lip smacking goodness!
5 star review
"These ribs are DELICIOUS! So tender and I loved using the slow cooker to make them. Huge hit!"

– Erica
Favorite Sides for Serving
There are so many side dishes that will pair perfectly with these crockpot ribs, but below are a few of my favorites.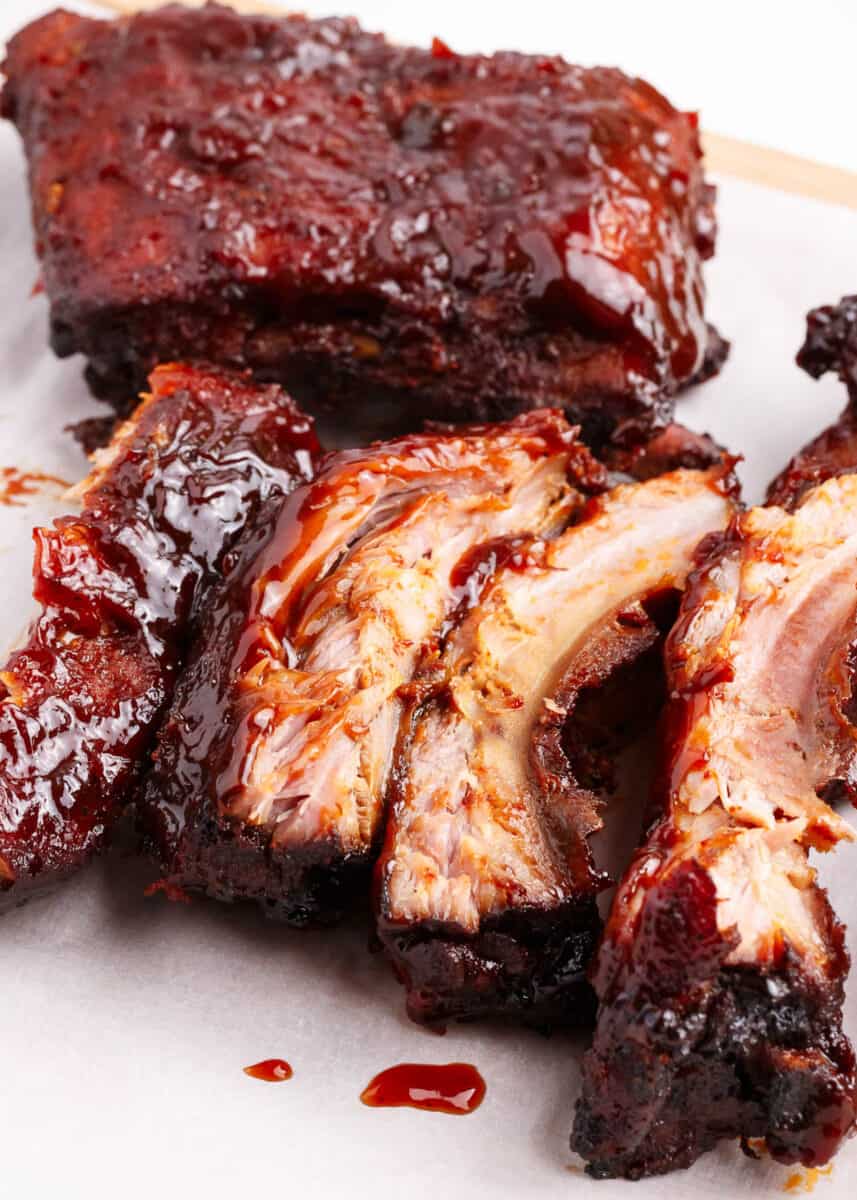 More Slow Cooker Favorites:
HUNGRY FOR MORE? Subscribe to my newsletter and follow on Facebook, Pinterest and Instagram for all the newest recipes!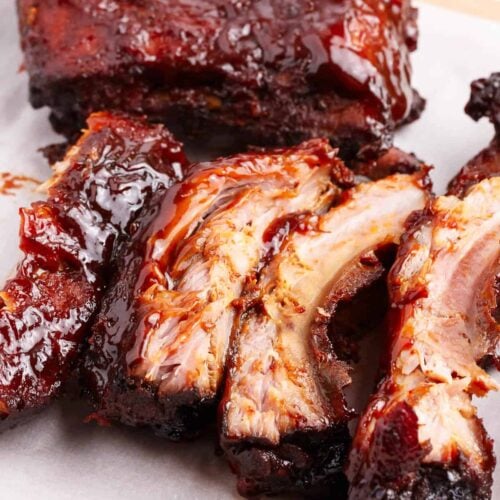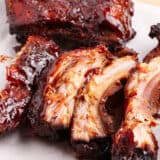 Slow Cooker Ribs
Easy baby back ribs smothered with a homemade rub and sweet and tangy barbecue sauce. Cooked to perfection in the crockpot and fall off the bone delicious. These are the best slow cooker ribs!
Ingredients
4 pounds pork baby back ribs
Dry Rub:
1 ½ Tablespoons paprika
1 ½ Tablespoons light brown sugar , packed
2 teaspoons Kosher salt
2 teaspoons chili powder
2 teaspoons garlic powder
1 teaspoon ground black pepper
1 teaspoons onion powder
½ teaspoon dried Italian seasoning
¼ teaspoon cayenne pepper (optional for more heat)
Barbecue Sauce:
2 cups ketchup
½ cup molasses
½ cup light brown sugar , packed
⅓ cup apple cider vinegar
1 Tablespoons reserved Spice Rub (from above)
Instructions
Preheat oven to 400°F and line a baking sheet with parchment paper. Prep ingredients. Rinse and dry ribs, remove silver lining and then cut into 6 pieces. Set aside.

In a medium bowl, whisk together the spice rub ingredients. Remove 1 Tablespoon of the rub to use in the barbecue sauce.

Rub both sides of the ribs with the spice rub then place ribs on prepared baking sheet. Bake for 30 minutes, flipping half way through to sear the meat.

While the ribs are baking in the oven, add the barbecue sauce ingredients to a medium saucepan and gently simmer for 15 minutes, stirring occasionally. Remove 1 1/2 cups barbecue sauce and refrigerate to use after ribs are cooked.

Spray slow cooker with nonstick cooking spray. Add a thin layer of barbecue sauce to the bottom of the slow cooker, followed by the meat. Layer sauce and meat until ribs are evenly coated.

Cover and cook on HIGH for 4-5 hours or on LOW for 7-9 hours OR cook until ribs are fall off the bone tender. Rotate ribs once during cooking so they cook evenly.

Remove from slow cooker and brush with reserved barbecue sauce or use sauce for dipping.
---
Nutrition
Calories: 629kcal | Carbohydrates: 49g | Protein: 45g | Fat: 27g | Saturated Fat: 5g | Cholesterol: 167mg | Sodium: 1291mg | Potassium: 1292mg | Fiber: 1g | Sugar: 44g | Vitamin A: 1145IU | Vitamin C: 2.5mg | Calcium: 123mg | Iron: 3.7mg
Nutrition provided is an estimate. It will vary based on specific ingredients used.
Did you make this recipe? Don't forget to give it a star rating below!
Recipe contributed by The Casual Craftlete for I Heart Naptime.