Create the ultimate s'mores dessert this summer with this epic s'mores charcuterie board. It's loaded with everything you need and then some and it couldn't be easier to put together!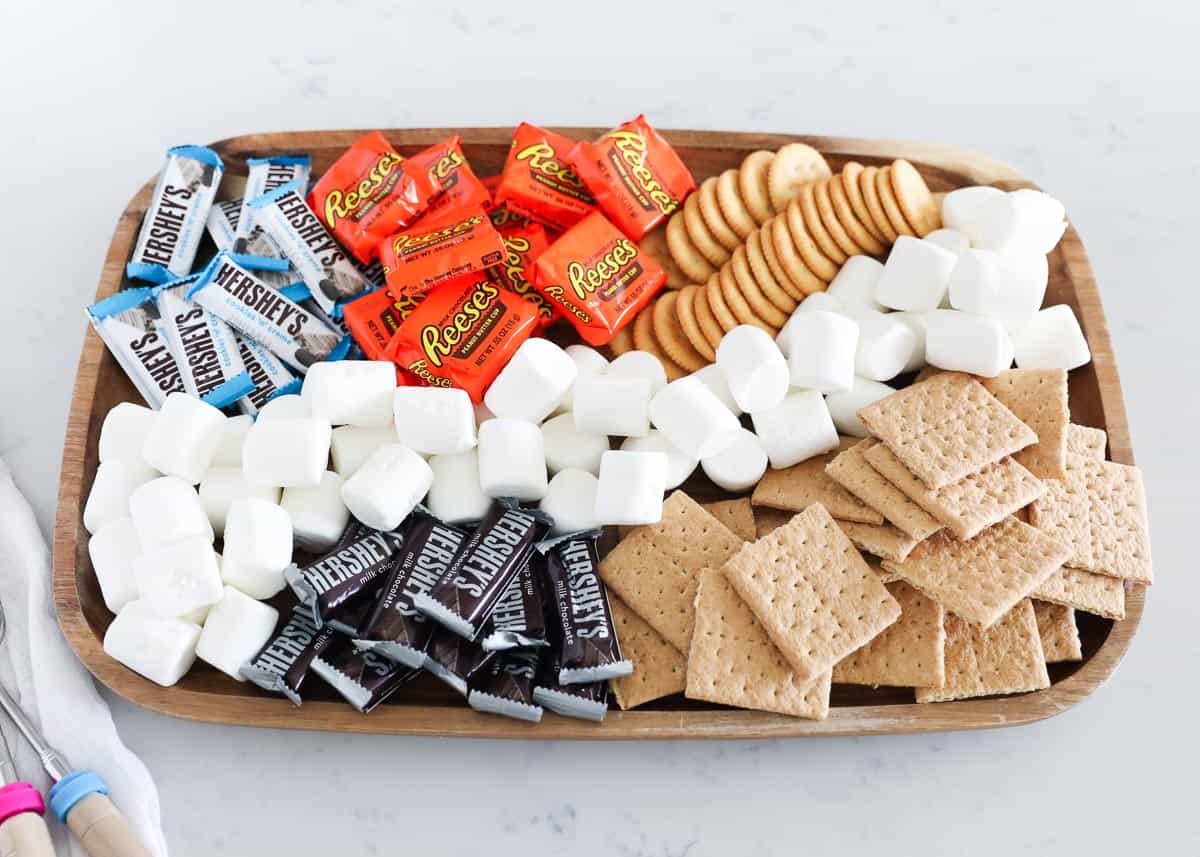 DIY S'mores Fun!
You're in for some extra special family time this summer with this s'mores platter! It comes complete with all the delicious combinations of treats you can think of and the best part is, it's truly effortless!
I love all things s'mores from the classic marshmallow and chocolate sandwich to mini s'mores cups, s'mores pie, and s'mores popcorn! So, this fun twist on a classic charcuterie board has become one of our favorite ways to level up the traditional s'mores treat!
You could fill up your s'mores charcuterie board with everything anyone needs to make the ultimate dessert and still they'll all be asking for s'more!
You knew that was coming ;)
Why We Love a S'mores Charcuterie Board
Great for all occasions. This clever idea is the perfect addition to 4th of July desserts, birthday parties, sleepovers, backyard bonfires, campfires while traveling, and desserts after a twilight swim!
Portable. Most, if not all depending on your items of choice, come prepackaged and are easily portable. This is great for packing for camping trips, potlucks, and bringing the fun to someone else's place.
Fun and creative. Have so much fun with this platter. Make it small with just a few choices or larger with even more to choose from. Endless combinations could include cookies, candies, chocolates, spreads, fresh fruit, you name it!
Oh, the memories. Some of our my family's favorite summertime memories have been fueled by this fire-roasted dessert. This is just going to take it up a notch!
What You'll Need To Prep
A board. Decide on the size based on how many items you want to add to it. If you're serving a larger crowd, consider either one large s'mores charcuterie board, or two smaller boards.
Bowls. Used for spreads, fresh fruit, and sometimes smaller candies. Great for containing things so that they don't get mixed up with everything else on the tray.
Skewers. Roasting marshmallows is half the fun! Use the skewers to place a marshmallow at the end of it to roast it. The heat from the marshmallow will melt the chocolate resulting in an ooey-gooey sticky spectacular mess!
Heat. I wouldn't blame you if you skipped the s'mores altogether and used it as a snack tray with fondue chocolate! However, traditionally s'mores are made with roasted marshmallows. This can be done over a bonfire, on the grill, or in the oven.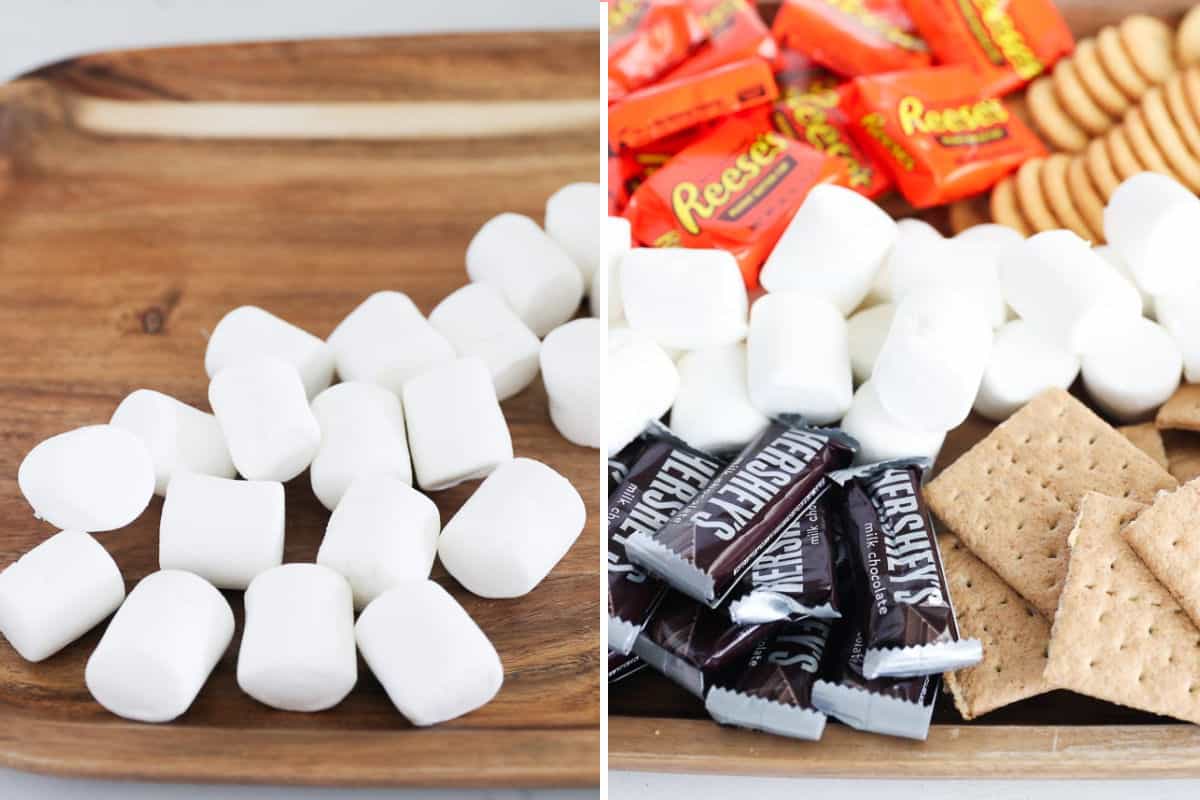 What to Add to Your S'mores Platter
I always like to start with staple ingredients, making sure I have marshmallows, graham crackers, and loads of my favorite mini Hershey's chocolate bar, to start.
Then, I'll add Reese's peanut butter cups because the gooey sweet peanut butter is a must. Then I also add buttery ritz crackers for a crispy, saltier alternative to the graham crackers.
Optional Add-Ons
Mini Hershey cookies 'n' cream: A white chocolate bar with little bits of chocolate cookie sprinkled throughout.
Ghiradelli squares: A delicious melt-in-your-mouth, high-quality chocolate.
Fudge stripe cookies: Just another tasty option for adding to the s'mores or just snacking on while you watch other people make theirs. :)
S'mores dip: Take the platter up a notch by adding a bowl of this gooey s'mores dip in the center. Your guests will go crazy over it!
How to Assemble a S'mores Charcuterie Board
Follow these simple directions:
Grab your tray and your items. Plan to cover it up if you don't plan to serve it right away, so the marshmallows don't dry out.
Arrange the marshmallows. Lay them across the center of the board.
Add crackers and chocolate. Workaround the marshmallows, laying the chocolate and crackers around them in lines or groups of similar items. Check out the photos for a clear picture of what it could look like.
Start toasting. Lay some s'mores sticks on the board and carry the platter out to the fire. Roast the marshmallows and then assemble the s'mores as desired.
A Fun Version for the 4th of July
This has to include 4th of July cookies! I also added an assortment of candy, more cookies, and simple treats for a fun spread perfect for a summertime bbq!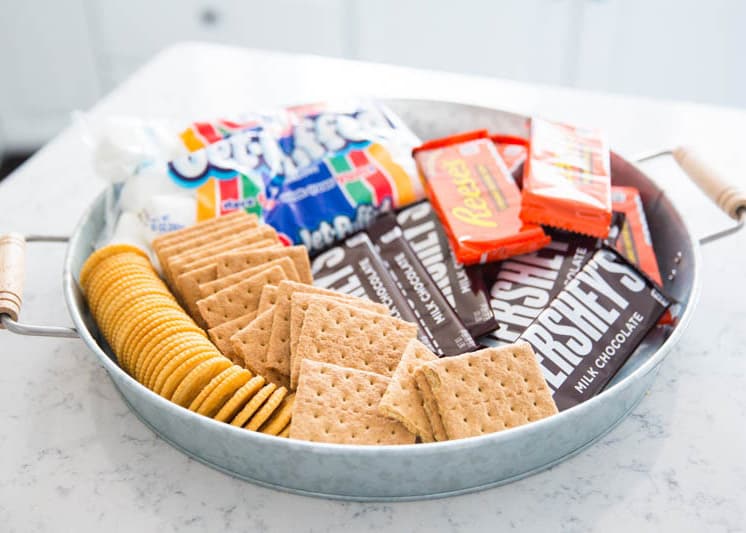 Gourmet S'mores
Want to impress your crowd? Add a few more irresistible options on the s'mores charcuterie board for an unforgettable taste experience.
More flavor variations and combinations could include:
Spreads: Nutella, Biscoff, marshmallow fluff, peanut butter, almond butter, chocolate ganache, and caramel.
Cookies: Girl scout cookies, chocolate chip cookies, mallows, brownies, chocolate graham crackers, and Oreos.
Chocolate: Peppermint patties, milk chocolate bars, or white chocolate bars.
Fresh berries and sliced fruit: Blueberries, raspberries, strawberries, bananas, and apples.
Other treats: Caramel corn, chocolate-covered pretzels, red or black Twizzlers, and chocolate variations are always fun additions to a s'mores charcuterie board.
FAQs
What are 5 tips for putting together a charcuterie platter?

My top tip would be to have fun with it. Don't let the pictures or the Pinterest photos constrict you.
Then, use what you already have, then go out and pick up whatever's within budget. No need to get too fancy, unless you want to.
Third, have a variety of different colors and textures. Arrange it so that it is pleasing to the eyes first!
Next, load it up! The board should be full, leaving little room for empty spaces. Arrange it so that the larger items are the focal points and the smaller items fill in the spaces.
Last, Keep some items leftover. Have a little small snacking tray for kids to have a DIY platter for themselves. They'll love it!
What is the point of a s'mores charcuterie board?

It's a sample platter. A really fun way to be able to try one of everything. It gives people the opportunity to mix and match and combine without having to settle on just picking one item. What they don't pick the first time, they can come back and pick on their next round.
Where can I find most of these items?

I find a lot of my snack items at Trader Joe's or my local grocery store. Costco has bulk items that are great for saving money on things you'll use for more than just the charcuterie board.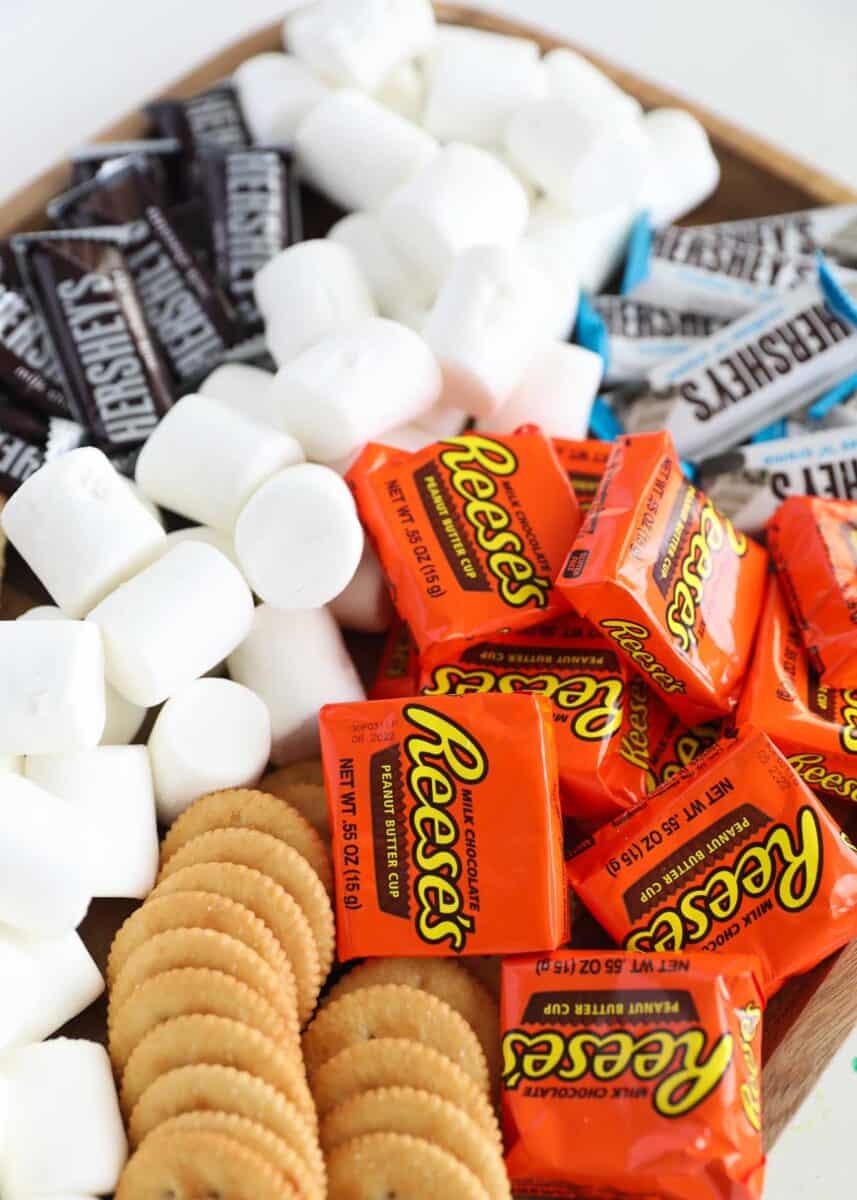 Other Delicious S'more Desserts
HUNGRY FOR MORE? Subscribe to my newsletter and follow on Facebook, Pinterest and Instagram for all the newest recipes!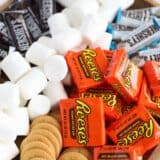 S'mores Charcuterie Board
Create the ultimate s'mores dessert this summer with this epic s'mores charcuterie board. It's loaded with everything you need and then some and it couldn't be easier to put together!
Ingredients
24 marshmallows , plus more if desired
24 whole graham crackers , broken in half
24 Ritz crackers
12 mini Hershey's chocolate bars
12 Reese's Peanut Butter Cups
Optional additions
Mini Hershey's cookies 'n' cream bars
Ghiradelli chocolate squares
Fudge striped cookies
Instructions
Lay marshmallows across the center of the board. Arrange the remaining ingredients around the marshmallows.

Add additional crackers, chocolate, or marshmallows to fill in spots on the board. Bring out to the fire and roast the marshmallows with a s'mores stick over the fire until golden brown and gooey. Assemble s'mores as desired.
---
Notes
Variations:
Spreads: Feel free to add your favorite spreads like peanut butter, Nutella or Biscoff.
Treats like oreos, caramel corn, chocolate covered pretzels, red or black Twizzlers and chocolate variations are always fun additions to a board.
Make ahead: If not serving right away, make sure to cover the board with plastic wrap so the marshmallow do not get stale.
Nutrition
Calories: 151kcal | Carbohydrates: 24g | Protein: 2g | Fat: 5g | Saturated Fat: 2g | Polyunsaturated Fat: 1g | Monounsaturated Fat: 2g | Trans Fat: 0.03g | Cholesterol: 1mg | Sodium: 157mg | Potassium: 58mg | Fiber: 1g | Sugar: 13g | Vitamin A: 5IU | Vitamin C: 0.03mg | Calcium: 27mg | Iron: 1mg
Nutrition provided is an estimate. It will vary based on specific ingredients used.
Did you make this recipe? Don't forget to give it a star rating below!
Here's a fun version for 4th of July! I added an assortment of candy, cookies and fun treats for a fun spread!