These no-bake Golden Graham bars are ready in 15 minutes and taste exactly like the classic s'mores without the need for a campfire!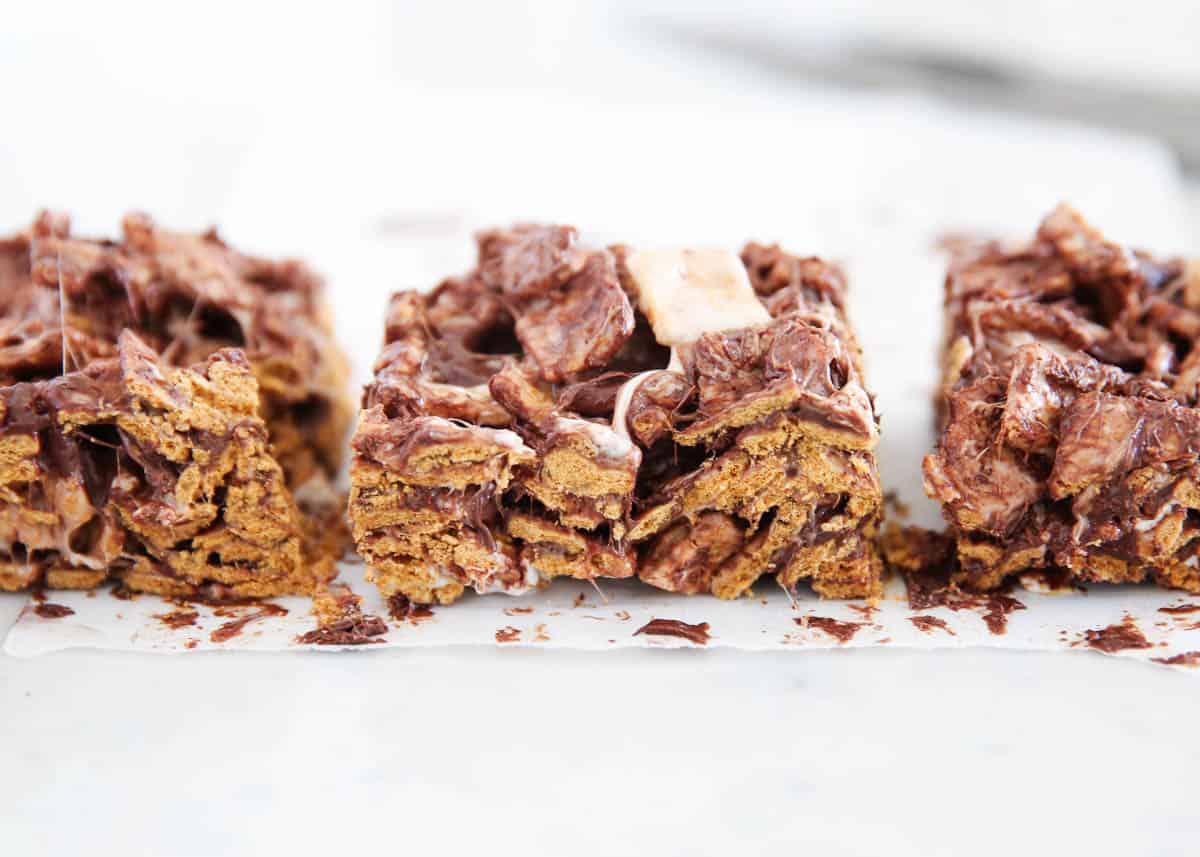 Golden Graham S'mores
Move over rice krispie treats, these Golden Graham s'mores bars will be your new favorite no-bake dessert.
S'mores are such a classic summer treat but gone are the days when we need to build a campfire to enjoy them. Or at least some version of them, which is why we love these s'mores bars, s'more cookies, and s'mores pie, too!
I serve these at my kids' birthday parties and sleepovers and they're always the first to go. I always manage to set a few aside for them to take in their school lunches the next day or save for an after-school snack!
Why We Love Golden Graham S'mores Bars
So many great reasons to love this sweet treat! It is for sure tasty, quick to make, and requires no baking. All the right reasons to add this to your treats this week!
Quick and easy. Sometimes you just want a treat without having to make a big production. These bars are the fastest way to curb your s'mores cravings any day of the week!
A tasty treat. They're just so good. They're probably aimed at kids, but I'm not sorry about how much I love that sweet, gooey, chocolatey crunch.
No-bake. In the summer especially, it's nice not to have to turn on the oven and heat the kitchen!
Portable. Each square is the perfect handheld size for individual portions. Pack them in school lunches, for movie night, or a potluck dessert!
What's In Golden Graham Cereal Bars?
Golden Graham bars come together easily with just a handful of ingredients which makes them a great choice for late-night sweet cravings. This no-bake treat is so simple to make!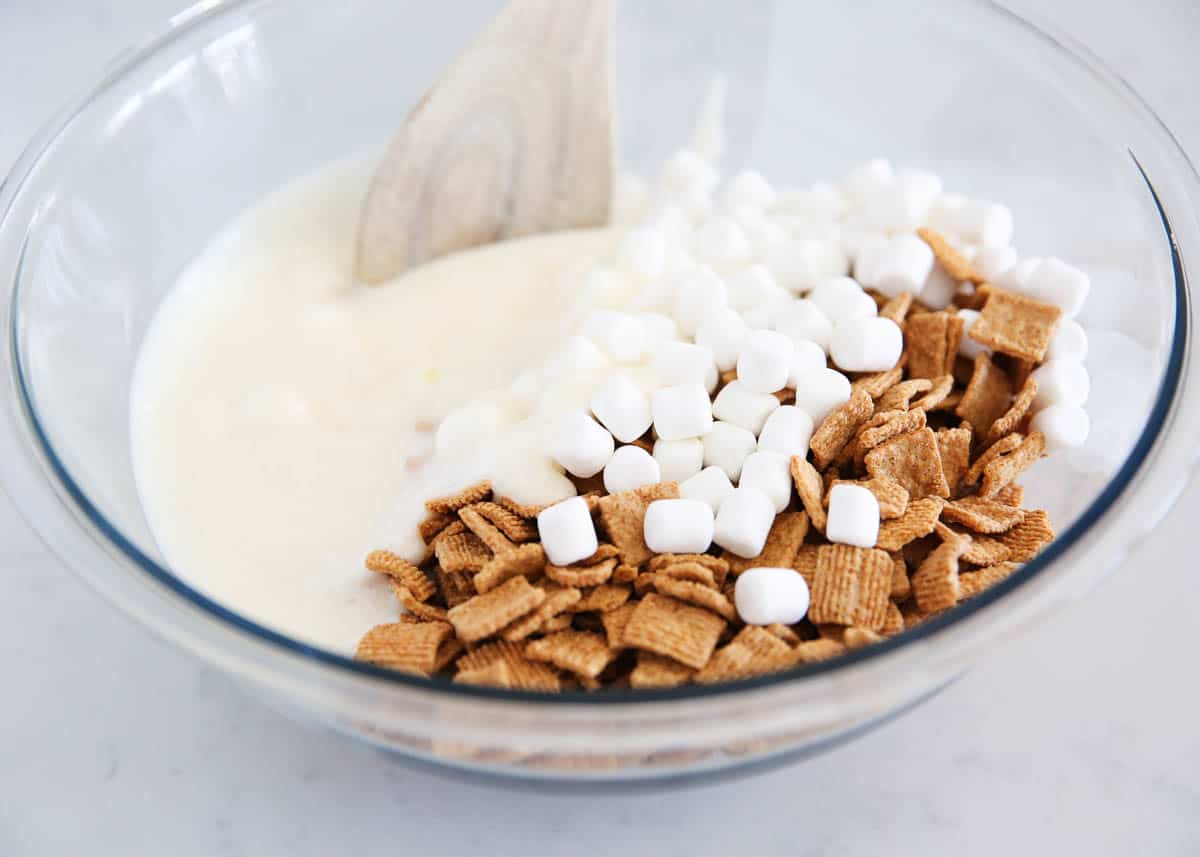 Find the full printable recipe with specific measurements below.
Golden Grahams: You'll find these in the "sugary cereal" section of the grocery store. They're toasted, crispy squares that have a signature flavor of honey and brown sugar. Very similar to graham crackers!
Salted butter: I like to use salted butter to balance out the sweetness. Use unsalted if you have it, it won't make or break the recipe. You may want to think about adding in some flaked sea salt instead!
Mini marshmallows: If you have jumbo marshmallows, they can work for the melted marshmallow and butter portion only. Otherwise, any additional marshmallows for texture will need to be mini marshmallows!
Semi-sweet chocolate chips: I usually buy a big bag so I always have some on hand for other recipes too.
Optional Add-Ins
Depending on how much "chunk" you like in your bars, you might want to think about adding even more to them! A few extra marshmallows or chocolate chips would be great for adding an extra bite. Sometimes I like to add 1/2 teaspoon vanilla or flaked sea salt for a little extra flavor.
How to Make Golden Graham Bars
The hardest part about this Golden Graham bars recipe is resisting the urge to eat it before it sets! These easy golden graham bars are easy to make as an afternoon snack. Kids and adults love these bars!
Prep. If you've ever made cereal bars or rice krispies before, you'll know how sticky they are! The first thing you'll want to do is make sure to spray a 9×9″ pan with nonstick cooking spray or line it with parchment paper. Combine Golden Grahams and 2 cups of marshmallows in a large bowl. Set that aside for now.
Melt butter and remaining marshmallows in a large pan over medium-low heat. Stir occasionally until everything has melted. At a certain point, you will see the shape of all the marshmallows disappear and there will be no lumps.
Combine the entire mixture. Pour the melted marshmallow and butter over the Golden Grahams and marshmallows you set aside. Then, immediately add the chocolate chips and stir. The chocolate will start to melt from the hot marshmallows but don't let the marshmallows and chocolate melt completely. Leave some chunks!
Allow it to set. This next part depends on how chunky you like your bars. You can leave it as is or sprinkle in more chocolate chips or cereal until your desired texture is reached. Transfer ingredients to the prepared baking dish and press everything into the pan. Allow it to cool then slice into 12 squares.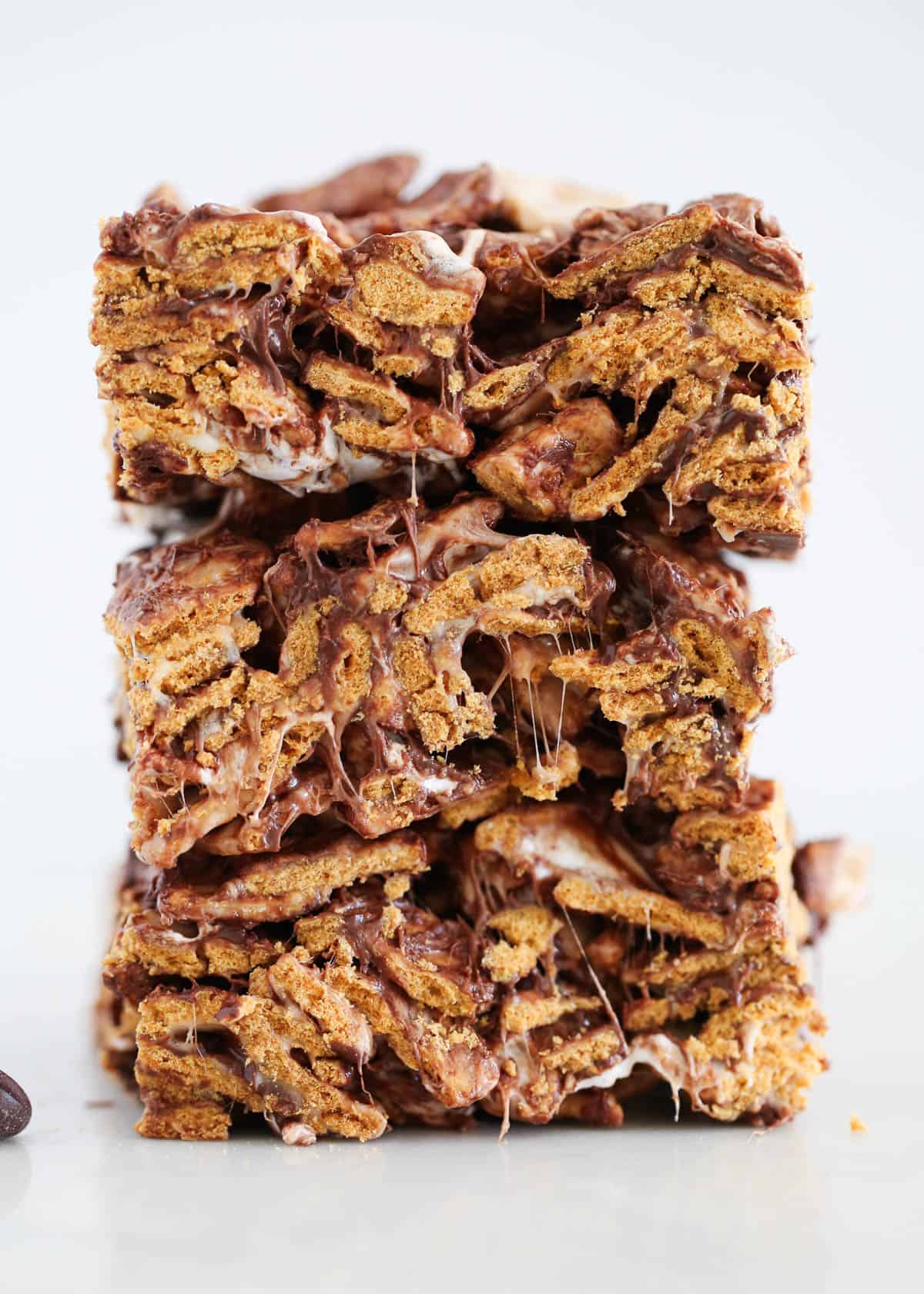 Recipe Tips
These golden graham s'mores bars are perfect cereal treats! No bake bars are enjoyed on the go or handheld! Here are a few helpful tips to make these bars even easier.
Non-stick. Using wet hands or a piece of wax paper to press the mixture down into the pan helps to keep it from sticking to your hands.
Size of bars. Cut into as big or as little squares as you like. The instructions say 12, but that's just a guideline!
Easy removal. If you line your baking dish with parchment paper, leave a little extra up the sides to help lift the entire batch out, if need be.
Recipe FAQs
Can I use a different type of chocolate?
I prefer semi-sweet Guittard chocolate because I'm already getting enough sweetness from the cereal and the marshmallows, but it's totally up to you. You can use milk chocolate chips if you prefer.
What other cereal can I use for this?
Golden Grahams remind us of the graham crackers we use for traditional s'mores, so if you step outside of this box, you may lose the essence of what we're going for here.

However, if you're ok with it then so am I! Go ahead and use whatever crispy crunchy cereal you have on hand. Cinnamon toast crunch, cornflakes, cheerios, or rice krispies could work.

Is Golden Graham cereal gluten-free?
No, they are not. If you can get your hands on a gluten-free version of Golden Grahams, go ahead and use it.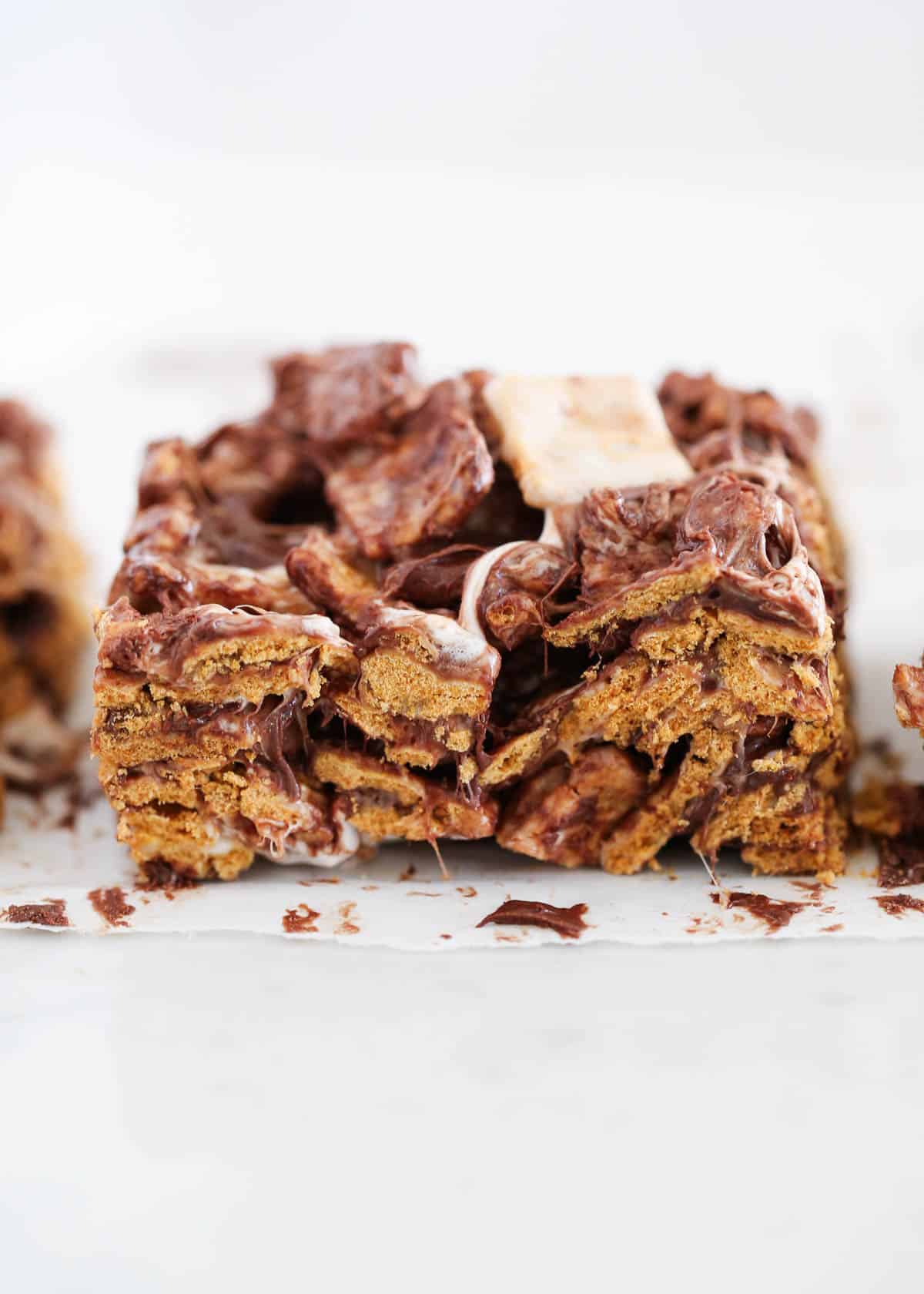 5 star review
"Golden grahams cereal is my favorite! And so are these bars! So fun to make and eat."

-Anna
Storage Suggestions
Store any remaining Golden Graham bars in an airtight container or Ziplock bag. No need to refrigerate them, otherwise they'll get hard. Best served fresh, or within the next 2-3 days.
More No-Bake Cereal Treats
HUNGRY FOR MORE? Subscribe to my newsletter and follow on Facebook, Pinterest and Instagram for all the newest recipes!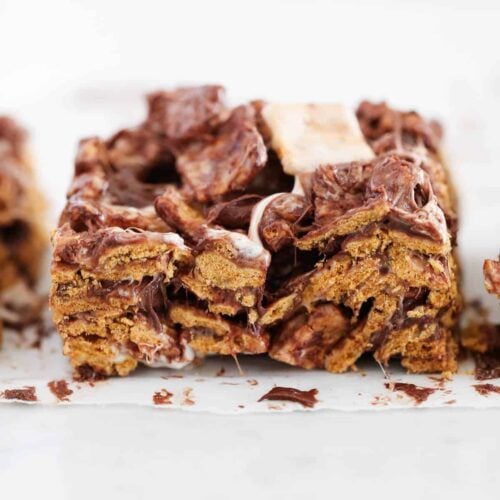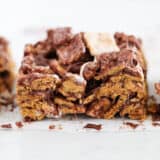 Golden Graham Bars
These no-bake Golden Graham bars are ready in 15 minutes and taste exactly like the classic s'mores without the need for a campfire!
Ingredients
Optional: 1/2 tsp vanilla, flake sea salt, extra marshmallows or chocolate chips
Instructions
Spray a 9×9" pan with cooking spray or line with parchment paper.

Pour Golden Grahams and 2 cups marshmallows into a large bowl.

In a medium sized pot, melt butter and marshmallows over medium-low heat. Stir occasionally until melted.

Pour mixture over the bowl of Golden Grahams. Then add in 1/2 cup chocolate chips while the sauce is hot. Stir until completely coated and the chocolate has started to melt. However, don't let the marshmallows and chocolate melt completely, you want some chunks. Add more chocolate chips or Golden Grahams until desired taste and texture is desired.

Press mixture into the pan and allow to cool.

Slice into 12 squares.
---
Notes
Chocolate: You can also use milk chocolate if you prefer. My favorite brand of semi-sweet is Guittard. Tip: Using wet hands or a piece of wax paper helps while pressing the mixture into the pan. Storage: Store in an airtight container or ziplock bag. Best served fresh, or within the next 2-3 days.
Nutrition
Calories: 207kcal | Carbohydrates: 37g | Protein: 3g | Fat: 7g | Saturated Fat: 4g | Polyunsaturated Fat: 1g | Monounsaturated Fat: 2g | Trans Fat: 1g | Cholesterol: 10mg | Sodium: 140mg | Potassium: 134mg | Fiber: 4g | Sugar: 19g | Vitamin A: 537IU | Calcium: 14mg | Iron: 5mg
Nutrition provided is an estimate. It will vary based on specific ingredients used.
Did you make this recipe? Don't forget to give it a star rating below!