For an easy, fuss-free breakfast casserole, try these Breakfast Enchiladas. Flour tortillas are stuffed with sausage, potatoes, and cheese and then cooked in creamy eggs. Assemble the casserole ahead and bake in the morning for the ultimate easy breakfast.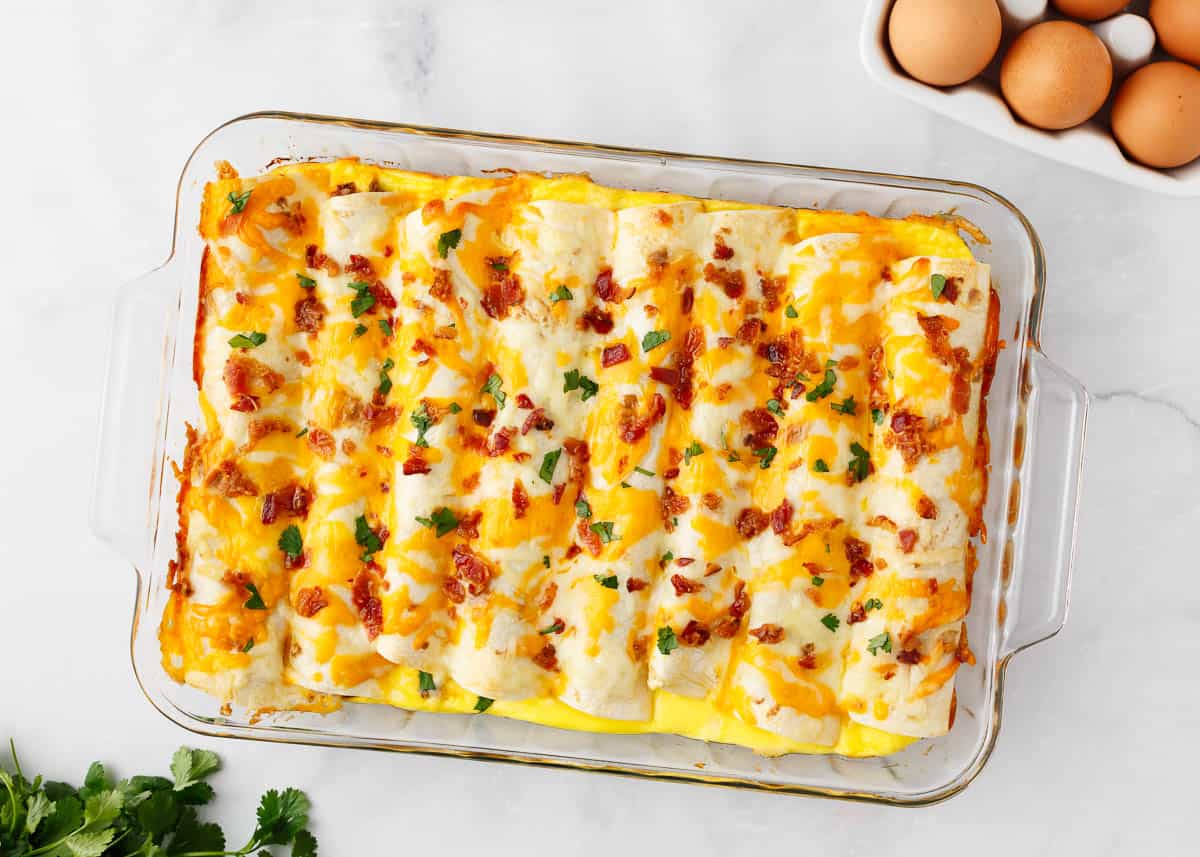 Overnight Breakfast Enchiladas
This breakfast enchiladas recipe is an easy and filling savory breakfast option. Similar to my overnight breakfast casserole with sausage, you can assemble this casserole ahead, store in the fridge overnight, and then bake it in the morning. It's a real timesaver!
The casserole starts with tortillas loaded with breakfast sausage, potatoes, and cheese then instead of traditional enchilada sauce, you'll pour over some eggs which will cook up into creamy scrambled perfection. Top the enchiladas with chopped tomatoes, green onions, and more cheese and you'll have a breakfast everyone will love!
While scrambled eggs and breakfast sliders are some of my favorite breakfast options because they're simple to make, I love making breakfast casseroles because not only are they heartier, you can prep them the night before and sleep a little longer in the morning. I even make a crockpot breakfast casserole recipe that cooks overnight!
Because you can assemble this casserole ahead of time, it makes a great option for entertaining just like my breakfast casserole with biscuits and breakfast hashbrown casserole with sausage. Just make sure to have plenty of toppings available so everyone can make their ultimate breakfast plate!
Ingredients in Breakfast Enchiladas
This enchilada breakfast casserole depends on common, easy-to-find ingredients which is another bonus when making this recipe!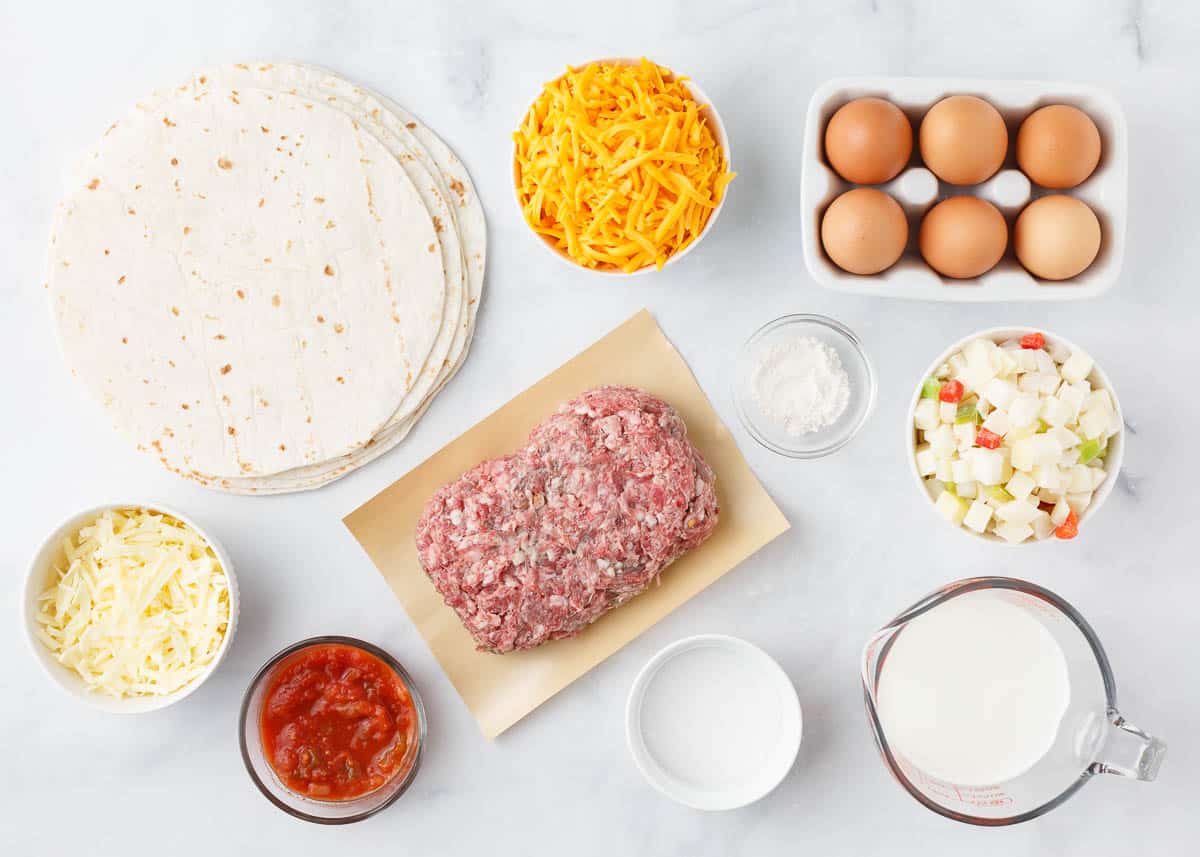 Find the full printable recipe with specific measurements below.
Filling: I use breakfast sausage (either pork or turkey sausage), salsa (you can make your own salsa or buy store-bought), cheddar and Monterey Jack cheese plus Potatoes O'Brien (diced potatoes with peppers and onions. I like the Ore-Ida brand) for the filling.
Tortillas: It's really easy to make your own flour tortillas and if you have time, I encourage you to give it a try. Store-bought will work too!
Egg mixture: You'll whisk the eggs with some half-and-half and flour to pour over the tortillas. The half-and-half will make the eggs nice and creamy, and the flour helps them to puff up in the oven.
Toppings: I always sprinkle some cheese over the top of the casserole before baking and for serving, I like to offer some chopped cilantro, sour cream, diced tomatoes, sliced green onions, homemade salsa verde and crumbled bacon.
Variations
As with most enchilada recipes, my version is just a guide, and you can stuff and top these with whatever you want!
Swap out the cheese: Try pepper jack, gouda, or even feta.
Mix up the protein: Instead of breakfast sausage, go for bacon, diced ham, or chorizo. You can also sprinkle some crumbled bacon along with cheese over the top of the casserole before baking it in the oven.
Add more vegetables: Layer in some spinach and cooked mushrooms for more veggie goodness.
Bring the heat: Add some chopped jalapenos for some spice! If you're serving this dish to kids, you can add the jalapeno to only half of the breakfast enchiladas. Just remember which half!
Try hash browns: Instead of potatoes O'brien, fry up some shredded hash browns to stuff into your tortillas.
How to Make Breakfast Enchiladas
Follow these easy instructions and you'll be enjoying this delicious breakfast enchilada casserole in no time!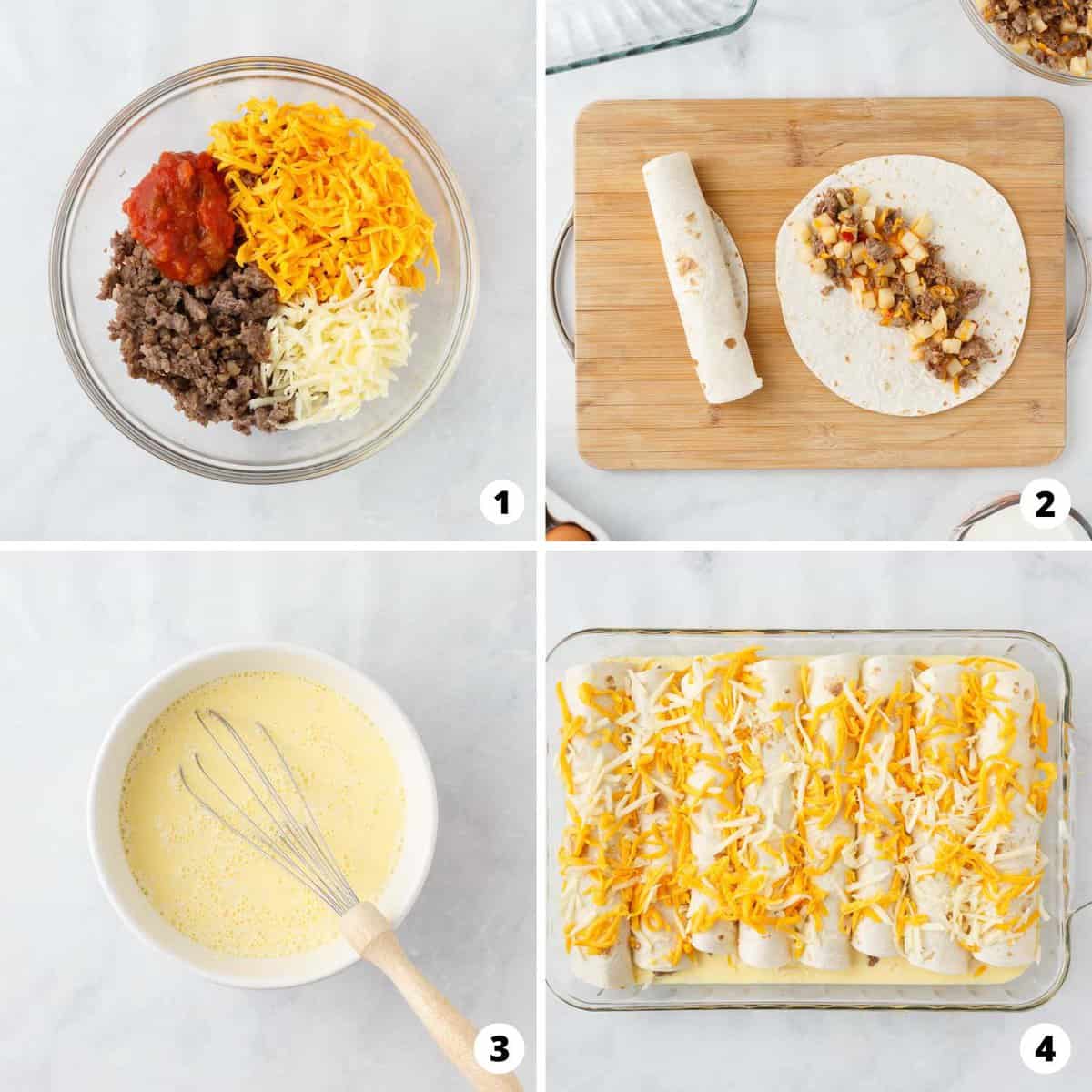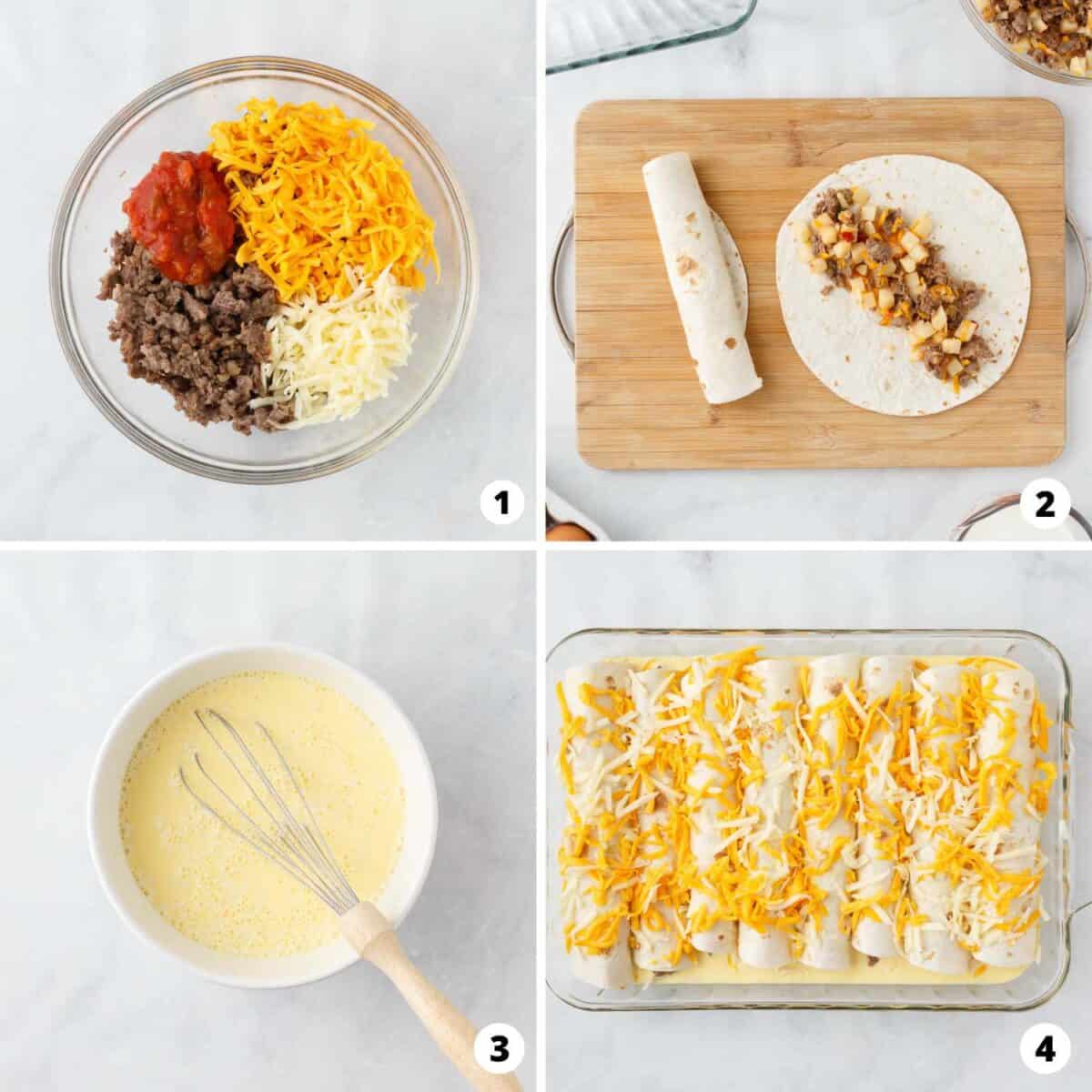 Cook the filling. Brown the sausage over medium-high heat, drain the fat and then mix in salsa, cheddar, and Monterey jack. Warm the potatoes in a frying pan and add to the sausage mixture.
Roll the tortillas. Put 1/8 of the sausage and potato mixture down the centre of each tortilla then roll them up and place seam side down in your baking dish so they don't unroll while baking.
Beat eggs. Grab a separate bowl and beat the eggs, half and half, flour, and salt until combined and pour over the tortillas.
Bake. Sprinkle the remaining cheese over the top of the tortillas and bake covered with foil in a 350°F oven for 35 minutes and then remove the foil and continue baking for another 10 minutes to let the cheese melt and the top brown.
Expert Tips
Nonstick. Grease your baking dish. You can use cooking spray, or use a bit of olive oil or butter if preferred.
Discard grease. Make sure you drain the sausage before making your tortilla filling.
Lightly brown the top. Cover the dish with foil for the first 35 minutes of baking to let everything bake without drying out. Only remove the foil for the final 10 minutes to brown the top of your breakfast enchiladas.
To prevent tough overcooked eggs, remove the breakfast enchiladas from the oven while the eggs are slightly undercooked. They'll continue cooking from the residual heat and will be perfect by the time you're ready to eat.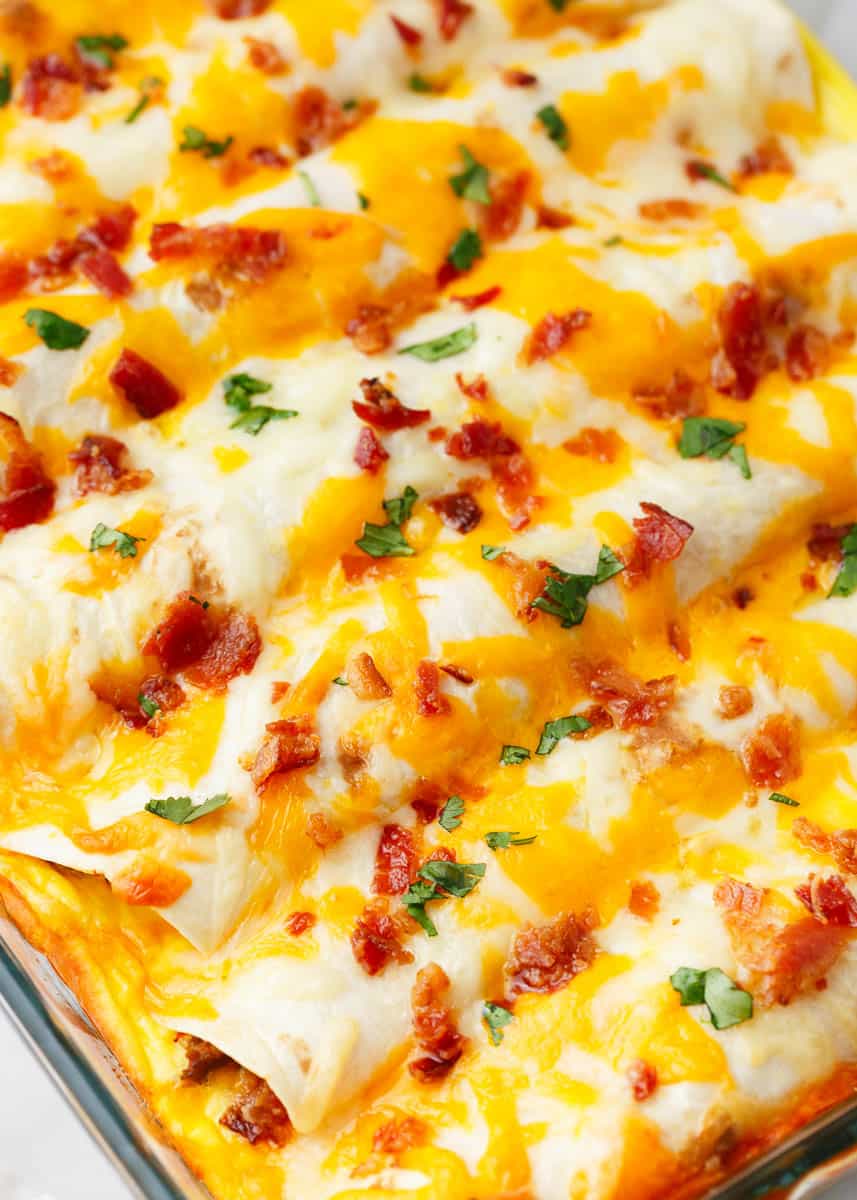 Make Ahead
You know I love a make-ahead meal! Especially when it saves me time in the morning when I have a million other things to do, and I haven't had my lemon water yet!
With this easy overnight breakfast enchilada casserole, you can assemble the tortillas, cover everything with the eggs and then cover the baking dish with foil and stash it in the fridge overnight. Then in the morning, all you have to do is bake the casserole in the oven for delicious hot breakfast enchiladas that everyone will be excited to eat!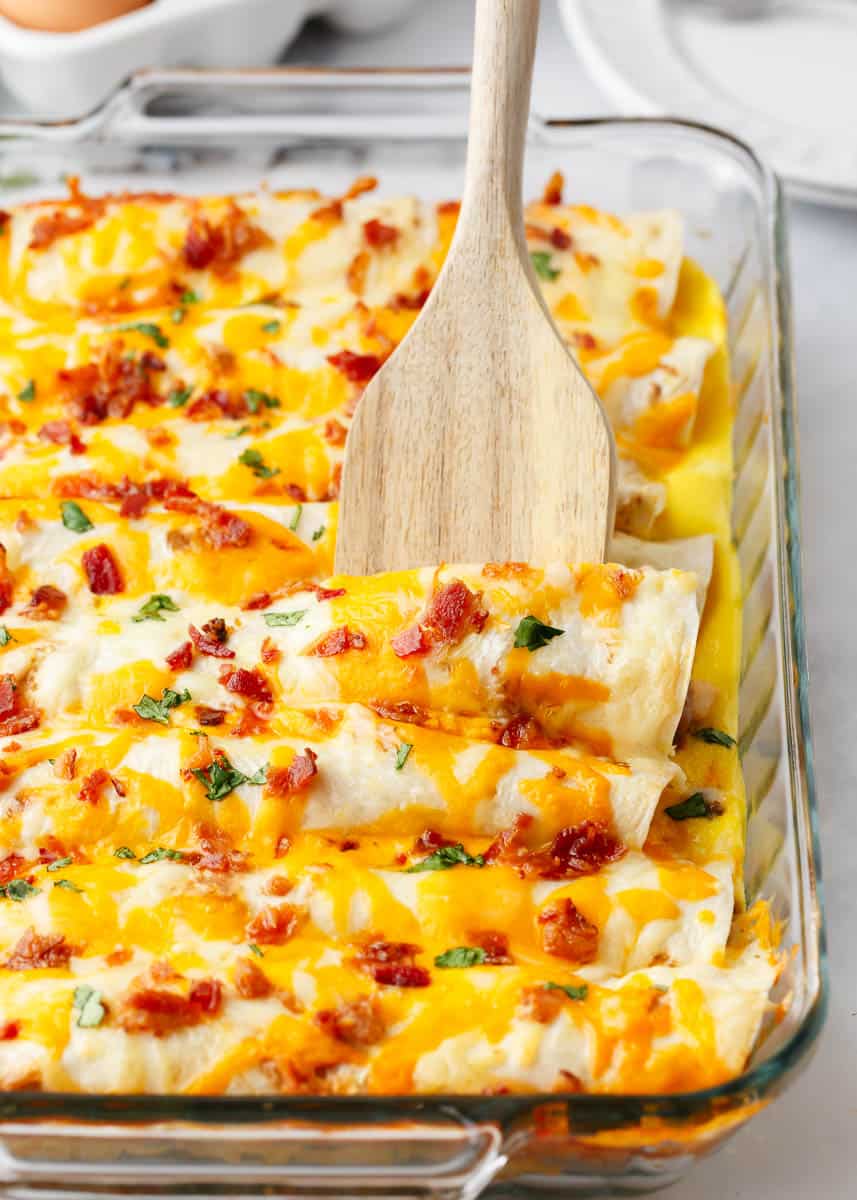 Recipe FAQs
Can I use corn tortillas for this recipe?
You can, although I find corn tortillas smaller and more difficult to roll than flour tortillas. You can use whichever tortillas work for you!
How do you know if the breakfast enchiladas are cooked?
The easiest way to check is to insert a toothpick or a thin knife into the eggs and then pull it out. Is it covered in wet uncooked egg curds? If so, you may need to cook it a while longer.
Can I make this a vegetarian option?
Absolutely! You can substitute black beans (heat them along with the salsa and potatoes) or refried beans or try a veggie sausage option.
How to prevent flour tortillas from getting soggy in enchiladas?
The best way to avoid this is to pre-fry your tortillas in hot oil before filling and rolling them. The crisp exterior helps prevent a barrier from soaking up too much sauce. I love to do this in my beef enchilada recipe!
Storing + Reheating
In the refrigerator: Let your leftover breakfast enchiladas come to room temperature and then transfer them to a storage container with a tight-fitting lid. You can store them in the refrigerator for up to two days.
To reheat a portion of breakfast enchiladas, put some on a microwave-safe plate and heat in the microwave for 1 minute or until heated through. If you want to reheat the entire dish of enchiladas, then cover the dish with foil and pop them back into your oven preheated to 350°F and heat for 20 – 30 minutes until they're warmed through.
In the freezer: Do you want to freeze your breakfast enchiladas? No problem! Bake them following the directions then allow the dish to cool completely. Don't add any toppings at this point. Cover the dish tightly in plastic wrap then a layer of foil and store in the freezer for up to 1 month.
To reheat them after being frozen, let them thaw in the fridge overnight and then warm them in a 350°F oven for 30 minutes or until warmed through.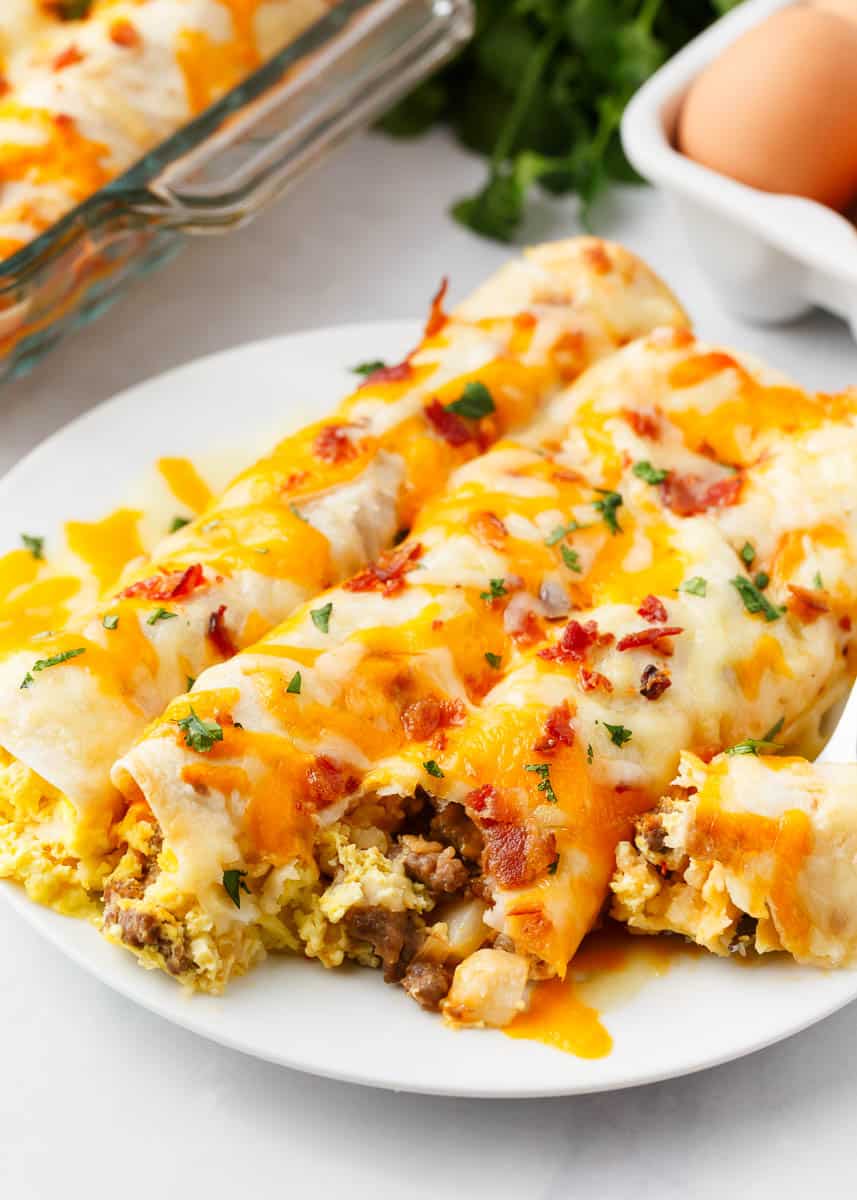 HUNGRY FOR MORE? Subscribe to my newsletter and follow on Facebook, Pinterest and Instagram for all the newest recipes!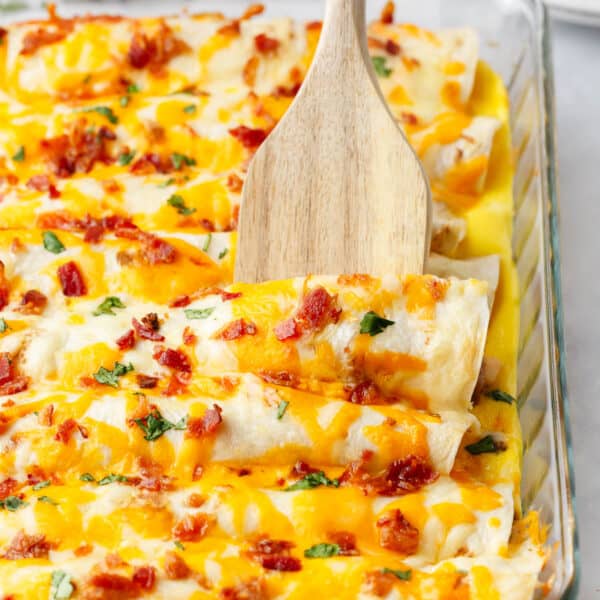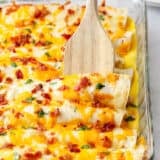 Breakfast Enchiladas
For an easy, fuss-free breakfast casserole, try these Breakfast Enchiladas. Floured tortillas are stuffed with sausage, potatoes, and cheese and then cooked in creamy eggs. Assemble the casserole ahead and bake in the morning for the ultimate easy breakfast.
Ingredients
1 pound breakfast sausage (pork or turkey)
¼ cup salsa
1-2 cups potatoes o'brien with onions and peppers (I like Ore-Ida)
8 (8-inch) flour tortillas
6 large eggs
1 ¼ cup half-and-half
1 Tablespoon all-purpose flour
½ teaspoon Kosher salt , plus more to taste
1 ½ cups shredded cheddar cheese , divided
½ cup shredded Monterey or pepper jack cheese , divided
Optional toppings: Chopped cilantro, Diced tomatoes, Sliced green onions, Crumbled bacon
Instructions
Preheat the oven to 350°F. Spray a 9×13-inch baking dish with nonstick spray.

In a large frying pan, brown the sausage over medium-high heat. Drain fat. Transfer to a medium bowl and stir in salsa, 3/4 cup cheddar cheese, and 1/4 cup Monterey jack.

Add potatoes to frying pan and stir until heated through. Transfer to bowl with sausage and stir until combined.

In the center of 1 tortilla, spoon 1/8 of the mixture. Roll up and place the seam side down in the baking dish. Repeat with remaining ingredients.

In a separate large bowl, beat the eggs, half-and-half, flour, and salt. Pour over the tortillas. Sprinkle the remaining 3/4 cup cheddar cheese and 1/4 cup Monterey jack over the top.

Cover with foil and bake for 35 minutes. Remove foil and bake 10 minutes more, or until set and cheese is melted.

Top with desired toppings. Serve immediately.
---
Notes
Make ahead: Make the tortillas and cover with eggs. Cover the baking dish with foil and place in the fridge overnight. Follow instructions from there. Variation: Sprinkle crumbled bacon over the top with the cheese before baking.
Nutrition
Serving: 1enchilada | Calories: 417kcal | Carbohydrates: 9g | Protein: 22g | Fat: 32g | Saturated Fat: 14g | Polyunsaturated Fat: 3g | Monounsaturated Fat: 12g | Trans Fat: 0.1g | Cholesterol: 221mg | Sodium: 825mg | Potassium: 398mg | Fiber: 1g | Sugar: 2g | Vitamin A: 685IU | Vitamin C: 6mg | Calcium: 276mg | Iron: 2mg
Nutrition provided is an estimate. It will vary based on specific ingredients used.
Did you make this recipe? Don't forget to give it a star rating below!