Easy, healthy and full of flavor. Low in carbs and fat and high in protein. This turkey meatball recipe makes the perfect weeknight dinner!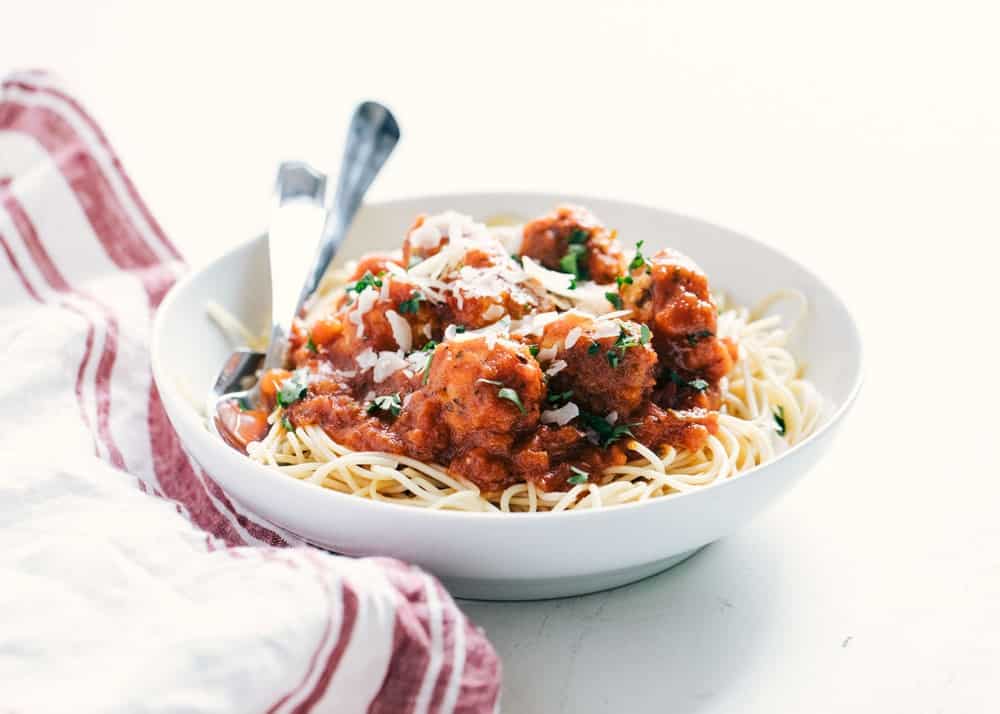 Baked Turkey Meatballs
Whenever I'm looking for a healthy dinner idea, this recipe is always a top pick. Using ground turkey in place of ground beef helps lean out the meatballs, while still keeping them moist and delicious. Plus, they're loaded with flavor!
These turkey meatballs are so healthy and delicious along with this healthy turkey chili! Both ground turkey recipes are low in carbs and fat and high in protein. They have tons of flavor and make the perfect weeknight dinner along with this turkey tetrazzini. We're constantly baking them at our house on busy weeknights.
We love to serve these healthy turkey meatballs with marinara and put them over cooked pasta, spaghetti squash or in a sub sandwich or meatball casserole. They are popular served with mashed potatoes and gravy as well. You can also use a sweet and sour sauce and serve over rice. So many different ways to enjoy them!
Tips for Success
Make sure the egg and ground turkey are both cold, it will help the meatballs hold their shape.
Be sure to use fresh parsley and cheese, it will help the meatballs stay moist.
Use a small cookie scoop to make the meatballs the same size.
Flip halfway to prevent the bottoms from browning.
Add red pepper flakes for a little extra heat, if desired.
Fresh herbs (fresh basil, thyme, oregano) work really well with turkey, and can be swapped for the parsley.
Recipe Ingredients
It doesn't take many ingredients to make these healthy turkey meatballs. In fact, most you probably already have on hand.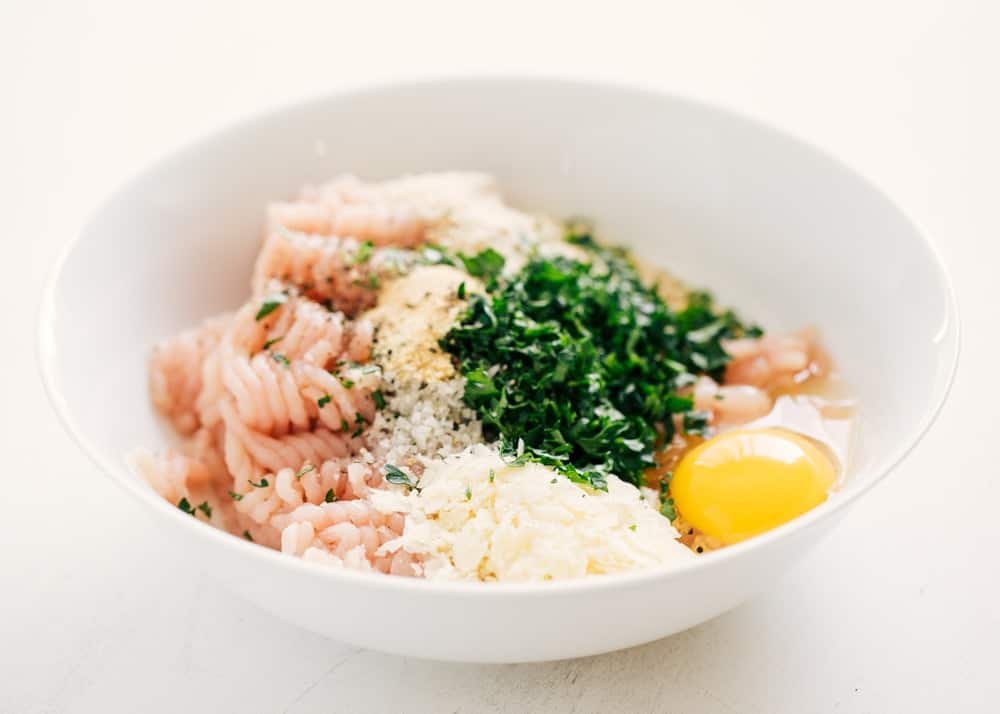 Find the full printable recipe with measurements below.
Turkey: Ground turkey makes the meatballs lighter and feel a little bit healthier.
Parsley: Fresh parsley adds a brightness to the turkey meatballs.
Egg: The necessary binder to keep everything together.
Breadcrumbs: These help absorb the juices in the meat, so that your meatballs stay juicy and flavorful on the interior.
Parmesan cheese: Freshly grated adds a nice nutty flavor.
Seasoning: I use garlic powder, onion powder, salt and pepper to give the turkey meatballs a well-rounded flavor.
How to Make Ground Turkey Meatballs
These turkey meatballs are so simple to make and come together quickly. Just throw everything in a bowl, mix together/form into balls and then bake!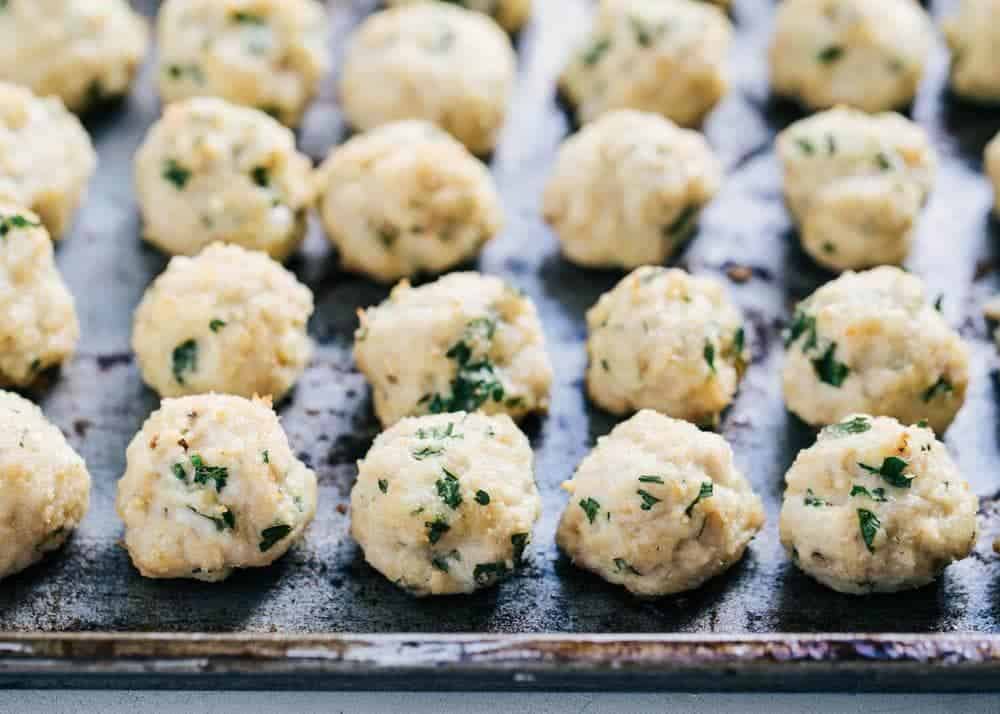 Combine ingredients. Add all ingredients in a bowl and stir just until combined. Be sure not to over mix.
Form into balls. Using a small cookie scoop (or Tablespoon), scoop the meat out and form into balls. Then place on a foil-lined baking sheet.
Bake in oven. Bake meatballs at 375°F for 17-20 minutes, or until no longer pink in the middle. Remember to flip halfway through.
Cook on Stove
You can make this recipe in the skillet, too! Add 1 Tablespoon of oil to your pan and cook over medium-high heat for 6-7 minutes, or until cooked through.
Ways to Serve Meatballs
These turkey meatballs are so versatile and can be eaten a lot of different ways! Below are a few of our favorites.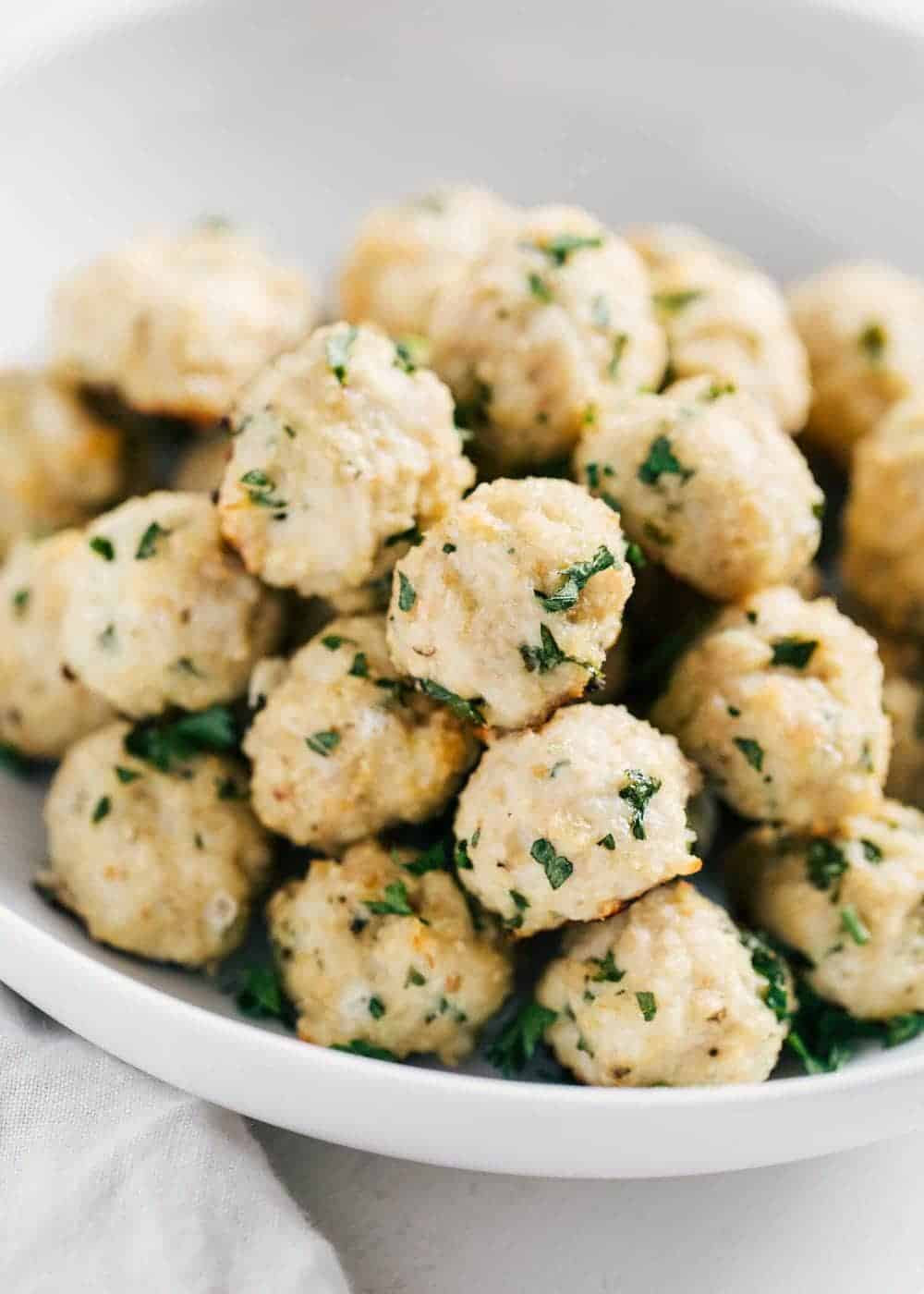 FAQs
How long do I bake the turkey meatballs?
I've found that the recipe turns out perfectly when baked for 17-20 minutes. The meatballs are firm in shape, but still moist and delicious.
What temperature are turkey meatballs done?
They are cooked through when they've reached an internal temperature of 160°F.
Do you have to use breadcrumbs in meatballs?
I always use breadcrumbs in my turkey meatball recipe. They help to keep the meatballs tender and moist.
How long are leftover turkey meatballs good for?
The turkey meatballs will keep for about 3 to 4 days. Make sure to store in an airtight container in the refrigerator.
Can I make these in the air fryer?
Yes, just follow the directions in my air fryer meatball recipe and cook meatballs at 380 degrees for 12 minutes or less.
Freezing Instructions
Another great thing about these healthy turkey meatballs is that they are freezer-friendly! Sometimes I like to double the batch and freeze half. Perfect for meal prep!
Let the turkey meatballs cool completely, then transfer to a clean baking sheet. Place sheet in freezer for an hour to harden the meatballs.
Once they've hardened, place in a freezer bag or container.
Add a freezer label and store in freezer for up to 3 months.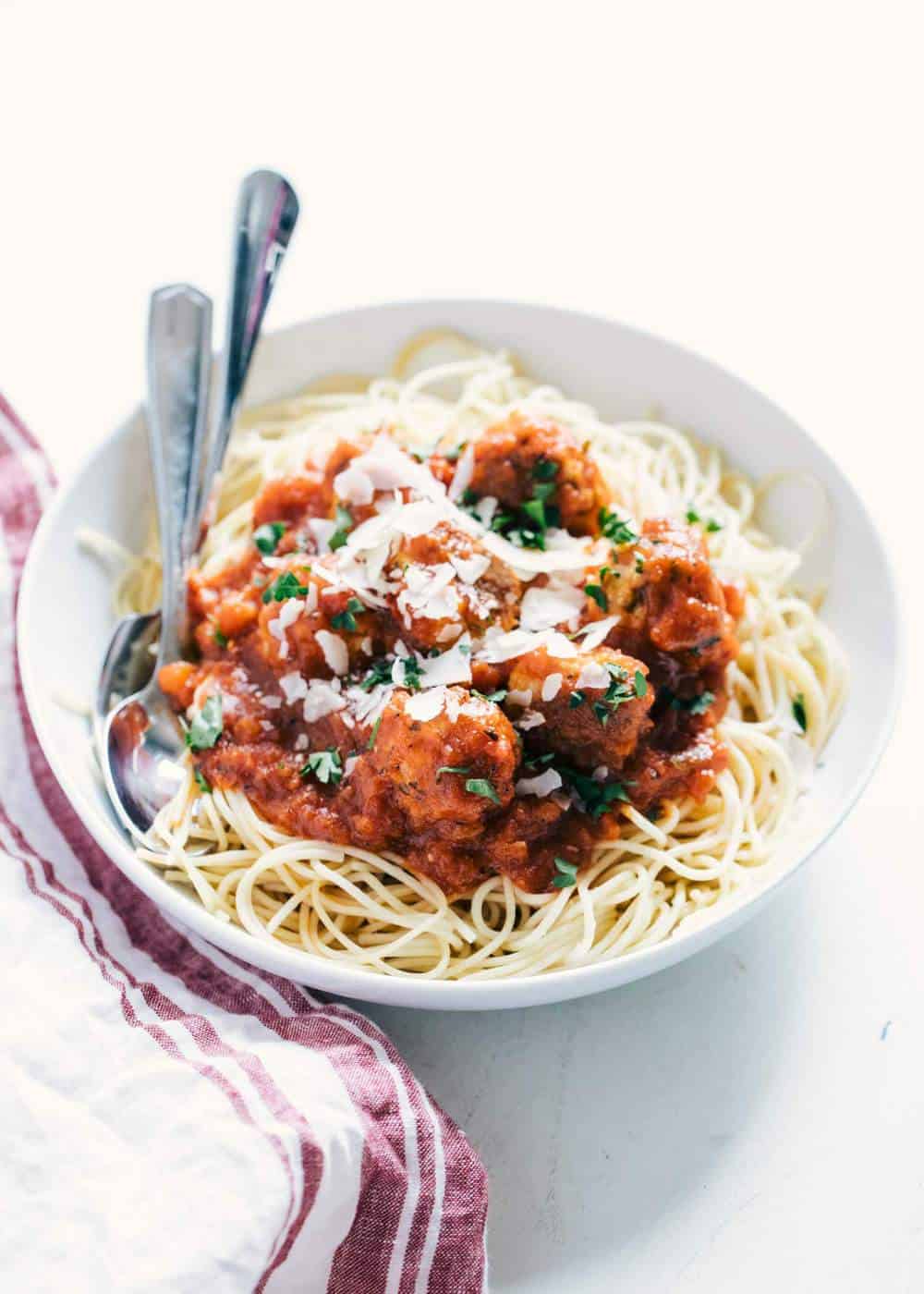 More Delicious Meatball Recipes
HUNGRY FOR MORE? Subscribe to my newsletter and follow on Facebook, Pinterest and Instagram for all the newest recipes!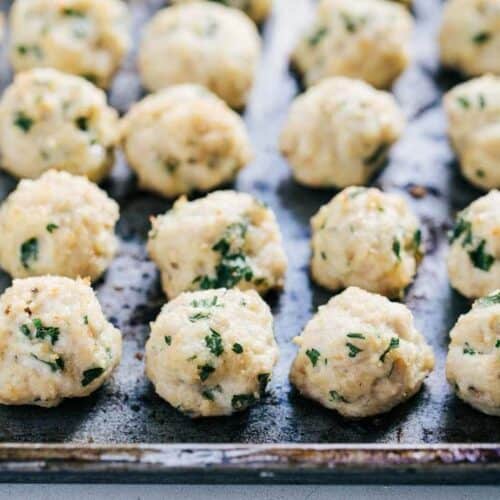 Turkey Meatball Recipe
Easy, healthy and full of flavor. Low in carbs and fat and high in protein. This turkey meatball recipe makes the perfect weeknight dinner!
Ingredients
1 pound lean ground turkey
3-4 Tablespoons chopped fresh parsley
1 large egg , beaten
¼ cup breadcrumbs
¼ cup grated parmesan cheese
½ teaspoon garlic powder
½ teaspoon onion powder
¾ teaspoon Kosher salt
¼ teaspoon ground black pepper
Instructions
Preheat the oven to 375°F. Line a baking sheet with foil and spray with nonstick spray.

In a large bowl, mix the turkey, parsley, egg, breadcrumbs, parmesan, garlic powder, onion powder, salt, and pepper with your hands until just combined, being careful not to overmix.

Using a medium cookie scoop or a spoon, portion the mixture onto the baking sheet. Using your hands, shape each portion into 1 1/2-inch balls. Return to the baking sheet.

Bake uncovered, turning halfway through, 17 to 20 minutes, or until no longer pink in the center.
---
Notes
Stovetop: You can also cook in a pan on the stove with 1 Tablespoon oil over medium-high heat for 6 to 7 minutes, or until cooked through. Storage: These meatballs can be kept in the fridge up to 1 week in an airtight container. Freeze: Store in a freezer-friendly bag up to 3 months. To avoid having them freeze in a clump, flash freeze them on the baking tray first before transferring them to the bag.
Nutrition
Calories: 114kcal | Carbohydrates: 3g | Protein: 18g | Fat: 3g | Saturated Fat: 1g | Cholesterol: 62mg | Sodium: 375mg | Potassium: 216mg | Vitamin A: 225IU | Vitamin C: 2.3mg | Calcium: 55mg | Iron: 0.9mg
Nutrition provided is an estimate. It will vary based on specific ingredients used.
Did you make this recipe? Don't forget to give it a star rating below!