You want to bake something for dessert tonight but what will you make? How about the perfect vanilla cake? Thankfully, you have some of this homemade vanilla cake mix stashed away in your pantry!
Homemade Vanilla Cake Mix Recipe
With my big family and busy life, I am always looking for ways that I can plan ahead when it comes to preparing food. I'm a big fan of things that are easy and convenient! When I have some of this cake mix waiting for me in the cupboard, I know I'm in good hands.
Sure, it's a convenient alternative to store-bought mixes, but it's also a healthier option. I can control what goes into my mix without the addition of any industrial ingredients you often find in the boxed kind.
When you have a few spare moments, whisk together the dry ingredients and store them in your pantry until you need them. When you're ready to bake a delicious homemade vanilla cake, you just pick up where you left off and add your wet ingredients to make a cake batter from scratch. It's that simple!
If you like this vanilla cake mix recipe, don't stop there! Try making your own pancake mix at home. You'll love it.
Ingredients Needed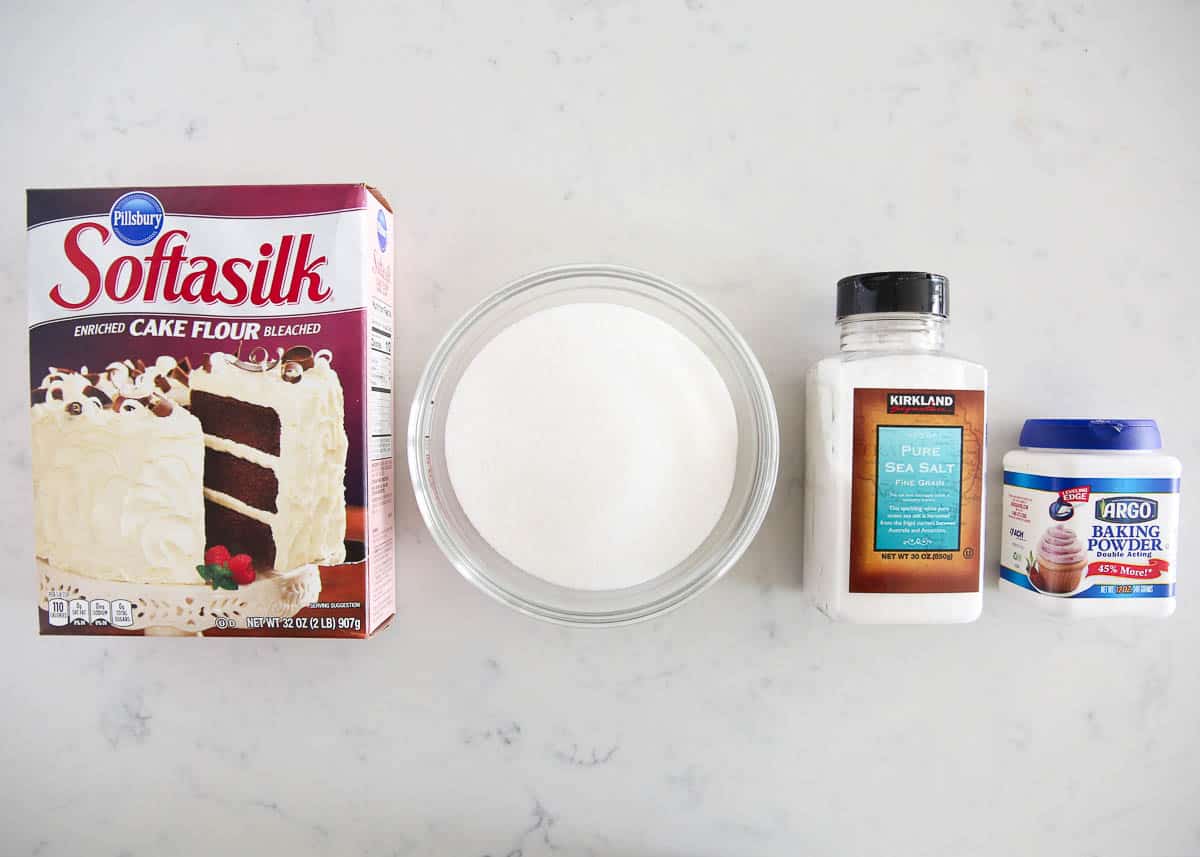 Find the full printable recipe below.
You only need 4 pantry staples to make this easy vanilla cake mix recipe and a few extras to make the batter. Check out the notes on a few of the ingredients:
Cake flour: I like to use this type of flour in my cakes because it results in a soft and tender crumb. If you don't have any, you can substitute it for all-purpose flour.
Baking powder: Make sure your baking powder is fresh before adding it to your dry mix. To check this, add a teaspoon of powder to a small bowl of hot water to see if it fizzes. If you don't see any action, then you know it's time to replace it!
Buttermilk: This tangy milk helps cakes to rise and adds moisture. You can find it in the dairy aisle or learn how to make buttermilk at home.
Vanilla: I recommend using pure vanilla extract for the best flavor. You really want the vanilla flavor to shine, so using the best quality vanilla you can afford will pay off.
Eggs: I use both whole eggs plus 2 additional egg whites to make the cake extra light and fluffy! Keep the leftover egg yolks in a small airtight bag in the fridge for up to 2 days to use in another recipe.
Recipe Instructions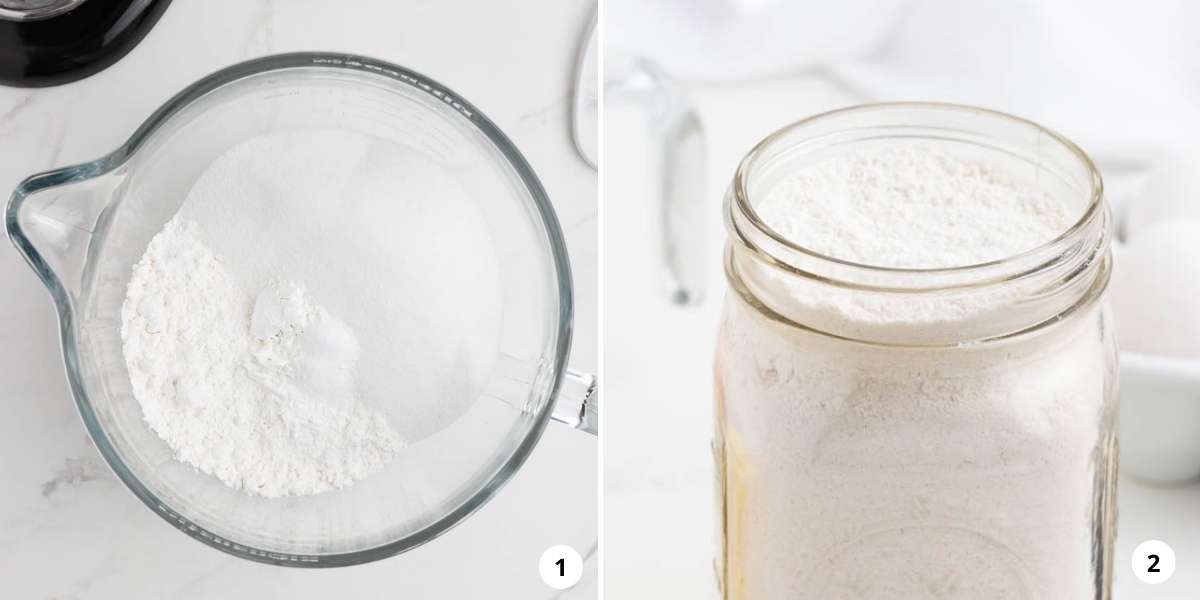 Measure and whisk. Carefully measure out all of the ingredients into a large bowl and whisk together making sure you get rid of any lumps. It's important to measure the correct amount as it affects the texture of your cake. Check out these tips for how to measure flour accurately.
Store. Spoon the mix into a quart-sized jar with a sealed lid. Keep in your pantry to use when making your next vanilla cake!
Baking with the Cake Mix
Now that you have your homemade vanilla cake mix, you can whip up a dessert in a flash! Using your mix couldn't be easier. Also, this recipe makes about twice as much mix as the boxes from the store contain.
This batter is enough to make:
One 9×13-inch baking dish (bake 45 to 50 minutes)
24 cupcakes (bake 30 to 35 minutes)
Three 8-inch round cake pans (25 to 30 minutes)
Combine butter with cake mix. Pour the mix from the jar into the bowl of a stand mixer and beat with the butter. You can also do this step by hand using either a handheld whisk or wooden spoon.
Add wet ingredients. Once you add the wet ingredients, beat the batter until everything is just combined. You don't want to overbeat the batter, or your cake could turn out to be tough.
Bake. Check that your cakes are baked throughout by inserting a toothpick into the center. It should come out clean.
Recipe Tips
Here are a few simple tips I've discovered from making my own dry ingredient blend for a while that will help make sure the cakes you make from your own homemade version will turn out great every time.
Baking powder should be as fresh as possible. Opened baking powder will keep for about 6 months in your cupboard. Because you're storing the cake mix, you want to make sure your baking soda isn't nearing or past its expiry date.
Remove lumps. Whisk or sift your cake mix ingredients to make sure there are no lumps before storing.
Cake mix add-ins. You can have some fun by adding some sprinkles, chocolate chips, or nuts into your batter just before baking.
Room temperature. Once you're ready to bake, make sure your ingredients are at room temperature. Check out my guide on how to soften butter quickly!
Frosting Ideas
When it comes to frosting ideas for your vanilla cake, there are so many delicious options! A few of my favorites are classic buttercream frosting, vanilla frosting and chocolate buttercream frosting.
I use an offset spatula or knife for easy frosting. If you have the time, you can freeze the cake layers for 30 minutes before frosting to make it easier to spread without losing a lot of the crumb. This step is optional!
They Make Great Gifts!
Wrap a little bow on it with some simple instructions and hand them out to your friends and family! You could even type up the instructions to tie onto a tag.
Recipes Using Vanilla Cake Mix
Now that you have your mix ready to go, there are so many delicious cake recipes you can make from birthday cakes to cupcakes, and more! Here are a few suggestions to get you started:
Recipe FAQs
How do you store vanilla cake mix?
I recommend storing your mix in a quart-sized mason jar with a tight-fitting lid. You can keep it in your pantry.

If you don't have a quart-sized jar, you can use another airtight container or a zip-top bag.
How long will cake mix last on the shelf?
Keep your vanilla cake mix in an airtight jar in a cool, dry place, like your pantry, for up to 3 months. You could also store it in the freezer up to a year.
Why didn't my vanilla cake recipe rise?
It's important to follow the recipe instructions exactly and to measure ingredients accurately. Adding too much or too little of any one ingredient can affect the rise of your cake.

Also, make sure your baking powder hasn't expired before you add it to your cake mix. The expired powder will reduce the shelf life of your homemade cake mix.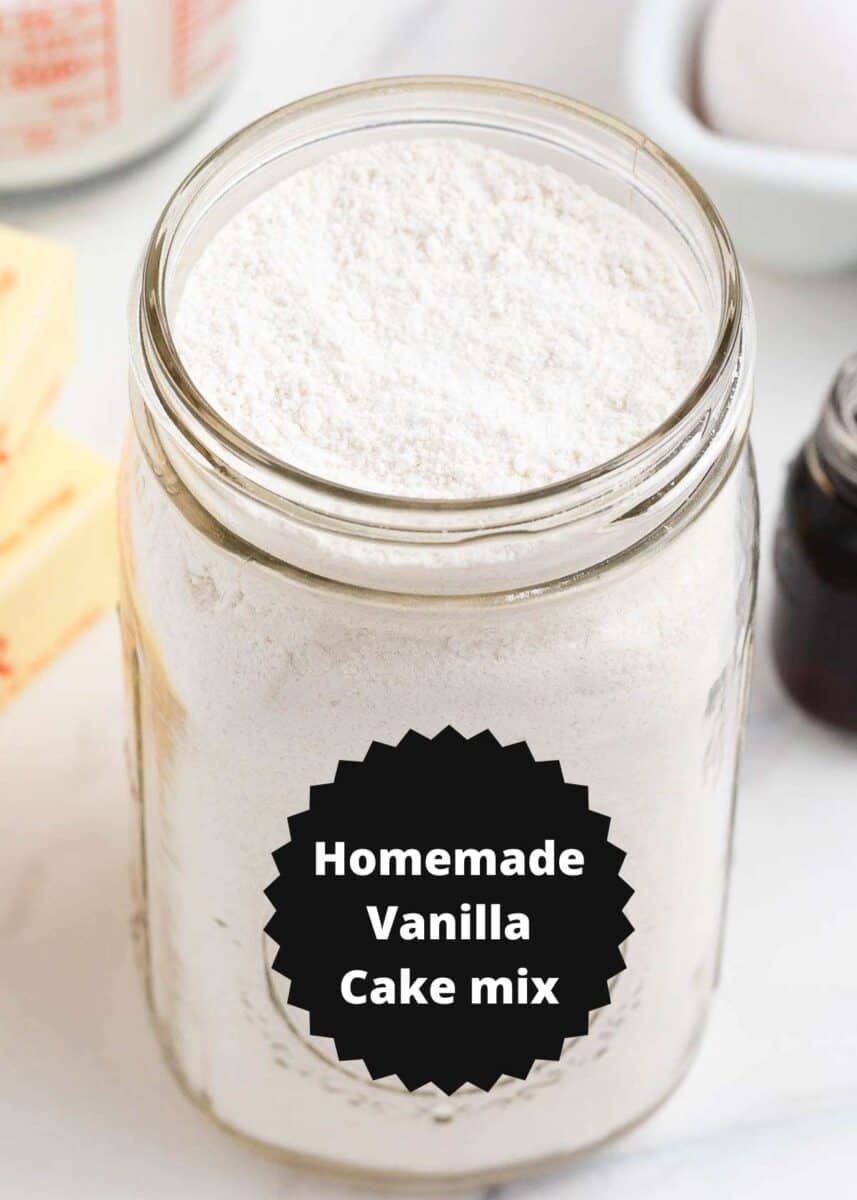 HUNGRY FOR MORE? Subscribe to my newsletter and follow on Facebook, Pinterest and Instagram for all the newest recipes!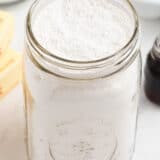 Vanilla Cake Mix
You want to bake something for dessert tonight but what will you make? How about the perfect vanilla cake? Thankfully, you have some of this homemade vanilla cake mix stashed away in your pantry!
Ingredients
Cake Mix
3 ¾ cups (390 grams) cake flour , or 3 cups (360 grams) all-purpose flour
2 cups (400 grams) granulated sugar
1 Tablespoon baking powder
½ teaspoon fine sea salt
To Bake
1 cup (2 sticks) unsalted butter , at room temperature
1 ½ cups (340 grams) buttermilk , at room temperature
1 Tablespoon pure vanilla extract
3 large eggs , at room temperature
2 large egg whites , at room temperature
Instructions
Cake Mix
In a large bowl, combine flour, sugar, baking powder, and salt.

Transfer flour mixture to a quart-sized jar and seal until ready to use.
To Bake
Preheat the oven to 350°F. Line bottom of cake pans with parchment paper and spray only the parchment with nonstick cooking spray. Do not spray the sides of the pans.

In a stand mixer fitted with a paddle attachment, add the jarred mixture. Beat in the butter on medium 1 minute, or until the butter is combined and coarse in texture.

Mix in the buttermilk and vanilla on low 1 minute, or until combined. Beat the batter on medium 30 seconds. Scrape the sides of the bowl

Turn the mixer to low, and add 1 egg at a time. Pour in the egg whites and mix on medium-high 30 seconds, or until the batter is smooth and a little runny. Pour the batter evenly into the pans and smooth out the tops.

Bake 45 to 50 minutes, or until golden brown around the edges and a toothpick inserted into the center comes out clean.

Remove from the oven and let cool 5 minutes in the pans before transferring the cakes to a rack to cool completely.
---
Notes
Box cake mix: A typical box of cake mix has 3 1/2 cups. This recipe makes about 6 3/4 cups, so measure accordingly if swapping for a box.
Vanilla: Use a really good vanilla extract or vanilla bean paste, since this cake relies heavily on its flavor.
Variations: This batter is enough to make:
1 9×13-inch baking dish (bake 45 to 50 minutes)
24 cupcakes (bake 30 to 35 minutes)
3 8-inch round cake pans (25 to 30 minutes)
Frosting: Freezing cake layers makes it easy to frost without losing a lot of the crumb, but isn't necessary if time doesn't allow. Two of my favorites are Classic buttercream frosting and Chocolate buttercream frosting.
Nutrition
Serving: 1g | Calories: 603kcal | Carbohydrates: 95g | Protein: 12g | Fat: 20g | Saturated Fat: 11g | Polyunsaturated Fat: 1g | Monounsaturated Fat: 5g | Trans Fat: 1g | Cholesterol: 92mg | Sodium: 160mg | Potassium: 248mg | Fiber: 2g | Sugar: 41g | Vitamin A: 610IU | Calcium: 101mg | Iron: 1mg
Nutrition provided is an estimate. It will vary based on specific ingredients used.
Did you make this recipe? Don't forget to give it a star rating below!