Learn how to make homemade vegan pesto with just a handful of ingredients! So fresh and flavorful, this dairy-free and gluten-free combination tastes amazing with pasta, pizza, sandwiches, and more!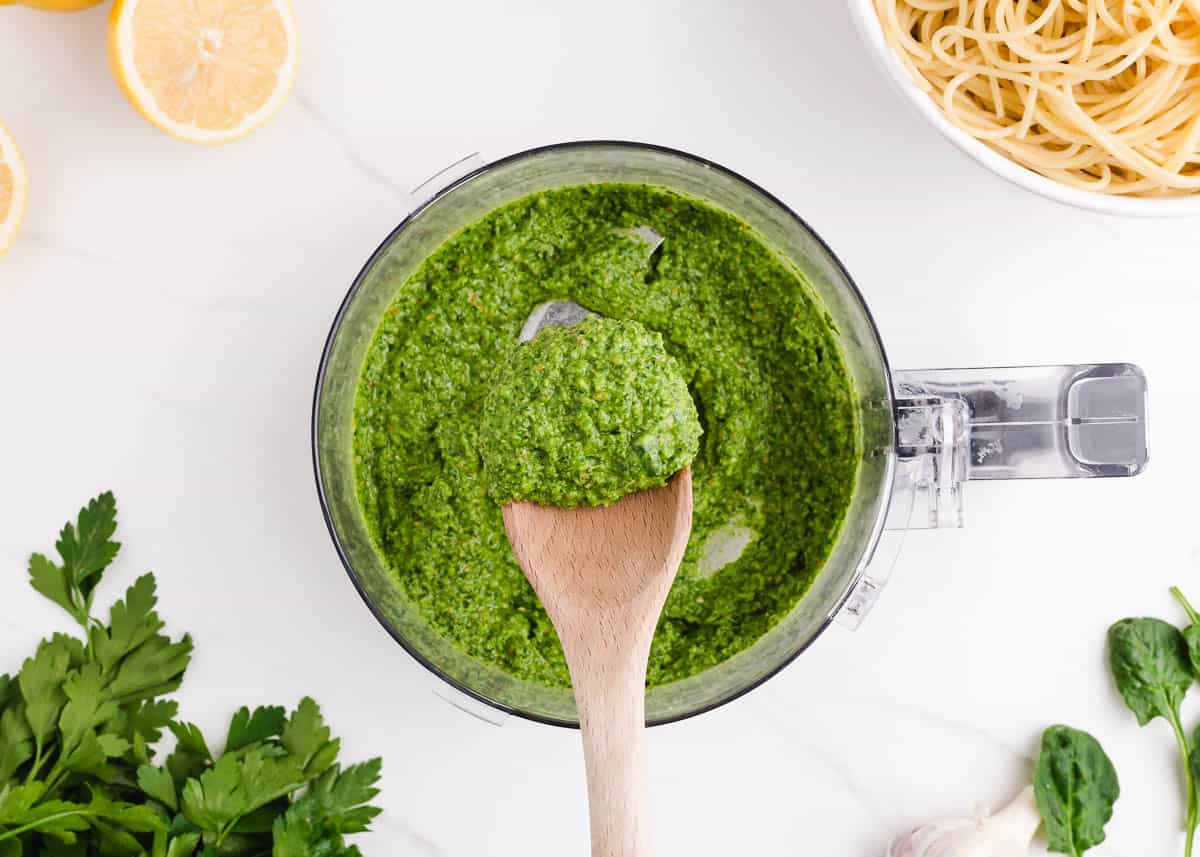 Simple Vegan Basil Pesto
I've been making my easy basil pesto for a while now and I just love to put it on everything from sandwiches to pizza! I was telling my friend about the recipe, and she asked me if I'd ever tried to make vegan pesto, as both she and her husband follow a vegan diet. So, I set out to make a pesto recipe that I could share with her.
I wanted the pesto to be bursting with vibrant flavors, so I combined 3 types of greens: fresh basil, parsley, and spinach leaves and added in some fresh lemon juice. It doesn't have the cheesy flavor because it's pesto without cheese, but I think it tastes just as good as the traditional version, so you don't have to be vegan to enjoy it!
It's really quick to make too, which is perfect for busy weeknights. I like to whip up a batch at the beginning of the week and store it in the fridge to use as I need it.
What is Vegan Pesto?
It's basically regular pesto without the cheese. Traditional recipes call for parmesan cheese, along with pine nuts, garlic cloves, and olive oil but in this case, we're going to leave out the cheese to let the fresh flavors of the greens shine through. We're also using almonds instead of pine nuts.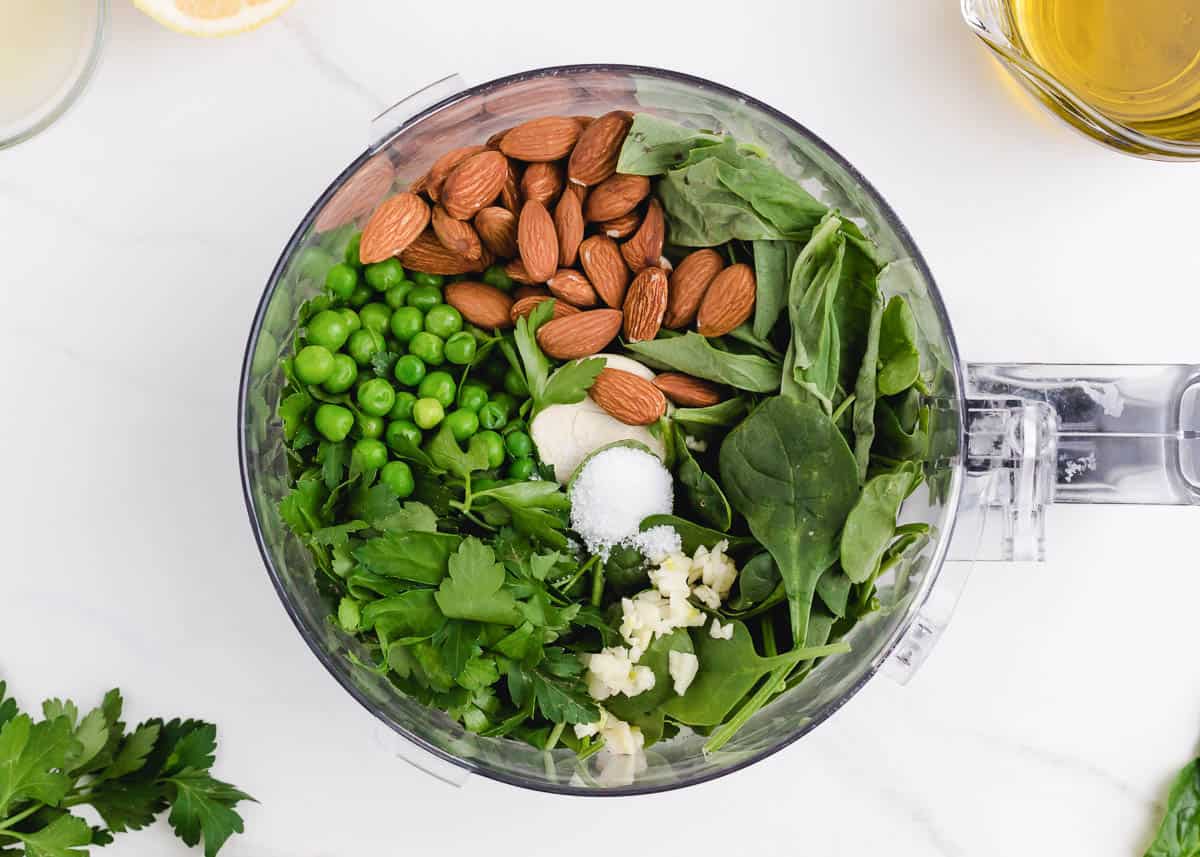 What's in Vegan Pesto Sauce?
Greens – Flat-leaf parsley, baby spinach leaves, and basil leaves. This combination gives this sauce a triple hit of fresh green flavor.
Frozen peas – Frozen peas have a great flavor as they're frozen during peak freshness. Thaw the peas before adding them to the food processor.
Raw almonds – Nuts help to thicken the vegan pesto sauce and provide a smooth texture.
Lemon juice – Lemon brightens up the flavor of the pesto and the juice can also help the sauce from turning brown.
Garlic – I add one small clove of garlic, but if you prefer more of a garlicky flavor, then you can add another clove.
Kosher salt – This salt is larger flakes than sea salt or table salt. Reduce the amount of salt you use if you're using either sea salt or table salt as they taste much saltier than the kosher variety.
Extra virgin oil – Since the sauce is not cooked, you want to make sure you use a great-tasting oil for the base.
How to Make this Recipe
It really couldn't be any simpler to make vegan pesto sauce.
Pulse: Grab your food processor, throw in all of the ingredients except the oil, and pulse until everything is finely chopped.
Drizzle: Then, slowly drizzle in the oil while pulsing the processor until the pesto is combined and smooth.
How to Enjoy this Vegan Pesto Recipe
Pasta: Use as a sauce for your favorite cooked pasta.
Pizza: Replace pizza sauce with pesto sauce.
Sandwiches: Spread on your bread before adding your filling.
Soup: Swirl a spoonful of sauce into your bowl of soup for added freshness.
Veggies: Drizzle over steamed vegetables for a burst of flavor or use it as a dip for a raw veggie platter.
Dressing: Thin it out a bit with some more olive oil and lemon juice and it becomes one of the best salad dressings for all your summer salads.
Vegan Variations
While this recipe tastes amazing as is, here are a few different options you can try:
Swap the nuts: Try swapping the raw almond for walnuts, cashews, or pine nuts. You could even try using sunflower seeds.
Substitute the greens: In the summer months when basil is everywhere, you can leave out the parsley and spinach and just go with basil. You can also swap the spinach with kale if you prefer.
Added flavor: You can add various herbs to your pesto, like cilantro. or try adding some capers for a salty, briny kick. You can also add some nutritional yeast for a 'cheesy' flavor. Mix and match your flavors until you have your perfect sauce!
Storing & Freezing
To store: You can store the leftover pesto in an airtight container in the refrigerator for up to 1 week. To prevent possible browning, place a layer of plastic wrap or a thin layer of olive oil directly over the top of the pesto before storing.
Pesto also freezes beautifully! Freeze it in an airtight container for up to 6 months. You can also pour it into an ice cube tray to freeze and then store it in a freezer-safe bag. This way, you only have to defrost small portions as you need them!
FAQs
What is vegan pesto made of?
Pesto is made with a combination fresh herbs, nuts, lemon, olive oil and lemon juice. For a vegan pesto, nutritional yeast is often used to get that same cheesy taste in non vegan pesto. For this vegan pesto, I added green peas and parsley to really give it both an extra nutritional boost and bright green color.
What isn't vegan in pesto?
While this recipe is for a vegan pesto, most pesto recipes contain Parmesan cheese which is neither vegan or vegetarian due to animal rennet being used in the production of Parmesan.
Why is my pesto bitter?
If you have over blending your oil it can lead to bitter tasting pesto. Stop processing when your pesto is smooth and blended.
Should I eat pesto warm or cold?
Both! It's just as good cold in this pesto pasta salad as it is warm in this spaghetti pesto. To use warm, wait to toss it with your pasta right before serving. This helps preserve both the color and flavor.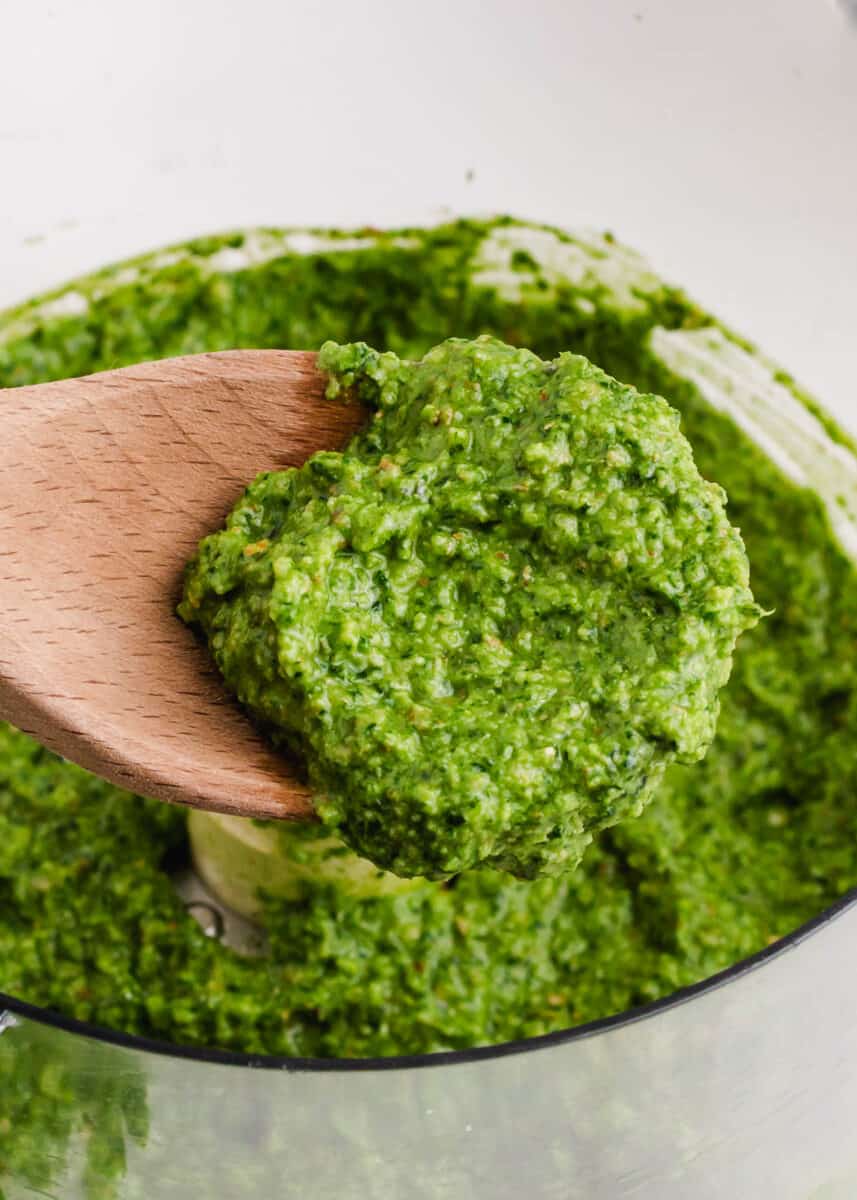 Ways to Use Vegan Pesto
HUNGRY FOR MORE? Subscribe to my newsletter and follow on Facebook, Pinterest and Instagram for all the newest recipes!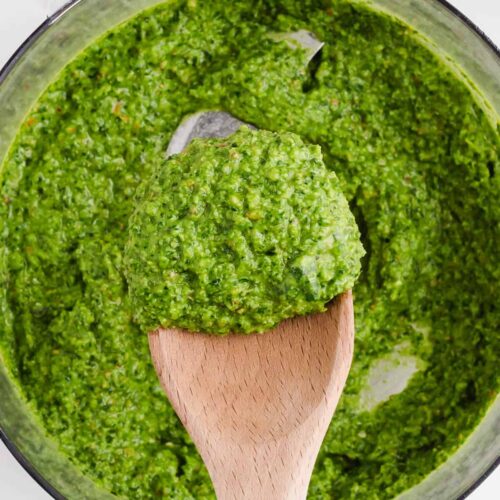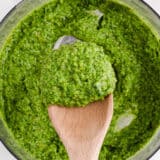 Vegan Pesto
Learn how to make homemade vegan pesto with just a handful of ingredients! So fresh and flavorful, this dairy-free and gluten-free combination tastes amazing with pasta, pizza, sandwiches, and more!
Ingredients
1 cup packed flat leaf parsley , tough stems removed
1 cup packed baby spinach leaves
½ cup basil leaves
½ cup frozen peas , thawed
⅓ cup raw almonds
1 Tablespoon lemon juice
1 small clove garlic
½ teaspoon Kosher salt
½ cup extra virgin olive oil
Instructions
In a food processor, pulse parsley, spinach, basil, peas, almonds, lemon juice, garlic, and salt until finely chopped.

Drizzle in olive oil while pulsing and mix until quite smooth and well combined.
---
Notes
Substitutions: You may swap the almonds for pine nuts or walnuts. You can also omit the parsley and spinach and use only basil leaves during the summer months when it is abundant. Leftover pesto: Store leftover pesto sauce in an airtight container in the fridge for up to 1 week.
Nutrition
Calories: 221kcal | Carbohydrates: 5g | Protein: 3g | Fat: 22g | Saturated Fat: 3g | Polyunsaturated Fat: 3g | Monounsaturated Fat: 16g | Trans Fat: 1g | Sodium: 205mg | Potassium: 179mg | Fiber: 2g | Sugar: 1g | Vitamin A: 1509IU | Vitamin C: 21mg | Calcium: 48mg | Iron: 1mg
Nutrition provided is an estimate. It will vary based on specific ingredients used.
Did you make this recipe? Don't forget to give it a star rating below!