Crispy baked black bean taquitos filled with seasoned black beans, roasted sweet potatoes and finished off with a drizzle of creamy avocado lime sauce. You won't even miss the meat in this vegetarian appetizer or main!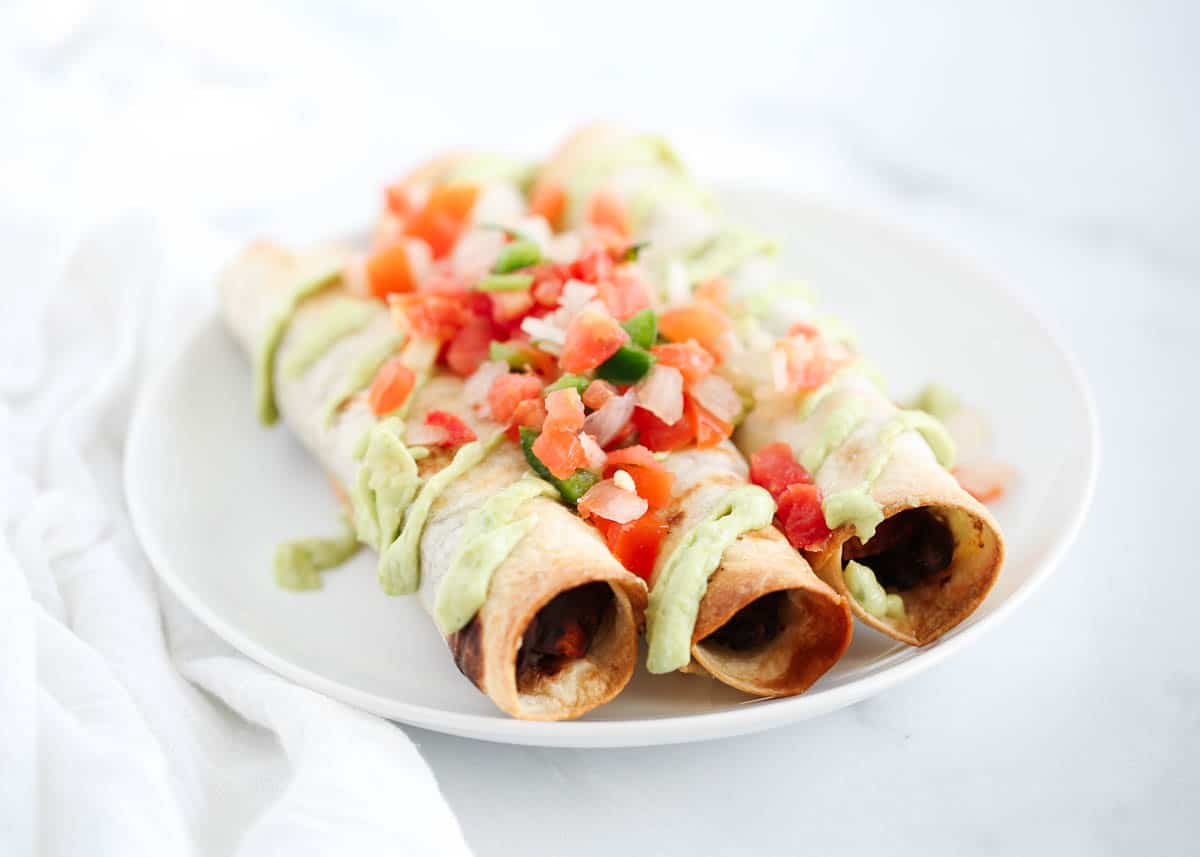 Vegetarian Taquitos
Everyone knows I love Mexican food, especially crispy stuffed taquitos. Now don't get me wrong, I love beef taquitos or chicken taquitos, but I was looking for a healthy dinner idea for Meatless Monday and wanted something different than my favorite one pot sweet potato bowls. That is how these vegetarian black bean taquitos were born.
They're made with seasoned black beans, roasted sweet potatoes and then rolled up in a flour tortilla. They bake in the oven and get super crispy and delicious, without having to fry them in oil like easy chicken flautas or southwest egg rolls.
I topped them off with an easy avocado lime sauce and fresh pico de gallo which added the perfect finishing touch! Serve them for dinner or for a Super Bowl appetizer and watch them disappear!
What is a Taquito?
A taquito is a rolled up taco! Your corn or flour tortilla is filled with meat or beans then rolled up before being fried to golden brown. In this black bean and sweet potato taquitos recipe, though, I am baking them to keep them on the healthier side.
Recipe Ingredients
Sweet potatoes: You will need about 3 large sweet potatoes that have been peeled.
Black beans: One can of black beans is all you need.
Seasonings: Chili powder, cumin, salt and oregano.
Tortillas: You can use either flour tortillas or corn, although I prefer flour.
Olive oil: You will need both olive oil and olive oil cooking spray.
Avocado sauce: Avocados, Greek yogurt, fresh lime juice and salt.
Variations
Corn tortillas also work great in this recipe.
If you'd like to add cheese, use about 1 Tablespoon in each taquito.
Feel free to add in fajita veggies, roasted zucchini or corn to bulk up the filling even more.
You could also replace the sweet potatoes with leftover cubed sweet potato fries or roasted butternut squash.
For more spice, add a dash of hot sauce or sprinkle of paprika into the bean mixture.
You can also replace the black beans with pinto beans if preferred.
To make vegan, replace the sour cream in the avocado lime sauce with a plant based alternative, or omit the sauce completely.
How to Make Black Bean Taquitos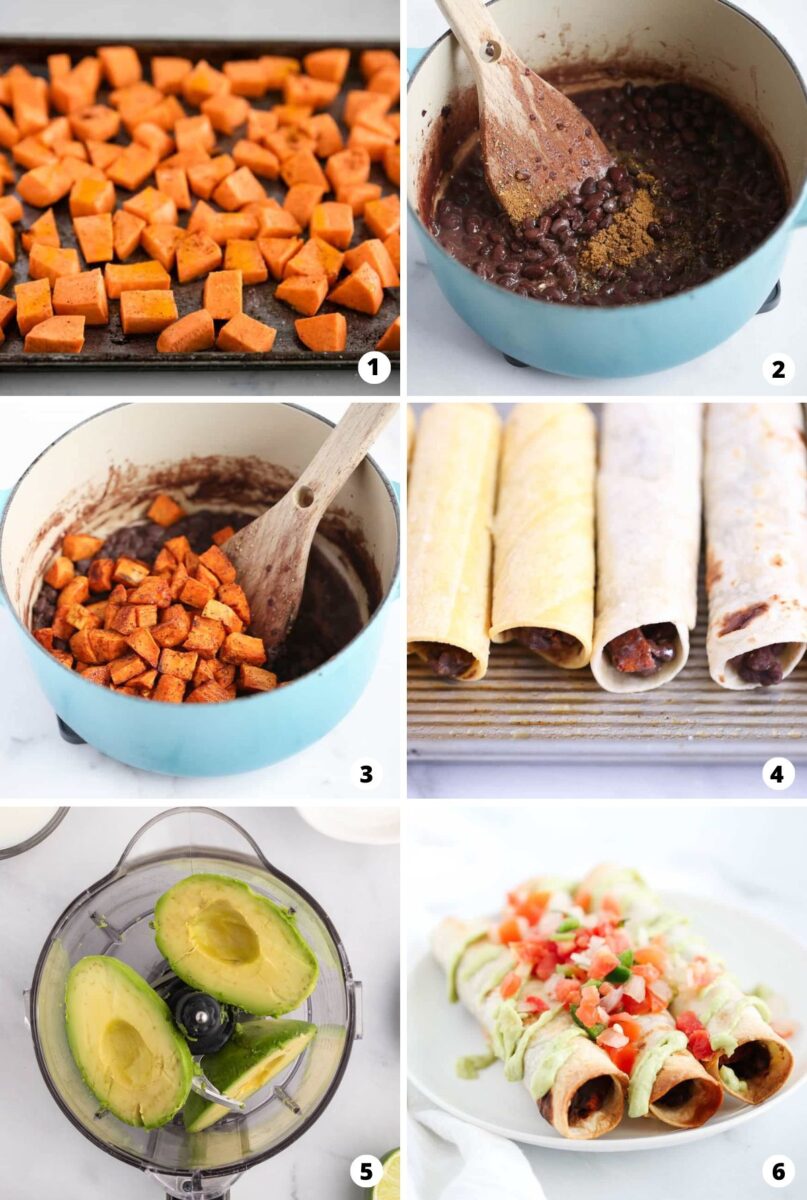 Roast sweet potatoes: Roast the sweet potatoes in the oven at 400 degrees F with olive oil, chili powder and salt for 20 minutes until fork tender and caramelized.
Simmer beans: Add more flavor to your black beans by warming them up on the stove along with some bold Mexican spices. It doesn't take long for them to cook, just enough for them to heat through and become infused with flavor.
Combine filling: Add sweet potatoes to your pot of black beans and stir to combine.
Assemble tortillas: Once the bean and sweet potato mixture is ready, spoon a few tablespoons of filling in each tortilla and then roll them up tightly. Place them seam side down and then bake in the oven until golden and crispy.
Make sauce: The avocado lime sauce adds extra flavor and a nice creaminess on top. In a blender or food processor blend avocados, Greek yogurt, lime juice and salt until smooth.
Serve: Drizzle sauce over your black bean taquitos or use it as a dip. Enjoy!
Taquito Toppings
Don't forget to finish your black bean taquitos with any of the delicious topping ideas below. We also love serving them over a bed of lettuce with a side of Mexican rice or cilantro lime rice. Yum!
Fresh cilantro
Sliced jalapenos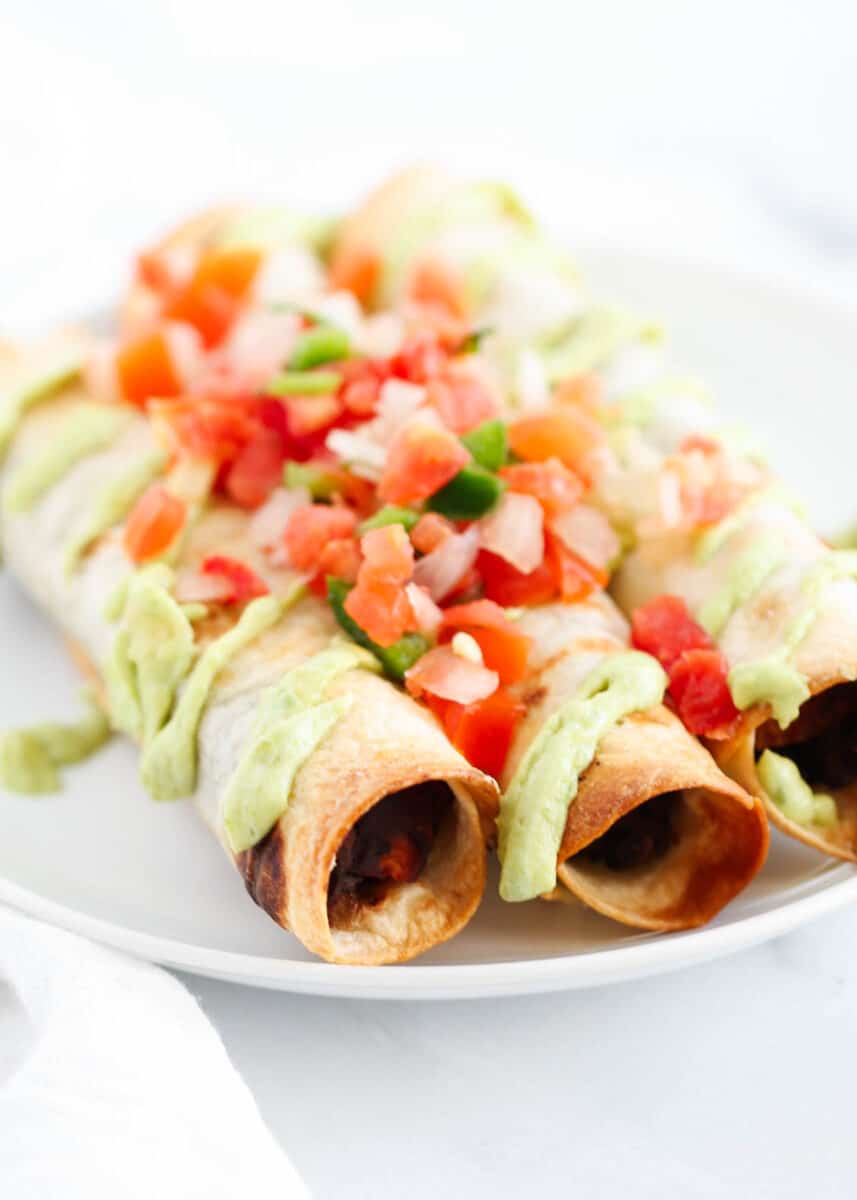 FAQs
Can I use corn tortillas?
This recipe can be made gluten free by using corn tortillas instead of flour ones. They will need to be softened first before rolling though as they are prone to breaking. To do this, wrap them in a damp paper towel and microwave for 1 minute until they are soft and flexible.
Can I freeze these?
Yes! This black bean taquito recipe makes a great freezer meal to prepare in advance. I prefer to roll and fill the taquitos as directed and then freeze before baking. I've found that uncooked tortillas crisp up better when baking from frozen.

Cover them tightly with foil or a lid and store in the freezer for up to 3 months. Let thaw in the fridge the night before serving. Then bake according to directions until crispy.
Storage
Store leftover black bean taquitos in an airtight container in the refrigerator up to 5 days. To reheat, place on a baking sheet and warm in the oven at 300 degrees F for about 15 minutes.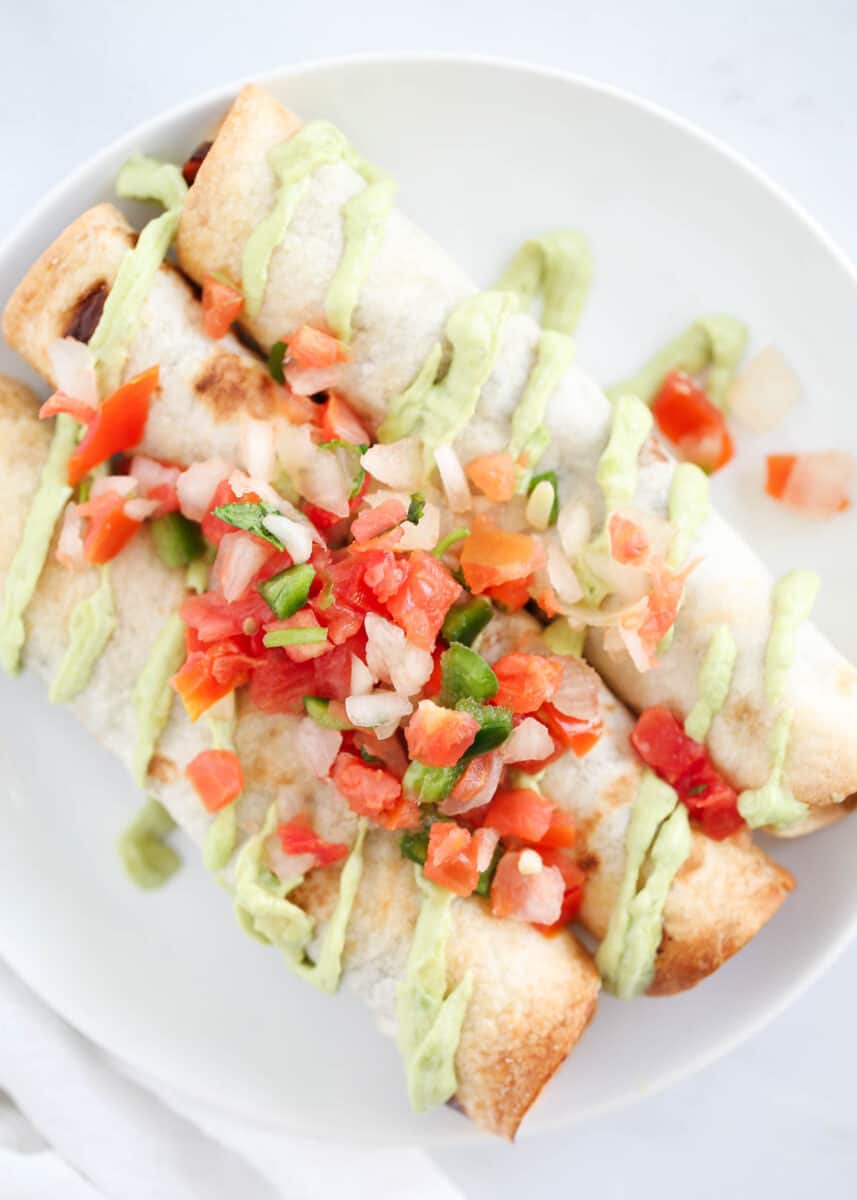 HUNGRY FOR MORE? Subscribe to my newsletter and follow on Facebook, Pinterest and Instagram for all the newest recipes!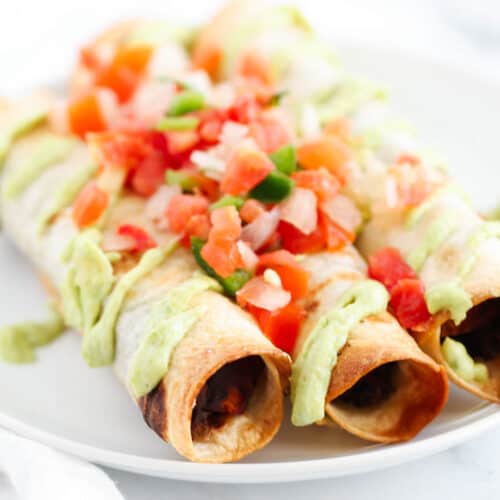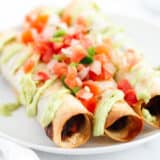 Black Bean and Sweet Potato Taquitos
Crispy baked black bean taquitos filled with seasoned black beans, roasted sweet potatoes and finished off with a drizzle of creamy avocado lime sauce. You won't even miss the meat in this vegetarian appetizer or main!
Ingredients
Sweet potatoes
1 pound orange sweet potatoes , about 3 potatoes peeled
1 Tablespoon olive oil
½ teaspoon chili powder
½ teaspoon Kosher salt
Black beans
2 teaspoons olive oil
2 cloves garlic , minced
15 ounces can black beans , undrained
1 teaspoon cumin
½ teaspoon Kosher salt
½ teaspoon oregano
Avocado sauce
2 small/medium avocados
½ cup greek yogurt , or sour cream (or a plant based alternative)
juice from 1 lime
kosher salt to taste
For serving: Pico de gallo
Instructions
Preheat your oven to 400°F. Chop the sweet potatoes into 1/2 inch cubes. Place on a baking sheet and drizzle with 1 Tablespoon olive oil. Add chili powder and salt. Toss until combined.

Bake for 20 minute or until fork-tender. Remove and increase oven temperature to 425°F.

Meanwhile, in a large saucepan, heat 2 teaspoons olive oil over medium heat. When it is hot, add the minced garlic and sauté for about 1 minute, until fragrant. Add the can of black beans with liquid. Bring the mixture to a boil and then reduce to a simmer. Add cumin, salt and oregano and simmer for 10 minutes.

Add the sweet potatoes to the beans and stir just until combined.

Spoon about 2-3 Tablespoons of the filling down the center of a tortilla. Roll up tightly and place on a large greased baking sheet (I used the same one I baked the sweet potatoes on). Continue with the rest of the tortillas.

Spray each taquito generously with olive oil and sprinkle with salt. Bake at 425°F for about 15-17 minutes, or until they are brown and crispy.

To make the sauce, add the avocados, Greek yogurt, lime juice, and salt to a food processor or blender. Mix until combined and smooth.

Drizzle sauce over top of taquitos or use to dip them in. Add pico de gallo on top if desired.
---
Notes
Freezer instructions: I prefer to freeze before baking. However if you have leftovers, allow to cool and then place into a zip top bag or freezer container. Freeze up to 3 months. Allow to thaw in the refrigerator and then reheat in the oven at 300°F for 5-10 minutes or until hot and crispy.
Nutrition
Serving: 1g | Calories: 212kcal | Carbohydrates: 30g | Protein: 6g | Fat: 8g | Saturated Fat: 1g | Polyunsaturated Fat: 1g | Monounsaturated Fat: 5g | Trans Fat: 1g | Cholesterol: 1mg | Sodium: 513mg | Potassium: 406mg | Fiber: 6g | Sugar: 3g | Vitamin A: 4664IU | Vitamin C: 5mg | Calcium: 68mg | Iron: 2mg
Nutrition provided is an estimate. It will vary based on specific ingredients used.
Did you make this recipe? Don't forget to give it a star rating below!
Recipe contributed by Karen of The Food Charlatan for I Heart Naptime.