Cake mix cookie bars are an easy dessert recipe with spectacular results! Moist, chewy, and decadent bars loaded with gooey chocolate chips all made with just 5 ingredients! The perfect quick dessert for those irresistible cookie cravings!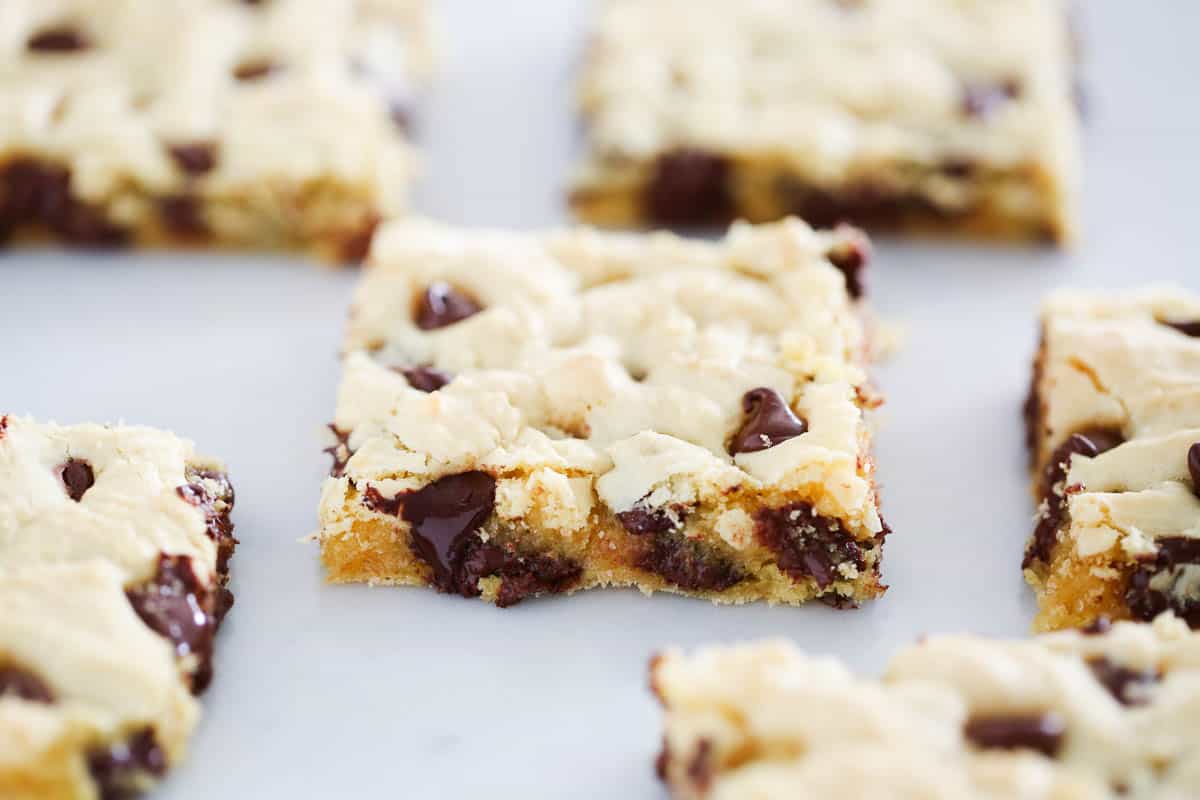 Easy Dessert Idea
If you've never made cake mix cookies you've been missing out on the opportunity to make life in the kitchen so much easier! Chocolate chip cookies bars with cake mix is an easier version of homemade chocolate chip cookie bars because using a boxed cake mix takes over several single ingredients. Fewer steps with equally yummy results!
Cake mix cookie bar recipes have a similar consistency to the cake but with the added butter and eggs and spreading it out thinly to bake, they end up like a giant cookie! They're soft and moist with added chocolate chips that melt and get all gooey. They taste delicious!
It's a super simple dessert to throw together anytime, whether your kids want a little sweet treat after dinner with a cold glass of milk, or served warm with a scoop of vanilla ice cream for movie night!
Only 5 Ingredients!
Cookie bars from a cake mix is so easy using boxed yellow cake! Have a chocolate cake mix in your pantry? Make these brownies from a cake mix!
Find the full printable recipe with specific measurements below.
Yellow cake mix: You can use any brand of cake mix you prefer. Betty Crocker or Duncan Hines are my go to. Don't use the ingredients on the box. Follow the recipe as I have it listed below. Otherwise, you will be making a cake!
Vegetable oil: This is the fat that adds moisture and richness to the batter.
Large eggs: This will bind the ingredients together.
Vanilla: A dash of vanilla will do.
Chocolate chip cookies: I use semi-sweet as sometimes, but you use whatever you prefer.
How Are Cookie Bars Made With Cake Mix?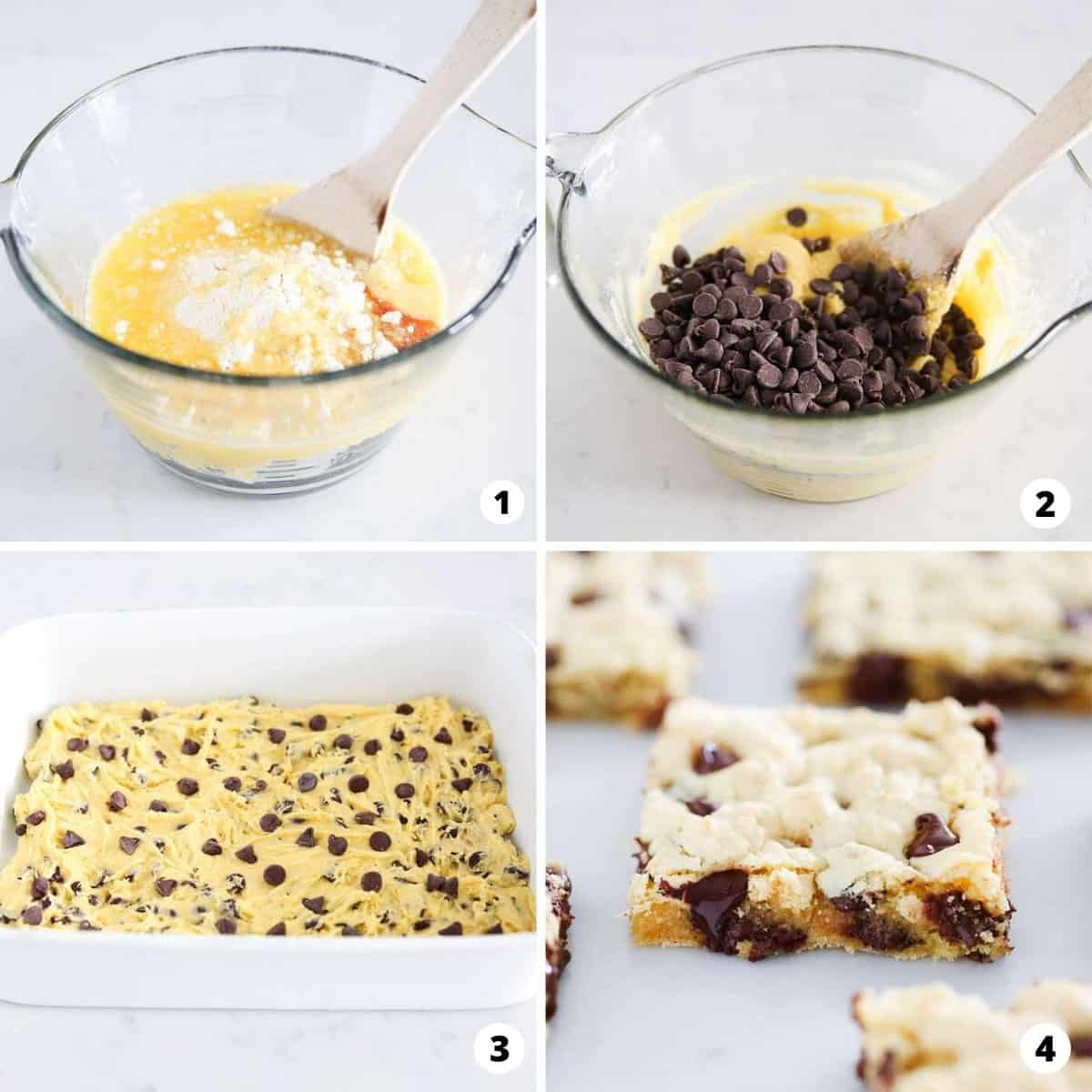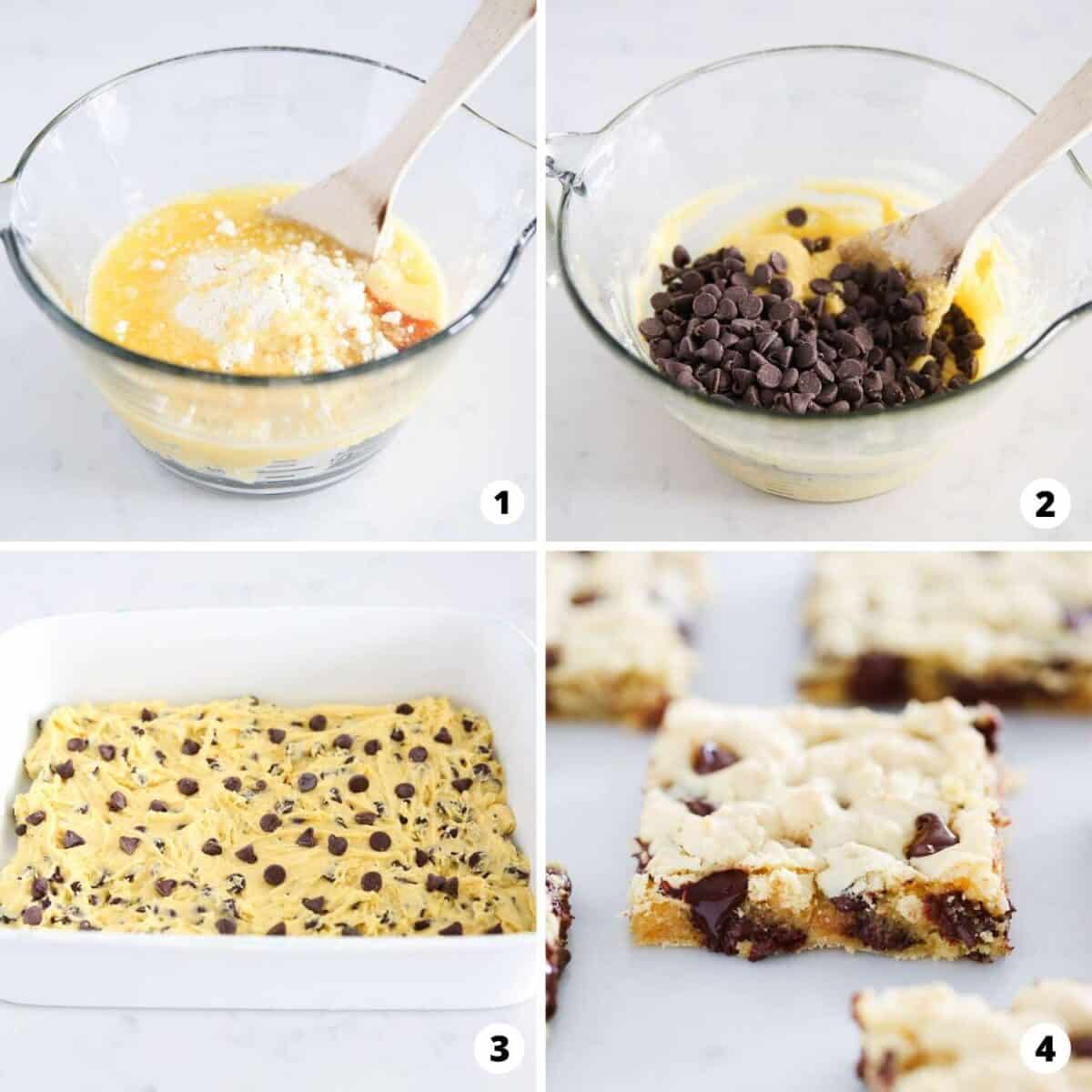 Combine. Mix together the cake mix, oil, eggs and vanilla just until combined.
Add. Fold in chocolate chips. It will now resemble more of a cookie dough than a cake batter.
Press. Transfer dough to a parchment-lined 9×13 baking dish. Keep in mind the dough will be thick and sticky, so use another piece of parchment paper or a rubber spatula, press down to flatten. Sprinkle a few extra chocolate chips on top.
Bake. Bake in a preheated oven for 20 minutes until golden brown. Allow to cool before slicing and serving.
Variations for Cake Bars
Swap the box of cake mix for a different flavor and use your favorite add-ins!
Red velvet and white chocolate chips. Perfect for Valentine's Day!
Devil's food cake. Double the chocolate with chocolate cake and chocolate chips!
M&Ms cookie bars. Use a yellow or vanilla cake mix and toss in some colorful M&M candies.
Peanut Butter: Add in a scoop of peanut butter into the batter. Then you can mix in peanut butter chips and peanuts to really amp of the peanut butter flavor. I still like to keep the chocolate chips in there too to balance it all out.
Other add-ins to try are crushed candy bars, nuts and butterscotch chips.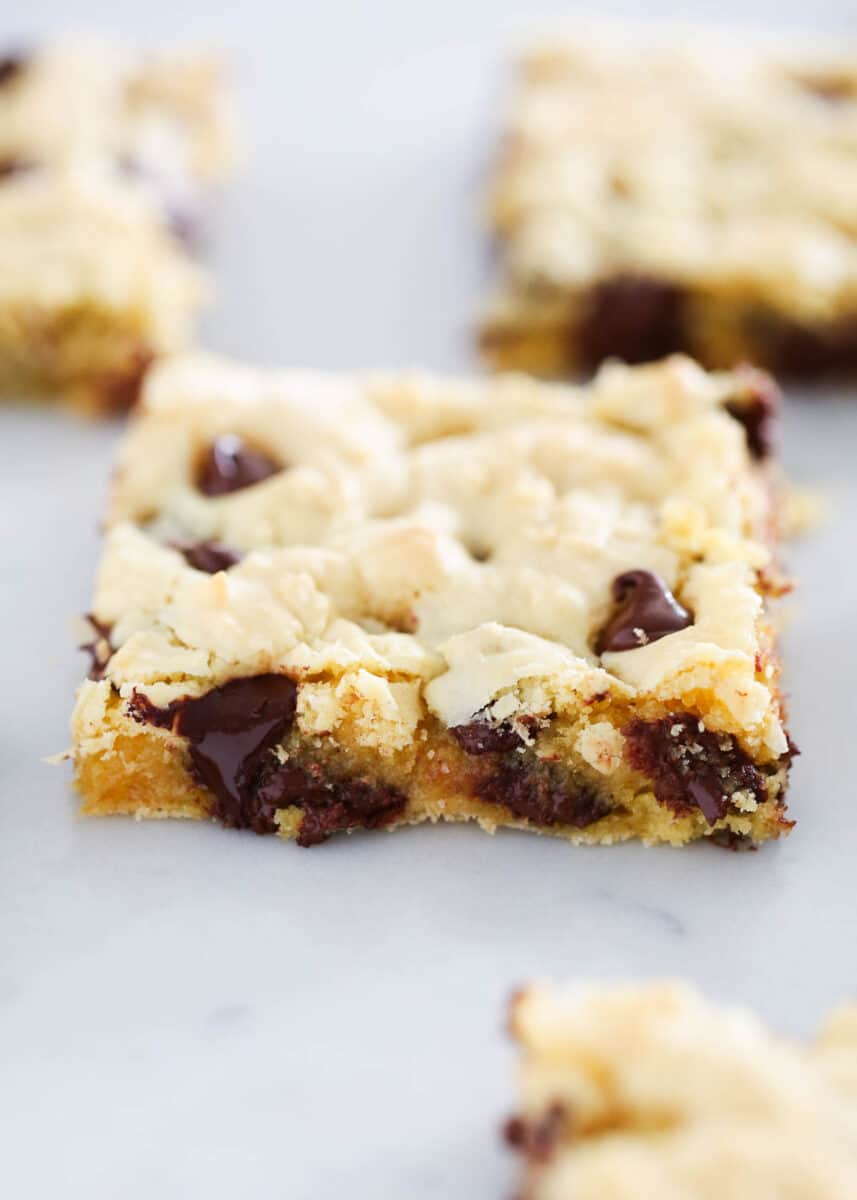 "These were SO easy and now they're a kid favorite in our house, and that makes me "super mom", so I thank you!"
Tips for Making Cake Mix Bars
You can substitute canola oil for melted butter if preferred.
Bring your eggs to room temperature beforehand for even baking.
If you don't have parchment paper on hand, be sure to use any nonstick cooking spray. When it comes time to slice the bars you don't want them to stick!
Do not overmix the mixture. Gently fold in the chocolate chips then leave it alone. This way it won't become too dense and overworked.
Adding a few extra chocolate chips on top before baking is nice for the presentation. No one would blame you if you just ate them instead ;)
FAQ
How to store cake bars?
Keep any leftover bars in an airtight container in the fridge for up to 3 days. You can also store these cake bars in the freezer for up to 3 months.
Why is it called a bar cookie?
Dessert bars are typically baked in a pan and cut into squares where cookies are baked in the shape of a circle. They are not as fluffy as a cake and have a more similar texture to my cake mix chocolate chip cookies.
Does cake mix actually expire?
Yes cake mix will expire, but you can typically use a few months after the expiration date. If you're getting close to the expiration date and not ready to bake, you can freeze the mix to get a few more months out of it.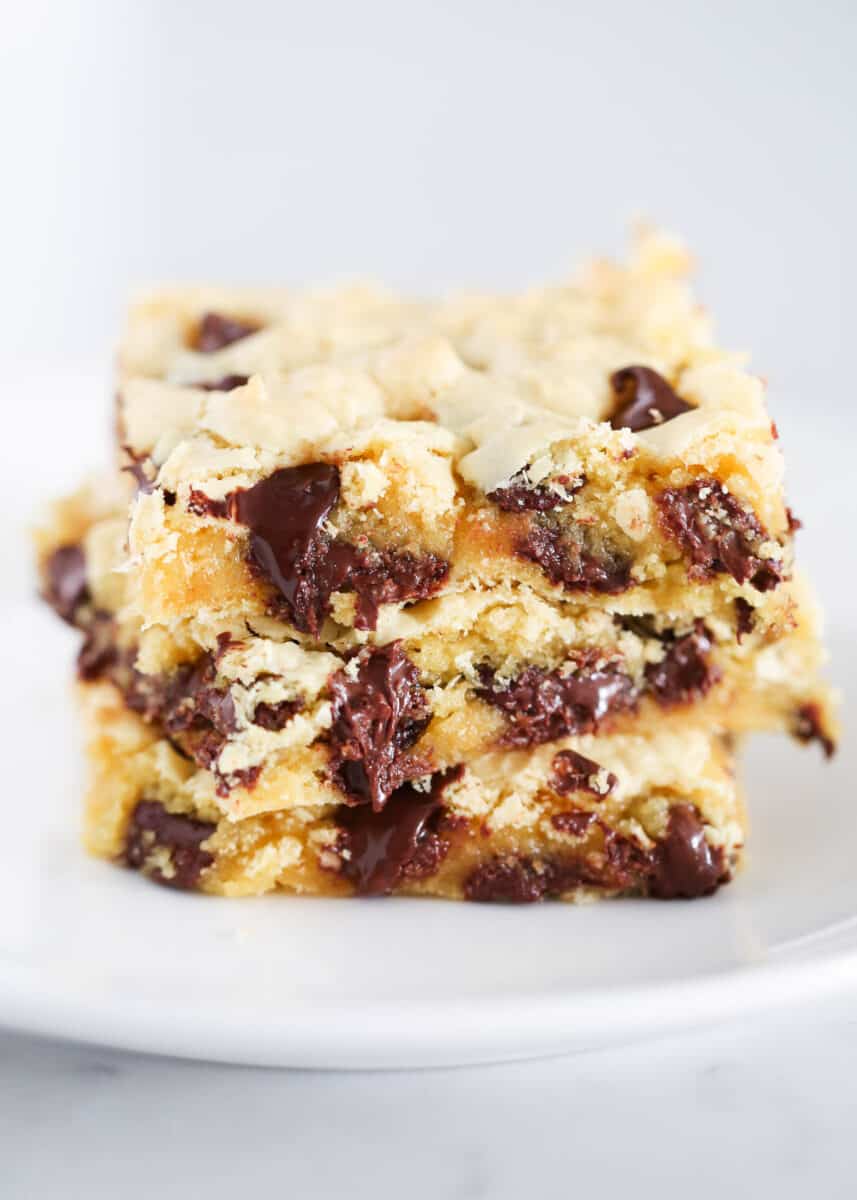 HUNGRY FOR MORE? Subscribe to my newsletter and follow on Facebook, Pinterest and Instagram for all the newest recipes!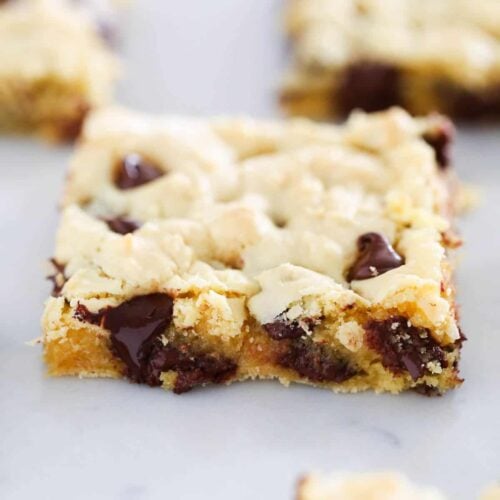 Cake Mix Cookie Bars
Cake mix cookie bars are an easy dessert recipe with spectacular results! Moist, chewy, and decadent bars loaded with gooey chocolate chips all made with just 5 ingredients! The perfect quick dessert for those irresistible cookie cravings!
Ingredients
15.25 ounce box yellow cake mix
⅓ cup butter , melted (can sub for canola oil)
2 large eggs , whisked
½ teaspoon vanilla
1 cup chocolate chips , more for top if desired
Instructions
Preheat oven to 350°F. Line a 9×13" pan with parchment paper and set aside.

Combine the cake mix, butter, eggs and vanilla in a large bowl. Stir together until combined. Add in the chocolate chips and mix just until combined.

Scoop the dough into the prepared baking dish. Press down evenly with a piece of parchment paper, or the palm of your hand. Top with additional chocolate chips if desired. Bake for 20 minutes, or until a toothpick comes clean. You don't want them to brown.

Allow to cool in the pan for about 15 minutes. Then remove and slice into squares.
---
Notes
Variations: You can use pretty much any flavor of cake mix to make these cookie bar. Feel free to add in your favorite mix-ins.
Red velvet white chocolate chip: If you're a fan of red velvet cake, you're going to love this version! Use a red velvet cake mix and mix in 1 cup of white chocolate chips.
Devil's food cake: If you're a chocolate lover, use a chocolate cake mix.
M&M: You can use white or yellow cake mix for this variation. Mix in 1 cup M&M's.
Storage:
Store in a covered container for up to 3 days or freeze up to 3 months.
Nutrition
Calories: 132kcal | Carbohydrates: 20g | Protein: 2g | Fat: 5g | Saturated Fat: 3g | Polyunsaturated Fat: 0.2g | Monounsaturated Fat: 1g | Trans Fat: 0.2g | Cholesterol: 22mg | Sodium: 162mg | Potassium: 14mg | Fiber: 0.4g | Sugar: 13g | Vitamin A: 115IU | Vitamin C: 0.05mg | Calcium: 50mg | Iron: 1mg
Nutrition provided is an estimate. It will vary based on specific ingredients used.
Did you make this recipe? Don't forget to give it a star rating below!