Chili and Cornbread Skillet
by Kristin of Yellow Bliss Road
With summer quickly coming to a close, many of us start seeking out warm, comforting meals to satisfy our bellies  in the cooler months ahead. This Chili and Cornbread Skillet is the perfect comfort meal for a cool fall evening, and the best part is that it all cooks in one pan!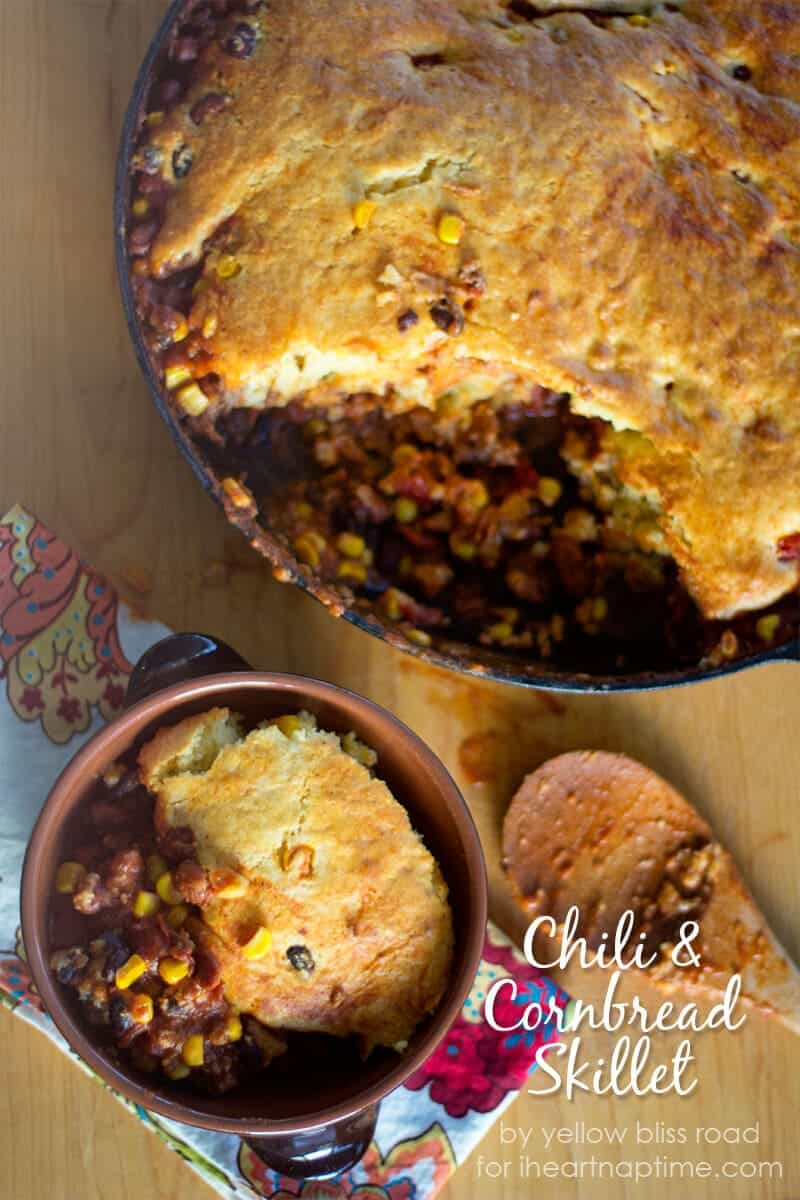 The base for this dish is my super easy, super delicious three ingredient chili. There are several ways to personalize to your own tastes. This black bean and corn version is definitely my family's favorite way to enjoy our favorite chili.

MY OTHER RECIPES
I just got myself a cast iron skillet and I knew this would be the perfect dish to break it in. Have you used a cast iron skillet? I kind of feel like I'm really behind the times because it seems like everyone has one! And they all have advice and tips on how to use it – it was scary! Season it really well, don't put this in it, don't clean it like this…seriously it was nerve wracking because I was afraid I was going to ruin the thing! But after seasoning it really well (a couple of hours in a 250 degree oven with a thin layer of vegetable oil did the trick), and letting it rest overnight, my chili and cornbread skillet was a success.
This meal couldn't be easier to make. Start by cooking ground beef over medium heat in a 12 inch, oven safe skillet. This would also work in a shallow, 5 quart saute pan.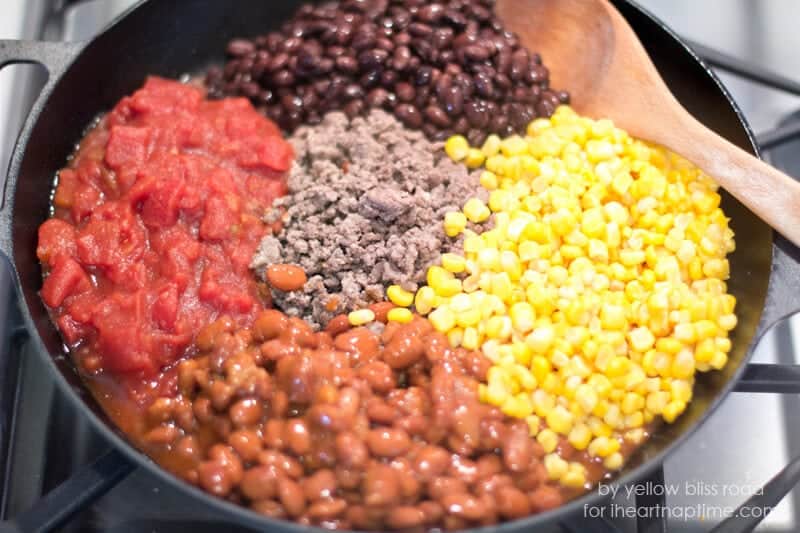 While the meat is cooking, open your cans of corn, chili beans, chili tomatoes, tomato sauce and black beans. Add them to the cooked meat and give it a good stir. Bring that to a boil and let it simmer for about ten minutes to blend all the flavors together. My kids don't like it spicy, but at this point you can also add a teaspoon or two of chili powder to give it a little more kick.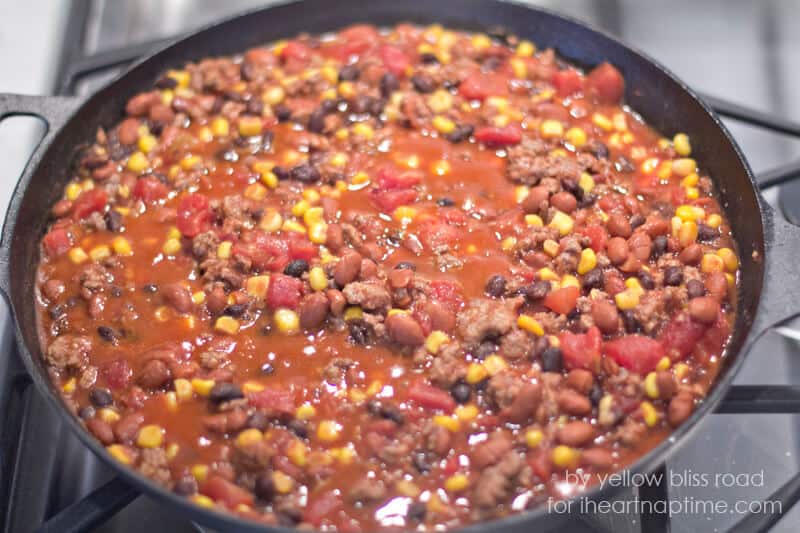 While the chili is simmering, preheat the oven to 400 degrees and mix up your cornbread. I just use a box mix, but you could use a homemade version as well if you like. I like to throw in a cup of shredded cheddar, but that is completely optional.
Turn off the heat and drop spoonfuls of cornbread batter evenly over the top of the chili. As you are dropping, gently spread the mixture around so it doesn't all settle in one spot and you can get an even crust. Depending on the size and depth of your pan, take the batter as close to the edges as possible.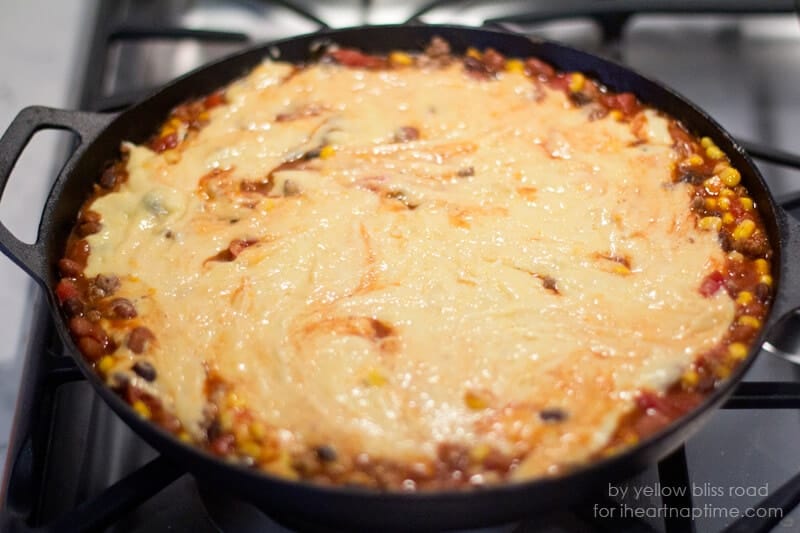 Bake at 400 degrees for about 20 minutes, or until the cornbread is beautifully golden brown. Check to make sure that the cornbread is cooked through before dividing into bowls and serving. Top with sour cream, onions and shredded cheddar if desired.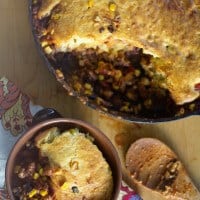 Chili and Cornbread Skillet
Yield: 4-6 servings

Cook Time: 15 minutes

Total Time: 35 minutes
Ingredients:
1 pound ground beef

1 15 oz can black beans

1 15 oz can chili seasoned tomatoes

1 15 oz can chili beans

1 10 oz can sweet corn

1 10 oz can tomato sauce

1 15 oz box cornbread mix (plus ingredients on the box - egg, milk, oil)

1 cup shredded sharp cheddar cheese, plus some for garnish
Directions:
Preheat the oven to 400 degrees.

In a 12" oven safe skillet, cook ground beef until no longer pink. Drain.

To the cooked ground beef, add black beans, tomatoes, chili beans, corn and tomato sauce. If you want an extra kick of spice, add 1-2 teaspoons of chili powder. Stir together and bring to a low boil. Simmer for ten minutes.

While the chili is simmering, mix up the cornbread using the box mix plus the ingredients it calls for, such as eggs, milk, and oil or butter. Add the cup of shredded cheddar and gently stir just enough to incorporate.

Remove chili from heat and drop cornbread batter by spoonfuls over the chili, gently spreading to the edges.

Bake in a 400 degree oven for about 20 minutes, or until the top is nice and golden brown. Check the cornbread for doneness before dividing into bowls and serving.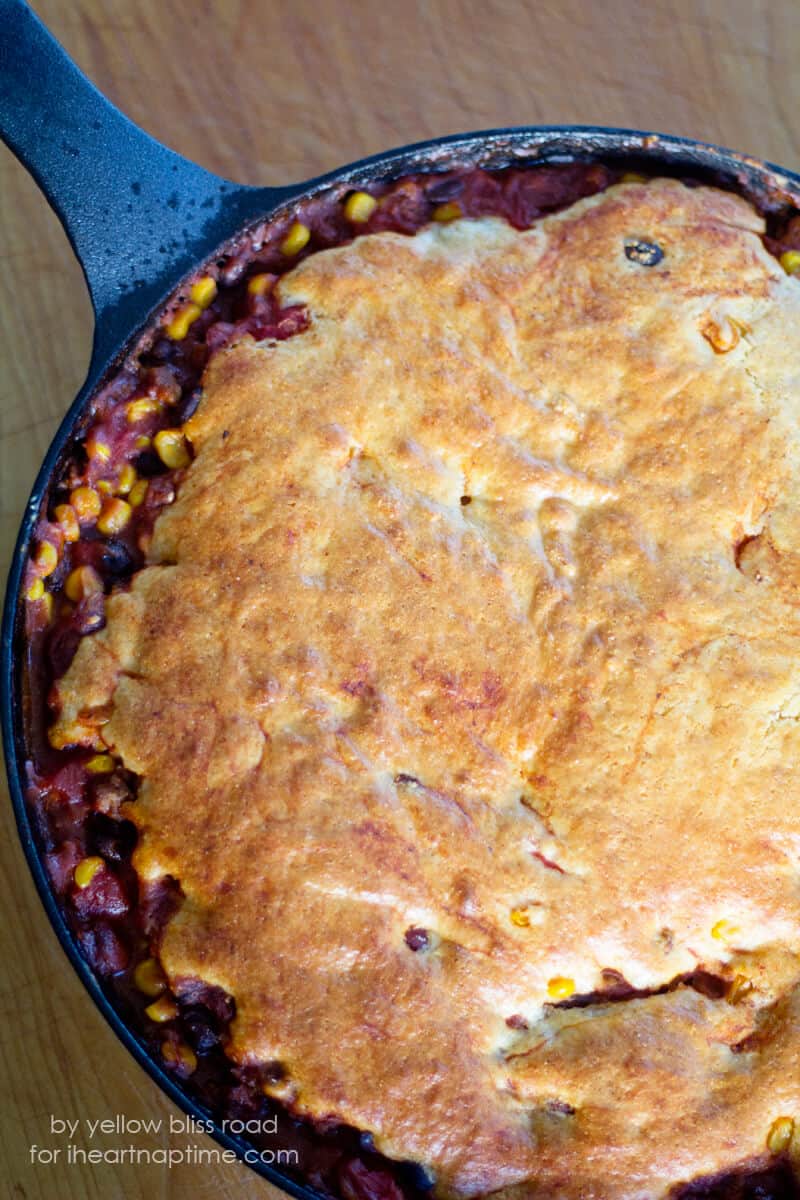 The beauty of tihe dish is you can carry the skillet right to the table and serve family style. Enjoy!
Find more simple and delicious one pan meals, like my Cheesy Sausage Pasta Skillet or One Pan Green Chile Chicken Enchiladas, at Yellow Bliss Road!


Join in! Leave a comment!
Comments