This chili and cornbread skillet is a comforting and flavorful dish made all in one pan. The cornbread is cooked right on top of the chili, adding a hearty layer of deliciousness!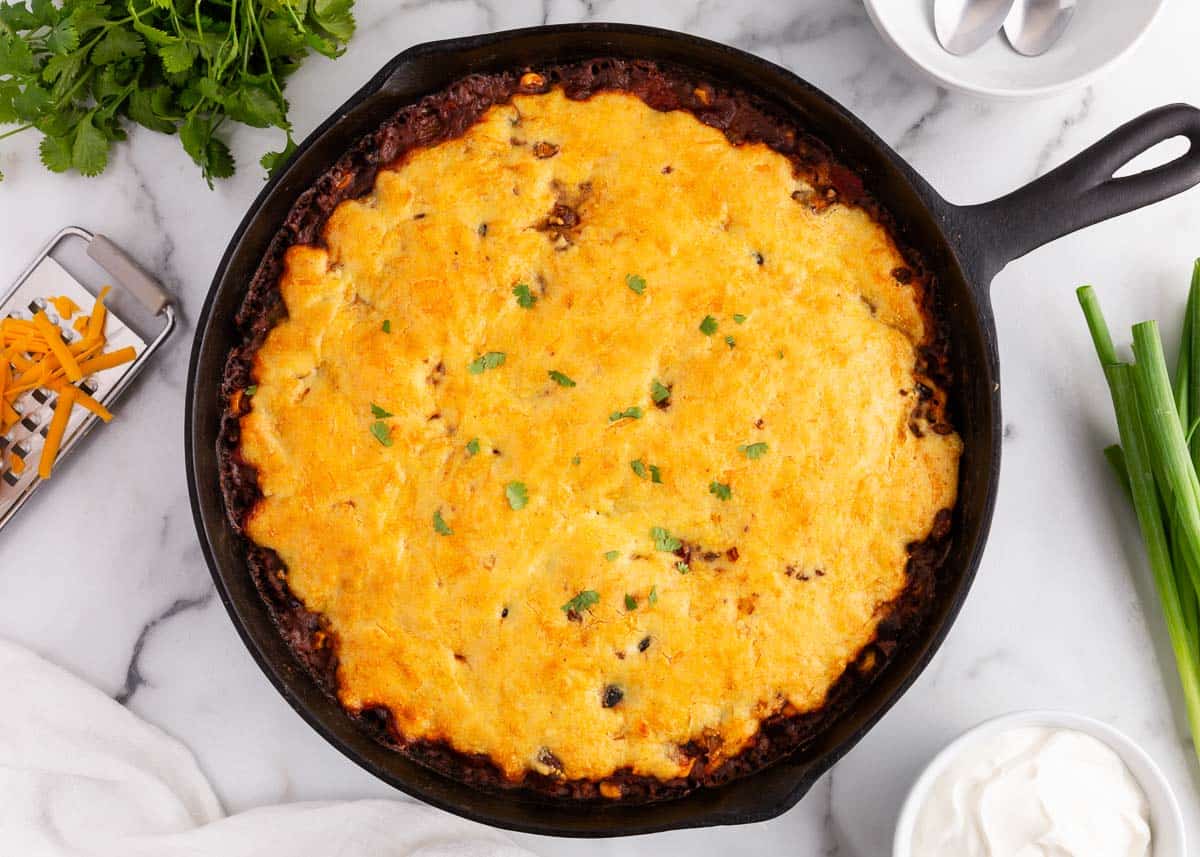 Homemade Chili with Cornbread Topping
I just got myself a cast iron skillet and I knew this chili with cornbread topping would be the perfect dish to break it in! I rarely make my homemade chili or this Wendy's chili recipe without my skillet cornbread recipe or cornbread muffins, so what better way to enjoy them than combining the two?
This recipe is the perfect comfort meal for a cool fall evening just like my recipe for frito pie or goulash recipe! The best part is that it all cooks in one pan. The beauty of this chili cornbread dish is you can carry the skillet right to the table and serve family style.
There are several ways to personalize this dish to your own tastes. This black bean and corn version is definitely my family's favorite way to enjoy our favorite chili, but feel free to add in any extras! You can even make a turkey chili or use this simple 3-ingredient chili recipe to make it even easier.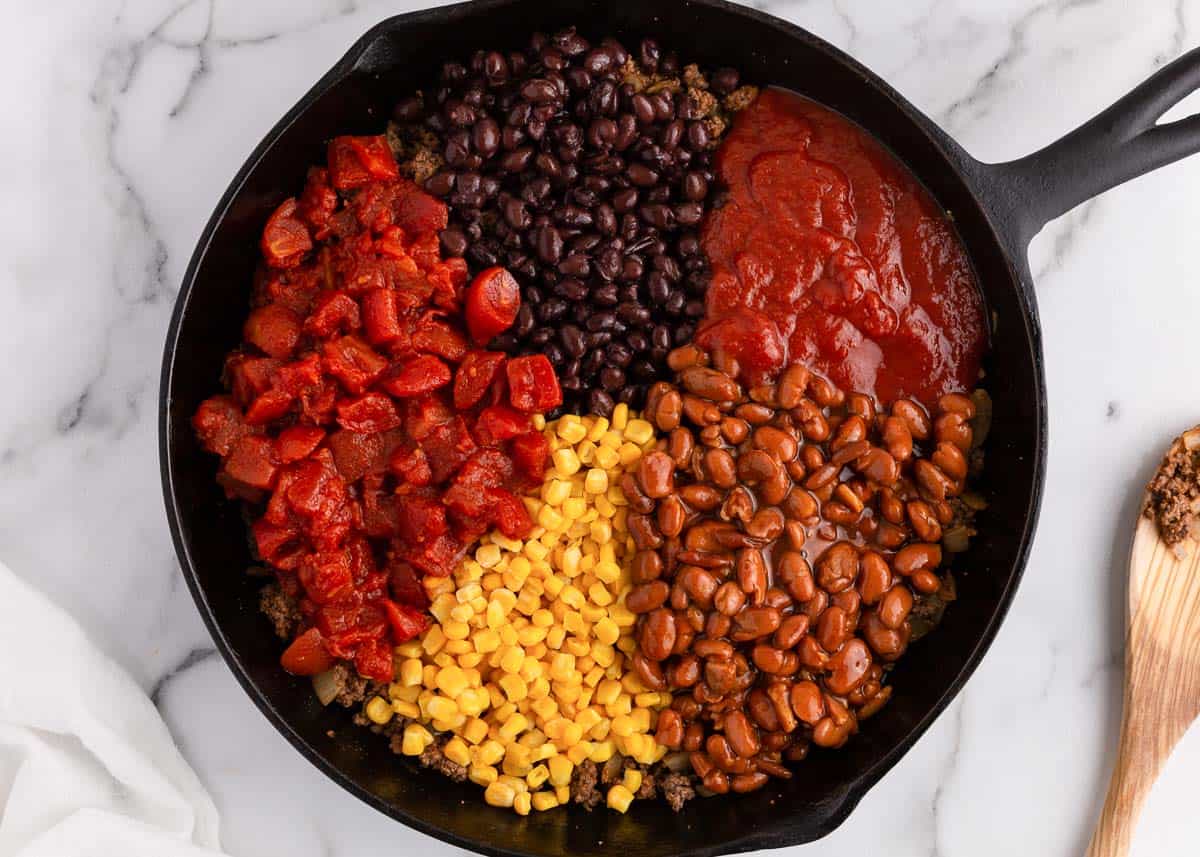 Type of Skillet to Use
To get started, you'll need a 12-inch, oven-safe skillet. I prefer a cast iron skillet because it distributes the heat more evenly. However you can really use any type of skillet, just make sure it's oven safe up to 400°F.
No skillet?
No problem! This recipe works just as well in a 9×11″ casserole dish. Simply prepare the chili as directed, then pour into the casserole dish and spread the cornbread batter on top.
Cooking Tips
Baking sheet. Place the skillet on a baking sheet before transferring to the oven. If there is anything that overflows, the sheet will catch it. Less mess for your oven!
Cornbread topping. As you are dropping the cornbread batter over the chili, gently spread the mixture around so it doesn't all settle in one spot and you can get an even crust. Depending on the size and depth of your pan, take the batter as close to the edges as possible.
Let rest. After removing the dish from the oven, let the skillet rest for about 5 to 10 minutes before serving. This will give the cornbread time to set.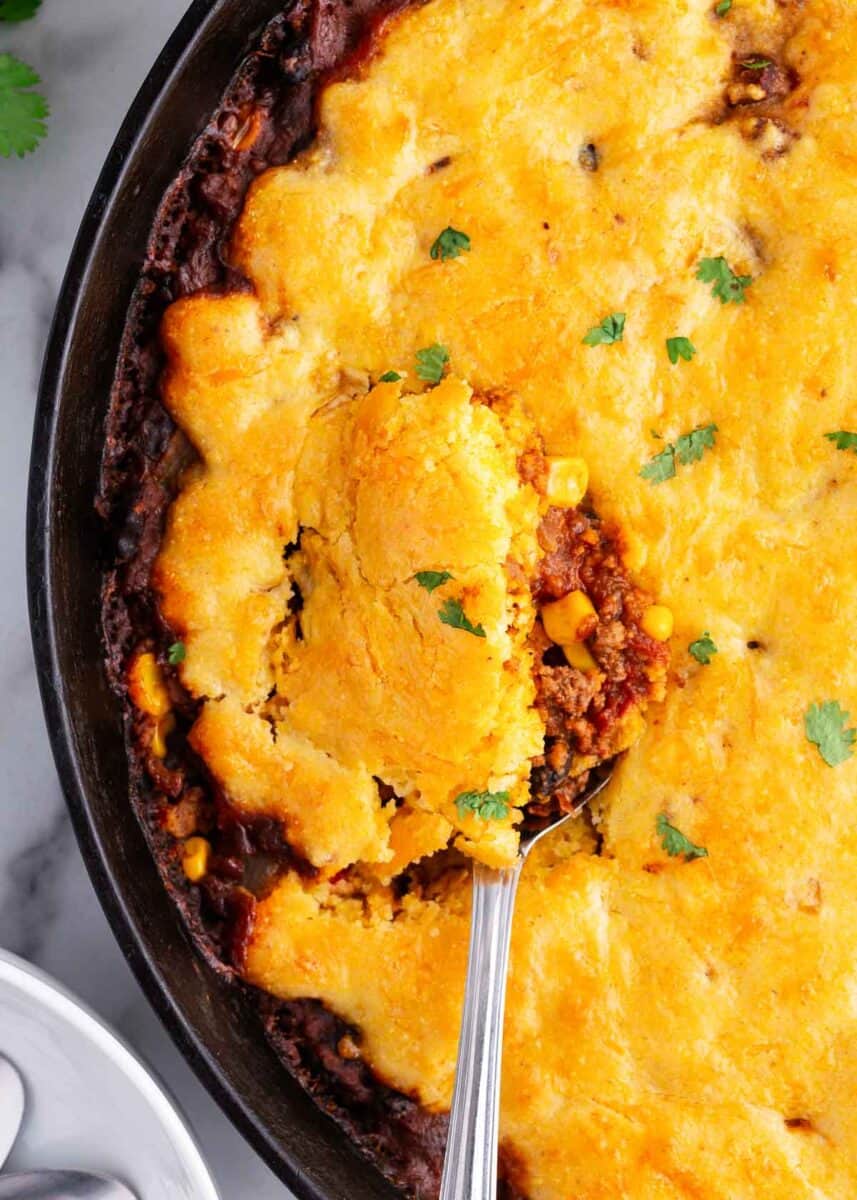 Customize Your Chili Cornbread
Meat. Swap the beef for ground turkey, or use a mixture of half and half.
Homemade cornbread. While a box of Jiffy works great, this recipe would also taste delicious with homemade cornbread. This Mexican cornbread and sweet cornbread are my favorites.
Spice. To ramp up the heat, add a teaspoon or two of chili powder or a dash of red pepper flakes.
Toppings. Finish off your bowl of chili cornbread with sour cream, onions and shredded cheddar if desired.
Making in Advance
Feel free to prepare the homemade chili up to 2 days in advance. I happen to think day old chili tastes even better because the flavors have time to meld together in the fridge. Then when ready to prepare this dish, mix together the cornbread and add on top right before baking in the oven.
Storing + Reheating
This chili and cornbread dish will stay fresh in the fridge for up to 3 days. I recommend reheating any leftovers in the oven, so that the cornbread topping has a chance to crisp up again before serving.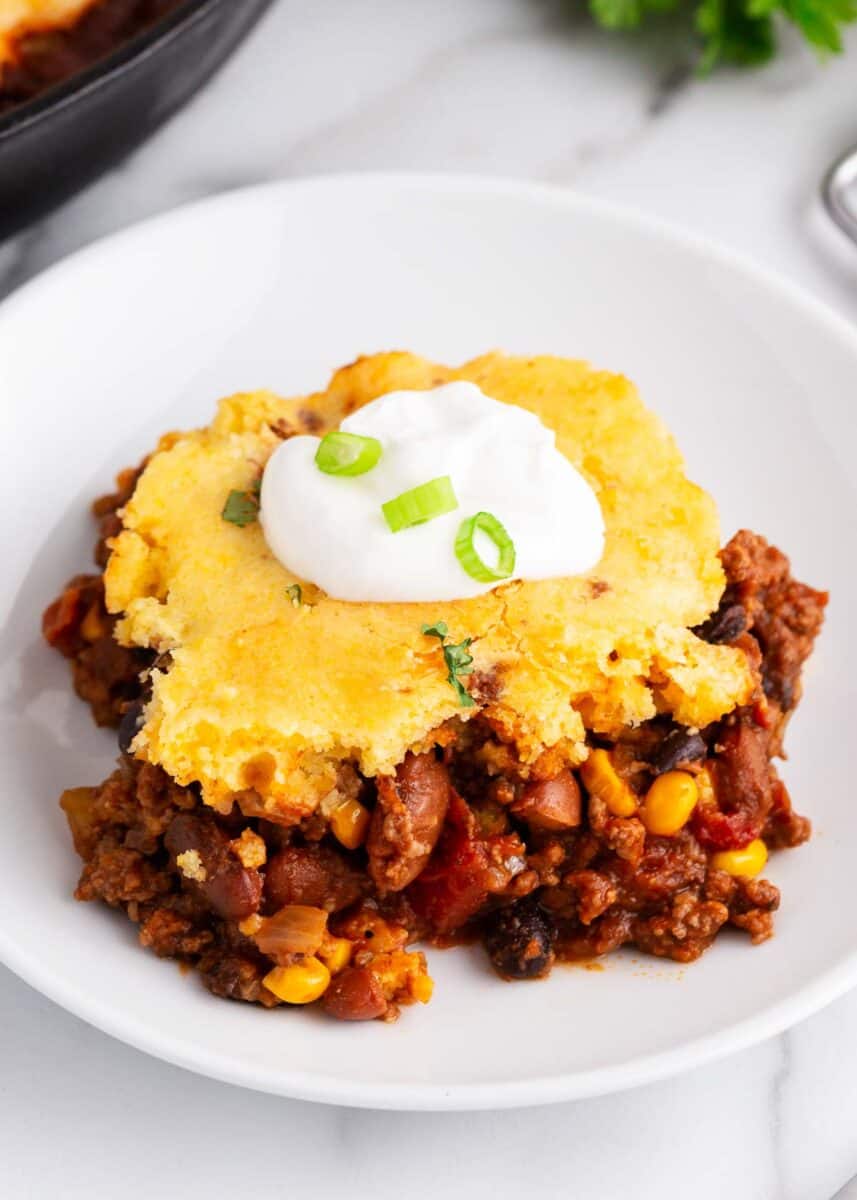 More Hearty Dinner Recipes:
HUNGRY FOR MORE? Subscribe to my newsletter and follow on Facebook, Pinterest and Instagram for all the newest recipes!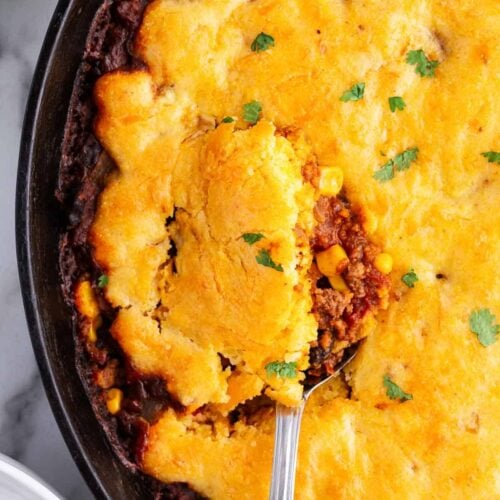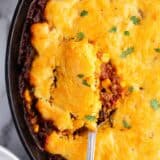 Chili and Cornbread Skillet
This chili and cornbread skillet is a comforting and flavorful dish made all in one pan. The cornbread is cooked right on top of the chili, adding a hearty layer of deliciousness!
Ingredients
1 pound ground beef
1 small onion , diced
1 teaspoon Kosher salt , to taste
2 teaspoons chili powder , more to taste
15 ounce can black beans , drained
15 ounce can chili or pinto beans
15 ounce can chili seasoned tomatoes , or diced
1 cup frozen corn
8 ounce can tomato sauce
8.5 ounce cornbread mix , plus ingredients on the box
½ to 1 cup shredded sharp cheddar cheese , plus some for garnish
For serving: sour cream, cilantro, green onions
Instructions
Preheat the oven to 400°F. In a 12″ oven-safe skillet, cook ground beef and onions until no longer pink. Drain. Season with salt, pepper and chili powder.

Add black beans, tomatoes, chili beans, corn and tomato sauce. Stir together and bring to a low boil. Simmer for ten minutes. Taste and season with more salt and pepper to taste. If you want an extra kick of spice, add 1-2 teaspoons more of chili powder.

While the chili is simmering, mix up the cornbread using the box mix plus the ingredients it calls for. Add the 1/2 to 1 cup of shredded cheddar and gently stir just enough to incorporate.

Remove chili from heat and drop cornbread batter by spoonfuls over the chili, gently spreading to the edges.

Place the skillet onto a baking sheet (to prevent overflow). Bake in the preheated oven for about 20 minutes, or until the top is nice and golden brown.

Allow skillet to rest about 5 minutes before serving. Then scoop onto plates. Top with sour cream and chives if desired.
---
Notes
Storage: Store in a sealed covered container for up to 3 days.
Make ahead instructions: You can make the chili 1-2 days in advance. I would recommend making the cornbread and adding right before baking.
No skillet? You could also use an 9×11″ casserole dish.
Cornbread: You can use a premade box like Jiffy or use my savory homemade cornbread mix.
Nutrition
Calories: 563kcal | Carbohydrates: 72g | Protein: 33g | Fat: 17g | Saturated Fat: 7g | Polyunsaturated Fat: 2g | Monounsaturated Fat: 7g | Trans Fat: 1g | Cholesterol: 60mg | Sodium: 1312mg | Potassium: 1238mg | Fiber: 17g | Sugar: 13g | Vitamin A: 1097IU | Vitamin C: 18mg | Calcium: 177mg | Iron: 7mg
Nutrition provided is an estimate. It will vary based on specific ingredients used.
Did you make this recipe? Don't forget to give it a star rating below!