Soft and moist pumpkin bundt cake topped with a rich cream cheese frosting. This easy and delicious cake makes a great fall dessert!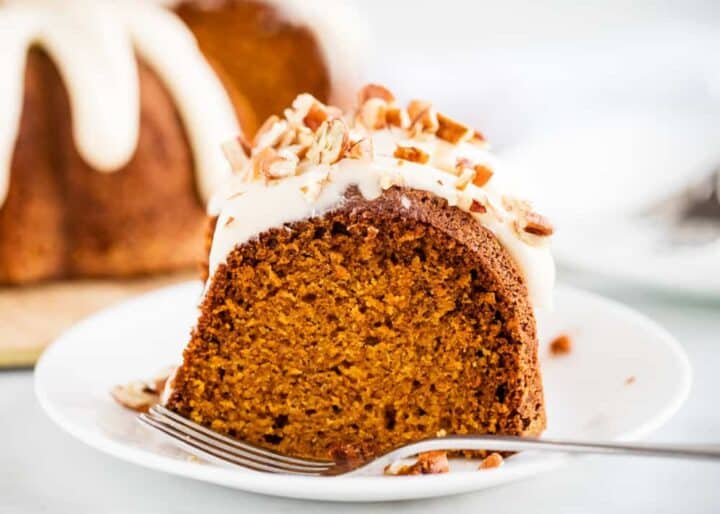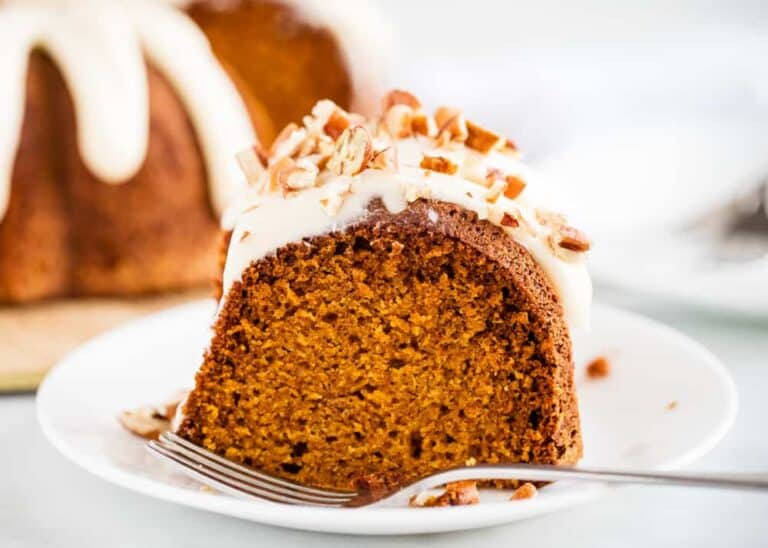 Pumpkin Spice Bundt Cake
One of my family's favorite fall traditions is to go to the pumpkin patch. I still remember going with my family as a little girl and it is one of my favorite memories. We always have so much fun picking out pumpkins and enjoying pumpkin donuts and apple cider.
Since fall is right around the corner, I was in the mood to do a little pumpkin baking. This pumpkin bundt cake was the first pumpkin recipe of the season. And I'm sure there will be many more, because I love pumpkin! YUM!
It's super moist and soft, with delicious pumpkin spice flavor. Plus, it's topped with a creamy and rich cream cheese frosting that makes the perfect compliment. Seriously amazing!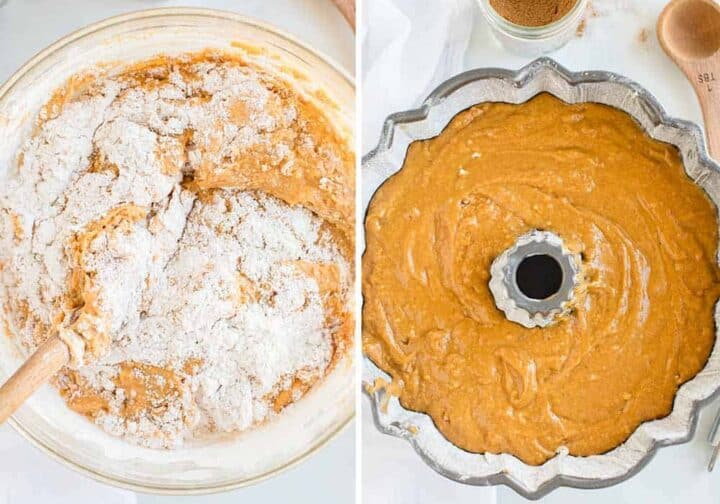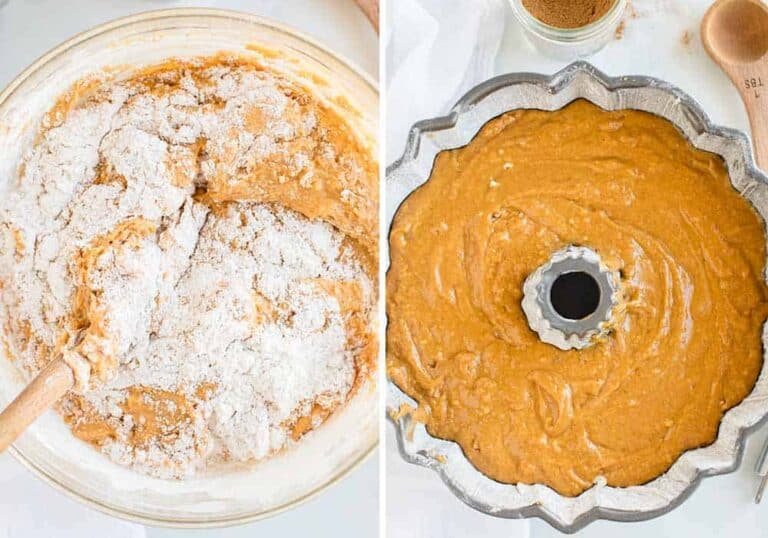 Baking Tips
Generously butter the pan. This is super important! Make sure to generously butter the entire bundt pan (even in the creases). I also like to dust the pan with flour after greasing it. This helps keep the cake from getting stuck in the pan.
Don't overmix. Mix the batter just until combined so that the cake stays soft and fluffy. Overmixing can lead to a chewy and dense texture.
Let cool before removing from pan. Once you remove the cake from the oven, wait about 10 to 15 minutes before removing it from the pan. It needs to cool a bit in order for it to come out whole. Then once it's had time to cool, simply place the cooling rack on top of the pan and flip it over.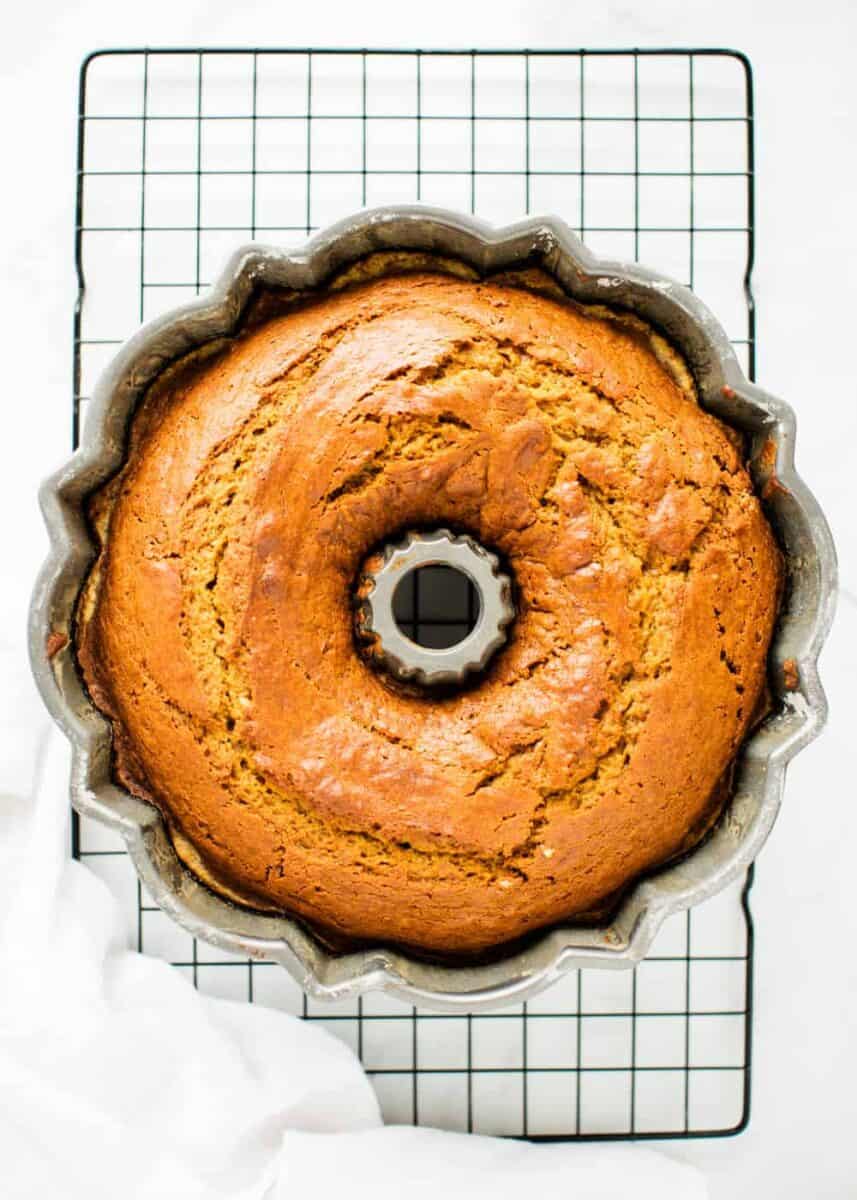 Bundt Cake Toppings
There are many toppings that taste delicious with pumpkin bundt cake. My personal favorite is cream cheese frosting, but I've also used salted caramel sauce and maple frosting. All are absolutely delicious!
Powdered sugar
Crushed nuts
Sprinkles
Perfect Frosting Consistency
You want the frosting to have a drippier consistency than regular cream cheese frosting does. It should be more like a cream cheese glaze. To give it this texture, simply add a few more Tablespoons of milk or cream. I'd recommend adding 1 Tablespoon at a time until the frosting has the perfect drippy consistency (usually about 1/4 cup total).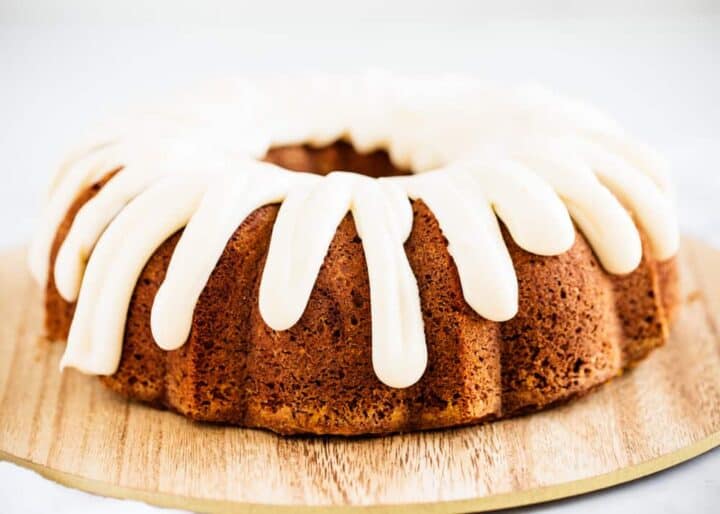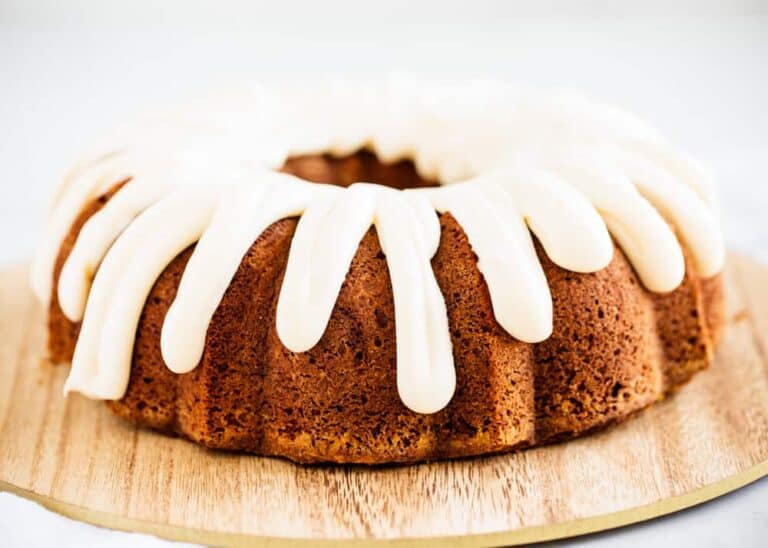 Recipe FAQs
How do I know when bundt cake is done baking?
There are a few ways to check your bundt cake for doneness! Insert a toothpick into the center. It should come out moist with a crew crumbs. You can also touch the top of the cake. It should feel springy to the touch and not make an indent. You can also visually see the cake start to pull away from the sides of the pan.
Can I use pumpkin pie filling?
No. Pumpkin pie filling contains added ingredients and spices which will offset the balance of this pumpkin bundt cake recipe. Buy canned pumpkin or you can make your own homemade pumpkin puree.
Can pumpkin bundt cake be made ahead?
Yes. Bake cake and cool completely. Store cake covered in the refrigerator up to two days. Bring to room temperature before adding any frosting or glaze.
Can I freeze this cake?
Yes, but it it best to freeze it without any frosting. Cool your unfrosted cake completely then wrap in plastic wrap and store frozen up to 3 months. Thaw in the refrigerator and bring to room temperature before adding any frosting or glaze to the top.
Mini Pumpkin Bundt Cakes
This recipe is also great for making mini pumpkin bundt cakes. Simply use a mini bundt cake pan and bake for about 18-20 minutes, or until a toothpick comes out clean. The recipe will make 18 minis.
TIP: This ziplock bag trick will save you if making the mini version! All you do is pour the batter in a ziplock bag and then cut of the tip. It makes it super easy to add the batter to the pans without making a huge mess. Trust me, I've been there!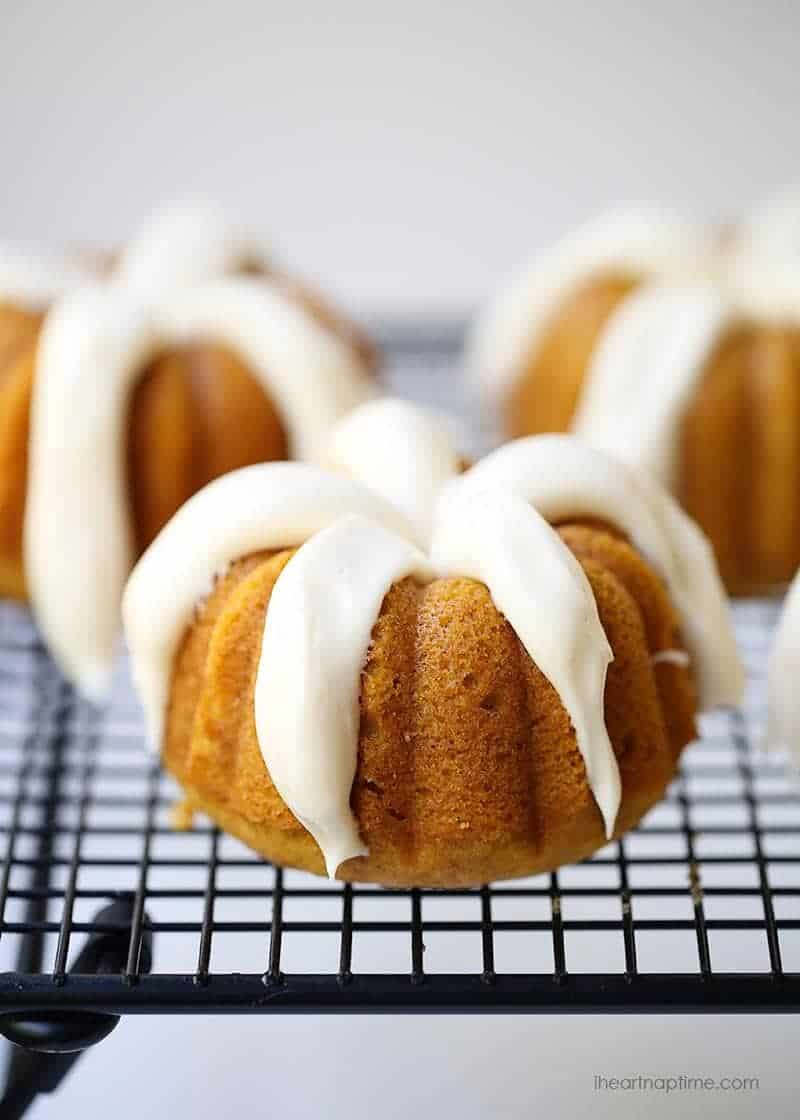 More Delicious Pumpkin Desserts:
HUNGRY FOR MORE? Subscribe to my newsletter and follow on Facebook, Pinterest and Instagram for all the newest recipes!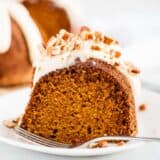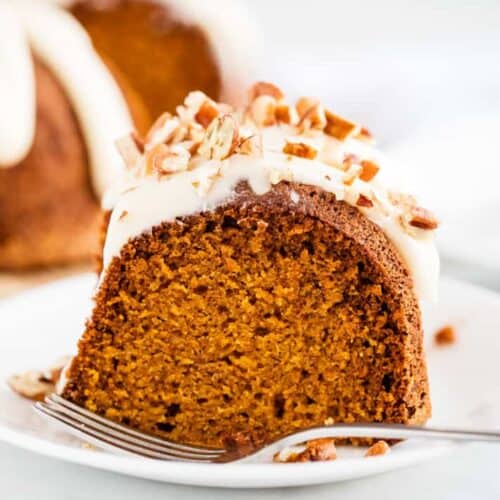 Pumpkin Bundt Cake
Soft and moist pumpkin bundt cake topped with a rich cream cheese frosting. This easy and delicious cake makes a great fall dessert!
Ingredients
3 cups all-purpose flour
1 ½ cups granulated sugar
½ cup light brown sugar , packed
2 teaspoons baking soda
1 Tablespoon pumpkin pie spice
½ teaspoon Kosher salt
3 large eggs
2 teaspoons vanilla extract
15 ounce can pumpkin
1 cup vegetable oil
½ cup sour cream
Optional mix-in: 3/4 cup chocolate chips
Optional toppings: powdered sugar, cream cheese frosting, caramel sauce, chopped nuts
Instructions
Preheat oven to 350°F. Butter a bundt cake pan very well in all the creases and then dust with flour. In a bowl, whisk together flour, sugar, brown sugar, baking soda, pumpkin spice and salt.

In a separate bowl, whisk the eggs and vanilla until just combined. Then stir in pumpkin, vegetable oil and sour cream.

Slowly add flour mixture to wet mixture and stir until just combined. Add chocolate chips if desired. Then pour the batter into the prepared bundt pan.

Bake for 50-60 minutes, or until a toothpick comes clean. Don't let it overcook. Let the cake cool for 10-15 minutes in the pan and then place the cooling rack on top of it and flip over. Let cool completely.

When ready to serve, enjoy plain, add cream cheese frosting or drizzle with salted caramel sauce.
---
Notes
This recipe also makes 18 mini pumpkin bundt cakes. Bake for 18­-20 minutes if using mini bundt cake pans.
If using my cream cheese frosting recipe to top your cake, you will likely need to add a few more Tablespoons of milk or heavy cream so that it turns into a drippier frosting that will coat the bundt cake. I like to add a Tablespoon at a time until the desired consistency is met (usually about 1/4 cup total).
Nutrition
Serving: 1piece | Calories: 303kcal | Carbohydrates: 41g | Protein: 4g | Fat: 14g | Saturated Fat: 11g | Cholesterol: 34mg | Sodium: 207mg | Potassium: 102mg | Fiber: 1g | Sugar: 24g | Vitamin A: 3762IU | Vitamin C: 1mg | Calcium: 28mg | Iron: 2mg
Nutrition provided is an estimate. It will vary based on specific ingredients used.
Did you make this recipe? Don't forget to give it a star rating below!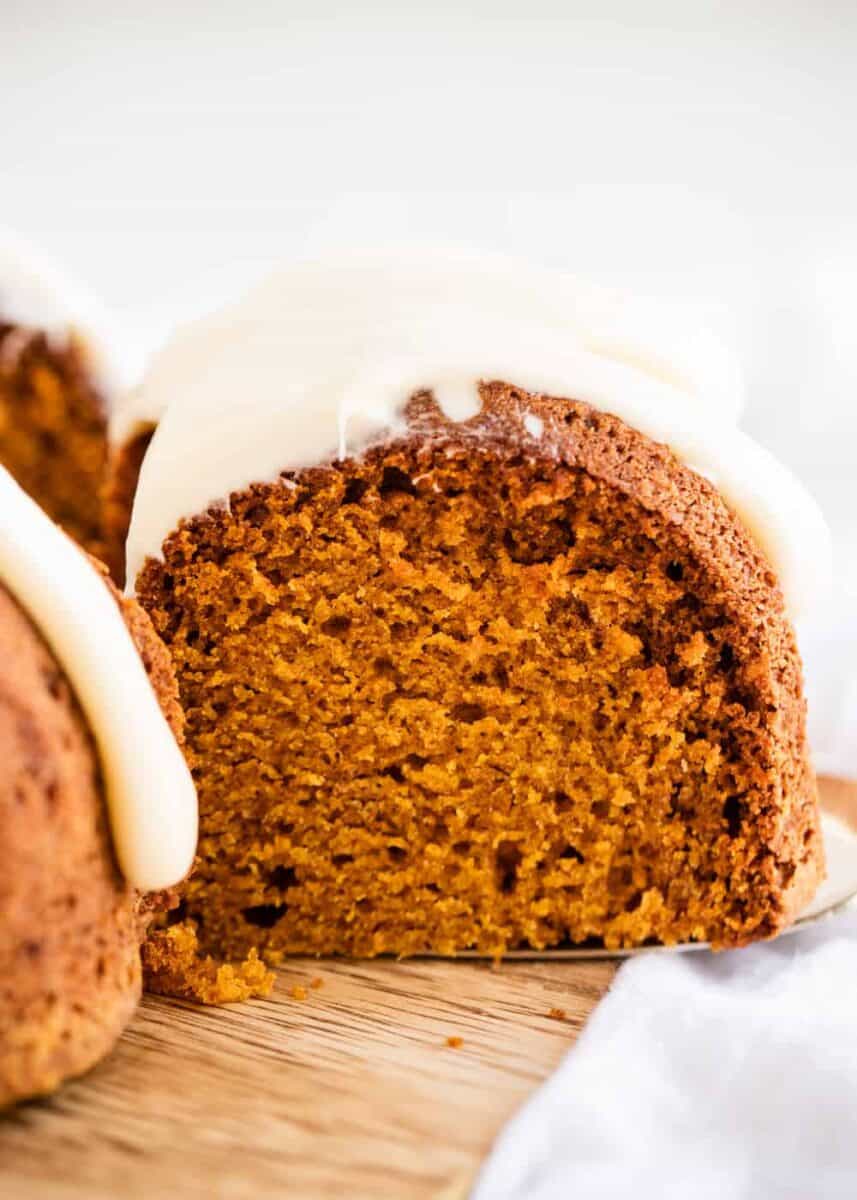 Yum!! Enjoy!!