Soft and fluffy rice with tons of flavor. This easy rice pilaf will become one of your favorite side dish recipes!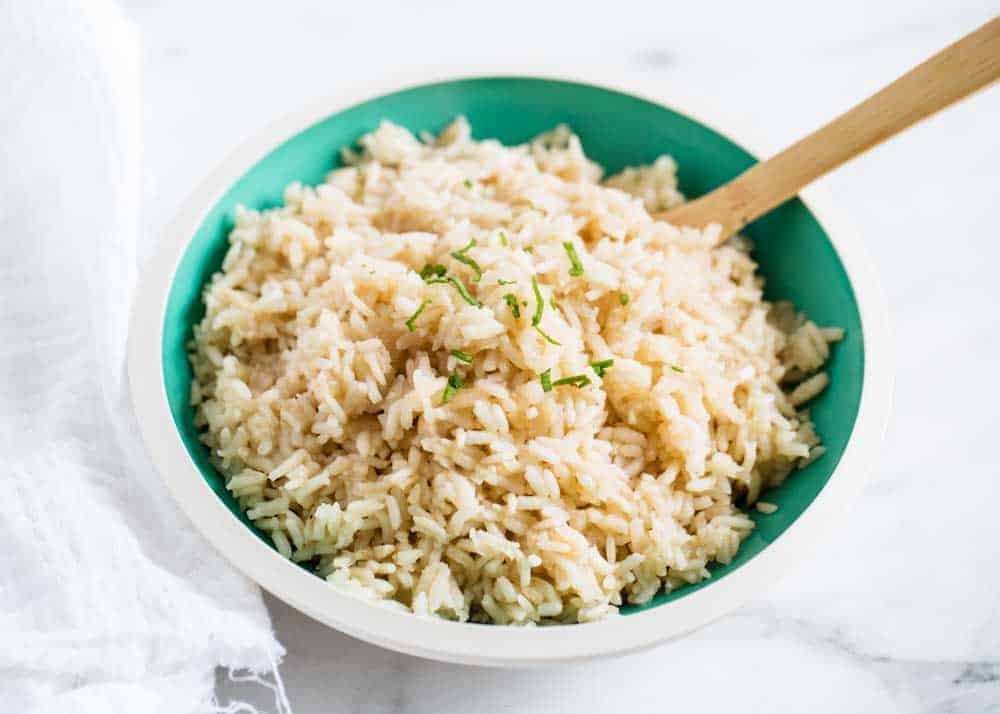 Flavorful Fluffy Rice
Rice pilaf has to be hands down one of the best rice recipes out there! It has amazing flavor and is super soft and fluffy. Plus it's really easy to whip up, so we usually end up making it several times a month.
Say no more to box rice mixes with extra preservatives and sodium. This easy rice pilaf is made totally from scratch, which means you can control what goes into it. You only need a handful of ingredients to get started and it's seriously just as simple as making the boxed rice.
Whether you're pairing it with steak, chicken, fish or pork, you can't go wrong. This delicious side dish goes with just about anything. It's definitely a family favorite and is on rotation quite often at our house!
What is the Difference Between Rice and Pilaf?
Regular white rice isn't typically flavored and is usually cooked with water. Pilaf cooks in chicken broth (and other aromatics like onions and garlic) to create a more flavorful and seasoned dish.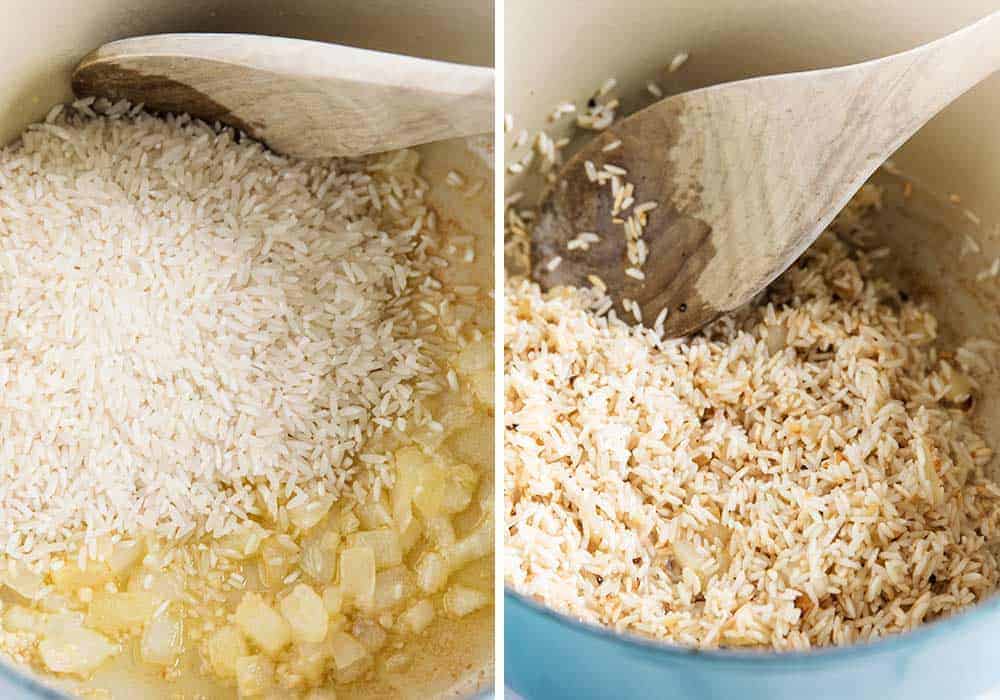 What Rice to Use for Pilaf?
I recommend using long grain rice to make pilaf. Both jasmine or basmati will work. Long grain holds it's shape very well after cooking and is great to use when cooking with broths or sauces. I love to use it because it doesn't clump or get overly fluffy like some of the other variations.
Cooking Tips
Rinse beforehand. Before cooking, use a fine mesh strainer to rinse the rice with cold water until the water runs clear. This removes extra starch so that the rice isn't too sticky once cooked.
Toast in pan. Before covering the pan with the lid, toast the rice in the pan with the butter and spices until it turns a nice golden color. This helps enhance both the flavor and texture. Just keep stirring so that it doesn't burn!
No peaking. After the lid goes on, there's absolutely no peaking! The goal is to keep the steam trapped so that the rice gets tender and doesn't stick to the bottom of the pan.
Fluff with fork. After it has cooked, don't forget to gently fluff the rice with a fork to help evaporate any excess moisture and break up any lumps.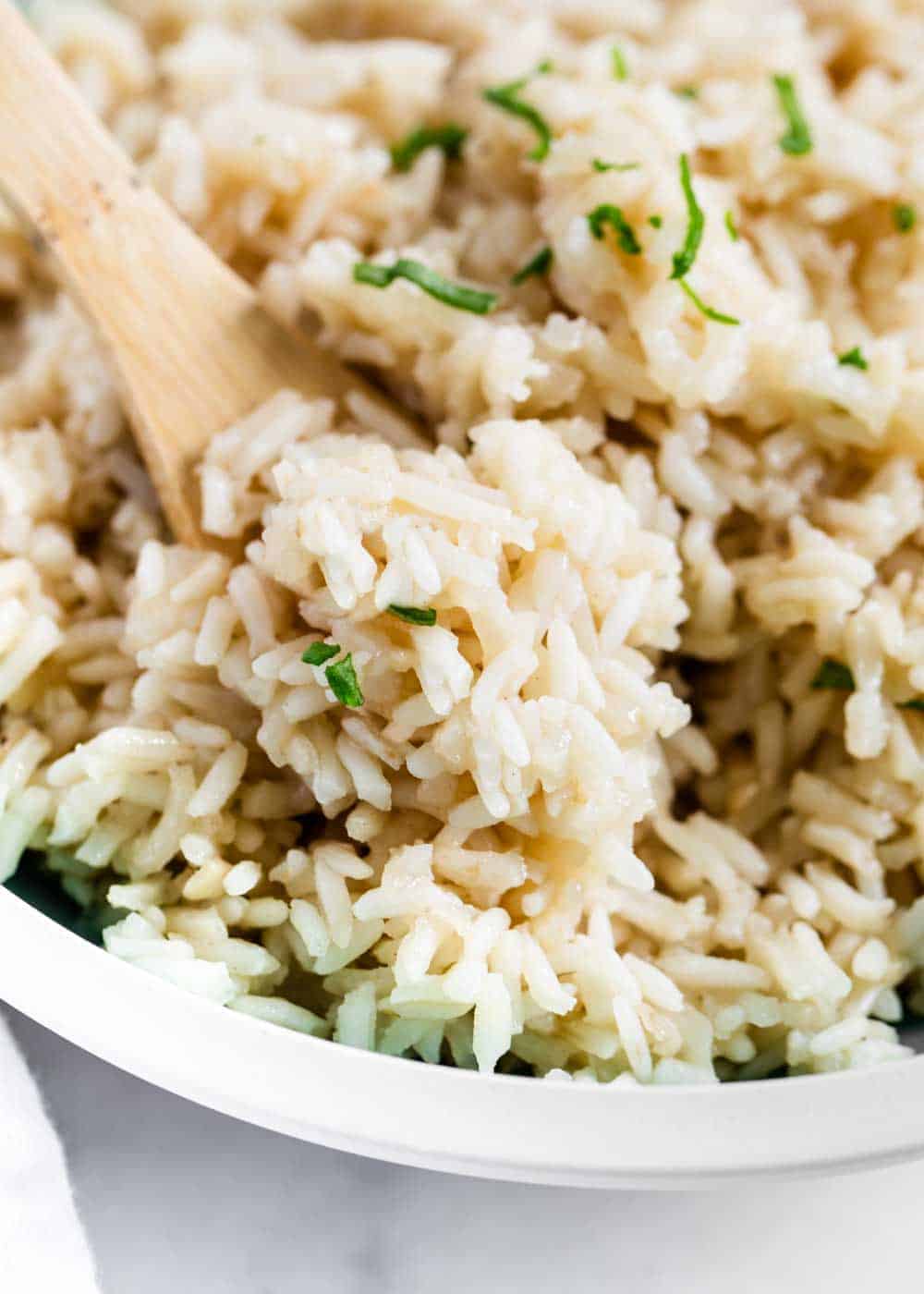 Extras to Add In
Although this dish is definitely not lacking in flavor, there are plenty of simple ways to enhance the taste and texture even more.
Veggies: Sneak in extra vegetables when sautéing the onions. A few delicious options would be chopped bell pepper, celery, carrots, mushrooms and peas.
Almonds. Mixing in sliced almonds is a great way to add some crunch to this dish. I'd recommend toasting the almonds first for even more flavor.
Chicken. Turn this side into a main meal by mixing in some cooked rotisserie chicken right before serving. It's an easier take on the classic chicken and rice!
Garlic herb butter. The addition of fresh herbs like rosemary or thyme to your butter is an easy and delicious way to boost the flavor up a notch.
How Long Will it Last in the Fridge?
Pilaf will keep in the refrigerator for about 3-4 days. Just make sure to store in an airtight container. You can also freeze it if you have extras. Let cool completely then add to freezer bag and store in the freezer for up to 3 months.
To reheat, I'd recommend adding the leftovers to a saucepan with a couple of Tablespoons of chicken broth (so it doesn't dry out). Then cover with lid and cook on low, stirring occasionally until warm.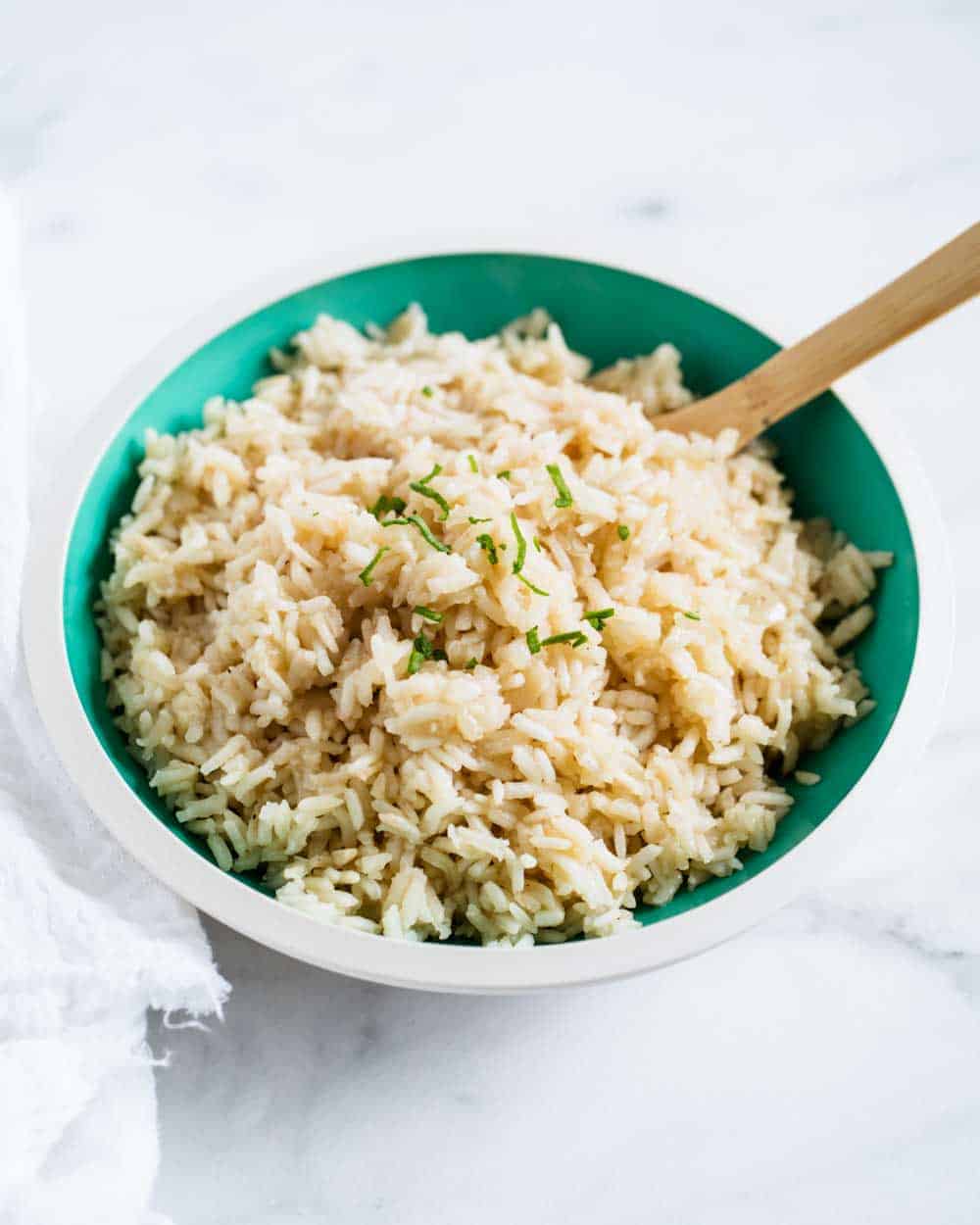 Main Dishes to Serve With:
HUNGRY FOR MORE? Subscribe to my newsletter and follow on Facebook, Pinterest and Instagram for all the newest recipes!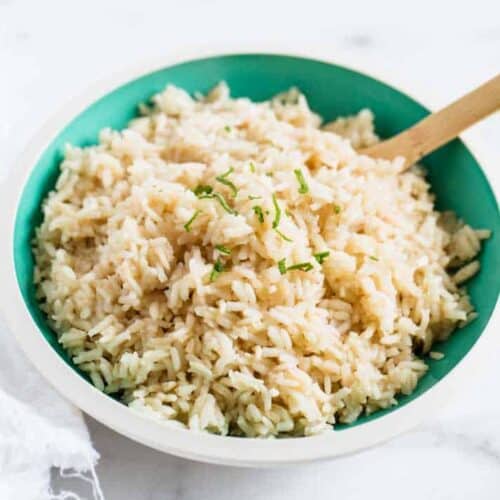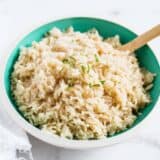 Rice Pilaf
Soft and fluffy rice with tons of flavor. This easy rice pilaf will become one of your favorite side dish recipes!
Ingredients
2 Tablespoons butter
¼ cup onion , finely chopped
1 clove garlic , minced
1 cup long grain rice
15 ounce can chicken broth , or vegetable broth
½ teaspoon Kosher salt
¼ teaspoon pepper
Instructions
In a pot, melt the butter over medium heat. Add in onions and cook until lightly browned. Next add in the minced garlic and rice. Cook for 3 minutes, or until the rice has turned golden brown. Stir often, don't let it burn.

Pour in chicken broth, S&P and bring to a slight boil. Once at a boil, turn the heat to low and cover the pan with a lid. Cook for 15-20 minutes, or until rice is tender.

Fluff with a fork. S&P to taste and enjoy!
---
Notes
Note: You can also add in chopped bell pepper, celery, carrots or peas along with the onions.
Nutrition
Calories: 153kcal | Carbohydrates: 25g | Protein: 2g | Fat: 4g | Saturated Fat: 2g | Cholesterol: 10mg | Sodium: 488mg | Potassium: 101mg | Vitamin A: 115IU | Vitamin C: 5.6mg | Calcium: 13mg | Iron: 0.4mg
Nutrition provided is an estimate. It will vary based on specific ingredients used.
Did you make this recipe? Don't forget to give it a star rating below!