All the flavors of the classic holiday drink staple in a delicious cookie! These eggnog cookies are the perfect treat to bring to holiday parties this year.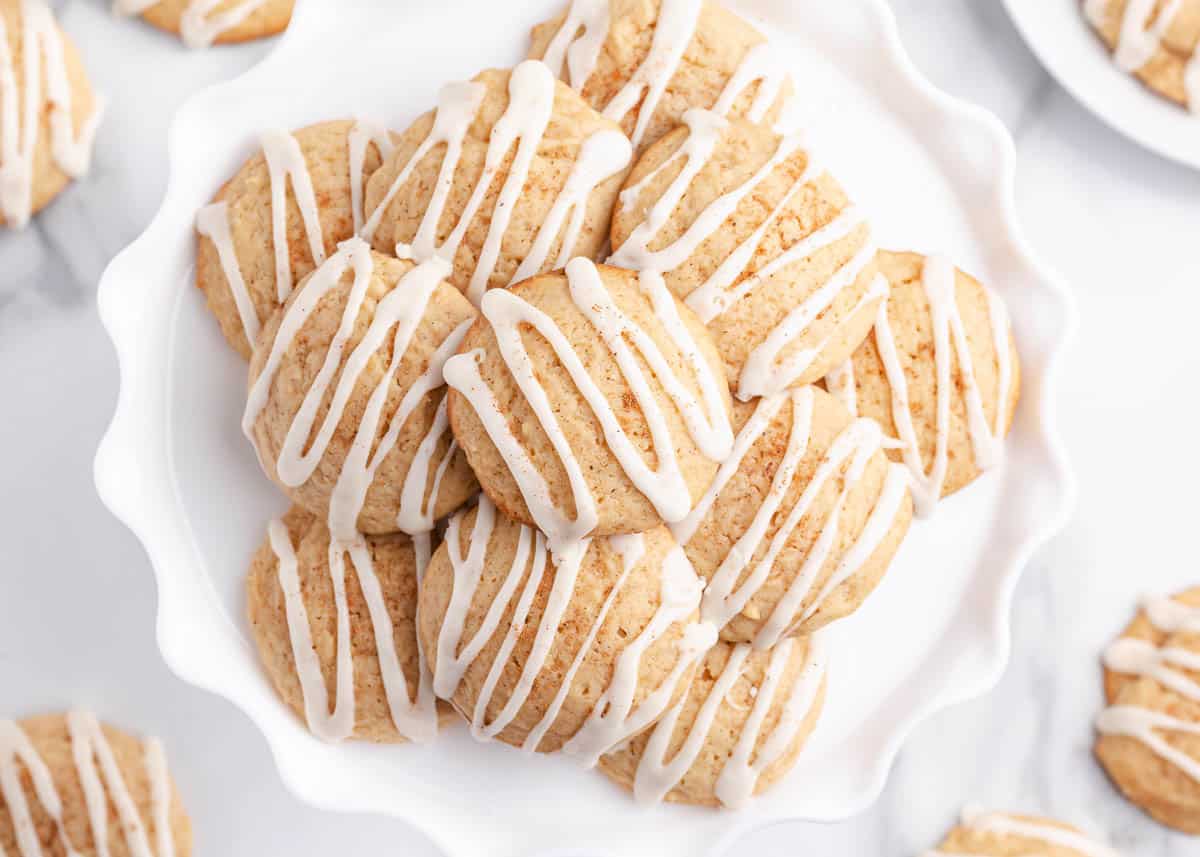 Holiday Cookies with Eggnog
One thing that's always at the top of my list around Christmas is getting to make eggnog-flavored everything. I love the flavor, and if you feel the same, you'd love this eggnog fudge, eggnog pie and eggnog French toast too.
I love to make these cooking using my favorite homemade eggnog recipe! It's perfect to make the morning after a party or an event with the eggnog leftovers, too.
If you are a fellow eggnog lover, you are going to adore this cookie recipe. The flavor is so nostalgic to me—every time I have one of these cookies I'm reminded of my grandmother. I still remember drinking "frozen eggnog" at her house every year during Christmas.
These eggnog cookies are extra soft and have that classic eggnog flavor in every bite. Plus, the eggnog flavor is even laced throughout the powdered sugar icing—it's absolutely incredible! They are the perfect Christmas cookies to enjoy this season along with other classics like snickerdoodles and ginger molasses cookies.
What Does Eggnog Taste Like?
Eggnog is one of those flavors that you either love or hate. It's almost like a melted ice cream that's heavy on the vanilla with notes of cinnamon and nutmeg. Traditional eggnog is made with cream and eggs, so there's a depth to the flavor profile.
These cookies definitely have the same classic flavor, so if you aren't an eggnog fan, you might want to skip this one. However, I will say that my non-eggnog loving friend tried one of these and LOVED it. She even asked me for the recipe! So you may convert some people after all!
Recipe Ingredients
With just a few baking staples, some warm spices and this popular creamy holiday drink, you'll have eggnog cookies ready to add to your Christmas dessert board in no time!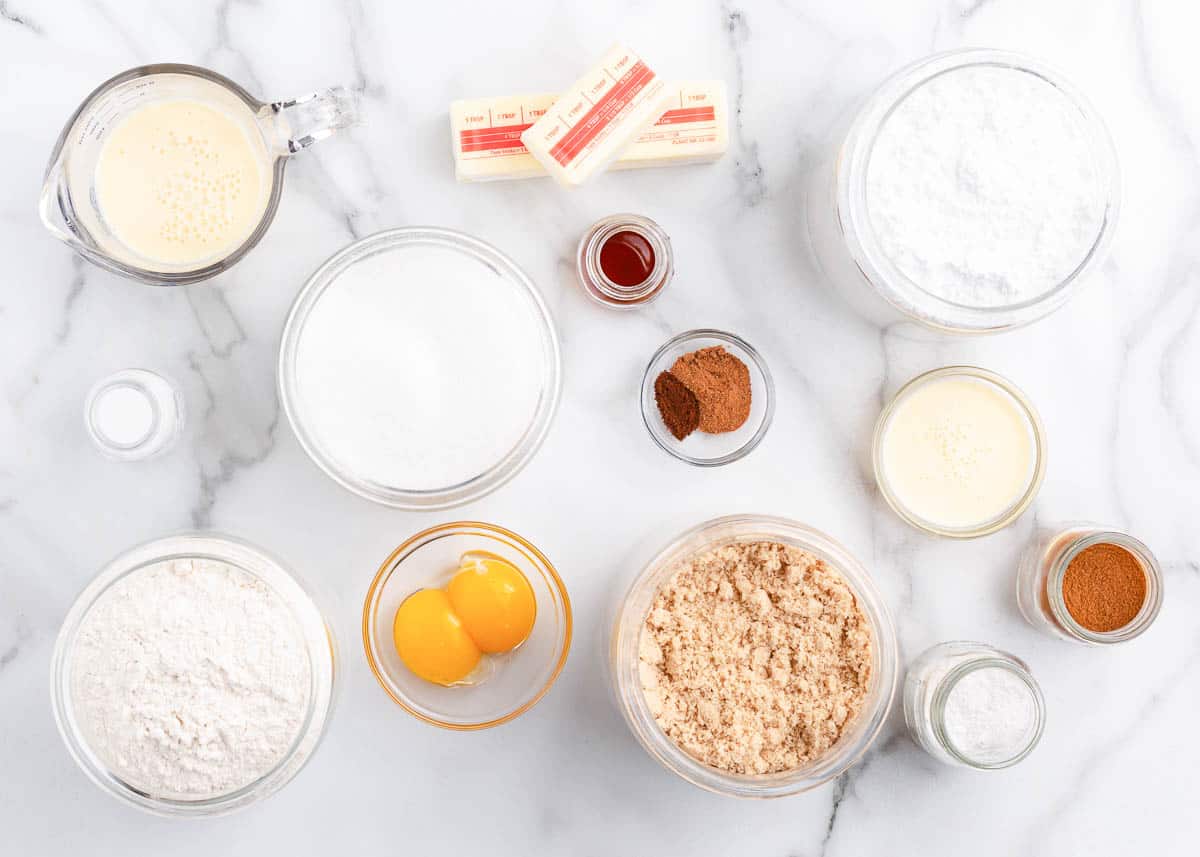 Find the full printable recipe with specific measurements below.
Baking staples: All-purpose flour, granulated sugar, brown sugar, butter, eggs, vanilla, baking powder and salt.
Eggnog: You can use whatever kind of eggnog you like to make these Christmas cookies. I usually just use whatever I have on hand since you only use just over a half cup. However Darigold eggnog is my favorite.
Spices: A mix of ground cinnamon, nutmeg and cloves add the perfect holiday warmth to these eggnog cookies.
Icing: An easy eggnog glaze made with just powdered sugar and eggnog. You can adjust the flavor to suit your flavor preferences by adding either more or less of each. It's meant to be drizzled over the top of the cookie, rather than fully covered by it. That's the best way to get a balanced flavor. Top it off with a shake of nutmeg and you've got the perfect eggnog cookie!
Variations
To enhance the eggnog flavor, try substituting the vanilla with rum extract instead. You can also sprinkle in more spices for a bolder taste or use other varieties like all-spice or cardamom.
A cream cheese glaze would also taste delicious drizzled over the tops, or you can even frost the entire cookie with a creamy eggnog frosting, classic buttercream or a tangy cream cheese frosting.
How to Make Eggnog Cookies
Ready in just 30 minutes from start to finish, this eggnog cookie recipe is the perfect holiday dessert to whip up when you're short on time!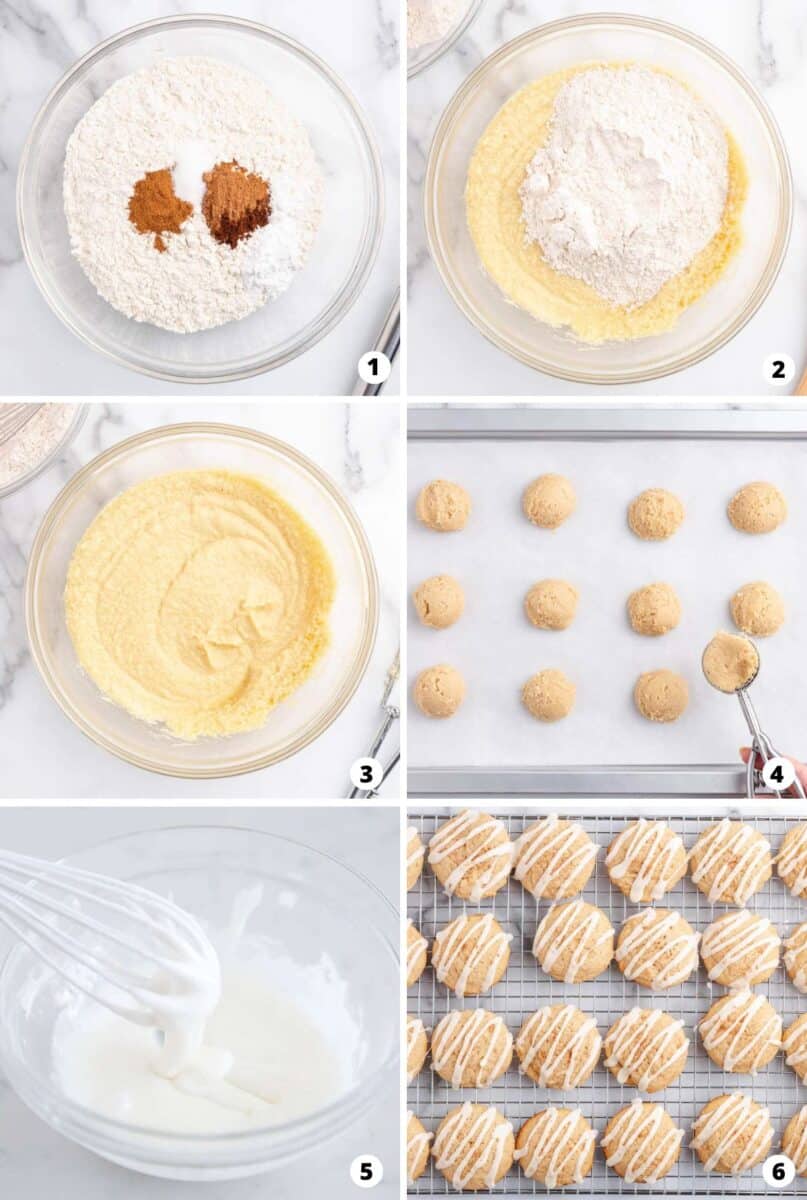 Dry ingredients. Start by whisking together the flour, baking powder, salt and spices.
Wet ingredients. In a separate bowl, cream together the butter and both sugars. Add the eggs (yolks only) and vanilla and mix until smooth. Then pour in the eggnog and beat until creamy.
Combine. Slowly add the dry ingredients in with the wet ingredients until combined. Then place the dough in the fridge to chill for at least 20 minutes.
Scoop. Use a cookie scoop or spoon to scoop the dough onto the baking sheet. Then bake at 350°F for about 15 to 20 minutes. You don't want to overbake these eggnog cookies…the bottoms should just be barely golden.
Icing. While the cookies cool, whisk together the powdered sugar and eggnog until it's smooth and drippy. Add more powdered sugar to thicken the consistency, or more eggnog to thin it out.
Drizzle. Use a spoon or piping bag to drizzle the icing on top of the cooled cookies. Then finish them off with a small sprinkle of nutmeg for good measure!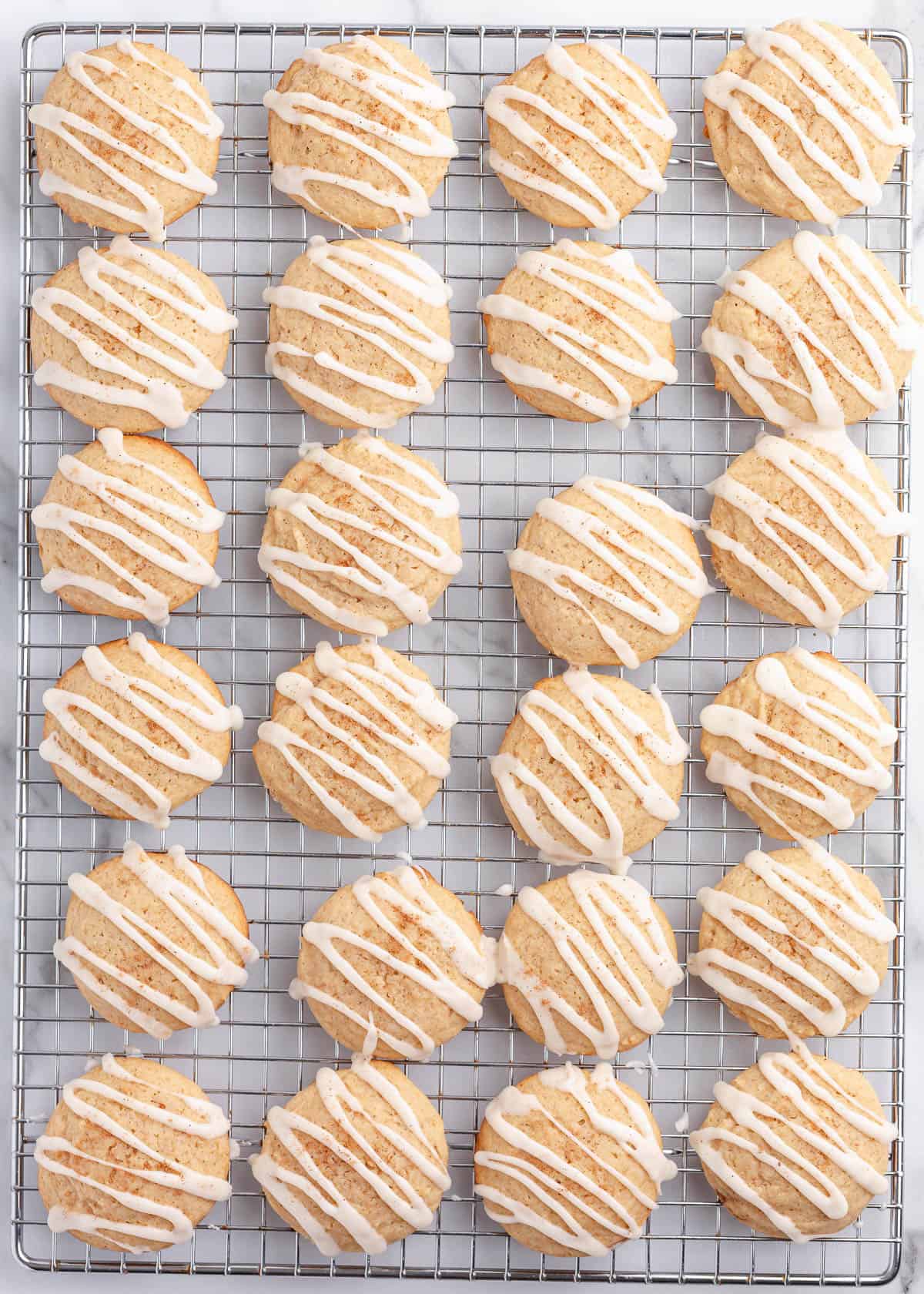 Expert Tips
No overbaking. This is supposed to be a soft cookie, so you definitely don't want them to overbake. Remove them from the oven when the bottoms are just barely golden. This way they stay soft and fluffy in the centers, with a slightly crisp edge. Perfection!
Chill the dough. I recommend chilling the cookie dough in the refrigerator for about 20 to 30 minutes before baking. This is the secret to eggnog cookies that are super thick and chewy. Don't skip this step if you have the time!
Let cool. Give the cookies time to cool before drizzling with the glaze. This way it holds it's shape on top and doesn't melt from the warmth.
Recipe FAQs
Can I use light eggnog?
You can, although using a full fat, high quality brand of eggnog will definitely give these cookies the best flavor. It's worth the splurge in my opinion!
How do you store eggnog cookies?
Store in an airtight container in the refrigerator for about 3 to 5 days. You can also freeze these eggnog cookies for up to 2 months, however I would recommend leaving off the icing if you have plans to freeze them.
What if I only need one dozen?
No problem, simply cut the recipe in half! Two dozen is the perfect amount if you're making these cookies for a cookie exchange or larger crowd, however you can definitely make less if you don't need so many.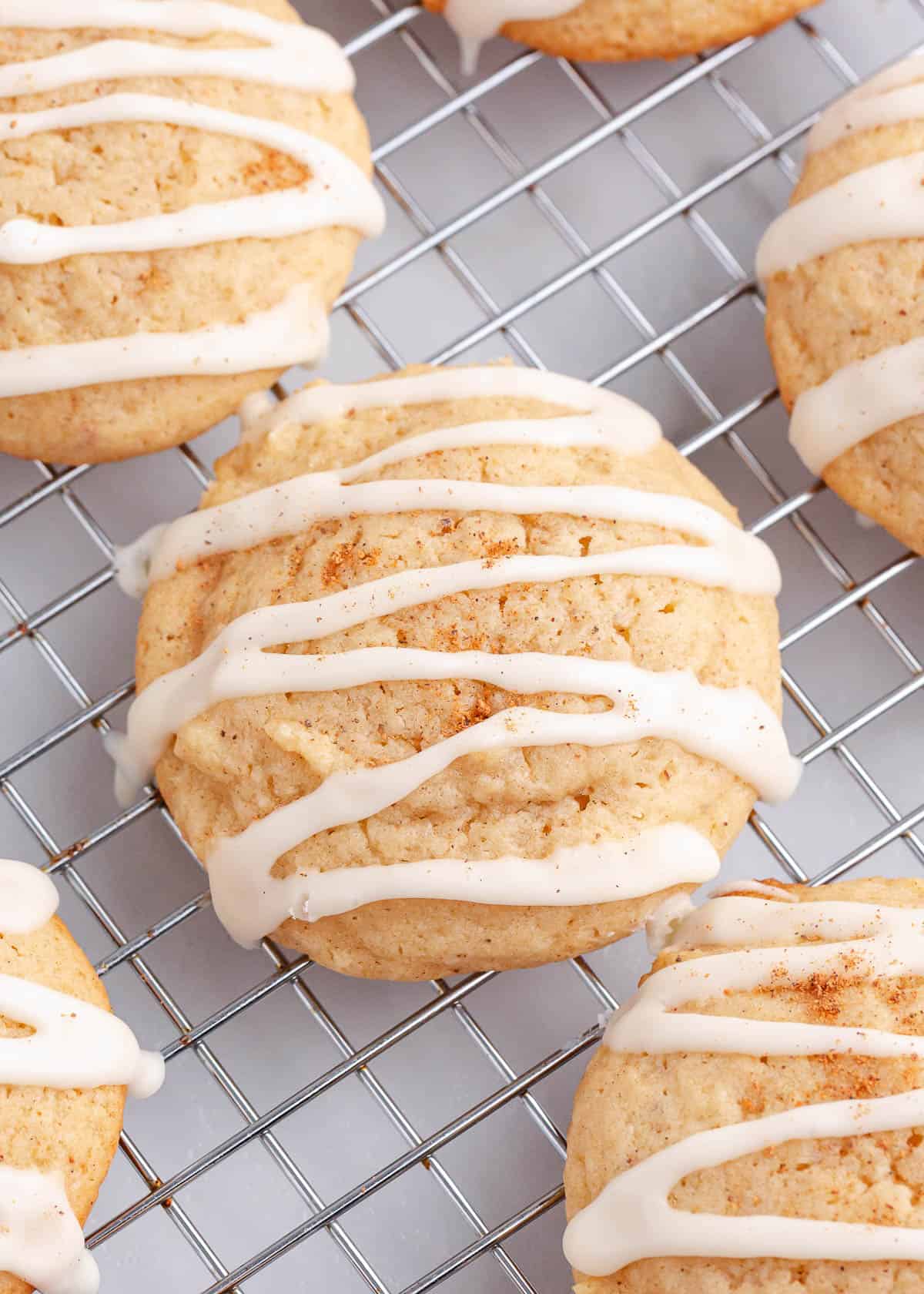 HUNGRY FOR MORE? Subscribe to my newsletter and follow on Facebook, Pinterest and Instagram for all the newest recipes!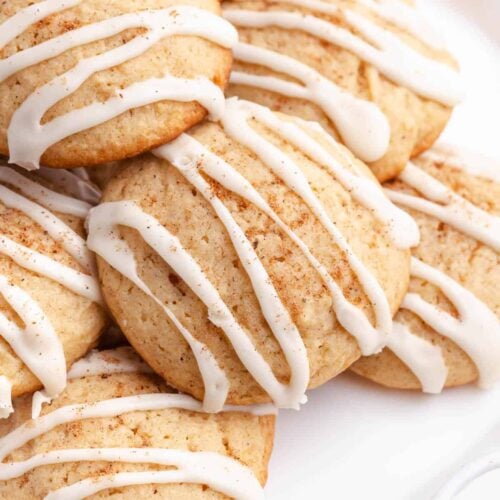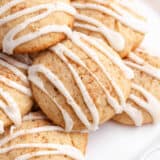 Eggnog Cookies
All the flavor of the classic holiday drink staple in a delicious cookie! These eggnog cookies are the perfect treat to bring to holiday parties this year.
Ingredients
2 cups all-purpose flour
1 ½ teaspoon baking powder
¾ teaspoon ground nutmeg
½ teaspoon ground cinnamon
¼ teaspoon ground cloves
½ teaspoon fine sea salt
½ cup granulated sugar
½ cup brown sugar , packed
¾ cup butter , slightly softened
2 egg yolks
1 ½ teaspoons vanilla extract
½ cup eggnog , I used Darigold
Icing:
1 ¼ cups powdered sugar
3 Tablespoons eggnog
ground nutmeg , for garnish
Instructions
Preheat oven to 350°F. Line a baking sheet with parchment paper. In a medium bowl, whisk together flour, baking powder, nutmeg, cinnamon, cloves and salt. Set aside.

In a large mixing bowl, cream butter and sugar together. Add egg yolks and vanilla to the mixture and beat until smooth. Finally, add in eggnog and mix on medium speed until smooth and creamy.

Slowly add flour mixture into the eggnog mixture and stir until combined. Chill dough for 20 minutes.

Use a cookie scoop or drop spoonfuls of dough onto the cookie sheet. Bake for 15-20 minutes, or until bottoms are lightly browned. Do not over cook. Remove cookies from pan and allow to cool on a cooling rack.

For the icing, whisk powdered sugar and eggnog together. Add more of each, depending on the consistency you prefer.

Drizzle icing on cooled cookies and sprinkle with nutmeg. Store in an airtight container in the refrigerator.
---
Notes
Egg nog flavor: If you really want to boost the eggnog flavor, try using 1 teaspoon rum extract in place of the vanilla. You could also add and additional 1/4 teaspoon of nutmeg.
Frosting: For a thicker frosting you could use my buttercream frosting or cream cheese frosting. Use eggnog in place of the cream.
Nutrition
Calories: 171kcal | Carbohydrates: 26g | Protein: 1g | Fat: 6g | Saturated Fat: 4g | Cholesterol: 35mg | Sodium: 55mg | Potassium: 46mg | Sugar: 17g | Vitamin A: 215IU | Vitamin C: 0.1mg | Calcium: 23mg | Iron: 0.6mg
Nutrition provided is an estimate. It will vary based on specific ingredients used.
Did you make this recipe? Don't forget to give it a star rating below!