Jump to Recipe⌄
Chocolate chip and sprinkle birthday cookies!
Chocolate chip and sprinkle birthday cookies! I love everything about these cookies!
Today is my Birthday (well technically the 29th is, but there is no leap year this year), so we're celebrating with my favorite cookies! :D Not just any ordinary cookies… "special birthday cookies" as my kids would say. I could easily eat half a dozen… and I just might! I heard calories don't count on your Birthday. ;) If you lived near by, I would totally share and we could celebrate and eat cookies together. You may just need to whip up a batch of these yummy cookies to see how good they really are! It's Friday. That calls for a celebration!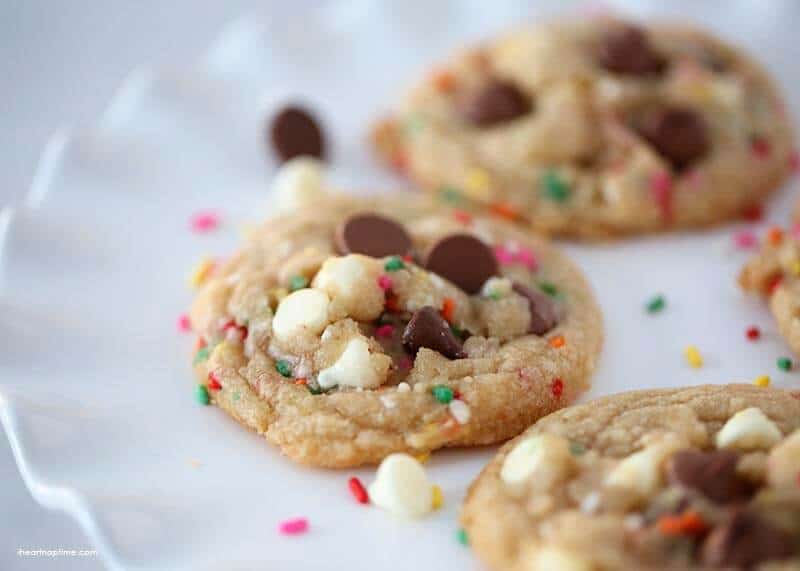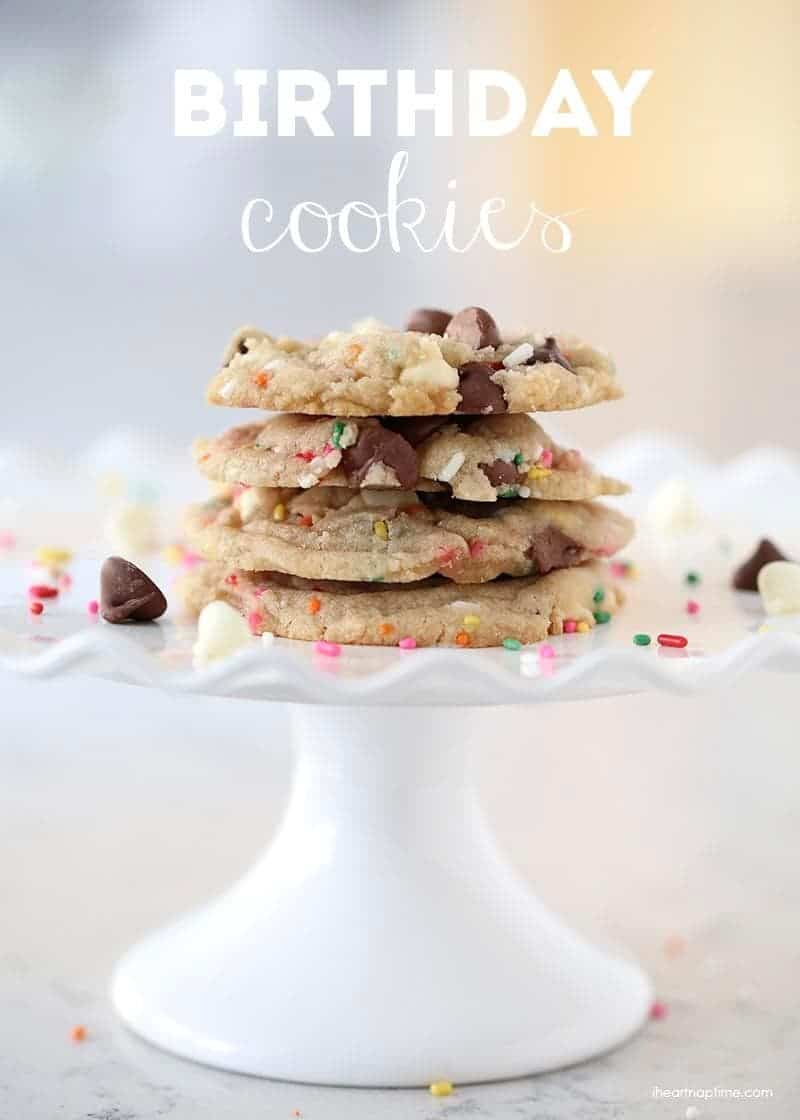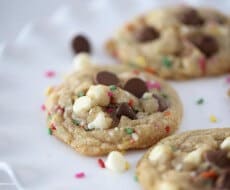 Birthday cookies recipe
Ingredients:
1 cup salted butter, softened
1 cup brown sugar
1 cup sugar
2 eggs
1 tsp. vanilla
3 cups flour
1 tsp. baking soda
1 tsp. baking powder
1/2 cup milk chocolate chips
1/2 cup white chocolate chips
1/2 cup sprinkles
Directions:
Pre-heat oven to 350°. Cream butter and sugar in a large bowl. Add in eggs and vanilla and mix until combined. In a separate bowl whisk together the flour, baking soda and baking powder. Slowly add the flour mixture to the sugar mixture. Fold in chocolate chips and sprinkles. Using a cookie scoop or spoon, place the cookie dough on a baking sheet and bake for 8-12 minutes, or until the bottoms are golden brown. They should still be soft in the middle. Remove from oven and allow cookies to cool on pan for 2 minutes and then remove to cooling rack.
Enjoy!!
Note: Store in an air tight container for up to 3 days, or freeze.
All images and text ©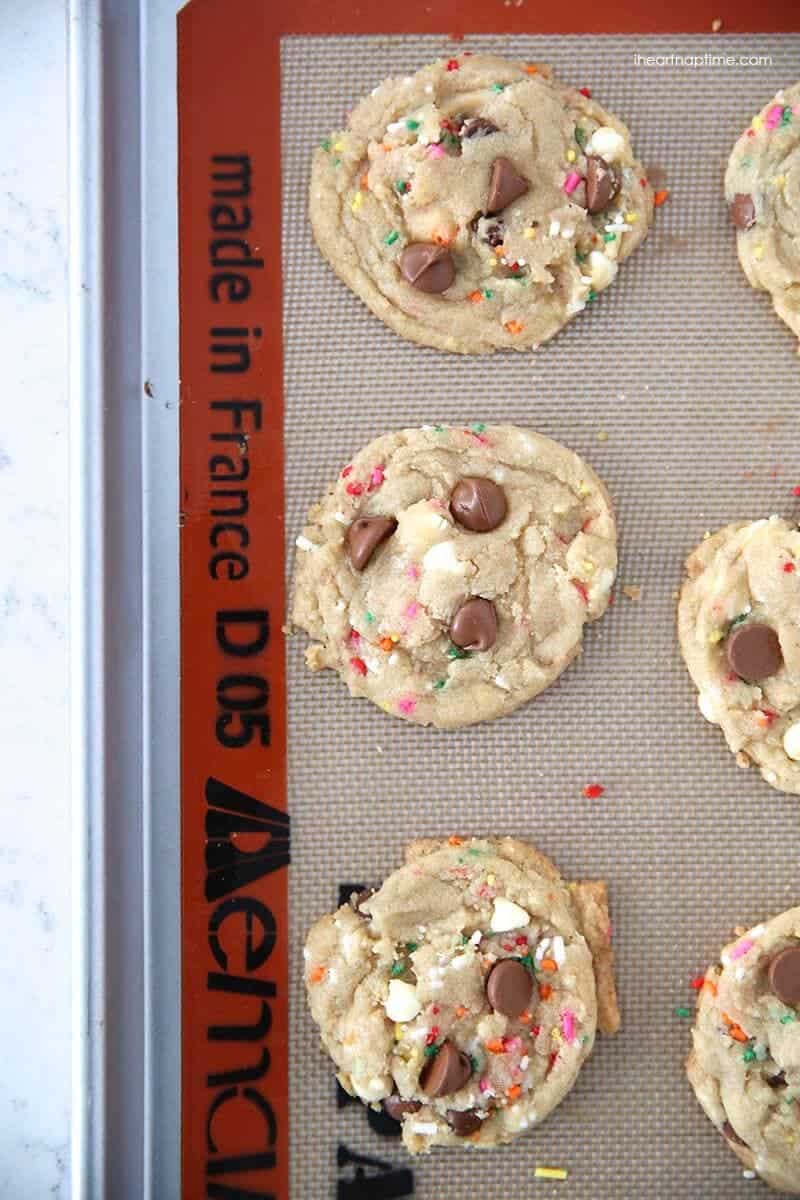 These cookies are super soft in the middle with a little crisp around the edge. My kind of cookies!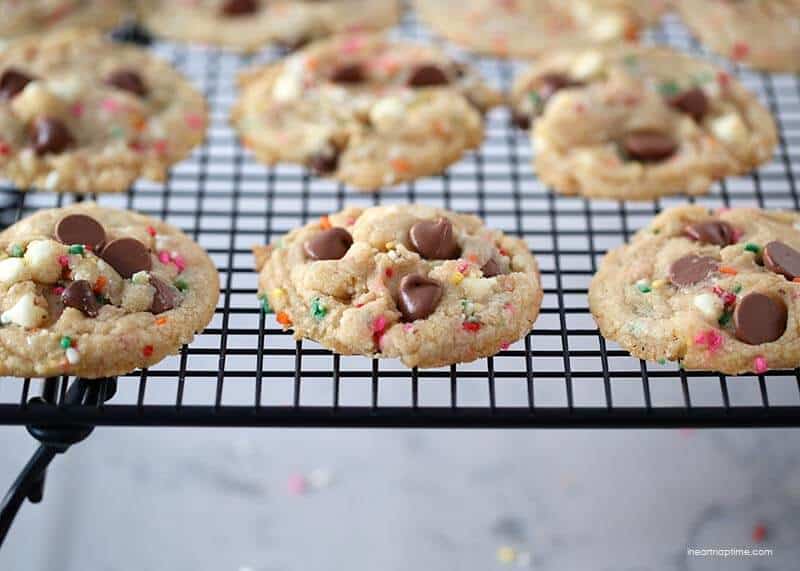 I big fat puffy heart sprinkles. The end.
Enjoy! :D