Your new favorite dish comes with manicotti noodles stuffed with 3 kinds of cheese then covered in marinara sauce and more cheese! Baked until bubbly, this easy Italian-inspired recipe is a comfort food classic.
Other baked pasta favorites include stuffed shells, baked mostaccioli and baked ziti!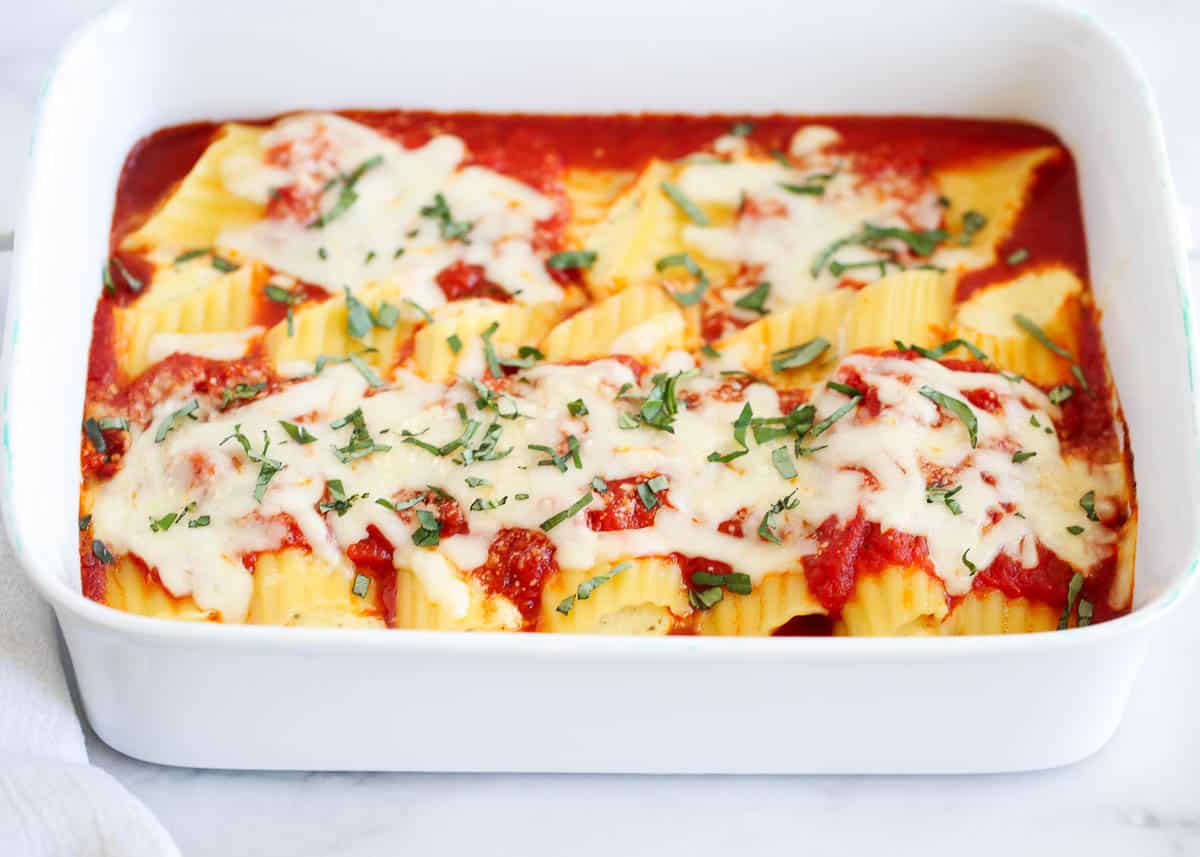 Italian-Inspired Comfort Food
Three cheese manicotti is a baked stuffed pasta dish that I like to think of as a hearty casserole. It's the ultimate comfort food that's easy to make ahead and freeze, bring to a potluck, or fill the freezer of a friend in need!
It may not be as authentic as you'd get traveling overseas, but I can assure you this manicotti is just as flavorful thanks to my homemade marinara sauce and Italian seasoning blend. This recipe for homemade manicotti is accessible to everyone and just as delicious as anything you'd find at your favorite Italian restaurant!
This recipe and my eggplant Parmesan are perfect for cozy meals throughout the winter months and are both quick and flavorful dinners for busy weeknights. Complete this hearty meal with garlic bread or easy breadsticks and a simple chopped salad for a dinner everyone will love!
What is Manicotti?
Manicotti is an Italian-American pasta dish made from long tubes of cooked pasta, translated to mean "little sleeves" that are stuffed with cheese, usually a seasoned ricotta blend, spinach, and sometimes meat. They are then smothered with a marinara sauce, béchamel sauce, or just a sprinkling of cheese and baked!
The filling of the manicotti shells in this recipe is creamy and fluffy and made with 3 kinds of cheese, similar to ricotta stuffed shells. It's then smothered in a tasty sauce, topped with mozzarella then baked until golden and bubbly.
We're making a meatless version with plenty of ways listed below to switch things up.
Why This Recipe Works
Take your pasta to the next level with this Italian favorite dish! They are stuffed with all the right cheeses, with simple ingredients, and so easy to make ahead. Run to the grocery store and get your ingredients now!
It's stuffed! Who doesn't love a stuffed pasta dish?! My million-dollar spaghetti recipe has always been a hit around here, but when I introduced my kids to stuffed pasta, it became an instant favorite.
Simple ingredients. There are ways to make as much of it from scratch as you like, but you can always take some trusted shortcuts like using store-bought sauce to make it even easier.
Make ahead and freezer-friendly. Assemble the manicotti and freeze it for months! When you're ready to bake it, just pop it in the oven.
Ingredients
Cheese stuffed manicotti is simple to make and easy to make with minimal ingredients. Create the best manicotti pasta using sleeves of manicotti stuffed with three types of cheeses. Three cheese manicotti recipe is a delicious family meal that kids to adults love!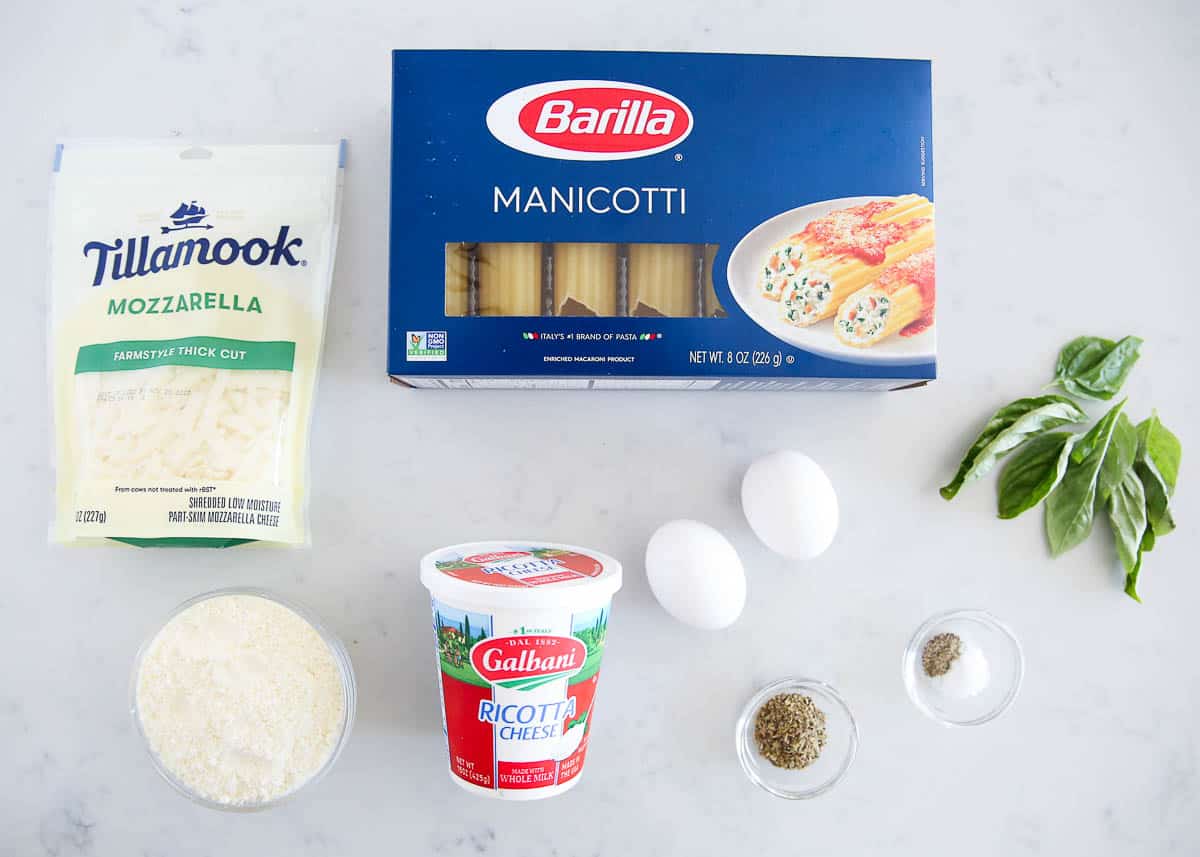 Find the full printable recipe with specific measurements below.
Manicotti noodles: These are large tube-shaped noodles with ridges. If you can't find any, use lasagna noodles. Boil them as per package directions place the filling on one end of the noodle and roll it up.
Mozzarella cheese: Use freshly grated mozzarella if you can. In other words, grate it yourself from a soft mozzarella ball. It melts better and tastes better, and since you want the flavors of the cheese to shine, using good quality cheese is worth it.
Marinara sauce: I like to use a homemade sauce, but if you're looking for an easier way I would suggest the Kirkland brand from Costco. Spaghetti sauce will also work too!
Variations
I like to keep my manicotti simple with the blend of three kinds of cheese and a bit of seasoning but there are plenty of ways to add tasty fillings to your manicotti!
Here are some additional ingredients you can use, including meat, vegetables, and seasoning!
Meat: Italian sausage, ground beef, or shredded chicken are all great ways to add protein and texture to the homemade cheese manicotti dish.
Veggies: Mushrooms, onions, or chopped bell peppers add in more tender crunch and flavor.
Greens: Spinach is a great health benefit and adds a beautiful color to the cheese manicotti.
Seasonings: Onion powder, garlic powder, and nutmeg all bring in their own flavor and variation.
Herbs: Oregano, fresh parsley, or basil are unique and often used in Italian dishes.
Spicy: Make it spicy with a few red pepper flakes sprinkled overtop.
How to Make Manicotti
In four easy steps, you will have the perfect three-cheese manicotti dinner your family will be raving about! Make the filling, cook the manacotti in a large pot and drain, then stuff them. Get ready for an amazingly delicious dinner!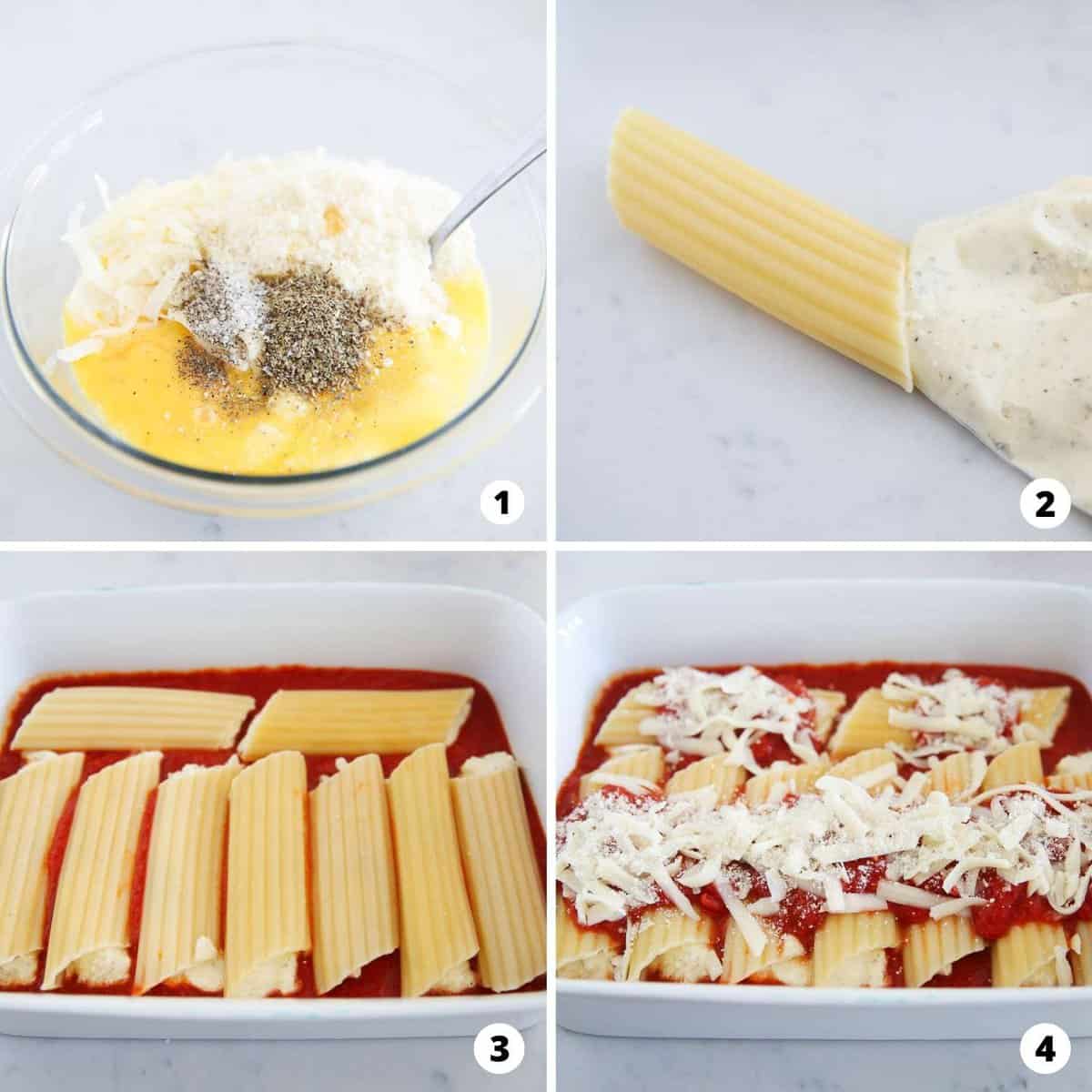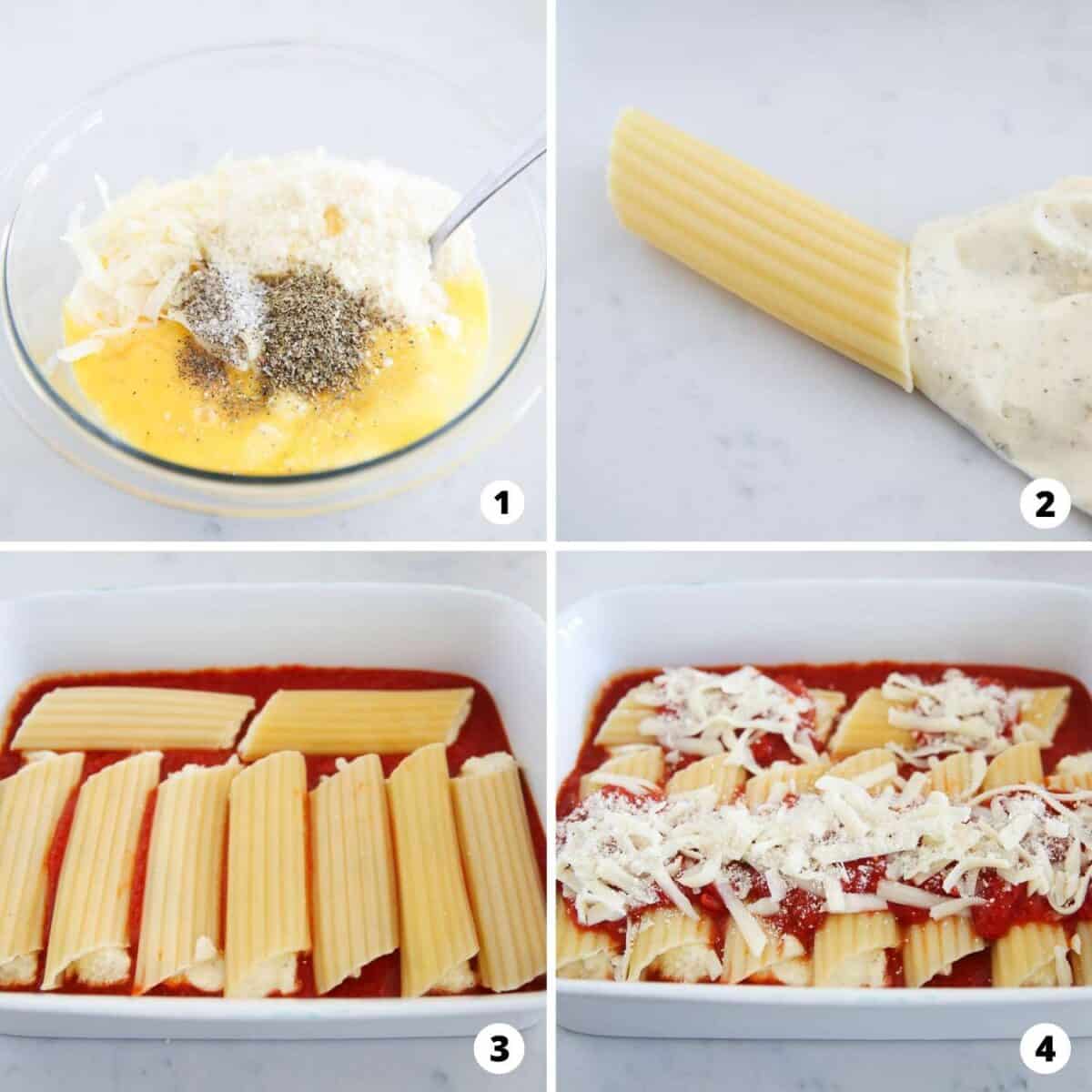 Make the filling. When making the filling you can either mix everything in a large bowl or directly in a Ziploc bag. To either one, add the ricotta cheese, mozzarella, Parmesan, eggs, Italian seasoning, salt, and pepper and mix until combined. If you've used a bowl, transfer it over to the zip-loc bag now.
Stuff the noodles. Snip one corner of the bag and squeeze the filling out into the inside of the cooked manicotti shells.
Lay the sauce and noodles down. Spread 1/2 of the marinara sauce onto the baking dish and place the stuffed noodles on top of the sauce in an even layer.
Add toppings and bake. Pour any remaining sauce over the noodles and sprinkle with the remaining cheese. Cover the casserole dish with foil and bake the manicotti for 20 minutes. Remove the foil and bake for 5-10 minutes more until the cheese is bubbly. Let it sit for a few minutes and enjoy garnished with fresh basil!
Expert Tips
Learn a few tips to help make this cheesy manicotti even better! The best way to stuff shells, make sure to cook the noodles perfectly plus learn to make it ahead are all helpful tips when making this dinner recipe. This is the perfect combination!
Stuffing the shells. If you don't have any Ziploc bags, you can spoon the filling into the shell. It's just a little messier this way.
Cook the noodles to al dente. They will continue to cook while baking, so you don't want the manicotti overcooked.
Bring it to room temperature. If you've made the dish ahead of time, take it out of the fridge and bring it to room temperature about 40 minutes before baking.
Serving size. When serving a crowd, I would make enough to give everyone two. One is enough for most people, but it's always good to have extra.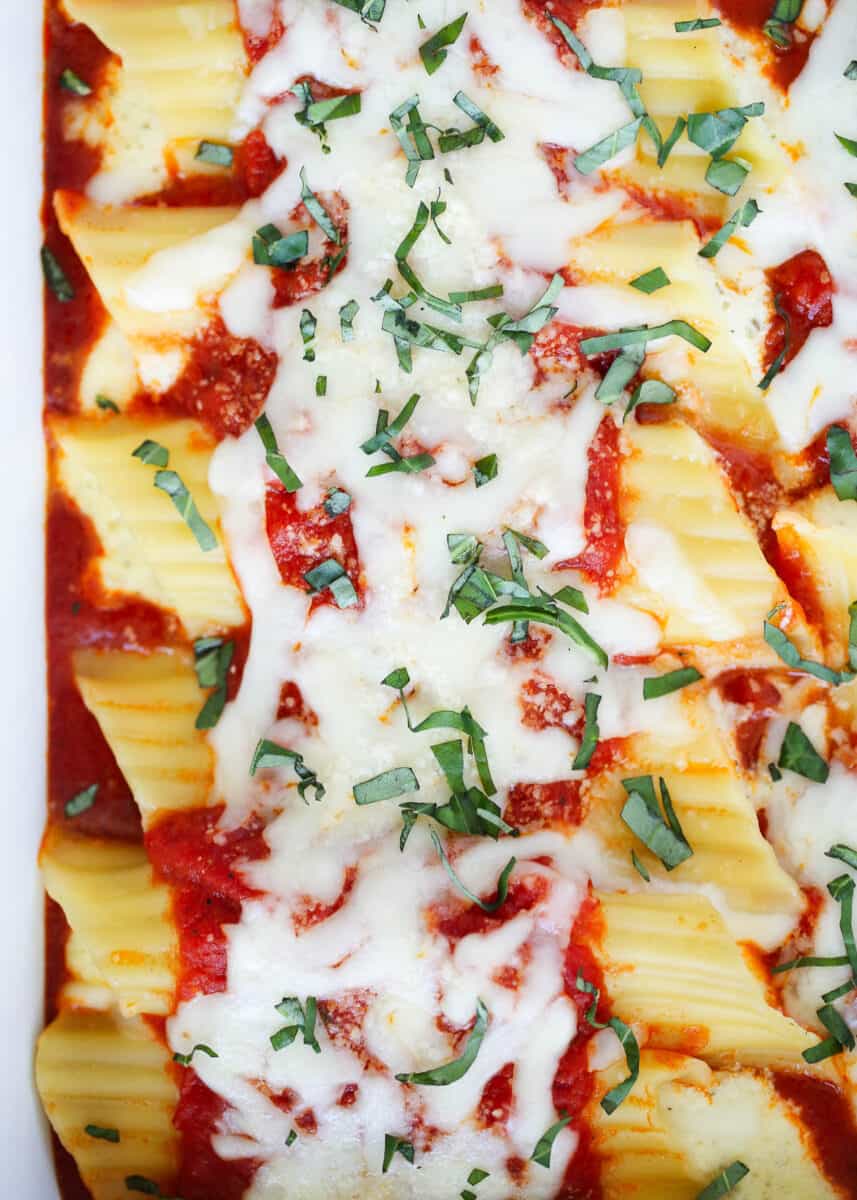 Recipe FAQs
What is the difference between manicotti and cannelloni?
While manicotti is Italian-inspired, it's an American version of the Italian Cannelloni, which uses similar tubed pasta, without ridges, and is stuffed with ground meat, cheese, and sauce.
How do you keep manicotti from flattening?
The trick is to make sure you're not overcooking them! Only cook them to al dente and even less than what the box states. That way they'll hold their shape nicely.
How much in advance can I make manicotti?
You can assemble it up to 2 days ahead of time and bake it when you're ready. Or you can wrap it up and transfer it to an airtight container and keep it frozen for up to 3 months. Thaw in the fridge overnight or bake from frozen for an extra 10-15 minutes.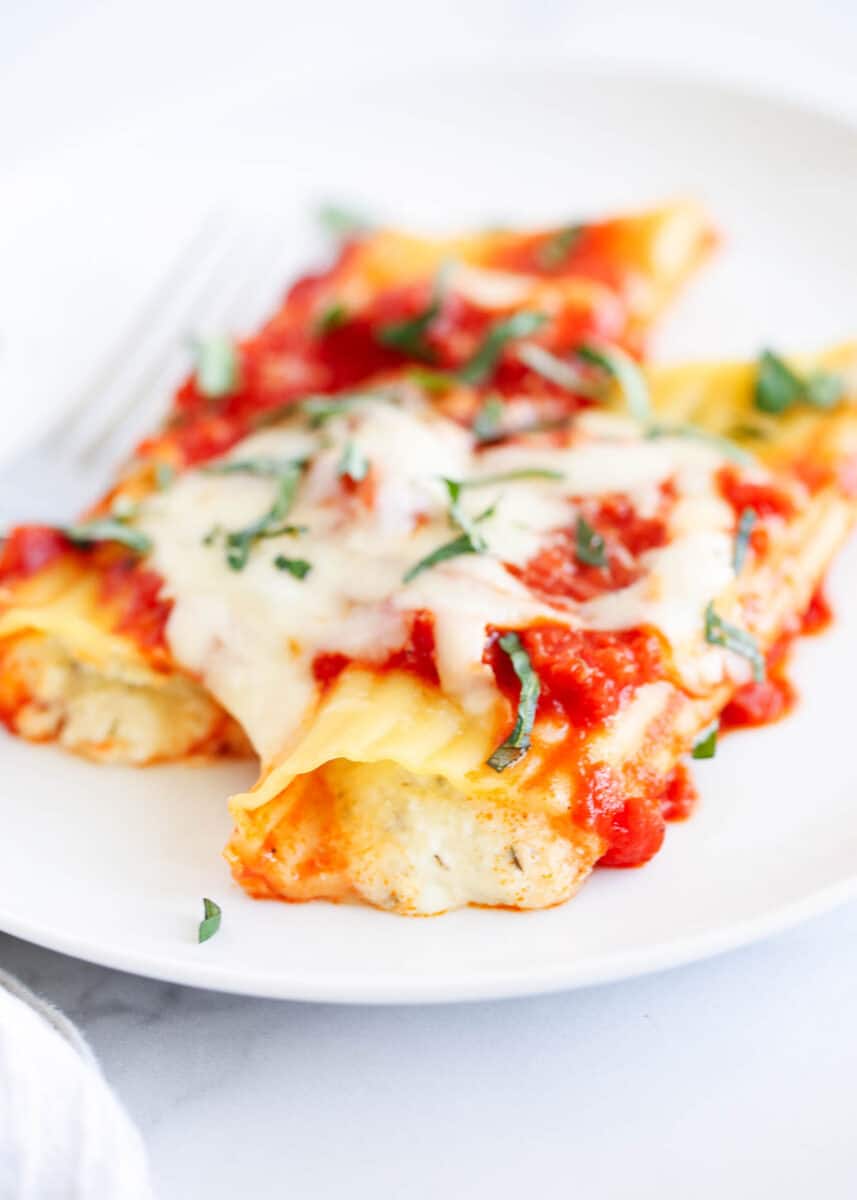 5 star review
"Yummy – great meal so cheesy and so delicious! My family really enjoyed it!"

-Melissa
Storing Homemade Cheese Manicotti
Keep any leftovers covered in an airtight container or aluminum foil for up to four days in the refrigerator. Reheat in the microwave until warm.
HUNGRY FOR MORE? Subscribe to my newsletter and follow on Facebook, Pinterest and Instagram for all the newest recipes!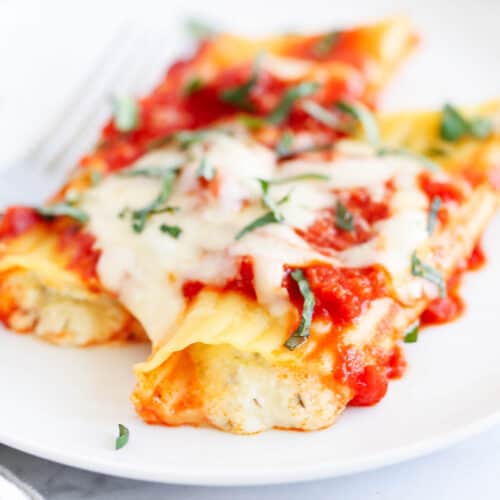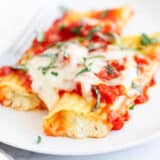 Cheese Manicotti
Your new favorite dish comes with manicotti noodles stuffed with 3 kinds of cheese then covered in marinara sauce and more cheese! Baked until bubbly, this easy Italian-inspired casserole is ready in under 1 hour!
Ingredients
10 ounces manicotti noodles
3 cups ricotta cheese
1 ½ cups grated fresh mozzarella cheese , divided
¾ cup grated parmesan cheese , plus more if desired
2 large eggs , beaten
2 teaspoons Italian seasoning
½ teaspoon Kosher salt
¼ teaspoon ground black pepper
24 ounces marinara
Chopped fresh basil
Instructions
Preheat the oven to 350°F. Spray a 9×13-inch baking dish with nonstick spray.

Boil the manicotti noodles according to package directions.

In a large zip-top bag, add the ricotta, 1 cup mozzarella, 1/2 cup parmesan, eggs, Italian seasoning, salt, and pepper. Mix together until combined.

Snip one corner of the bag and pipe the filling inside the cooked noodles.

Spread 1/2 of the marinara onto the bottom of the baking dish. Place the noodles on top of the sauce. Spread the remaining marinara over the top. and sprinkle with the remaining 1/2 cup mozzarella. Cover with foil and bake 20 minutes.

Remove foil and bake an additional 5 to 10 minutes, or until the cheese is bubbly. Remove from oven and let sit a few minutes before serving. Top with fresh basil. Serve while hot.
---
Notes
Make-ahead: This dish can be made 24 hours in advance before baking. You can also place in a foil pan and freeze until ready to bake (up to 3 months).
Variation: This dish tastes great with 1 cup shredded chicken and/or 1 cup chopped spinach mixed in with the cheese mixture.
Noodles: If you can't find manicotta, you could also use cooked flat lasagna noodles. Simply place 1/4 cup filling on one end and roll up.
Homemade marinara: Check out my homemade marinara recipe. I prefer Kirkland brand if I'm not making homemade.
Nutrition
Calories: 434kcal | Carbohydrates: 36g | Protein: 25g | Fat: 21g | Saturated Fat: 12g | Polyunsaturated Fat: 1g | Monounsaturated Fat: 6g | Trans Fat: 0.01g | Cholesterol: 118mg | Sodium: 942mg | Potassium: 486mg | Fiber: 3g | Sugar: 5g | Vitamin A: 1078IU | Vitamin C: 6mg | Calcium: 415mg | Iron: 2mg
Nutrition provided is an estimate. It will vary based on specific ingredients used.
Did you make this recipe? Don't forget to give it a star rating below!