Meatball casserole is a 30-minute baked dish made with seasoned juicy meatballs covered in marinara sauce and melted cheese making this the perfect weeknight comfort meal!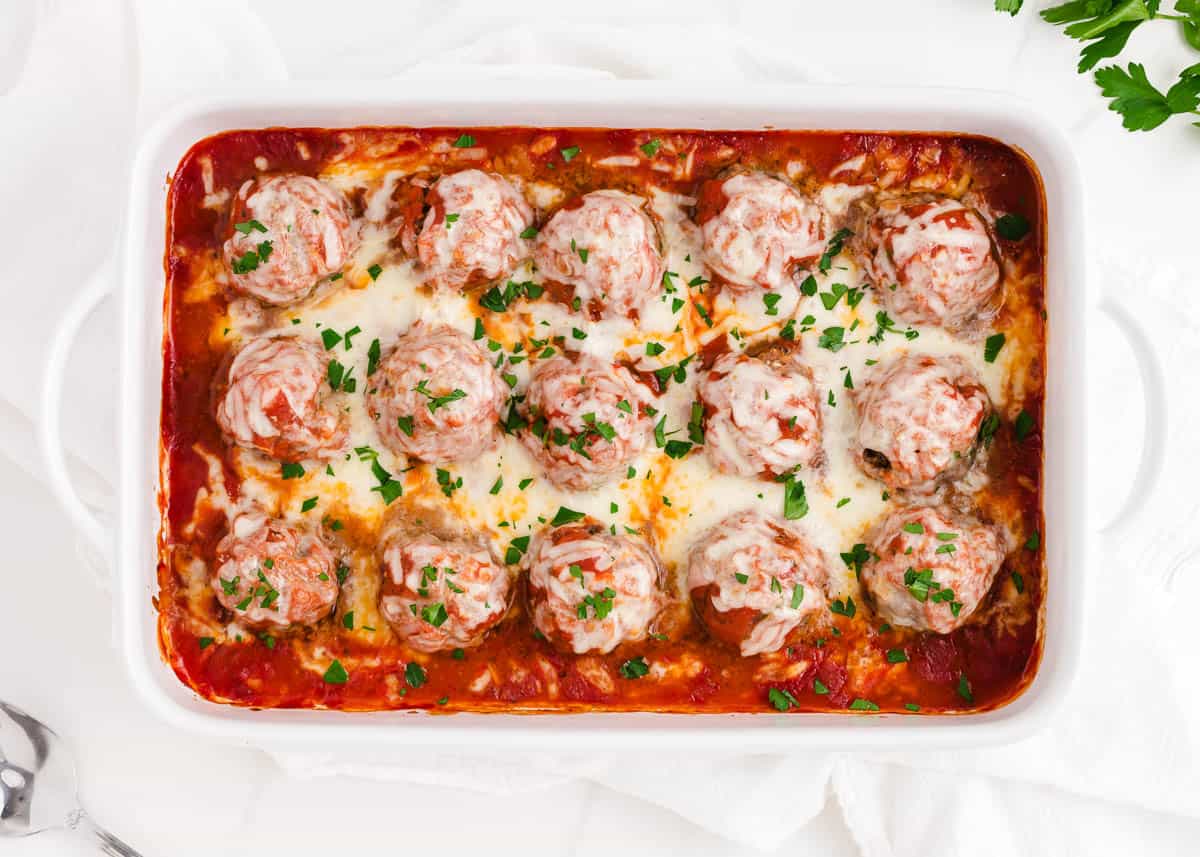 One-Pan 30-Minute Meal
Mouthwatering and comforting this meatball casserole is a family favorite with tender meatballs, savory herbs and a tangy marinara sauce all baked together to perfection! With a layer of golden cheese on top, it's a satisfying dish whether you serve it as the main course or at a potluck.
Other classic casseroles that also deliver on both taste and warmth include this easy hamburger casserole and million dollar spaghetti casserole!
This dish starts with my easy homemade meatball recipe, laid out in a tray, then smothered in marinara sauce, topped with cheese, and baked until melted and bubbly. This cheesy meatball casserole is a family-style one-pan recipe that is hearty, wholesome, and disappears as quickly as it comes together.
There's nothing better than the smell of well-seasoned meatballs simmering in sauce except maybe when they're on top of a bowl of spaghetti or inside a meatball sub!
Ingredients Needed for Meatball Casserole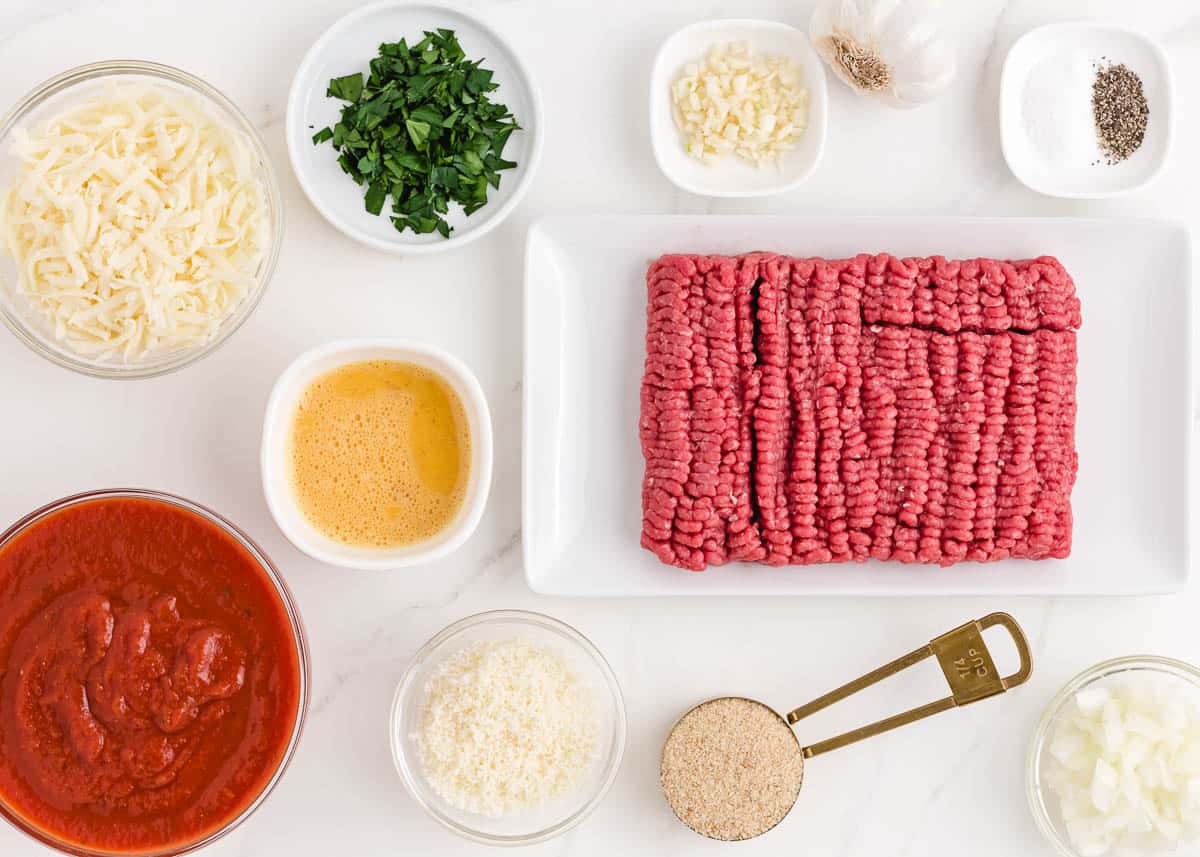 Marinara sauce: I have a simple marinara sauce I make from scratch but feel free to take a shortcut and use a store-bought sauce if preferred.
Ground beef: 80% lean ground beef will still leave you with enough flavor and fat for juicy and flavorful meatballs. You could also substitute half of the ground beef with ground pork for juicier meatballs.
Egg: Helps to bind all of the ingredients together so that your meatballs don't fall apart.
Breadcrumbs: When you add breadcrumbs to a meat mixture it helps to absorb any excess moisture. This will also help to bind your meatballs together, working with the egg to keep them nice and whole.
Parmesan cheese: A strong sharp cheesy flavor inside the meatball adds to the yummy taste and lends to a little extra salty seasoning.
Seasoning: Chopped onion, minced garlic, salt, pepper, and optional chopped Italian flat-leaf parsley.
Mozzarella: If you can help it, shred your own from a block for a meltier, gooey finish and fresher taste.
How to Make this Low Carb Meatball Casserole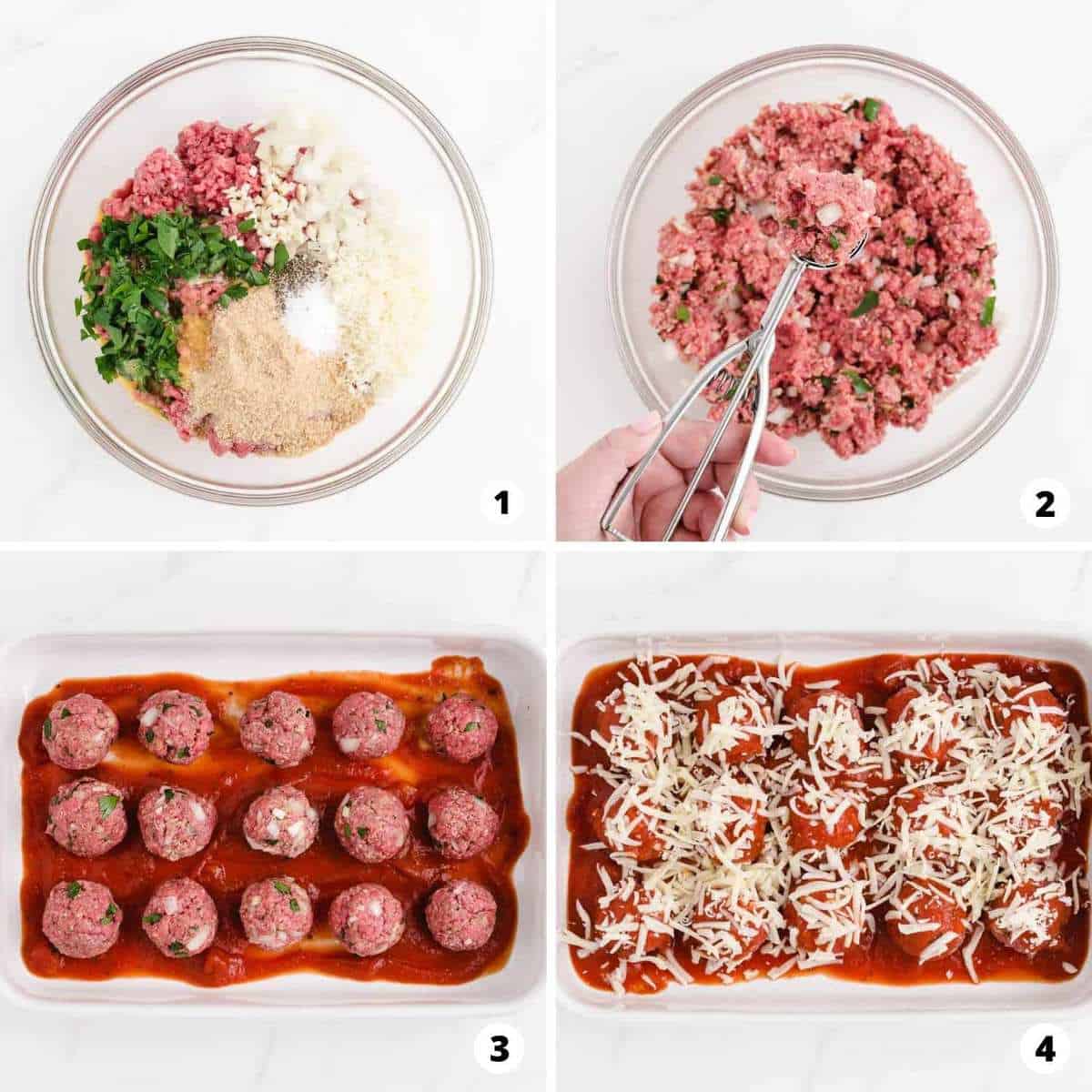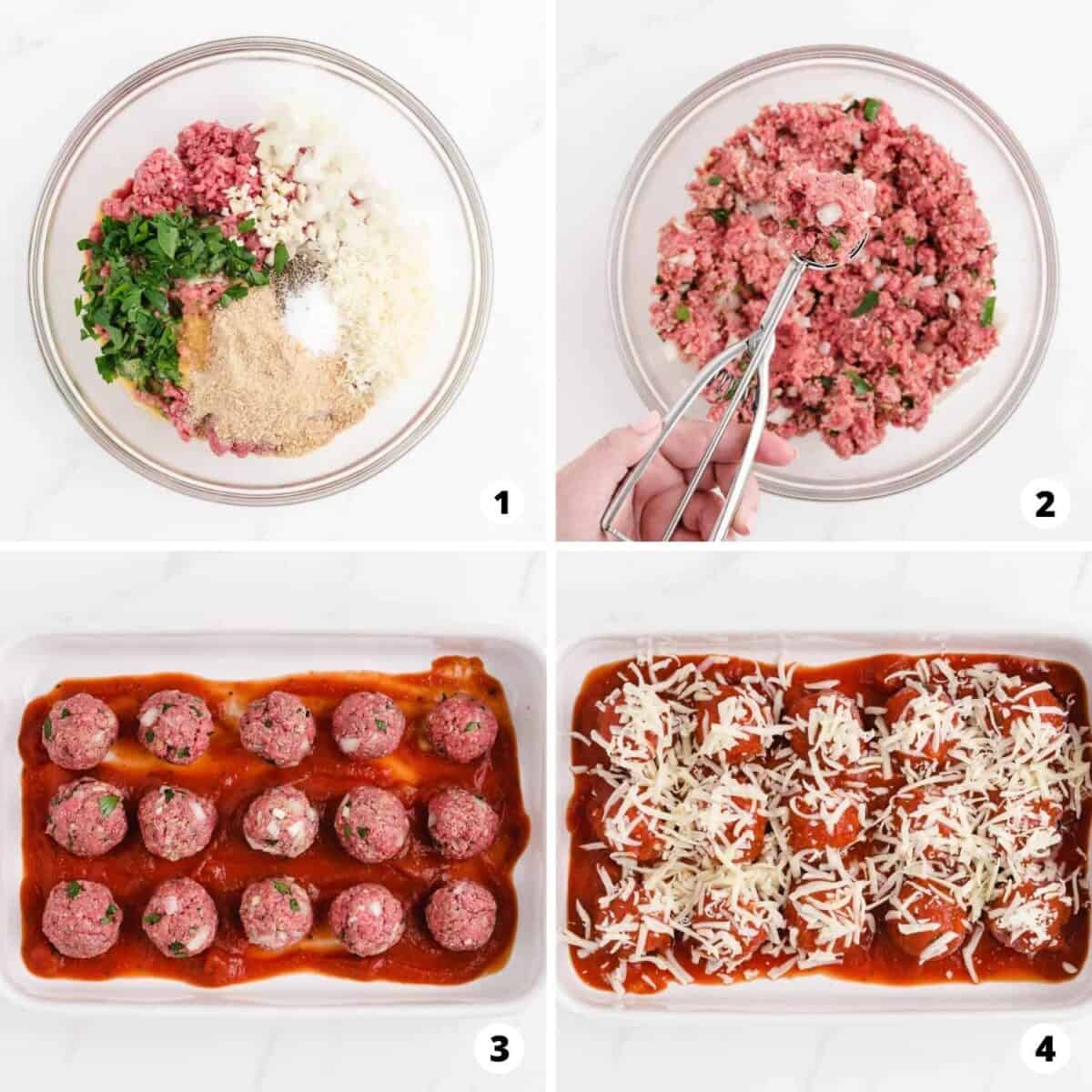 Prep. Preheat the oven and grab a 9×13″ baking dish and pour about 1/2 cup of marinara sauce onto the bottom. Spread it out so that it reaches the entire surface. This is just to help avoid the meatballs sticking to the pan. Set it aside while you make the meatballs.
Make the meatballs. Combine the meat, egg, breadcrumbs, cheese, and seasonings into a mixing bowl. Don't be afraid to get your hands dirty. Just make sure to wash them first! If you're concerned about working with raw meat, feel free to use gloves. You want to make sure everything is well incorporated but DO NOT over mix. Otherwise, your meatballs will be dry and dense.
Adjust moisture. If you find the mixture is a bit dry add 1-2 Tablespoons of water as needed to keep it wet. Again, do not overmix.
Form the meatballs. Use a large cookie scoop or regular spoon to scoop the meat, transfer it to your own hands and form the balls by rotating it between the palms of your hands in a circular motion. Each meatball should be about 2 inches. Place it in the baking dish and repeat with the remaining meatball mixture.
Bake the meatball casserole. Once you've added all your meatballs to the dish, pour the marinara sauce over top and sprinkle with mozzarella cheese. Bake covered with aluminum foil for 20 minutes then remove the foil and continue baking for 5 minutes until the cheese is bubbly. Enjoy!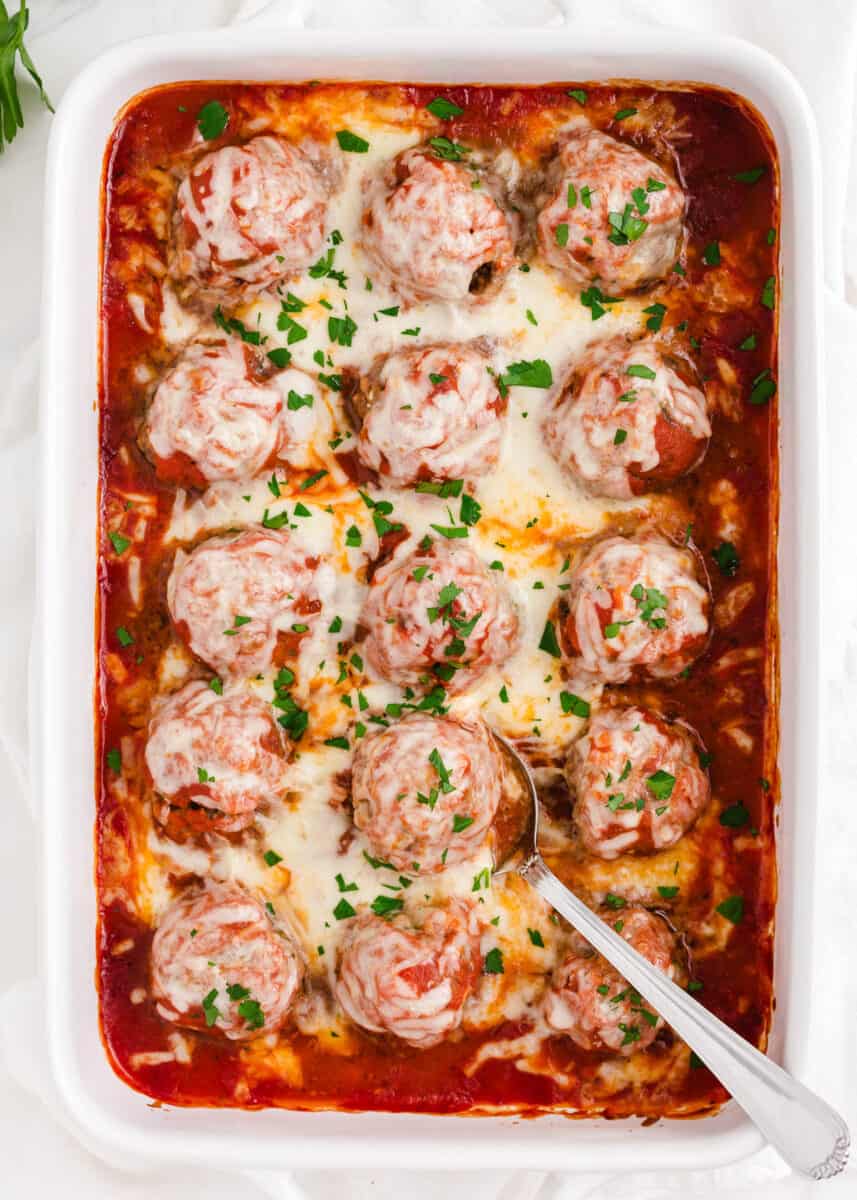 Recipe Tips
Even baking. Arrange meatballs in a single layer so that they are not overlapping.
Similar sizes. If you like smaller meatballs by all means use a small cookie scoop. The most important thing is making them even sizes so they cook evenly. Keep an eye on the bake time so they don't overcook.
Fresh cheese. Using freshly grated cheese helps it melt better. The pre-packaged cheese uses anti-clumping agents that keep it from melting as nicely. It also tastes better fresh!
Complete your meal. While you're waiting for the meatballs to bake, check out my post on how to cook pasta so you can have everything ready to go at the same time. You'll have spaghetti and meatballs ready in 30 minutes!
Add pasta to the dish. Instead of serving pasta on the side, turn this into a ziti with meatballs casserole!
Freezing. A casserole dish of any kind is always great for freezing, and this meatball casserole is no exception. I like to double the batch and freeze one for later or bring it to someone else's freezer in case a little TLC is in order.
A Freezer-Friendly Meal
Prepare and assemble the casserole as directed. Once completely cooled cover the freezer-friendly pan tightly with a couple of layers of foil, to avoid freezer burn, and place them in the freezer for up to 3 months.
Variations & Substitutions
Swap fresh garlic and onions for 1/2 teaspoon of each garlic powder and onion powder.
If you don't have fresh parsley, you can also use dried parsley. Italian seasoning is another delicious option!
Some people aren't a fan of parsley in which case you can omit it or swap it with other fresh herbs.
For the meat ratio, you can keep them all beef or use 1/2 pound each of ground beef and ground pork. I find it helps to add moisture and flavor.
Leaner meatballs. Using 1/2 ground beef and 1/2 ground turkey is a great way to cut back on the fat and to have leaner meatballs.
Speaking of leaner meatballs, this meatball casserole works just as well with turkey meatballs or chicken meatballs.
No marinara sauce? Your favorite tomato sauce or spaghetti sauce will do!
Ways to Serve Meatball Casserole
This casserole is so convenient! Once you've baked it, you can either serve it as is with a simple side salad and a basket of bread, on top of a plate of pasta or sandwich them in a bun!
Here are some delicious ideas for our favorite ways to serve this meatball casserole:
FAQs
How to store leftover meatball casserole?

Keep any leftovers in the fridge for up to 4 days. Make sure to keep them in an airtight container.
Can I cook meatballs from frozen?

If you've made this dish, kept it frozen, and would like to reheat it, I do suggest thawing it first in the fridge overnight. If you're short on time, you can cook it from frozen, adding on extra time in the oven.
How to know when meatballs are done?

You'll be able to tell if your meatballs are done when they are no longer pink in the middle. This is why it's super important to make sure you keep them the same size. That way when you check one, you'll know the rest are done too.
Can I make a smaller meatball casserole?

Certainly! You can cut the recipe in half and use a smaller dish. You can also double the recipe and make 2 dishes. It works both ways.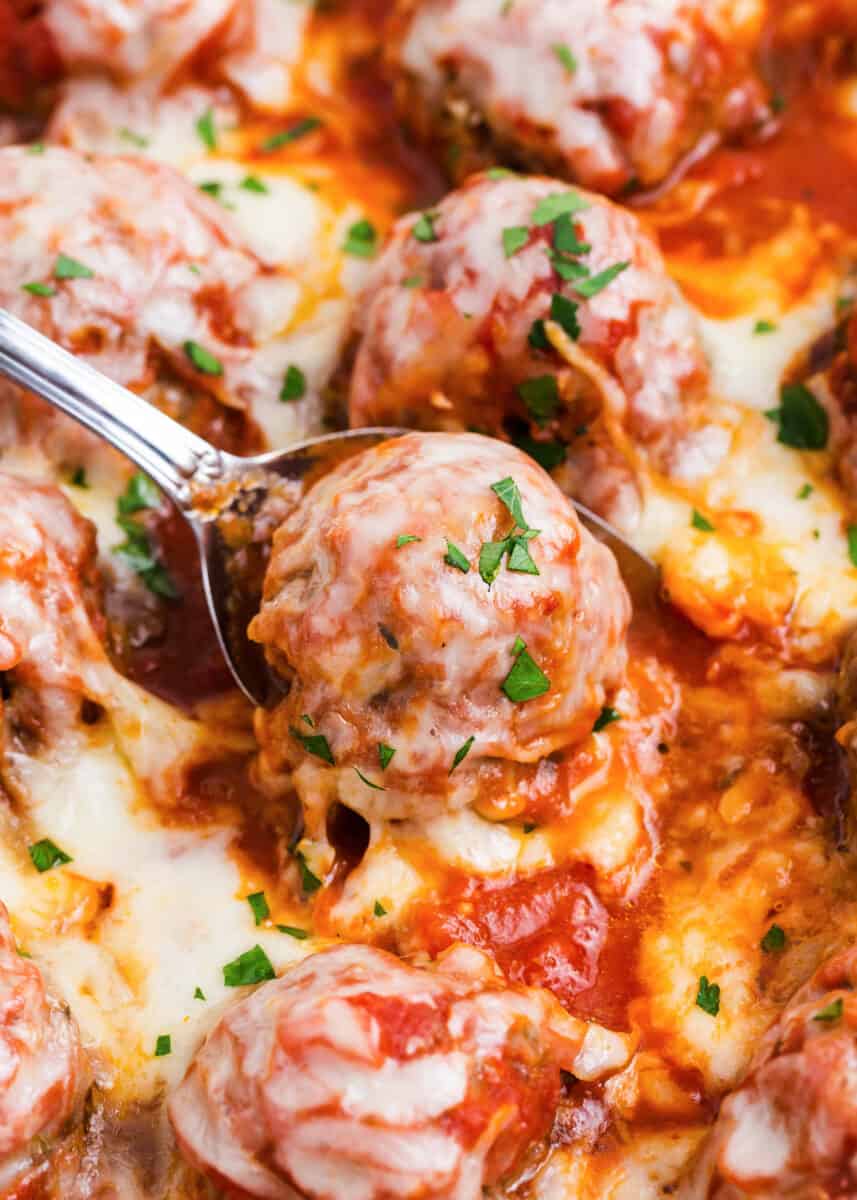 More One Pan Italian Dinners
HUNGRY FOR MORE? Subscribe to my newsletter and follow on Facebook, Pinterest and Instagram for all the newest recipes!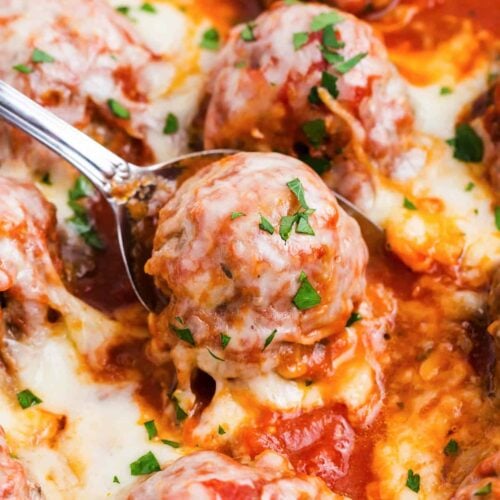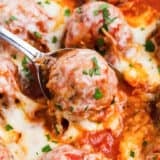 Meatball Casserole
Meatball casserole is a 30-minute baked dish made with seasoned juicy meatballs covered in marinara sauce and melted cheese making this the perfect weeknight comfort meal!
Ingredients
24 ounces marinara sauce
1 pound 80% lean ground beef (could sub with half ground pork)
1 large egg (beaten)
¼ cup breadcrumbs
¼ cup grated parmesan cheese
¼ cup finely chopped onion
2 teaspoons minced garlic
¾ teaspoon Kosher salt
¼ teaspoon ground black pepper
2 Tablespoons Chopped fresh Italian Flat leaf parsley (optional)
1-2 cups shredded mozzarella cheese
fresh parsley , for serving
For serving: Pasta, Zucchini noodles or Sub sandwiches
Instructions
Preheat the oven to 400°F.

Pour about 1/2 cup marinara sauce into a 9×13-inch baking dish.

Combine the meat, egg, breadcrumbs, cheese, salt, garlic, onion, black pepper and parsley in a bowl. Stir just until combined, do not over mix. Add a Tablespoon or two of water as needed to keep a wet mixture.

Use a large cookie scoop or spoon to scoop the meat. Then form into 2" balls and place in the baking dish.

Pour the remaining sauce over the top of the meatballs. Sprinkle with cheese.

Bake covered with foil for 20 minutes, or until no longer pink in the middle. Remove foil and continue cooking for 5 minutes, or until cheese is bubbly. Serve meatballs on their own or over spaghetti noodles. Top with fresh parsley.
---
Notes
Substitutes:
You can use 1/2 teaspoon garlic powder and onion powder if you do not have fresh garlic and onions. You may also use 2 teaspoons dried parsley if you do not have fresh.
If I have pork on hand, I like to use 1/2 pound ground beef and 1/2 pound ground pork. It creates juicier meatballs. You could also do half ground beed and half ground turkey to cut back on fat.
Nutrition
Serving: 5meatballs | Calories: 356kcal | Carbohydrates: 13g | Protein: 28g | Fat: 21g | Saturated Fat: 10g | Polyunsaturated Fat: 1g | Monounsaturated Fat: 8g | Trans Fat: 1g | Cholesterol: 117mg | Sodium: 1392mg | Potassium: 791mg | Fiber: 3g | Sugar: 7g | Vitamin A: 967IU | Vitamin C: 13mg | Calcium: 222mg | Iron: 4mg
Nutrition provided is an estimate. It will vary based on specific ingredients used.
Did you make this recipe? Don't forget to give it a star rating below!