All your favorite charcuterie items come together on a skewer for an all-in-one briny meaty cheesy bite! Marinated veggies, fresh herbs, and soft cheese are just the start. Make these easy, crowd-pleasing mini antipasto skewers your own and offer a little something for everyone!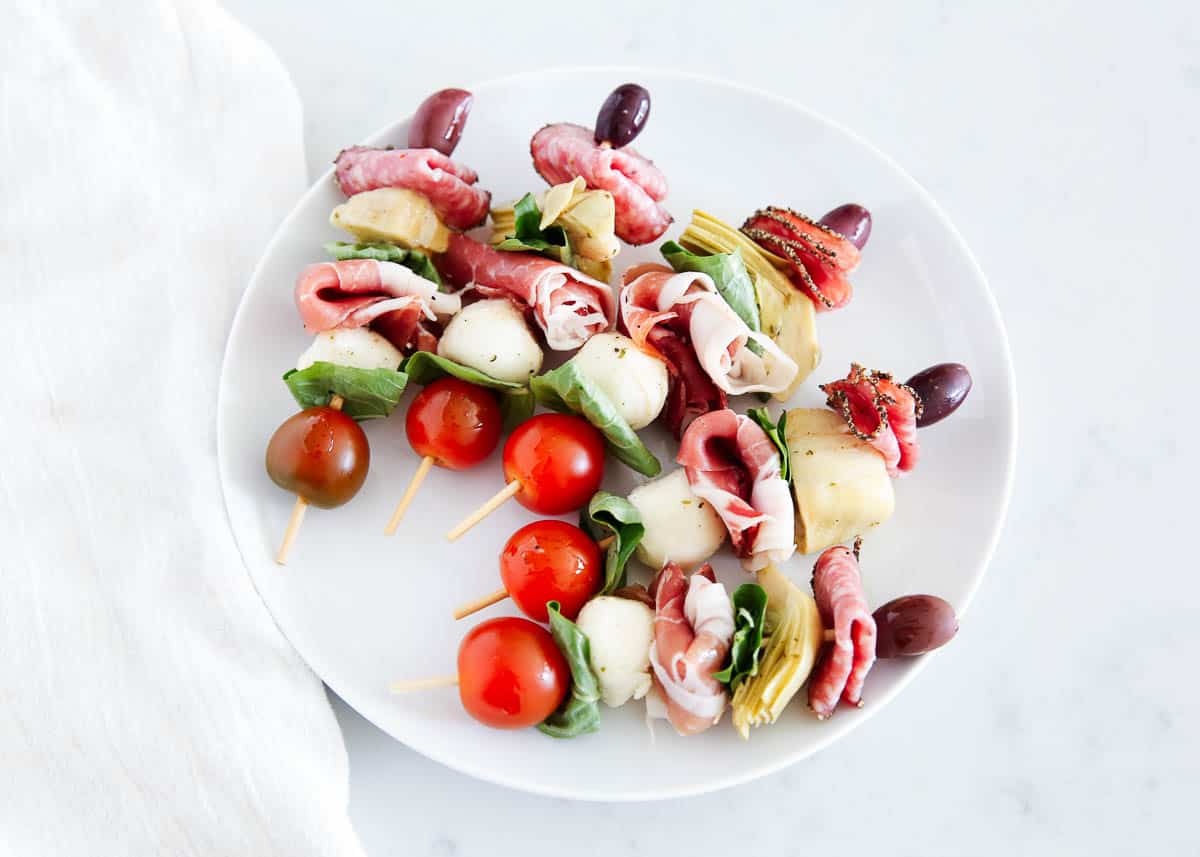 Easy Entertaining
There are so many ways to present an Italian antipasto platter. Whether it's a charcuterie board, mezze platter, or an antipasto salad. It's a simple way to serve a variety of tastes and textures from cured meats, briny bites, cheeses, juicy tomatoes, and fresh herbs, among so many other things!
Its beautiful and colorful presentation is matched only by how easy these mini antipasto skewers are to put together without the need for cooking or baking a thing!
All you need are your favorite charcuterie items and some skewers.
This Italian-inspired array of flavors is customizable to your tastes and because there is no limit to how many options you can make; you could even serve your crowd a variety of different mini skewers!
Why This Recipe Works
Crowd-pleasing. They're great when hosting any type of party because they are convenient, handheld food on a stick, which everyone loves!
Make ahead. Make entertaining even easier by preparing these mini antipasto skewers beforehand and bringing them out when you're ready to serve your guests.
Flexible. Stick to this recipe as closely as you'd like or get creative with whatever you would like to see on your antipasto skewers appetizer. I'm sharing all my variation ideas below!
Recipe Ingredients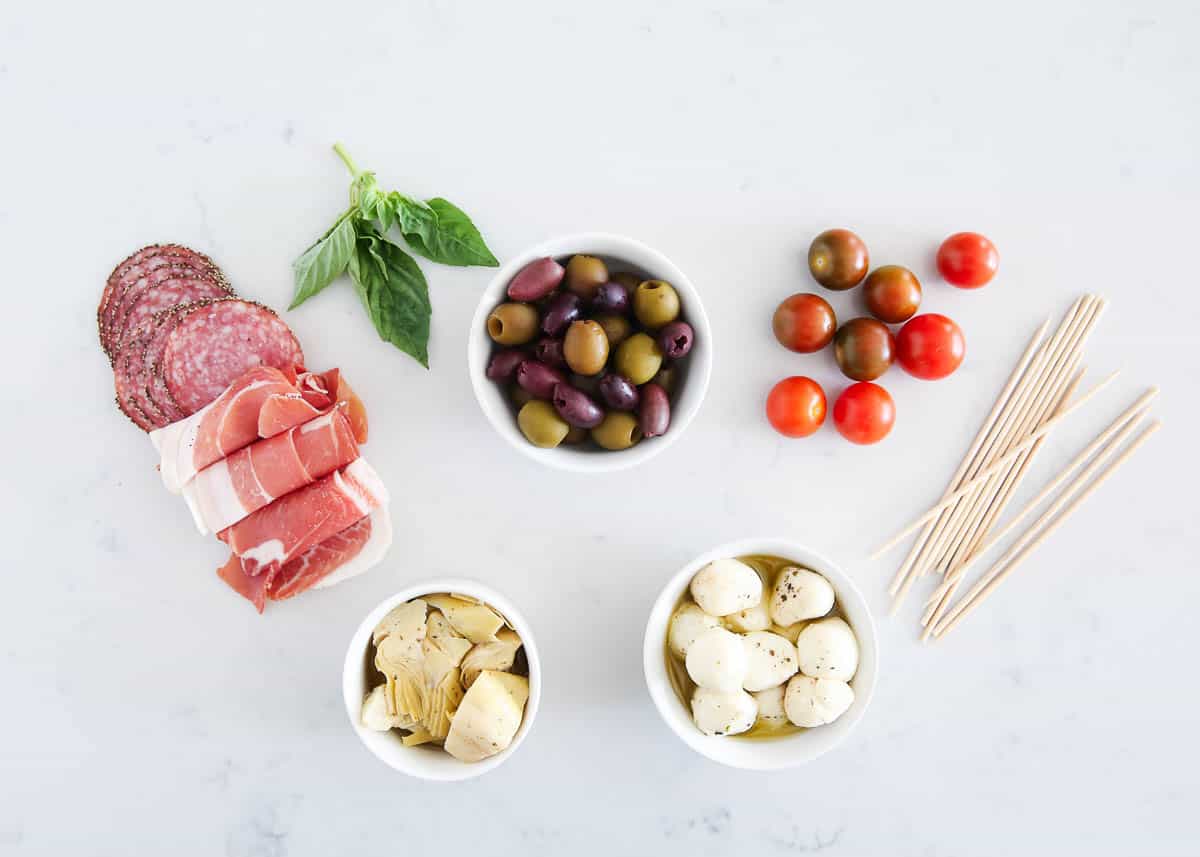 Find the full printable recipe with specific measurements below.
Cherry tomatoes: For a pop of red and some juiciness. The acid also helps to cut through the salty meats. They are juicier than grape tomatoes but use what you've got.
Basil leaves: Fresh basil leaves are a must when it comes to tomatoes and mozzarella! Caprese kabobs are one of the ways I like to honor that trio of flavors.
Bocconcini: Otherwise known as small mozzarella balls. They are bite-sized and fit great onto skewers. They typically come in brine or marinated in olive oil and herbs. I love using marinated bocconcini for that extra richness.
Prosciutto: This is a popular Italian ham that has been dry-cured and is served very thinly sliced.
Artichoke hearts: Marinated artichoke hearts are salty, briny, and so delicious. They add a textural component unlike anything else on the mini antipasto skewers!
Salami: Thinly sliced cured sausage that comes in so many varieties. Genoa salami is what I use and what is usually available at my local grocery store.
Kalamata olives: Hopping over to Greece for a moment, I love these meaty olives.
Variations
There are so many ways to make this antipasto skewers recipe your own!
A dip or drizzle. Use some Italian dressing or a balsamic glaze to add a little zest to your presentation. Drizzle it on top or serve it on the side. The Italian dressing works wonders on the bocconcini if you can't find some already marinated.
Veggies. Stuffed cherry peppers, marinated veggies or olives (spicy or otherwise), stuffed green olives, marinated mushrooms, pickled green beans, or giardiniera which is a mix of Italian pickled veggies known as a relish.
Cheese. Wrap some prosciutto around the fresh mozzarella balls, known as Panino, or use gouda, marinated feta, or gorgonzola.
Meat. German salami, summer sausage, capicola, pepperoni, or sopressata. Some of these may be unfamiliar, but your butcher will probably have most, if not all. If not, head to your nearest Italian deli!
Adding cooked tortellini pasta onto your mini antipasto skewers can be a fun addition! It'll give you similar flavors that can be found in Italian tortellini pasta salad. Use meat or cheese tortellini, whatever you prefer.
How to Make Mini Antipasto Skewers
The order in which you thread your antipasto kebabs doesn't matter! However, if you're looking for some guidance, written below is how I like to make mine.
Soak the mini skewers in cold water. This will help with getting rid of any small slivers as well as preserve the mini antipasto skewers if you're not serving them right away.
Thread the antipasto skewers. Start with a tomato, followed by a basil leaf. Then add a mozzarella ball, a slice of prosciutto, another basil leaf, then artichoke, and salami. Finish with 1 olive.
That's it. Easy appetizers are the best!
Expert Tips
Bamboo skewers with a knot at the end. If you can find some of those, they're great. The knot at the end makes it easy to hold and helps keep anything from falling off the end.
Fold larger slices. For any of the meat and even the basil leaves, rather than ripping them to fit, it's nice to fold them before threading them.
Drain the marinated items. Do not wipe any of the flavors off, but just be sure to drain as much excess liquid off so that way you're not creating soggy textures on your skewers.
Add heavier items at the bottom. If you're adding tortellini, place it near the bottom. The same goes for the cheese and tomatoes.
Repeat patterns. Once you've set your pattern on one skewer, for a nicer presentation, follow suit for the rest of them!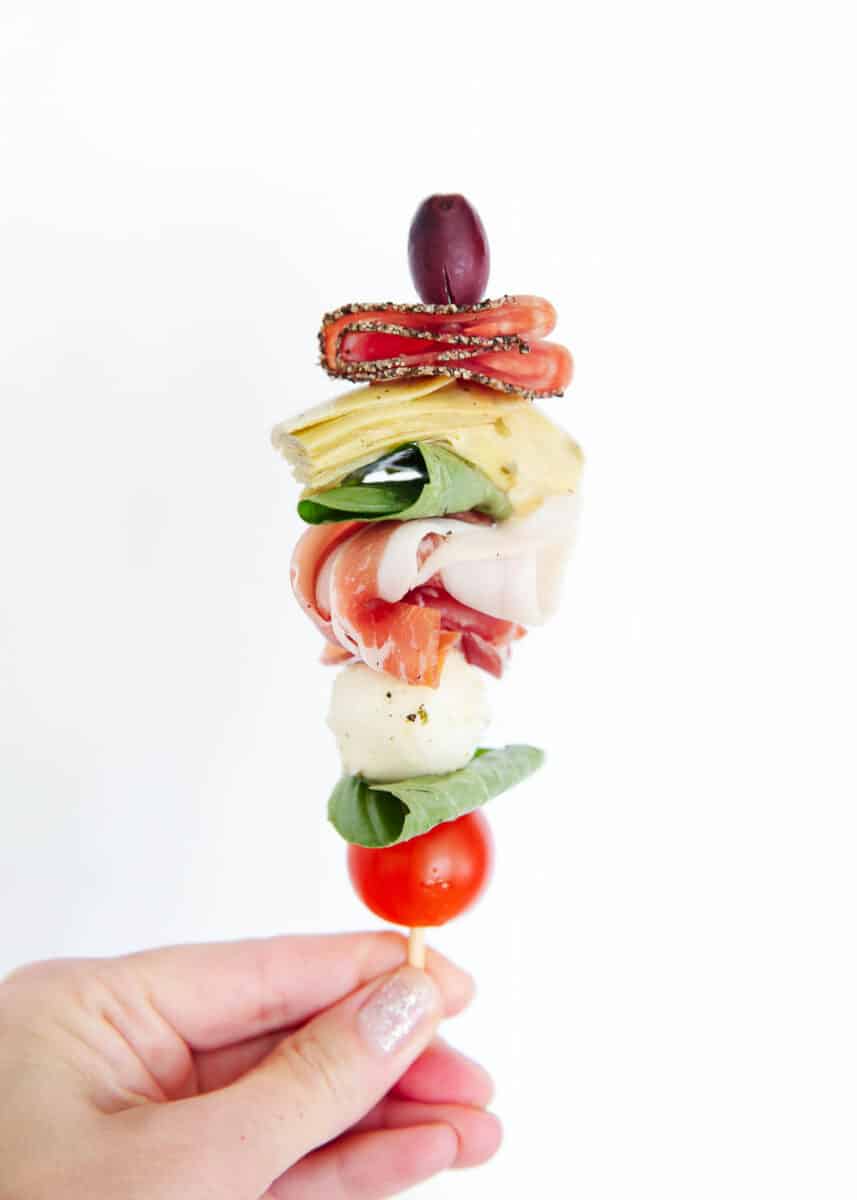 Recipe FAQs
Can I make these vegetarian?
Absolutely! Choose to use a variety of cheese and marinated veggies instead. Roasted red peppers, sundried tomatoes, olives, mozzarella, you name it.
How many mini antipasto skewers per person?
Plan for guests to enjoy 2-3 skewers per person. This could be dependent on what else you are serving! For example, if it is part of your Super Bowl appetizers spread, you may need less per person if you have a lot of other choices. If it is served before a meal, 2-3 would be sufficient. Double or triple the recipe as needed!
What can I do with leftovers?
My kids love them in their lunchboxes for school! You could also serve them the next day for brunch or an easy lunch idea.
How far ahead can I make these?
You can assemble them, cover them with plastic wrap, and refrigerate them for up to 2 days. If you plan to drizzle them with a dressing or glaze, don't do this ahead of time. Wait until just before serving.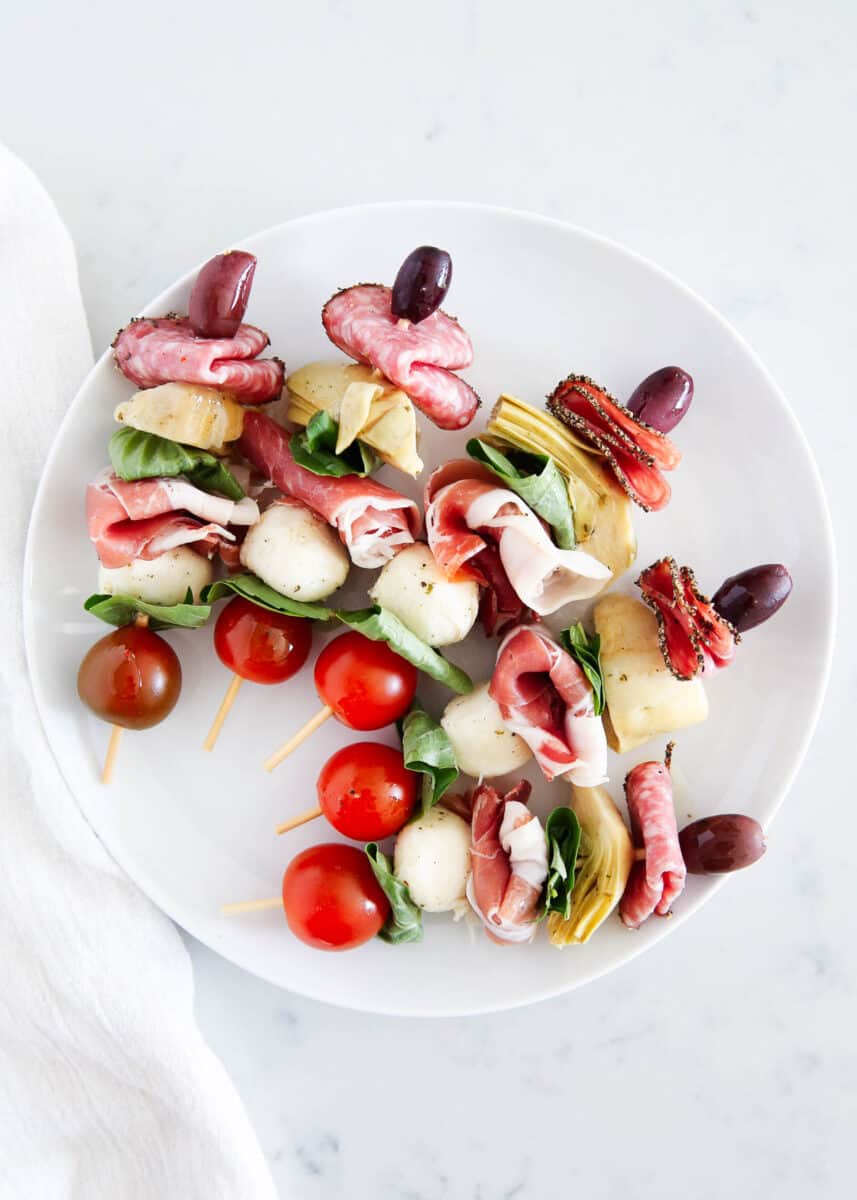 HUNGRY FOR MORE? Subscribe to my newsletter and follow on Facebook, Pinterest and Instagram for all the newest recipes!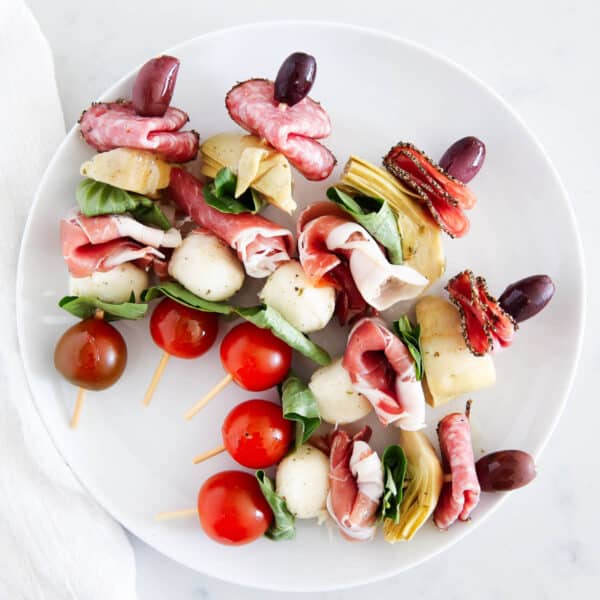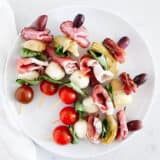 Antipasto Skewers
All your favorite charcuterie items come together on a skewer for an all-in-one briny meaty cheesy bite! Marinated veggies, fresh herbs, and soft cheese are just the start. Make these easy, crowd-pleasing mini antipasto skewers your own and offer a little something for everyone!
Ingredients
12 cherry tomatoes
24 basil leaves
12 small mozzarella balls (bocconcini) , marinated
8 ounces prosciutto , sliced into 12 pieces
12 artichoke hearts
8 ounces Genoa salami , sliced into 12 pieces
12 kalamata olives , pitted
Instructions
Soak the mini skewers in a bowl of water.

Onto each skewer, thread 1 tomato, 1 basil leaf, 1 mozzarella ball, 1 folded prosciutto slice, another basil leaf, 1 artichoke heart, and 1 salami. Finish with 1 olive.
---
Notes
Variations:
Dips: balsamic glaze, olive tapenade, caponata, pesto
Vegetables: stuffed cherry peppers (peppadews), marinated olives, marinated mushrooms, pickled green beans, giardiniera (Italian relish of pickled vegetables
Cheese: panino (mozzarella wrapped in prosciutto), gouda, marinated feta, gorgonzola
Tortellini: Another fun variation is to add a piece of cooked tortellini into the mix.
Storage: Cover the plate with plastic wrap and store in the fridge up to 2 days.
Nutrition
Calories: 235kcal | Carbohydrates: 1g | Protein: 12g | Fat: 21g | Saturated Fat: 7g | Polyunsaturated Fat: 2g | Monounsaturated Fat: 7g | Trans Fat: 0.02g | Cholesterol: 37mg | Sodium: 640mg | Potassium: 150mg | Fiber: 0.3g | Sugar: 0.5g | Vitamin A: 148IU | Vitamin C: 4mg | Calcium: 109mg | Iron: 0.5mg
Nutrition provided is an estimate. It will vary based on specific ingredients used.
Did you make this recipe? Don't forget to give it a star rating below!