Learn how to host a stress-free dinner party with these easy tips and tricks. You'll find all of my favorite menu ideas, desserts, conversation starters, games and more to make your next get-together a success.
One of our family goals this year is to invite at least one new family over each month. Many of you expressed interest in hearing more about menu's and what we do when we invite people over… so I thought I would write up a post for all of you.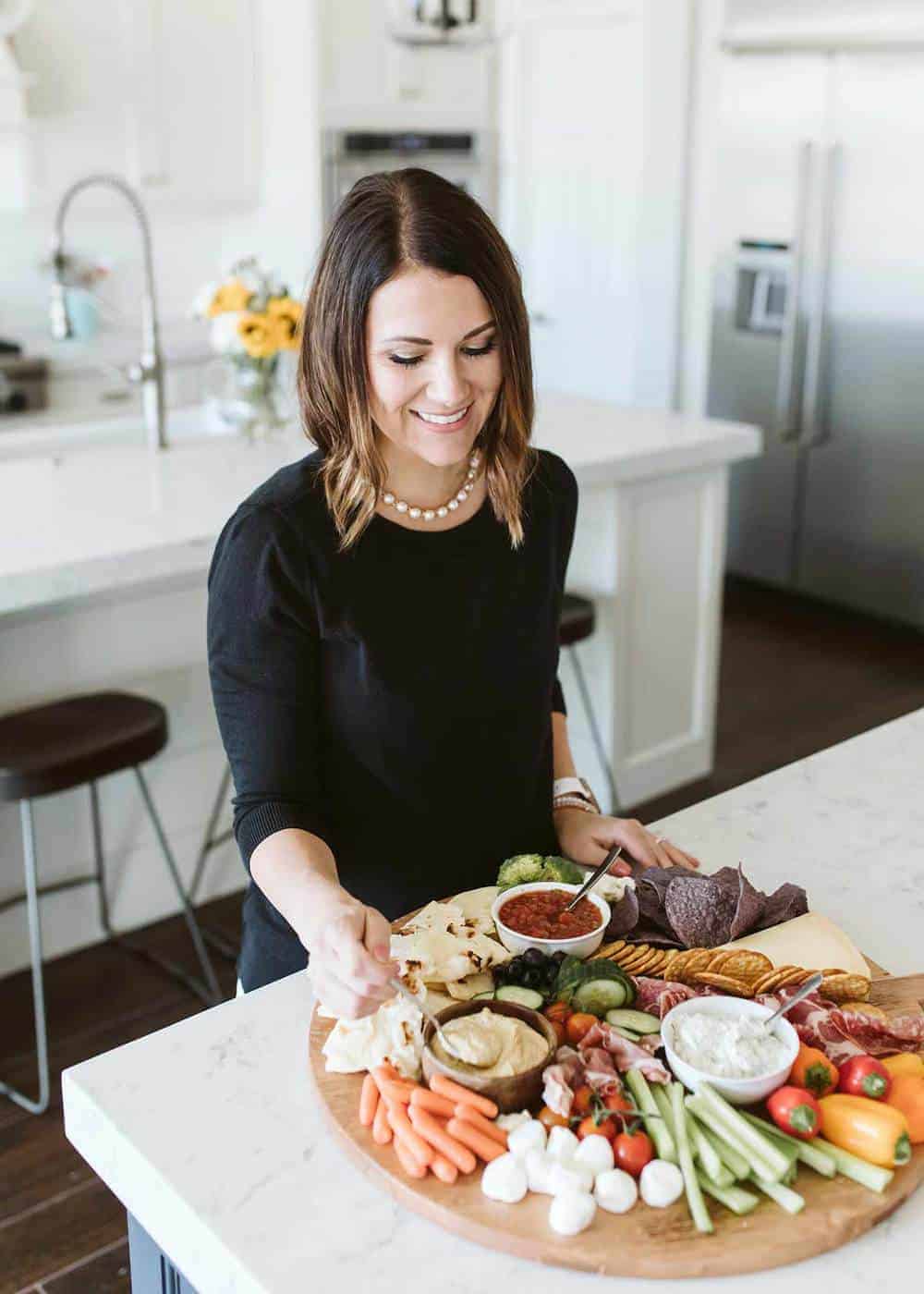 We've lived in 3 different states away from family over the past couple years, so we've had to get out of our comfort zone and invite people over for dinner or dessert nights if we wanted to meet people. This doesn't have to be fancy and in fact the casual get togethers are my favorite. Whenever I hear my kids say (or find myself thinking) "I wish I were invited to that party, play date…etc." or "I wish I had a good friend," I find that is the perfect opportunity to invite someone over and a great way to fellowship. You can't just sit and wait for people to invite you over… or you may be waiting a long time. Some people your family will connect with more than others and that's okay. But I will say that some of our best friendships that we have made over the years were from inviting someone over or being invited to someone's home.
My challenge to you
Here's my challenge to you… invite a family (that you haven't had over before) to your home in the next 30 days. You don't even have to invite them for dinner… you could even do a dessert or game night. I've shared lots of ideas below :)
I know some of you mentioned you were concerned because you didn't have a big enough house, things to do (or talk about), etc. I know the feeling. I've been there. In my first home only a couple people could fit in my kitchen (below is the only photo I could find of that kitchen) and when we invited people over we had to eat on our couch or outside. We made it work… and no one seemed to care. People just want to connect and be together, they don't care about the size or style of your house. If the weather is nice we love to do a BBQ outdoors. Or you could simply invite a family to meet up at the park for a dessert night. Some parks even have grills that you could BBQ.
I know it can be nerve wracking sometimes, but I promise you will be glad you did. It's a great way for you, your husband and your kids to meet new friends and get past the simple conversations you have with people in passing. Not only that but it's teaching your children to serve (I always have mine help clean before and set up) and reach out to others.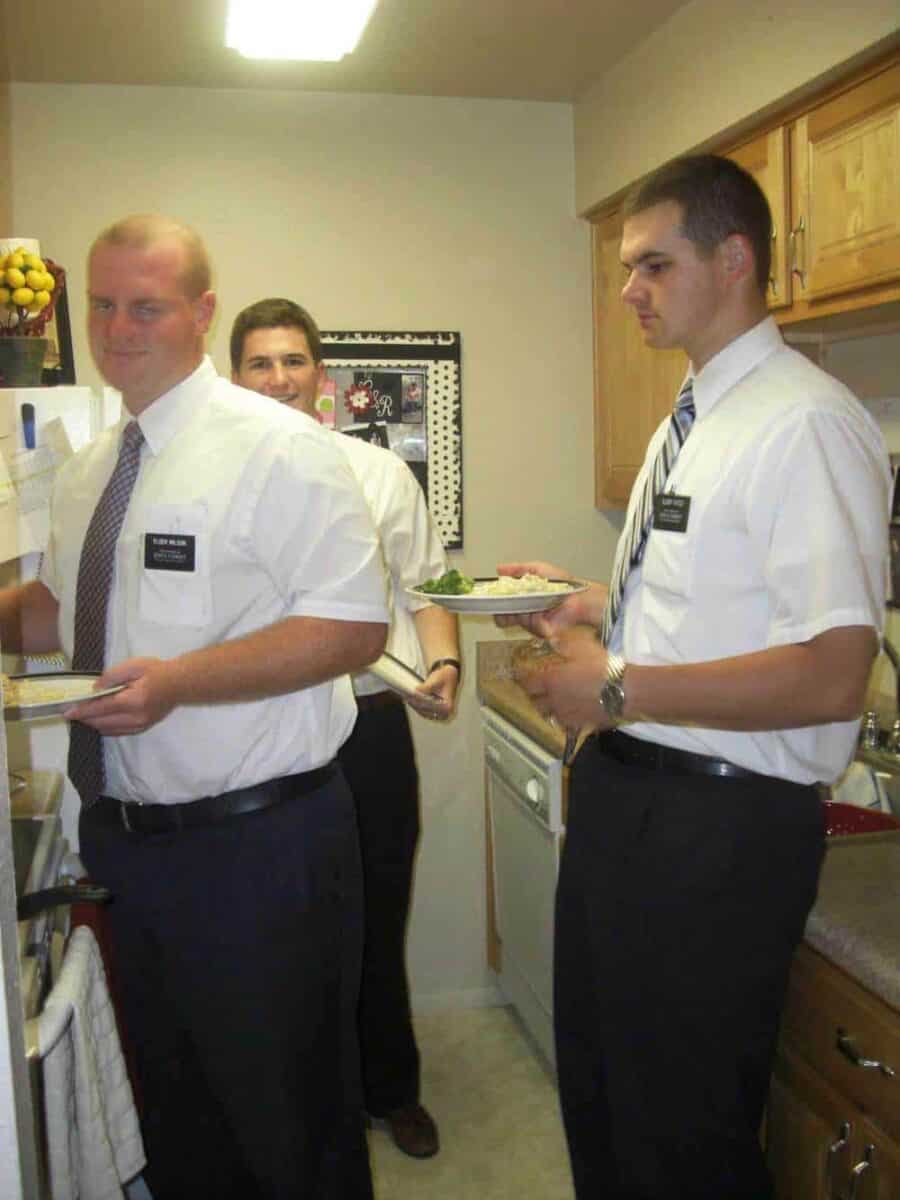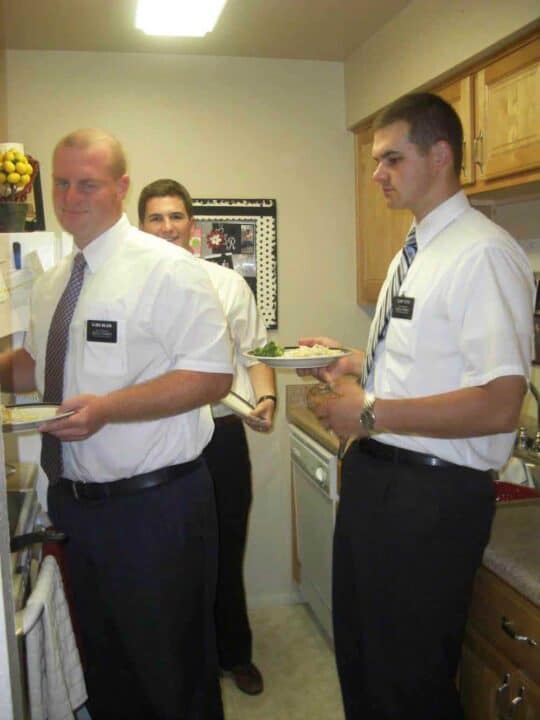 Here are some of my favorite dinner party ideas we've done in the past. Honestly, we like to keep things pretty simple with paper plates (since there is usually a lot of kids) when we invite someone over. Low-key and stress-free is always a good idea. We usually don't even pull out games… the parents just end up chatting and the kids play. However I find it is always nice to have a back up game or activity just in case.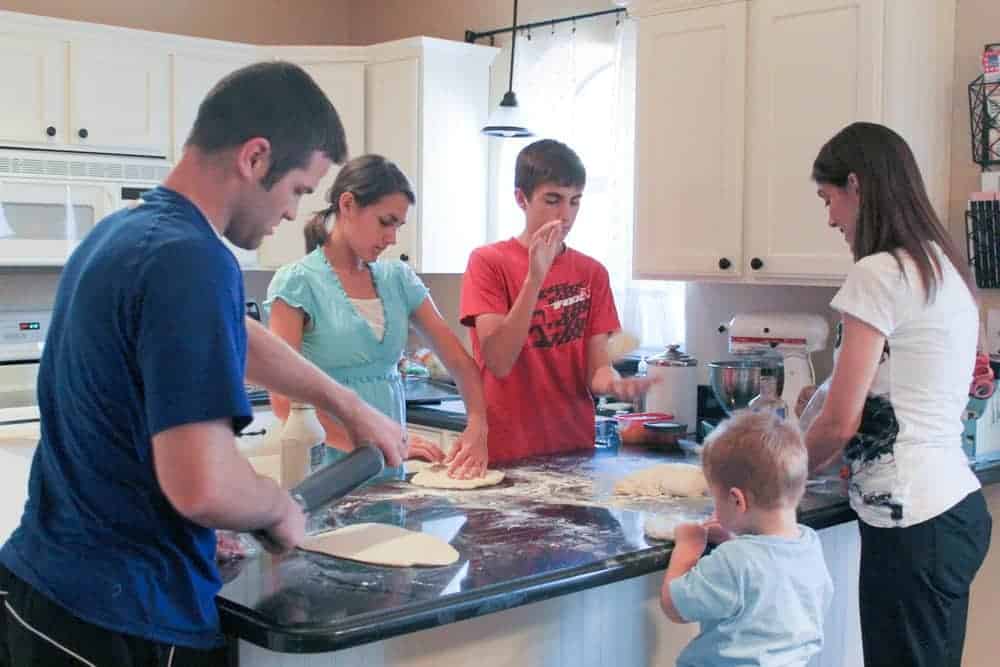 Easy dinner party menu ideas
Here are some of our favorite recipes that we have on rotation when inviting guests over. Everyone always seems to love these.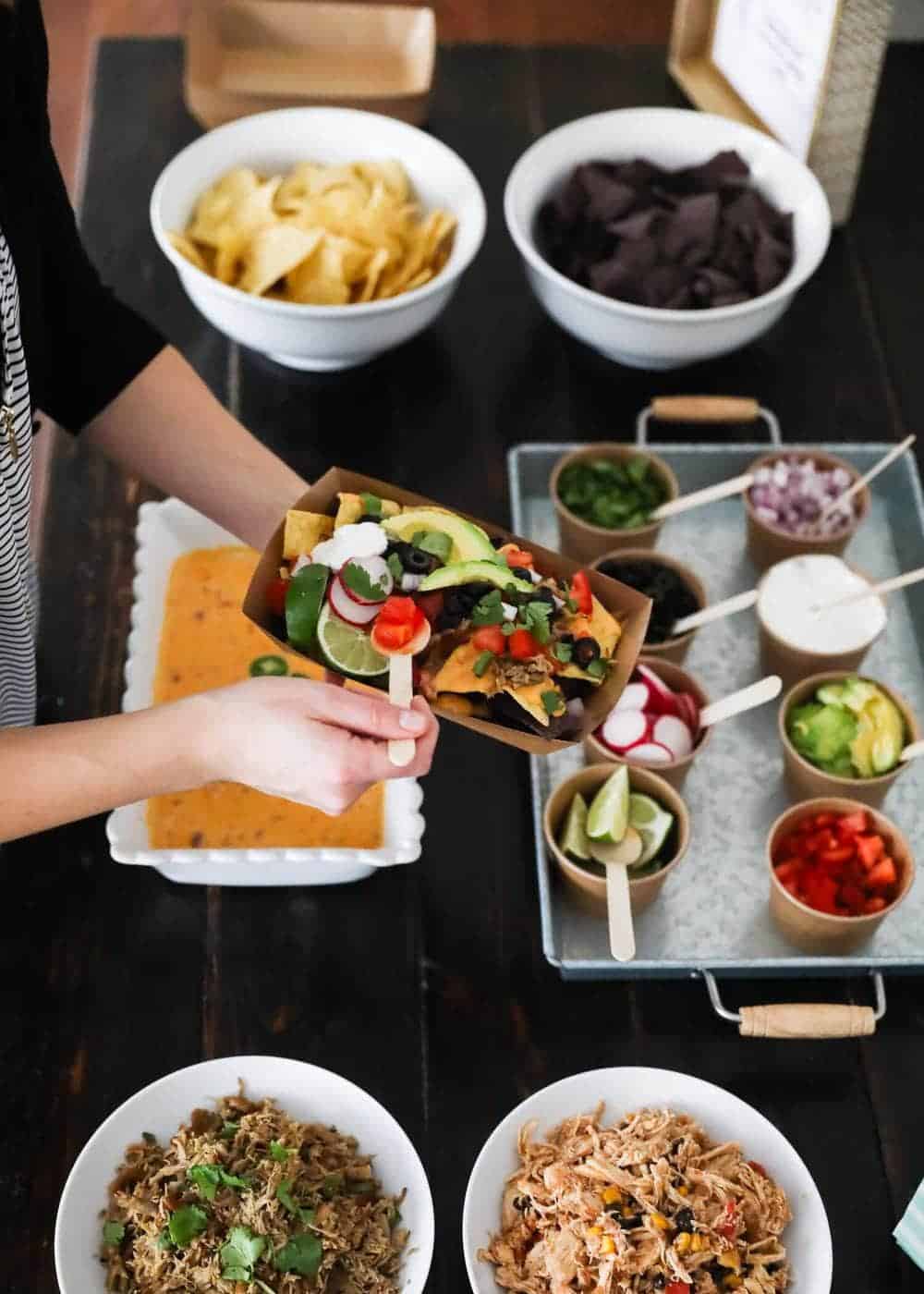 Dessert night ideas
Dessert nights are honestly my favorite and what we host most often. I find they are super chill and you don't have to stress over dinner. I usually invite a few families to dessert nights and make my m&m cookies, or ask them to bring their favorite dessert to share. Here are some other fun ideas for dessert nights.
Soda floats: Get a few different type of soda pop (rootbeer and orange are our favorites) and a gallon of ice cream. Kids love this!
Ice cream sundae's: This is so simple and everyone always loves an ice cream sundae. Feel free to go as simple or extravagant as you want. Sometimes I just pick up a gallon of ice cream and hot fudge from Trader Joes. Other times I'll make homemade fudge sauce, caramel sauce and whipped cream.
Pie night: We've done this a few times in the fall when people want to test out different pie recipes. It's fun to have everyone bring a pie.
Hot chocolate bar: Keep it simple with hot chocolate, marshmallows and whipped cream.
Cookies (or doughnuts) and milk: Make your favorite batch of cookies or pick up a box of doughnuts and have a gallon of milk. Easy peasy.
Roast s'mores: light up the fire and roast some s'mores. This is honestly one of my favorites and I can't wait to build a fire pit to do this in our new house.
More dessert ideas
Pizookie: Have you ever tried the pizookie (cookie pizza) from BJ's? It's what dreams are made of. And making your own at home is as easy as it gets. All you need is a skillet and chocolate chip cookie dough. Then add on any toppings like vanilla ice cream and hot fudge. We like to use mini ramekins or mini tin foil pan pans for personal size.
No-bake cheesecake: This seems fancy – but it's a lot easier to make than you think. This recipe requires no baking and comes together with just 5 ingredients. Just mix them all together and let it chill in the fridge. We love to add cherry pie filling on top for extra flavor.
Dessert Kabobs: This is a super easy and fun idea. You could set up a dessert kabob station and have your guests assemble their own. You can even get creative with the ingredients you use to make them, although we love the brownie, strawberry and marshmallow combo.
Dump cake: This is one of the easiest cake recipes you'll find. You literally dump the ingredients into a baking dish and voilà – deliciously baked cake in no time. And you can make so many different variations like cherry, peach, apple, blueberry…you name it!
Chocolate lasagna: This recipe is my #1 favorite no-bake dessert. It's layered with an Oreo crust, cream, chocolate pudding and whipped cream. It's refreshing, delicious and is especially great to make during the summer.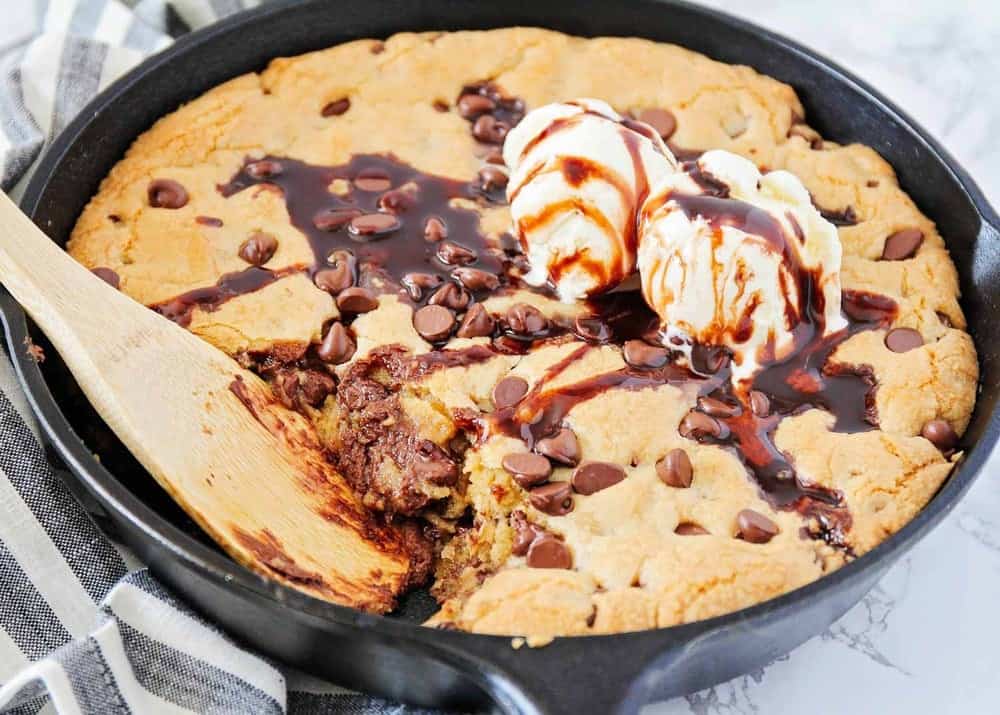 Dinner conversation starters
The best part about having people over for dinner is the conversations. I love inviting people into my home, so I can get to know them better. Here's some quick conversation starters. I think it's important to try and ask open questions that simply can't be answered with yes or no. Everyone has a story to tell.
What is your story?
Where is your family from? How many siblings do you have?
How did you meet your spouse?
Where else have you lived?
What is the best book you've read this year?
What is the best TV series (or movie) you've watched this year?
What is your idea of the perfect vacation?
If you could design the ideal job, what would it be?
What is the best restaurant you have ever ate at?
Who is someone you admire?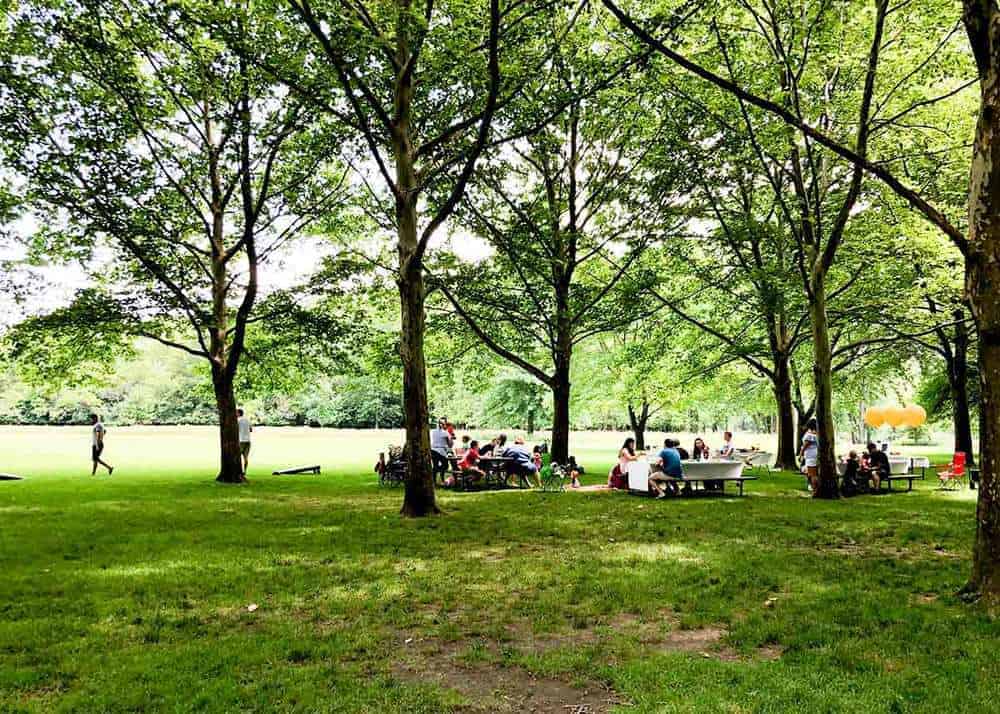 What do you do after you're done eating?
This was the most asked question I got when I challenged my instagram followers to invite someone over. Here are some ideas you shared. Honestly most the time when we have families over the parents just hang out and chat while the kids play with toys or pull out a game.
If the weather is nice have the kids play outside, ride bikes or go on a walk
Pull out some games (ideas below)
Dance party
Sit around the fire pit and talk
Watch a sports game or jeopardy (and play along)
Make a craft with the moms or kids
Do a movie night (can be fun outside if you have a projector)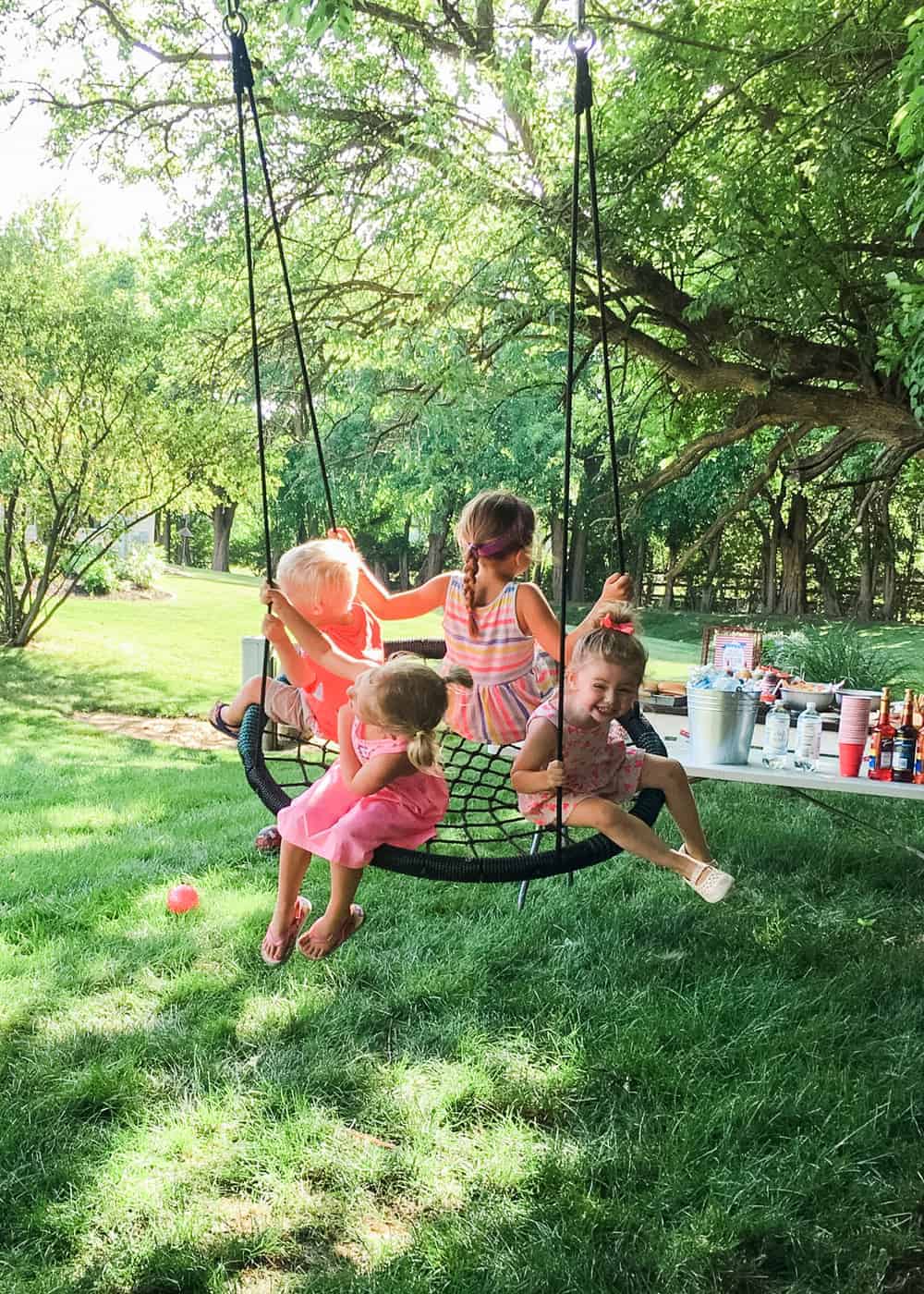 Dinner party games
If you find your conversation dying down, pull out a game! Here are some fun ones we rotate through.
Tenzi: This dice game is a great one to play with kids and is super easy to catch on. LCR is another fun dice game.
The bowl game: This is a great one for a big group. Have everyone write a unique (but true) thing about them on a piece of paper anonymously and place in the bowl. Then the bowl goes around and everyone tries to guess who wrote that. More details from my friend Jordan HERE who introduced me to this fun game.
Catch Phrase: This is always a good one to have around. It's easy for everyone to catch on.
Minute to Win It games: There are so many ideas around the web but HERE is a great list.
For it or Against it: Simply ask your guests if they are for or against something. These can be silly things like "McDonald's," "Bachelorette" or "Running" . They can also go into more controversial topics like "plastic straws" or a certain policy. All you do is say the word and your guest say "for" or "against." Then they can explain if they want to or you can ask a more in depth question to follow up.
Saran Wrap ball game: This one we like to do with a big group and is a fun one to do with kids. You basically wrap little pieces of candy, dollar store toys, money, etc. in a big ball. Then guests have to wear kitchen gloves to try and open the ball. More details from my friend Kristyn HERE.
Corn hole: If you have corn hole pull it out. My inlaws also have a giant JENGA set which is super fun.
TV games: Fibbage and Jackbox are fun games to play with groups. Everyone plays on their phones but sees the game on the TV.
WOO this was a long post. You made it through. Alright… so now it's your turn to invite someone over and have some fun! Once you've made those connections (and if your families hit it off), follow up with play dates, date nights, girls nights etc over the coming months. Girls nights are SO fun if you are looking to connect with more women. You can use several of these ideas above for GNO too or host a favorite things party, bunco night, galentines, spa night or simply watch a favorite TV series with popcorn. I'd love to hear how it goes! Let me know if you have any questions in the comments.