These amazing bean and cheese burritos are filled with seasoned refried beans and shredded cheese and then baked until golden. In just 15 minutes, I'm going to show you how something so simple can be so tasty!
Our family loves Mexican recipes anytime of the day! A few other favorites include breakfast burritos, bean dip and cheese enchiladas.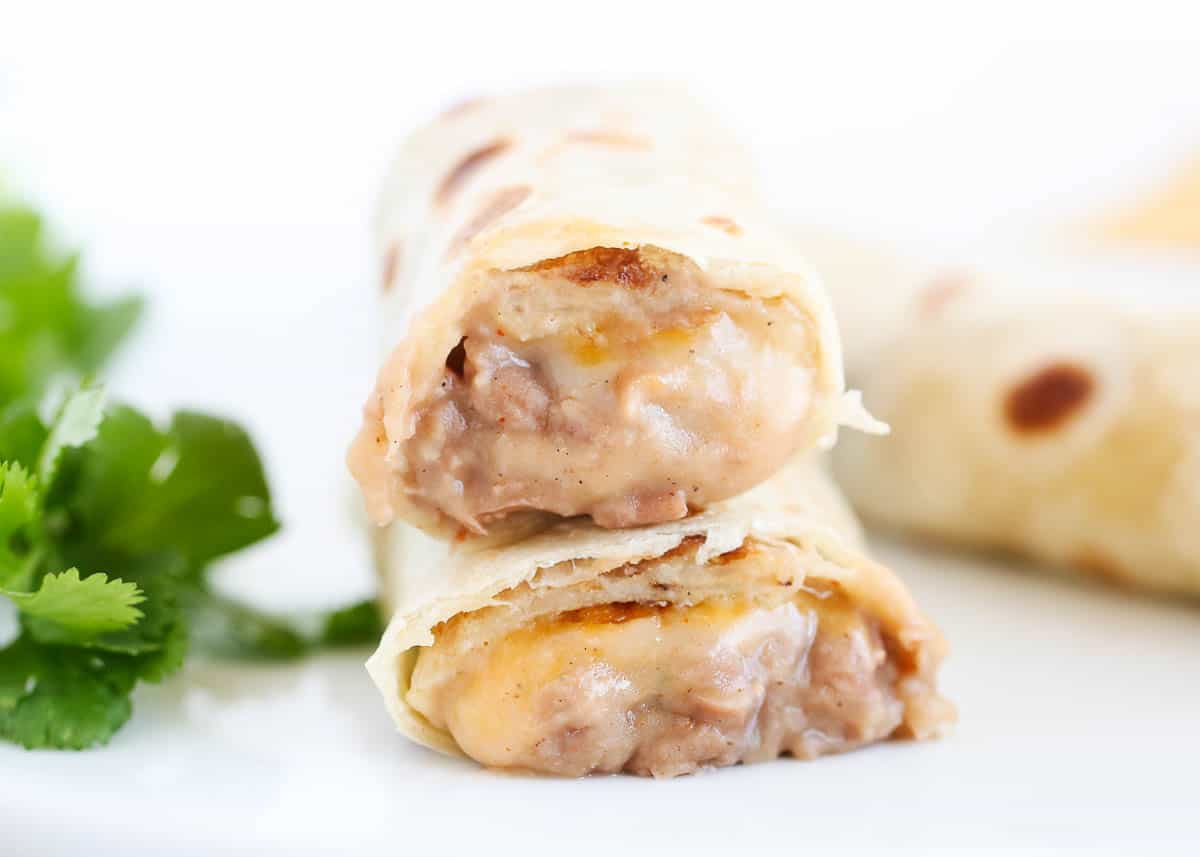 15 Minute Bean and Cheese Burrito
I love recreating the best Mexican food recipes inspired by traditional and authentic dishes with mouthwatering flavors. These homemade bean and cheese burritos are made with delicious refried beans and melty cheese baked inside crispy flour tortillas.
Making quick refried beans using aromatics and simple seasonings couldn't be easier, but you can use a can if you are short on time. A few other basic ingredients and this meatless bean burrito recipe is ready in only 15 minutes, making it a mouthwatering option for a quick lunch or dinner.
Along with chicken burritos and green chili burritos, it's just one more easy way to satisfy your Mexican food cravings.
Why This Recipe Works
Freezer-friendly. Made in 15 minutes, they're an easy freezer meal that can be a lifesaver when you're short on time (or energy) and need to get dinner ready in a hurry.
From scratch or not. You can make these as from scratch as you'd like. I use homemade tortillas and refried beans, but you don't have to!
Satisfying. Beans are full of fiber and plant-based protein which makes this bean burrito recipe filling and delicious!
Easy and portable. They're great for a sit-down meal served with all the toppings and a side dish, but also easily portable when you need a quick meal on the go.
Recipe Ingredients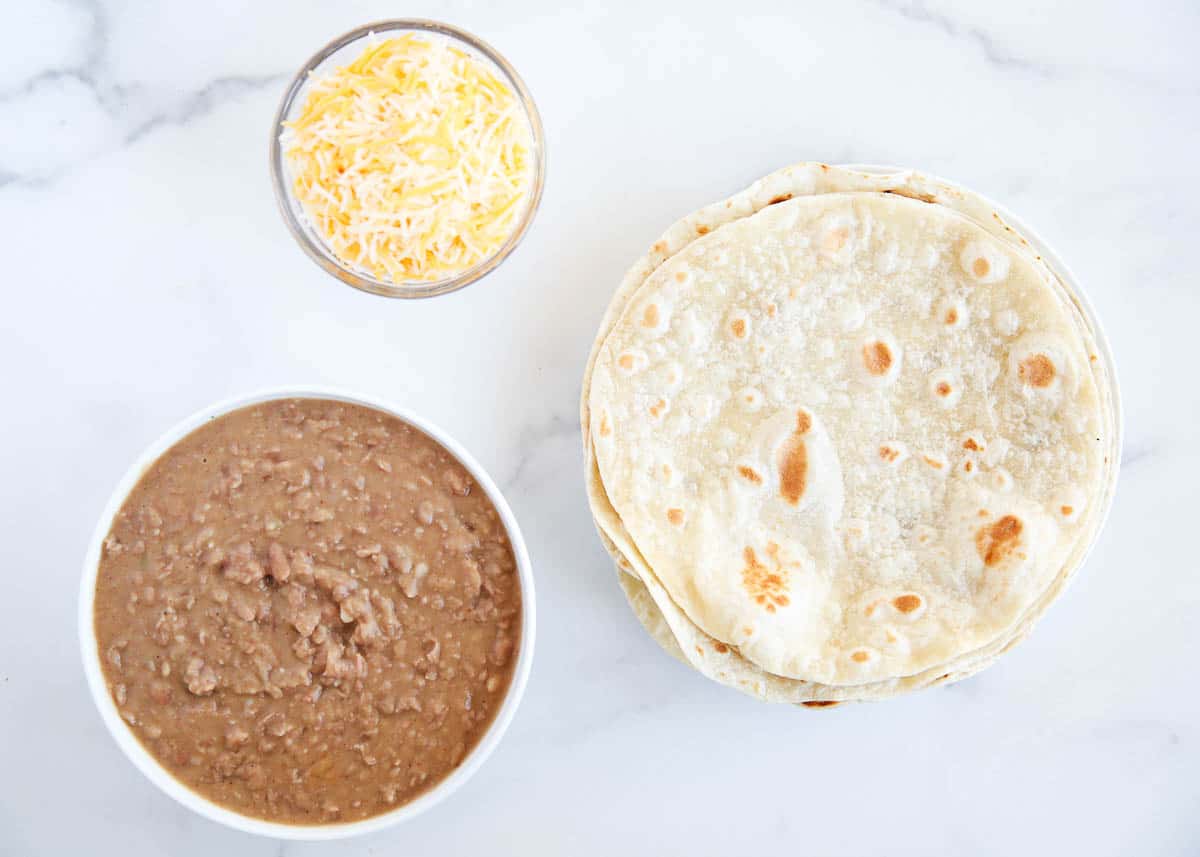 See full printable recipe below.
Seasoning: It's a toss-up. Sometimes I like to use just chili powder, but I have a great homemade taco seasoning blend that I like to use as well. It wakes up the refried beans and adds great flavor.
Beans: Use either a can of pinto beans or cooked beans that you've made yourself.
Cheese: My go-to here is always shredded Mexican cheese, but you can use whatever you have. Cheddar cheese, Colby Jack, Monterey Jack cheese, etc.
Tortillas: I love to elevate this dish by using homemade flour tortillas, but if that's not your thing, use uncooked tortillas from the store and heat them. Costco has a great selection.
Variations
Extra seasoning: Add garlic powder, paprika, or black pepper to the beans for more flavor.
Spice: For extra heat, add some more chili powder along with ground cumin. You can also add some cayenne or chopped jalapenos too.
Onion: Chop up 1/2 an onion and add it to the skillet before cooking the garlic. Cook until translucent and carry on with the rest of the recipe.
Add veggies: To add an extra element, consider adding some bell pepper, tomatoes, or corn to your classic bean and cheese burrito recipe.
Fresh lime juice & cilantro: Can be added to your bean and cheese burritos for a fresh lively flavor addition!
How to Make Bean and Cheese Burritos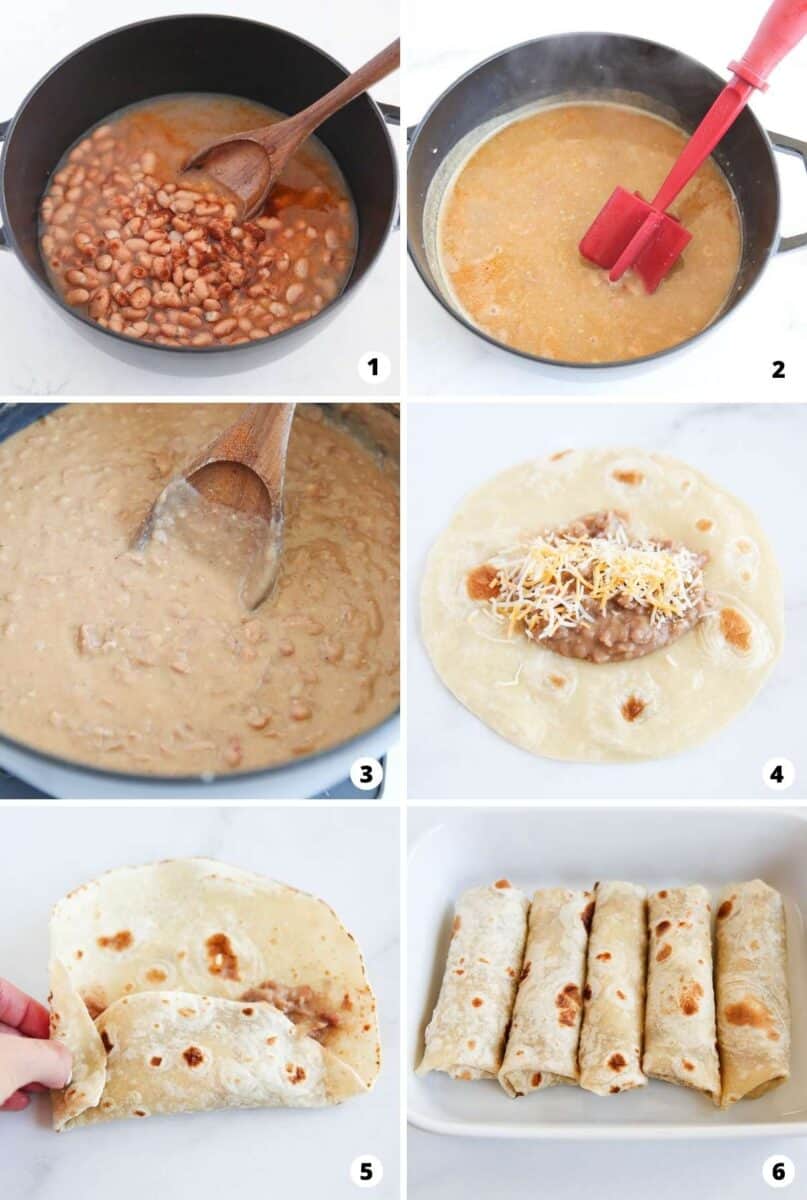 Cook the beans. In a medium saucepan cook the garlic (learn how to mince garlic quickly and easily for best results), salt, and chili powder (or taco seasoning) until fragrant, and then add the beans and water. Drain one can, but keep the liquid in the other. Cover and cook for about 5 minutes.
Mash them. Remove the lid and turn the heat down to low. Mash the beans until you reach your desired consistency. To do this you can use a potato masher, a fork, or for a smoother consistency, an immersion blender.
Reduce and season the beans. Simmer for 2 minutes, remove from the heat, and season to taste.
Fill the tortillas. Grab your tortillas and spread about 1/3 cup of the bean mixture down the center and sprinkle cheese over top.
Fold them up. Start with the bottom edge over the filling. Fold in the sides of the tortilla and roll it up all the way. Continue to wrap your tortillas until they have all been assembled.
Bake. Place each one side by side in a single layer in a prepared baking dish and bake for 10 minutes. Serve warm with your favorite toppings!
Expert Tips
To keep it vegetarian. Do not use lard to cook your beans!
What to serve with? A side of cooked rice and/or a simple salad is all you need. Mexican rice and cilantro lime rice are two of my family's favorites.
Consistency of the beans. If the beans are too thick, add a splash of water. If there is too much liquid, give them time to simmer a little longer to allow moisture to evaporate.
Favorite Toppings
Sour cream
Shredded lettuce
Hot sauce
A Stovetop Variation!
Using a large skillet rather than a baking sheet is a great way to get them a little crispier. Butter the skillet and place them seam side down. Pan fry them over medium heat until golden and crispy.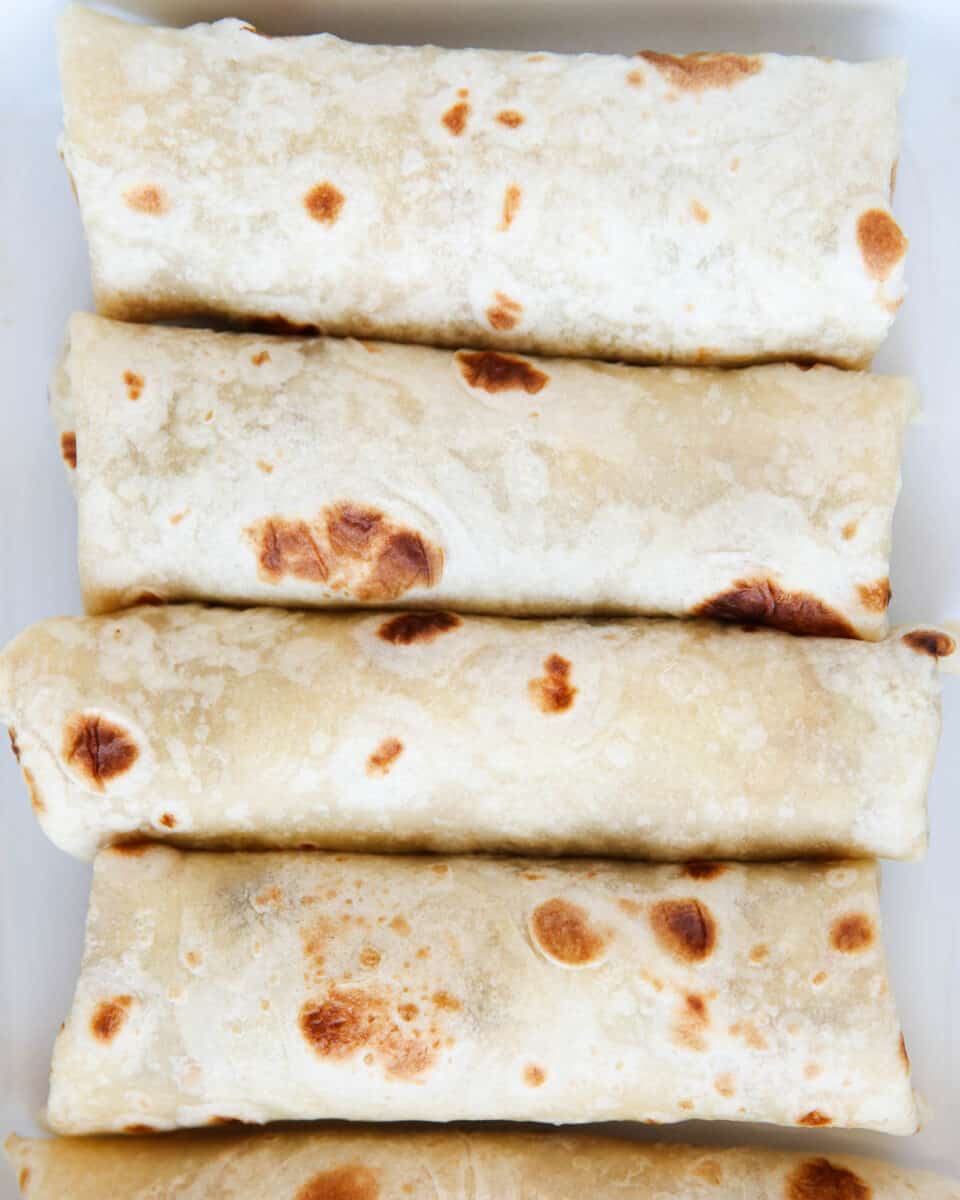 Recipe FAQs
How can I keep my tortillas from drying out?
The longer tortillas are exposed to the air, the faster they dry out. When this happens they crisp up and are hard to roll without breaking. To keep them pliable, stack them up on a plate and cover them with a damp paper towel. Give them a quick zap in the microwave if necessary to warm up.
Are refried beans healthy?
They certainly can be! Beans are a great source of fiber, iron, and protein. When refried using olive oil, that's even better! It's when they are cooked in lard that the lines start to get blurry. Although lard adds extra yumminess, if you are concerned, stick with the olive oil!
How do I store leftovers?
Keep them stored in an airtight container for up to 5 days in the fridge.
Freezing + Reheating
To freeze: Once assembled, baked, and cooled, wrap each one in plastic wrap. Store them in an airtight container or freezer-friendly zip-top bag and keep them frozen for up to 3 months.
To reheat: Thaw them in the fridge overnight. You can use the microwave, the oven, or the air fryer to warm them through. The air fryer is your best bet to get them crispy.
If you're reheating straight from frozen, tack on extra minutes until heated all the way through.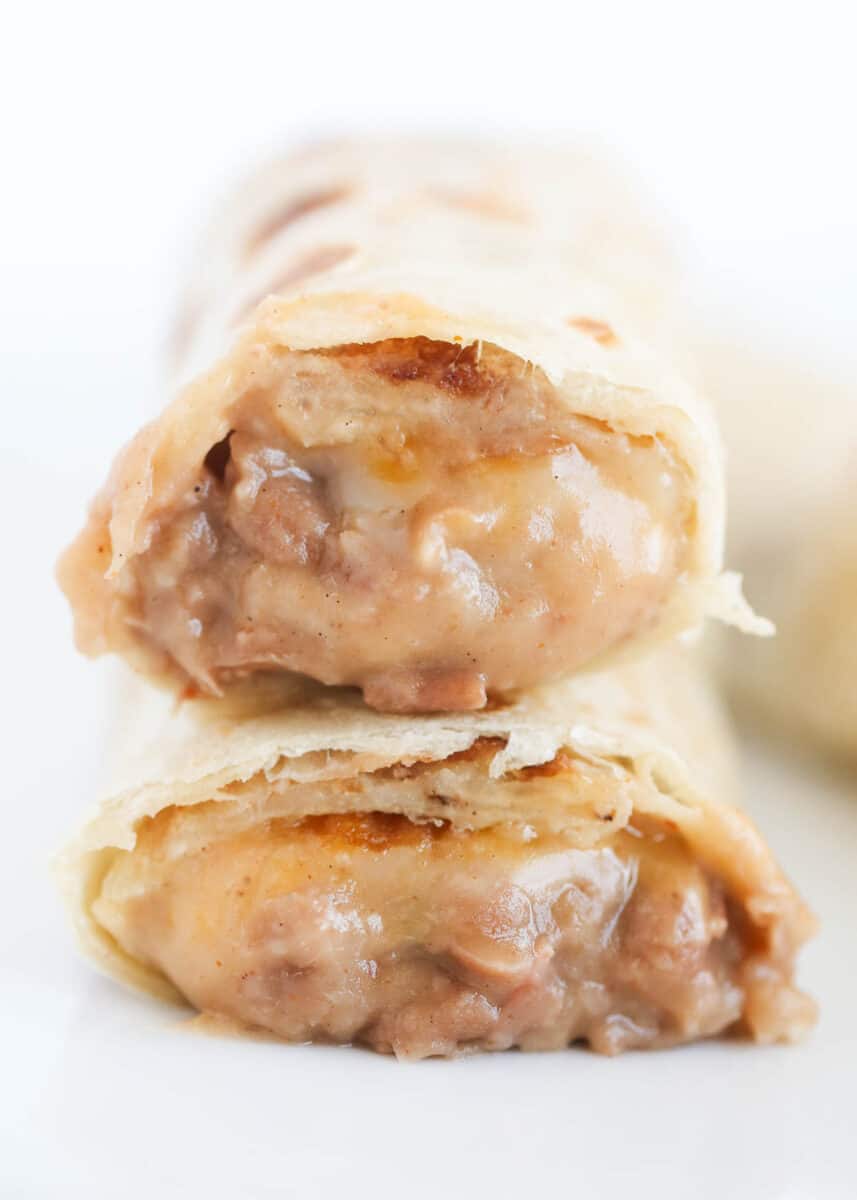 HUNGRY FOR MORE? Subscribe to my newsletter and follow on Facebook, Pinterest and Instagram for all the newest recipes!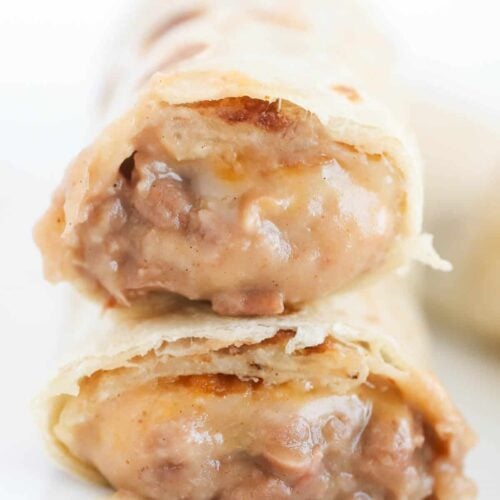 Bean and Cheese Burritos
These amazing bean and cheese burritos are filled with seasoned refried beans and shredded cheese and then baked until golden. In just 15 minutes, I'm going to show you how something so simple can be so tasty!
Ingredients
1 Tablespoon olive oil , or lard if desired
3 cloves garlic , minced
½ teaspoon fine sea salt , more to taste
¾ teaspoon chili powder , or taco seasoning
2 (15-ounce) cans pinto beans , or 3 cups cooked beans
⅓ cup water , plus more as needed
½ cup shredded Mexican cheese , plus more as needed
Optional add-ins
Fresh lime juice
Chopped cilantro
Instructions
Preheat the oven to 350°F. Spray a baking dish with nonstick spray.

In a medium saucepan, heat the olive oil over medium heat. Add the garlic, salt, and chili powder. Cook 1 minute, or until fragrant.

Pour in the beans (I usually leave 1 can with juice and drain the other) and water. Cover and cook 5 minutes.

Remove the lid and reduce the heat to low. Use a potato masher or fork to mash the beans until you reach your desired consistency. You can also use an immersion blender if you prefer a smoother consistency. Bring to a light simmer for 2 minutes. Add a splash more water if they become too thick or simmer longer to allow more moisture to evaporate if needed. Remove from heat and stir in optional add-ins, if using. Season to taste.

Spread about 1/3 cup of the beans down the center of a tortilla. Add 1 to 2 Tablespoons of cheese over the top. Fold the bottom edge over the filling and then fold in the sides and roll up.

Place in baking dish and bake 10 minutes. Serve while warm. Add desired toppings.
---
Notes
Substitutions + Additions:
Onion: Feel free to add in 1/2 chopped onion before cooking the garlic. Cook until translucent and then follow recipe as stated.
Spice: Feel free to season to taste. If you like them a little spicier, add in a little extra chili powder and ground cumin.
Beans: You can also swap for black beans if preferred. Feel free to drain and rinse them, if desired. Make sure to add in closer to 1/2 cup water.
Tortillas: Elevate these burritos with homemade flour tortillas or use the uncooked tortillas (we find them at Costco) and heat them up.
Cooking on a skillet: Don't want to heat up your oven? Or want them a little crispy? Once they're rolled up, butter a skillet and pan fry over medium heat (seam side down first), until golden brown and crispy.
Storage: Store burritos in a covered container for up to 5 days or freeze for up to 3 months.
Nutrition
Serving: 1g | Calories: 135kcal | Carbohydrates: 15g | Protein: 4g | Fat: 6g | Saturated Fat: 2g | Polyunsaturated Fat: 1g | Monounsaturated Fat: 2g | Cholesterol: 7mg | Sodium: 412mg | Potassium: 53mg | Fiber: 1g | Sugar: 1g | Vitamin A: 102IU | Vitamin C: 0.4mg | Calcium: 93mg | Iron: 1mg
Nutrition provided is an estimate. It will vary based on specific ingredients used.
Did you make this recipe? Don't forget to give it a star rating below!