This BLT pizza is an easy, delicious and family-friendly recipe! All the delicious flavors of a classic bacon, lettuce and tomato sandwich on a warm and toasty pizza crust.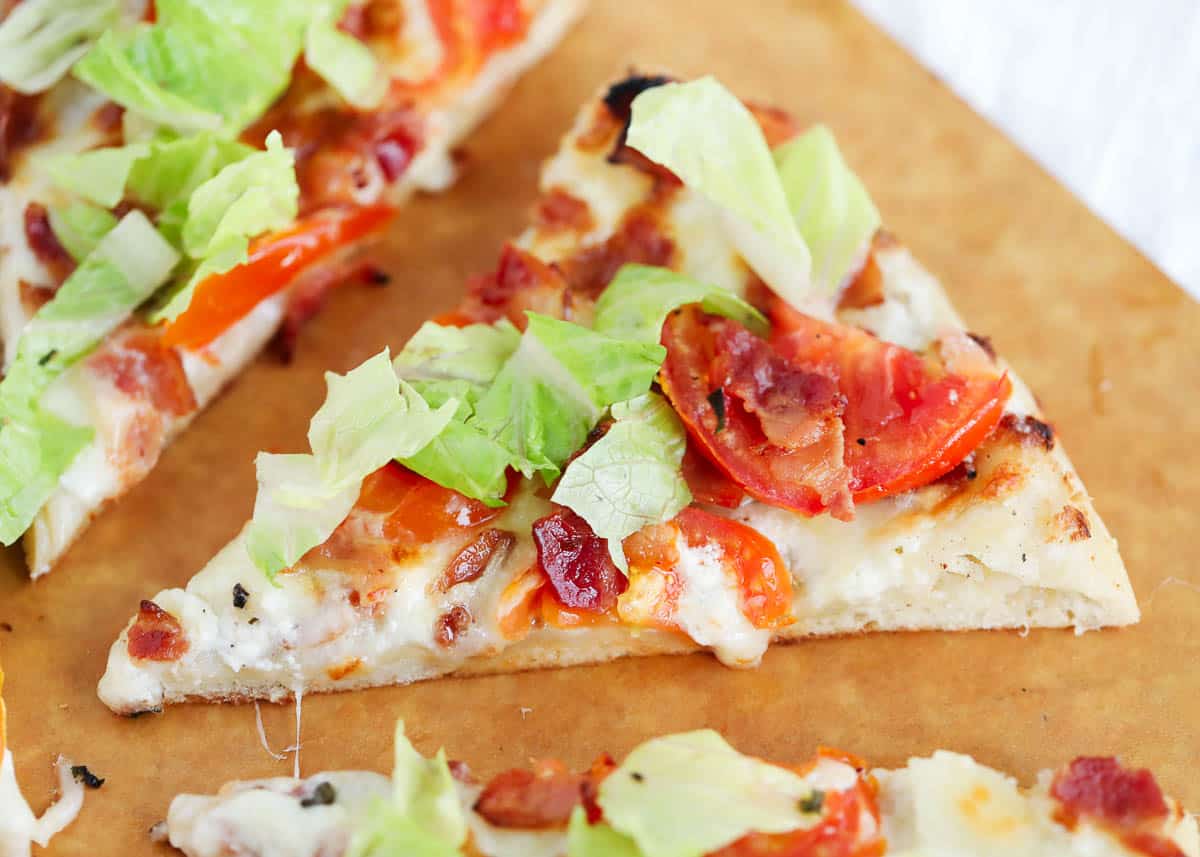 Easy BLT Pizza Recipe
I don't know about you, but when lunch rolls around I'm always starving, yet never know what to make. I usually end up making a salad, however yesterday I was craving something a little more hearty.
I looked in my fridge and found some leftover bacon and tomatoes and thought I would make a BLT pizza. It was so easy to throw together and the perfect lunch. This would also make an amazing appetizer or dinner!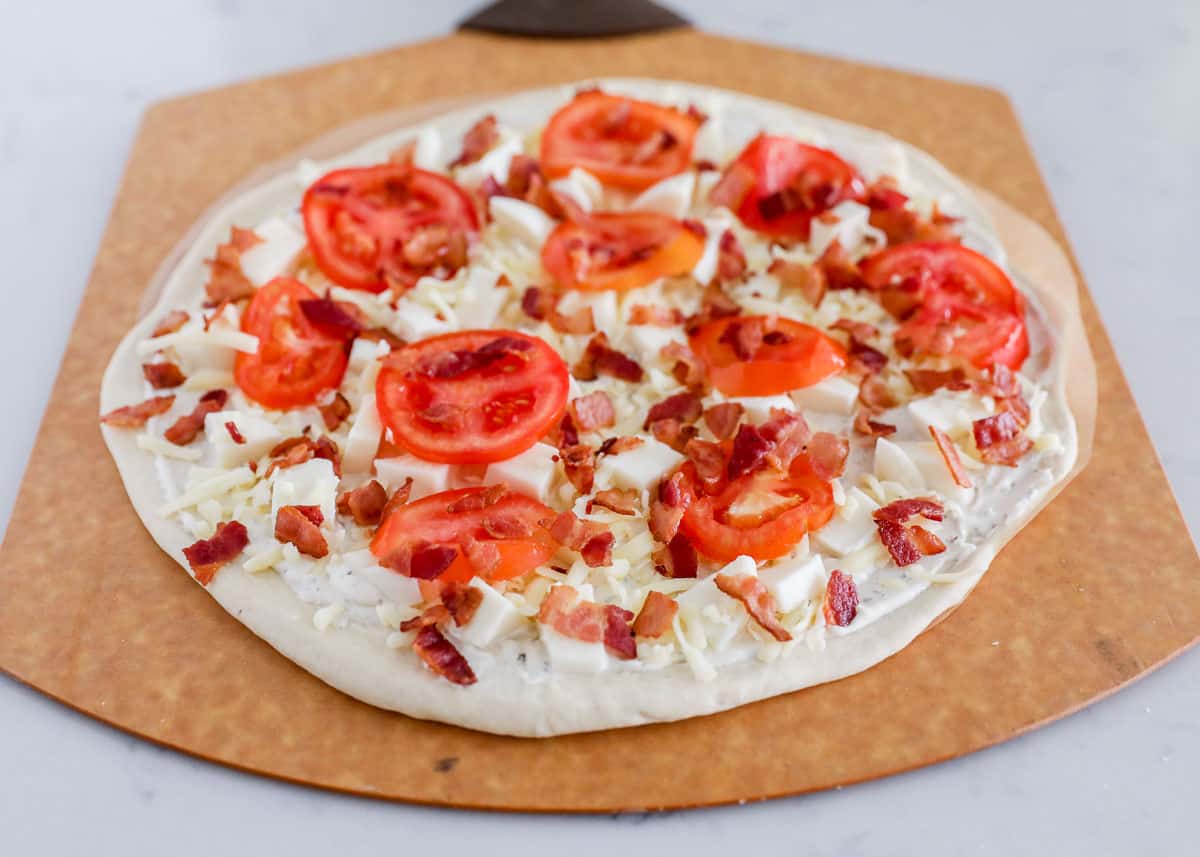 How To Make BLT Pizza
This BLT pizza starts out with my favorite pizza dough.Then I spread on a little ranch sauce, topped it with mozzarella cheese, bacon and fresh tomatoes.
Next I baked the pizzas in the oven until the cheese was nice and bubbly. The tomatoes also get nice and roasted, bringing out all the amazing juicy flavors.
Tip: For a wood fire crust, cook on the grill or in a pizza oven. Another way to get the crispy crust is to preheat a pizza stone in the oven. Form the pizza on a pizza peel (with a piece of parchment paper underneath) and then slide onto the stone once it's hot.
Ways to Modify
Pizza dough. Using whole wheat pizza dough is an easy way make this recipe a bit healthier. You could also use an easy no yeast pizza dough for a quicker alterative.
Sauce. The creamy ranch sauce is my absolute favorite, but a garlic white pizza sauce would also give this recipe delicious flavor.
Chicken. Adding shredded chicken would be a great way to bulk it up even more. It's like a BLT and chicken bacon ranch pizza and all in one!
Spice. A few sprinkles of red pepper flakes is a great way to add some heat.
Extra toppings. Don't be shy with the amount of toppings you add! Shredded lettuce, arugula, diced avocado and fresh basil are some delicious toppings to try out.
FAQs
What is a BLT pizza?
It's like the classic BLT sandwich but in pizza form! Bacon, tomatoes and lettuce sit atop a melty mozzarella pizza. Instead of traditional pizza sauce an easy homemade ranch sauce is used. It's so delicious!
Can leftover pizza be reheated?
Because of the fresh ingredients that are added on top after baking, I do not recommended reheating it unless you remove the lettuce.
How long is BLT pizza good for?
When stored properly in an airtight container in the refrigerator this pizza will last for 3 days. Try it cold! It's so good.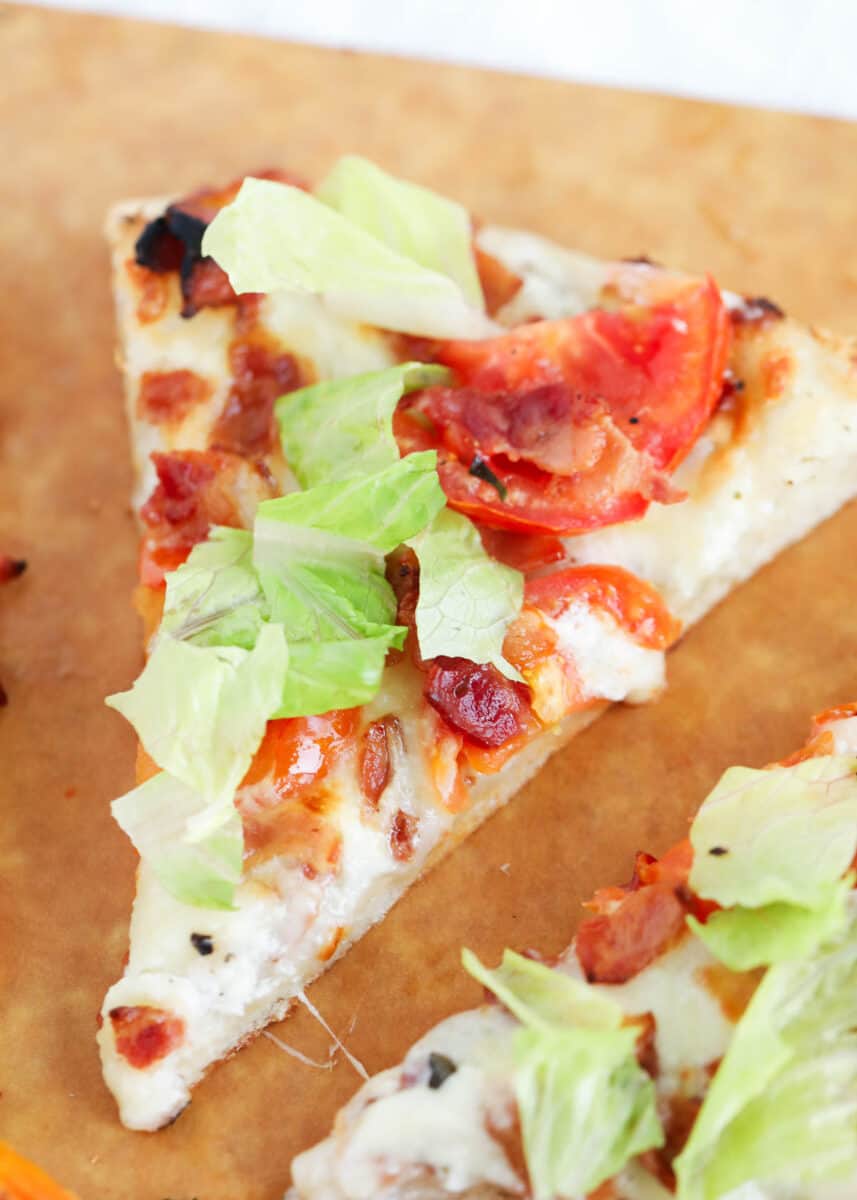 More Pizza Night Favorites:
HUNGRY FOR MORE? Subscribe to my newsletter and follow on Facebook, Pinterest and Instagram for all the newest recipes!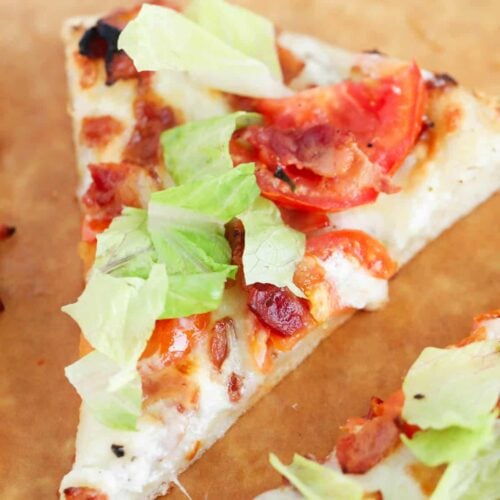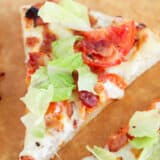 BLT Pizza
This BLT pizza is an easy, delicious and family-friendly recipe! All the delicious flavors of a classic bacon, lettuce and tomato sandwich on a warm and toasty pizza crust.
Ingredients
1 pound pizza dough
8 ounces mozzarella cheese , shredded or cubed (more if desired)
6 slices bacon , about 1/3 cup cooked and crumbled
2 tomatoes , thinly sliced
Ranch Sauce
2 Tablespoons sour cream
3 Tablespoons mayonnaise
2 ½ Tablespoons milk
½ teaspoon garlic salt
⅛ teaspoon dried chives
⅛ teaspoon dill
⅛ teaspoon dried parsley
dash of onion powder
salt and pepper , to taste
Optional toppings: Shredded lettuce, arugula, diced avocado, fresh basil, red pepper flakes
Instructions
In a small bowl, combine the ranch sauce ingredients. Mix until smooth and set aside.

Roll out the dough to about 12 inches and 1/4" thick. Then spread the sauce over the dough.

Sprinkle 1 cup of the mozzarella cheese over top, followed by the bacon and tomatoes. Sprinkle extra cheese on top if desired.

Bake at 450°F for 12 minutes, or until crust is golden brown and the center is cooked through. Allow to cool slightly and then top with shredded lettuce or additional toppings if desired.
---
Notes
Shortcuts: To make this recipe easier, you can use a store-bought pizza dough (I prefer Trader Joe's), bacon crumbles and pre made ranch dressing. If I'm using a store bought dressing, I usually start with about 1/3 cup.
Dough: When making it homemade, I love this pizza dough recipe.
Grilled version: Oil your grill and turn heat to medium-low. Brush dough with olive oil and grill for 2 minutes on one side, with the grill cover on. Flip to the other side and brush again with olive oil. Cook for 2 minutes, with the grill lid on. Remove crust to a plate and add toppings. Return to grill and cook just until cheese is melted, 1-2 more minutes.
Nutrition
Calories: 410kcal | Carbohydrates: 30g | Protein: 16g | Fat: 25g | Saturated Fat: 10g | Polyunsaturated Fat: 5g | Monounsaturated Fat: 8g | Trans Fat: 1g | Cholesterol: 50mg | Sodium: 1039mg | Potassium: 189mg | Fiber: 1g | Sugar: 6g | Vitamin A: 717IU | Vitamin C: 6mg | Calcium: 210mg | Iron: 2mg
Nutrition provided is an estimate. It will vary based on specific ingredients used.
Did you make this recipe? Don't forget to give it a star rating below!
Lighter BLT Pizza
For a lighter version, you can use a flatbread crust and then go light on the dressing and cheese. Delicious and super simple to make. The red pepper also adds a nice kick! If you like your pizza a little more saucy, feel free to drizzle a little more ranch on top as well.