An easy blueberry crisp with a thick sweet filling topped with a toasty cinnamon sugar streusel topping is the best way to welcome cooler weather. It's a quick dessert or afternoon snack that everyone finds comfort in!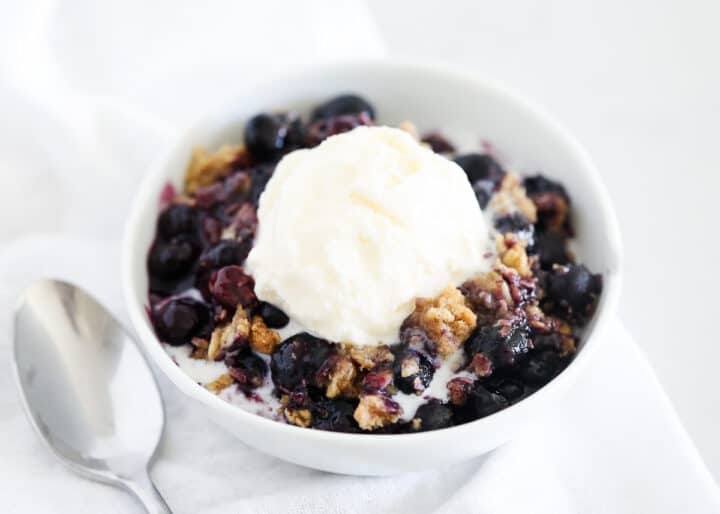 Easy Blueberry Crisp
There's something so cozy and comforting about a baked dessert when the weather starts to cool down. A fruit crisp is one of the easiest ones to make and what better way to send off summer and celebrate the changing of the seasons than making blueberry crisp!
There will be plenty of time to make an apple crisp throughout the fall and winter months, but for now, this easy blueberry crisp is the one to try. Use up all of your remaining blueberries you've had frozen up until now and make this quick and easy dessert filled with sweet syrupy blueberries with a cinnamon sugar buttery crumble topping.
This blueberry crisp with oats comes together in under 1 hour and is the same recipe whether you use blueberries or your choice of another fruit, so keep this one handy! Serve it warm with whipped cream or a scoop of homemade vanilla ice cream.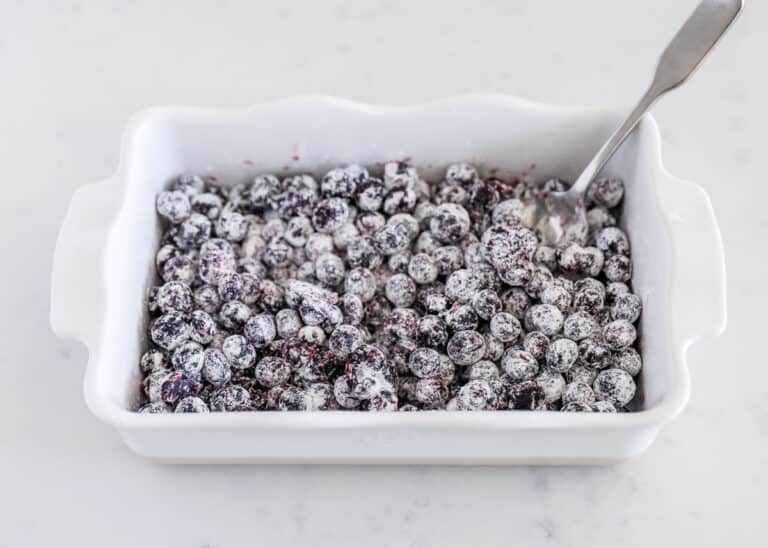 Frozen vs Fresh Blueberries
Both will work for sure. I use frozen myself, just for convenience sake, but you can use fresh if you have a ton you want to use up. Sometimes I'll have loads of frozen blueberries saved from when they were in season to use at a later date. When using frozen, there is no need to thaw first. They will come with a little added water, so you may need to adjust the amount of cornstarch you use to thicken it up.
Can I Make It Gluten-Free?
You can make this blueberry crisp recipe completely gluten-free by using a 1:1 gluten-free all-purpose or almond flour and making sure the oats you're using are certified gluten-free. There is some debate whether or not oats are considered gluten-free because the standard amount to be considered "gluten-free" differs depending on where you live. When it is certified, it means there has been no cross-contamination and no gluten present otherwise.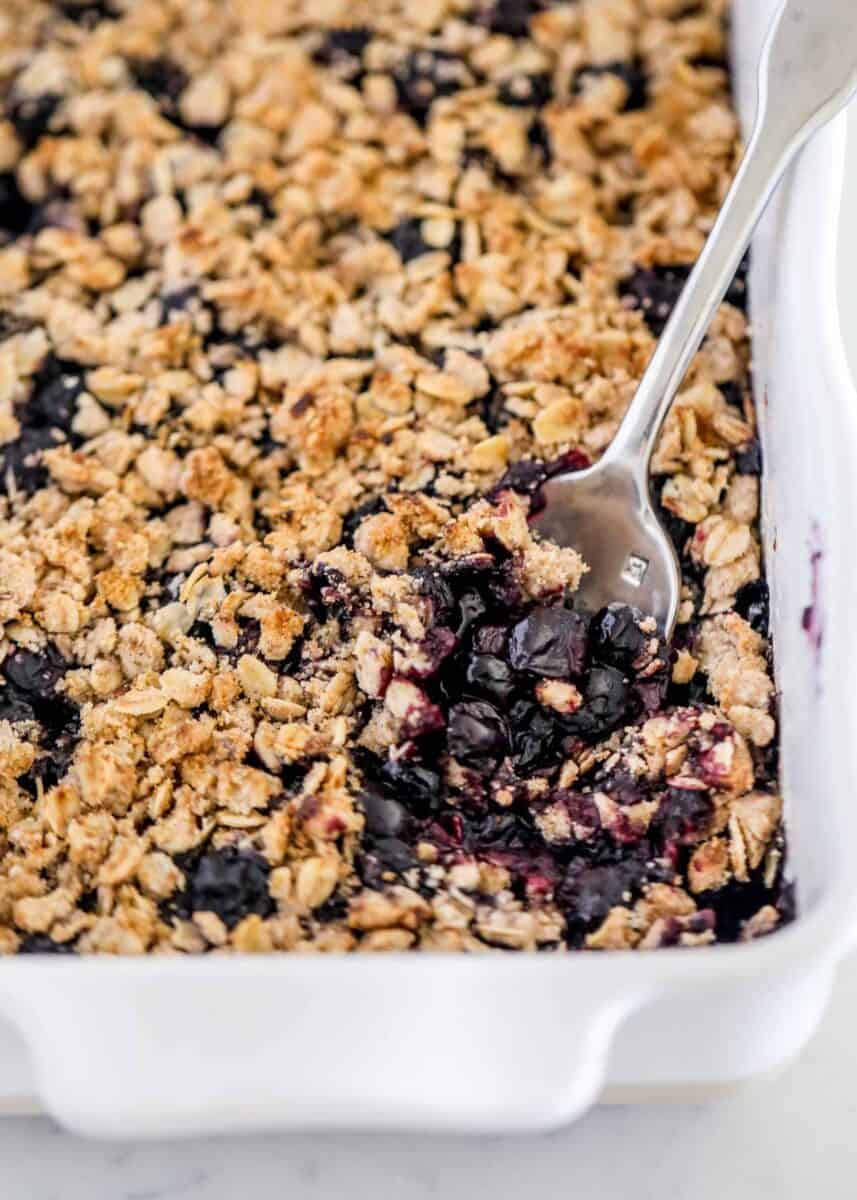 Tips
If you are using unsalted butter, add 1/4 tsp salt with cinnamon.
Old fashioned rolled oats are recommended over instant oats. They will crisp up much nicer in the amount of time given in the oven.
Add nuts to the topping if desired. Chopped almonds, walnuts, pecans, whatever you like.
Serve warm on its own or with a dollop of whipped cream, a scoop of vanilla ice cream, or yogurt for a lighter option.
Best enjoyed immediately!
Make Ahead
Preparing the filling and the crumble topping separately. Store in the fridge for up to 2 days in an airtight container and assemble while the oven preheats when you're ready to bake.
Storing, Freezing, & Reheating
Store: Keep stored in an airtight container. It will stay fresh at room temperature for a couple of days. After that, transfer it to the fridge for a few extra days.
Freeze: You can freeze this crisp either before you bake it or after once it's completely cooled. Wrap tightly in plastic wrap, or store in a freezer-friendly airtight container.
Reheat: You can choose to thaw overnight in the fridge and bring it out to room temperature 30 minutes before baking for a faster way to heat it through, or bake it directly from frozen for a little while longer. If you're just reheating a piece or two leftover, you can microwave it at 30-second intervals until warm.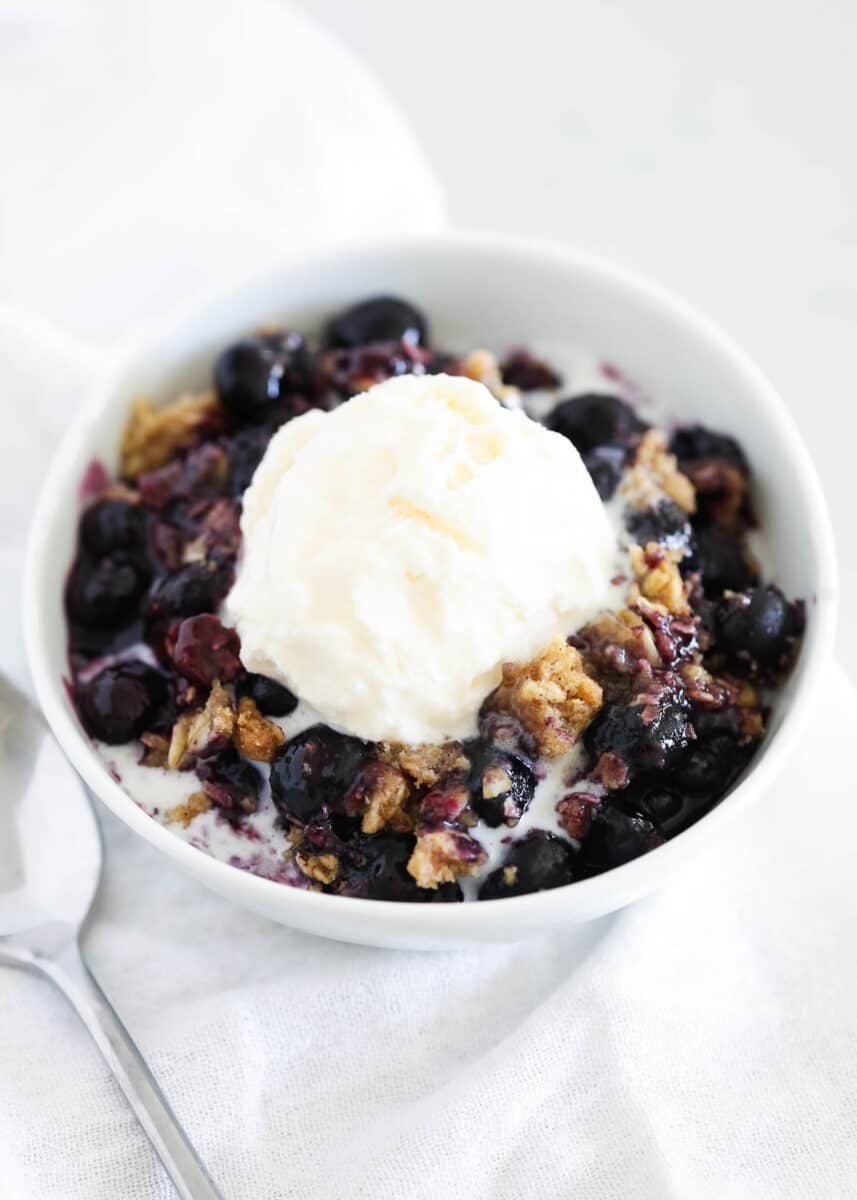 More Easy Fruit Desserts: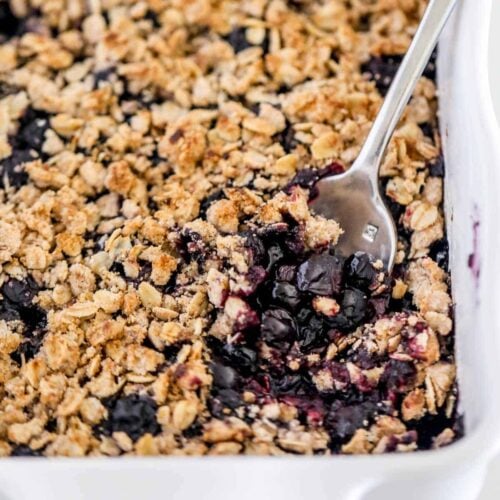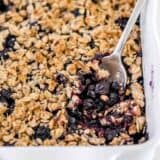 Blueberry Crisp
An easy blueberry crisp with a thick sweet filling topped with a toasty cinnamon sugar oat crumble is the best way to welcome cooler weather. It's a quick dessert or afternoon snack that everyone finds comfort in!
Ingredients
4 cups frozen blueberries , could use fresh
1/4 cup granulated sugar
1 Tablespoon cornstarch
1 lemon , juiced (optional)
Topping:
5-6 Tablespoons salted butter , slightly softened
2/3 cup all-purpose flour
1/2 cup old fashioned oats
1/3 cup light brown sugar , packed
1/2 teaspoon ground cinnamon
Optional: 1/2 cup chopped nuts
For serving (optional): Vanilla ice cream or whipped cream
Instructions
Pre-heat oven to 375°F. Place the blueberries in a 8" baking dish. Squeeze fresh lemon juice on top if desired. Sprinkle the sugar and cornstarch over the blueberries and toss together.

In a large bowl, combine the flour and butter with a fork or pastry mixer. Then mix in the oatmeal and brown sugar. Sprinkle the crumble over the blueberries. Top with nuts if desired.

Bake for 35 to 40 minutes or until the blueberries are bubbling and the topping is lightly golden.

Serve warm with vanilla ice cream or cool whip. Enjoy!
---
Notes
Butter: If you use unsalted butter, add in 1/4 teaspoon salt with the cinnamon.
Calories: 238kcal | Carbohydrates: 40g | Protein: 3g | Fat: 9g | Saturated Fat: 5g | Polyunsaturated Fat: 1g | Monounsaturated Fat: 2g | Trans Fat: 1g | Cholesterol: 20mg | Sodium: 72mg | Potassium: 127mg | Fiber: 3g | Sugar: 23g | Vitamin A: 290IU | Vitamin C: 10mg | Calcium: 23mg | Iron: 1mg
Nutrition provided is an estimate. It will vary based on specific ingredients used.
Did you make this recipe? Don't forget to give it a star rating below!