This chicken divan stands out as a comforting meal that satisfies all palates. Juicy chicken and tender broccoli baked in a creamy cheese sauce. Now this is what a homemade dinner should taste like!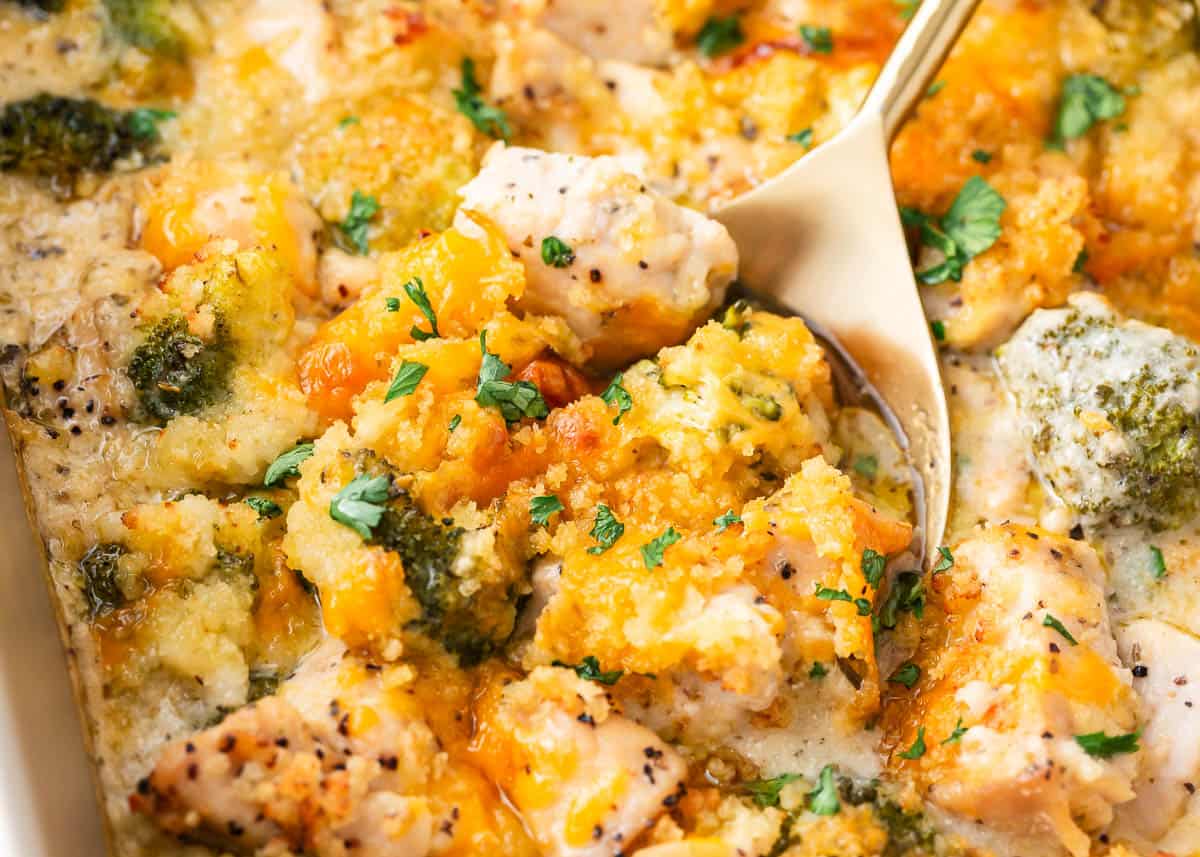 Comforting Chicken Divan Casserole
This chicken divan recipe is budget-friendly and easy to make, and much like my other casseroles, it's an entire meal in one dish!
All covered in a tangy cheese sauce, it's one of those recipes you'll want to put on repeat. It has a lot in common with chicken pot pie and Instant Pot chicken and dumplings and it may even remind you of a chicken noodle casserole!
All three recipes are made with real chicken and fresh vegetables, and covered in a delicious sauce or gravy!
Recipe Ingredients
Find the full printable recipe with specific measurements below.
Broccoli. Fresh broccoli florets have the perfect texture for the casserole.
Chicken. Either chicken breast or chicken thighs will work, you just have to cut them up into small pieces.
Spices. Use your favorite spices to enhance the flavor of the chicken and broccoli. The most common ones are garlic powder, onion powder, and Italian seasoning.
Chicken broth. Thins out the cheese sauce a bit which helps make it pourable but also gives it even more flavor.
Sour Cream. This adds an incredible tanginess to the cheese sauce. It also gives the consistency a little extra creaminess.
Cheese. There is a lot of room for creativity with the cheese. Most people use cheddar cheese, but you can use mozzarella and even pepper jack cheese if you'd prefer.
For the topping. A combination of Panko bread crumbs and melted butter for a crispy topping.
Substitutions and Variations
Easy chicken divan takes the guesswork out of dinner. It's filling, nutritious, and incredibly simple. Here are some fun variations you can try:
Greens: Try this with cauliflower or green beans instead of broccoli.
Seasonings: Make your own Italian seasoning blend. Chicken divan with curry powder is also popular, just substitute the Italian seasoning for curry powder.
Spice: Sprinkle red pepper flakes on top for a bit of a kick.
Topping: Swap the Panko breadcrumbs with Ritz crackers.
How to Make Chicken Divan
All you have to do is chop, prep, mix, and bake! Chicken divan will be ready for dinner within 30 minutes.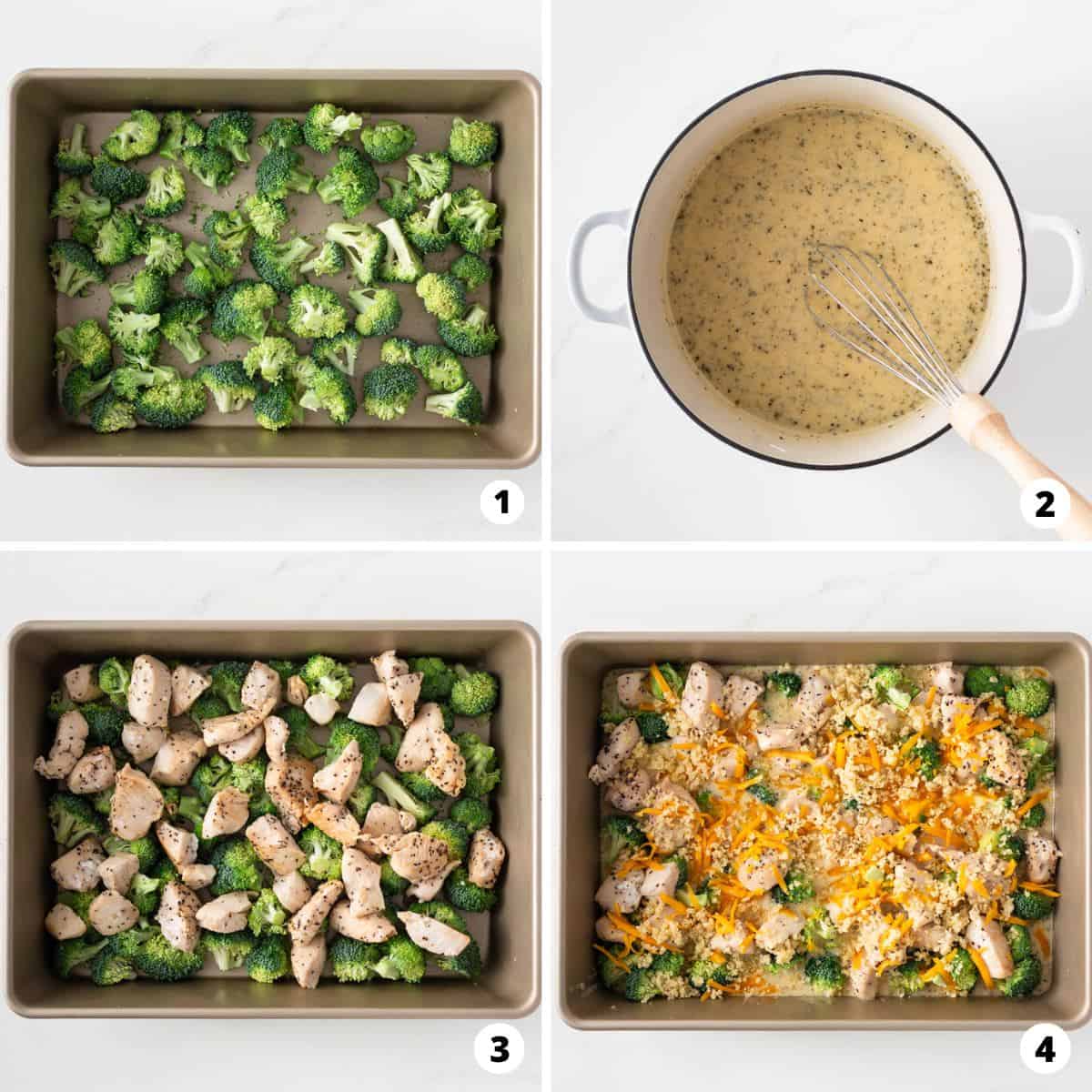 Prepare the casserole dish. Preheat the oven and spray the casserole dish with non-stick spray. Then, add chopped broccoli to the bottom of the dish.
Make the sauce. Heat up and mix the ingredients for the cheese sauce until combined and thickened. Add the sour cream and 1/4 cup of the cheese at the end and continue stirring until combined.
Cook the chicken. Cut up the chicken and add your spices to it. Then, brown it slightly. Place the chicken on top of the broccoli. Pour the cheese sauce on top of the chicken and broccoli. Top with remaining cheese and breadcrumb mixture.
Bake the casserole. Then, just bake it all until it is bubbly.
Expert Tips
Take your time and adjust the spices and ingredients to your taste. That's the beauty of chicken divan. It might be a classic recipe, but there is so much room to make it your own.
Making the cream sauce. If you don't want to make your own cream sauce, you can omit the 4 Tablespoons of butter, flour, chicken broth, and seasoning. Instead, mix: 1 (10-ounce) can cream of chicken soup with 1/2 cup sour cream and cheese. Then salt and pepper to taste.
Cooking the chicken. Use pre-cooked shredded chicken or leftover rotisserie chicken to speed up the prep time.
Serving chicken divan. Add it on top of rice, mashed potatoes, or your favorite type of pasta.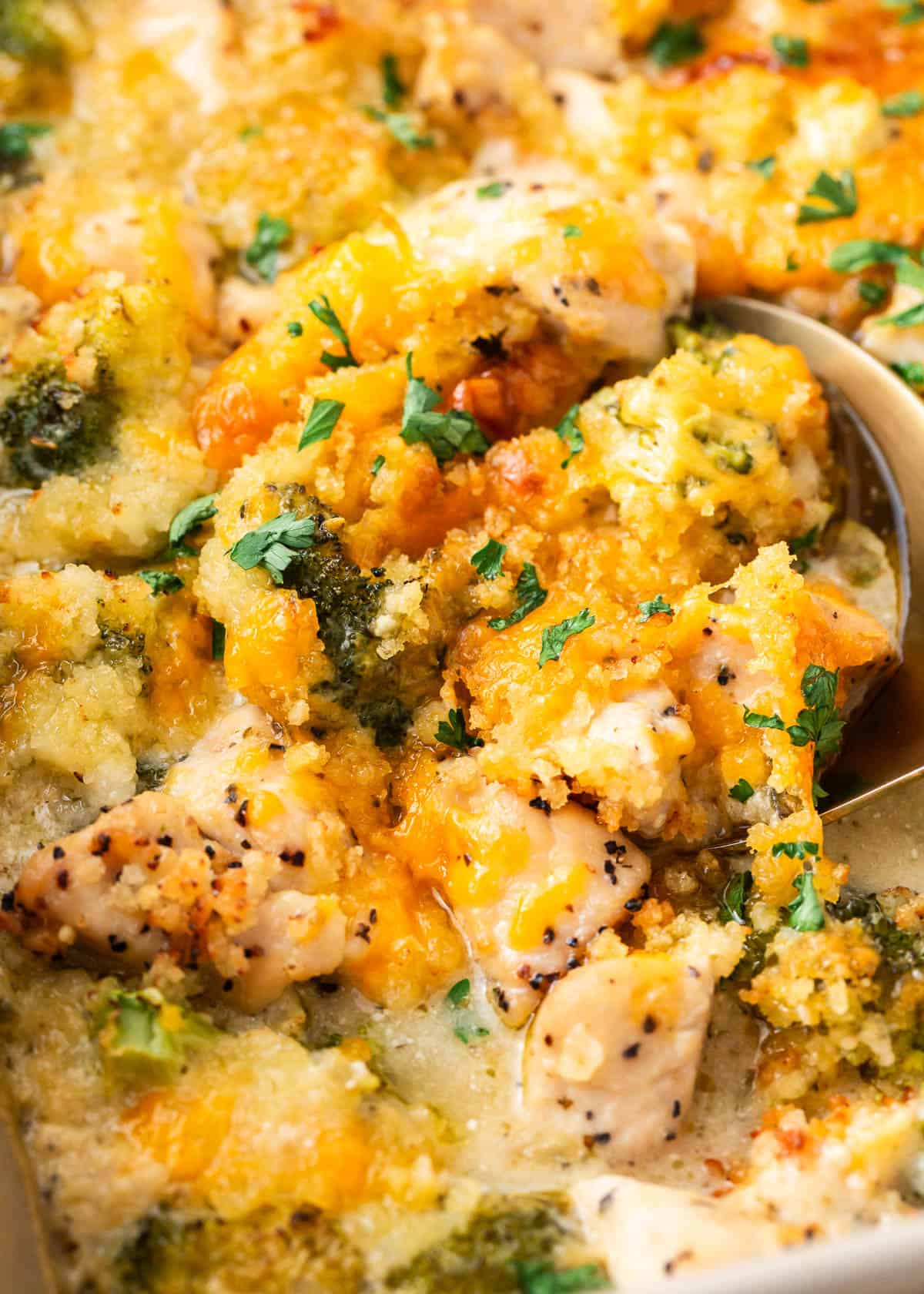 Recipe FAQs
What is chicken divan?
Chicken divan is a classic American casserole dish that usually includes chicken, broccoli, and a creamy sauce. Then, it is all baked together and topped with cheese and breadcrumbs. It's a comfort food favorite that, like chicken broccoli rice casserole has been popular for many years.
What does divan mean in chicken divan?
Divan is from the place of its origin – the Divan Parisien Restaurant at Chatham Hotel in New York City.
How much does this recipe make?
This recipe makes about 6 servings. You could easily make two casseroles to feed a larger crowd. Or eat one and freeze the other!

How do you make it gluten-free?
Replace the crackers or breadcrumbs on top with either pork rind crumbs or some crushed almonds. You can also keep it simple and use gluten-free breadcrumbs.
Can you make chicken divan without broccoli?
Yes! You could try asparagus, frozen peas, cauliflower or even green beans.
Serving Suggestions
You can enjoy chicken divan as a full meal, or serve a smaller portion with a side dish like creamy mashed potatoes, egg noodles, or some flaky homemade biscuits. Either way, this cheesy dish hits all the right spots.
Make Ahead and Storing
A great way to make this freezer-friendly meal ahead of time is to start by making it in a disposable foil pan. It just makes it easier so you don't have to transfer it from the baking dish.
Make the recipe right up until you bake it. Then, cover it with aluminum foil and transfer it to the freezer. To avoid freezer burn, make sure it's sealed tight. You can even start with a layer of plastic wrap if you'd like.
Once you're ready to bake it, thaw it in the fridge the night before. Place it in the oven at 350°F until it's warm throughout (about 30 minutes).
Keep any leftover chicken divan in the fridge in an airtight container for up to four days. Reheat in the microwave until warm.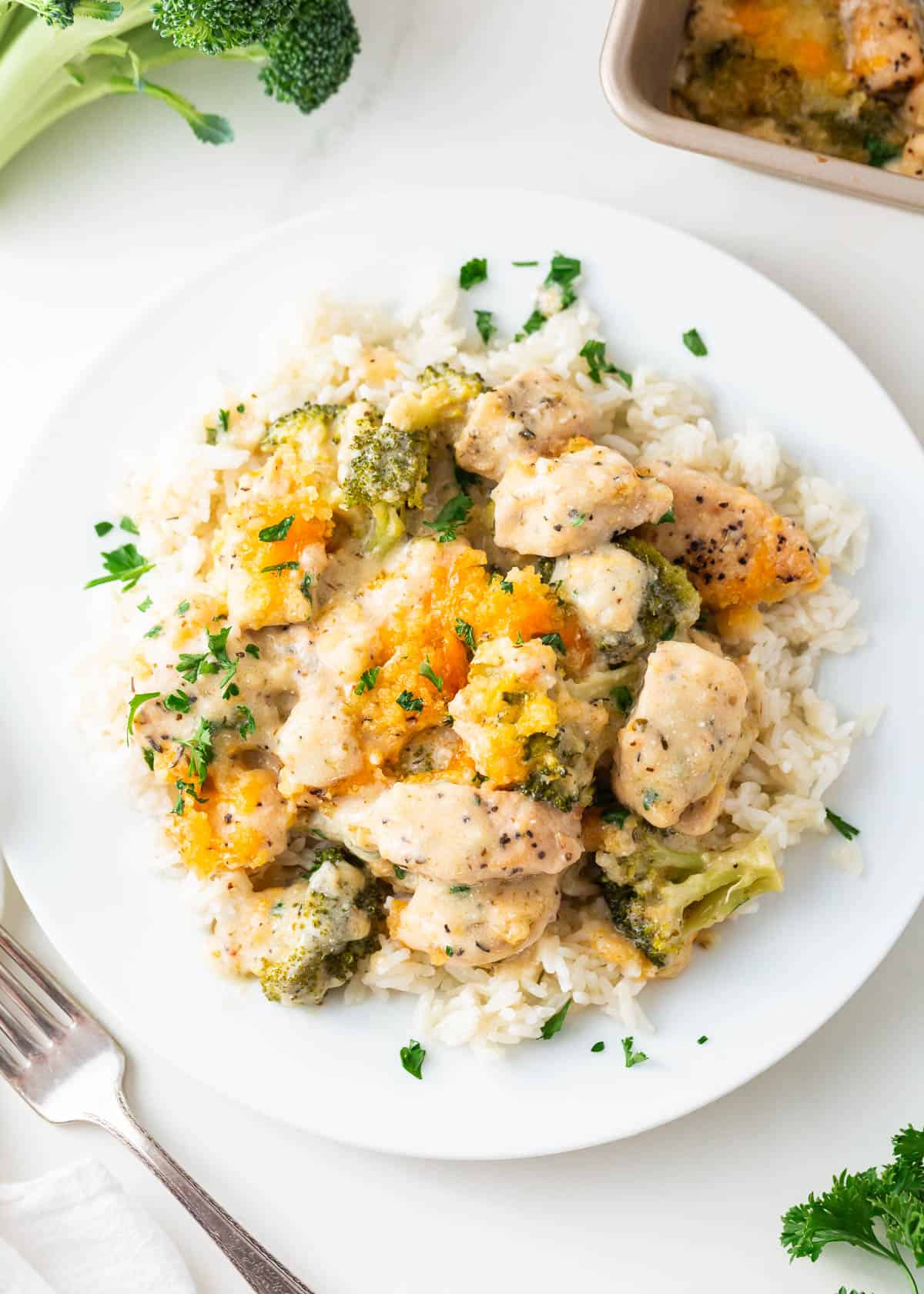 More Chicken Casserole Recipes
HUNGRY FOR MORE? Subscribe to my newsletter and follow on Facebook, Pinterest and Instagram for all the newest recipes!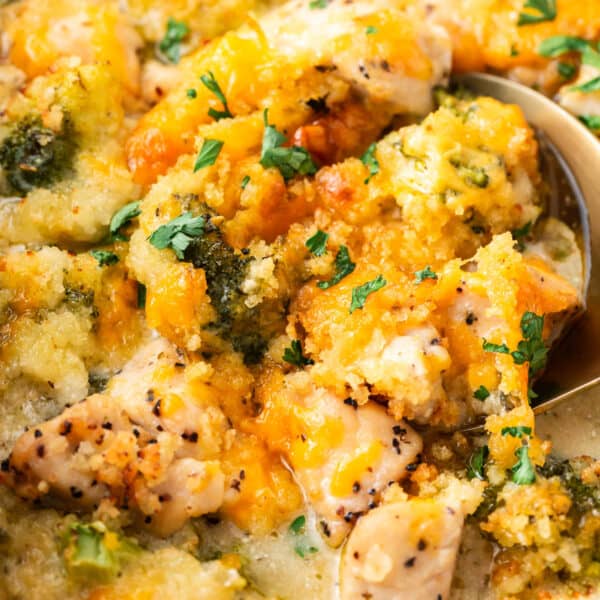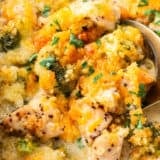 Chicken Divan Recipe
This chicken divan stands out as a comforting meal that satisfies all palates. Juicy chicken and tender broccoli baked in a creamy cheese sauce.
Ingredients
Topping
¼ cup panko crumbs
2 Tablespoons unsalted butter , melted
Chicken with Broccoli and Sauce
1 1/2-2 cups chopped raw broccoli , cut into bite-sized pieces
5 Tablespoons unsalted butter , divided
1 pound skinless, boneless chicken breasts , cut into bite-sized pieces
Kosher salt , to taste
Ground black pepper , to taste
¼ cup all-purpose flour
1 ½ cups chicken broth
1 ½ teaspooons Italian seasoning
½ teaspoon onion powder
½ teaspoon garlic powder
½ cup sour cream
1 cup grated sharp cheddar cheese , divided, plus more if desired
Instructions
Preheat the oven to 375°F. Spray an 8×10-inch dish with nonstick cooking spray.

Add the broccoli to the pan. For a more tender broccoli, pre-steam it a couple minutes.

In a large skillet, melt 1 Tablespoon butter over medium-high heat. Season the chicken with salt and pepper. Add in a single layer and cook until 1 side is golden brown on the edges. Do not fully cook, it will finish cooking in the oven. Spread chicken over the broccoli.

In the same skillet, melt the remaining 4 Tablespoons butter over low heat. Slowly whisk in the flour and mix until well combined. Cook 1 to 2 minutes. Slowly whisk in the chicken broth. Stir in the Italian seasoning, onion powder, and garlic powder. Stir 3 to 5 minutes, or until thickened. Whisk in the sour cream and 1/4 cup cheese until smooth. Season with salt and pepper to taste.

In a small bowl, mix panko with butter. Sprinkle over the top of the casserole.

Pour sauce over the top of the broccoli and chicken. Sprinkle the remaining cheese and panko toppings over the top.

Bake chicken broccoli casserole uncovered 20 minutes, or until bubbly. Let sit 5 minutes before serving.
---
Notes
Topping: If you prefer more topping, feel free to double it.
Note: If you don't want to make your own cream sauce, you can omit making the sauce (4 Tablespoons butter, flour, chicken broth).
Instead mix together: 1 (10-ounce) can cream of chicken soup with 1/2 cup sour cream and cheese. Then salt and pepper to taste.
Freezer instructions:
Place in a dish that can go in both the oven and the freezer. I like foil pans for freezing. Make the recipe up until baking. Instead of baking you're going to cover the dish with foil. Make sure that the casserole is stored in a flat, level spot in the freezer.
To thaw, place in the refrigerator the night before serving.
Once ready to bake, remove the foil and bake at 350°F until it's warm all throughout (about 30 minutes).
Nutrition
Calories: 440kcal | Carbohydrates: 10g | Protein: 21g | Fat: 35g | Saturated Fat: 17g | Polyunsaturated Fat: 3g | Monounsaturated Fat: 10g | Trans Fat: 1g | Cholesterol: 124mg | Sodium: 606mg | Potassium: 310mg | Fiber: 1g | Sugar: 2g | Vitamin A: 1011IU | Vitamin C: 28mg | Calcium: 192mg | Iron: 1mg
Nutrition provided is an estimate. It will vary based on specific ingredients used.
Did you make this recipe? Don't forget to give it a star rating below!