A complete one-dish easy chicken noodle casserole that brings classic, comfort, and creamy to your dinner table! Made with egg noodles, cream of chicken soup, cooked chicken, mixed veggies, and a crunchy breadcrumb topping, its baked and ready to serve in 35 minutes!
Looking for more chicken recipes? Try chicken broccoli casserole, Mexican chicken casserole and chicken enchilada casserole.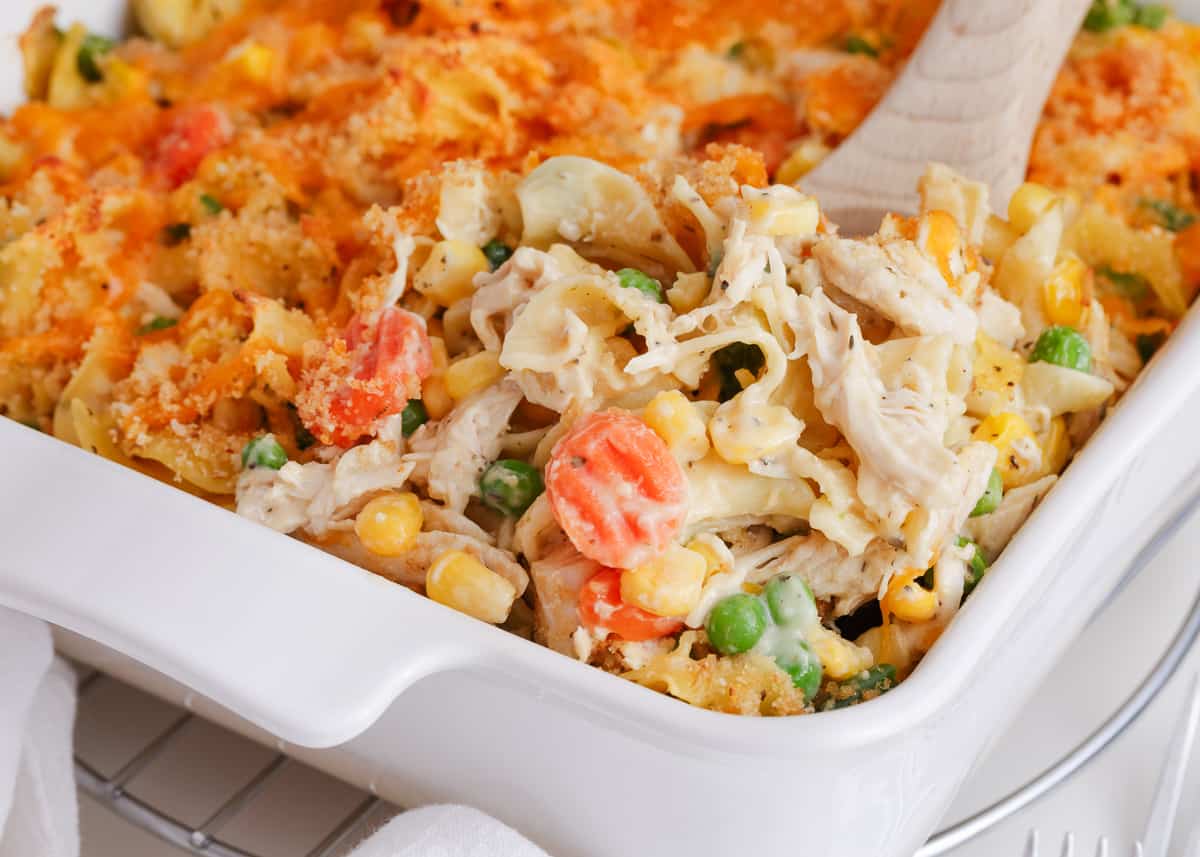 An Easy Family Favorite Dinner
Chicken noodle casserole has all the familiar comforts of chicken noodle soup in a creamy, one-dish casserole perfect for feeding your whole family!
When it comes to casserole recipes I always make sure to they're made with inexpensive ingredients, are adaptable to suit your tastes, and can be made ahead and kept frozen for later.
This chicken noodle casserole recipe is all that and more! It's made with tender egg noodles, mixed veggies, and cooked chicken. This is great when you need to use up leftover shredded chicken or you can just pick up a rotisserie chicken from the store.
Then, all of the ingredients are mixed into a thick, creamy, sauce made with cream of chicken soup, and it's all topped with grated cheese and a crunchy breadcrumb topping. Then toss it in the oven to bake and voila! Dinner is served.
Or, make it ahead and enjoy it later like I do with my chicken tetrazzini. It's up to you!
Why This Recipe Works
A family favorite. This recipe for chicken noodle casserole is always a hit with kids and adults (and the adults who remember the flavors as kids!).
Budget-friendly. Egg noodles, frozen veggies, canned soup, and chicken. You can't get more casual and wholesome than that.
Quick and easy. This easy chicken noodle casserole is ready in 35 minutes! It's a quick meal to throw together that allows you to use what you've got on hand.
Chicken Noodle Casserole Ingredients
This comfort food dinner is always a great way to use leftovers, especially after the holidays!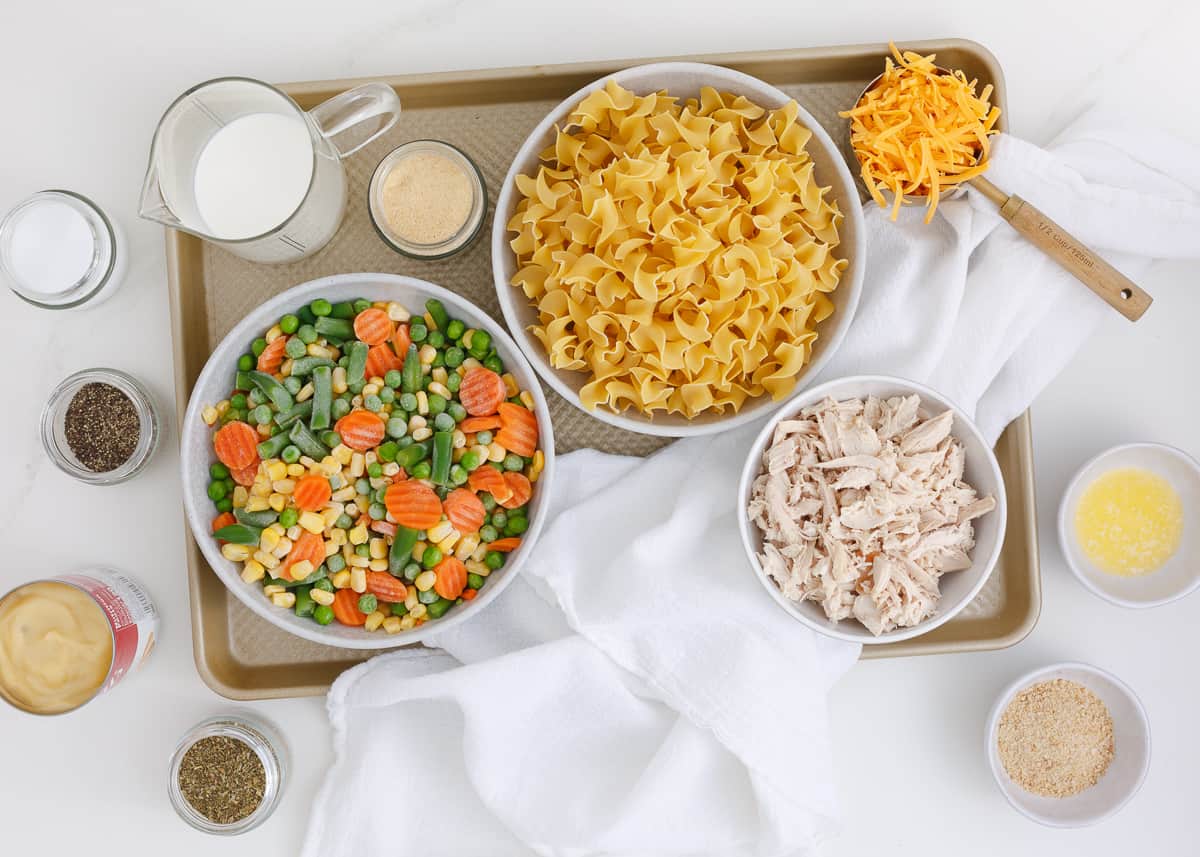 Find the full printable recipe with specific measurements below.
Egg noodles: Egg noodles are light, soft, and tender when cooked. Great for slurping! You'll cook these according to package directions just before combining casserole ingredients, you can even use my easy egg noodles recipe if preferred.
Shredded chicken: This is where you can choose to use any chicken you've got on hand. A store-bought rotisserie chicken, leftover chicken from dinner the other night, or cook up some chicken breasts and shred them.
Cream of chicken soup: This is what gives the chicken casserole with noodles its creamy base. It's also part of what gives it the chicken noodle soup flavoring.
Whole milk: This helps to thin out the creamed soup while keeping it rich and creamy.
Frozen mixed veggies: You'll need 1-10 oz bag of frozen mixed veggies. However, you can choose to use any combination of diced veggies you want.
Seasoning: Italian seasoning, garlic powder, salt, and pepper.
Cheddar cheese: An optional addition to the breadcrumb topping. I like to add it to mine, but you can still have the crunchy topping without it.
Breadcrumbs & melted butter: Together this is what makes the crunchy finish on top! If you've got leftover bread ends or day-old bread you want to use up, I have a great homemade breadcrumbs recipe for you.
Variations
There are plenty of ways to add variety to your creamy chicken noodle casserole. Or even just swap some of the ingredients to make it adaptable to what you've already got in your pantry and fridge.
Crunchier topping. You can use Panko bread crumbs instead of regular bread crumbs. Or use crushed Ritz crackers or potato chips for an even better crunch.
A cheesy choice. If you're using cheese, you can add 1 cup of sharp cheddar to the sauce for a cheesier sauce. You can also swap the cheddar in the topping for Swiss or Pepper Jack instead.
Different vegetables. You can use only frozen peas or carrots instead of mixed veggies. Or use diced broccoli, cauliflower, or even mushrooms instead.
Alternate flavors. For a different type of creamy sauce, use cream of mushroom soup rather than chicken.
Other meat. For a change in protein, use diced ham, or shredded turkey instead.
Fresh herbs. I also love to add fresh herbs like thyme or parsley if I've got some.
How to Make Chicken Noodle Casserole
Cook the noodles. Cook the egg noodles according to package directions until al dente. Use salted water for extra flavor! You want the noodles to still have a bite to them because they will continue cooking in the oven. Drain them.
Combine casserole ingredients. In a large bowl, combine the cooked noodles, chicken, cream of chicken soup, milk, veggies, and seasoning. Stir to combine then transfer the mixture to an 8×8 baking dish.
Add the topping. Sprinkle the top with a mixture of cheddar cheese, breadcrumbs, and melted butter.
Bake. Then, bake in a preheated 425°F for 20 minutes, until the crispy topping is golden brown and the chicken noodle casserole is bubbly.
Serve this complete meal with a basket of French bread rolls and a simple tossed salad on the side.
Expert Tips
Plan ahead. Just know that this recipe requires cooked chicken. Whether it's a quick trip to the store, or you need to cook the chicken you do have, give yourself that time to prepare.
Noodles. This recipe works with any kind of medium noodles. As long as you cook them just to al dente so they're not mushy by the time they come out of the oven.
Fresh vegetables. If using fresh veggies add them to the boiling water for the last few minutes of cooking your noodles.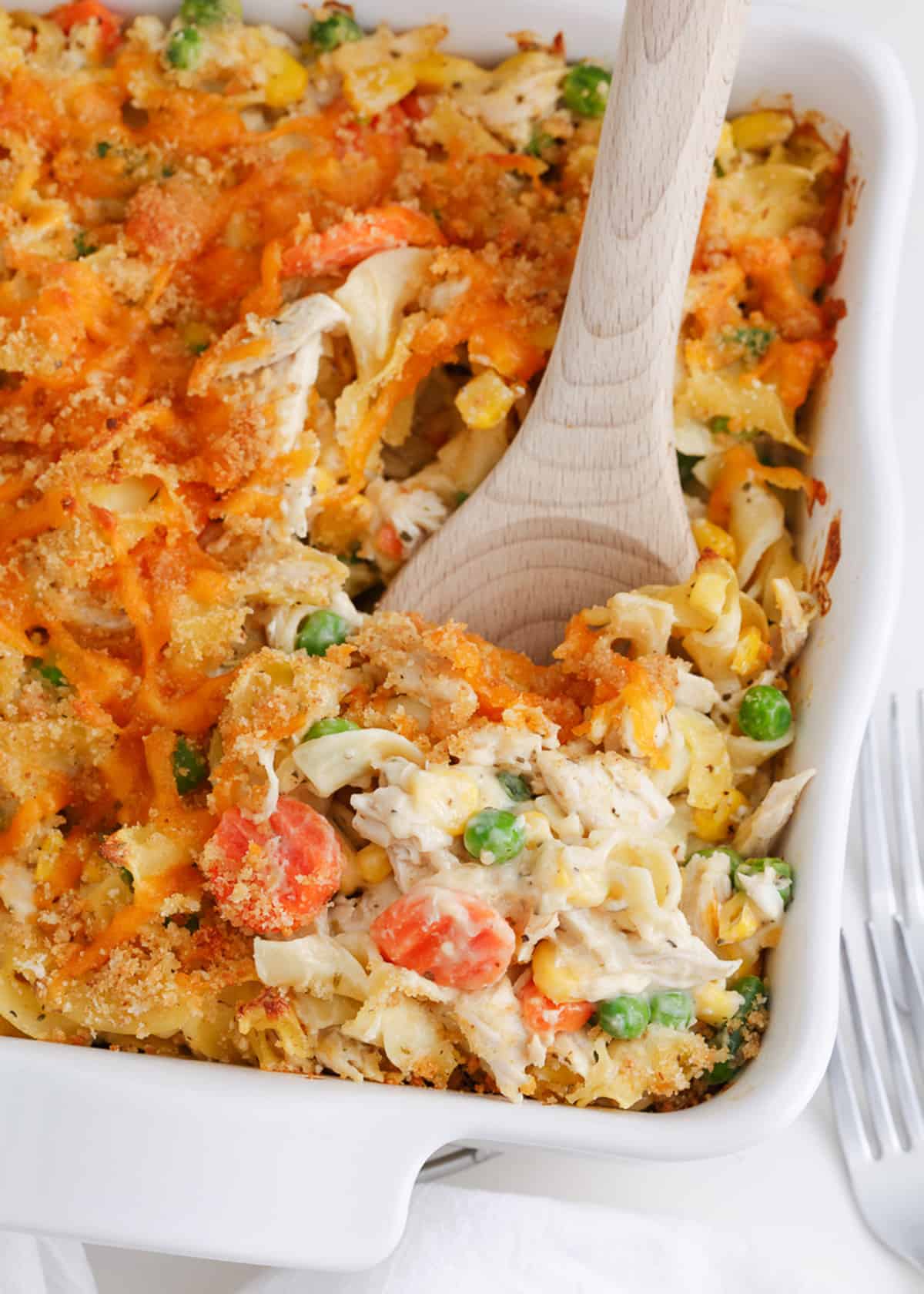 Recipe FAQs
What is the easiest way to shred chicken?
When you're shredding an already cooked chicken, like a rotisserie chicken, or bone-in chicken pieces, it should be easy to pull it apart with your hands.

Cooked whole chicken breasts can easily be shredded by using two forks to pull in opposite directions, shredding the meat as you go.

There is a fun little trick you can use: shred your protein by using an electric hand mixer. Yes, you'll see some flying bits, but it works wonders!
How can I make this ahead?
Prepare the entire casserole and bake it. Allow it to cool and then cover it and refrigerate it for up to 48 hours. Transfer it directly from the fridge to the oven and add on about 10 extra minutes of baking time.

Uncover the casserole so that the topping has a chance to crisp up!
Does chicken noodle casserole freeze well?
Definitely, it freezes well for a few months. Sometimes I like to make two at once and freeze one for later.

If you're looking to fill the freezer of someone in need, this is a great recipe for that.
Storing
Keep leftovers stored in an airtight container for up to 3 days in the fridge.
To freeze it, transfer it to a disposable aluminum pan and cover it in plastic wrap and foil to avoid freezer burn. You can also use a freezer-safe container with a lid. Keep it frozen for up to 3 months. Thaw in the fridge overnight or heat straight from frozen, adding on extra time to heat through.
To reheat small portions, you can use the microwave. Otherwise, pop the casserole dish back into the oven to heat through.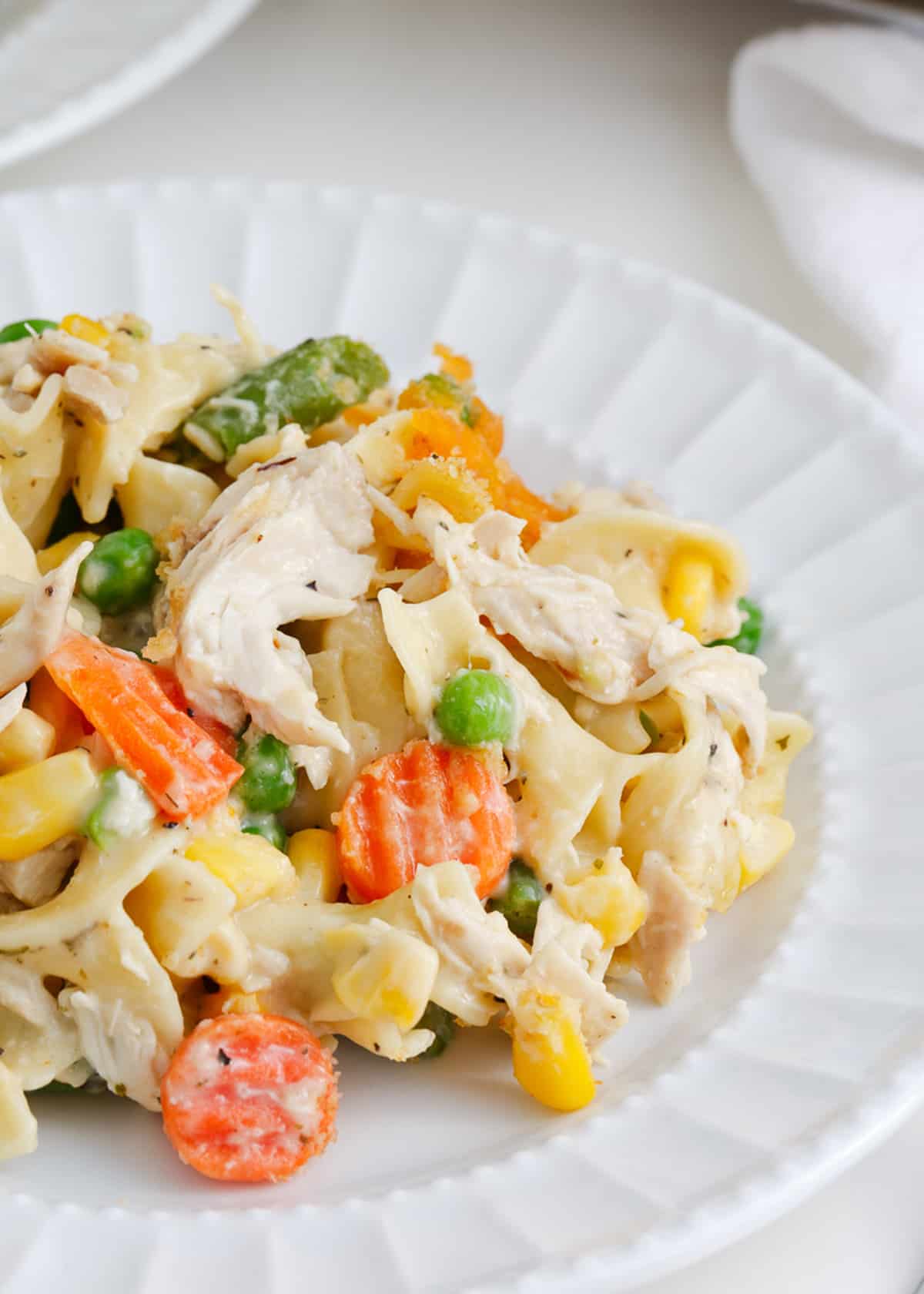 HUNGRY FOR MORE? Subscribe to my newsletter and follow on Facebook, Pinterest and Instagram for all the newest recipes!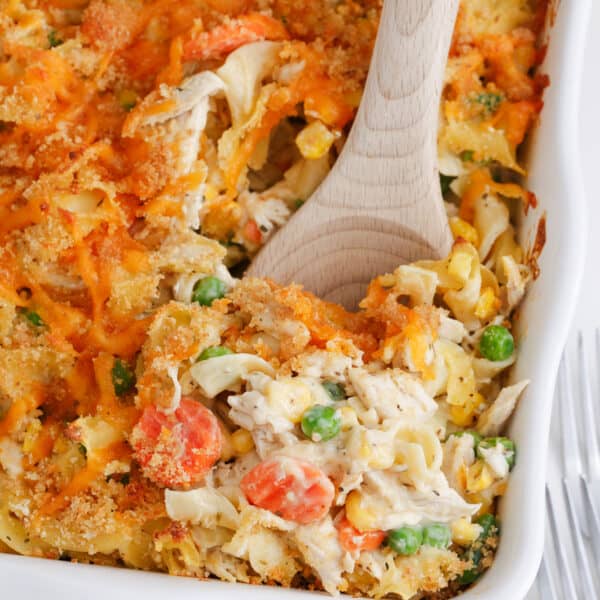 Chicken Noodle Casserole Recipe
A complete one-dish easy chicken noodle casserole that brings classic, comfort, and creamy to your dinner table! Made with egg noodles, cream of chicken soup, cooked chicken, mixed veggies, and a crunchy breadcrumb topping, its baked and ready to serve in 35 minutes!
Ingredients
2 cups (about 8 ounces) dry egg noodles
2 cups shredded, cooked chicken
1 (10.5-ounce) can cream of chicken soup
½ cup whole milk
1 (10-ounce) bag frozen mixed vegetables
1 teaspon Italian seasoning
½ teaspoon garlic powder
½ teaspoon Kosher salt
¼ teaspoon ground black pepper
½ cup shredded cheddar cheese ,optional
2-3 Tablespoons breadcrumbs
1 Tablespoon butter , melted
Instructions
Preheat the oven to 425°F.

In a large pot, bring salted water to a boil over medium-high heat. Add the noodles and cook according to the package instructions until al dente. Drain.

In a large bowl, stir together the cooked noodles, chicken, chicken soup, milk, vegetables, Italian seasoning, garlic powder, salt, and pepper until well combined. Transfer to an 8×8-inch baking dish.

In a small bowl, mix the cheddar cheese, if using, breadcrumbs, and melted butter. Sprinkle on top of the casserole.

Bake 20 minutes, or until bubbly.
---
Notes
Vegetables: You can use fresh vegetables, if you prefer. Simply add them to the pasta water the last few minutes of cooking the pasta.
Chicken: If you don't have cooked chicken on hand, you can use a store-bought rotisserie chicken or make your own shredded chicken at home.
Variation:
Feel free to make the sauce cheesier by adding 1 cup sharp cheddar cheese to the sauce, if desired.
Use whatever cheese you like for the topping, such as pepper jack or Swiss.
Make the topping crunchier by using crushed Ritz crackers or potato chips in place of breadcrumbs.
I love to add fresh herbs like thyme or parsley if I have it on hand.
Nutrition
Calories: 746kcal | Carbohydrates: 96g | Protein: 41g | Fat: 21g | Saturated Fat: 8g | Polyunsaturated Fat: 4g | Monounsaturated Fat: 7g | Trans Fat: 0.2g | Cholesterol: 180mg | Sodium: 1049mg | Potassium: 562mg | Fiber: 4g | Sugar: 5g | Vitamin A: 487IU | Vitamin C: 0.1mg | Calcium: 184mg | Iron: 4mg
Nutrition provided is an estimate. It will vary based on specific ingredients used.
Did you make this recipe? Don't forget to give it a star rating below!