This teriyaki burger recipe is a must-try! Juicy burger flavored with a sweet teriyaki sauce and served with grilled pineapple and onions on a crispy brioche bun!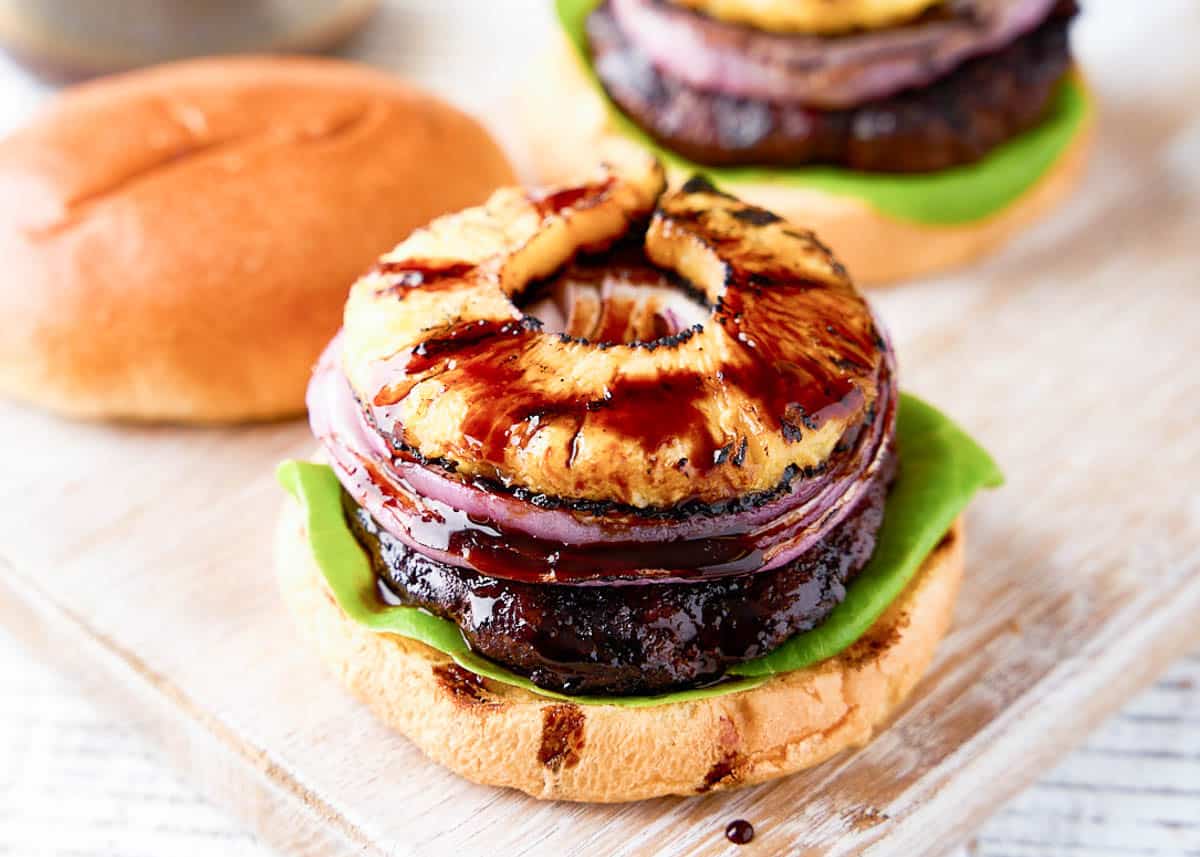 Grilled Teriyaki Hamburger
Grilling season is here and this is one mouthwatering hamburger recipe I can't wait to share with you all. It's about to become your new favorite way to enjoy a juicy burger!
Get this, it's made with just 4 ingredients and one of them is teriyaki sauce! It lends itself to not only a sweet and savory flavor but it means there's no need for any other seasonings at all! Except maybe some salt and pepper to taste. It's so easy!
Then, it's served on a soft bun with a bit more teriyaki sauce, a ring of sweet grilled pineapple, and all your favorite toppings. We love ours with lettuce and grilled onions. This delicious pineapple teriyaki burger is simply a showstopper and one that everyone will love sinking their teeth into!
Why We Love This Teriyaki Burger Recipe
Not your average burger recipe. If you're on the lookout for a different burger recipe, this teriyaki burger is it! It's sweet, savory, salty, and smoky!
It's impressive. It's a great way to show off your culinary skills! It looks and tastes fancy but it's super simple to make.
Flexible ingredients. You can take as many shortcuts as you need. I love using a homemade teriyaki sauce and serving them on homemade buns, but you can definitely use store-bought for convenience.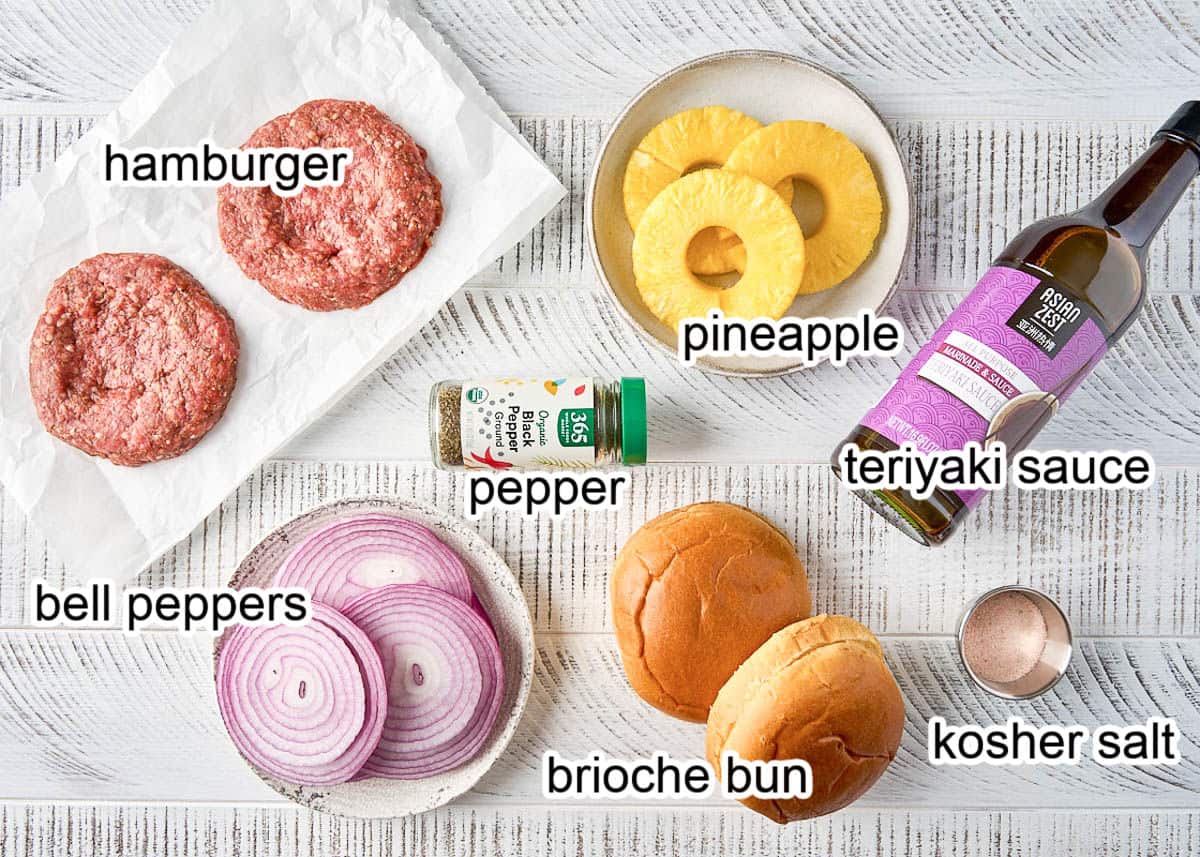 Ingredients Needed
Teriyaki Burger Toppings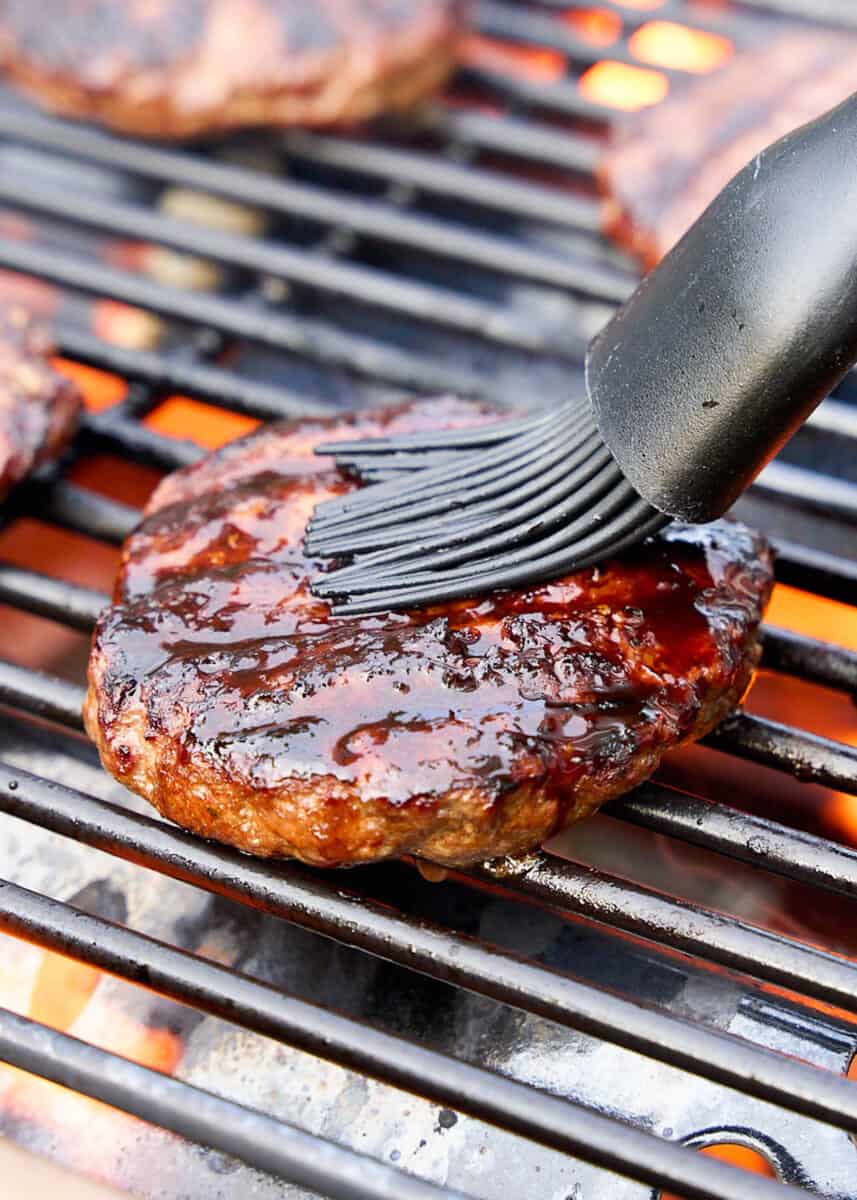 How to Make this Teriyaki Burger Recipe
Preheat the grill. You always want to make sure the grill is hot before adding the burger patties. This way, the outside gets a sear to lock in the moisture and allows the insides enough time to catch up. Turn it to medium-high heat. Once it is hot enough to scrape off any residual gunk, clean it off and lightly oil the grates.
Make the burger mixture. Combine the ground beef, teriyaki sauce, and salt and pepper in a medium mixing bowl. Use your hands to combine everything but do not overmix. Just enough so that everything is incorporated.
Form the patties. Grab 1/4 of the meat and shape it into a patty about 3/4 inch thick. Make a thumbprint in the middle of the patty to prevent bulging. Do this with the remaining mixture so you have a total of 4 patties.
Grill them. Place the burgers on the grill and cook for 4 minutes per side. Flip halfway and brush on the remaining sauce. Once the juices run clear, flip one last time and brush with any remaining sauce. If you are going to make them cheeseburgers, add a slice of cheese during the last 1 minute of cook time.
Remove and rest. Remove the burgers from the grill and allow them to rest on a plate for 5 minutes before serving. This will give the juices time to settle keeping them nice and moist.
Grill the pineapple. While the teriyaki burger patties are resting, place pineapple rings and onion slices on the grill. Cook about 4 minutes per side, or until tender with gorgeous char marks!
Recipe Tips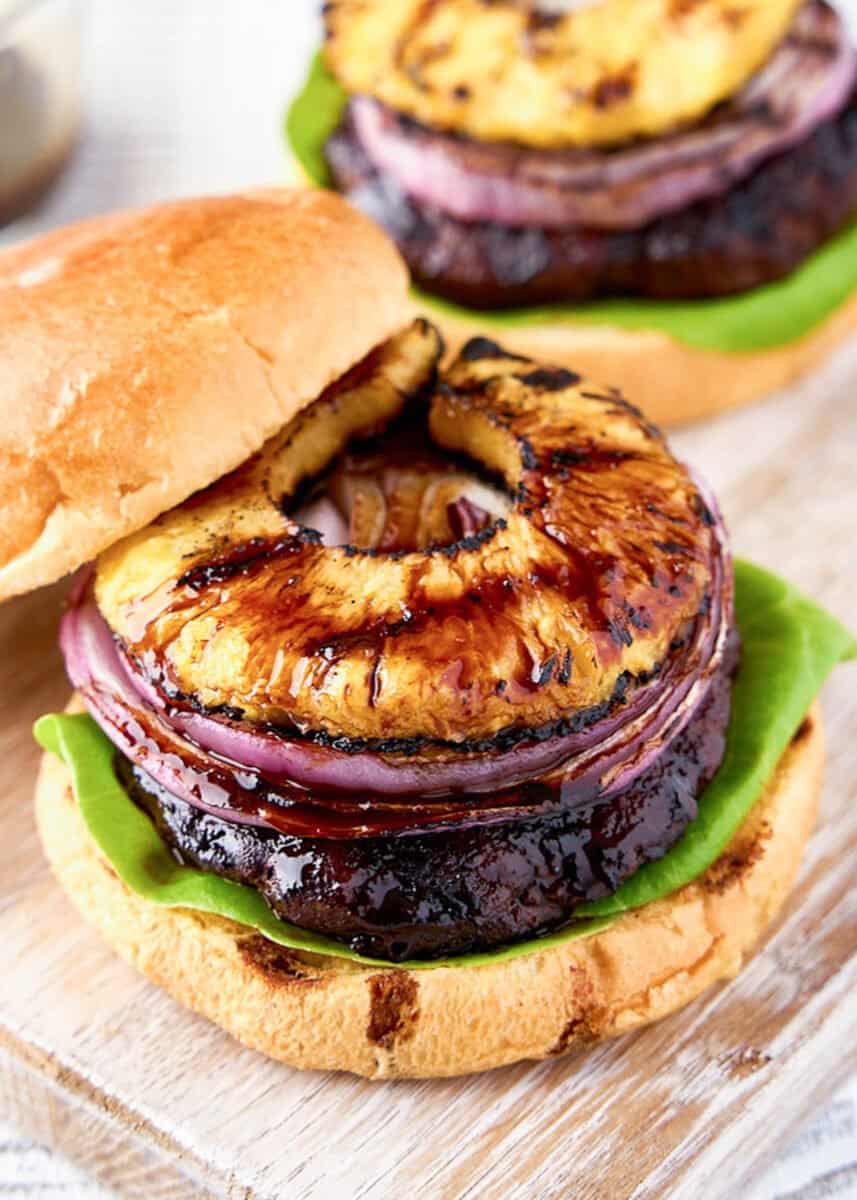 What to Serve with a Teriyaki Burger
Since teriyaki is the predominant flavor and is uniquely sweet, these burgers will pair well with things like grilled veggies, potatoes, and simple salads. I've listed some of my family's favorite side dishes:
FAQs
How do I know when my teriyaki burger is done?
Since everyone's grill is different, the best most accurate way to tell is by using a digital meat thermometer. The internal temperature should be 160-165°F. If you don't have one, a good rule of thumb is that when pressed down gently, the juices should run clear.
What is in teriyaki sauce?
I make mine with a combination of soy sauce, brown sugar, honey, garlic, ginger, and cornstarch. There are slight variations to the recipe, so it's flexible enough to add what you like to yours.
How do you make the sauce from scratch?
It's as simple as combining ingredients in a small bowl, simmering in a saucepan, and then thickening it up! My homemade teriyaki sauce recipe has all the step-by-step instructions you'll need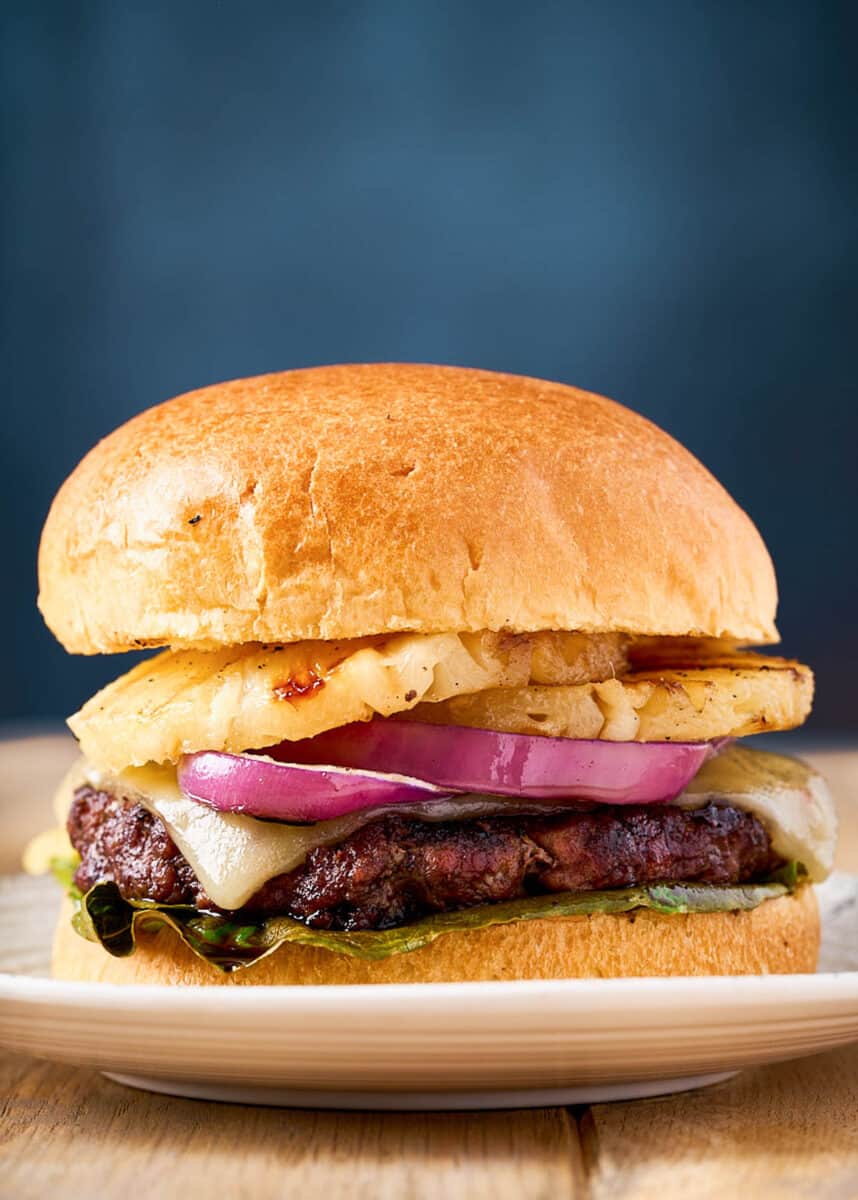 More Burger Recipes
HUNGRY FOR MORE? Subscribe to my newsletter and follow on Facebook, Pinterest and Instagram for all the newest recipes!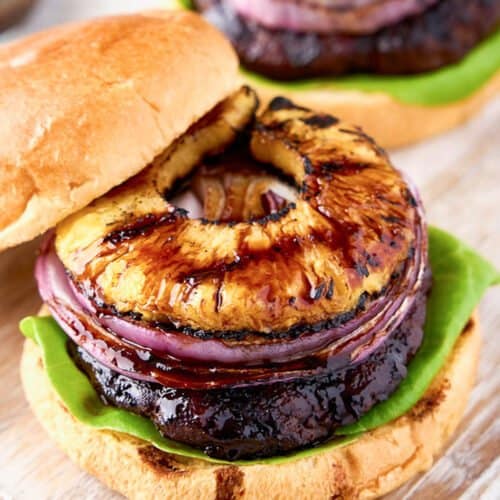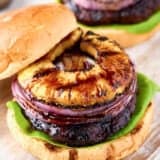 Teriyaki Burger
This teriyaki burger recipe is a must-try! Juicy burger flavored with a sweet teriyaki sauce and served with grilled pineapple and onions on a crispy brioche bun!
Ingredients
1 ½ pounds ground beef (80% lean and 20% fat)
½ cup teriyaki sauce , divided
1 teaspoon Kosher salt
½ teaspoon pepper
4 hamburger buns (I love using brioche buns)
Toppings
4 Pineapple slices
4 Red onion slices
Lettuce leaves
sliced harvarti or pepperjack cheese , optional
Instructions
Preheat the grill to medium high. Clean and lightly oil the grates.

Combine the ground beef, 3 Tablespoons Teriyaki sauce, salt and pepper in a medium-sized bowl. Mix just until combined with your hands and shape into 4 patties about 3/4-inch thick. Make a well in your patties with your thumb to prevent from bulging.

Place burgers on the grill and cook 4 minutes. Flip and then brush on remaining sauce. Cook an additional 4 minutes, or until juices run clear. Flip and add any additional teriyaki sauce. During the last minute of cooking add cheese to burgers if desired. Remove from the grill when they have reached an internal temperature of 160-165°F. Remove to a plate and let rest 5 minutes before serving.

Place pineapple rings and onion slices on the grill. Cook about 3 minutes per side, or until tender.

Serve hamburgers on buns with pineapple slices and onions. Add any additional desired toppings.
---
Notes
Storage: Place leftover patties in a covered container for up to 3 days or freeze for 3 months. If freezing, wrap each patty in plastic of foil to prevent freezer burn.
Hamburger Buns: If buying store bought I prefer Bricoche. If you want, you can also make homemade hamburger buns. To make them extra delicious, spread some butter on them and place the flat sides on the grill for 1-2 minutes.
Teriyaki Sauce: I love to use this homemade teriyaki sauce, however you can also use store bought.
Nutrition
Calories: 530kcal | Carbohydrates: 46g | Protein: 42g | Fat: 19g | Saturated Fat: 7g | Polyunsaturated Fat: 1g | Monounsaturated Fat: 8g | Trans Fat: 1g | Cholesterol: 111mg | Sodium: 2290mg | Potassium: 914mg | Fiber: 3g | Sugar: 21g | Vitamin A: 32IU | Vitamin C: 14mg | Calcium: 127mg | Iron: 6mg
Nutrition provided is an estimate. It will vary based on specific ingredients used.
Did you make this recipe? Don't forget to give it a star rating below!