This dump-and-set recipe is an effortless way of making a flavorful Mexican-style dinner any night of the week. Easy crockpot chicken fajitas are made with juicy chicken, taco seasoning, and tender crispy veggies cooked low and slow until the flavors marry and it's ready to serve!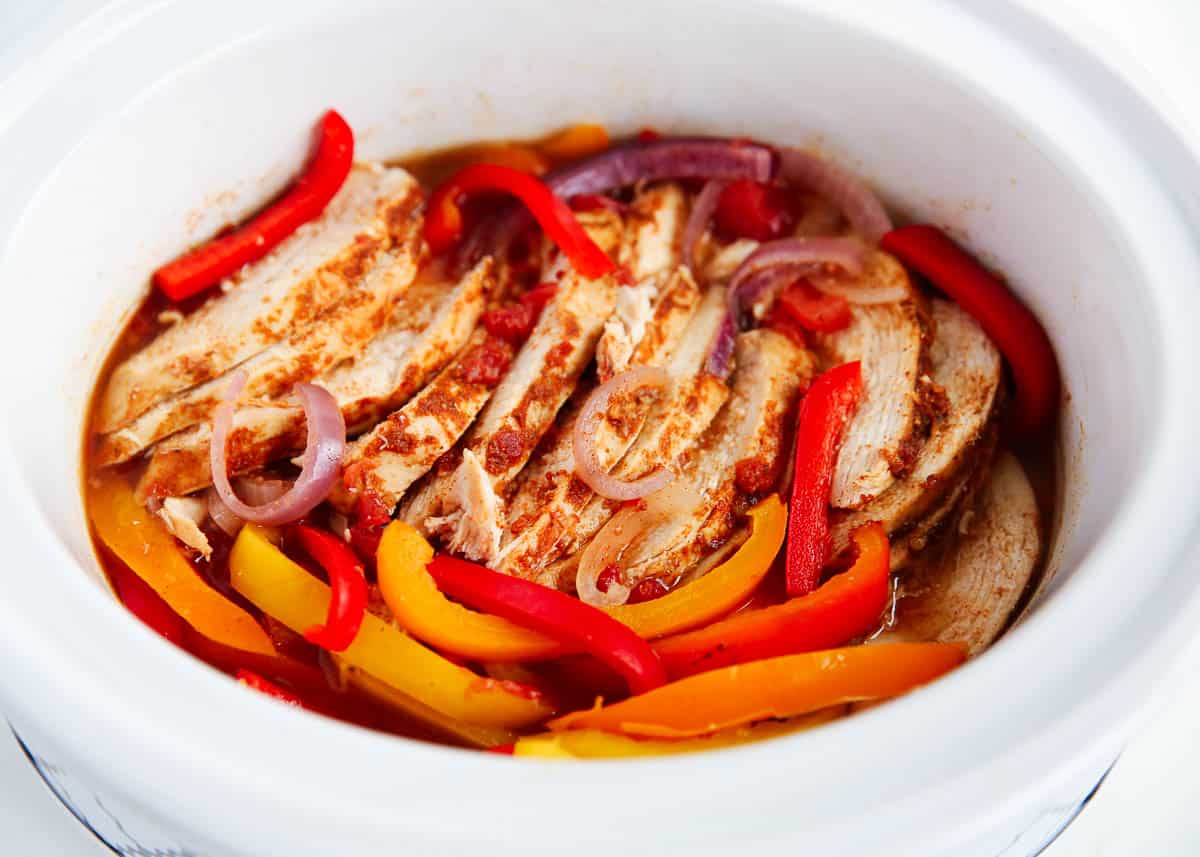 Classic Tex Mex Flavors
Crockpot chicken fajitas are a more relaxed version of the traditional fajitas that you'd find sizzling in a skillet or on a fajita platter! Much like sheet pan chicken fajitas, this easy recipe provides the same delicious flavors, tender strips of chicken, tender-crisp peppers, and onions, but in a simplified version that doesn't require much effort on your part.
The slow cooker does most of the work. If you choose to cook it on low throughout the day, then you've got a meal to come home to that's ready to serve a crowd, hungry teenagers and their friends included!
Made with homemade fajita seasoning, the smoky spices and herbs have a chance to penetrate the chicken as it cooks over a longer period. Bell peppers get added with half an hour left in the cooking time so they're juicy and tender and still slightly crisp.
Once done, serve crockpot chicken fajitas in warm flour tortillas or on a bed of Mexican rice, and your easy weeknight dinner is served!
Why You'll Love Crock Pot Chicken Fajitas
Easy. The beauty of most crockpot recipes is that they're meant to be easy! Some are true dump and set recipes, and some require a little extra work, but no matter what, there's always the opportunity to walk away and leave it alone for hours.
Classic flavors. Robust Mexican-inspired flavors are front and center with this crockpot chicken fajitas recipe. Chili powder, cumin, garlic powder, and paprika are just some of what makes this dish so tasty.
Crowd pleaser. If your family loves Mexican food recipes, these are sure to be a hit! They're just as versatile as tacos or burritos, so they can be served to suit everyone's tastes.
Recipe Ingredients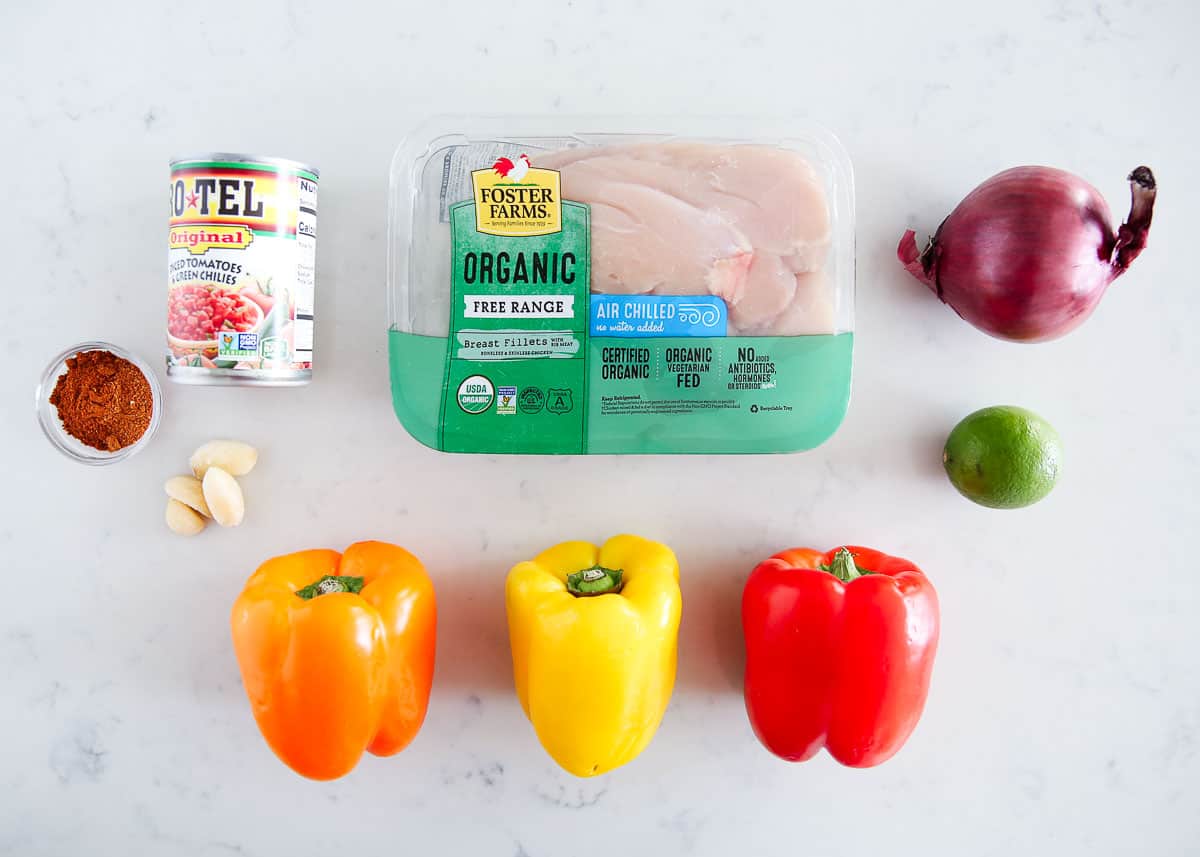 Find the full printable recipe with specific measurements below.
Chicken breasts: Boneless skinless chicken breasts. Keep them whole until they're cooked.
Taco seasoning: Use either fajita seasoning or taco seasoning as both will deliver loads of flavor. I have homemade recipes for both that I keep on hand at all times! I like to add some chili powder in as well.
Salt & pepper: Just a little extra seasoning to taste.
Diced tomatoes: I use the petite diced tomatoes with green chiles (Rotel). Use mild or hot, it's up to you. If you want to stay away from chiles altogether, just go with diced tomatoes.
Red onion: Thinly sliced red onions are a popular component of traditional fajita veggies. Cut them to a similar size as the bell peppers or a bit thinner. No larger, otherwise they'll overpower the peppers.
Bell peppers: Use whatever color bell peppers you prefer. A combination of colors always looks nice! Plus the savory sweet of both red and green peppers is a nice pairing. I have some great tips on how to cut a bell pepper to make life a little easier for you.
Lime juice: Freshly squeezed from 1 lime gets added to the juices at the end. It adds a zesty bright element that can't be missed.
Warm tortillas: Warm either flour or corn tortillas before serving.
Variations
Swap the breasts for chicken thighs. They will cook faster and fall apart easier, so this is a great choice for shredded chicken.
If you remove the tomatoes, be sure to replace it with another liquid like chicken broth.
Add a bit of cayenne pepper for extra heat.
A drizzle of honey can help cut the acidity of the tomatoes.
Instead of regular tomatoes and red bell peppers, try roasted red peppers or fire roasted tomatoes for a little extra smoky flavor.
Use beef instead of chicken for crockpot steak fajitas next time!
How to Make Chicken Fajitas in Crockpot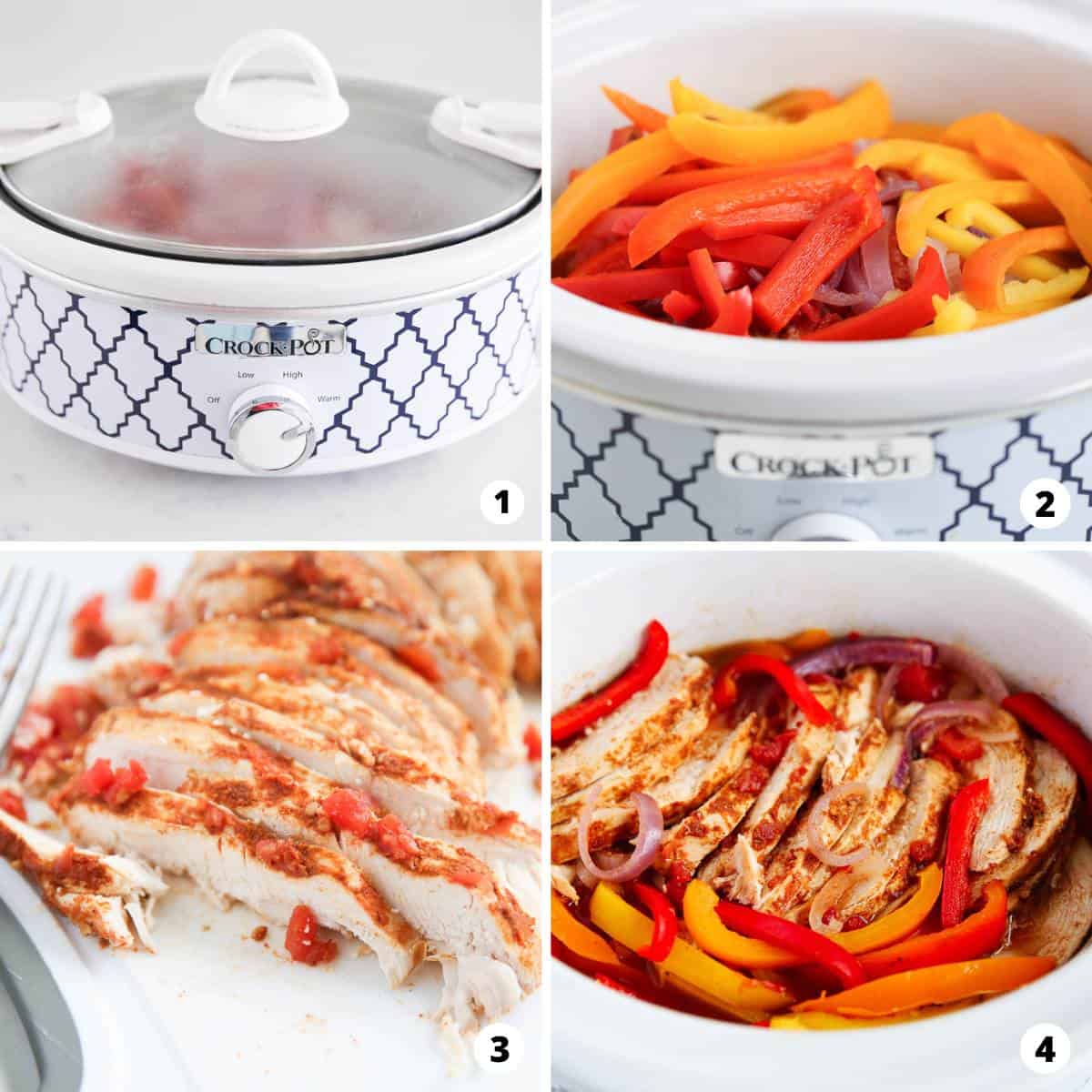 Add chicken to the basin. Place the meat in the basin of the slow cooker. Sprinkle the taco seasoning, salt and pepper overtop. Then add the tomatoes, onion, and garlic. Stir everything to combine, making sure the chicken is well coated.
Cover and cook. Add the lid to the crockpot and cook on high for 2-3 hours or on low for 4-6 hours until the chicken is cooked through. Add the bell peppers 30 minutes before the cooking time is over. You can add them to the mixture earlier if you don't mind very soft veggies.
Slice or shred the meat. Once the chicken is cooked, transfer the breasts to a cutting board. Allow it to rest for a few minutes and then slice them or use two forks to shred them apart. Remove 1 cup of liquid from the pot and discard it. This is so too much liquid doesn't start to dilute the flavors. Return the chicken to the pot.
Serve and enjoy. Stir in fresh lime juice and season the fajita mixture with salt and pepper. Serve crockpot chicken fajitas warm in flour or corn tortillas and pile on your favorite fajita toppings!
Expert Tips
Slicing vs shredding. To make shredded chicken you'll need it to be fall-apart tender. This happens when you cook the crockpot Mexican chicken closer to the max cooking times. On high for 3 hours (as opposed to 2) or on low for 6 hours (as opposed to 4).
Tortillas. If you prefer corn tortillas, go ahead and use them!
Slow cooking needs liquid. The juices from the canned tomatoes add liquid to the recipe which adds moisture to the chicken and prevents it from burning.
Grill tortillas. Heat or toast the tortillas over an open flame or grill to give them some extra char and smokiness!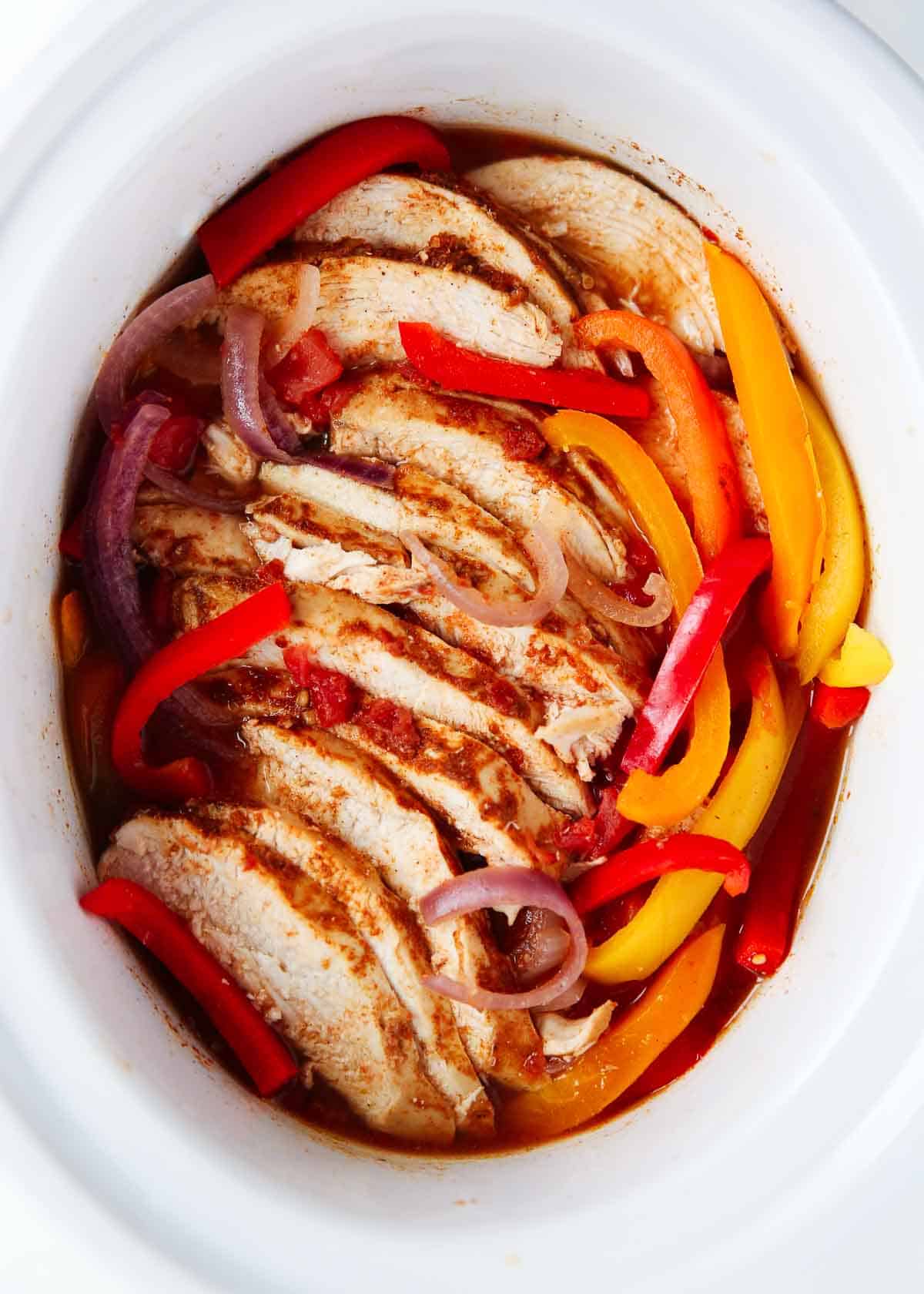 Recipe FAQs
Do you cut the fajita meat before cooking?
No, keep the chicken breasts whole while you cook them. If you add the strips to the crockpot, they'll cook too quickly and could end up overcooked and rubbery.

Keeping them whole also allows you to decide if you'd rather slice them or shred them.
How should chicken be cut for fajitas?
Traditionally, it is cut into thin strips on a diagonal for quick cooking. Since we're cooking it whole first, you can decide how thick you want to cut yours. Ideally, you still keep them thinly sliced, it just makes it easier to eat.
Can I use frozen chicken?
You can as long as you thaw it first. Slow-cooking frozen meat allows it to spend too much time at unsafe temperatures giving way to bacteria spreading for longer than we'd like. When it's frozen it also doesn't absorb flavors as well.
What do you in fajitas?
Some fajita toppings ideas, classics like shredded cheddar cheese and cilantro are delicious when wrapped in a corn tortilla with the meat. You could also add sour cream, pickled jalapenos, black beans, sliced avocado, homemade guacamole and even shredded lettuce.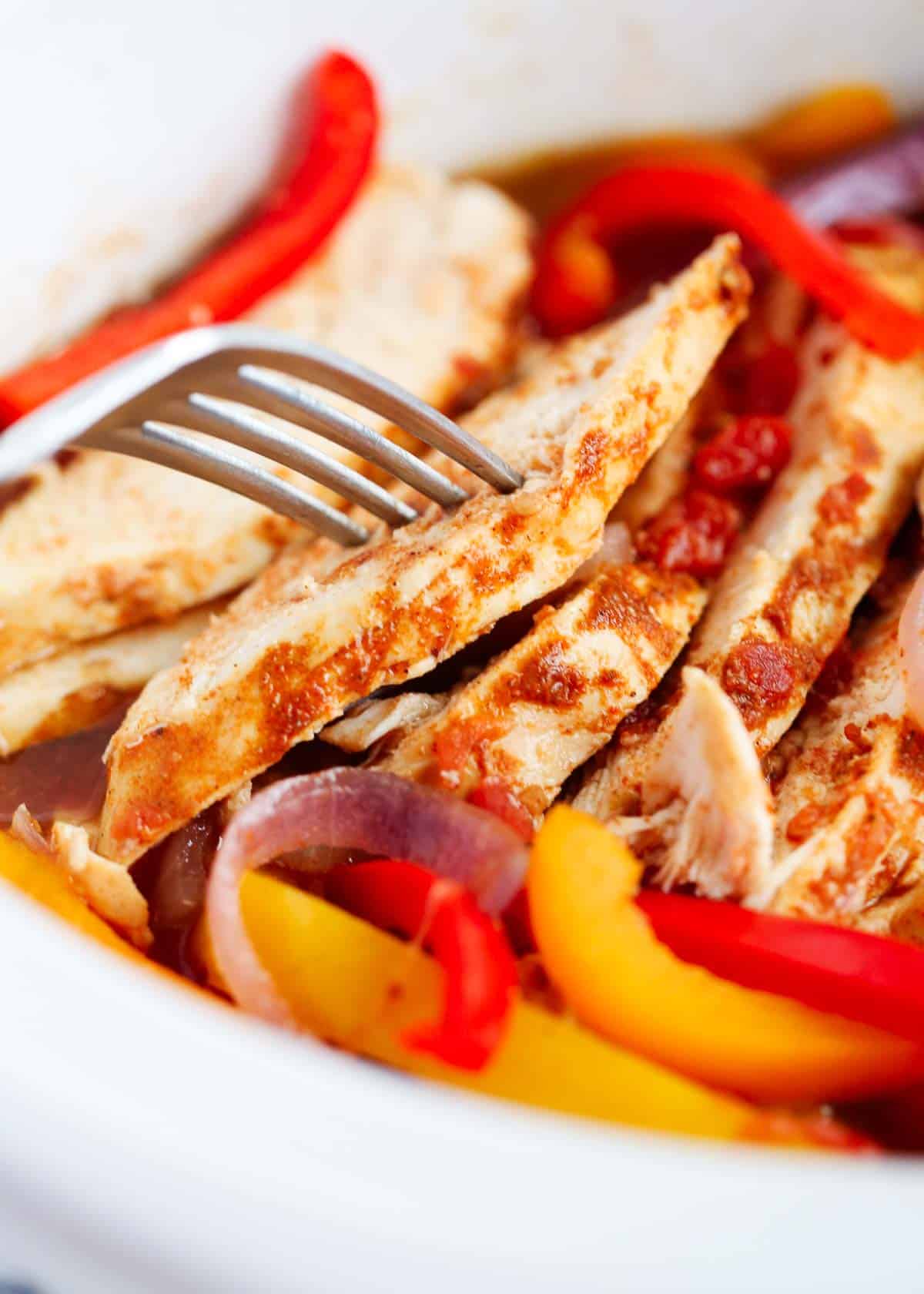 Crockpot Fajitas Serving Suggestions
This crockpot chicken fajitas recipe can be used in more ways than wrapped in a tortilla with chicken fajita toppings like sour cream, guacamole, shredded cheese, salsa or pico de gallo, etc.
I mean, it's a family favorite that way, but I've also served it with black beans and rice, refried beans or bean dip, rice, and a Mexican corn salad.
It's also great as an addition to any tossed green salad or rice bowl with cilantro lime rice. In the same way, we turn burritos into burrito bowls, we can do the same with chicken fajitas bowls!
Storing
Leftovers of crockpot chicken fajitas can be kept in an airtight container for up to 4 days in the fridge.
Portion them out into smaller containers for easy meals throughout the week. Take some for lunch one day and have leftovers for dinner another day.
To reheat the fajitas, use the microwave. If you want to use the oven or a skillet to crisp them a bit you can. The air fryer would also do the trick.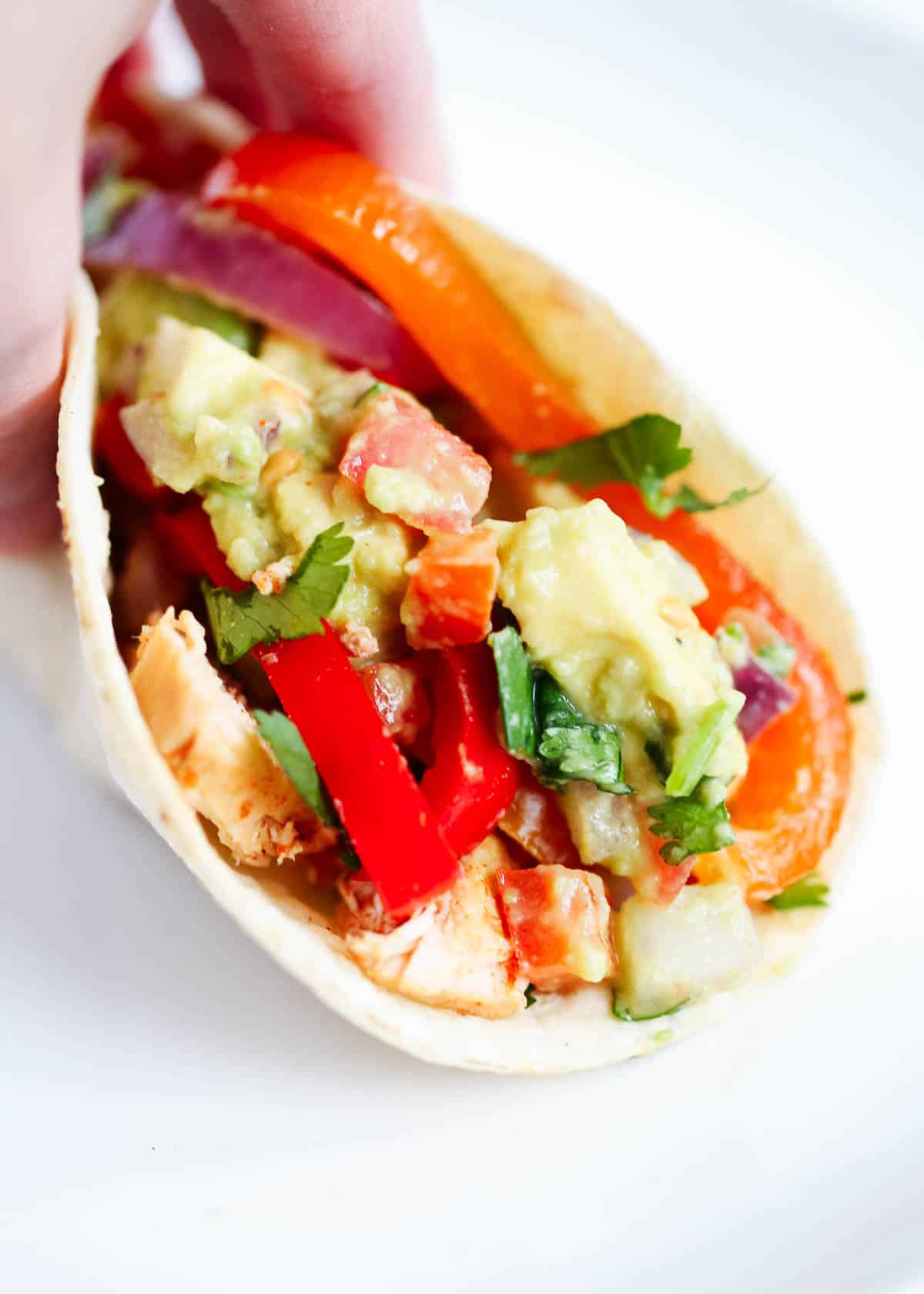 HUNGRY FOR MORE? Subscribe to my newsletter and follow on Facebook, Pinterest and Instagram for all the newest recipes!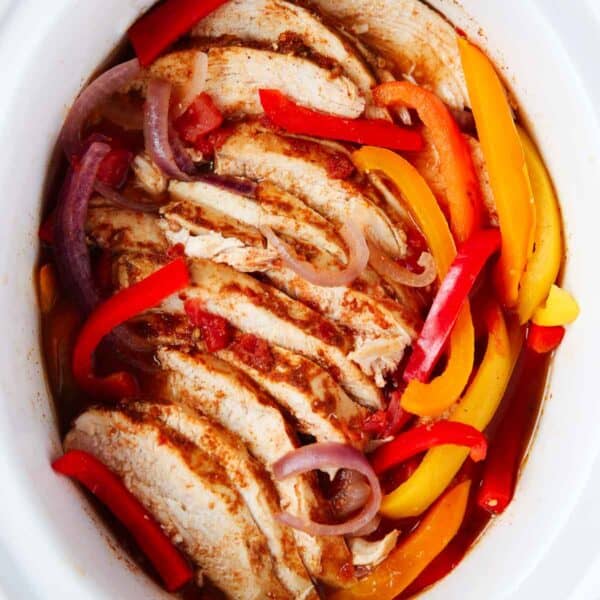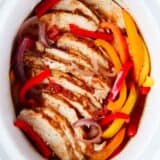 Crockpot Chicken Fajitas
This dump-and-set recipe is an effortless way of making a flavorful Mexican-style dinner any night of the week. Easy crockpot chicken fajitas are made with juicy chicken, taco seasoning, and tender crispy veggies cooked low and slow until the flavors marry and it's ready to serve!
Ingredients
2 pounds boneless, skinless chicken breasts
1 ½ Tablespoons taco seasoning
1 teaspoon chili powder
Kosher salt , to taste
Ground black pepper , to taste
1 (10-ounce) can ROTEL Mild Diced Tomatoes and Green Chilies
½ red onion , halved and thinly sliced
4 garlic cloves , thinly sliced
3 bell peppers , halved and thinly sliced
1 lime , juiced (about 2 Tablespoons)
12 corn tortillas , for serving
Optional toppings: Chopped cilantro, Guacamole or avocado, Shredded cheese, Sour cream, Pico de Gallo
Instructions
In the bottom of a crockpot, coat the chicken in the taco seasoning, salt, and pepper. Add the tomatoes, onion, and garlic.

Cover and cook on High 2 to 3 hours or Low 4 to 6 hours, until chicken is cooked through. Add the bell peppers 30 minutes before cooking time ends to keep the peppers from getting too soft.

Transfer the chicken to a cutting board and cut into slices of shred. Remove 1 cup liquid from the crockpot and discard. Return chicken to the pot. Stir in lime juice until well combined. Season with salt and pepper.

Serve warm in tortillas with your favorite fajita toppings. Enjoy!
---
Notes
Bell peppers: You can add the bell peppers when you add the onions to make things easier, but they might end up losing a bit of crispness by doing so.
Nutrition
Calories: 313kcal | Carbohydrates: 30g | Protein: 36g | Fat: 6g | Saturated Fat: 1g | Polyunsaturated Fat: 1g | Monounsaturated Fat: 2g | Trans Fat: 0.02g | Cholesterol: 97mg | Sodium: 258mg | Potassium: 821mg | Fiber: 5g | Sugar: 4g | Vitamin A: 2073IU | Vitamin C: 83mg | Calcium: 64mg | Iron: 2mg
Nutrition provided is an estimate. It will vary based on specific ingredients used.
Did you make this recipe? Don't forget to give it a star rating below!