Jump to Recipe⌄
S'mores Mix Easy Dessert
S'mores Mix Easy Dessert… if you're looking for an easy dessert to make for movie night or your next get together, this is the perfect treat to make when you don't have a lot of time. It will take less than 10 minutes and has the sweet and salty combination that everyone loves. My kids named it the s'mores mix because it has their favorite chocolate and marshmallows.
Movie/game night is one of my kids favorite family traditions. We try to do one a couple times a month and it's always a hit. The kids love the treats, movie and games… but more than anything I think they love having everyone together as a family. My husband is in residency right now, so hours are long but we try to nail down a day we're all going to be home and have that be our family night. The kids love snuggling up on the couch together and I know it means the world to them. These family moments are really what life is all about and are so important to me.
Before our big movie/game night we always try to make some type of yummy treat. We're usually looking for something sweet & salty that we can munch on during the movie. Popcorn (of some sort) is usually our go to.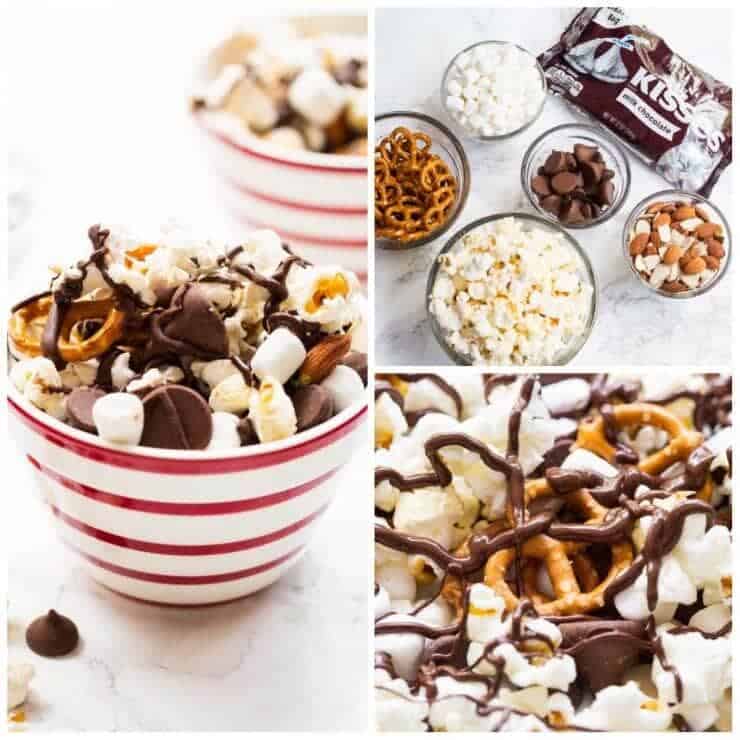 My kids love helping me and another fun way we've been able to connect.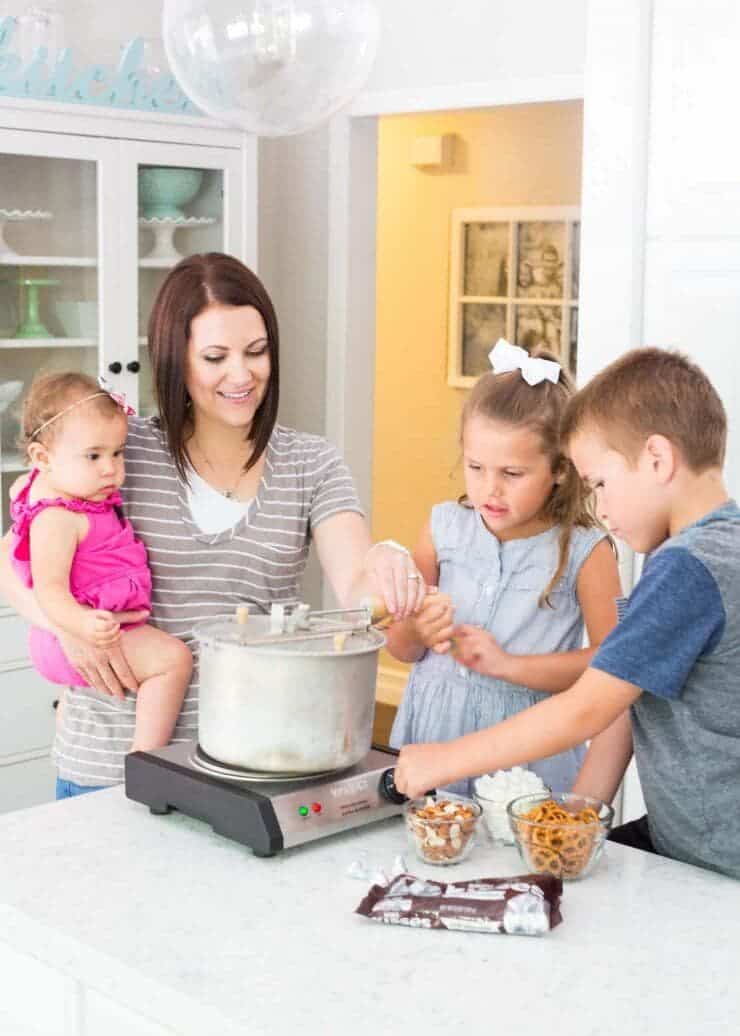 Easy dessert –
For this easy snack mix we added popcorn, pretzels, nuts, marshmallows and HERSHEY'S KISSES Chocolates.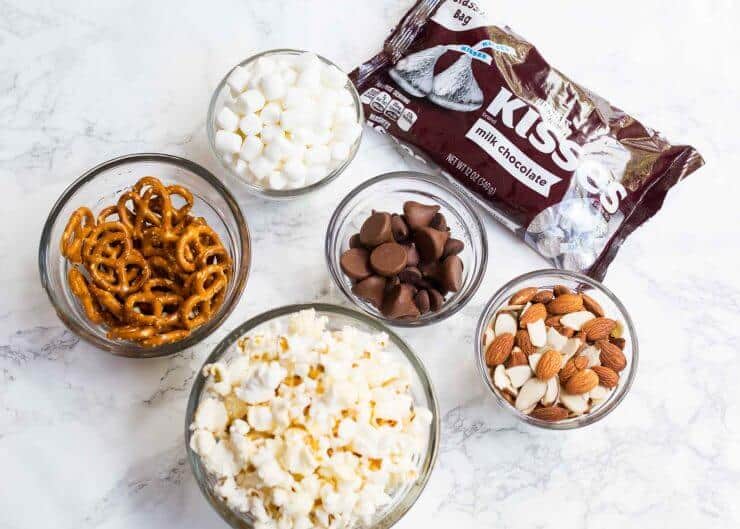 All you need to do is mix it all together until combined.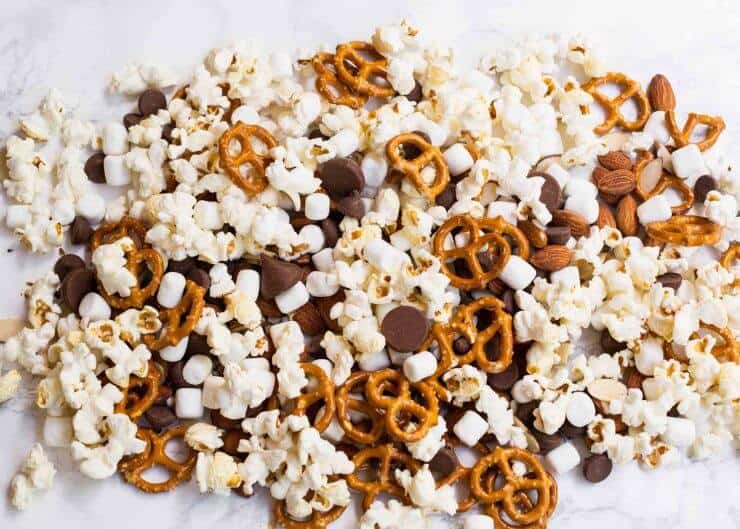 Then drizzle chocolate over the top and let it harden.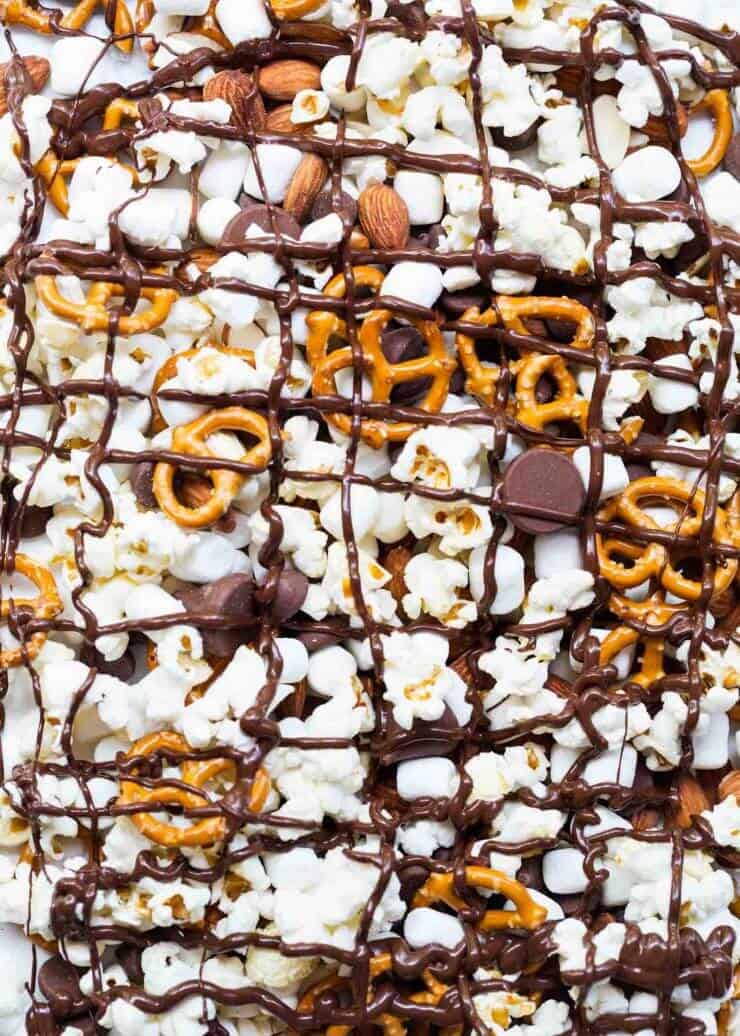 Then break it up and place into small bowls for munching. We like to each have our own bowl. ;)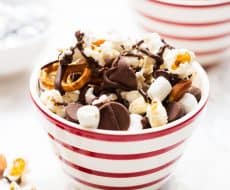 S'mores Mix
Ingredients:
3 cups popcorn
1 1/2 cups mini pretzels
1 cup mini marshmallows
1 cup nuts (I like to use almonds or cashews)
2 cups HERSHEY'S KISSES Chocolates, divided
Directions:
Combine the popcorn, pretzels, marshmallows, nuts and 1 cup HERSHEY'S KISSES Chocolates in a large bowl and stir together. Spread across a piece of wax paper, then place the remaining chocolate in a microwave safe bowl and cook on 50% power for 30 seconds. Stir and cook an additional 20 seconds if needed. Stir until smooth.
Next, drizzle the chocolate across the popcorn mix and allow to set. Place on a pan and move to the freezer if needed to harden.
Break into pieces and enjoy!
All images and text ©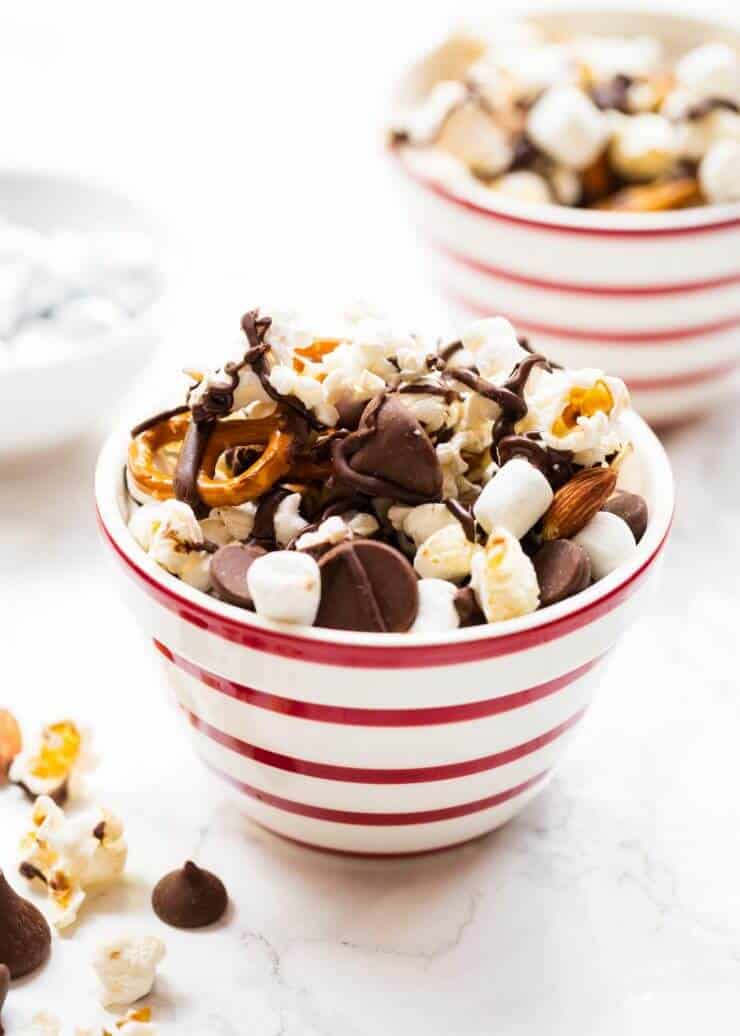 For this particular game night we played TIC-TAC-TOE and DON'T EAT PETE. Don't eat Pete was one of my favorite games growing up and it's been fun to play with my kids.  I have fond memories playing this game with my family as a little girl. If you've never played, I've got the free download and instructions below. Your kids will love it!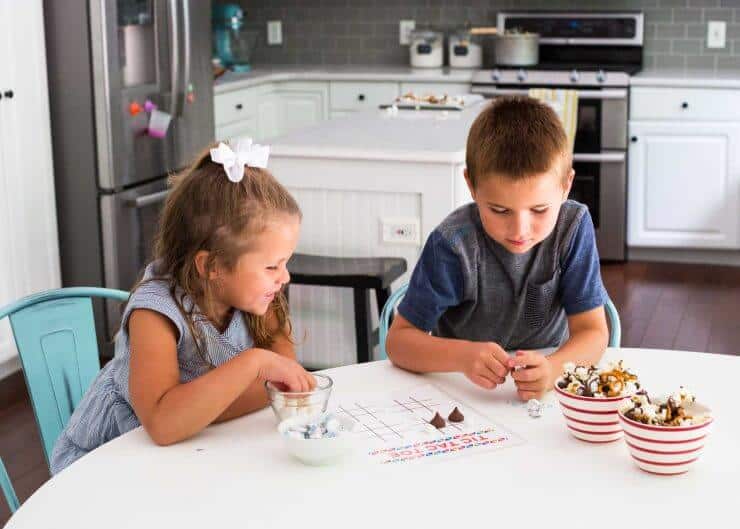 FREE PRINTABLE: Click HERE to download. Then print out on card stock paper. Laminate if desired.
TIC TAC TOE instructions:
The goal is to get 3 squares in a row. The first player is known as X (or use a marshmallow) and the second player is known as O (or my personal favorite candy, HERSHEY'S KISSES Chocolates). The players alternate placing X's and O's until someone has 3 in a row or all the squares are filled.
DON'T EAT PETE instructions: 
The goal is not to pick up "Pete." Place one candy in the each square. Send one child out of the room and then pick one of the faces on the board to be "Pete." When the child comes back into the room they will take away one piece of candy at a time. Once they get to "Pete," yell "DON'T EAT PETE!" At this point their turn is over and they get to keep the candies they earned. Refill the game board and then repeat with the next child.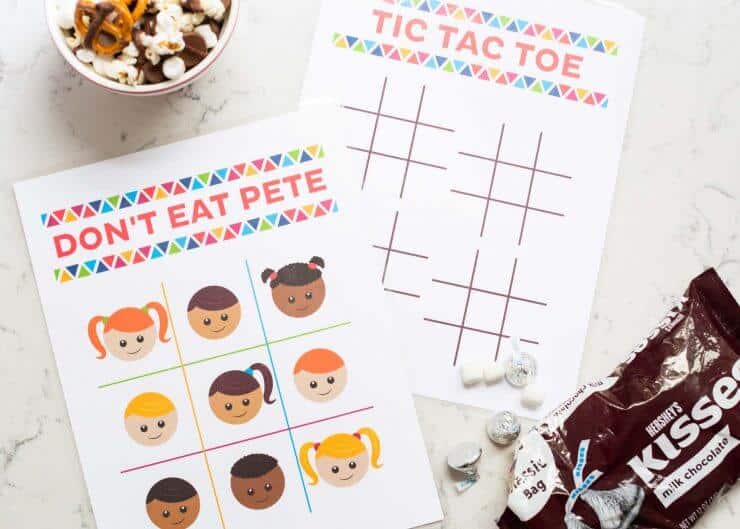 S'mores mix easy dessert video
ENJOY! :)

This post is sponsored by HERSHEY'S. Follow them on Facebook, Twitter and Pinterest for more recipe inspiration. Thanks for supporting the brands that help support I Heart Naptime.