Grilled vegetable skewers are a fun way to serve tender-crisp, flavorful veggies, that can be customized to your liking. They're an easy-to-make side dish perfect for any outdoor meal!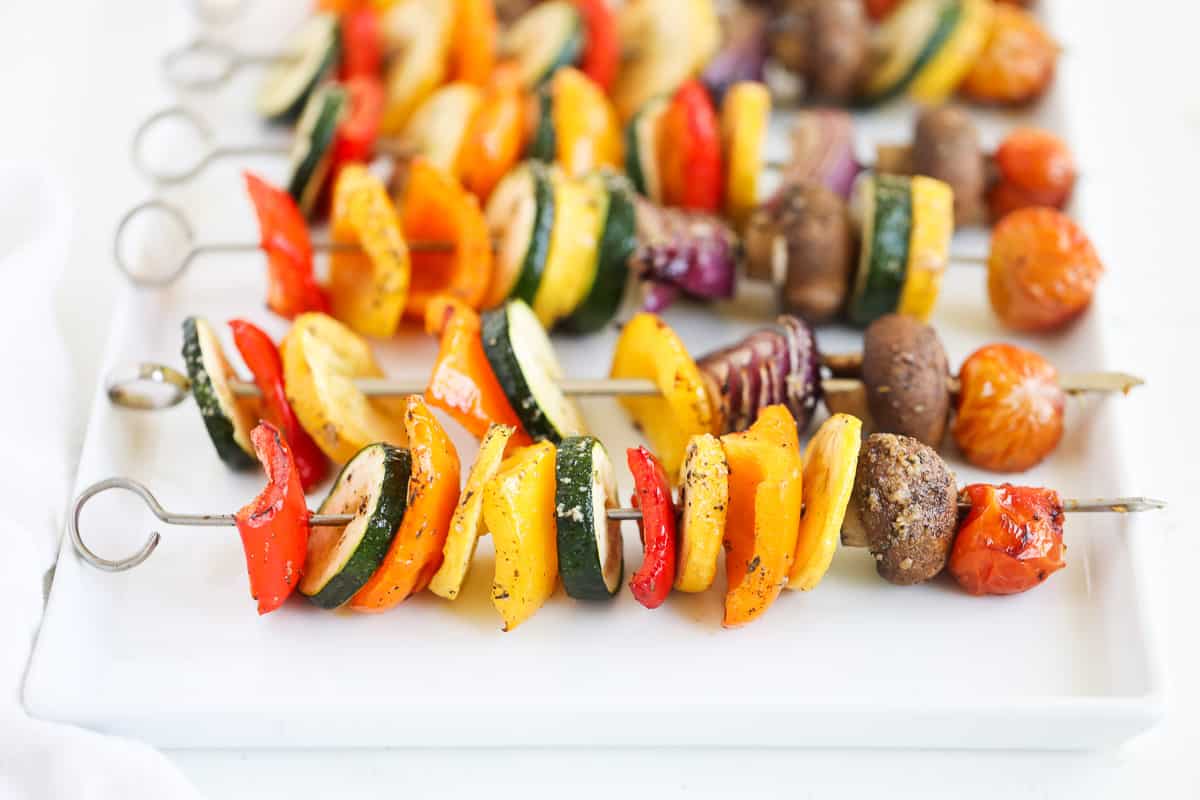 An Easy BBQ Side
Am I the only one who hears the sweet sounds of the sizzle every time someone mentions a grill? It seems to be a seasonal condition, but I'm not one to complain! I love the grill. Not only for what it does but what it represents. Great food, sunshine, and lots of meals shared with family! When serving a hungry crowd I like to make sure I have a variety of recipes for people to choose from and vegetable skewers are one of my favorites. It works with grilled fruit kabobs too and who doesn't love a portable skewer?!
What are Veggie Skewers?
Grilled veggie skewers are an easy way to get a variety of healthy grilled vegetables in individual portions, on a stick! They're a great side dish for any BBQ but work just as well as a meatless version of grilled steak kabobs or chicken kabobs for a vegetarian alternative to the main course. I love that they're easily portable from grill to a plate and when I make them ahead and take them to potlucks, it's an easy transfer.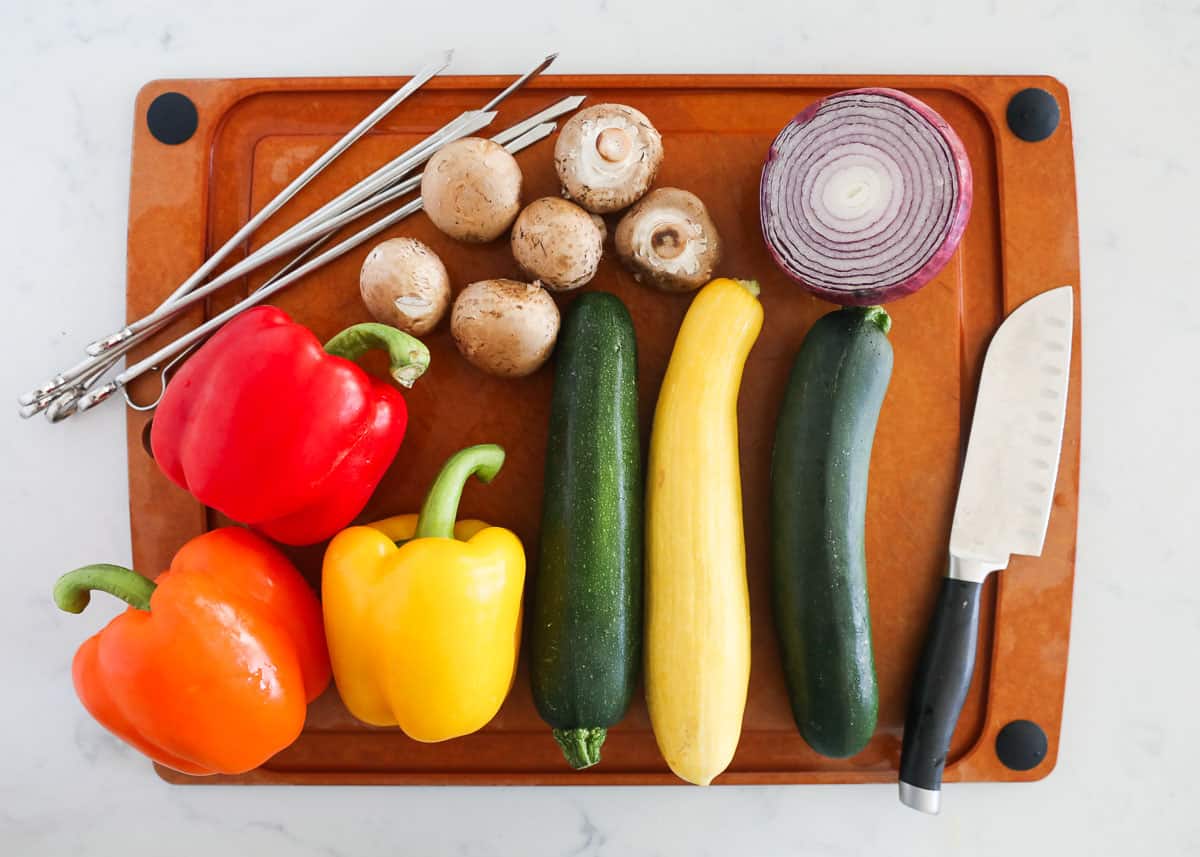 Why Should I Grill my Vegetables?
Grilling veggies is one of the best ways to bring out their natural sugars and flavors and along with a bit of Italian seasoning, these veggie skewers do just that. When you're out by the grill, the aroma of the char forming on the outside is the stuff your neighbors' dream of!
This vegetable skewers recipe is very flexible. Add, omit, or substitute any of the mentioned veggies for your favorites or whatever you have on hand. I used chopped bell pepper, zucchinis, and squash for this recipe, but feel free to try some chopped pineapple or chopped onion for another delicious option. Again, it's however you prefer!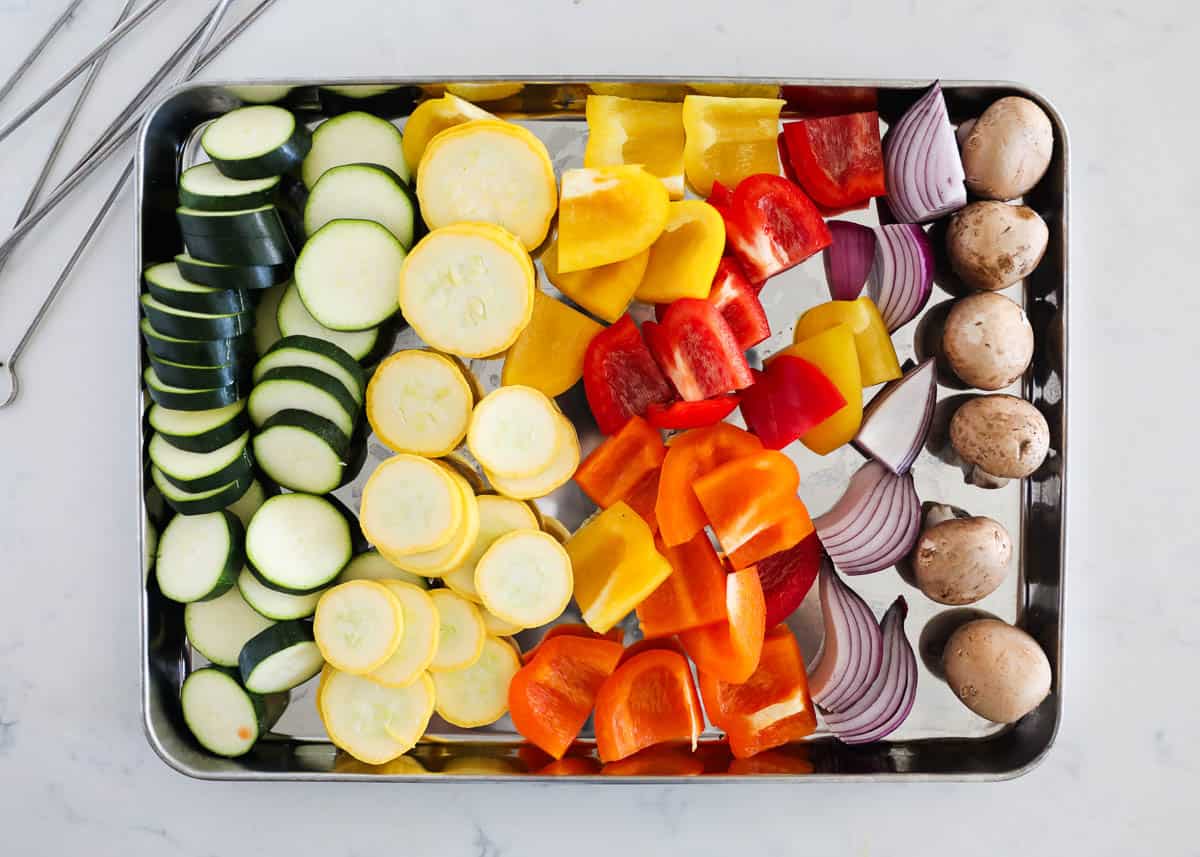 Tips on How to Grill Vegetable Skewers
Clean the grill before you begin, especially if you've had meat cooking on it prior.
Don't forget to turn the skewers to make sure all sides cook evenly and are nicely browned all around.
Pack enough veggies on there so that when they are cooked and shrink a bit, they still look nice and full.
Assemble in a repeat pattern for a nicer-looking kabob. It's also a way to make sure each skewer gets an even amount of everything.
Add whatever veggies you want, just be sure to cut them into even sizes that way they cook evenly.
Soak wooden skewers in water for about 10-15 minutes before grilling. This will help prevent the wood from splitting and burning.
This recipe can also be made in the oven. The same rule applies when using wooden skewers. Soak 'em.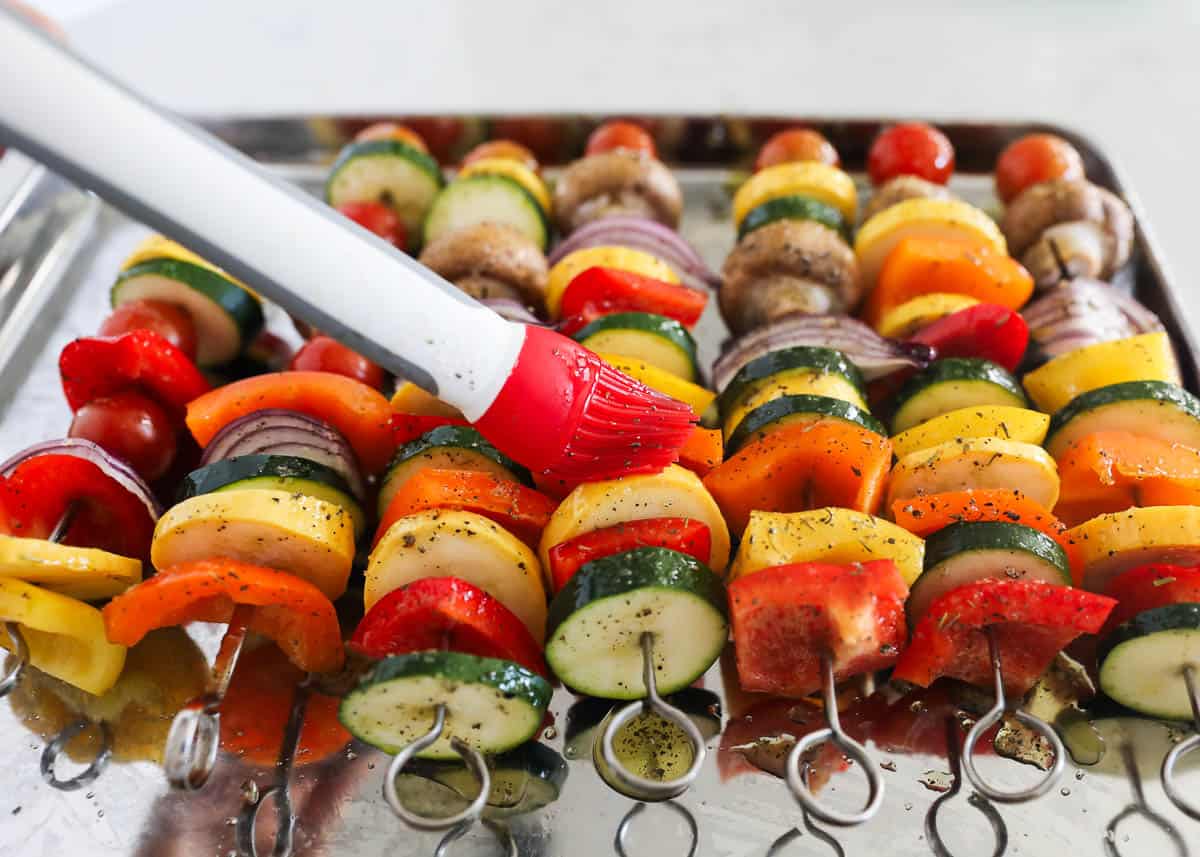 Ways to Jazz up the Kebabs
I love a good simple veggie skewer with a few different veggies and a nice light seasoning. However, there are a number of ways to spruce it up when the mood strikes.
Meat: To up the protein, make them chicken kabobs or steak kabobs by adding pieces of either. You can also use pork, salmon, or tuna steaks.
Veggies: Red or white onions, mushrooms, eggplant, corn, cauliflower, sweet potatoes, tomatoes.
Fruit: Pineapple is a great choice, as are apples, oranges, strawberries, and grapes. You could choose one or two to pair with the veggies, or make a completely separate grilled fruit kabob.
Seasoning: Switch up the Italian seasoning and use an easy vinaigrette as a marinade or glaze. A balsamic glaze would also be amazing.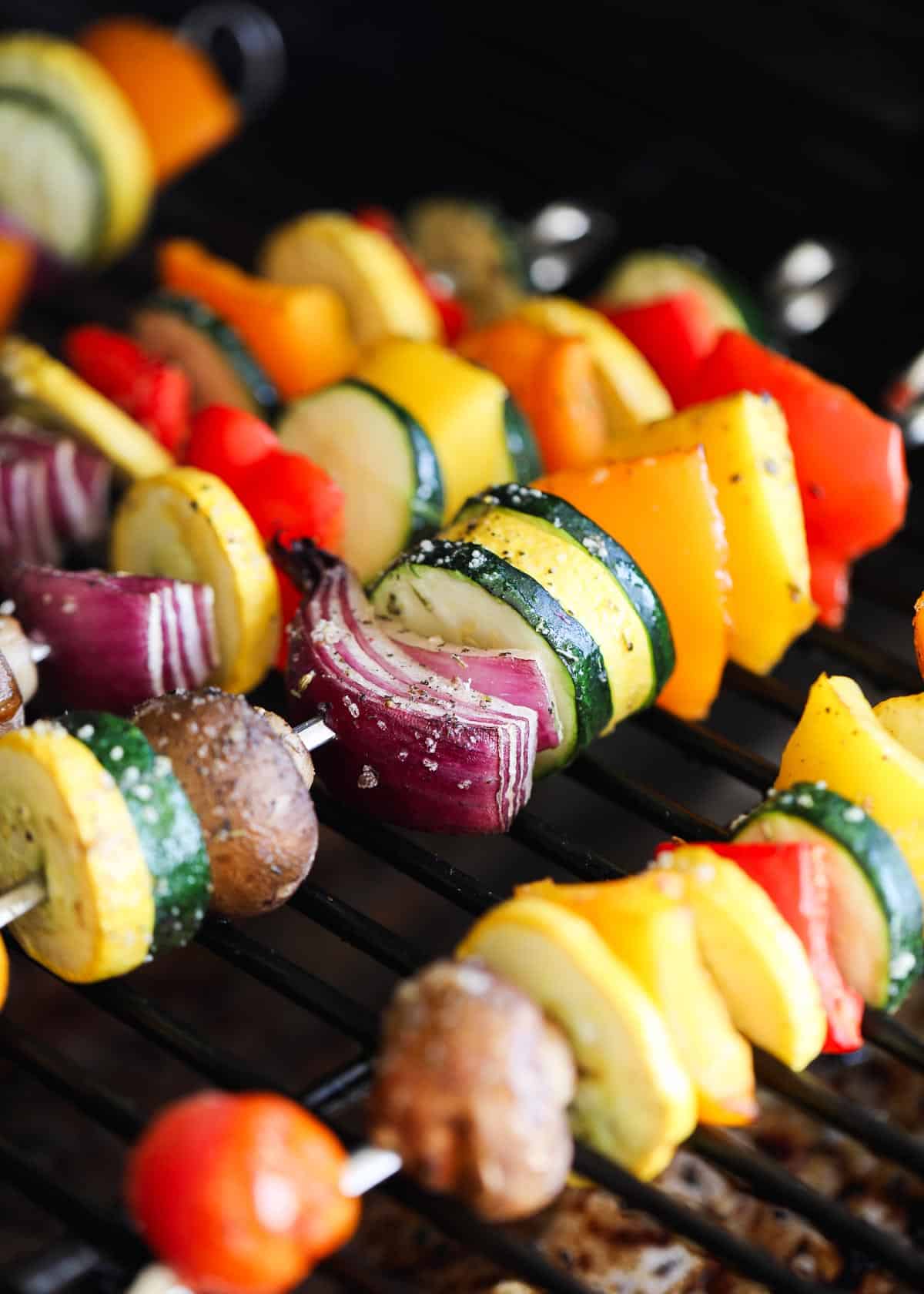 What to Serve with Vegetable Skewers
Just a few of many ideas that would taste delicious:
FAQs
What veggies are good for skewers on the grill?
I love bell peppers, summer squash, red onion and zucchini. You could also use mushrooms, cherry tomatoes, cauliflower, broccoli, corn, eggplant and even fresh pineapple if you would like.
How long should I grill veggie skewers?
Grill for 10 – 15 minutes turning every few minutes. Your vegetables are down when they are tender and slightly charred.
What is the best seasoning for vegetable skewers?
For grilling, I love to baste the vegetable kabobs with a simple marinade made of olive oil, Italian seasoning, salt and pepper. You could use oregano instead of Italian seasoning if you wish. To add another layer of flavor during grilling brush the kabobs with sesame oil.
Should I marinate the vegetables for kabobs?
Although not necessary, you can for 15 – 20 minutes.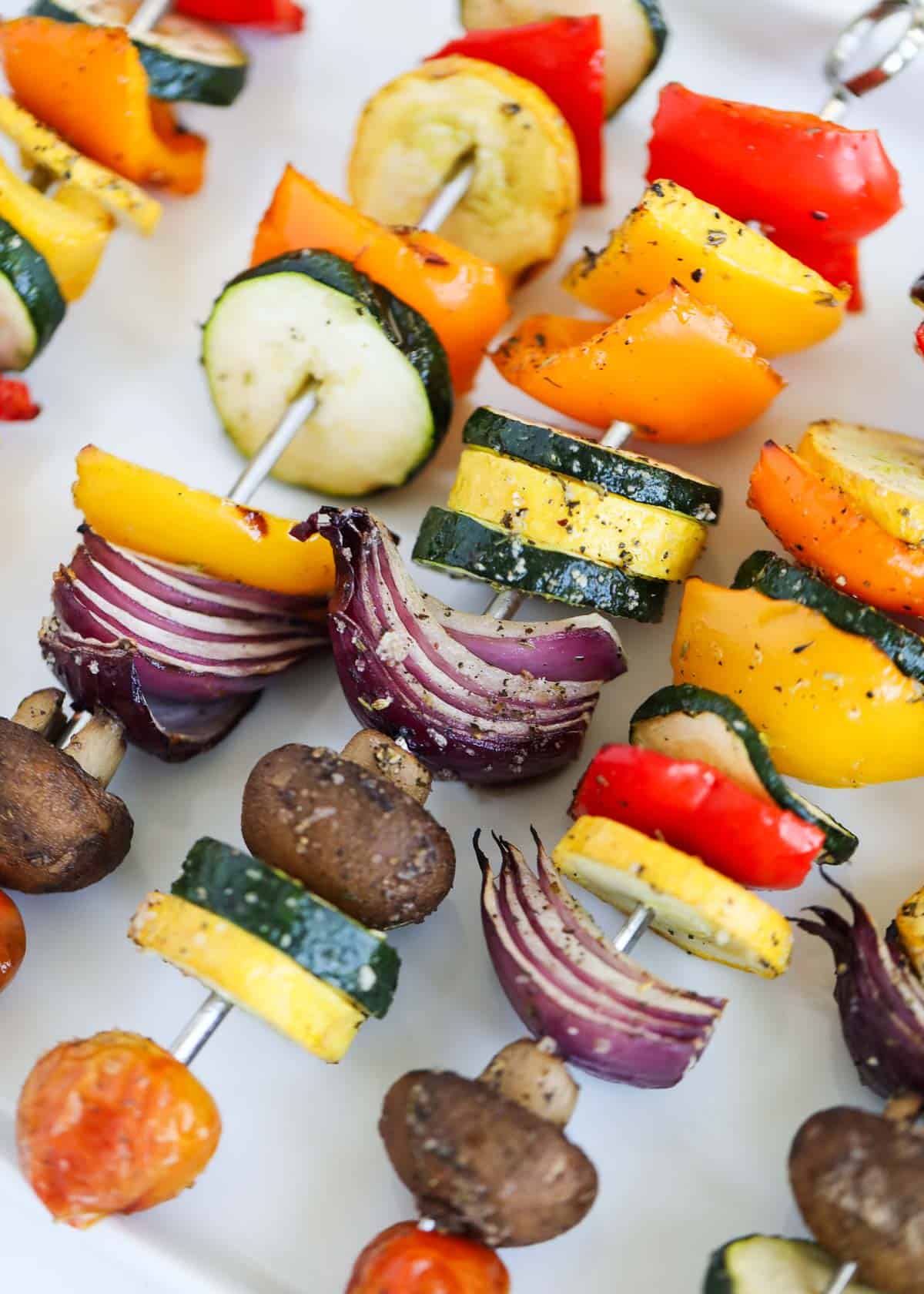 More Grilled Favorites
HUNGRY FOR MORE? Subscribe to my newsletter and follow on Facebook, Pinterest and Instagram for all the newest recipes!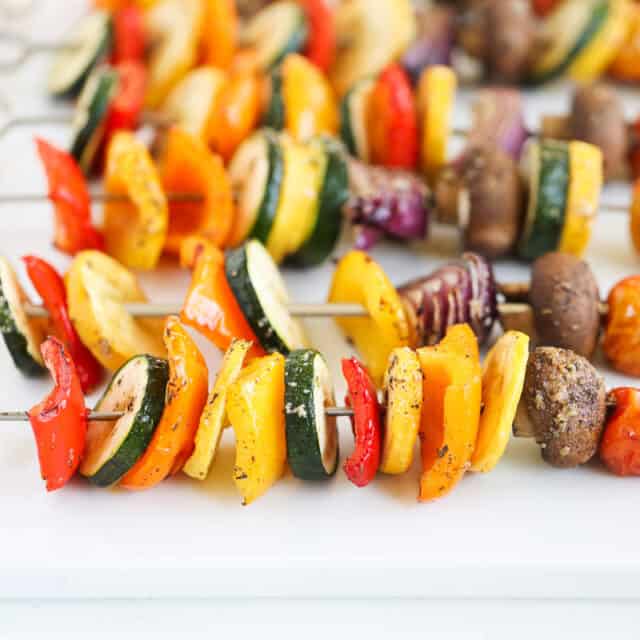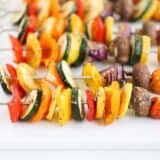 Vegetable Skewers
Grilled vegetable skewers are a fun way to serve tender-crisp, flavorful veggies, that can be customized to your liking. They're an easy-to-make side dish perfect for any outdoor meal!
Ingredients
Vegetables for Skewers
2 zucchinis , sliced
2 yellow squash , sliced
3 bell peppers (I use orange, red and yellow) , cut into bite sized pieces
Optional vegetables: red onion, cherry tomatoes, baby bella mushroom, fresh pineapple
Instructions
If using wooden skewers, soak in water for 10 minutes. Preheat the grill to medium heat (about 350°F) and close the lid. Chop the vegetables and then thread through skewers in desired pattern. Place skewers on a baking sheet.

Whisk together the olive oil, Italian seasoning, salt and pepper in a bowl. Then brush on top of the vegetables.

Place the skewers on preheated grill. Turn the skewers until nicely browned on all sides, about 10 to 15 minutes. Season with salt and pepper before serving, if desired.
---
Notes
Veggies: Feel free to add other types of veggies to your kabobs. Pineapple also makes a great addition. Skewers: If using wooden skewers, make sure to soak them in water for about 10 to 15 minutes prior to grilling. This will prevent the wood from splitting and burning.
Nutrition
Calories: 121kcal | Carbohydrates: 8g | Protein: 2g | Fat: 10g | Saturated Fat: 1g | Sodium: 300mg | Potassium: 473mg | Fiber: 3g | Sugar: 6g | Vitamin A: 2130IU | Vitamin C: 99mg | Calcium: 30mg | Iron: 1mg
Nutrition provided is an estimate. It will vary based on specific ingredients used.
Did you make this recipe? Don't forget to give it a star rating below!