Bring the flavors of the Mediterranean to your recipes quickly and easily when you have a pre-measured Greek seasoning recipe blend already on hand!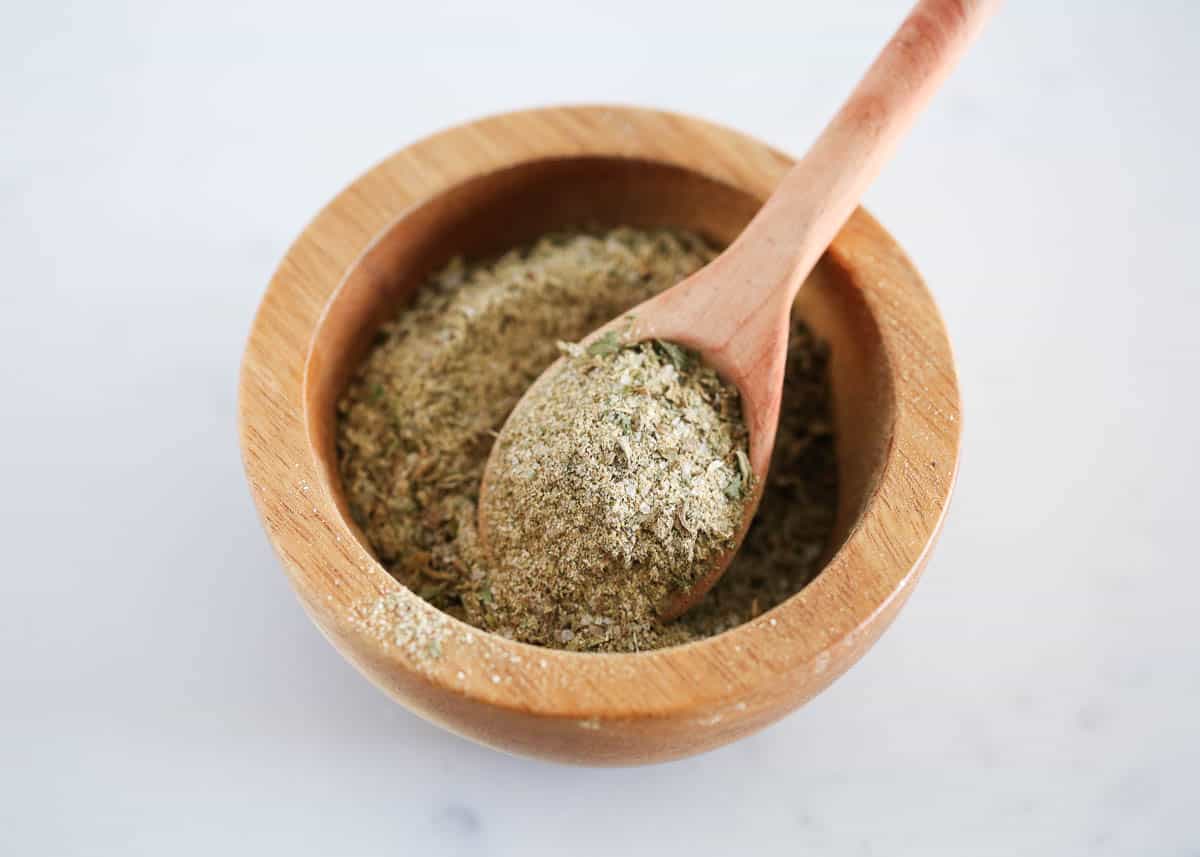 Homemade Greek Seasoning
Homemade seasoning mixes of any kind, whether it be taco seasoning, fajita seasoning, or even a steak rub, means there's no stopping in the middle of a recipe to measure out individual herbs and spices. Having jars of ready-made mixes on hand is so convenient!
It's also much healthier to make your own blend. You're able to keep it gluten-free by avoiding any hidden gluten and you can control the amount of salt avoiding MSG and high levels of sodium found in store-bought spice blends.
We love using this Greek seasoning recipe on our Greek potatoes, in our Greek chicken marinade that we use for Greek chicken Kabobs, and with the addition of a couple of extra ingredients, you can turn it into a Greek salad dressing!
What is Greek Seasoning?
It is a signature blend of herbs and spices that you'd recognize if you've ever had Greek salad, grilled chicken, or seasoned Greek potatoes from your favorite Greek restaurant.
It contains spices like garlic powder, onion powder, oregano, and basil among others, and is flexible enough to make it your own. Some people like the addition of dill, thyme, and marjoram while others prefer to add cinnamon, nutmeg, and even lemon zest!
Widely used in Mediterranean cuisine, it's a great way to add a ton of fresh flavor to all kinds of recipes.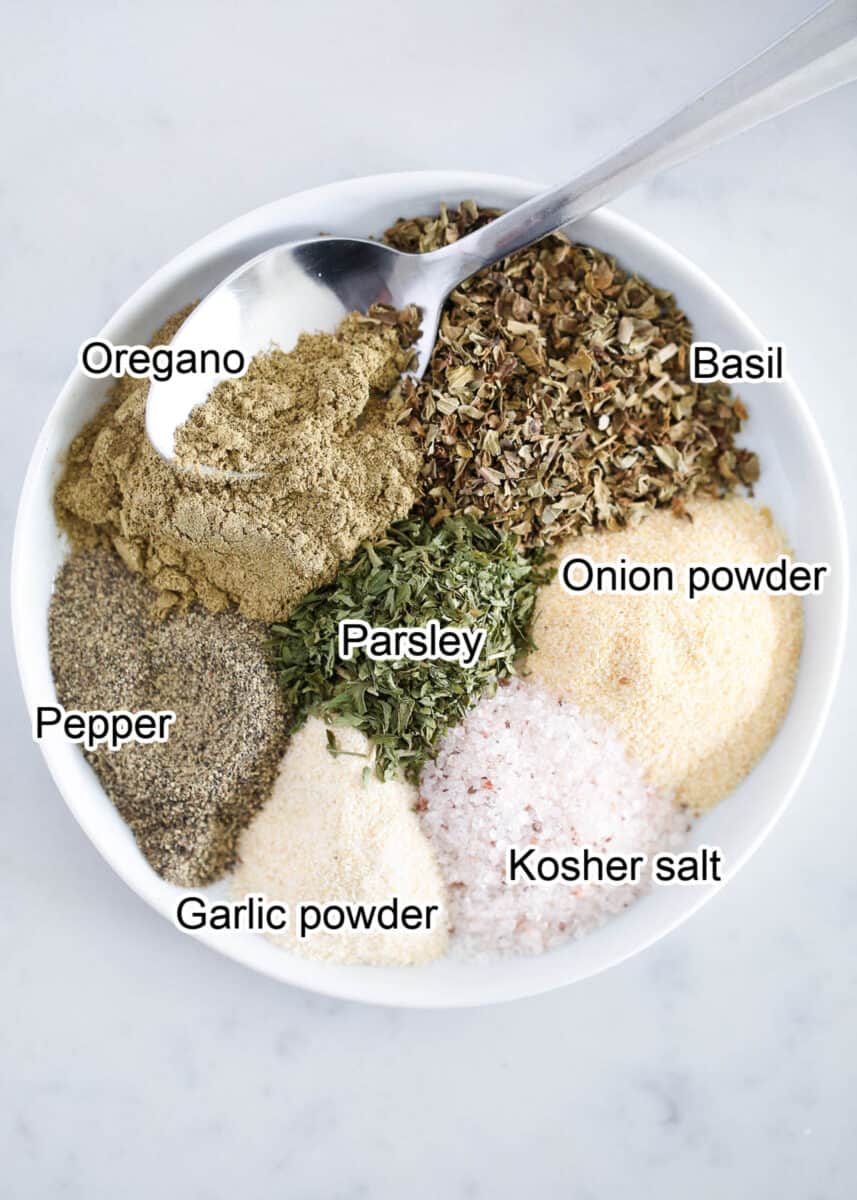 Why You'll Love Making Your Own Greek Seasoning
Quick and easy. This easy homemade Greek seasoning recipe comes together with just a few pantry staples and a couple of minutes of your time.
Fresh and flavorful. There is a difference in the quality of taste when you DIY.
Budget-friendly. When you buy spices in bulk, you can mix and match and make as many blends as you want. If you keep buying store-bought blends, they add up and are not cheap!
Versatile. This Greek seasoning recipe can be used on so many things from chicken and fish to salads, and grilled veggies. It's a simple way to add flavors of the Mediterranean to all kinds of dishes!
Compliant with most diets. We know that it's gluten-free and low in sodium (or none at all, it's up to you), but it's also vegan, keto-friendly, whole30 compliant, as well as paleo-friendly. Checks all the boxes!
What's in this Greek Herbs and Spice Mix?
Oregano: Either ground or dried. The difference is that ground oregano is a powder. Dried are flakes. This means that the measurements will be different depending on which you use. If you have a spice grinder you could turn your dried oregano into ground oregano for this recipe.
Dried basil leaves & parsley flakes: Both of these herbs are commonly found in Mediterranean recipes and add an earthy flavor element.
Garlic powder & Onion powder: An aromatic pairing that conveniently replaces fresh garlic and onions.
Kosher salt: Flakier than table salt. If you're not using kosher salt, you'll need to adjust the amount. Less table salt is needed based on because it has a finer texture, meaning less is more.
Ground black pepper: Freshly ground is best.
Optional: Dried dill or marjoram.
How to Make this Greek Seasoning Recipe
There are no step-by-step instructions needed for this non-recipe, recipe! Combine all ingredients into a small bowl, and mix well so that there's an even ratio of all ingredients in every teaspoon. Then, pour contents into a jar with a lid, and voila!
Your very own DIY Greek seasoning blend to keep on hand in your spice cupboard. Use it on all your protein, veggies, and more!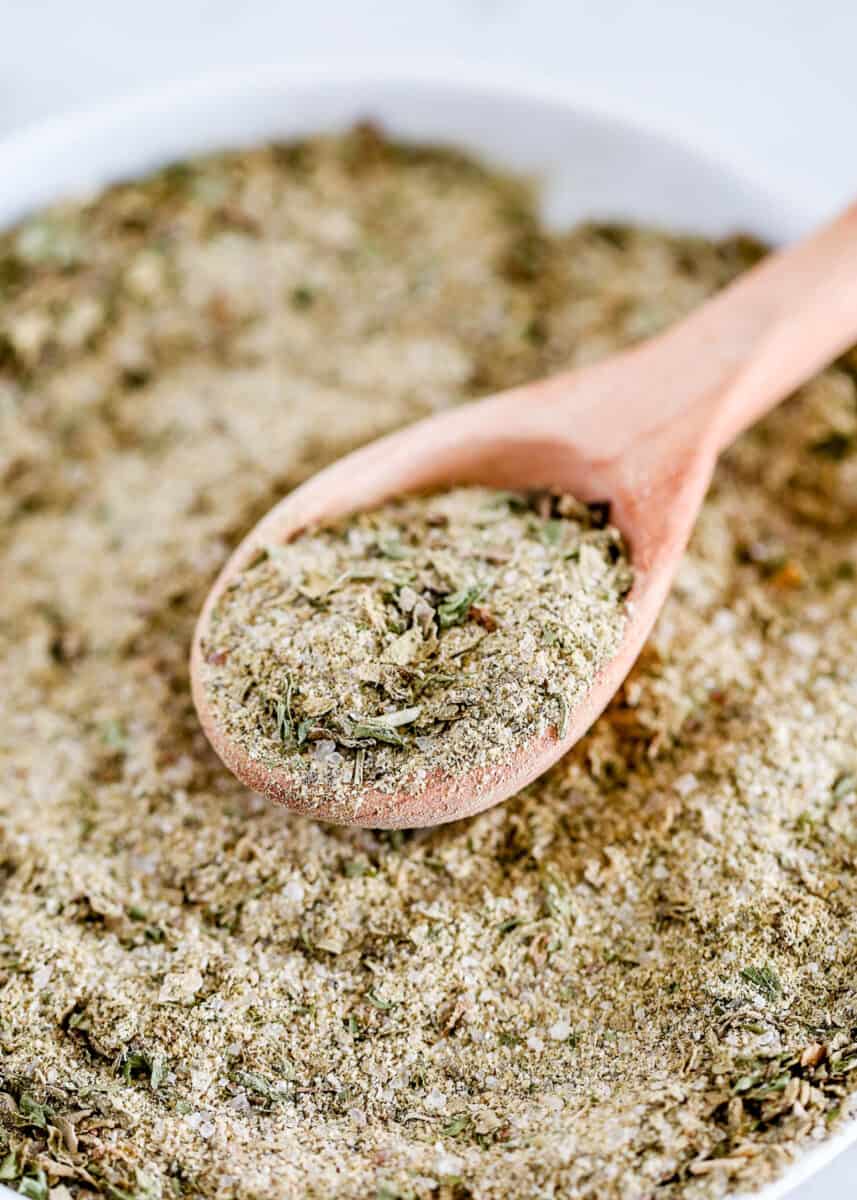 Recipe Tips
Keep out of direct sunlight. Exposure to the sun will dry out your blend quickly eliminating the flavor which ultimately affects the taste.
Double the batch. Easily increase the amount of seasoning mix you make by two or even three times. Keep the ratio of each ingredient the same and whip up a larger batch.
Ground vs. dried. You may notice that dried herbs are larger and take up more space than ground spices or herbs. In this case, if you want a more uniform consistency, feel free to break up the larger ingredients with a mortar and pestle (or the back of a wooden spoon) first before combining everything.
Thoughtful gifts. Pack up a few individual bottles. Put a ribbon on it and a cute label for gifts for the special home cooks in your life!
More Fun Ways to Use it
Turn it into a marinade. Combine 1/4 cup of olive oil, 1 lemon (juiced), and 2 Tablespoons of seasoning for a delicious chicken marinade.
Make a dip. Sprinkle in some of the seasonings in some Greek yogurt or sour cream along with a squirt of lemon juice for a delicious dip. Use it as part of a mezze platter with veggies and flatbreads, like pita bread or naan bread.
French fries. Toss your homemade french fries around in some oil, Greek seasoning, and parmesan cheese for super yummy seasoned fries!
Fish. Whether oven-baked, pan-seared, or grilled, this seasoning works on all kinds of white fish!
Vegetables: This seasoning also tastes delicious on roasted vegetables or grilled vegetables.
FAQs
What's the shelf life of this homemade Greek seasoning recipe?

Up to 3 months. However, when kept in a cool, dark, and dry area, covered in an airtight jar, this blend can technically last for much longer. I do like to switch over and replenish after a few months just to make sure everything is fresh for maximum flavor, but test yours out. If you still have some that's still good, by all means, keep it!
What is a good substitute for Greek seasoning?

Italian seasoning has similar ingredients, which makes it a great stand-in blend. If you have some of the ingredients listed in the Greek seasoning recipe, but not all, use as many as you can and work with what you've got.
How much do I use per pound of meat?

When you're using it as a dry rub before your meat hits the grill, the rule of thumb for this recipe is to use 2 Tablespoons per 1 pound of meat.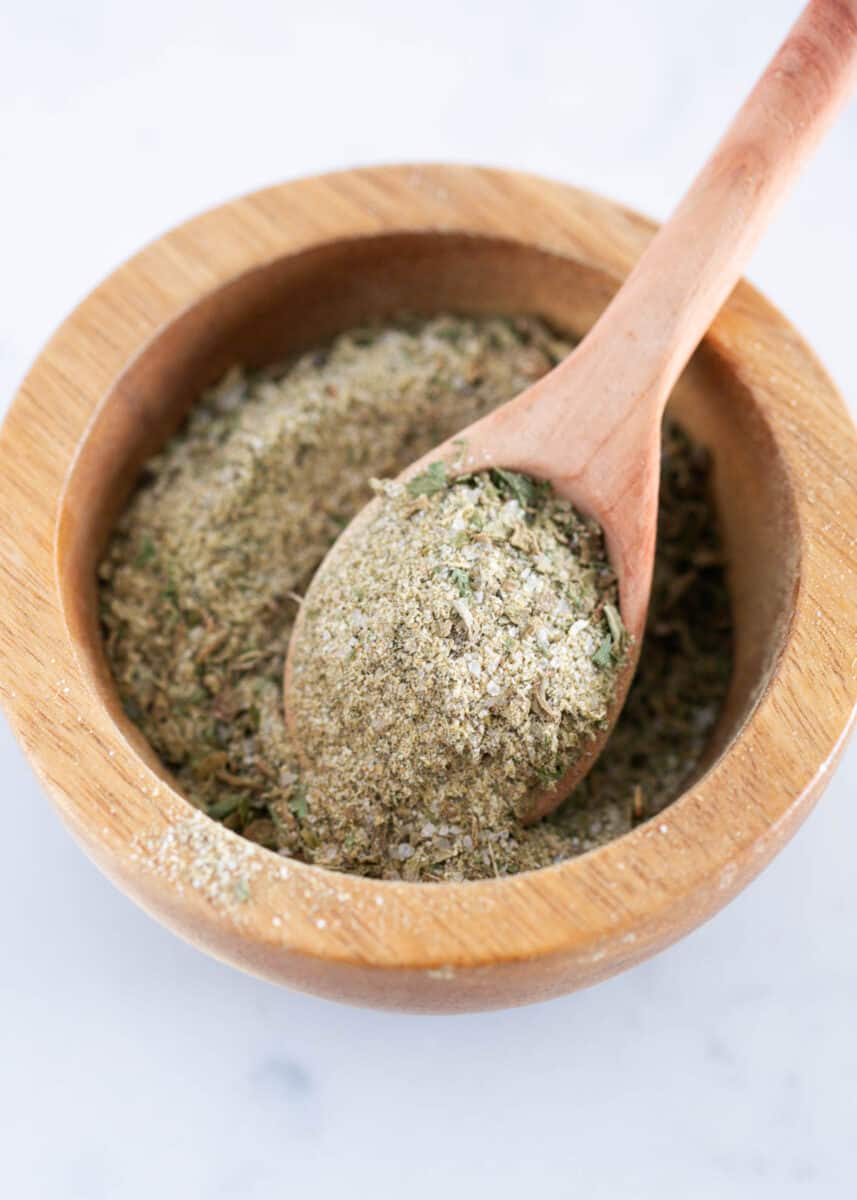 Level Up These Recipes With Greek Seasoning Mix
HUNGRY FOR MORE? Subscribe to my newsletter and follow on Facebook, Pinterest and Instagram for all the newest recipes!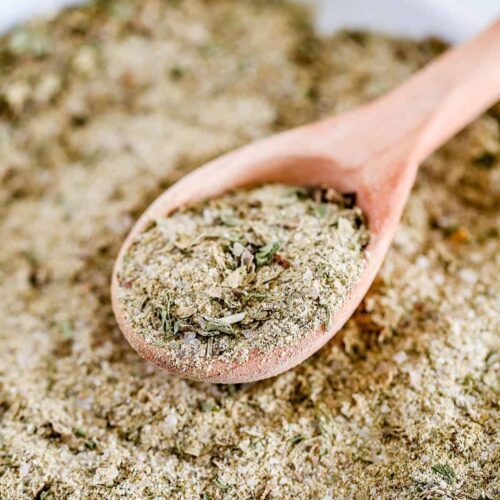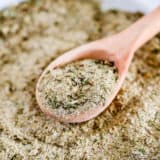 Greek Seasoning Recipe
Bring the flavors of the Mediterranean to your recipes quickly and easily when you have a pre-measured Greek seasoning recipe blend already on hand!
Ingredients
1 Tablespoon ground oregano , or 3 Tablespoons dried
1 Tablespoon dried basil leaves
1 Tablespoon garlic powder
1 Tablespoon kosher salt
½ Tablespoon onion powder
1 teaspoon dried parsley flakes
1 teaspoon ground black pepper
1 teaspoon dried dill , optional
½ teaspoon marjoram , optional
Instructions
In a small bowl, whisk together all of the seasonings until well combined.

Store in a sealed container.
---
Notes
Doubling: This recipe is super easy to double. Adjust the ratio to make whatever size batch you would like.
Storage: Store in a sealed container in a cool place up to 3 months.
Marinade: Combine 1/4 cup olive oil, 1 lemon (juiced) and 2 Tablespoons of seasoning for a delicious chicken marinade.
Roasted vegetables: This seasoning also tastes delicious on roasted vegetables.
Nutrition
Calories: 2kcal | Carbohydrates: 1g | Protein: 1g | Fat: 1g | Saturated Fat: 1g | Sodium: 1mg | Potassium: 14mg | Fiber: 1g | Sugar: 1g | Vitamin A: 7IU | Calcium: 16mg | Iron: 1mg
Nutrition provided is an estimate. It will vary based on specific ingredients used.
Did you make this recipe? Don't forget to give it a star rating below!