Learn how to cook spaghetti squash in the oven AND microwave. A healthier alternative to pasta that tastes tender, chewy and super delicious.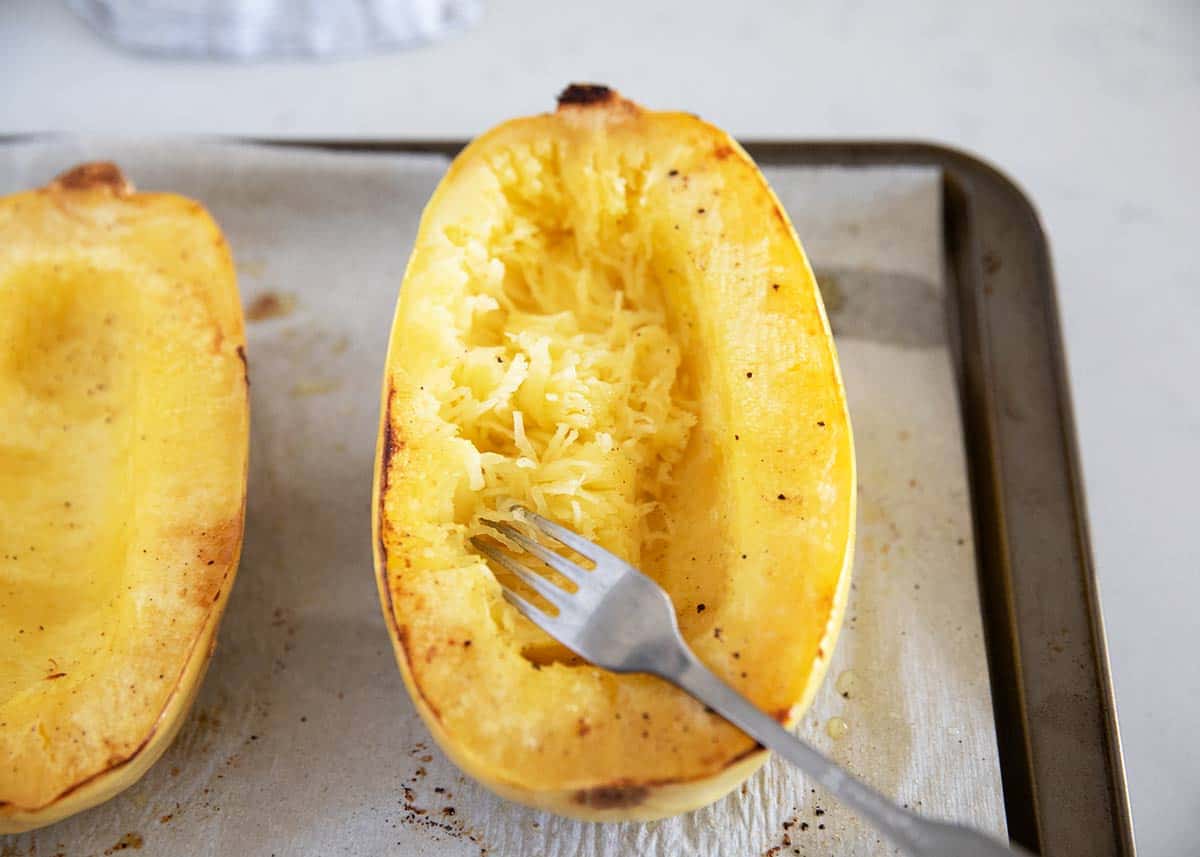 Baked Spaghetti Squash
I love to swap out cooked pasta for spaghetti squash (more vitamins and minerals) or even mix the two. It's a healthy dinner idea that tastes delicious served with turkey meatballs or your favorite sauce. I usually don't even miss pasta when I eat it!
Over the past few years, I've come to love spaghetti squash! It is so easy to make and tastes delicious with a little, butter, salt and pepper. The "spaghetti" inside is a little bland on it's own, but tender and chewy similar to angel hair pasta. It is so good topped with my favorite homemade spaghetti sauce or marinara. It's one of my favorite healthy dishes and tastes almost like the real deal.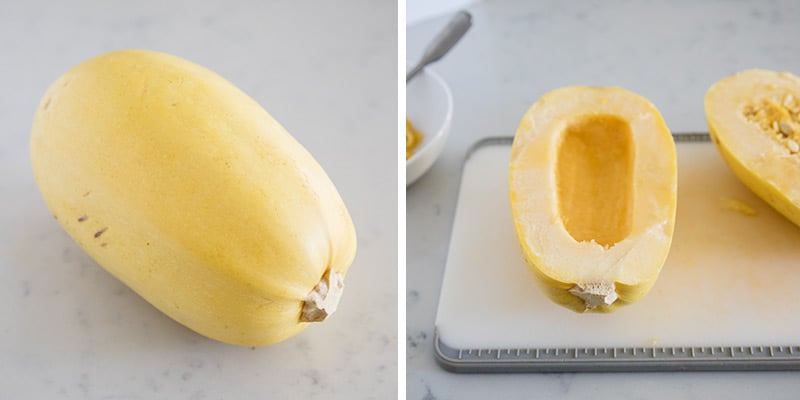 Cutting Tips
Spaghetti squash is similar to butternut squash in the fact that it's super firm and heavy, which makes it a little more difficult to cut than other vegetables. Below is the easiest method I've found.
Pierce the squash a few times with a knife or fork.
Place in the microwave for 2-3 minutes to help tenderize the inside and loosen up the skin.
Then slice in half vertically on a cutting board with a sharp knife.
Scoop out the inside seeds with a large spoon.
Note: Instead of slicing in half, you can also slice the squash into 1 1/2″ circles. Then use a spoon to scoop out the seeds in the middle.
Baked Spaghetti Squash
This is my favorite cooking method. It's super simple and gets perfectly tender and roasted in the oven. It takes about 45 minutes, so just make sure you take this timing into account when planning dinner for the night.
Season. Once you've cut the squash in half, brush the insides with olive oil and sprinkle with salt and pepper. Place on a baking sheet with the hollowed out inside facing upwards.
Bake. Bake in oven at 400°F for 15 minutes, then flip upside down and bake for an additional 20 to 30 minutes.
Let cool. Remove from oven and let cool on the baking sheet for about 5 minutes.
Scoop out. Then use a fork to scrape out the "spaghetti" strands up from the center.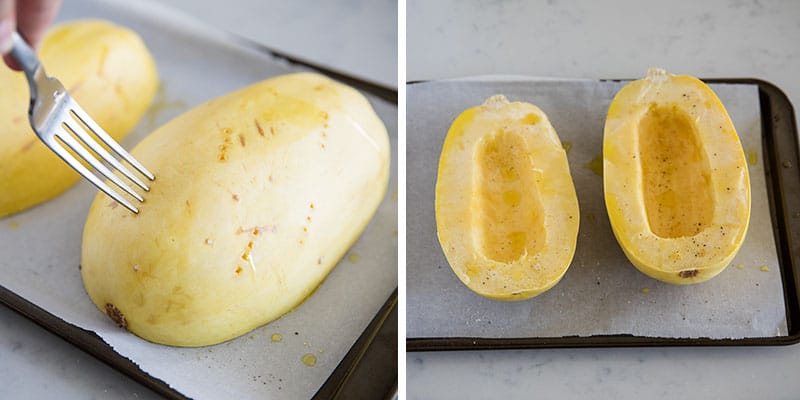 Microwave Spaghetti Squash
Ran out of time? You can microwave as well. Sometimes I'll even microwave for half the time and then roast the remainder.
Place about 1 inch of water in a baking dish.
Place the squash up side down (seeds removed) into the dish and cook for 5-10 minutes, or until tender.
Cooking Tips
When picking a spaghetti squash, look for one that's firm to touch, bright yellow in color and has a dry, rounded stem.
Let the squash cool on the pan for a few minutes after baking. If you immediately start scraping out the insides, there's a chance you might burn yourself!
I love making a stuffed spaghetti squash. Just fluff the strands with a fork, then add your favorite sauce or filling on top.
Any leftovers will keep in the fridge for up to 5 days if stored in an airtight container.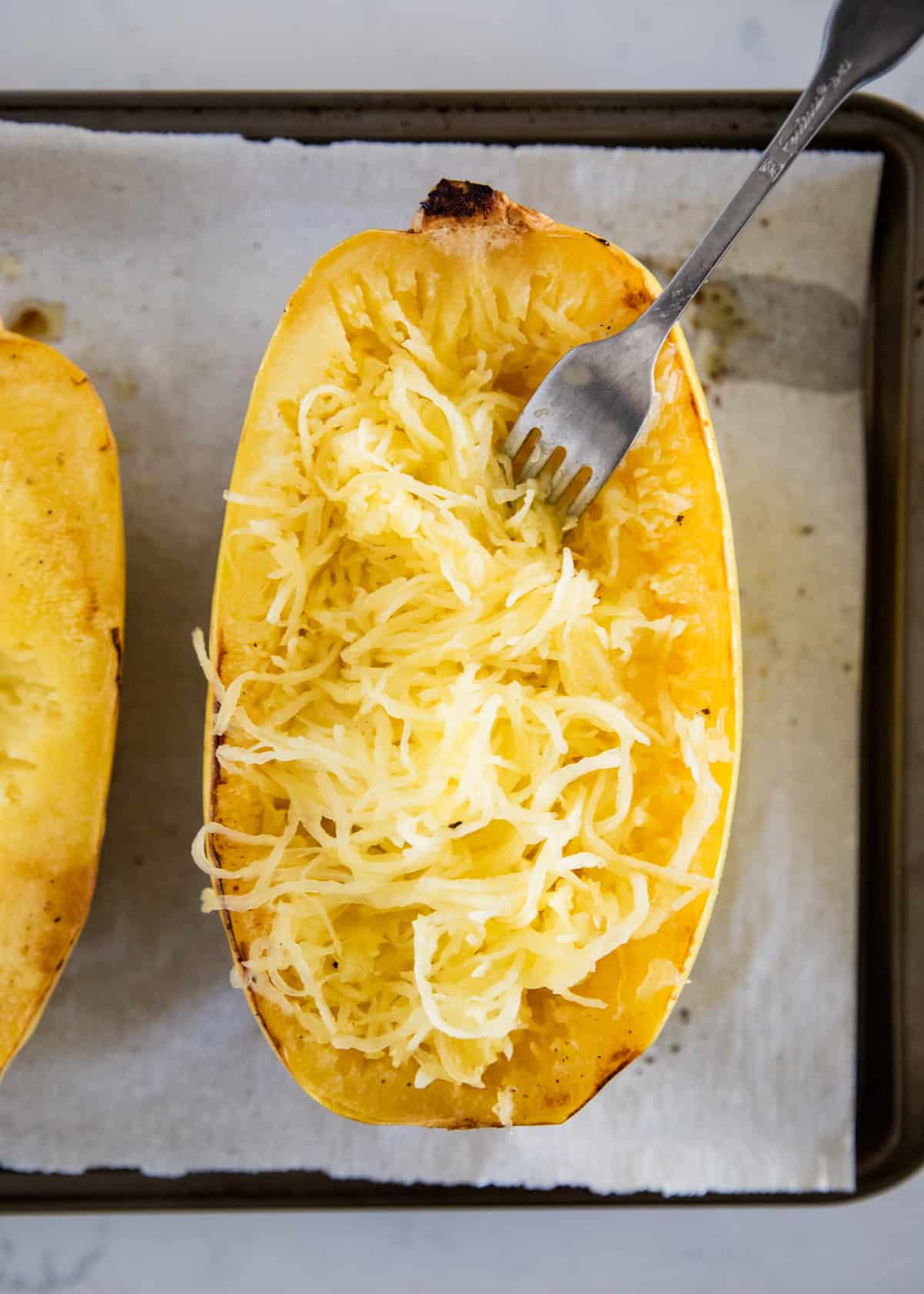 Tastes Delicious Served with
HUNGRY FOR MORE? Subscribe to my newsletter and follow on Facebook, Pinterest and Instagram for all the newest recipes!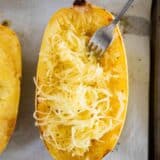 Baked Spaghetti Squash
Learn how to cook spaghetti squash in the oven AND microwave. A healthier alternative to pasta that tastes tender, chewy and super delicious.
Ingredients
1 spaghetti squash
1-2 teaspoons olive oil
S&P , to taste
For serving: Butter, Marinara, Parmesan, Basil
Instructions
Preheat the oven to 400°F. Slice the spaghetti squash in half vertically. If you're having a hard time cutting it, score it with a knife and microwave for a few minutes. Alternatively you could slice into 1 1/2" circles. Then scoop out the seeds with a spoon.

Brush the insides with olive oil and then sprinkle with salt and pepper. Bake for 15 minutes. Then flip upside down (so the outer shell faces up) and bake another 20-30 minutes, or until the inside easily comes up with a fork.

Remove pan from oven and allow to cool on pan for 5 minutes. Then take a fork to scrape the strands up from the center.

Enjoy with butter, parmesan cheese or your favorite marinara.
---
Nutrition
Calories: 84kcal | Carbohydrates: 17g | Protein: 2g | Fat: 2g | Saturated Fat: 1g | Sodium: 41mg | Potassium: 261mg | Fiber: 4g | Sugar: 7g | Vitamin A: 290IU | Vitamin C: 5mg | Calcium: 56mg | Iron: 1mg
Nutrition provided is an estimate. It will vary based on specific ingredients used.
Did you make this recipe? Don't forget to give it a star rating below!