Juicy and tender Instant Pot meatballs are made quickly and easily with no searing and no long simmering time. Toss them uncooked in the pressure cooker, and they're ready in just over 30 minutes!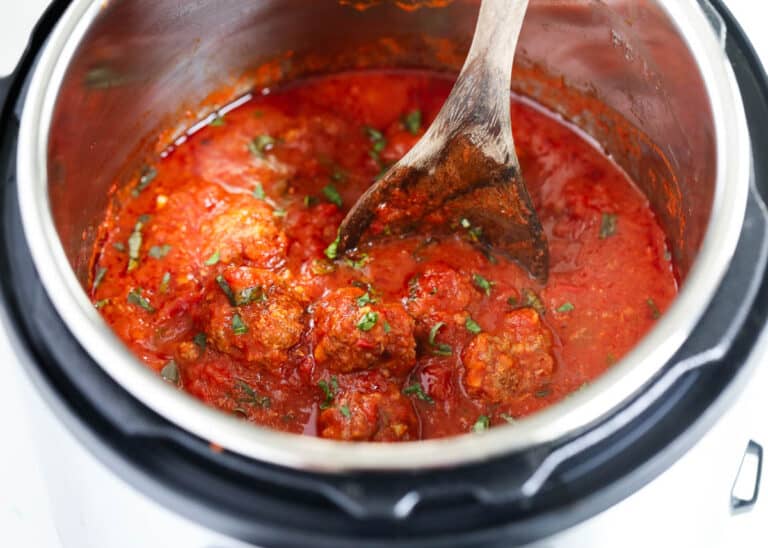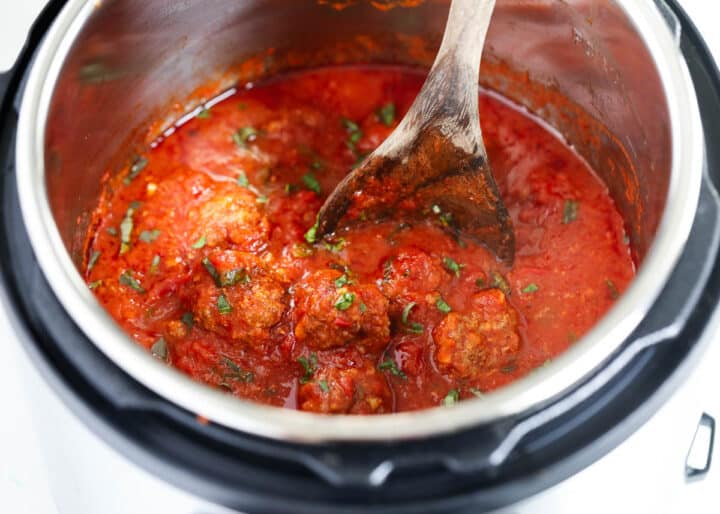 Meatballs in the Instant Pot
I don't know about you, but spaghetti and meatballs was one of my favorite meals as a kid. There was just something so comforting about coming home to the aroma of homemade meatballs simmering on the stove.
These days, I'm taking a faster and easier approach to cooking meatballs in the Instant Pot, but keeping the essence of old-fashioned meatballs with classic flavors of breadcrumbs, parmesan cheese, onion, garlic, and parsley.
Instant Pot meatballs are meaty and juicy cooked in a flavorful marinara sauce and loaded with tasty seasoning. They're ready in just over 30 minutes with 10 of those minutes being actual hands-on prep time. Otherwise, it's the pressure cooker that does the work.
If you need a couple of tips on how to use the Instant Pot before you get going, don't worry I've got you covered. This meatball recipe is just one of the reasons why everyone loves their Instant Pot!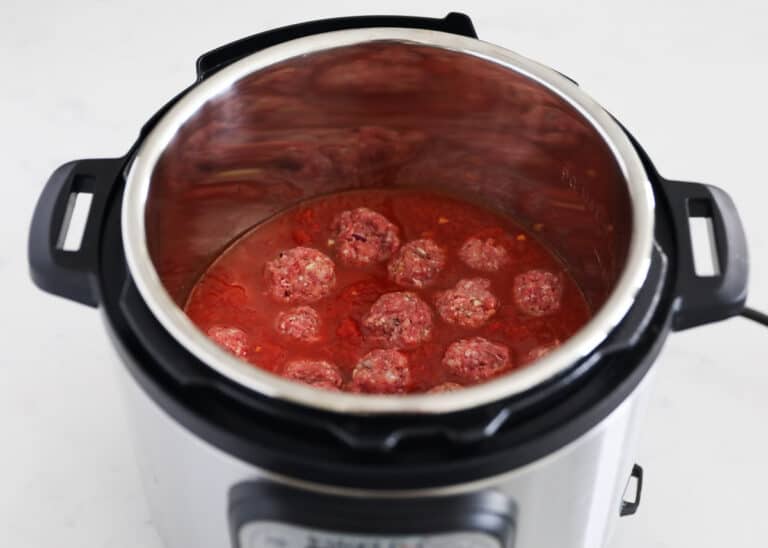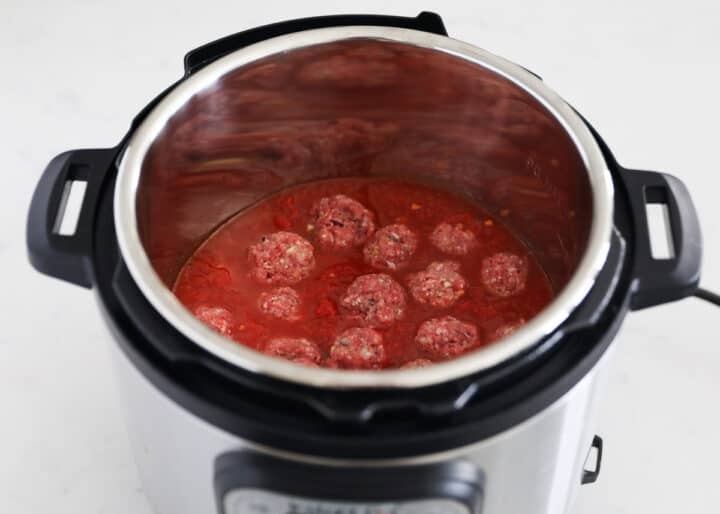 Tips & Variations
I use half an 80/20 lean ground beef and half pork, but you could also use all beef if you wanted. I find the combination gives the juiciest results.
Ground turkey or chicken will also work, although they're generally a drier meatball. Combine with beef if desired. Don't skimp on the seasoning when making turkey meatballs or chicken meatballs!
Do not overmix the meatballs. You don't want them too overworked and dense. For tender meatballs, just mix until combined.
Grate parmesan from a block whenever possible. It has a fresher flavor, melts easier, and doesn't come with the anti-clumping agents pre-shredded parmesan has.
Any jar of your favorite marinara sauce will work. A jar should work out to about 3.5 cups.
Fresh garlic and onions are recommended if you have them, but you can definitely use garlic and onion powder instead.
The same goes for using dried parsley if you don't have any fresh on hand.
Can I Double the Recipe?
Absolutely! Double the meatballs and double the sauce. The cooking time will remain the same. These meatballs freeze well, so making extra to freeze for later is a great way to think ahead for meal prep ideas and having something to grab out of the freezer on busy weeknights.
Can I Make this Gluten-Free?
Easily. Just make sure the breadcrumbs you're using are certified gluten-free, or if you've made them yourself, make sure you're using gluten-free bread. Double-check the ingredients in your marinara sauce as well. You never know where sneaky gluten hides!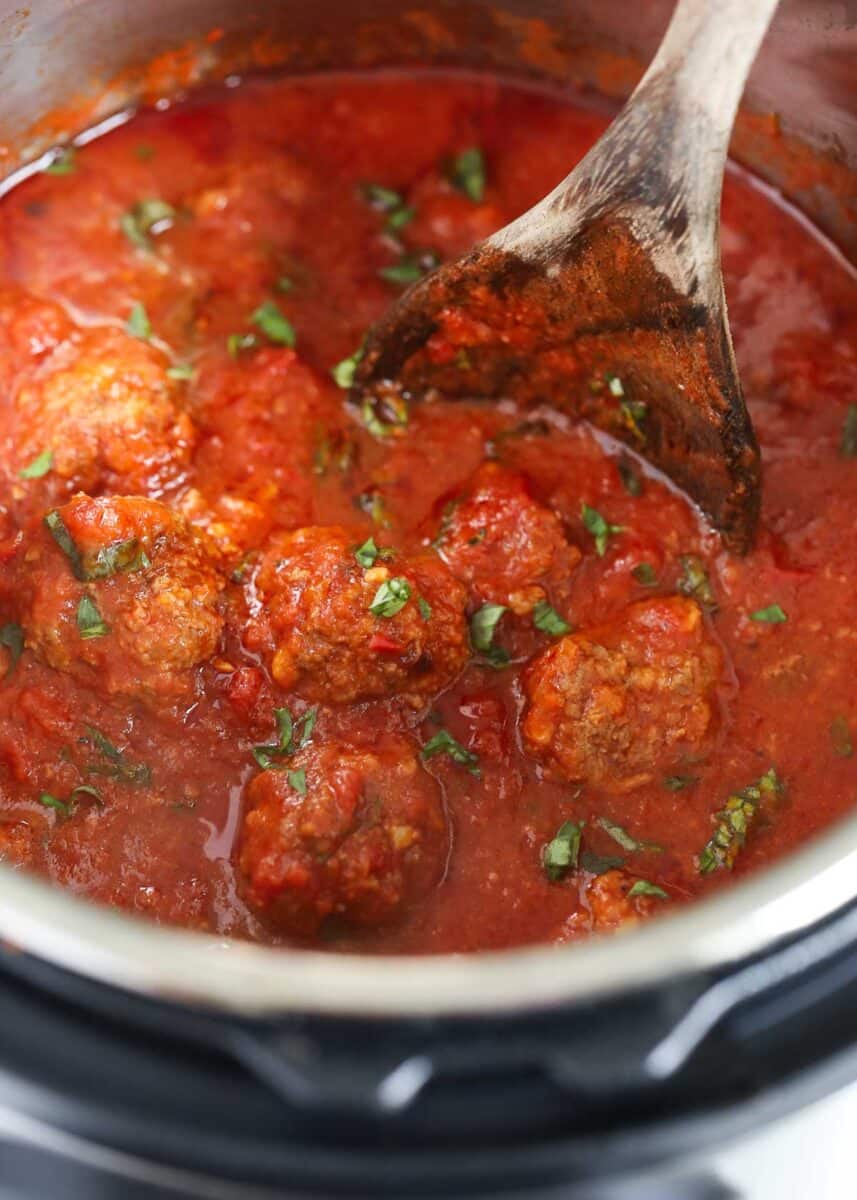 Ways to Serve Them
Storing, Freezing, & Reheating
To Store: Keep covered in an airtight container in the fridge for up to 3 days.
To Freeze: Transfer to a freezer-friendly bag or container and keep stored in the freezer for up to 3 months.
To Reheat: Thaw in the fridge overnight and then reheat on the stovetop over medium-low heat until heated through.
More One Pot Italian Meals:
HUNGRY FOR MORE? Subscribe to my newsletter and follow on Facebook, Pinterest and Instagram for all the newest recipes!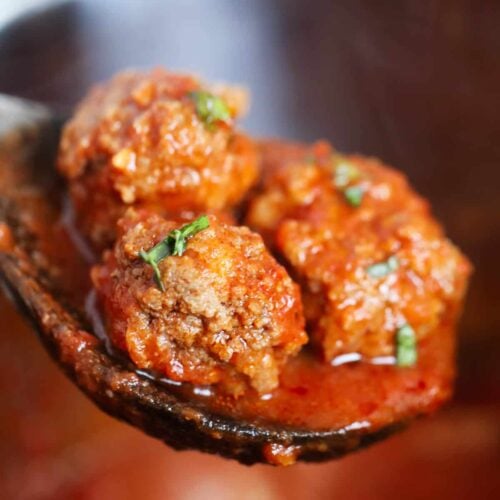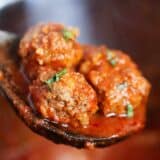 Instant Pot Meatballs
Juicy and tender Instant Pot meatballs are made quickly and easily with no searing and no long simmering time. Toss them uncooked in the pressure cooker, and they're ready in just over 30 minutes!
Ingredients
1 pound 80% lean ground beef , could sub with half ground pork
1 large egg , beaten
¼ cup breadcrumbs
¼ cup grated parmesan cheese
¼ cup finely chopped onion
2 teaspoons minced garlic
¾ teaspoon Kosher salt
¼ teaspoon ground black pepper
2 Tablespoons chopped fresh Italian Flat leaf parsley
32 ounces marinara sauce ,1 jar which equals about 3 1/2 cups
For serving (optional): Cooked noodles, parmesan cheese, basil or parsley
Instructions
Combine the meat, egg, breadcrumbs, cheese, salt, garlic, onion, black pepper and parsley in a bowl. Stir just until combined, do not over mix. Add a Tablespoon of water as needed to keep a wet mixture.

Pour the sauce along with 1/2 cup water into the Instant Pot.

Use a medium cookie scoop or spoon to scoop the meat. Then form into 1 1/2" balls.

Add the meatballs into the instant pot on top of the sauce. Be careful not to push the meatballs too tightly down. It's okay if they're layered on top of each other a little.

Place the lid onto the Instant Pot and turn the valve to sealing. Then hit pressure cook and set the time for 7 minutes on high pressure. It will take about 15 minutes to build pressure. Once the time is up, let it naturally release the steam for about 5 to 10 minutes and then carefully turn the valve with hot pads and then remove lid.

Use a measuring cup to remove any fat that has risen on top of the sauce. Then stir and top meatballs with fresh basil or parsley. Serve meatballs on their own or serve over spaghetti noodles.
---
Notes
Substitutes:
You can use 1/2 teaspoon garlic powder and onion powder if you do not have fresh garlic and onions. You may also use 2 teaspoons dried parsley if you do not have fresh.
If I have pork on hand, I like to use 1/2 pound ground beef and 1/2 pound ground pork. It creates juicier meatballs. You could also do half ground beed and half ground turkey to cut back on fat.
Storage and freezer instructions:
Store in a covered container in the fridge for up to 3 days. Store in a freezer container for up to 3 months. Place in the fridge overnight to thaw and then reheat on the stove top over medium-low heat until warm.
Nutrition
Serving: 4meatballs | Calories: 250kcal | Carbohydrates: 13g | Protein: 19g | Fat: 14g | Saturated Fat: 5g | Polyunsaturated Fat: 1g | Monounsaturated Fat: 6g | Trans Fat: 1g | Cholesterol: 82mg | Sodium: 1241mg | Potassium: 770mg | Fiber: 3g | Sugar: 7g | Vitamin A: 843IU | Vitamin C: 13mg | Calcium: 95mg | Iron: 4mg
Nutrition provided is an estimate. It will vary based on specific ingredients used.
Did you make this recipe? Don't forget to give it a star rating below!