These easy and addictive mixed candied nuts make a fantastic holiday snack and/or seasonal gift that your friends and family will love!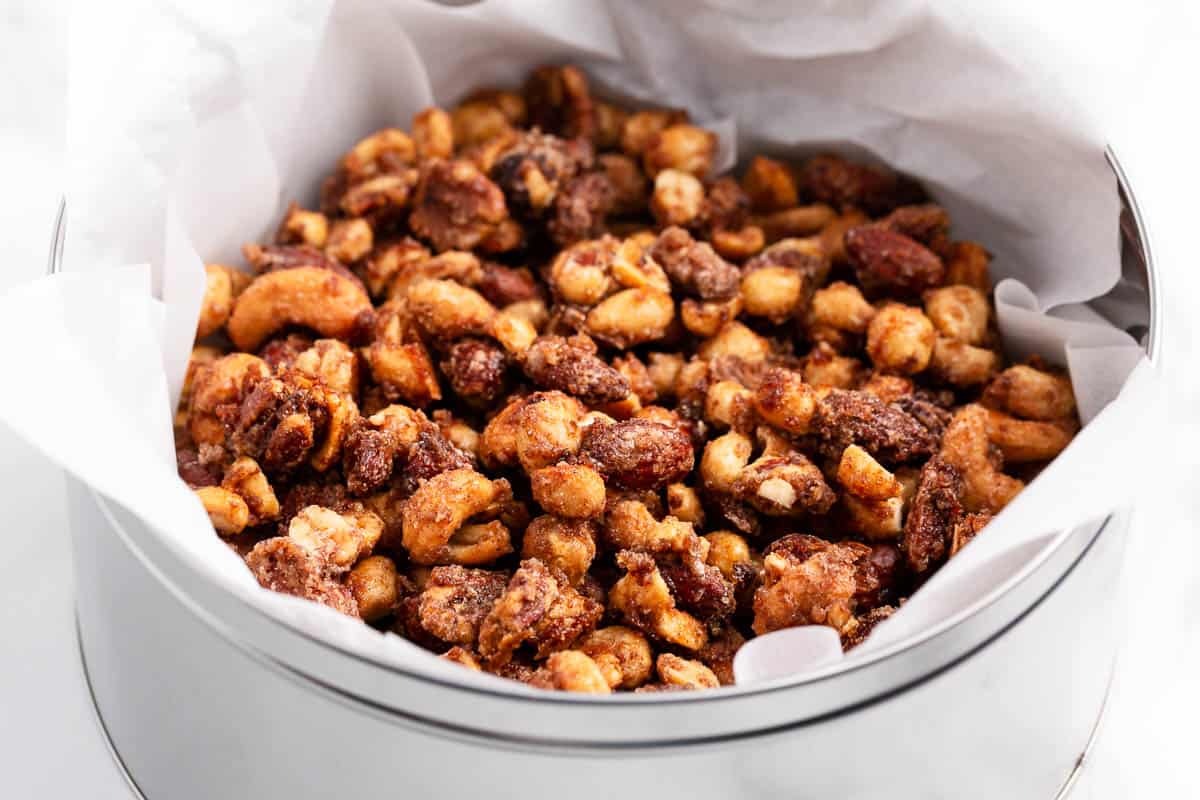 Easy Candied Nuts Recipe
We love to gift candied nuts during the holiday season. They make a great neighbor gift and have that perfect festive flavor. Some other favorite gifts from the kitchen are my homemade soft caramels and homemade toffee.
This recipe for mixed candied nuts makes the house smell like cinnamon French toast, it's so mouthwatering and simple. Easy candied nuts recipe are perfect to add to your holiday baking this year!
Recipe Ingredients
This candied nut recipe is top of the line and perfect for snacking, sharing at game night, or gifting to friends and family during the holidays.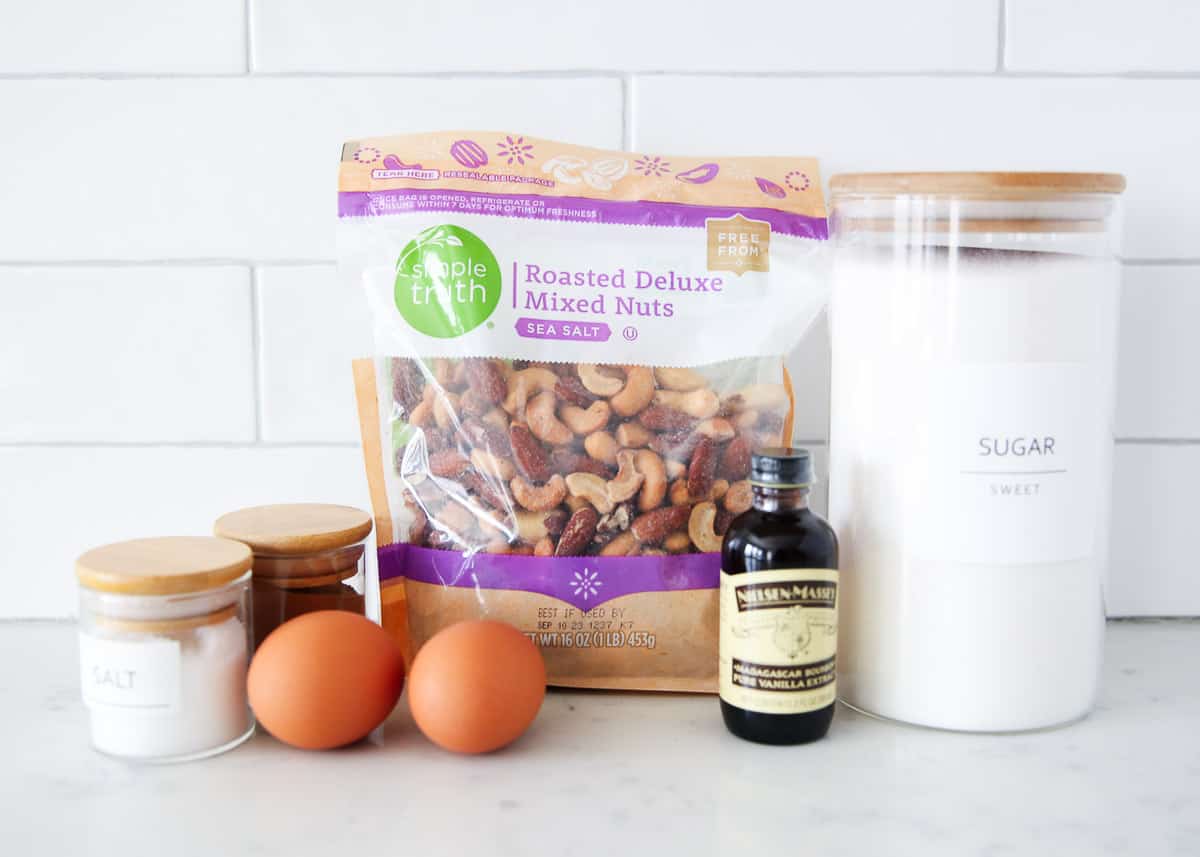 Find the printable recipe with specific measurements below.
Mixed nuts: At your local grocery store find a bag of mixed nuts in the baking or snack aisle. Pick which nuts you are hoping for and roasted or anything special about the bag. I usually get the bag with cashews, almonds, walnuts, and pecans.
Sugar: Adds sweetness over top the caramelized nuts.
Cinnamon: This gives these mixed nuts the savory and sweet with a hint of warm spice on them.
Fine sea salt: Gives the candied mixed nuts the texture but also blends the flavors together.
Egg whites: Whisk the egg whites until they are a nice foam texture.
Water: Brings in moisture and helps give the nuts a soft, squishy inside when biting down.
Vanilla extract: Always a plus when added into a recipe. This will help bring flavor and blend flavors together.
Variations
Feel free to use any type of nuts you'd like, such as pecans, almonds, peanuts, walnuts, cashews, macadamia nuts, etc. Pumpkin seeds would taste great as well.
You can also add in more spices and play around with the flavor. A dash of nutmeg, cloves, pumpkin pie spice or even cayenne pepper would taste delicious!
How to Make Candied Nuts
These are simple to make and ready to bake in 5 minutes, so you will have no problem throwing this recipe together. Learn how to candy nuts with the simple steps below.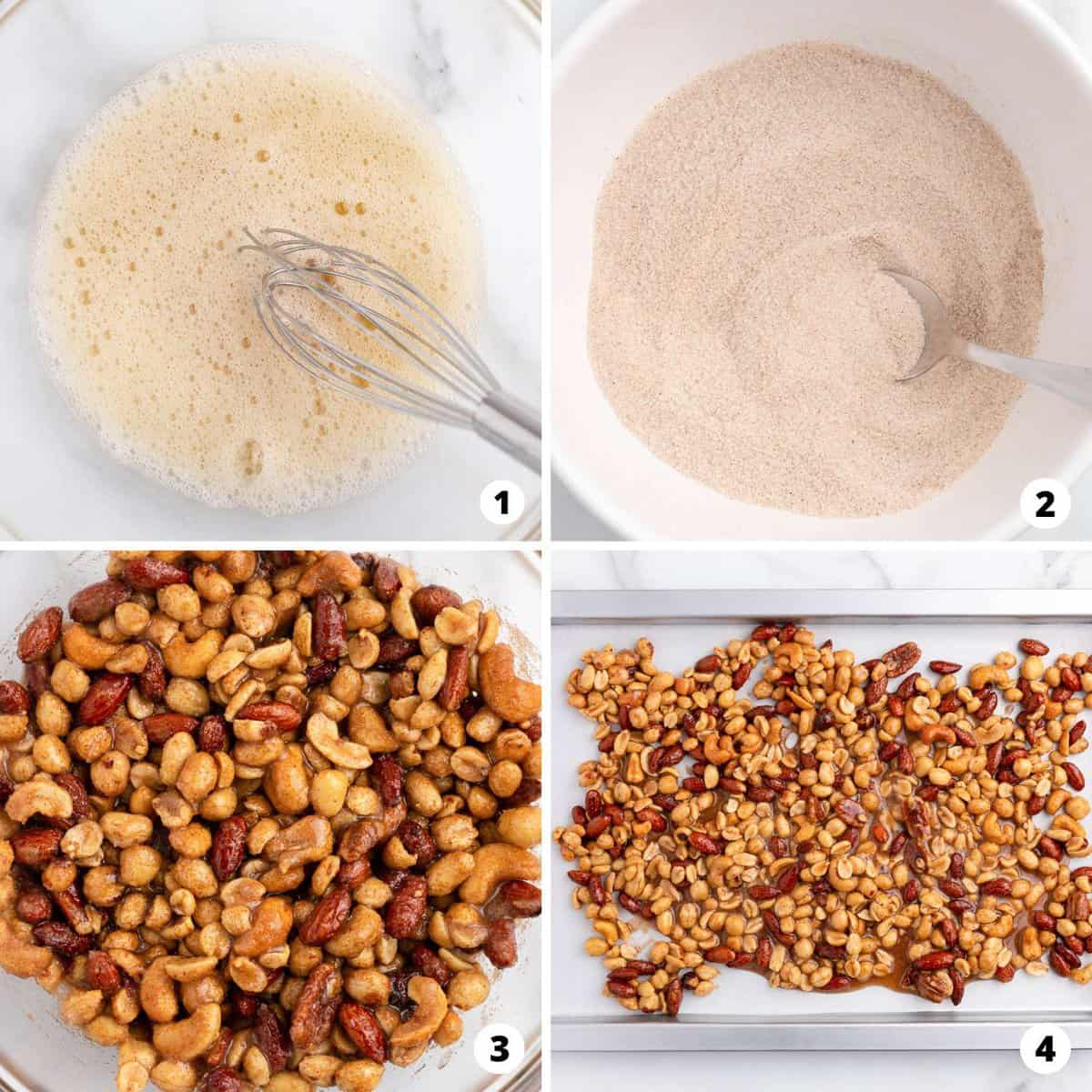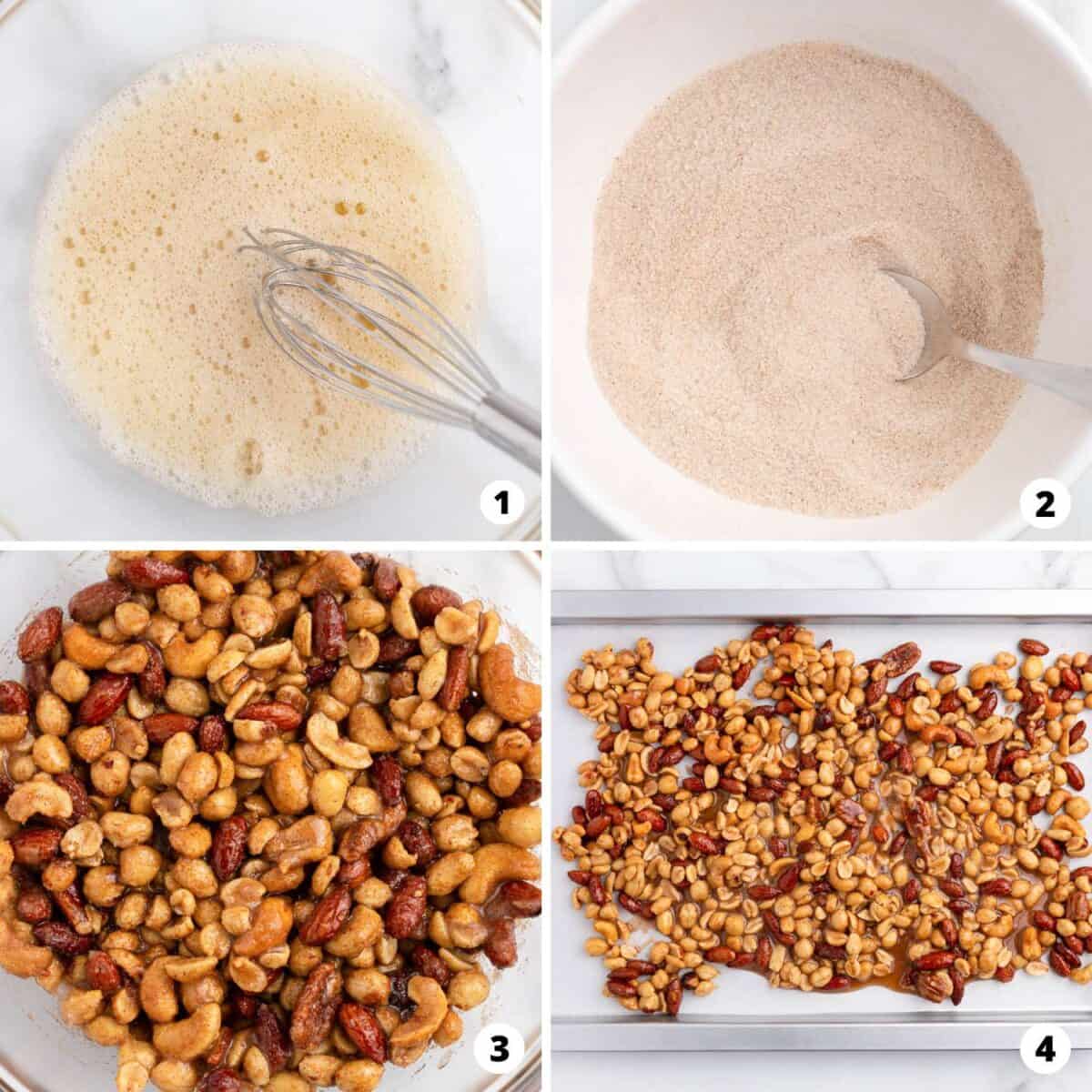 Whisk. In a bowl, whisk together egg whites, vanilla and water until foamy.
Mix together spices. Mix together sugar, spices and salt in a medium bowl.
Coat the nuts. Whisk together egg whites, vanilla and water until foamy, then add in nuts and toss to coat completely. Once well coated, sprinkle the sugar mixture on top and stir to combine.
Bake in oven. Pour nuts onto a parchment-lined baking sheet in a single layer. Bake at 325°F for about 35 minutes, stirring every 10 minutes or so. Remove pan from oven and let cool completely.
Perfect Holiday Gift
What I love most about this Christmas nut mix is that it adds a gorgeous touch to any holiday spread and make fantastic gifts. Put these in a mason jar, seal them up with a lid, tie a ribbon around the jar, and you have easy Christmas gifts that everyone will love and devour!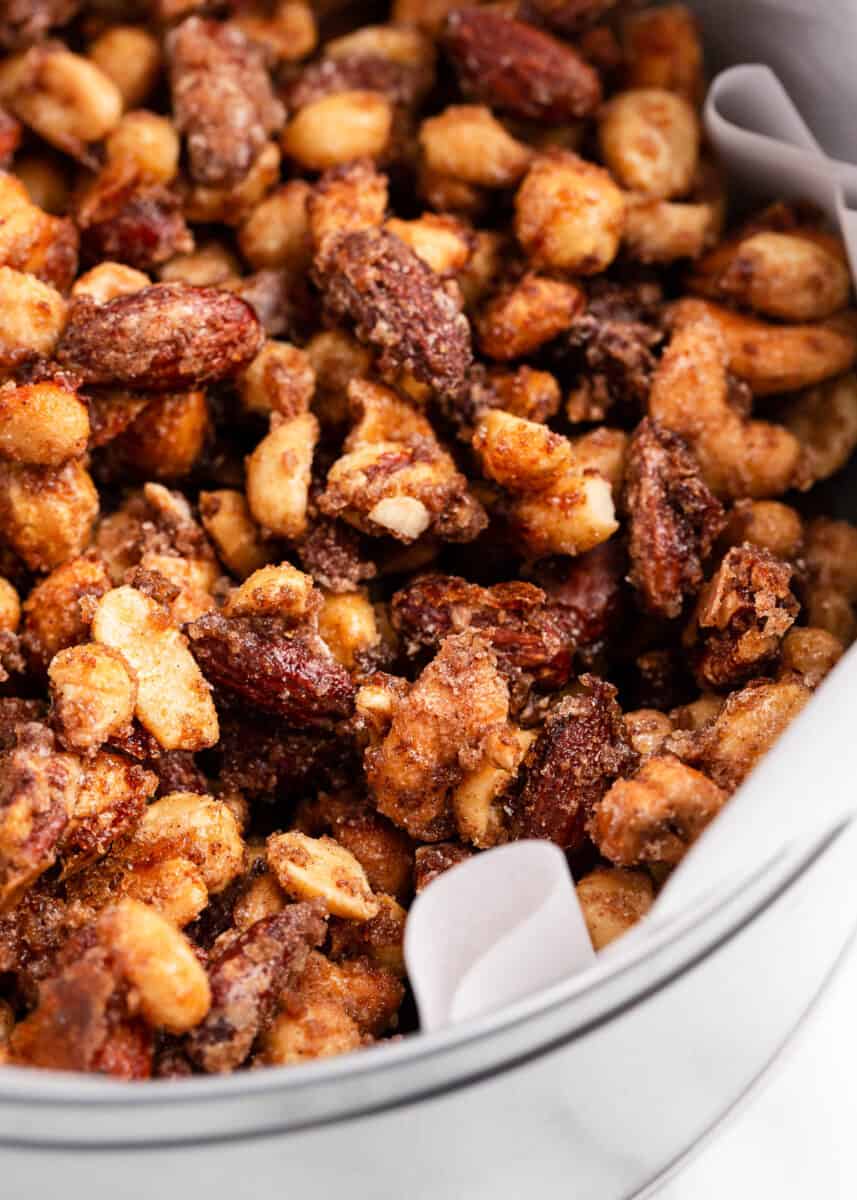 Recipe FAQs
Are glazed and candied nuts the same?
They are not the same! They sound similar but glaze nuts use ingredients like brown sugar, corn syrup, and butter whereas candied nuts use sugar and egg whites.
What can you do with sticky candied nuts?
If you have sticky candied nuts, you will want to be sure to let them cool completely before storing them or bunching them together. If they have sat out for longer than usual you can place them back in the oven for another 10 to 15 minutes and see if that helps harden them more.
Can I toast nuts in the air fryer?
Yes, this does work well too! Lay the mixed nuts flat in the air fryer bucket. Cook at 300 degrees Fahrenheit for 10 minutes then stir together. Cook another 5 to 10 minutes. Shake them if needed halfway through.
How long do these nuts last?
The best thing about these mixed sweet nuts is that they last for quite awhile! If stored in an airtight container at room temperature, they will keep for about 2 to 3 weeks. They're perfect to make ahead for gifting due to their longer shelf life. So easy and delicious!
How to avoid charred nuts?
All ovens run a little differently when it comes to temperature! If your oven runs hot, take the nuts out earlier. Keep an eye on them as they get done quickly.
Ways to Use Candied Nuts
There are SO many ways to enjoy these candied nuts. Below are a few of our favorites: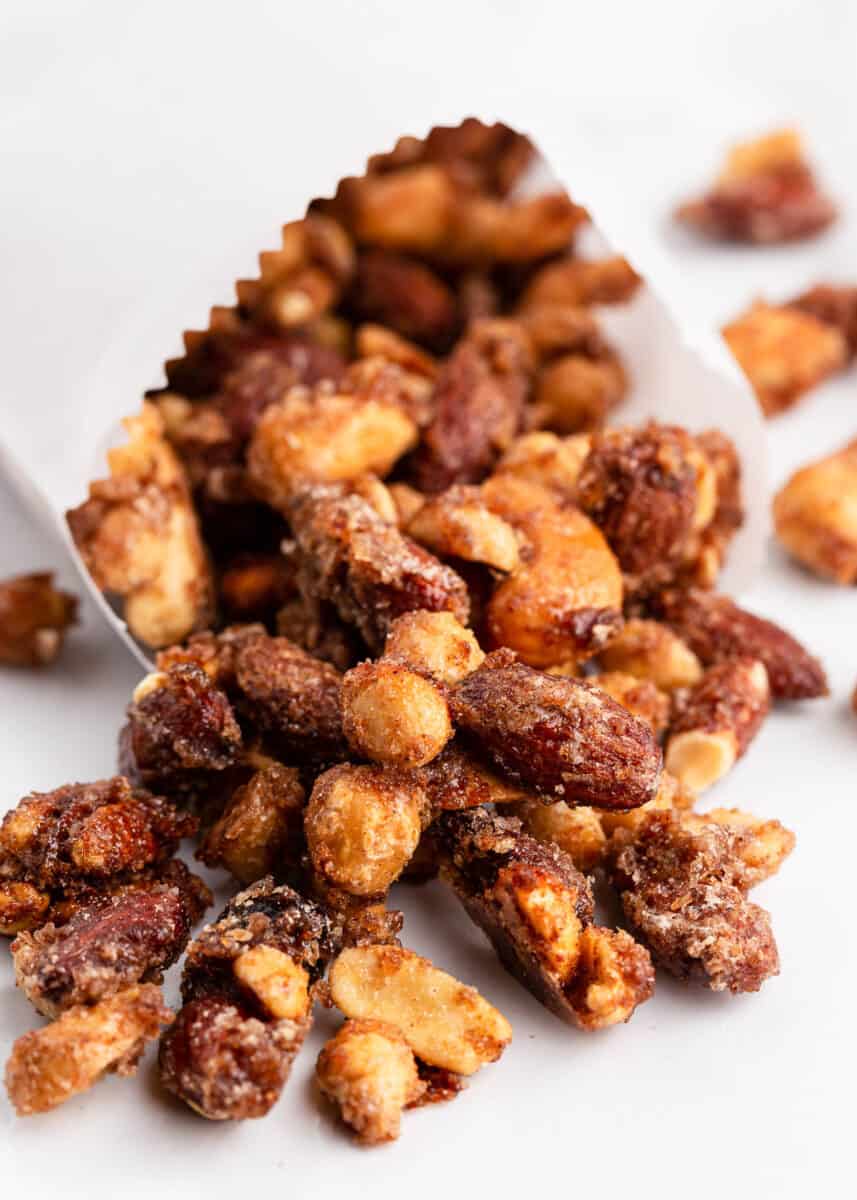 5 star review
"I made these for our holiday party and everyone loved them. Making them again when we host Christmas."

-Jessica
More Holiday Treats
HUNGRY FOR MORE? Subscribe to my newsletter and follow on Facebook, Pinterest and Instagram for all the newest recipes!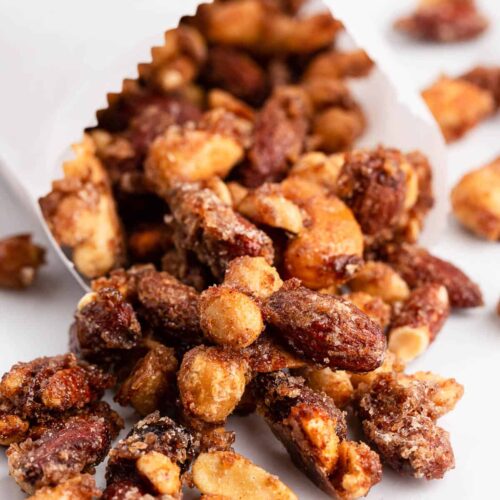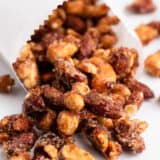 Mixed Candied Nuts
These easy and addictive mixed candied nuts make a fantastic holiday snack and/or seasonal gift that your friends and family will love!
Ingredients
1 pound mixed nuts , lightly salted
1 cup granulated sugar
1-2 teaspoons ground cinnamon
¼ teaspoon fine sea salt , more to taste
2 egg whites
1 Tablespoon water
1 teaspoon vanilla extract
Instructions
Preheat oven to 300°F and line a baking sheet with parchment paper. Prepare ingredients and set aside.

In a medium mixing bowl, add sugar, cinnamon and sea salt and stir to combine.

In a large mixing bowl, whisk together egg whites, vanilla and water until it becomes foamy.

Add in the mixed nuts and toss to combine, making sure to evenly coat all of the nuts. Top the nuts with the sugar mixture, stirring evenly to coat.

Add nuts to prepared baking sheet in a single layer and bake for 10 minutes. Stir nuts mixture and bake for another 10 minutes. Stir nuts mixture again and bake for another 10 minutes. Stir nuts once more and bake for another 5 minutes.

Remove nuts from oven and allow to cool completely. Once cooled, store in a covered container.
---
Notes
Storage: These candied nuts will keep for 2-3 weeks if stored in an airtight container. Variations: You can add in pumpkin seeds or swap out any nut. Sometimes I just do almonds, cashews and pecans. Uses: Use for a salad topping, as cold cereal, a sundae topping, a side to your meat and cheese tray, or package them up for a holiday gift!
Nutrition
Calories: 100kcal | Carbohydrates: 9g | Protein: 2g | Fat: 7g | Saturated Fat: 1g | Polyunsaturated Fat: 1g | Monounsaturated Fat: 4g | Sodium: 21mg | Potassium: 81mg | Fiber: 1g | Sugar: 6g | Vitamin A: 2IU | Vitamin C: 1mg | Calcium: 10mg | Iron: 1mg
Nutrition provided is an estimate. It will vary based on specific ingredients used.
Did you make this recipe? Don't forget to give it a star rating below!