This pepperoni pizza recipe is undeniably a classic recipe, and for good reason! The crust is both soft and chewy, the sauce is bursting with flavor, and the melted mozzarella cheese creates an irresistible cheese pull. This homemade pizza is truly a slice of heaven.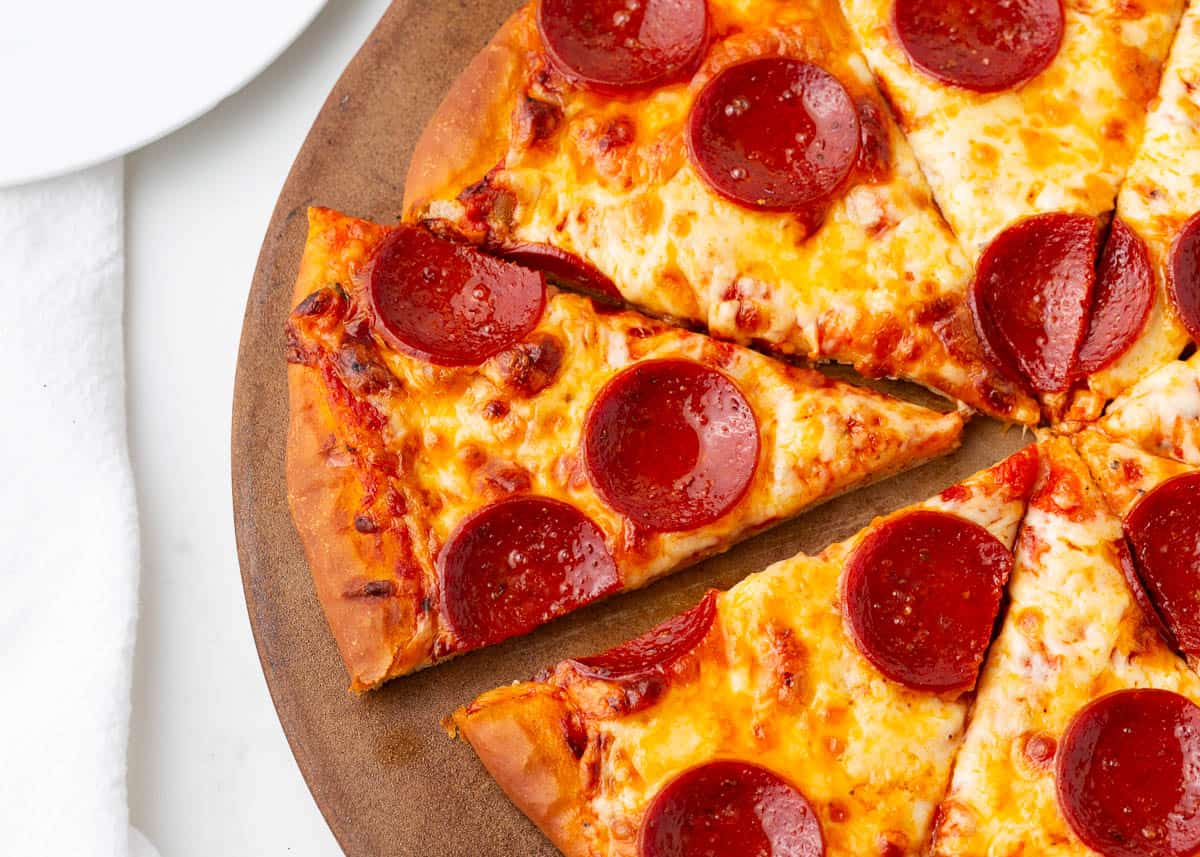 Restaurant-Style Pizza Pie
Pizza night at our house has always been a fun family activity. The kids love getting to make their own personal pizzas.
We've made everything from sheet pan pizza to chicken bacon ranch pizza. We've even made heart shaped pizza for Valentine's day!
However, there are days when we can all agree that all we want is a classic homemade pepperoni pizza without any bells or whistles. It's a simple pizza that everyone loves and is ready to serve in just over 1 hour, so who am I to argue?!
Made with homemade pizza dough, easy homemade pizza sauce, mozzarella cheese, and salty pepperoni, this simple pepperoni pizza is hands down one of the best homemade pizza recipes. It's the reason we never order pizza anymore!
Why You'll Love This Recipe
Better than takeout. It not only tastes better but it's better for you! Making pepperoni pizza from scratch means you can use the freshest ingredients.
The dough is freezer-friendly. If you've made more than you need, freeze the extra for later.
Customizable. As much as we love classic pepperoni pizza, there's always room to make it your own. Add extra toppings as desired.
Homemade Pepperoni Pizza Ingredients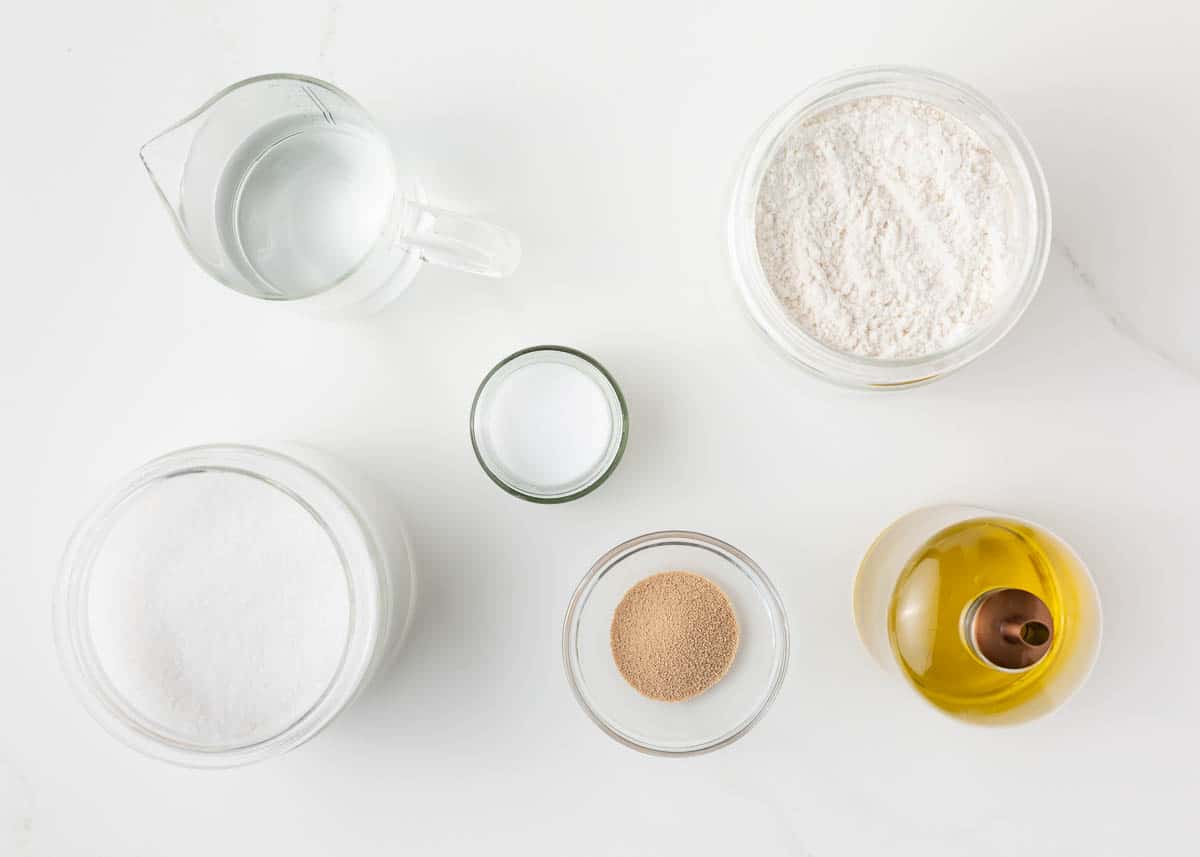 Find the full printable recipe with specific measurements below.
Warm water: This is used to help proof the yeast. It needs to be lukewarm, not cold or it won't activate anything and not too hot or it will kill the yeast.
Active dry yeast: Make sure you're using fresh yeast. If you see that the yeast isn't foaming, you'll need to discard it and use fresh yeast.
Granulated sugar: Yeast feeds off of sugar. The sweetness also adds flavor to the pizza crust.
Extra virgin olive oil: This helps to keep the dough nice and soft and once it's baked it helps to contain moisture.
Salt: Brings out the flavors in your pepperoni pizza.
All-purpose flour: A great choice of flour for pizza dough. It tastes great, holds its structure and is easy to work with. Just be sure to measure it properly!
Toppings: Pizza sauce, shredded mozzarella, pepperoni slices. Grate the cheese yourself if you can. It melts much better than prepackaged shredded cheese.
Variations
If you're looking for a healthier alternative to pepperoni pizza with all-purpose flour, try my whole wheat pizza dough.
For a shortcut, pick up 2 pounds of store-bought pizza dough. I get mine at Trader Joe's.
If you don't have yeast, I've also got a great no yeast pizza dough recipe you can use.
There are all kinds of ways to switch up the sauce. We've used garlic white pizza sauce, marinara sauce, Alfredo sauce, and of course, good old-fashioned tomato sauce.
Add extra toppings. Some of our favorites are sliced bell peppers, green or black olives, sliced mushrooms, onions, tomatoes, and fresh basil.
Meat lovers at your table? Add crumbled sausage, diced ham, or both to your pepperoni pizza.
How to Make Pepperoni Pizza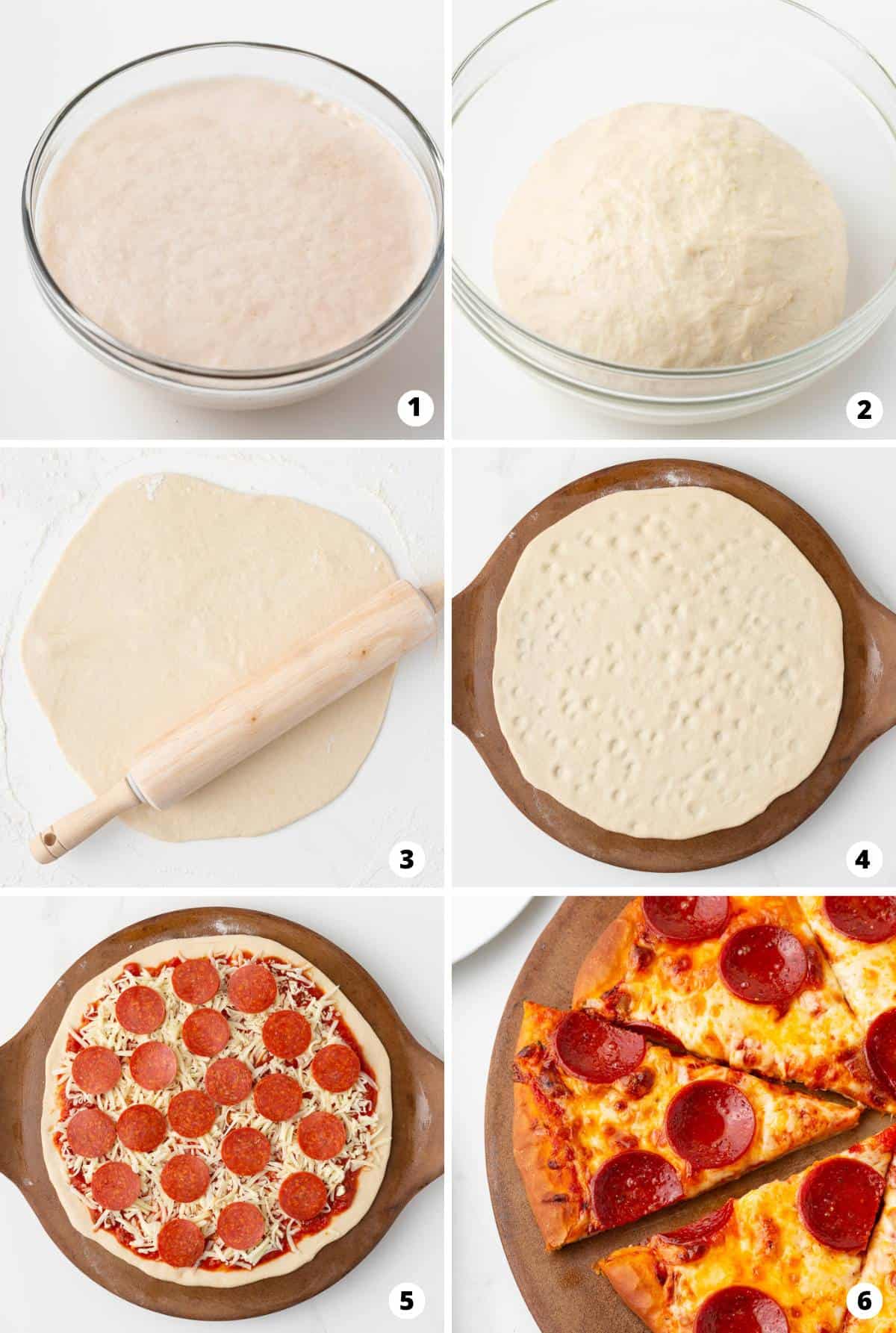 Proof the yeast and make the dough. Mix water, yeast, and sugar in a small bowl and cover with plastic wrap. Let it sit for 5 minutes until it starts to foam. In the bowl of a stand mixer, use the hook attachment to mix the yeast mixture, oil, and salt, then the flour in portions and knead until the dough is soft and just a bit sticky.
Let dough rise. Roll it into a ball and coat it with a bit of oil. Place it into a bowl and cover it with plastic wrap. Place it in a warm draft-free area to rise for about 20-60 minutes until it bulks up a bit.
Roll out the dough. Preheat the oven and transfer the dough to a floured work surface. Cut it in half and roll it out to about 1/4" thick and 12" in diameter. Repeat with the other half of dough.
Transfer to baking sheet. Lightly brush a large baking sheet or pizza stone with olive oil to help crisp up the bottom of the crust and to prevent it from sticking. Transfer the dough to the sheet or stone. Use your finger tips to press dents in the dough to prevent bubbling.
Add toppings to pepperoni pizza. Spread the sauce evenly across the surface of both dough rounds, leaving about 1" around the rim for the crust. Sprinkle with cheese then top with pepperoni.
Bake for 15 minutes. When it's golden brown and bubbly, it's ready. Allow it to cool slightly before slicing. Enjoy!
Expert Tips
Use fresh yeast. Otherwise the dough won't rise!
Easy slicing. Use a pizza cutter if you have one. It makes cutting even slices very simple.
For even more flavor. Finish with a sprinkling of Parmesan cheese, oregano, and fresh basil.
A little heat. A bit of red pepper flakes will add a bit of spice. Then drizzle the top with some hot honey.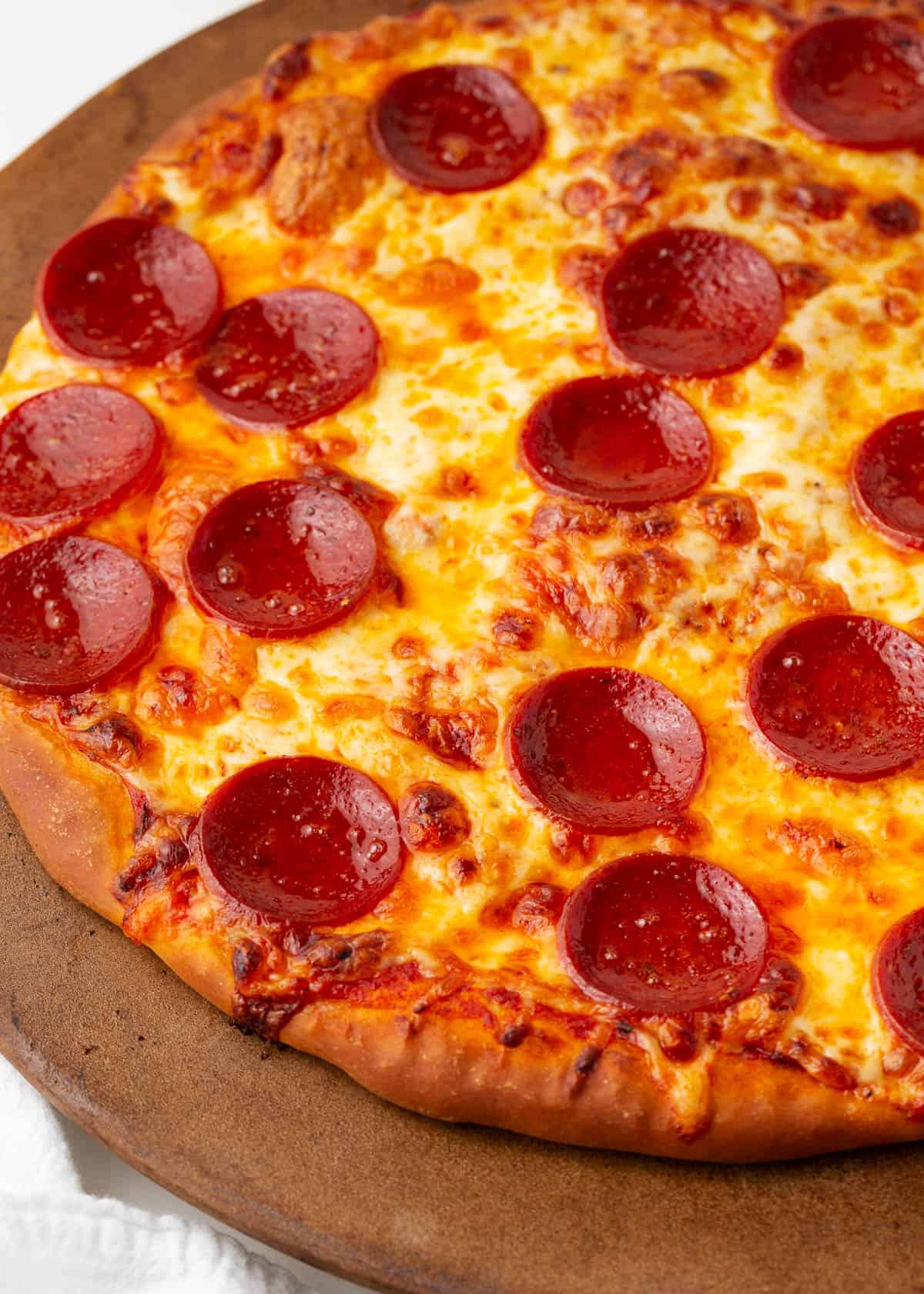 Recipe FAQs
What is the best pepperoni for pizza?
Pepperoni is thin slices of a type of salami. So, as you can imagine there is a wide variety from mild to spicy and all kinds of seasonings and flavors. You can even opt for turkey pepperoni if you prefer.

Use prepackaged or freshly sliced from the deli, it's up to you.
Do I need to bake the crust first?
No, you don't. This easy pepperoni pizza recipe doesn't require a first bake, which sometimes is helpful when you've got a thick crust. In this case, it's not thick enough to need extra baking time.
Which goes on pizza first, the pepperoni or the cheese?
Most people add the cheese first and then the toppings so they aren't hidden under the cheese. If you want your toppings to cook and soften, or get the proper amount of heat, it's a good idea to add them last.
What size pepperoni pizza does this recipe make?
This recipe makes 2 12-inch crusts or 4 6-inch crusts. If you're making smaller pizzas check for doneness around 10-12 minutes.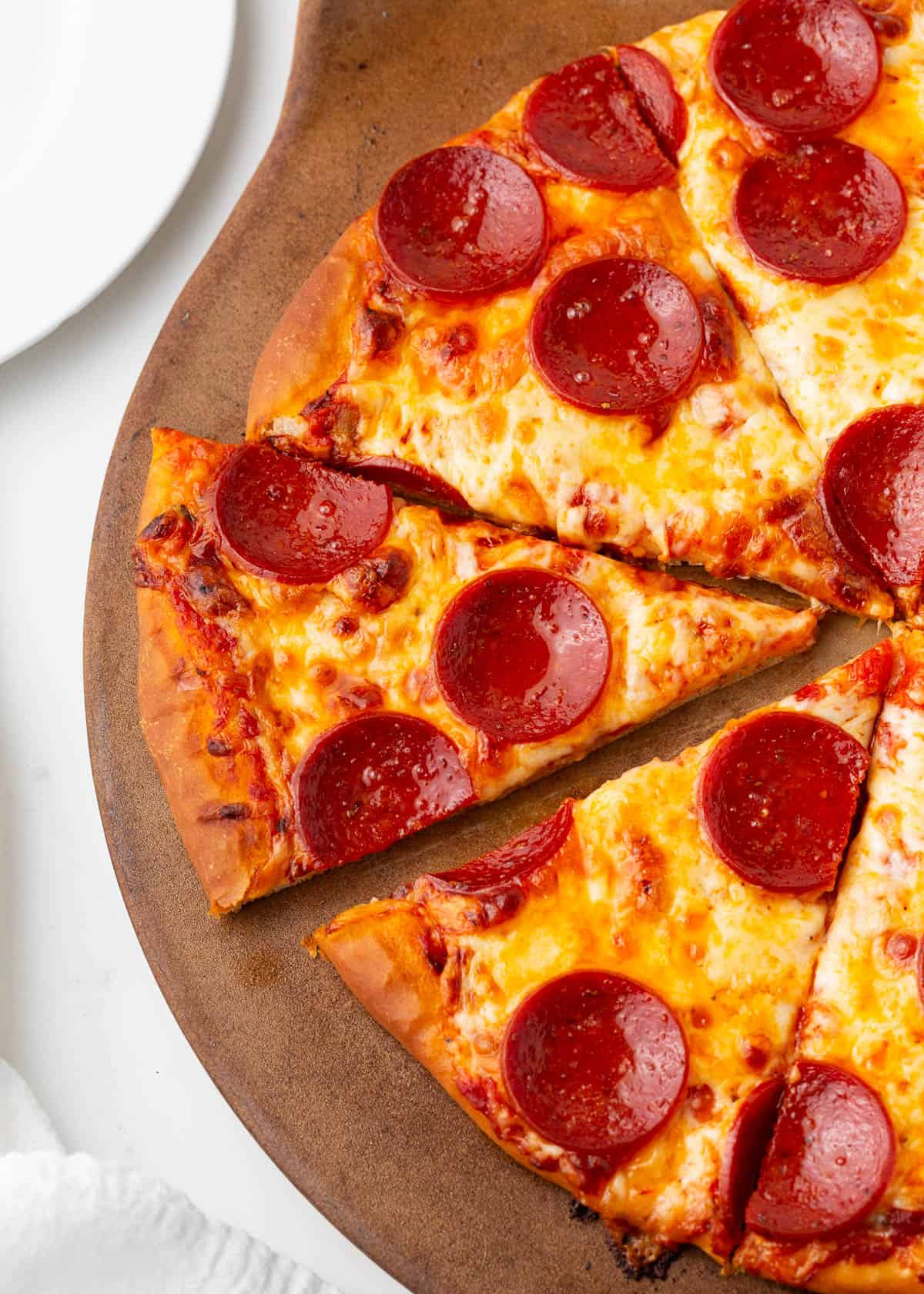 Storing + Freezing Dough
Make ahead. If you're making it ahead of time, prepare it and allow it to fully rise. Cover it and keep it in the fridge for up to 2 days. Make sure to use a bowl big enough to leave for the dough to continue to expand.
To freeze. Once it has risen, divide it into halves or quarters and roll them into balls. Wrap them in plastic wrap and place them in an airtight freezer-safe zip-top bag. Keep them frozen for up to 3 months.
When you're ready to bake, thaw a dough ball in the fridge overnight and continue with recipe.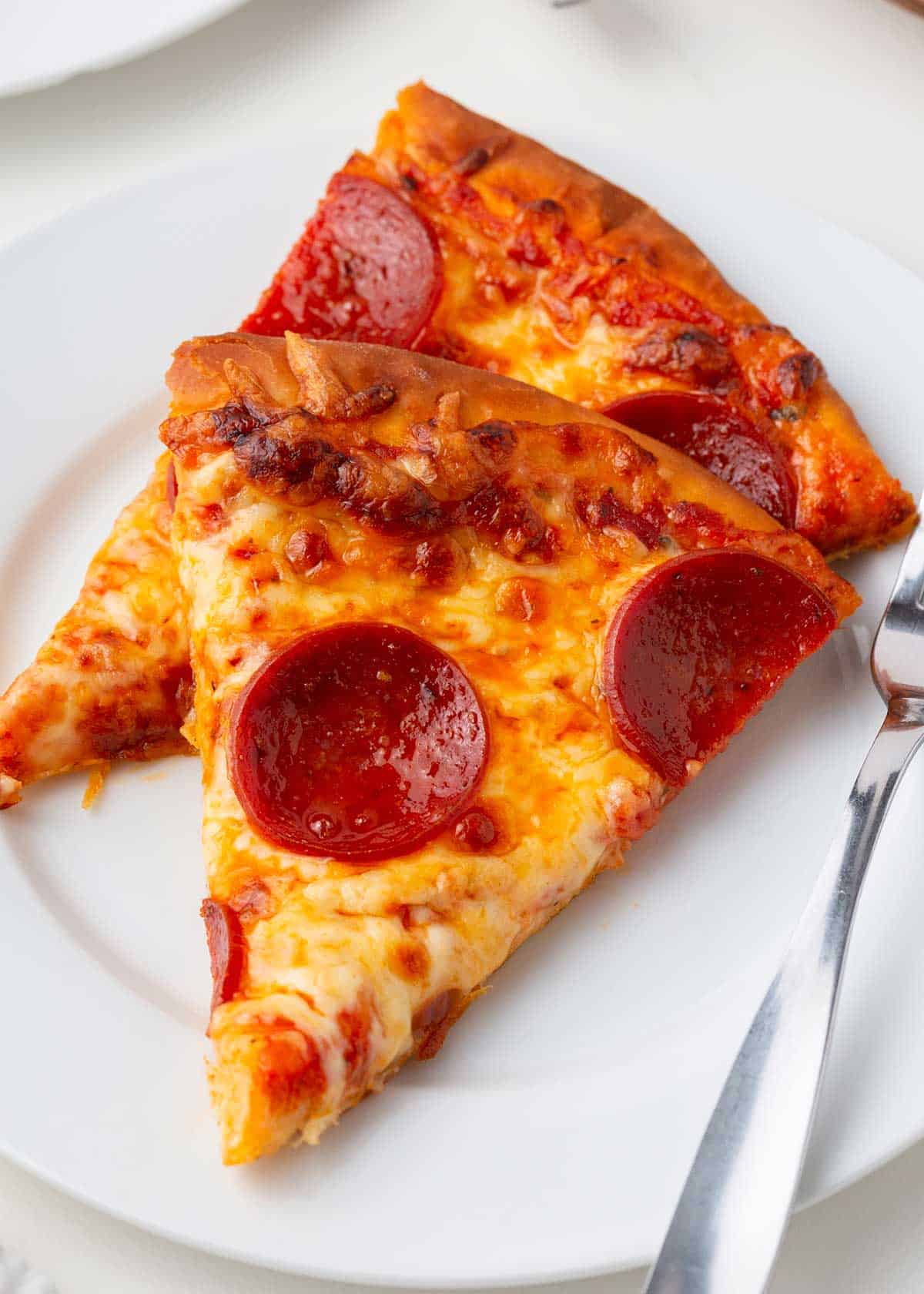 HUNGRY FOR MORE? Subscribe to my newsletter and follow on Facebook, Pinterest and Instagram for all the newest recipes!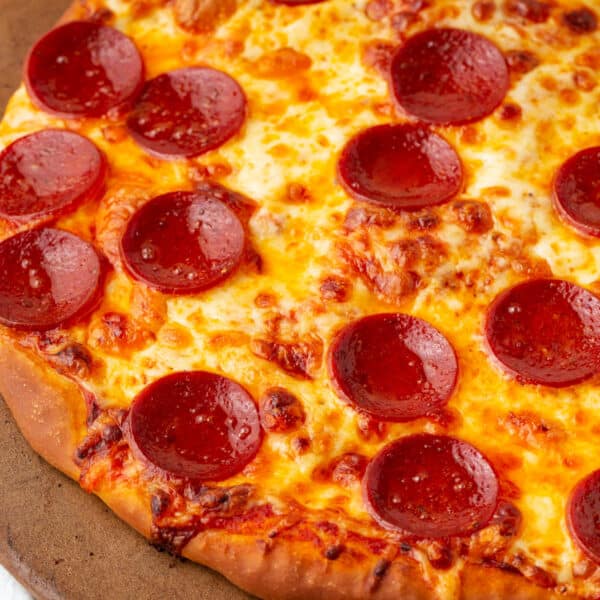 Pepperoni Pizza Recipe
This pepperoni pizza recipe is undeniably a classic recipe, and for good reason! The crust is both soft and chewy, the sauce is bursting with flavor, and the melted mozzarella cheese creates an irresistible cheese pull. This homemade pizza is truly a slice of heaven.
Ingredients
Dough
1 cup warm water (110°F)
1 Tablespoon active dry yeast
1 Tablespoon granulated sugar
3 Tablespoons extra-virgin olive oil , divided
1 ½ teaspoons table or fine sea salt
2 ½ – 3 cups all-purpose flour , plus more for the work surface
Toppings
1 cup pizza sauce
20 ounces shredded mozzarella
40 pepperoni slices
Instructions
Dough
In a small bowl, mix the water, yeast, and sugar. Cover with plastic wrap and let sit 5 minutes, or until it starts to foam.

In the bowl of a stand mixer fitted with the dough hook, add the yeast mixture, 2 Tablespoons oil, and salt. Add 2 cups flour and stir on medium low (or can be done by hand) until combined. Add 1/4 cup more flour at a time and knead until the dough is smooth, soft, and just a little bit sticky, but not to where the dough still sticks to the bowl. Knead about 3 to 5 more minutes.

Roll into a ball and rub a little oil around the dough. Place into a bowl and cover with plastic wrap. Let rest 20 to 60 minutes, or until the dough puffs up a bit. It doesn't need to rise much.
Toppings
Preheat the oven to 475°F. On a floured work surface, cut the dough in half and roll it out with a rolling pin or toss until 1/4-inch thick and 12-inches wide. Repeat with the other half of dough. You can also make 4 (6-inch) pizzas.

Lightly brush oil onto a pizza stone or large baking sheet. Transfer dough to the stone or baking sheet. Press dents into the dough using your fingers to prevent bubbling. Spread pizza sauce over the 2 pizza dough circles and sprinkle with cheese. Top with 20 pepperonis per pizza.

Bake 15 minutes, or until golden brown and bubbly. If baking smaller pizzas, check for doneness around 10 to 12 minutes.
---
Notes
Quantity: This recipe makes 2 12-inch pizza crusts or 4 (6-inch) crusts.
Alternative: Use my whole wheat pizza dough recipe for a healthier alternative or buy 2 pounds store bought pizza dough from Trader Joe's.
Favorite toppings: Here are a few pizza topping ideas if you want to add more on top: mushroom, green bell peppers, onion, sliced tomatoes, and fresh basil. To take up the heat add some red pepper flakes and a drizzle of hot honey.
Storage:
Store the dough after it has fully risen, covered, in the refrigerator 1 to 2 days. Allow room for the dough to expand as it will continue to rise.
Freeze: Let the dough fully rise (at least an hour) before dividing into 2 or 4 balls. Wrap in plastic wrap and seal in a zip-top bag. Freeze up to 3 months. Thaw overnight in the fridge before baking.
Nutrition
Serving: 1slice | Calories: 311kcal | Carbohydrates: 23g | Protein: 15g | Fat: 17g | Saturated Fat: 8g | Polyunsaturated Fat: 1g | Monounsaturated Fat: 7g | Trans Fat: 0.1g | Cholesterol: 44mg | Sodium: 791mg | Potassium: 146mg | Fiber: 1g | Sugar: 2g | Vitamin A: 408IU | Vitamin C: 1mg | Calcium: 248mg | Iron: 2mg
Nutrition provided is an estimate. It will vary based on specific ingredients used.
Did you make this recipe? Don't forget to give it a star rating below!