Forget ordering in! In less time than it takes to wait for delivery, you'll have a fresh homemade crescent roll pizza ready in under 30 minutes. Made with just 4 ingredients, the crust is light and crisp, the cheese is gooey, and each pizza can serve up to 8 people!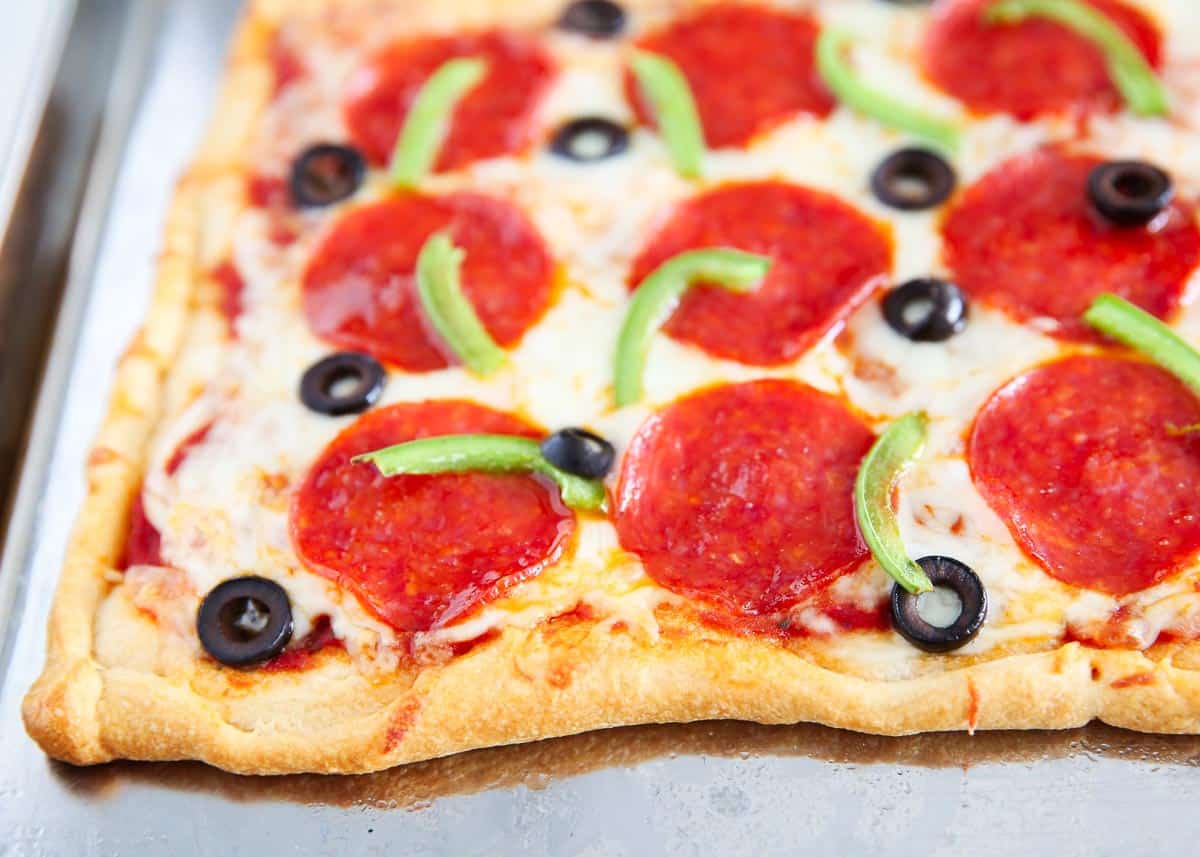 25-Minute Crescent Roll Pizza
We love pizza at our house and I know we're not alone, I mean crust, sauce, and cheese toppings, what's not to love?
BBQ chicken pizza, spinach artichoke Pizza, and even breakfast pizza, they're all family favorites, but there's something extra special about a simple and classic pepperoni pizza, especially a homemade pizza, don't you think?
This crescent roll pizza is one of my new time-saving recipes. I've always enjoyed the versatility of store-bought crescent dough so I knew I could use it to replace my usual homemade pizza dough in a pinch, and it did not disappoint!
It's got a light and crispy crust, zesty sauce, and melty cheese on top. Ready in less than 30 minutes, keep this recipe handy for even the busiest nights! Make this crescent roll pizza your own by adding whatever toppings you desire and voila, dinner is served.
Why This Recipe Works
Quick and easy dinner idea. You can never have too many shortcut recipes, especially on busy weeknights.
Everyone loves pizza. This is one meal I don't get any fuss about. Even if everyone wants a different topping, it's easy to section it off. Sometimes we'll have a make your own pizza night.
Perfect for any occasion. I'm talking a buffet table at a potluck, game day appetizers, kids birthday parties, family movie night, and of course, pizza night!
Crescent Roll Pizza Ingredients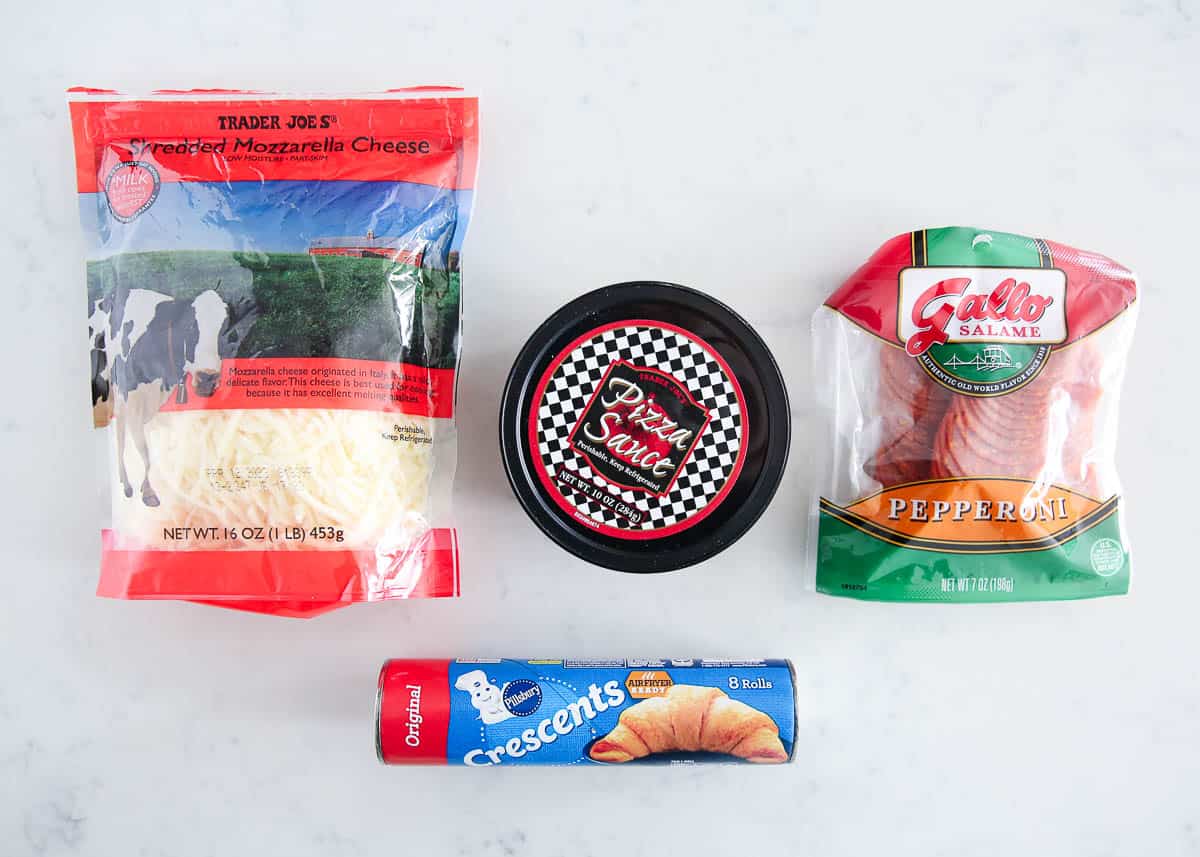 Find the full printable recipe with specific measurements below.
Olive oil: You'll need a bit of oil to brush on the baking sheet to create a nonstick surface. The oil will also help to crisp up the dough.
Pillsbury crescent roll tube: Crescent dough can be found in the fridge section, usually near the cookie dough, and other Pillsbury products.
Pizza sauce: Use a container or jar of your favorite pizza sauce. Marinara sauce is great too. I usually have some of my homemade pizza sauce on hand, so I'll use that.
Shredded mozzarella: Since we're taking all kinds of shortcut liberties today, we're going all out with packaged pre-shredded mozzarella.
Variations
The thing about homemade crescent roll pizza is that you can make it exactly how you like it! Here are some of our favorite pizza toppings and ways to switch it up:
Add a sprinkle of Italian seasoning overtop the sauce or the toppings.
Parmesan cheese is a great addition too.
If you would rather use homemade pizza dough, go for it. If you prefer using homemade dough and want to try something similar to this recipe, check out my recipe for sheet pan pizza.
Swap the red tomato-based sauce for a garlic white pizza sauce.
Use freshly grated mozzarella or fresh slices of mozzarella with some fresh basil for a margarita pizza!
For something even easier, use cut up mozzarella cheese sticks.
Swap the pepperoni for ground beef, Italian sausage, or Canadian bacon.
If you prefer a veggie pizza, load it up with sliced peppers, red onions, mushrooms, olives, tomatoes, pineapples, and jalapeno.
Opening the Tube of Dough
This may be the most fun part about Pillsbury pizza dough recipes!
Unwrap the tube to expose the brown part (looks like construction paper). Find the seam that wraps around the tube and use a spoon to gently press into the seam until the tube pops. Once it does, you can unravel it, revealing the roll of dough.
How to Make Crescent Roll Pizza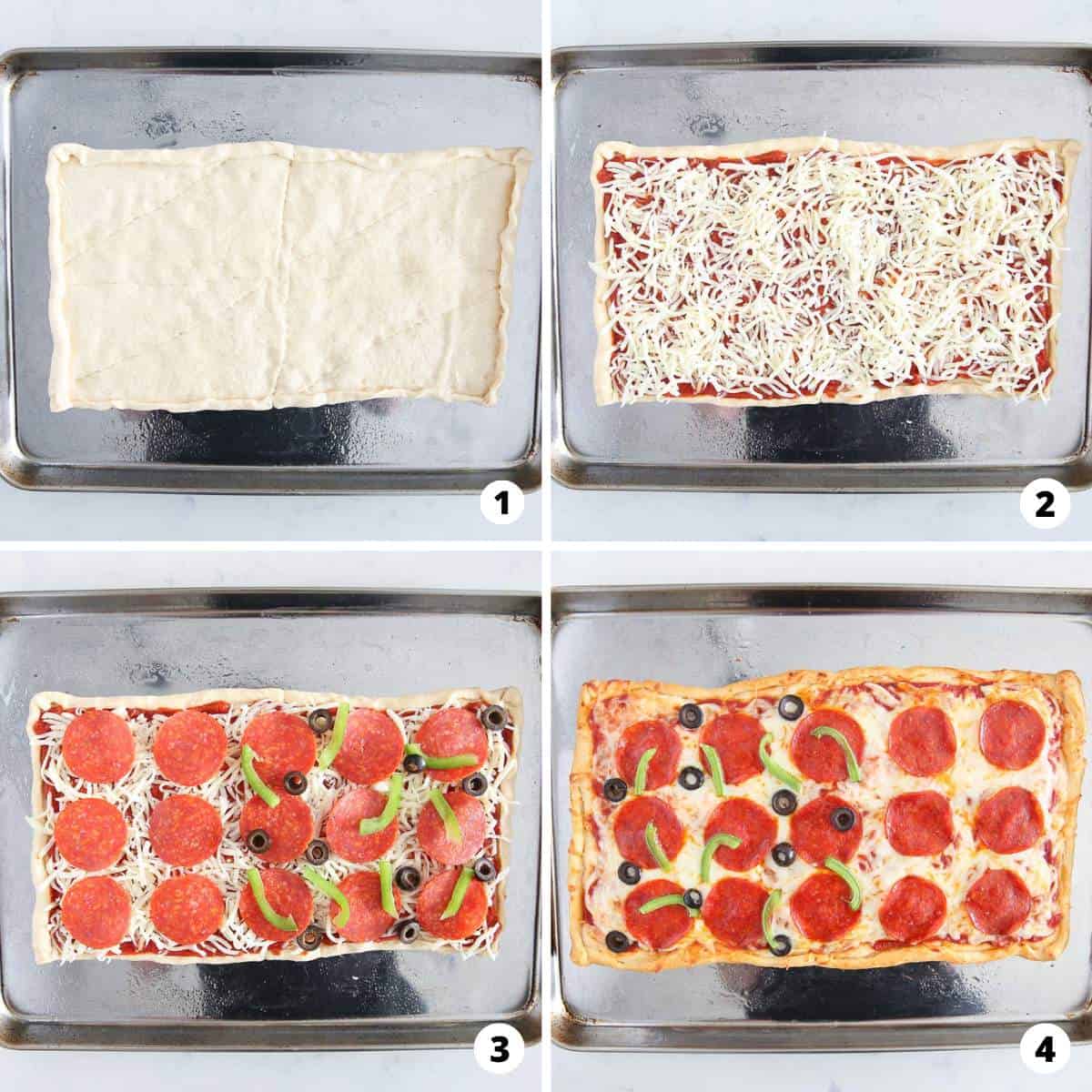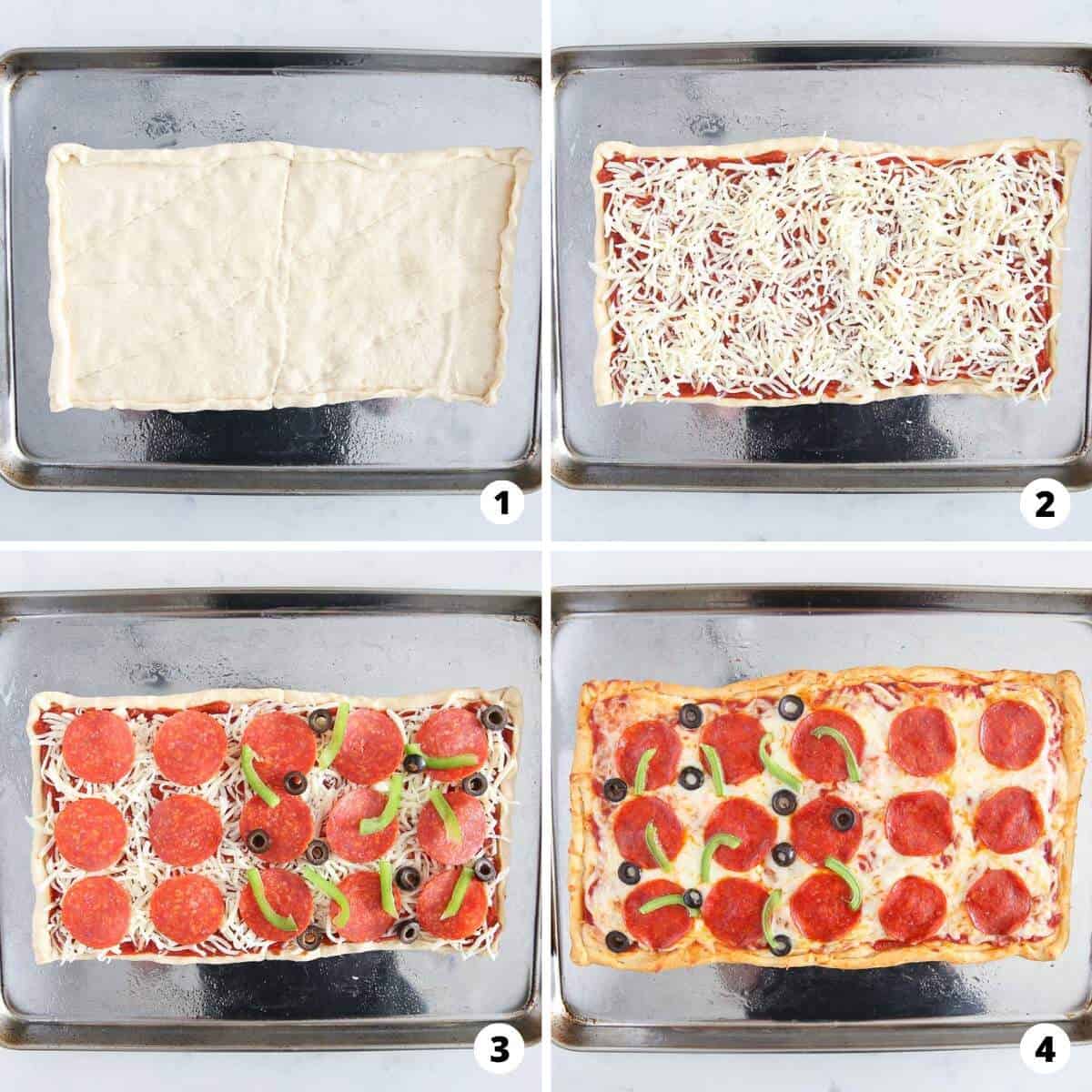 Unroll the dough onto a lightly greased baking sheet. You'll notice that the dough is scored into triangles. Keep everything together as one sheet and pinch the seams. Evenly press the dough onto the baking sheet, getting it as close to the edges as possible.
Spread the sauce evenly over the dough. Leave a 1-inch border around the edges. Sprinkle with shredded mozzarella, using as much or as little as desired.
Top with pepperoni (or other favorite toppings). We like to place pepperoni over the entire pizza and then on one half add sliced green pepper and black olives.
Bake for 13 minutes in a preheated 375°F oven until the crust is golden brown and the cheese is nice and bubbly. Allow it to cool for a few minutes before you slice it into rectangles.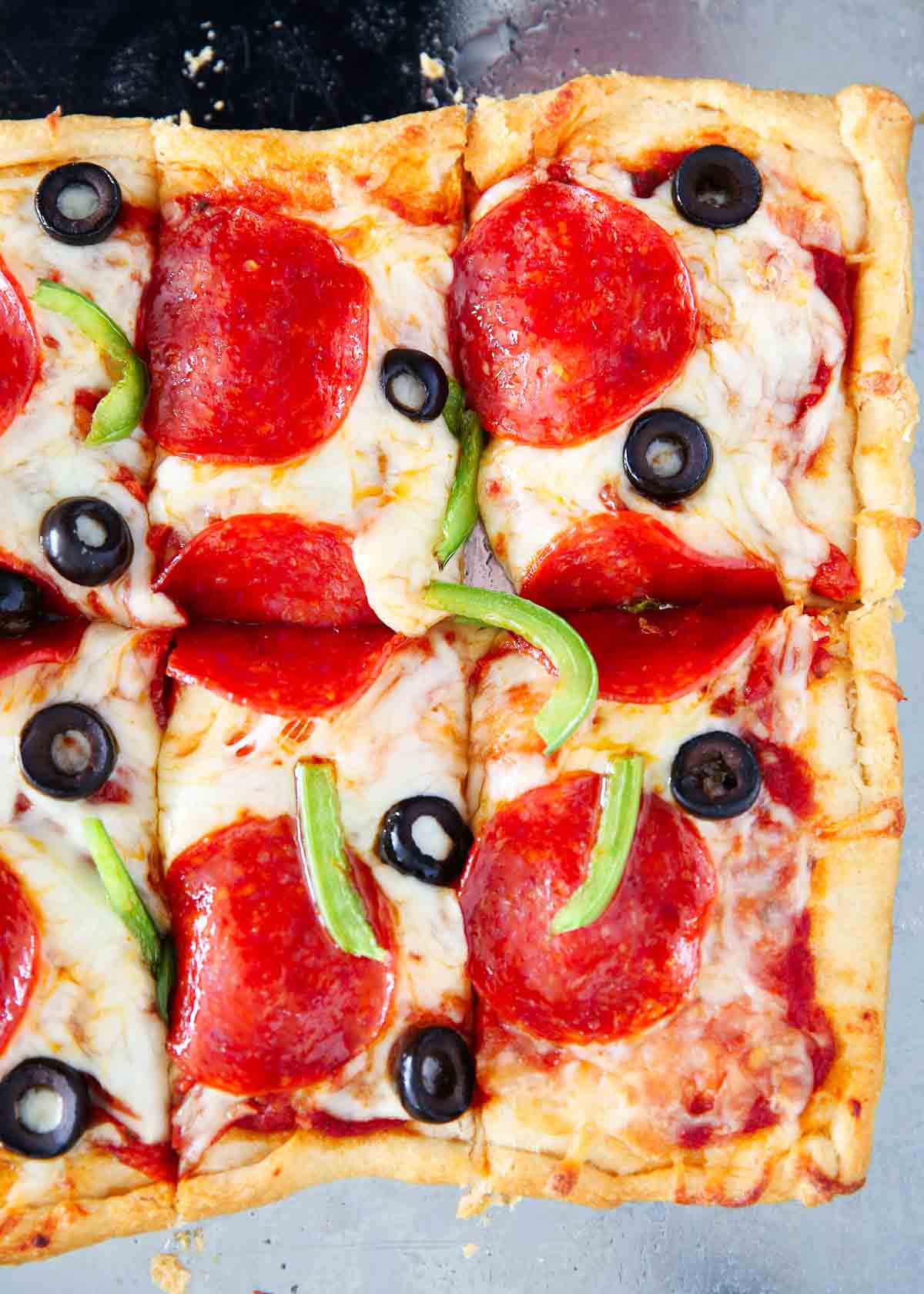 Recipe FAQs
How many slices does this crescent roll pizza make?
This pizza makes about 8 snack-size servings or 4 regular slices.
What is the best way to store leftovers?
Keep any extra slices stored in an airtight container in the fridge for up to 4 days.
How to reheat leftovers?
I recommend using the oven, the air fryer, or the toaster oven to get the crust back to crispy.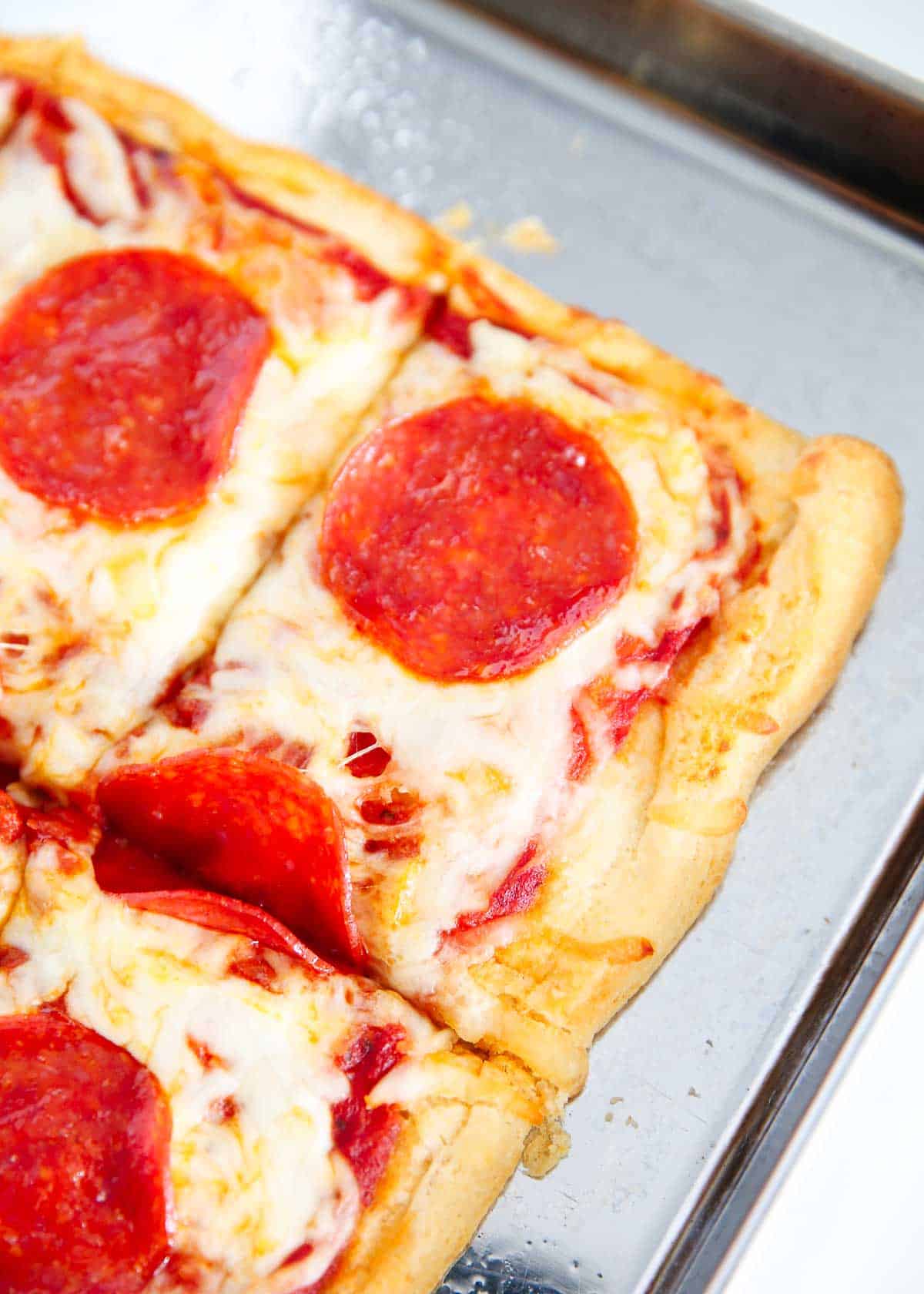 HUNGRY FOR MORE? Subscribe to my newsletter and follow on Facebook, Pinterest and Instagram for all the newest recipes!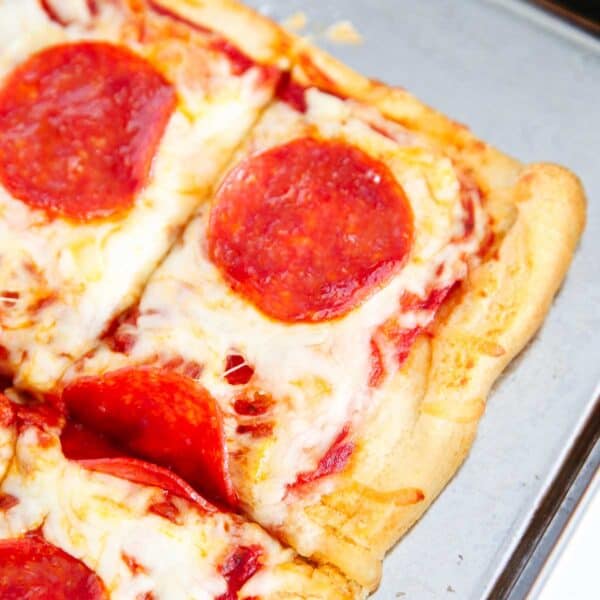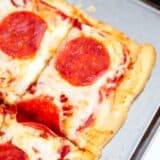 Crescent Roll Pizza
Forget ordering in! In less time than it takes to wait for delivery, you'll have a fresh homemade crescent roll pizza ready in under 30 minutes. Made with just 4 ingredients, the crust is light and crisp, the cheese is gooey, and each pizza can serve up to 8 people!
Ingredients
1 Tablespoon olive oil
1 (8-ounce) can Pillsbury Crescent Roll Dough Sheet
½ cup pizza sauce
1 cup shredded mozzarella cheese , plus more to taste
Optional toppings: Sliced tomatoes, Pepperoni, Sliced bell peppers, Olives, Sliced onion, Mushrooms, Canadian bacon, Pineapple, Jalapenos, Fresh basil
Instructions
Preheat the oven to 375°F. Lightly brush oil onto a baking sheet.

Unroll the dough and evenly press onto the baking sheet, being sure to pinch any seams that may exist.

Using the back of a spoon, spread the sauce evenly over the dough, leaving a 1-inch border around the edge. Add your favorite toppings. Sprinkle with an even layer of cheese.

Bake 13 minutes, or until golden brown and bubbly. Let cool a few minutes before slicing to serve.
---
Notes
Pizza dough: Want to try something similar with pizza dough, try this sheet pan pizza.
Storage: Store leftovers in a covered container for up to 3 days. Reheat on the stove top, the microwave or toasted oven.
Nutrition
Serving: 2slices | Calories: 62kcal | Carbohydrates: 1g | Protein: 3g | Fat: 5g | Saturated Fat: 2g | Polyunsaturated Fat: 0.3g | Monounsaturated Fat: 2g | Cholesterol: 11mg | Sodium: 161mg | Potassium: 56mg | Fiber: 0.2g | Sugar: 1g | Vitamin A: 161IU | Vitamin C: 1mg | Calcium: 73mg | Iron: 0.2mg
Nutrition provided is an estimate. It will vary based on specific ingredients used.
Did you make this recipe? Don't forget to give it a star rating below!