Layers of crispy potatoes and onions are coated in eggs and pan-fried until golden brown. Enjoy a slice or two of this easy and flavorful Spanish omelette warm or cold for breakfast, brunch, or a snack!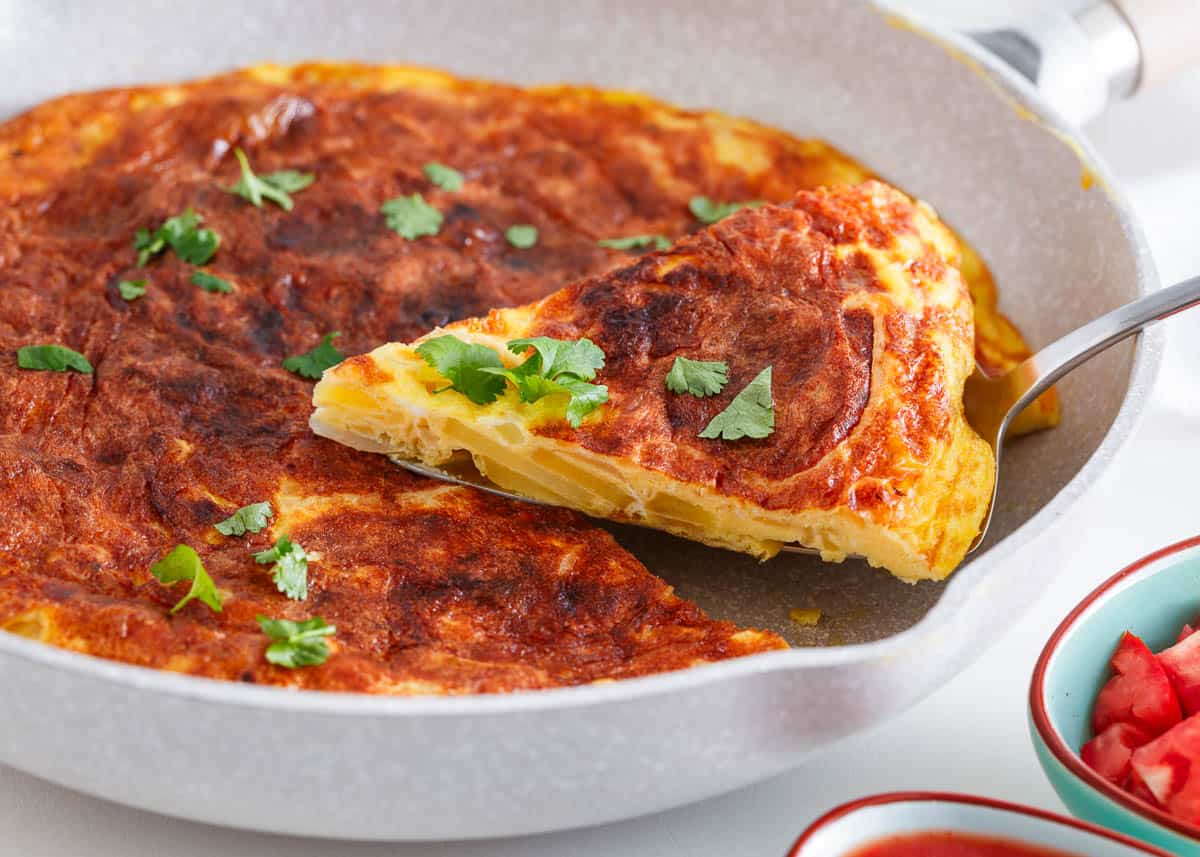 Sometimes Simple is Best
This Spanish potato omelette, otherwise known as tortilla de patatas or a tortilla Espanola recipe, is a humble dish, similar in simplicity to an egg white omelette or ham and cheese quiche.
It's made with thinly sliced potatoes and onions coated in an egg mixture seasoned with simple salt and pepper and pan-fried in a skillet until the potatoes are tender, the eggs are cooked, and there's a beautiful golden brown crust on top.
It's served warm, room temperature, or even cold which makes it a great make-ahead breakfast, brunch, or snack that travels well for potlucks and picnics!
What is a Spanish Omelette?
A Spanish omelette, or Spanish tortilla (the dish with many names!) originating in Spain, is a classic Spanish dish traditionally part of tapas which means it can be eaten as a snack or an appetizer, served warm or cold.
When I was visiting Spain, I also saw it served as part of a main course with a side salad. It makes a nice light dinner.
It is a Spanish version of the French omelette but a bit more similar to a Spanish frittata. Either way, this is my take on the Spanish omelette recipe and I just know you're going to love it!
Recipe Ingredients
Spanish potato omelette ingredients are easy to find, if they're not already all in your kitchen. This is what makes this such an easy go-to recipe for even busy weekday mornings, especially when you make it ahead!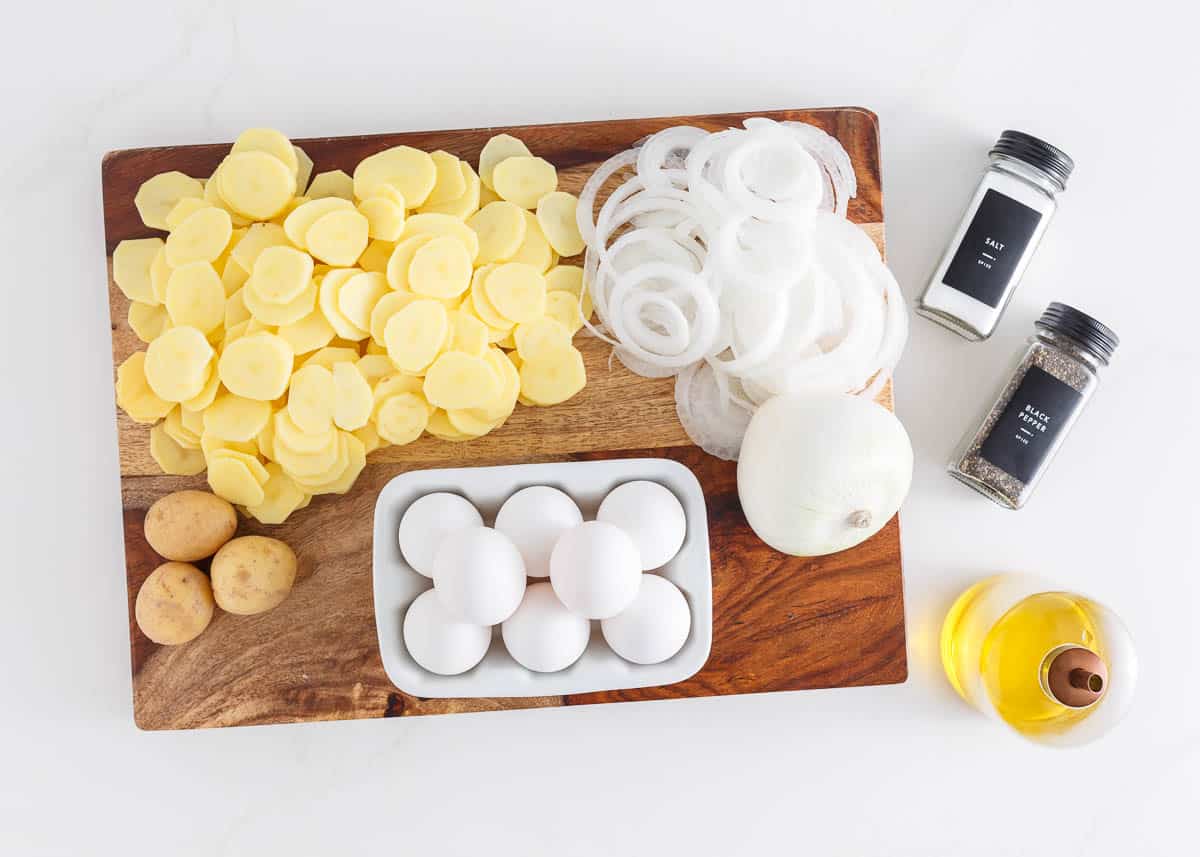 Find the full printable recipe with specific measurements below.
Olive oil: Very much needed! Not only to fry the potatoes and onions, but it's super important to have a non-stick surface even if you're using a non-stick pan or skillet. You want the Spanish omelette to slide right out when it's done.
Potatoes: Baby gold potatoes, peeled and sliced thin are what I use. You can use whatever potatoes you like but know that waxy potatoes like Yukon Golds will hold together better and have a creamier texture.
White onion: Thinly sliced onions get cooked with potatoes and taste amazing in this recipe.
Large eggs: An essential part of a Spanish omelette! It's the egg part of the tortilla which helps to bind everything together. Bring them to room temperature about 30 minutes before.
Salt & pepper: A very simple seasoning. Use more of either one or both if needed.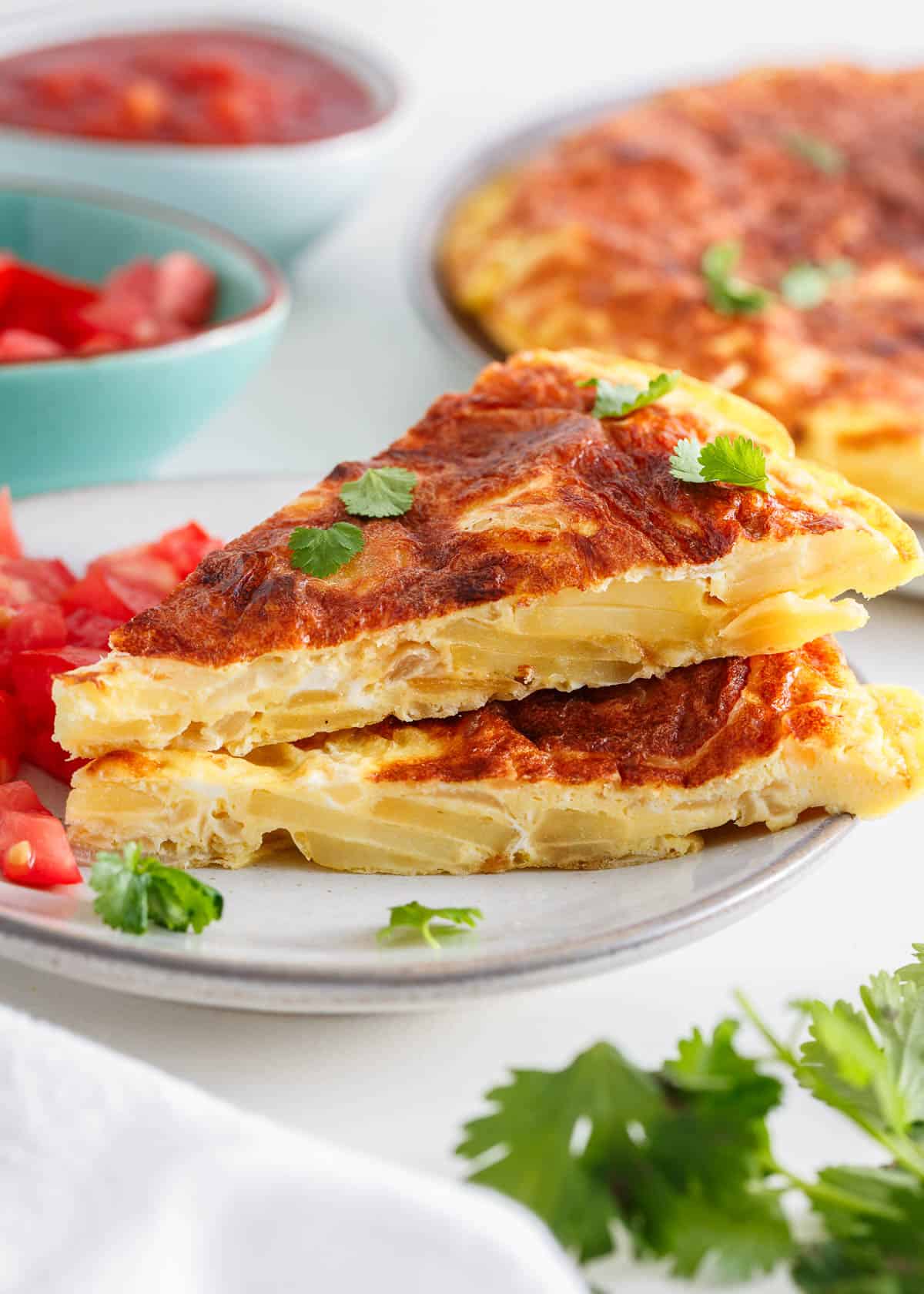 Variations
A traditional Spanish omelette is made with an ingredient list of eggs, potatoes, salt, and pepper. Even the onions are optional. However, I love that you can add in whatever you like to make it your own!
Add ham and cheese for extra bulk and flavor! Toss in some veggies like spinach, mushrooms, or bell pepper.
A goat cheese and caramelized onion version would be an incredible flavor combination.
It will change the flavor profile, and make it less authentic, but if you like the taste of Greek potatoes or rosemary roasted potatoes for example, you can add extra herbs and spices.
Best Oil for Tortilla Espanola
Extra virgin olive oil is what I use. It's neutral-tasting so it won't alter the flavor of the Spanish omelette and it's usually what I have on hand because of its health benefits.
How to Make Spanish Omelette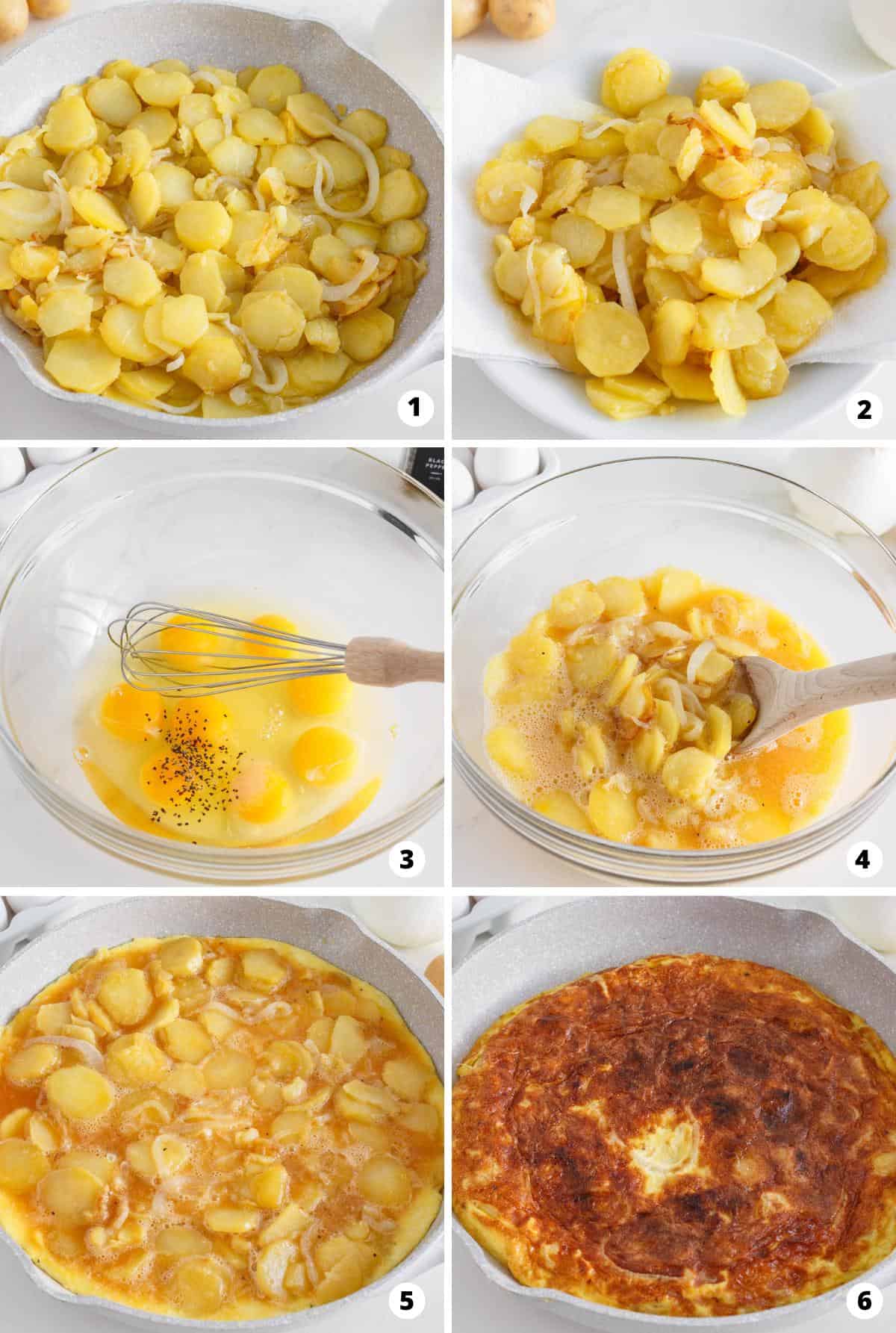 Cook the potatoes and onions. In a large skillet over low heat, heat the oil and add the potatoes and onions. Add more oil if needed to make sure the oil covers the veggies. Simmer for 20 minutes, flipping occasionally.
Cool the potatoes. Use a slotted spoon to remove the potatoes and onion from the oil and transfer them to a paper towel-lined plate. Allow them to cool for about 10 minutes. Don't touch the oil yet, it's hot!
Whisk the eggs. Grab a large mixing bowl. Crack the eggs, add salt and pepper, and beat until combined and smooth.
Coat the veggies. Add the cooked potato mixture to the egg mixture and stir to coat. Let that sit for 15 minutes. During this time, the oil should have a chance to cool off a bit. Now it's safe to drain.
Cook the Spanish omelette. Into the same skillet, pour in the potato and egg mixture and cook over low heat for 6-8 minutes. DO NOT STIR. Use a rubber spatula to run along the edges to keep the eggs from sticking.
Flip, cool, and serve. Grab a plate that is larger than the frying pan and place it upside down overtop the pan. Flip it quickly and slide the Spanish omelette back into the skillet for another 6-8 minutes until the uncooked side heats through. Once it's set, slide it onto a platter and allow it to cool for a few minutes before slicing and serving.
Expert Tips
Use a mandolin for even thin potato slices. You can even dice the potatoes if that makes your life easier.
Low heat. Always cook the eggs no higher than medium-low heat. Low heat is even better that way you're not overcooking them. You don't want to burn the outside before the inside catches up.
Two smaller omelettes. If you're nervous about flipping a large Spanish omelette, feel free to divide the potato and egg mixture in half and use two smaller skillets.
And be sure to wear oven mitts when flipping. Sometimes you'll have egg splatter happen from the uncooked parts.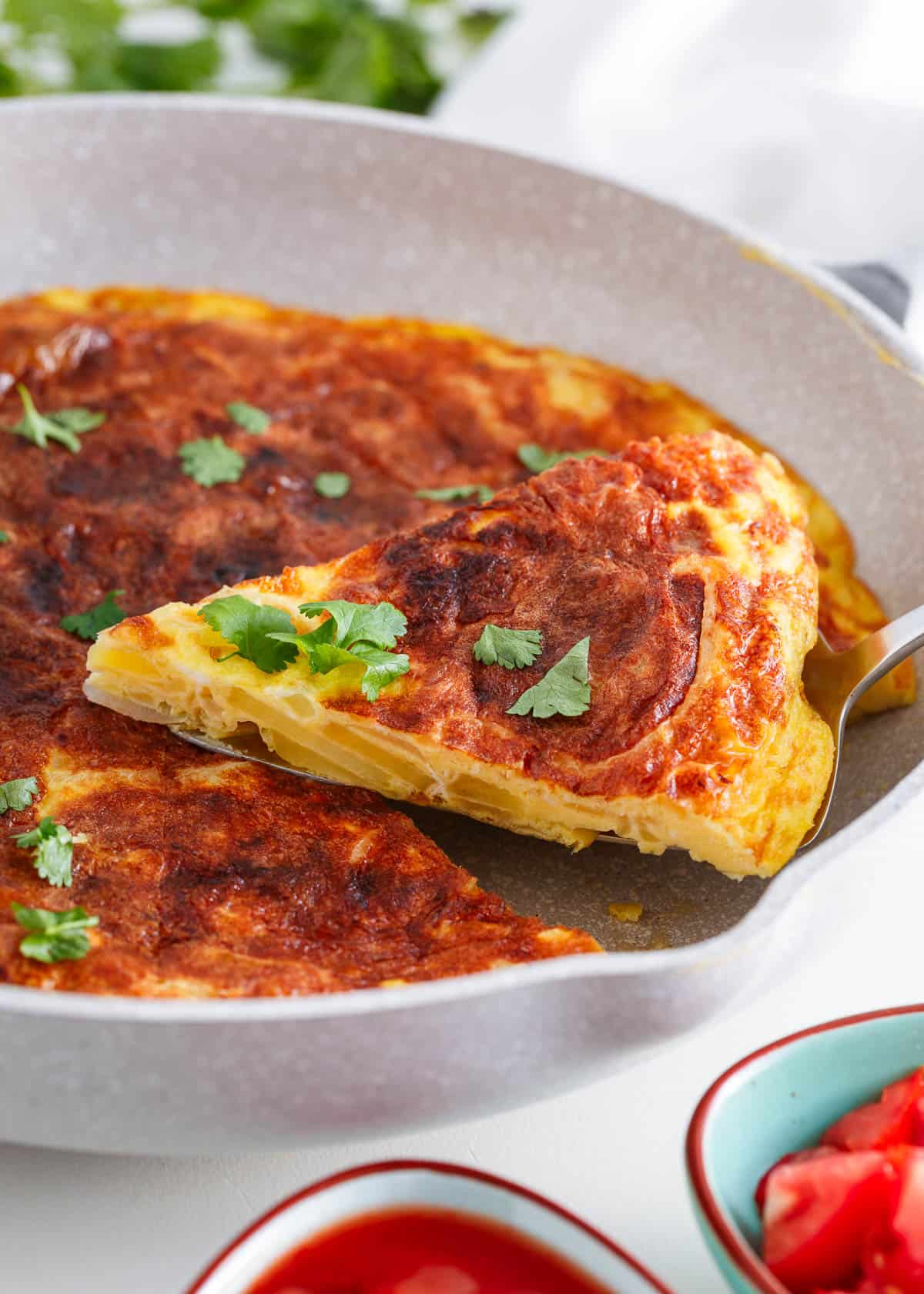 Serving Suggestions
Serve with diced tomatoes, salsa, or hot sauce on top for an easy appetizer or snack.
If you want to make it a meal, a crispy wedge salad, green beans, or roasted asparagus on the side would make a great addition.
Any leafy green salad will work as would a fresh honey lime fruit salad if you're serving it for brunch.
Recipe FAQs
What is the difference between a frittata and a Spanish tortilla?
An authentic Spanish tortilla is made with just potatoes and eggs. It's probably more potato than it is egg, whereas a frittata is mostly egg with a variety of mix-ins for flavor and texture. It's also usually finished in the oven.
What is the real name of Spanish omelette?
Tortilla Espanola or tortilla de patatas is what this dish is called in Spain. In the states, we call it an omelette because that is what we are familiar with, especially since we know tortillas as Mexican flatbread!
How should I slice my Spanish Omelette?
Use a pizza cutter or long sharp knife to make clean even slices. Just as you would a pizza!
What should I do if it falls apart while I am flipping it?
Enjoy some scrambled eggs and potatoes!
Storing
Keep leftovers of your Spanish omelette in an airtight container in the fridge for up to 3 days. Make sure it's cooled completely before storing. If you trap heat, the moisture will make your potato and eggs soggy!
You can eat your leftovers straight out of the fridge or at room temperature. However, if you do want it warmed up, the microwave is a quick and easy way.
If you want to attempt to crisp it back up a bit, you can pan-fry it in a skillet with a bit of oil.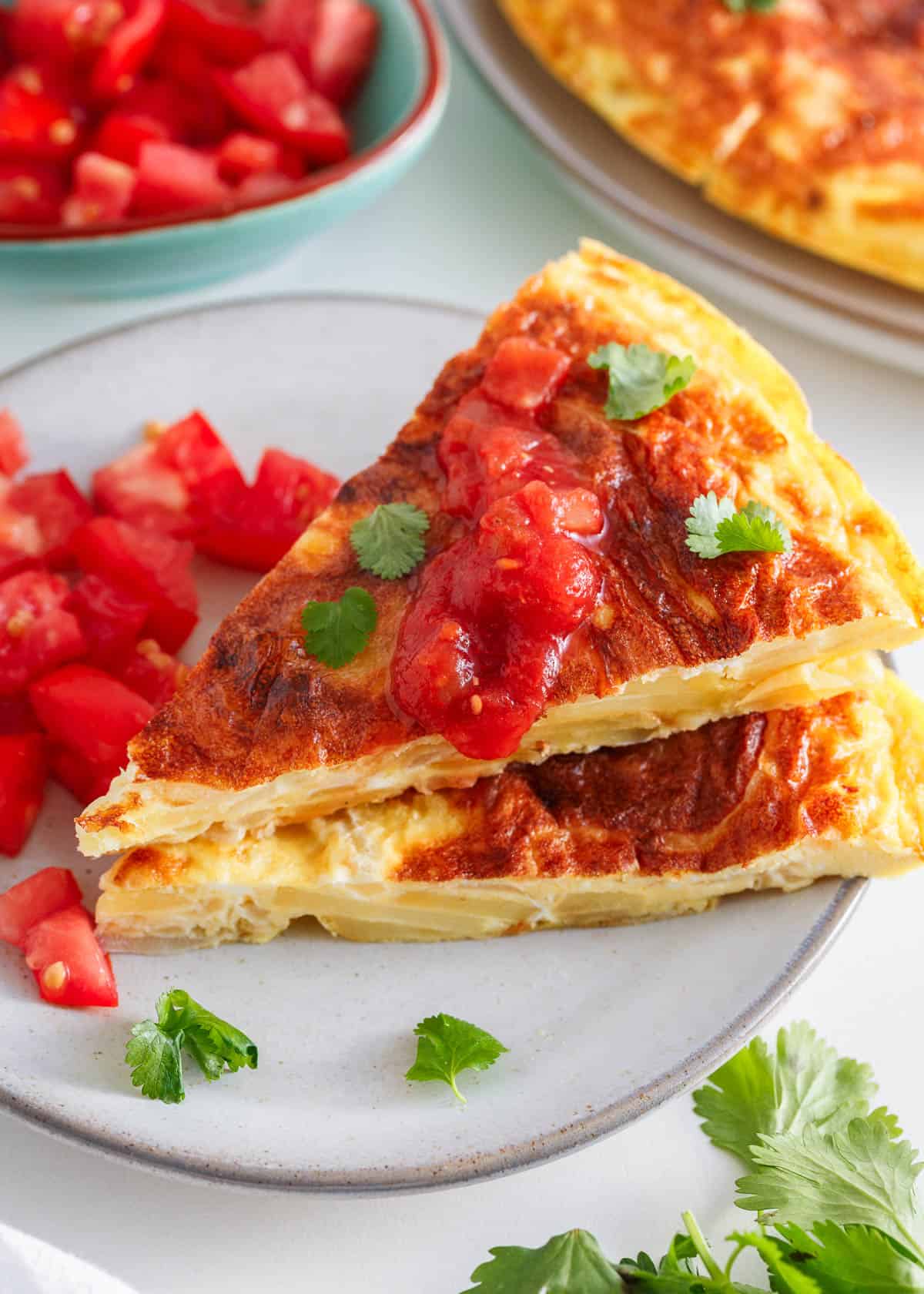 More Recipes with Eggs
HUNGRY FOR MORE? Subscribe to my newsletter and follow on Facebook, Pinterest and Instagram for all the newest recipes!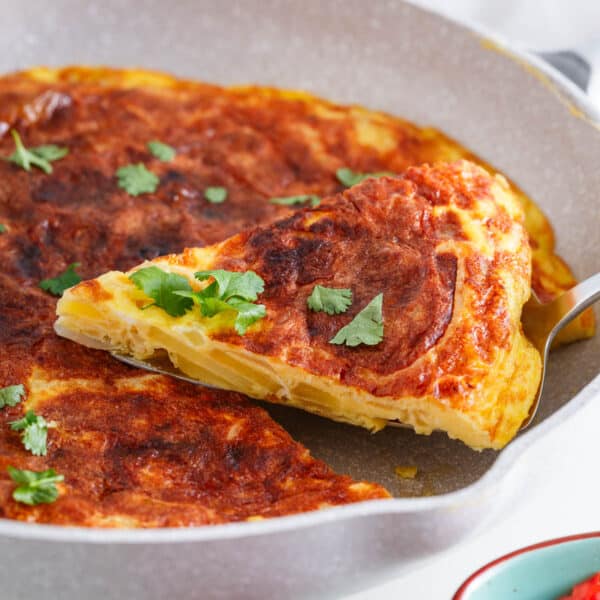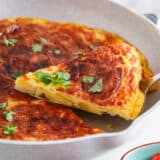 Spanish Omelette Recipe
Layers of crispy potatoes and onions are coated in eggs and pan-fried until golden brown. Enjoy a slice or two of this easy and flavorful Spanish omelette warm or cold for breakfast, brunch, or a snack!
Ingredients
1 ½ pounds baby gold potatoes , peeled and sliced thin
1 white onion , sliced thin
8 large eggs , at room temperature
1 teaspoon Kosher salt , plus more if needed
Freshly cracked pepper , plus more if needed
For serving (optional): diced tomatoes, salsa or hot sauce
Instructions
In a large skillet, heat about 1/2 cup olive oil over low heat. Add the potatoes and onion. Add more oil, if needed, to cover the veggies. Simmer 20 minutes, flipping veggies occasionally. It's okay if the potatoes break a part a little.

Using a slotted spoon, transfer the potatoes and onion to a paper towel-lined plate to cool about 5 minutes.

In a large bowl, beat the eggs with salt and pepper until well combined and smooth.

Stir the potatoes and onions into the eggs and let sit 15 minutes.

In the same skillet, drain the oil. Place the skillet over low heat and add the egg mixture. Do not stir and cook 6 to 8 minutes. Use a rubber spatula to run along the edges to keep the eggs from sticking. Be sure the heat isn't too hot or it will make the egg rubbery.

When ready to flip, place a large plate (bigger than the skillet) over the skillet and flip quickly. It may be a little runny, but slide the egg mixture back into the skillet and cook 6 to 8 minutes more, or until set on the outside.

Slide onto a platter and let cool 5 minutes before serving.
---
Notes
First time flipping: If nervous about flipping a large omelette, use 2 smaller skillets instead of 1 large one. It will make it easier to practice the flipping.
Veggies: Add chopped bell peppers and mushrooms to the potatoes and onions, if you'd like more veggies.
Variations:
Ham and cheese
Goat cheese and caramelized onion
Storage: Let the omelette fully cool before placing in an airtight container in the refrigerator up to 3 days.
Reheat: Many love eating the omelette cold or at room temperature to avoid rubbery eggs, but you can microwave a slice 15 seconds or pan fry with a bit of olive oil, if you prefer.
Nutrition
Calories: 2413kcal | Carbohydrates: 132g | Protein: 65g | Fat: 183g | Saturated Fat: 33g | Polyunsaturated Fat: 23g | Monounsaturated Fat: 120g | Trans Fat: 0.1g | Cholesterol: 1488mg | Sodium: 2942mg | Potassium: 3579mg | Fiber: 17g | Sugar: 11g | Vitamin A: 2176IU | Vitamin C: 142mg | Calcium: 334mg | Iron: 13mg
Nutrition provided is an estimate. It will vary based on specific ingredients used.
Did you make this recipe? Don't forget to give it a star rating below!