Double chocolate pudding cookies
Thanks for stopping by! If you're new here make sure to subscribe or join us on facebook and pinterest to keep up with our new creative ideas!
Pudding cookies have to be one of my absolute favorite cookies! They are SUPER soft and absolutely perfect. I love my cookies with a little crunch on the outside but gooey in the middle. These double chocolate pudding cookies are sure to win some friends over. ;) Seriously they are the best e-v-e-r.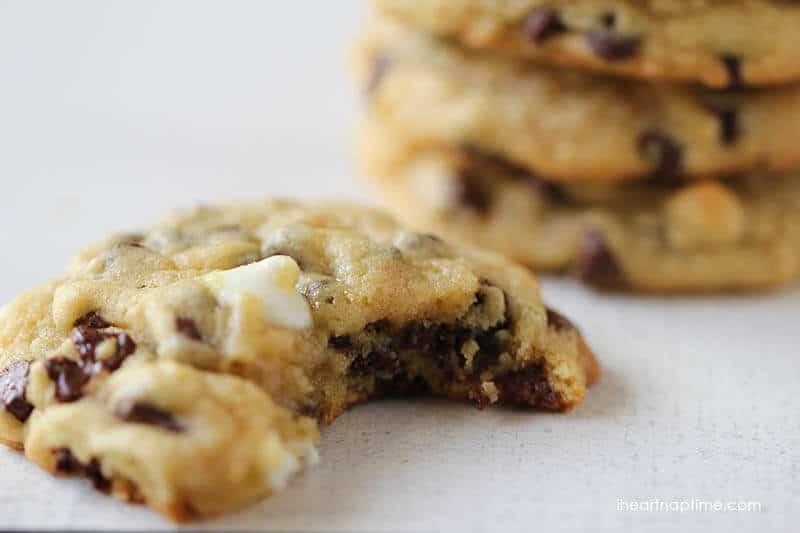 Double chocolate pudding cookies
Ingredients:
1 cup margarine (or butter) softened
1/2 cup brown sugar
1/2 cup sugar
3.4 oz pkg instant vanilla pudding mix
2 eggs (at room temp)
1 tsp vanilla
2 1/4 cup flour
1 tsp baking soda
1/2 tsp baking powder
1 cup milk chocolate chips
1 cup white chocolate chips (could substitute for more chocolate chips)
Directions:
1. Preheat oven to 350 degrees.
2. Cream together butter and sugar in a large mixing bowl. Stir in pudding mix (dry) and vanilla.
3. Beat in one egg at a time.
4. In a separate bowl mix together flour, baking soda and baking powder. Then slowly stir into the wet ingredients. Stir in the chocolate chips.
5. Line baking with baking mat and then spoon cookie dough onto the baking sheet. Bake for 8-10 minutes.
Enjoy with a cold glass of milk!
mmm… want a bite? ;)
Enjoy!!
Looking for more cookie recipes? You'll love these:
Best chocolate chip cookies


Milky way cookies

Chocolate marshmallow cookies

Butterscotch pudding cookies

Rolo cookies
Join in! Leave a comment!
Comments