Jump to Recipe⌄
Apple cheesecake pie
Apple cheesecake pie topped with salted caramel and vanilla ice cream. The perfect fall dessert!
My favorite thing to do this time of year is go apple picking. We went for family night last week, and picked a TON of apples. We've been eating them like crazy, making apple sauce and apple chips… and of course making yummy apple desserts, like this one below. This apple pie cheesecake is pure heaven. Imagine apple crisp, pie and cheesecake combined in one! One bite and you'll be hooked.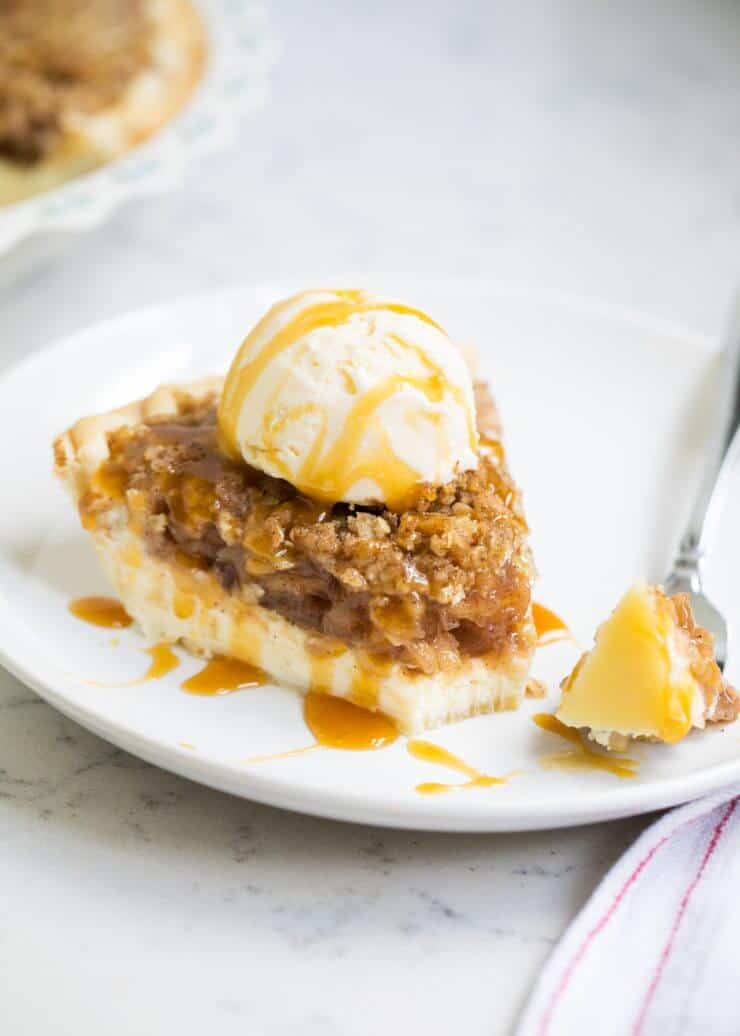 MY OTHER RECIPES
This cheesecake apple pie recipe definitely takes a little more time than your typical apple pie, but it is worth it. Promise!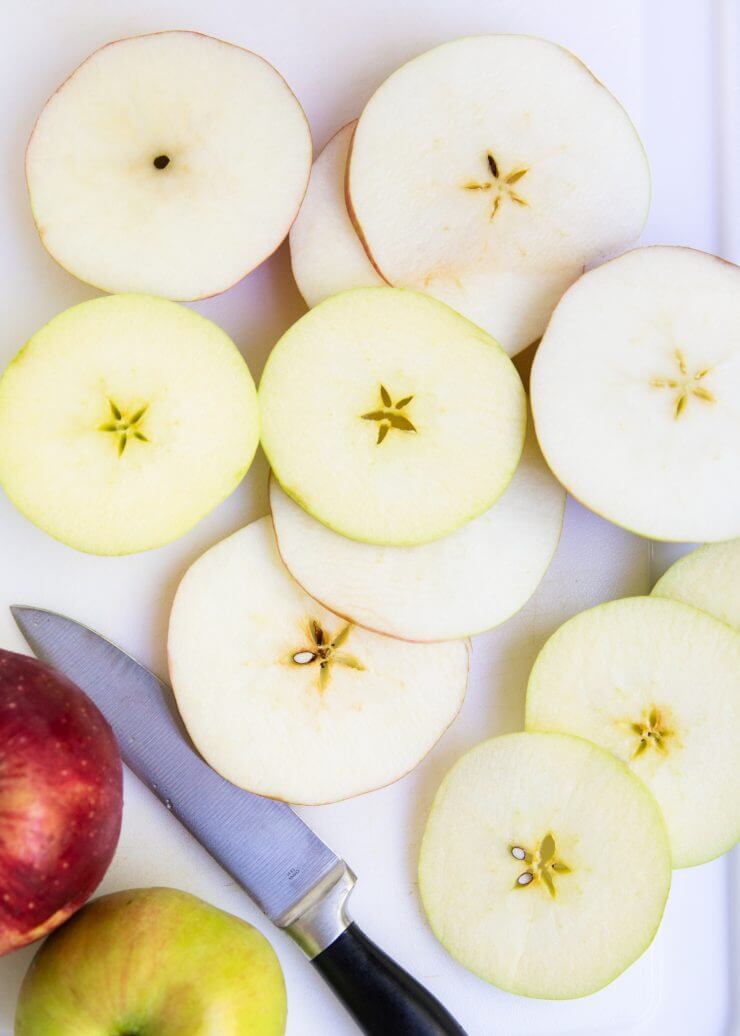 This recipe comes from my friend Jocelyn's (at Inside BruCrew Life) new cookbook: Cheesecake Love. For all you cheesecake lovers, this book is for you! In this cookbook, you will find something that everyone will love.  There are fruity cheesecakes, chocolate cheesecakes, and even cheesecake for breakfast. I can't wait to try more recipes!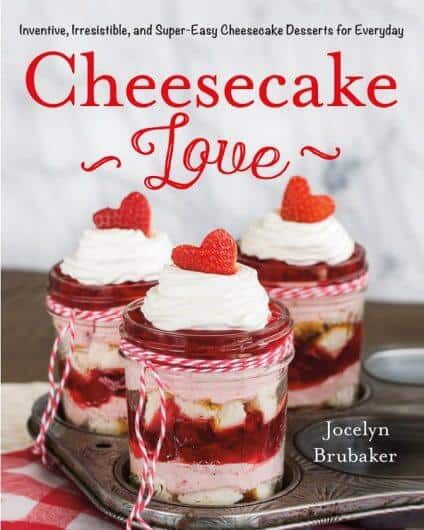 How to make apple cheesecake pie
To start out you're going to make the apple pie filling. I suggest making it the night before, so it has time to set overnight. You can always use a store bought apple filling, but this homemade recipe is so yummy and I definitely recommend trying it.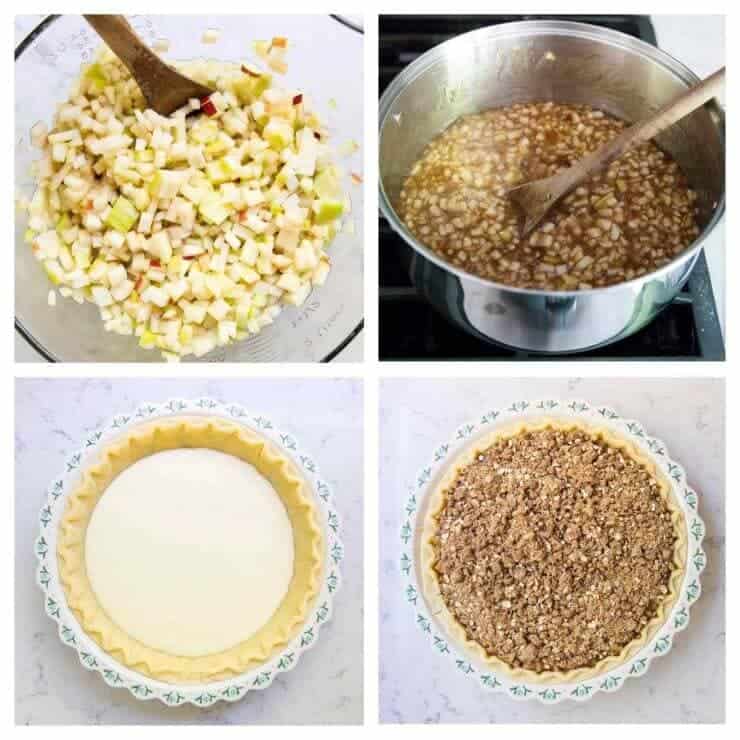 Next you'll make your pie crust (or to save time, use a pre-made crust like I did). Then you'll make the cheesecake filling and top it with the apple pie filling. To top if off you'll add a cinnamon oatmeal crumb topping. YUM. Find the full recipe below.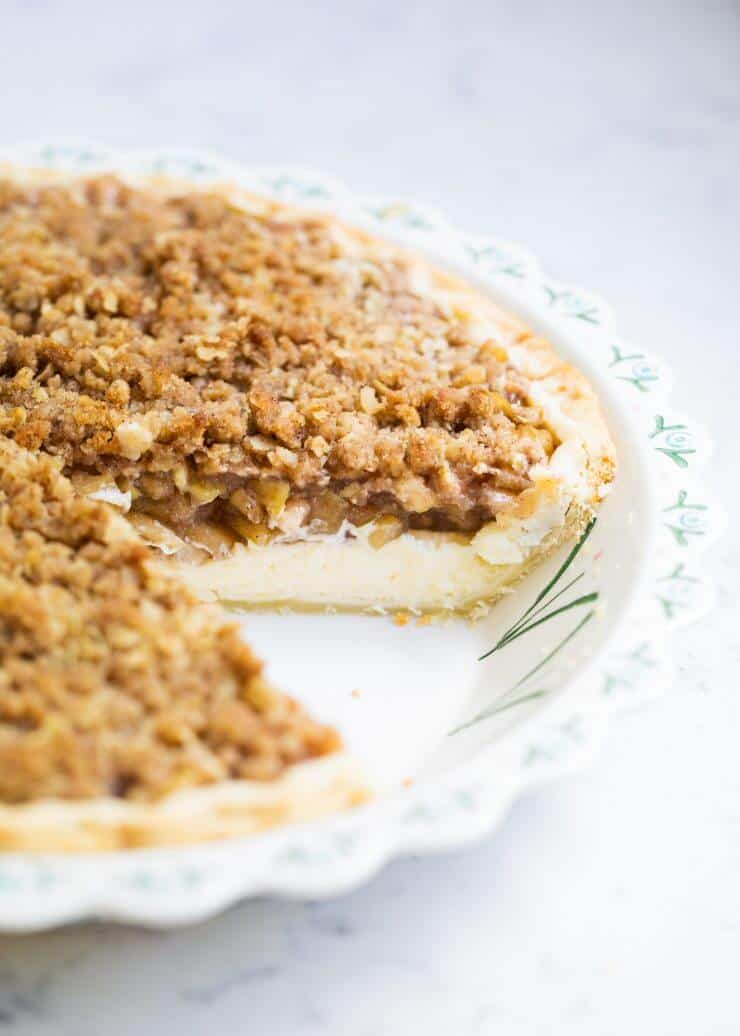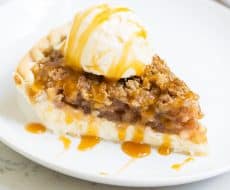 Apple cheesecake pie
Apple cheesecake pie topped with salted caramel and vanilla ice cream. The perfect fall dessert!
Print
Ingredients
Pie:
1 pie crust homemade or store bought
3 cups apple pie filling make the night before or use store bought
1 8-ounce package cream cheese, at room temp
1/4 cup granulated sugar
1 large egg
Crumb topping:
1/4 cup flour
1/4 cup quick cooking oats
1/4 cup brown sugar
1/2 teaspoon ground cinnamon
1/4 teaspoon ground nutmeg
2 Tablespoons salted butter melted
For serving: vanilla ice cream and caramel sauce, optional
Instructions
Preheat oven to 375°F. Place the pie dough into a 9-inch pie plate. Fold the edges of the dough under and crimp them. Refrigerate until ready to use.

For the cheesecake: Beat the cream cheese and sugar until creamy. Add the egg and beat until incorporated. Spread the cheesecake onto the prepared pie crust.

For the crumb topping: Mix together the crumb topping ingredients with a fork.

Gently spoon the apple pie filling on top of the cheesecake filling. Then sprinkle the crumb mixture over the apple pie filling.
Recipe Notes
If you'd like to make you're own pie crust, apple filling or caramel sauce, here are my favorite recipes below: Pie crust recipe here: https://www.iheartnaptime.net/easy-pie-crust-recipe/ Apple pie filling recipe here: https://www.iheartnaptime.net/homemade-apple-pie-filling/ Salted caramel sauce here: https://www.iheartnaptime.net/homemade-salted-caramel-sauce/
Nutrition Facts
Apple cheesecake pie
Amount Per Serving
Calories 342 Calories from Fat 63
% Daily Value*
Total Fat 7g 11%
Saturated Fat 3g 15%
Cholesterol 22mg 7%
Sodium 181mg 8%
Potassium 117mg 3%
Total Carbohydrates 69g 23%
Dietary Fiber 2g 8%
Sugars 35g
Protein 2g 4%
Vitamin A 2.7%
Vitamin C 3.7%
Calcium 1.7%
Iron 7.3%
* Percent Daily Values are based on a 2000 calorie diet.
To turn this into caramel apple pie cheesecake all you need to do is drizzle a little caramel sauce on top. Feel free to make your own or buy the ice cream topping at the store. Oh and don't forget that scoop of ice cream. Calories don't count during the holidays, right? ;)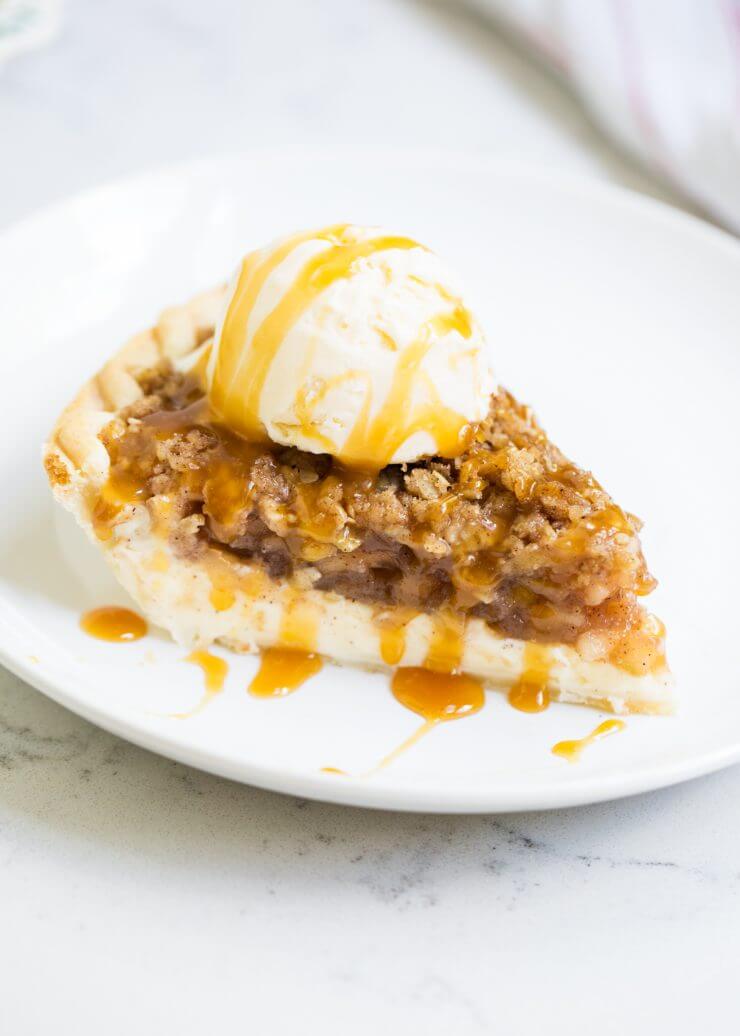 This would be the perfect pie for Thanksgiving, or anytime during the holidays!
Looking for more pie recipes? You'll love these too: