Learn to make my grandmother's best cheesecake recipe! It starts with a thick graham cracker crust, and a rich cream cheese filling, topped with a layer of sweet luscious sour cream frosting. It can be enjoyed as is or drizzled with your favorite toppings!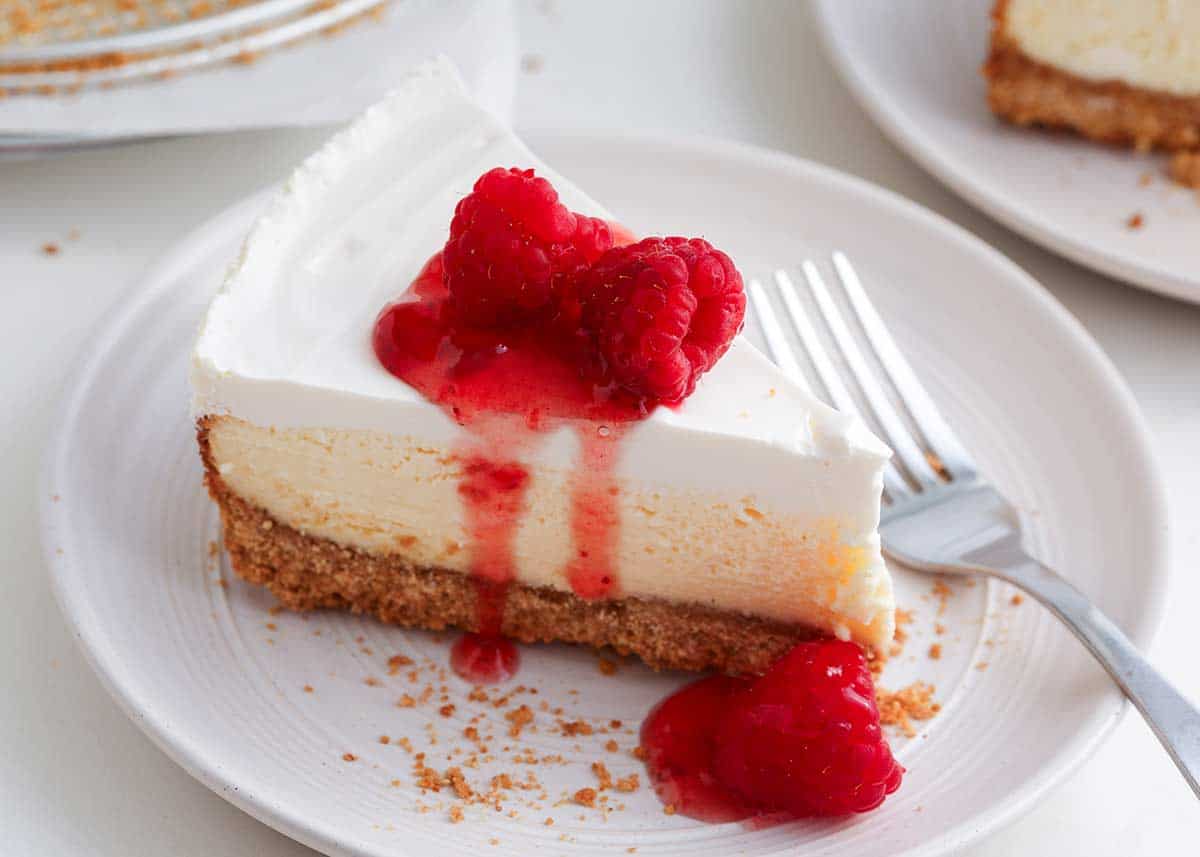 Grandma's Cheesecake
Cheesecake is a big deal in our family. My love of all things cheesecake, whether it's a no-bake cheesecake, mini cheesecakes, pumpkin cheesecake or cheesecake dip comes from my grandma!

She made the BEST cheesecake recipe and I'm so excited to share it with all of you. There's definitely grandma's touch in there as you'll see by the thick graham cracker crust topped with not only a cheesecake layer but a luscious sour cream layer as well.
Once it's baked it's then ready for all kinds of different toppings. It means she tweaked the flavor for whoever's birthday it was! You know it has to be good if her kids are choosing cheesecake over a birthday cake!
Why This Recipe Works
Grandma's seal of approval. Grandmas make the best stuff, don't they? Doesn't matter what it is, it's always the best. That's why I know you're going to love this homemade cheesecake!
Texture. Thick, creamy, sweet, and decadent is the best way to describe this cheesecake filling. The sweet, sour cream topping is extra luscious!
Make ahead. This is a great make-ahead recipe! You sort of have to plan to make it ahead because it needs plenty of chill time. This means when it comes time to serve, it's just a matter of adding a topping.
Customizable. Easily turn the best cheesecake recipe into something different every time. Whether it's a cherry cheesecake, a chocolate cheesecake, or turning them into cheesecake bars.
Recipe Ingredients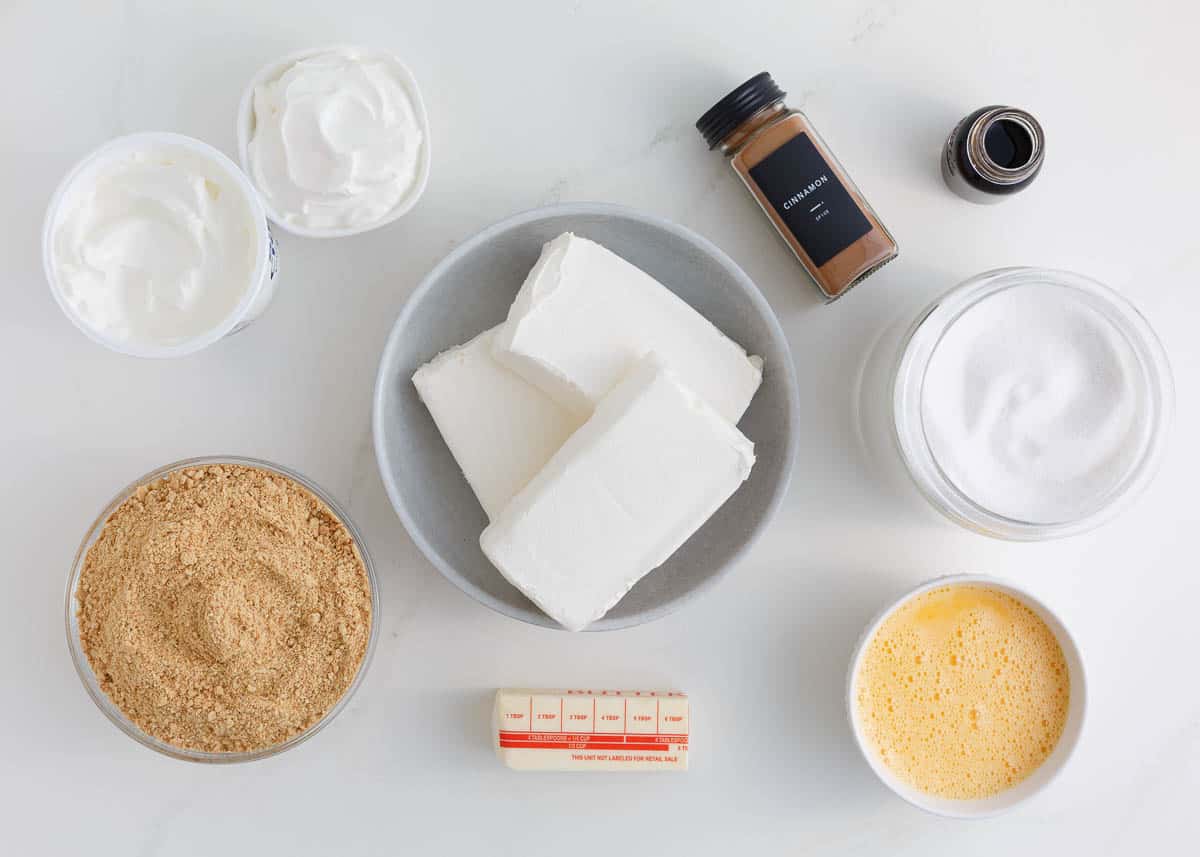 Find the full printable recipe with specific measurements below.
For the Crust
Unsalted butter, melted: When mixed with the graham crackers it forms a sandy texture which then helps to bind it once baked and set.
Graham cracker crumbs: You can crush your own crackers to a fine crumb in a food processor, or use a storebought box of crumbs.
Granulated sugar: Graham crackers are a bit sweet just because they're actually cookies but for this decadent recipe we need to sweeten up the crust even more.
Ground cinnamon: This aromatic spice gives it warmth and extra flavor.
Cheesecake Layer
Cream cheese softened: Bring it to room temperature at least 30 minutes before you need it. You want to make sure it's soft and creams nicely into a smooth consistency. If you happen to forget, I've got tips on how to soften cream cheese that work great!
Granulated sugar: Cream cheese on its own is rich but it's also quite tart and tangy, so we need sugar to give it that delightful sweetness.
Large eggs, well beaten: This is a baked cheesecake, which means we need the eggs for structure and added moisture.
Vanilla extract: Enhances flavor!
Top Sour Cream Layer
Sour cream: Creamy, smooth, and light with some tang. It makes incredible frostings and toppings on so many things.
Granulated powder: Can also use powdered sugar to sweeten it up.
Vanilla extract: Oh, hello again vanilla!
Variations
This recipe for cheesecake is none other than my grandma's creamy cheesecake so I don't have too many variations to list. It's just perfect the way it is ;)
However, the crust is quite thick, so if that's not something you want, you can make a thinner crust and reserve some of the crumbs for a topping or add to another dessert.
You could also swap the crust completely and use a simple Oreo crust instead. I know from making mini Oreo cheesecakes on many occasions that it holds up just as well and delivers a great chocolaty flavor.
How to Make Cheesecake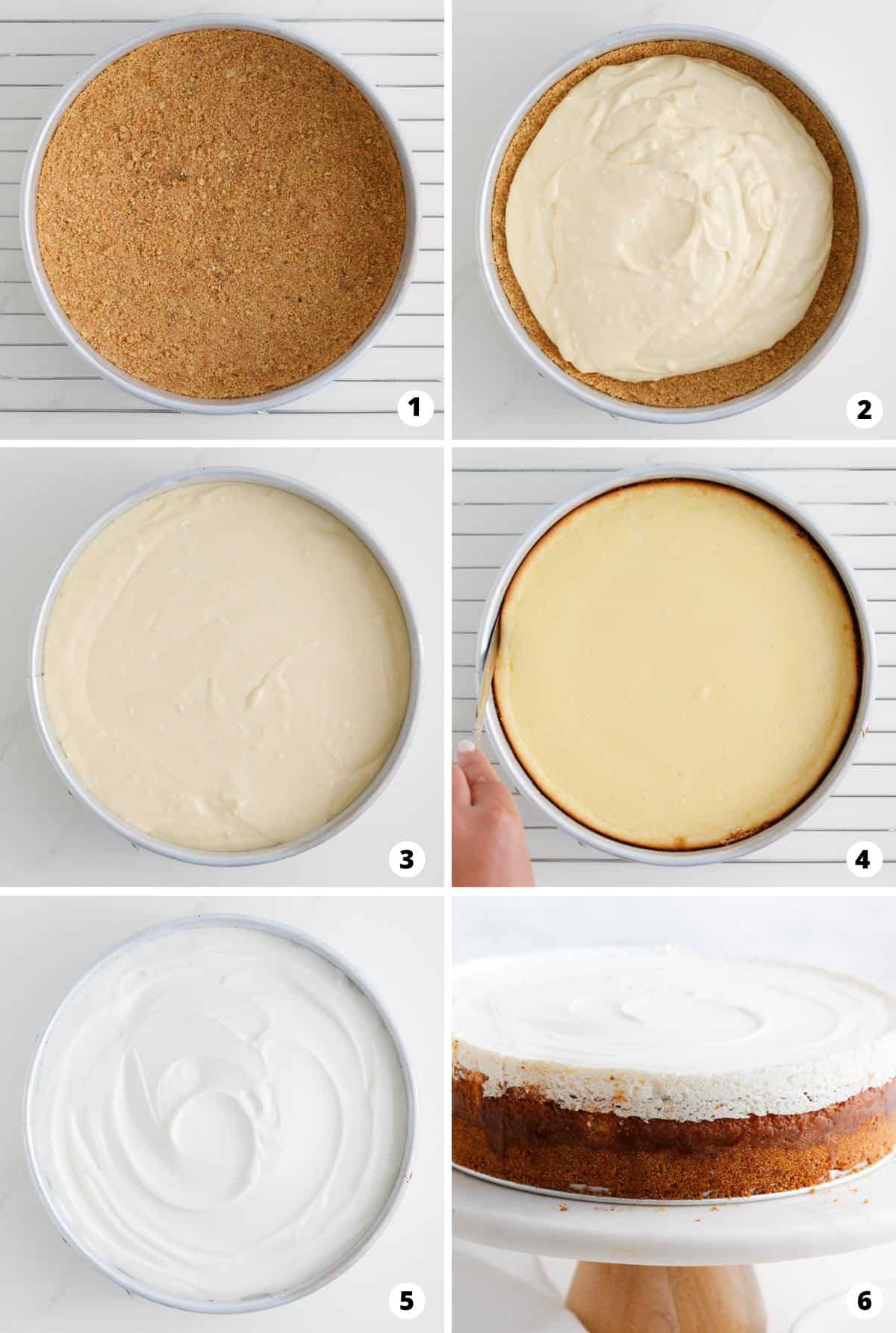 Assemble the crust. Once you've mixed the crust ingredients it should feel sandy, but hold together when pinched with two fingers. Pour it into the bottom of a 9-inch springform pan and press it into an even layer. I like to use the bottom of a small measuring cup to help smooth it down. Bake for 5 minutes and allow it to cool.
Combine the filling. Beat the cream cheese and sugar on medium speed until smooth. Add in eggs and vanilla and beat for another 2 minutes. Pour over the cooled crust.
Spread filling over the crust. Spread it evenly across the top that way none of the crust can be seen. Give it a little shake so that it's smooth across the surface.
First bake. Transfer the cheesecake to the preheated 350℉ oven and bake for 35 to 40 minutes. The edges should be slightly golden and will have puffed slightly. It's ok if the center is a bit wiggly, but it should be baked to the touch. Let it cool for 10 minutes then use a knife to run along the edges to help loosen it up. Let it cool for another 1 hour 30 minutes before removing the ring.
Second bake. Combine the ingredients for the sour cream layer and spread over the cooled cheesecake. Bake at 475℉ for 5 minutes then allow it to cool for 30 minutes before transferring it to the fridge.
Cool and set. Chill your new favorite cheesecake recipe for at least 6 hours or up to 24 hours, then top with your favorite toppings. Slice it up and dig in!
Expert Tips for Baking a Perfect Cheesecake
Use full-fat cream cheese from a block for the best texture and consistency. Anything else would be either too watery or result in a less-than-rich cheesecake.
Start with room temperature ingredients. This helps with even baking
No water bath is needed. No need to get overly complicated! I know you may have found this trick useful with other recipes, but this one is nice and creamy and smooth without it!
For clean slices. Be sure to wipe the knife in between each slice to get those crisp clean edges.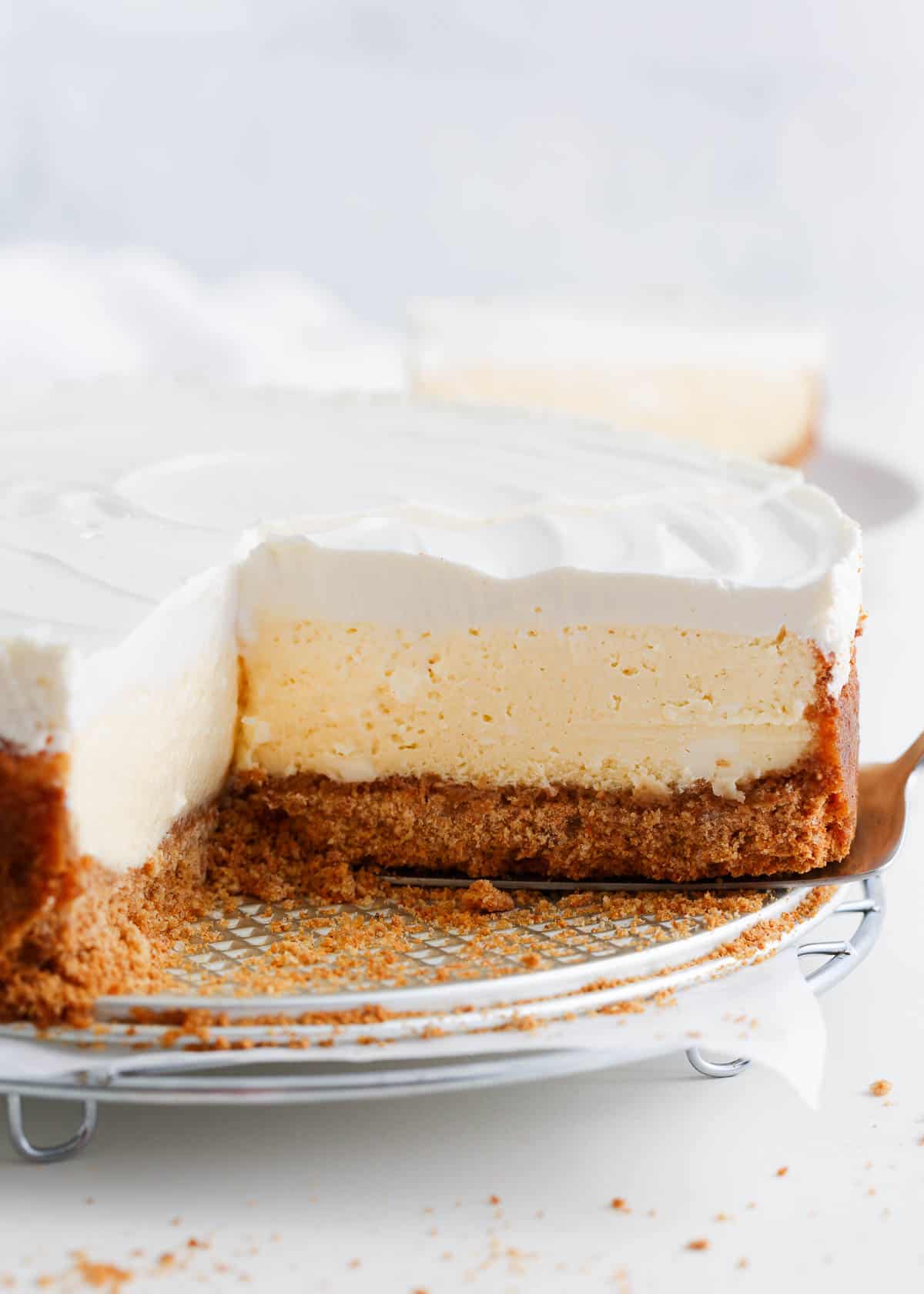 Cheesecake Toppings
The best cheesecake recipe always tastes great on its own but who am I to turn down extra saucy deliciousness?!
A lemon curd, strawberry sauce, or homemade whipped cream is nice and light and great as a summer dessert. As is any type of fruit pie filling or just topping it with fresh fruit or berries.
Special occasions call for a chocolate ganache, salted caramel sauce, or a really tasty raspberry topping!
A Quick and Easy Raspberry Sauce
Simmer 12 ounces of fresh raspberries, 1/2 cup sugar, and 1/2 cup water in a small saucepan. Then remove it from heat and allow it to cool.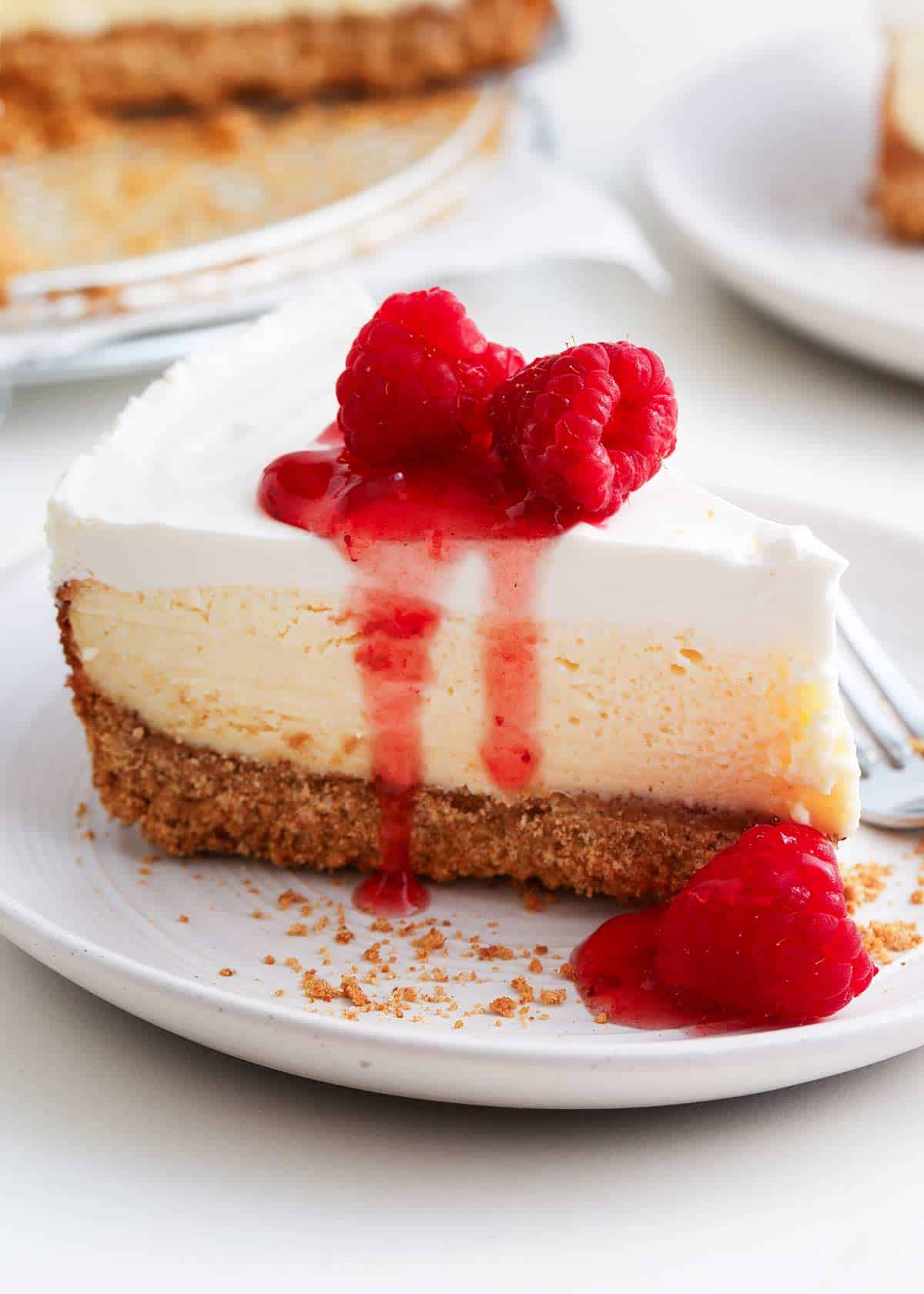 Recipe FAQs
Do I need to wrap my springform pan with aluminum foil?
You don't. This is typically done when it sits in a water bath to prevent water from seeping into the cracks. We're not using a water bath, therefore, we don't need to wrap it.
How can I prevent cracking on top of the cheesecake?
There are a couple of ways to ensure this doesn't happen. One is that although you want to whisk your eggs well, you don't want to overbeat them. Just combine them and add them to the batter.

Next, as tempting as it is, do not open the oven door while it's baking!
Is this a New York style cheesecake?
Although quite similar, it's technically not the same. New York cheesecake is tall just like this one, it's rich and creamy, like this one, however, sour cream or heavy cream are most often included in the filling itself, instead of used as a separate layer (although sometimes it may have a sour cream topping like this one, too!)
Storing
Keep any leftovers covered and in the fridge. I like to keep any uneaten cheesecake in the pan and just cover it with plastic wrap for up to 5 days in the refrigerator.
To freeze, wrap the whole cake, or individual pieces in several layers of plastic wrap or foil, or both. Freeze it for up to 2 months and then thaw in the fridge overnight. No need to reheat it!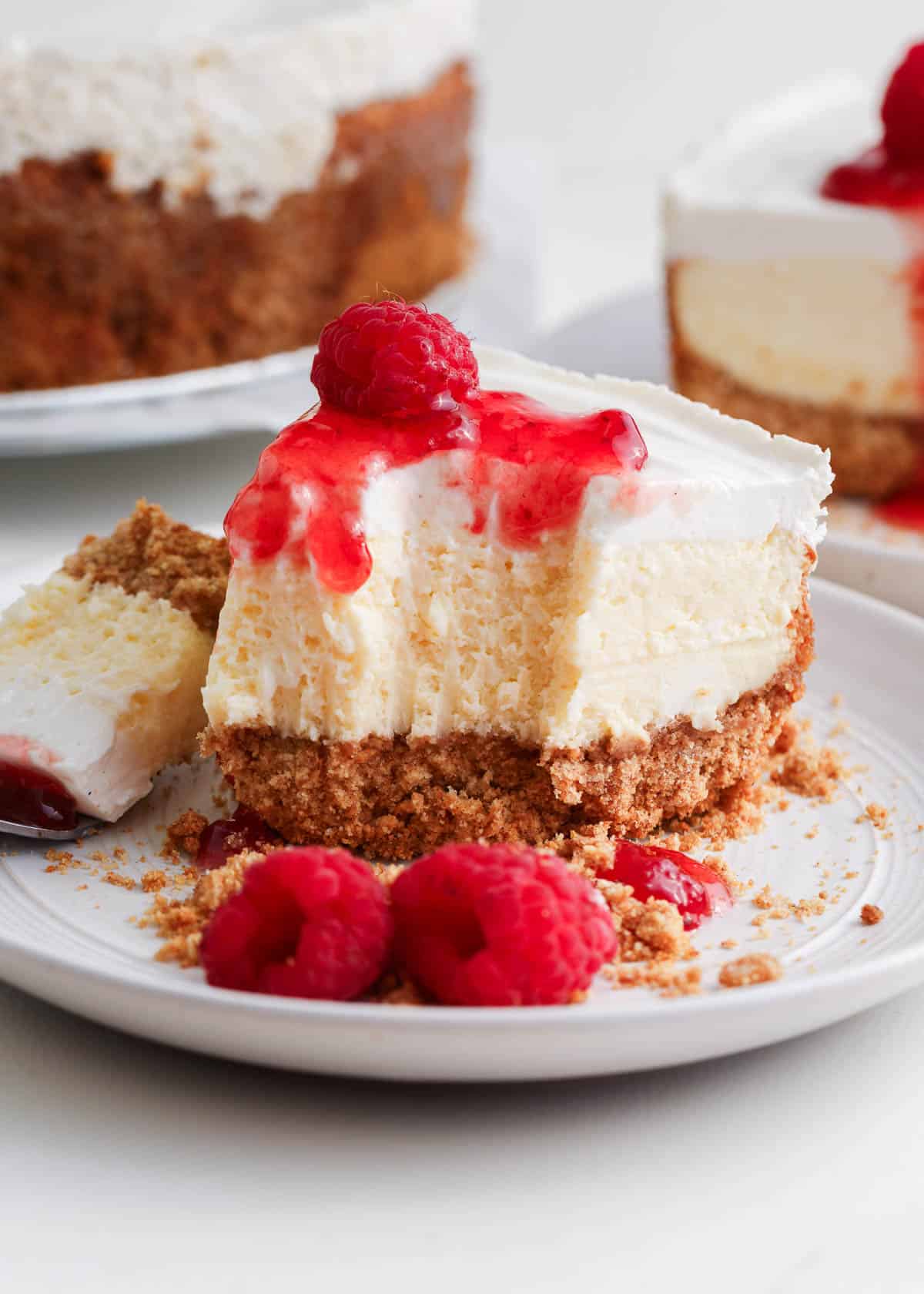 More Cheesecake Recipes
HUNGRY FOR MORE? Subscribe to my newsletter and follow on Facebook, Pinterest and Instagram for all the newest recipes!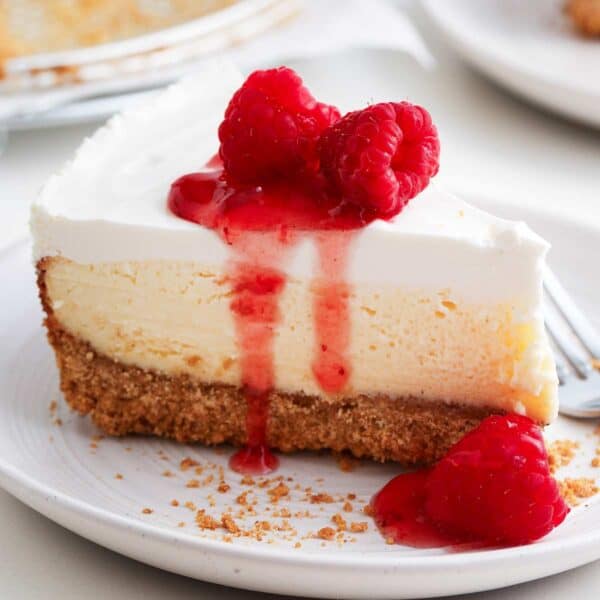 The Best Cheesecake Recipe
Learn to make my grandmother's best cheesecake recipe! It starts with a thick graham cracker crust, and a rich cream cheese filling, topped with a layer of sweet luscious sour cream frosting. It can be enjoyed as is or drizzled with your favorite toppings!
Ingredients
Graham Cracker Crust
6 Tablespoons unsalted butter , melted
26 graham crackers , finely crushed
6 Tablespoons granulated sugar
¾ teaspoon ground cinnamon
Cheesecake Layer
3 (8-ounce) package cream cheese , at room temperature
1 cup granulated sugar
4 large eggs , well beaten
1 teaspoon vanilla extract
Sour Cream Topping
2 cups sour cream
3-4 Tablespoons granulated sugar , or powdered sugar (more to taste)
¾ teaspoon vanilla extract
Optional toppings: Cherry pie filling, fresh berries, caramel or chocolate sauce
Instructions
Preheat the oven to 350℉.
Graham Cracker Crust
In a medium bowl, mix together graham cracker crumbs, butter, sugar, and cinnamon until well combined. The crust will still look sandy but will hold together when pinched between two fingers. This cheesecake has a thick crust, so if you prefer a thinner crust, reserve some of the crumb mixture.

Using the flat bottom of a small measuring cup, press the crust in an even layer into the bottom of a 9-inch springform pan. Bake 5 minutes. Transfer to a baking sheet and let cool.
Cheesecake Layer
Using an electric mixer or a stand mixer fitted with a paddle attachment, beat together the cream cheese and sugar on medium speed until smooth. Stir in eggs and vanilla and beat 2 minutes, or until smooth and creamy. Pour over cooled crust. Tap on the counter to make it even.

Bake 35 to 40 minutes, or until the edges have puffed slightly and barely starting to brown. The center should be baked to the tough but still wiggle a bit.

Let cool on top of the oven 10 minutes before using a knife to run along the inside of the pan to loosen the crust and help prevent cracking as the cheesecake cools. Do not remove the ring from the pan. Let cool at least 1 hour 30 minutes.
Sour Cream Topping
Preheat the oven to 475℉.

In a medium bowl, whisk together the sour cream, sugar, and vanilla until smooth. Spread over cooled cheesecake. Bake 5 minutes. Cool 30 minutes before transferring to the fridge to chill at least 6 hours or up to 24 hours (I prefer making it the day before serving).

Top with your favorite toppings. Slice and enjoy!
---
Notes
Raspberry sauce: In a small pan cook 12 ounces mashed raspberries, 1/2 cup sugar and 1/2 cup water. Simmer for 5 minutes. Remove from heat and allow to cool. Storage: Make sure to store the cheesecake in the fridge because of the softened cheese and cream. Cover the pan tightly in plastic wrap and place in the refrigerator until ready to enjoy again. It will stay fresh in the fridge for about 3 to 5 days. Freeze: Wrap in several layers of plastic wrap or foil and place in a zip-top freezer bag. Place upright in freezer and store for about 1 month. When ready to serve, thaw overnight in fridge and enjoy the next day!
Nutrition
Serving: 1slice | Calories: 421kcal | Carbohydrates: 52g | Protein: 6g | Fat: 22g | Saturated Fat: 11g | Polyunsaturated Fat: 1g | Monounsaturated Fat: 6g | Trans Fat: 0.2g | Cholesterol: 112mg | Sodium: 244mg | Potassium: 155mg | Fiber: 1g | Sugar: 35g | Vitamin A: 637IU | Vitamin C: 1mg | Calcium: 97mg | Iron: 2mg
Nutrition provided is an estimate. It will vary based on specific ingredients used.
Did you make this recipe? Don't forget to give it a star rating below!