Enjoy layers of fresh and vibrant green enchilada sauce, shredded chicken, and melted cheese in this green chicken enchilada casserole baked and ready to serve a crowd in 35 minutes without having to fill and roll up any tortillas!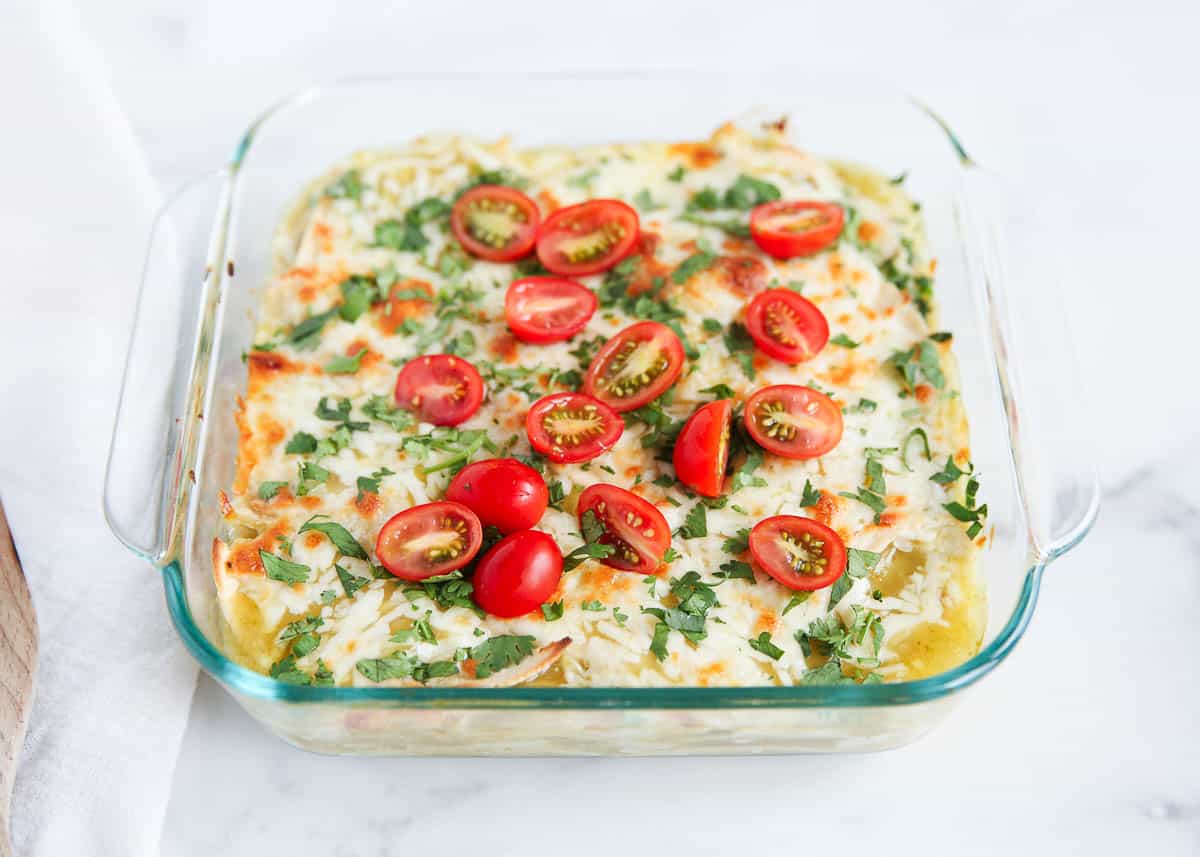 Feeds A Crowd With Leftovers!
My family loves any and everything Mexican-inspired, but cheesy creamy chicken enchiladas hold a special spot at the dinner table! Maybe it's the delicious sauce or the melty cheese. I guess it could also be the juicy seasoned shredded chicken!
Sometimes there just isn't time to fill and roll up flour tortillas, and since I've made a chicken enchilada casserole using red enchilada sauce before, I thought it was time to turn green chile chicken enchiladas into a casserole shortcut too!
Layered green chile chicken enchilada casserole has the same fillings and flavors as traditional enchiladas using corn tortillas instead. Casseroles have always been a comforting and wholesome way to serve a crowd, and what a perfect time-saving way to prepare for the week ahead. We even make this enchilada breakfast casserole busy for mornings!
Because, shortcuts and leftovers, am I right?!
What is Green Enchilada Sauce?
Green enchilada sauce is tangy, tart, and vibrant made with green chiles, jalapenos, onions, tomatillos, garlic, chicken broth, and some tasty spices, such as ground cumin! Many of the ingredients are sautéed before being puréed, unlike a salsa verde, which is raw.
Why This Recipe Works
Delicious. Even better than your favorite Mexican restaurant, the flavors are unparalleled. You're going to want to make this every week!
Freezer-friendly. Make two and pop one in the freezer, deliver to a neighbor in need, or have lots for the week ahead.
We love shortcuts. We use a store-bought green enchilada sauce, and for the chicken, if you don't already have some cooked at home, you can use a store-bought rotisserie chicken. Couldn't be easier!
Recipe Ingredients
The best part about this green chicken enchilada casserole is that you don't need a ton of ingredients to make it. I love using rotisserie chicken or leftover shredded chicken for convenience. Then the rest of the ingredients are just fridge and pantry staples!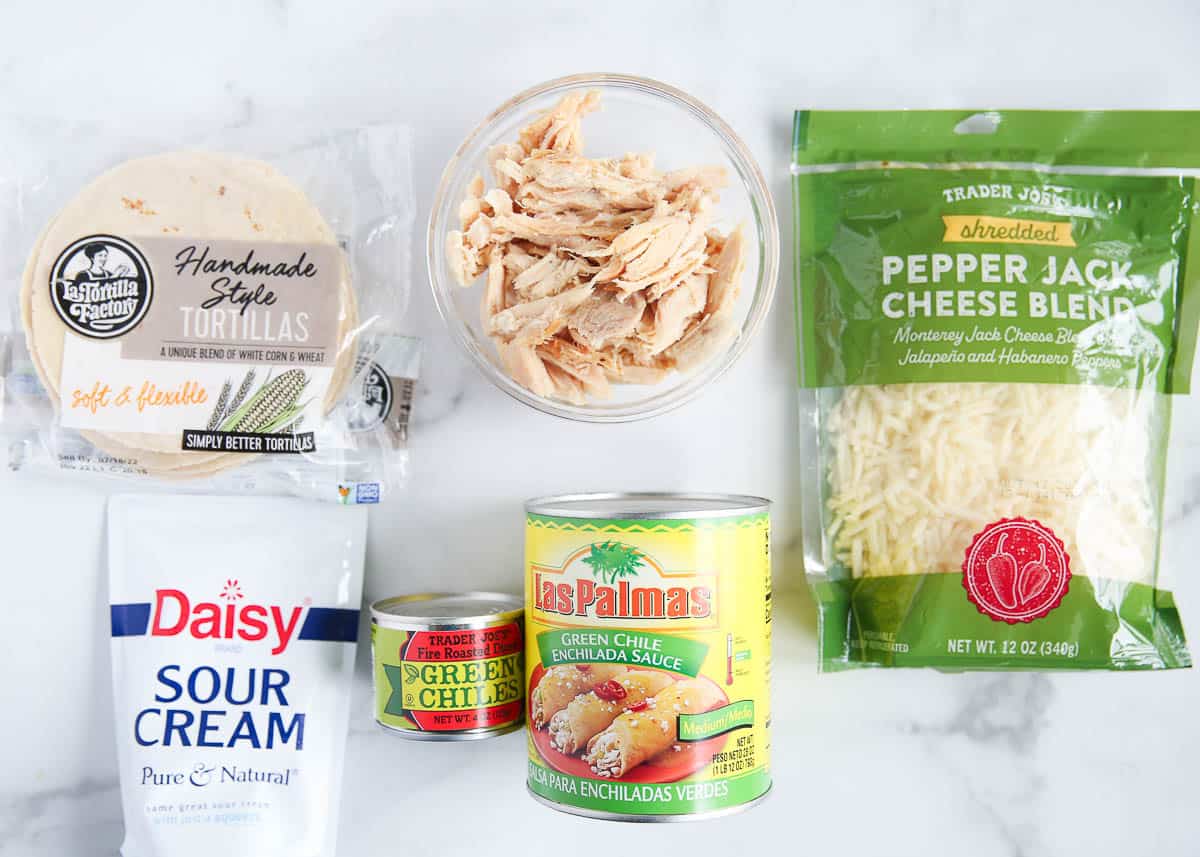 Find the full printable recipe with specific measurements below.
Green enchilada sauce: I love the Las Palmas brand, but you use what you like or if you've got a homemade recipe, use that!
Corn tortillas: Unlike flour tortillas, corn tortillas are typically smaller in size and they're also thicker. We like to use these instead because their sturdiness helps to keep them from getting soggy.
Can of green chiles: There are green chiles in the enchilada sauce, but I like to add more!
Sour cream or cream cheese: If you're using cream cheese, make sure to bring it to room temperature so that it's soft enough to blend. Either will add rich creaminess to the recipe.
Shredded cheese: I usually go with whatever I have on hand. Sometimes it's pepper jack cheese or a Mexican blend. Other times it's cheddar cheese or Monterey Jack cheese. I always recommend grating it fresh from a block rather than buying it pre-shredded.
Variations
Enchiladas can be made with Instant Pot shredded beef and shredded pork too. Chicken is just the beginning!
Sometimes I like to add a layer of fajita veggies or sautéed onions and bell peppers without the fajita seasoning, along with the chicken.
If you're looking for a vegetarian version, you can completely omit the chicken and replace it with pinto or black beans to bulk it up.
The options are endless and no matter what, it's always amazing!
How to Make Green Enchilada Casserole
It only takes 10 minutes of prep time to assemble the green chile casserole and then about 25 minutes of baking time. From start to finish, this easy dinner idea is ready in just about 30 minutes!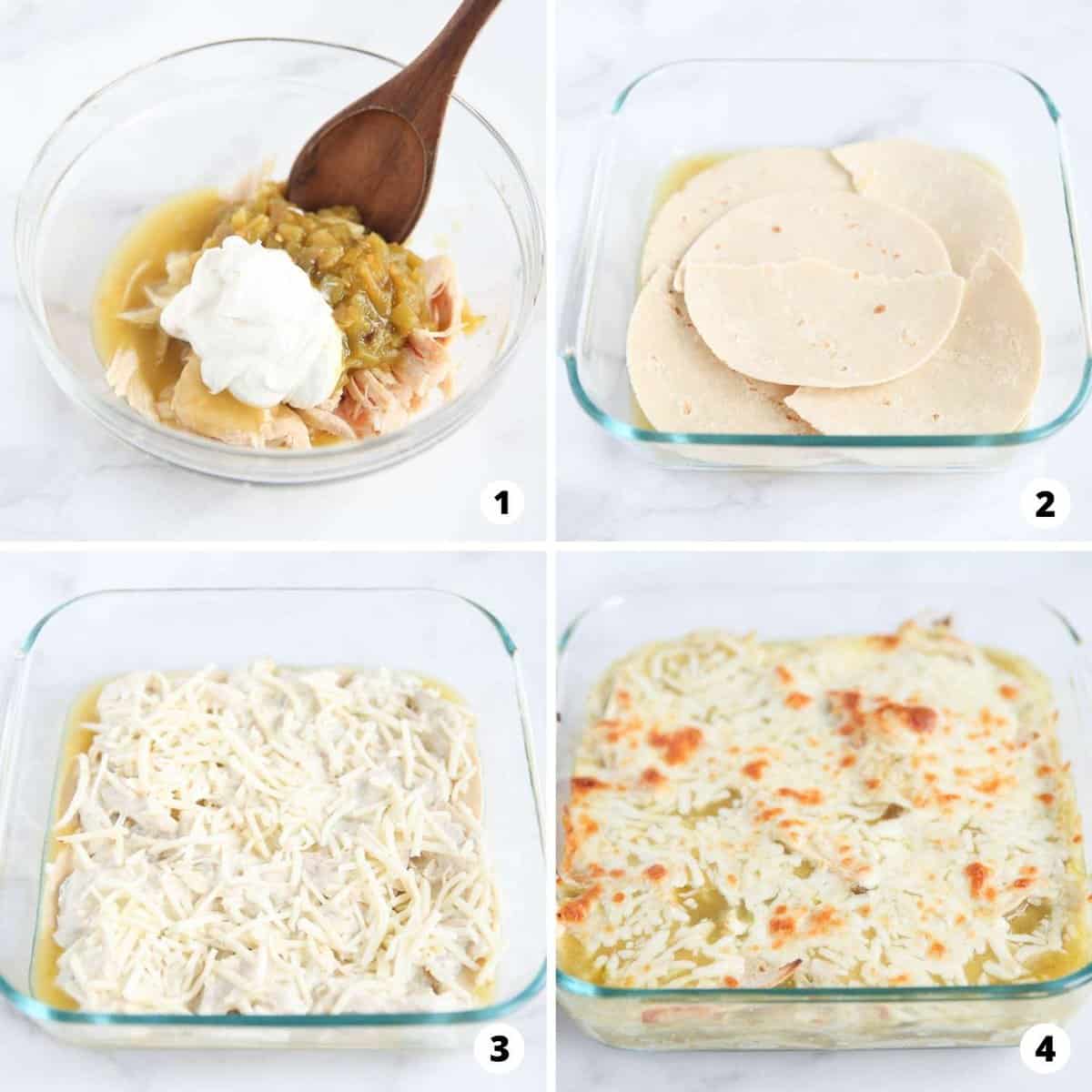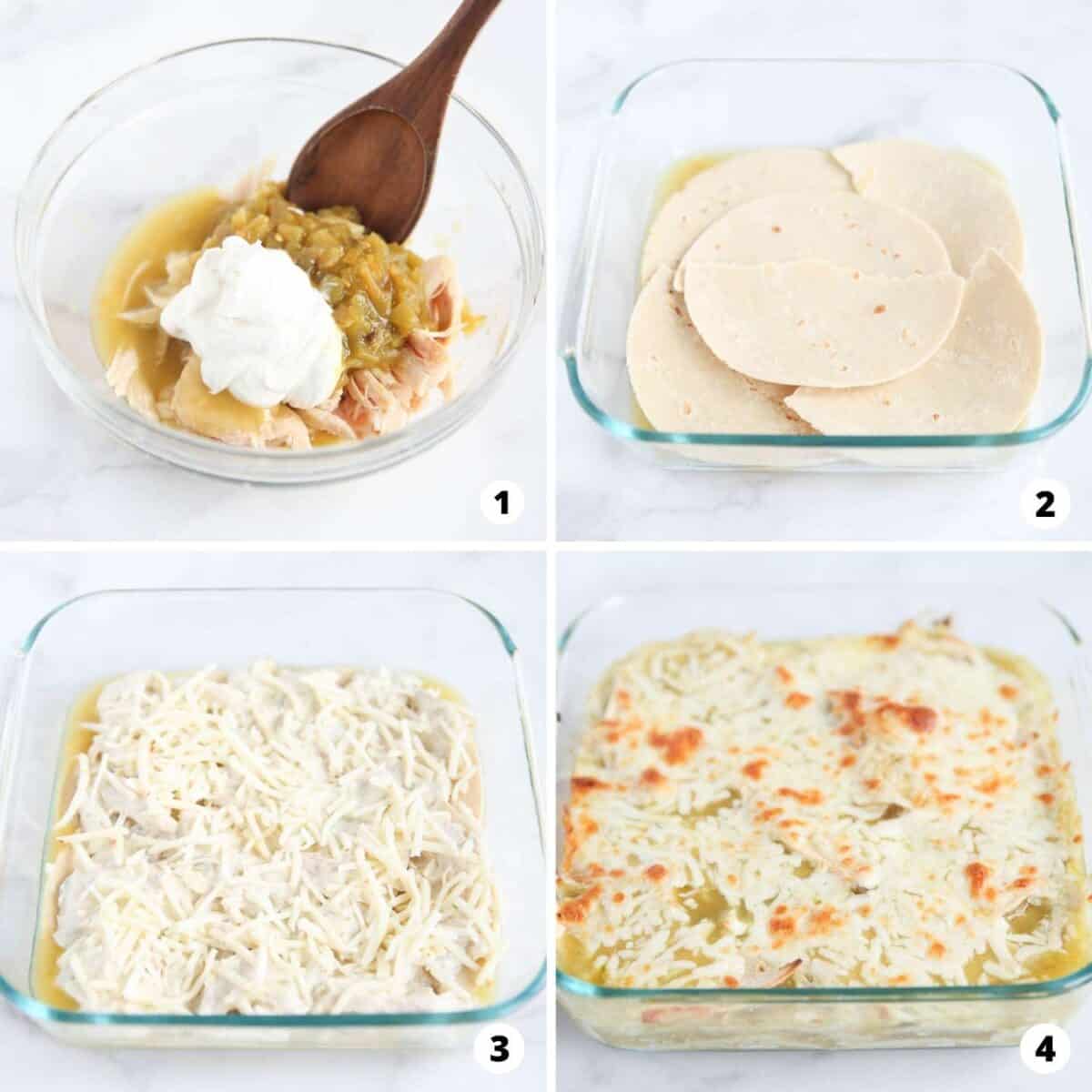 Make the "filling." Combine cooked chicken, green chiles, and sour cream in a bowl, then season with salt and pepper. If you like yours even spicier, you can add in a bit of chili powder, cayenne, or even diced jalapenos.
Start layering. If you are using a 9-inch baking dish you'll be able to fit about 3 corn tortillas in there. I like to break them in half, so they fit evenly across the bottom, covering the corners as well. Add 1/3 of the chicken mixture and enchilada sauce followed by a sprinkling of cheese.
Finish layers and bake. Repeat that combination for 1-2 more layers, finishing with a top layer of cheese. Cover with foil and bake in a preheated oven for 20 minutes. Uncover and bake for 5-10 minutes more until the top is golden and the cheese is bubbly.
Allow it to set, then serve. Let it sit and settle for a few minutes so it's not completely runny when you slice it and serve it. Enjoy with your favorite toppings and dig in!
Favorite Toppings
Chopped fresh cilantro
Red bell pepper
Tomatoes
Avocado
Sliced olives
Sour cream
Lime juice
Expert Tips
Crispy cheesy finish: Place the green chicken enchilada casserole under the broiler for the last minute to get that perfect bubbly and golden cheesy layer on top.
Avoid soggy casserole: Remember to remove the foil the last few minutes of baking to remove excess moisture.
Corn or flour tortillas: Depending on your preference you can use corn tortillas or flour tortillas. Flour tortillas may be get soggier but they will still be amazing.
Make ahead: Assemble this enchilada casserole up to 24 hours in advance. Cover and store in the refrigerator then bring to room temperature before baking.
Serving suggestions: There are so many Mexican side dishes that would pair well with this green chicken enchilada casserole! Try cilantro lime rice, Mexican rice and a side of refried beans.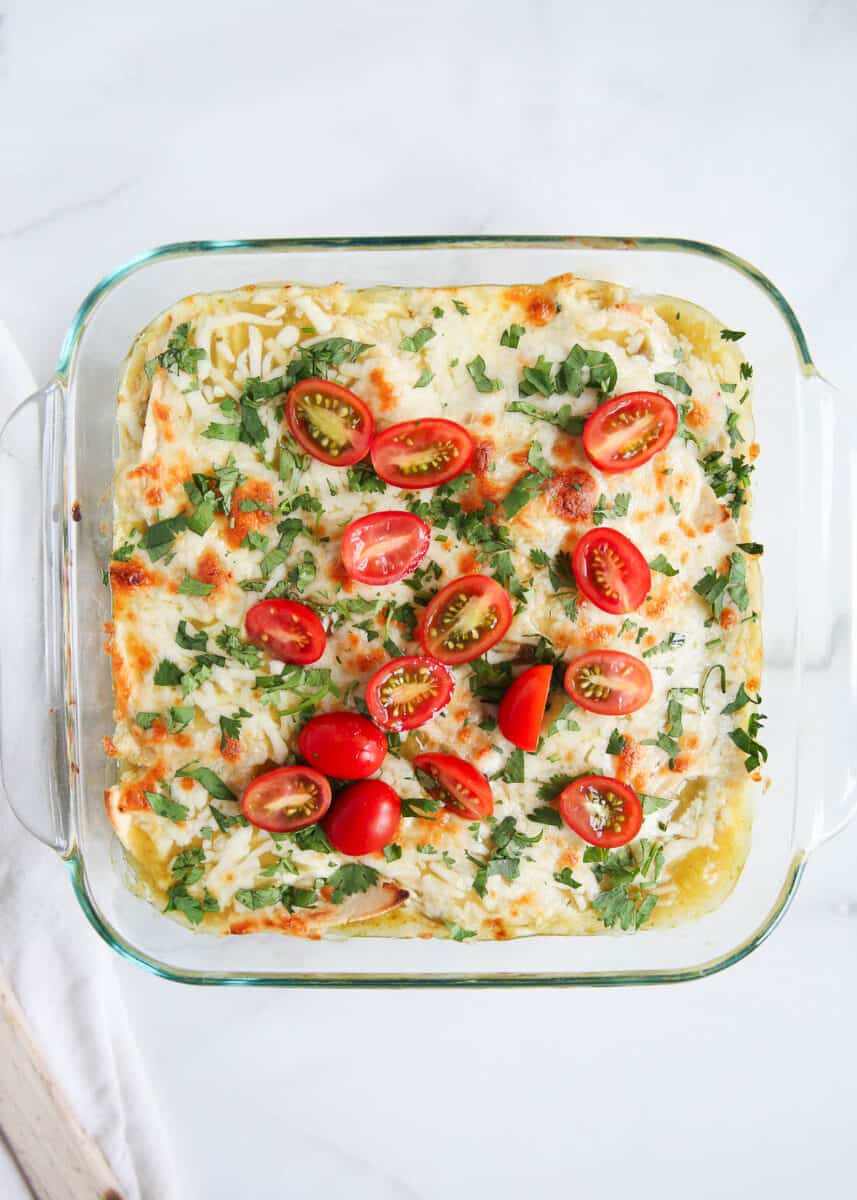 Ways to Use Leftover Green Chili Sauce
If you have more than you need, you're in luck. There are so many ways to use it!
You can double this green chicken enchilada casserole recipe and freeze half for later. Or, you can transfer what sauce you have left to a freezer bag and keep frozen for later on. Then, you'll have it on hand to make green enchilada chicken soup and green chili burritos!
Recipe FAQs
Can I make this green chicken enchilada casserole ahead and freeze it?
Yes! Get a head start on this week's dinner by making it in advance today. Assemble and layer it and wrap it in plastic wrap without baking it.

Freeze it until you're ready and thaw it in the fridge the night before. Bake it at 350°F for 30-40 minutes covered, and then for 10-15 minutes uncovered.

The difference in time accounts for the fact that it's going into the oven cold.
Can you substitute salsa verde for enchilada sauce?
Technically yes. They are different, as stated above, salsa is raw so it won't deliver the same flavor profile, but if it's what you've got, go ahead and give it a try!
Is verde sauce the same as green enchilada sauce?
Yes. Verde means green in Spanish :)
What is the difference between red and green sauce?
The major difference is the type of chilis used. Red chili peppers for the red sauce and green chili peppers for the green. Most people find the red sauce to be a bit spicier.
Storage
Keep any leftover green chicken enchilada casserole stored in an airtight container in the fridge for up to 4 days. Reheat single servings in the microwave or larger amounts in the oven.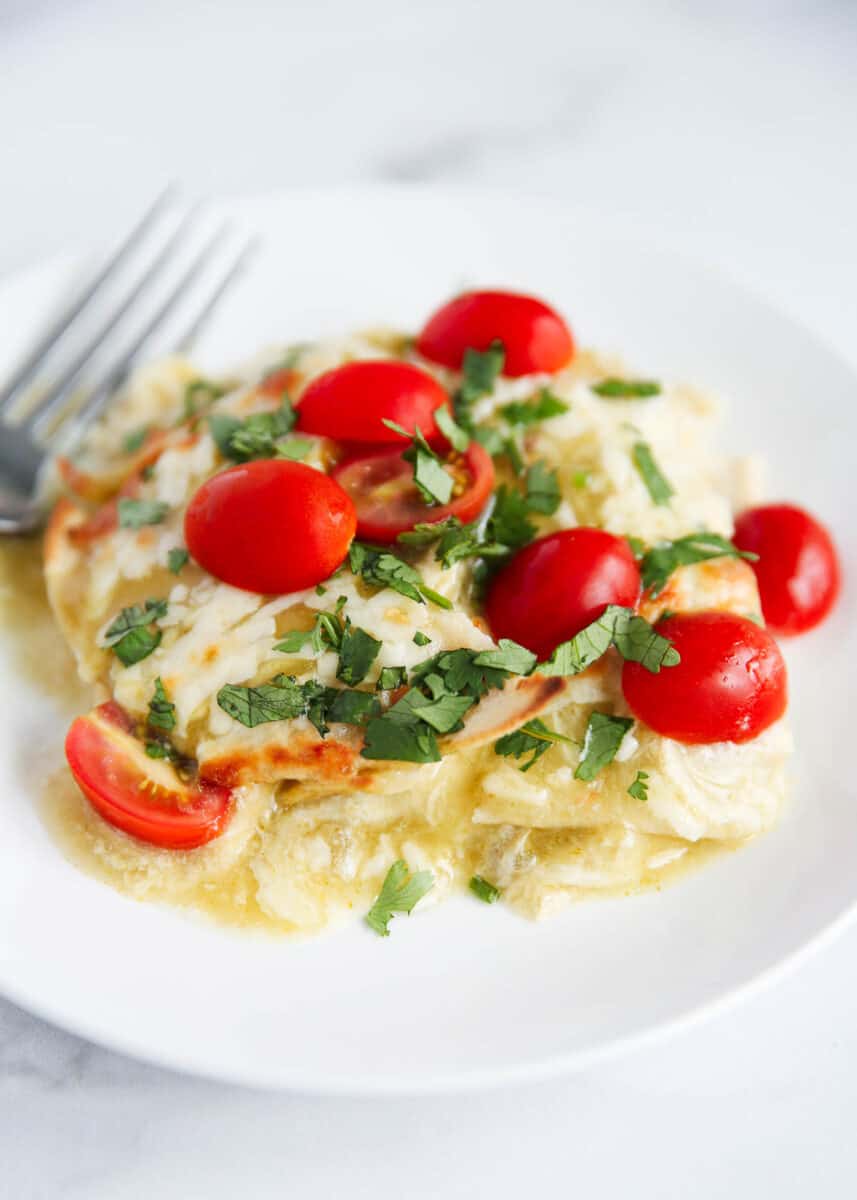 HUNGRY FOR MORE? Subscribe to my newsletter and follow on Facebook, Pinterest and Instagram for all the newest recipes!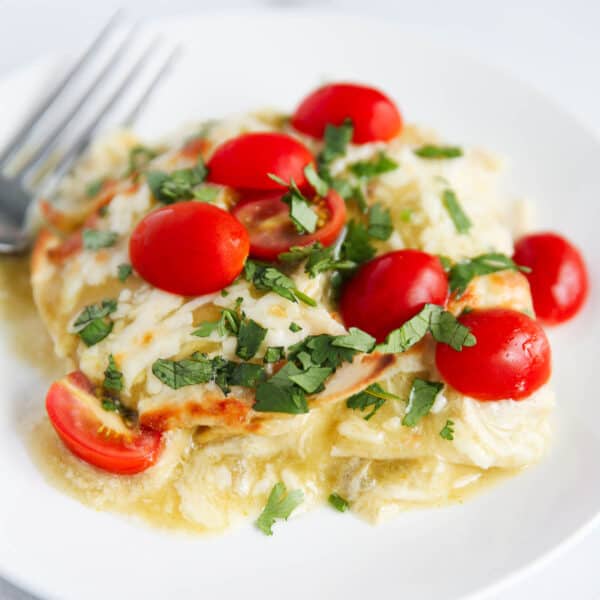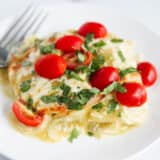 Green Chicken Enchilada Casserole
Enjoy layers of fresh and vibrant green enchilada sauce, shredded chicken, and melted cheese in this green chicken enchilada casserole baked and ready to serve a crowd in 35 minutes without having to fill and roll up any tortillas!
Ingredients
1 ½ cups green enchilada sauce , I prefer Las Palmas
12 corn tortillas
2 ½ cups shredded cooked chicken breast
⅓ cup sour cream , or cream cheese
4 ounce can green chiles
1-2 cups shredded pepper jack cheese , or Mexican blend
Salt and Pepper , to taste
Optional toppings: cilantro, red bell pepper, tomatoes, avocado, sliced olives, sour cream
Instructions
Preheat oven to 375°F. Spray 9-inch casserole dish with non-stick spray and set aside. Pour about 1/2 cup of the enchilada sauce onto the bottom of the pan.

In a medium size bowl combine the chicken, green chiles and sour cream (or softened cream cheese). Season with salt and pepper to taste. You can add in 1/2 teaspoon chili powder if you want to take up the heat.

Cover the pan with about 3 tortillas (I like to break them in half). Spread some sauce on top and then add 1/3 of the chicken mixture. Then sprinkle on 1/3 of the cheese. Repeat for 1-2 more layers.

Place foil over the pan and bake for 20 minutes. Then bake 5-10 more minutes uncovered, or until cheese is bubbly. You can broil the last minute if you'd like the top crispy. Remove from oven and let sit for 5 minutes.

Add your favorite toppings and serve while warm.
---
Notes
Protein: You may sub the chicken for shredded pork or beef. Beans: To make vegetarian you could omit the chicken and add in pinto or black beans. Vegetables: You can also add in a layer of sautéed onions and bell peppers with the chicken. Tip: If you have extra enchilada sauce, freeze in a zip top bag for later. You could also double this recipe and freeze half for later. Freezer instructions: Layer in a foil tin and wrap tightly. Store in the freezer uncooked. The night before baking, place in the refrigerator to thaw. Then bake at 350°F for 30-40 minutes covered and 10-15 minutes uncovered.
Nutrition
Calories: 334kcal | Carbohydrates: 30g | Protein: 24g | Fat: 14g | Saturated Fat: 6g | Polyunsaturated Fat: 2g | Monounsaturated Fat: 4g | Cholesterol: 68mg | Sodium: 779mg | Potassium: 283mg | Fiber: 5g | Sugar: 5g | Vitamin A: 673IU | Vitamin C: 8mg | Calcium: 209mg | Iron: 2mg
Nutrition provided is an estimate. It will vary based on specific ingredients used.
Did you make this recipe? Don't forget to give it a star rating below!