Instant Pot minestrone soup is a bowl full of flavorful hearty beans, fire-roasted tomato broth, herbs, and chunky tender veggies. All it needs is some parmesan shavings to top it off and a side of crusty bread to sop up all those juices!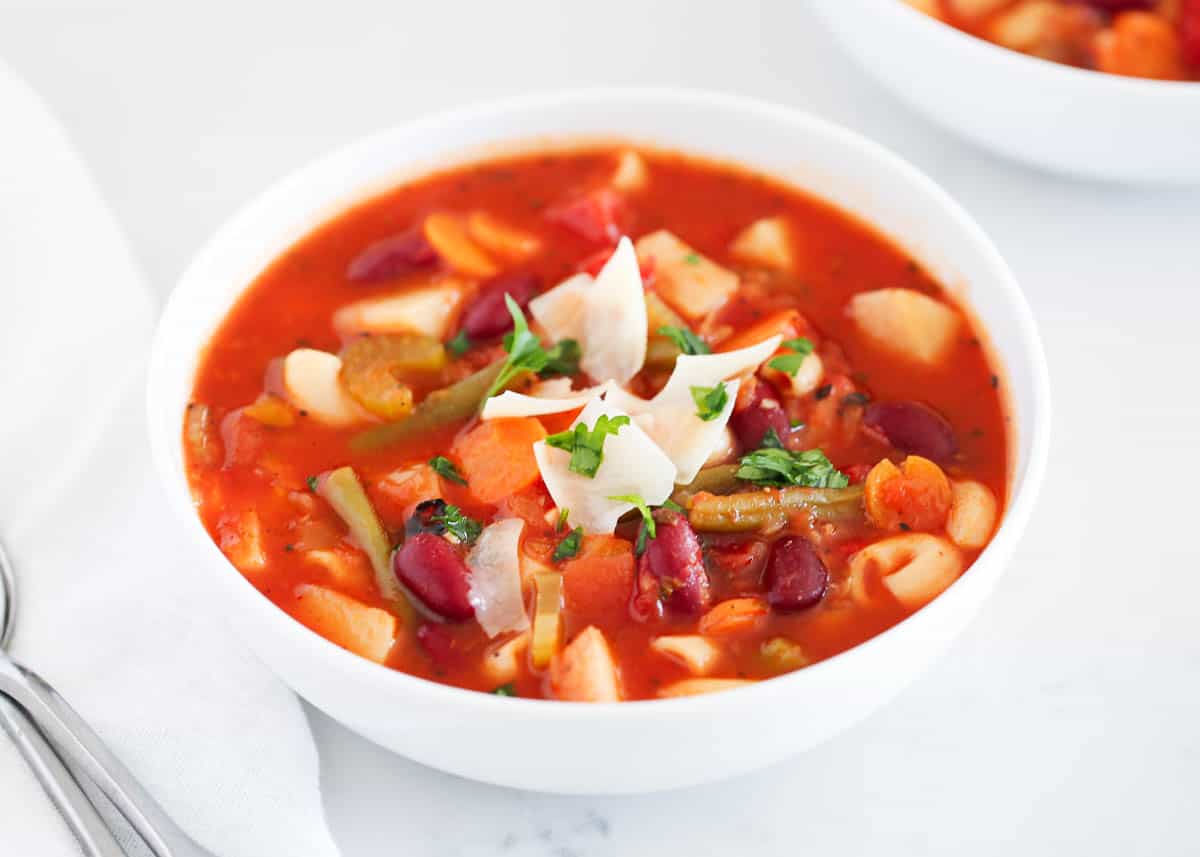 Easy Classic Minestrone
Instant Pot minestrone soup is a classic Italian-style recipe that has all the retro vibes (think vegetable soup as a kid!) and is still one of the most popular soups offered at restaurants like the Olive Garden. It's a soup we all grew up on and yet no two families make it the same which is perfect for days you want to switch it up and a great way to throw in any veggies you've got in your kitchen.
Minestrone soup is loaded with veggies in a tomato-based broth brimming with Italian seasoning and the addition of pasta and beans gives it the heartiness and texture of a complete meal. Making minestrone soup in Instant Pot takes just 30 minutes and the pressure cooking infuses the flavors of the veggies, the broth, and the fire-roasted tomatoes even more.
This soup is a one-pot meal that is completely flexible, although this version is my absolute favorite. It's simple, satisfying and there's a reason why soups like this are here to stay!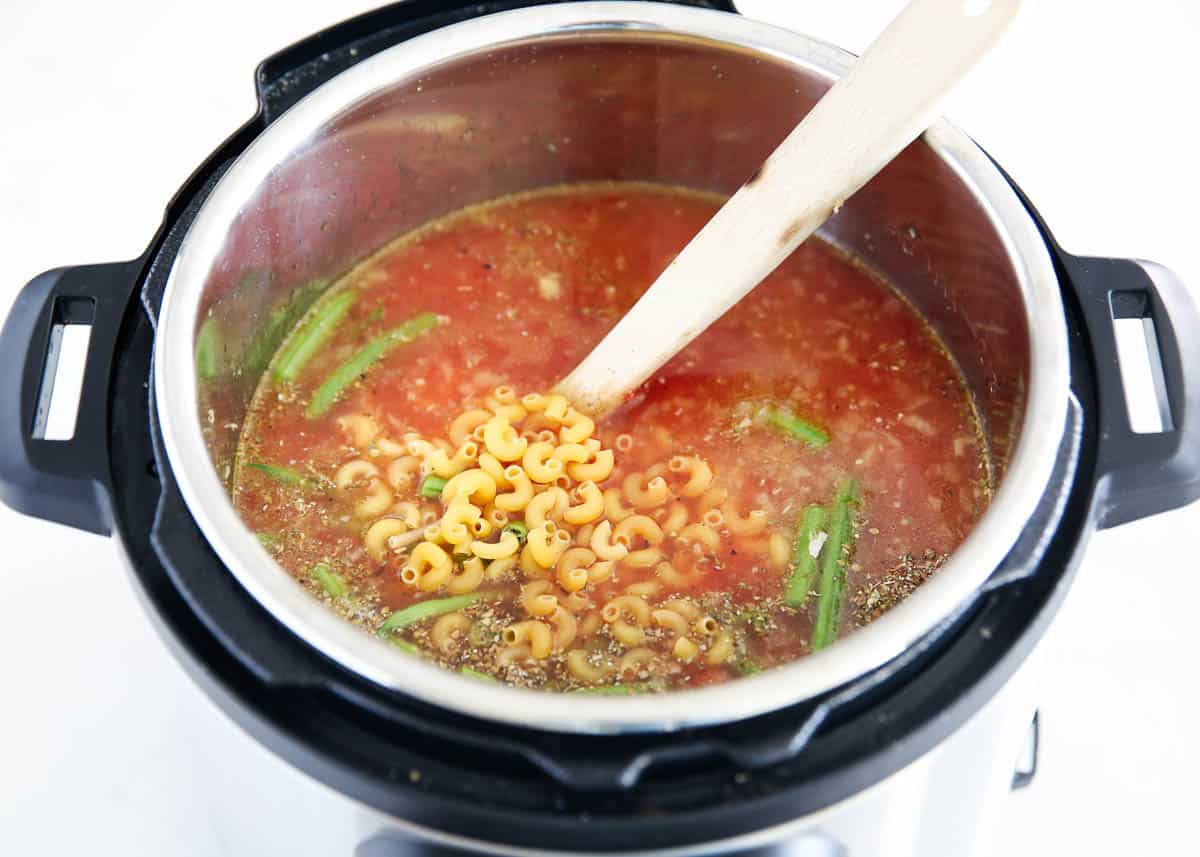 Tips for Making It
Instant Pot Tips. If you haven't yet checked out my post on how to use the Instant Pot, you should at some point. It's not necessary for this recipe, but it's still good to keep in mind!
Plan time accordingly. The pressure cooker works by computing the volume of what's inside. There is a lot of soup in the pot, so it will take 20 minutes to come to pressure. Keep that in mind when you're preparing for dinner.
Quick release. Releasing the pressure immediately by using the quick-release method can cause a bit of splatter, so be sure to use a wooden spoon to move the valve or use an oven mitt.
Not ready to eat yet? Keep the soup on the warm function until you're ready to serve it. It's a great way to make it ahead of dinner time.
Meal Prep!
Portion it out and save it for the week or make a freezer meal out of it. If you are freezing it, leave out the pasta as it will get soggy. Add it in later.
Ways to Customize Minestrone
For a little extra heat toss in some red pepper flakes.
If you can't find fire-roasted tomatoes, using regular diced tomatoes is just fine.
Add in some spinach at the end and allow it to wilt from the residual heat.
Freshly grated parmesan adds an amazing finishing touch.
Topping it off with fresh basil gives it a vibrant herbaceous flavor.
If you want more veggies in your soup some of my favorites to add are zucchini, squash, corn, and bell peppers. You could add cauliflower or broccoli too.
Add meat for even more protein. Try shredded chicken, homemade meatballs (similar to meatball soup), cooked Italian sausage, or ground beef.
FAQs
Is this soup gluten-free?
It is if you use gluten-free pasta or omit it altogether. You might even consider replacing it with quinoa or brown rice!
Is this soup vegan?
You can choose to make it vegan by using a vegetable broth rather than chicken broth.
Storing, Freezing, & Reheating
To store: Keep soup in an airtight container for up to 4 days in the fridge.
To freeze: Transfer soup to a freezer-friendly bag or container, leaving room for expansion. Keep frozen for up to 3 months! Thaw in the fridge overnight.
To reheat: You can reheat this using the sauté function on the Instant Pot, or warm it up in the slow cooker. Either one is great for keeping it warm for long periods. If it's just a quick reheat, you can use the microwave or stove. Add a bit of broth if it's become a little too thick.
When to Add the Pasta
If you are reheating it from frozen, cook the pasta separately until al dente. When the soup is warmed up, add the pasta and mix it. Enjoy!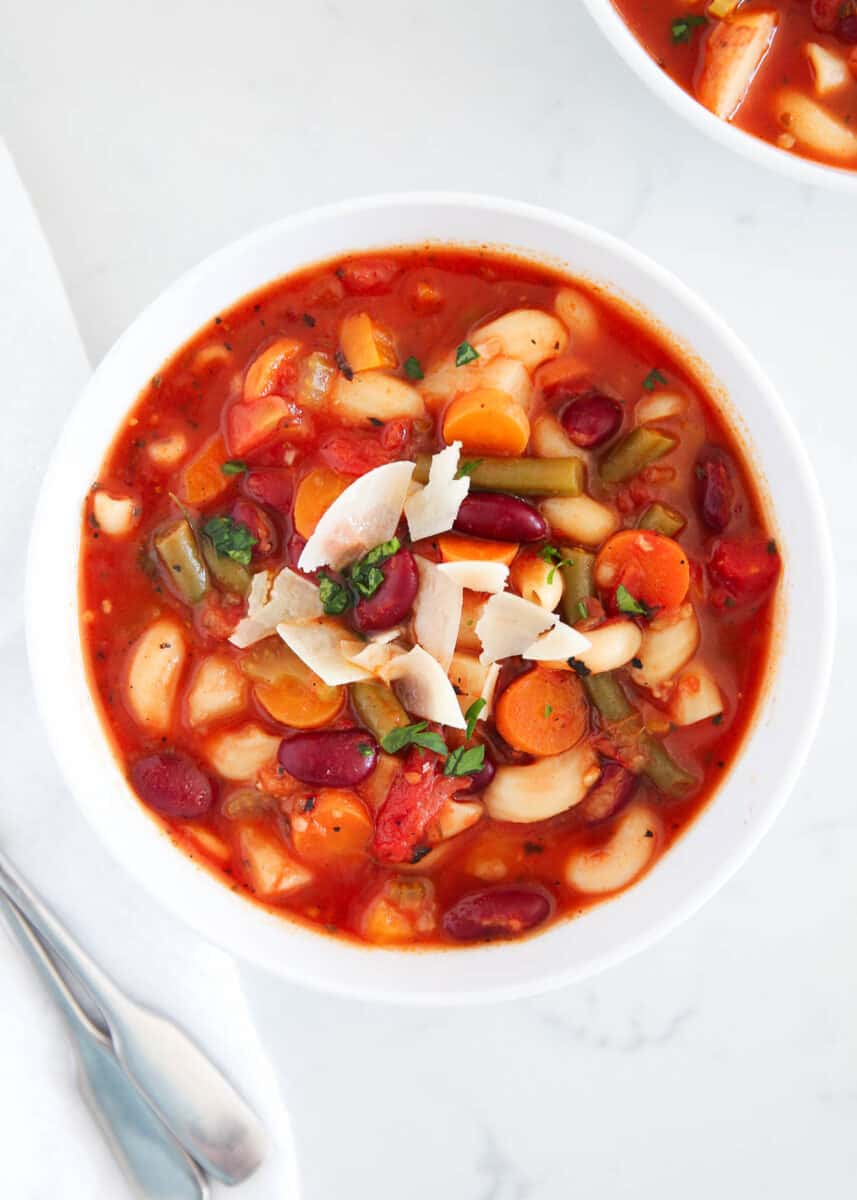 More Italian Soup Recipes: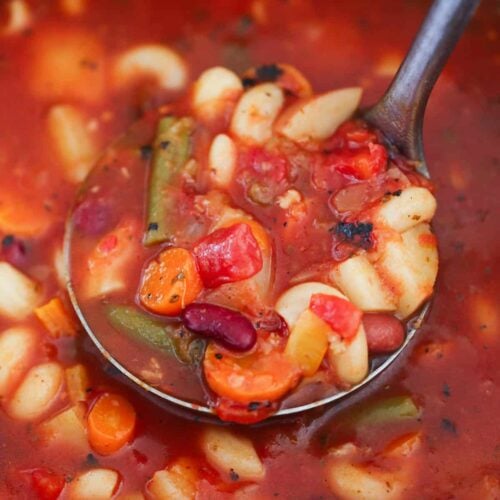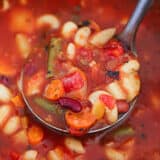 Instant Pot Minestrone Soup
Instant Pot minestrone soup is a bowl full of flavorful hearty beans, fire-roasted tomato broth, herbs, and chunky tender veggies. All it needs is some parmesan shavings to top it off and a side of crusty bread to sop up all those juices!
Ingredients
1-2 Tablespoons olive oil
1/2 cup finely chopped onion , more if desired
1/2 cup finely chopped celery
1 cup chopped carrots
2-3 teaspoons minced garlic , about 4 cloves
32 ounces vegetable broth , or chicken broth
2 cups water
2 cups diced potatoes
1 cup green beans , cut into 1" pieces
14 ounce can diced fire roasted tomatoes
1/4 cup tomato paste
2 teaspoons Italian seasoning
1 teaspoon Kosher salt
15 ounce can kidney beans , or white beans (drained and rinsed)
3/4 cup uncooked small pasta shells
Freshly ground pepper or red pepper flakes
Optional: 1-2 cups baby spinach, freshly grated parmesan cheese, fresh basil
Instructions
Heat the oil in the Instant Pot on sauté mode. Add the onion and cook for 2 minutes, or until translucent. Mix in the celery, carrots and garlic and cook an additional minute. Then press cancel to turn off the sauté mode.

Add in the broth, water, vegetables, tomatoes, tomato paste and stir together. Then add the beans and pasta, Italian seasoning and salt. Add desired amount of pepper (I added about 1/4 teaspoon).

Close the lid and turn the valve to the sealing position. Cook on high pressure for 3 minutes. The Instant Pot will take about 20 minutes to reach pressure before cook time begins. When the time ends, allow the pressure to remove naturally for 5 minutes and then use an oven mitt to turn the valve and release the pressure.

Salt and pepper to taste. Stir in spinach if desired and allow to wilt. Ladle into bowls and serve with parmesan cheese and fresh basil if desired.
---
Notes
This recipe is great because you can add any vegetables you have on hand. You can even buy pre-chopped veggies to save on time.
Here are some of my favorite vegetables to add additionally:
Squash
Zucchini
Peas
Corn
Bell peppers
Spinach or kale
You could also add a protein if desired:
Shredded chicken
Mini meatballs
Cooked Italian sausage
Calories: 181kcal | Carbohydrates: 33g | Protein: 7g | Fat: 3g | Saturated Fat: 1g | Polyunsaturated Fat: 1g | Monounsaturated Fat: 2g | Sodium: 1390mg | Potassium: 484mg | Fiber: 7g | Sugar: 8g | Vitamin A: 4493IU | Vitamin C: 9mg | Calcium: 82mg | Iron: 2mg
Nutrition provided is an estimate. It will vary based on specific ingredients used.
Did you make this recipe? Don't forget to give it a star rating below!